Bamford Edge is one of the most iconic spots in the Peak District. You may have see a fair few posts on Instagram of someone stood on that rock overlooking Ladybower Reservoir, more often than not at sunset?
Many people head up to this spot, grab a photo, and then head back down again (check out our guide: How to get to Bamford Edge). But here we offer a lovely Bamford Edge circular walk, which includes epic views, Ladybower Reservoir (and plug holes), wood carvings for kids to find, Bamford stepping stones, and The Anglers Rest (which is the village pub, café, and post office).
There's a steep climb at the end of this walk, but doing this walk anticlockwise will be easier for little legs. We've also provided an alternative gentler route back from the pub at the end, which adds 1.1km to the walk.
This Bamford Edge walk is not only one of our favourite view walks in the Peak District, but also a favourite pub walk!
Disclaimer: This post contains affiliate links. Should you click to purchase, it is at no additional cost to you, but I receive a small commission.
If you are planning a visit to the National Park, please arrive early or late in the day to avoid crowds if visiting over sunny weekends or school holidays. Please also take all litter home with you, don't bring BBQs and park your car in designated parking areas. Also, please use these walks as a guide; access and stiles may change.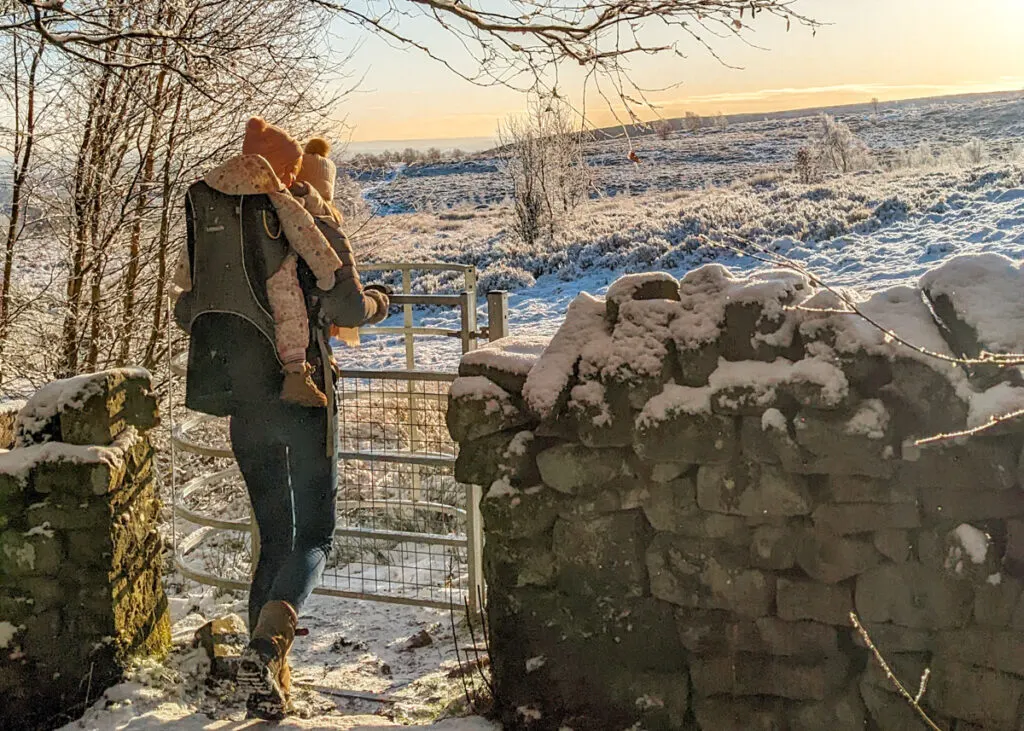 During the winter months, it's important to be extra prepared and safe when out walking and adventuring in the Peak District. The weather can change so quickly, especially on the exposed escarpments, and we don't want you to get caught out.
Read our top tips for safe winter walking with the kids.
FOLLOW US:
PARKING INFORMATION: Please do not rely solely on the postcode for parking directions. In the National Park, a postcode can cover a large area. Postcodes are only provided as guidance. Please either use the Google Maps point provided for every walk, or what3words.
Do check out our top tips for hiking with young kids, as well as our essential items to take on a family hike in the Peak District.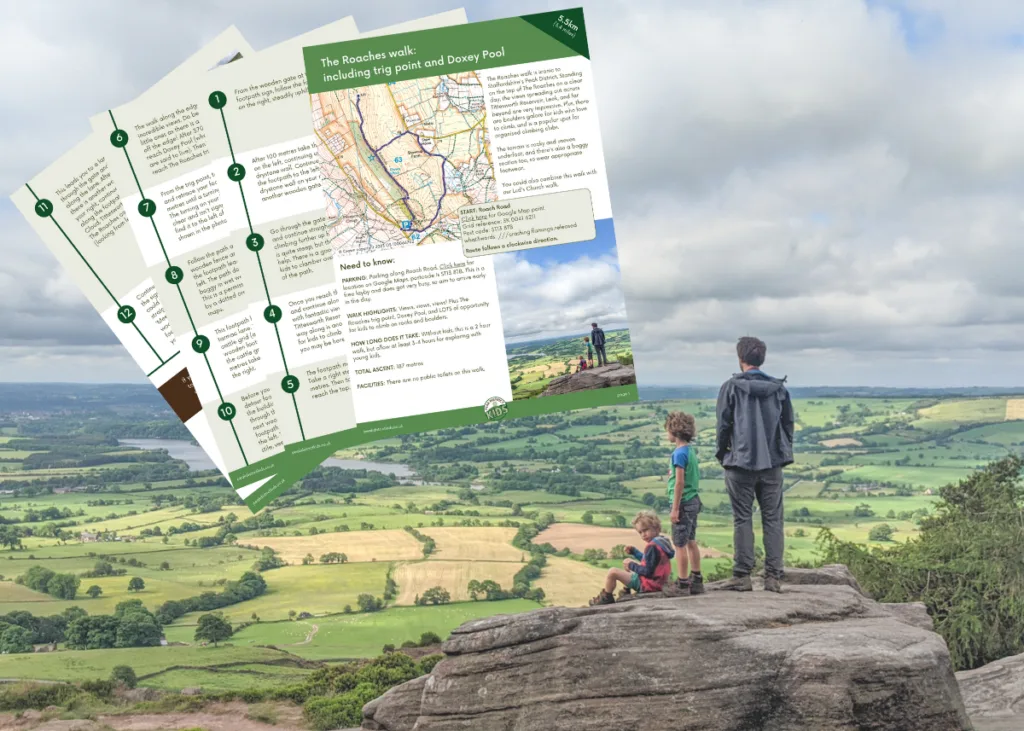 Download and print out our walking guides ready for your family walk. There are over 80 downloadable walk guides available, and these include all the main Peak District family walks, pram-friendly walks, and toddler walks.
Each printable download is just £1.50, whether it's a short 1km stroll or an epic walk up Kinder Scout.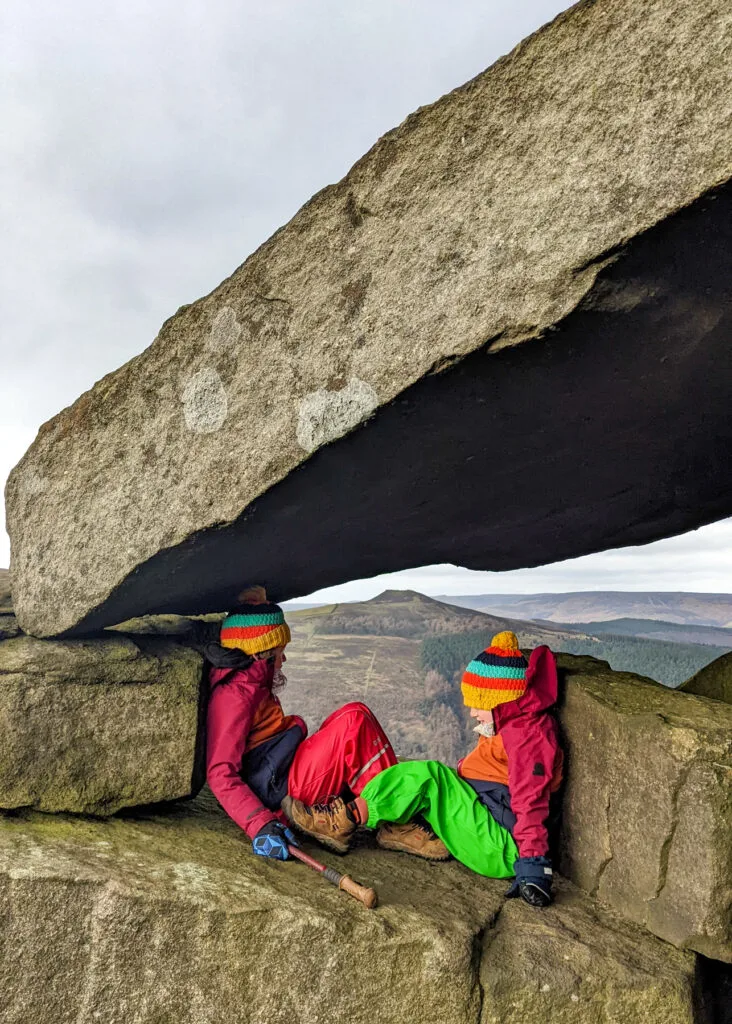 Bamford Edge walk map
On all Peak District family walks it's a good idea to have an Ordnance Survey paper map with you, even if you have your phone on you. For this walk you need the OS Explorer Map OL 01 (Dark Peak). It's also a good opportunity to show young kids the map features and get them started with map reading.
Our Bamford Edge walk follows the below OS Map in an anti-clockwise direction.
Get a printable download of this walk
Want to print off this walk guide rather than rely on your mobile? Then click here to download the PDF to print out at home. Perhaps print out a copy for the kids to follow the step-by-step directions and/or photos? It's a great way to get them engaged with the walk and gives them a sense of responsibility.
All printable downloads are £1.50 each. Click here for the full list of Peak District Kids printable downloads.
Need to know
DISTANCE OF WALK: 7.9km / 4.9 miles

TYPE OF WALK: circular edge walk

PARKING: There is free layby parking along New Road. Click here for the Google Map location. This is a small lane with limited spaces, so please arrive early and park considerately. If there are no spaces here, you will need to park at Heatherdene car park (postcode: S33 0BY, cash only for parking) and start this walk at point 10 in the below route description. On weekends and school holidays it is advised to get to either parking locations before 10am.

WALK HIGHLIGHTS: Epic views over Ladybower Reservoir and nearby Win Hill, walking over Ladybower Dam, stepping stones at Bamford Mill, and The Anglers Rest.

HOW LONG DOES IT TAKE: 4 hours, although allow for 5 hours with young kids.

TOTAL ASCENT: 283m

ACCESSIBILTY: This walk is not pram friendly and there are a few stiles. The footpath is rocky and uneven in many places and muddy (slippy) in others.

FACILITIES: There are no facilities at the start of this walk. However, half way around at Heatherdene car park there are public toilets and a drinking fountain. The is also The Anglers pub and adjoining Rest Café in Bamford village towards the end of this Bamford Edge walk. There are also public toilets in Bamford.
The route
START: roadside parking on New Road
Click here for Google Map point
Grid reference: SJ 2153 8395
Post code: S33 0BY
what3words: ///visits.completed.truck

Route follows an anticlockwise direction.
1. Climb over the stile next to the parking area. Just ten metres ahead two footpaths cross. Take the footpath on the left, NOT the one going straight uphill. The footpath on the left is a much steadier climb to Bamford Edge.
2. You soon approach a fork. Take the one on the right, although it really doesn't matter as they end up in the same place. Then keep walking to the rocky outcrop shown in the second photo immediately below.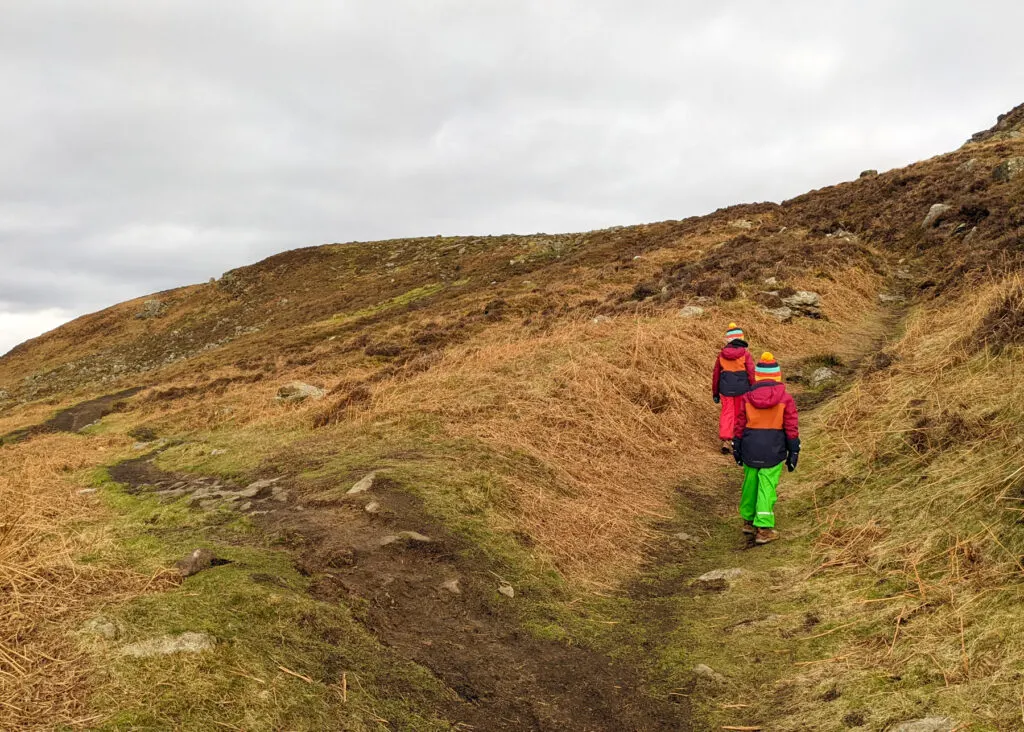 3. Once you reach the top of Bamford Edge, follow the footpath along the edge. The views are incredible. And you'll soon reach one of THOSE rocks where everyone takes a photo. The below photo is the hanging rock.
4. Further along (this section is relatively flat), Ladybower Reservoir comes onto view, and you'll spot the next photo hotspot. You will soon realise why it's so popular; it's absolutely beautiful.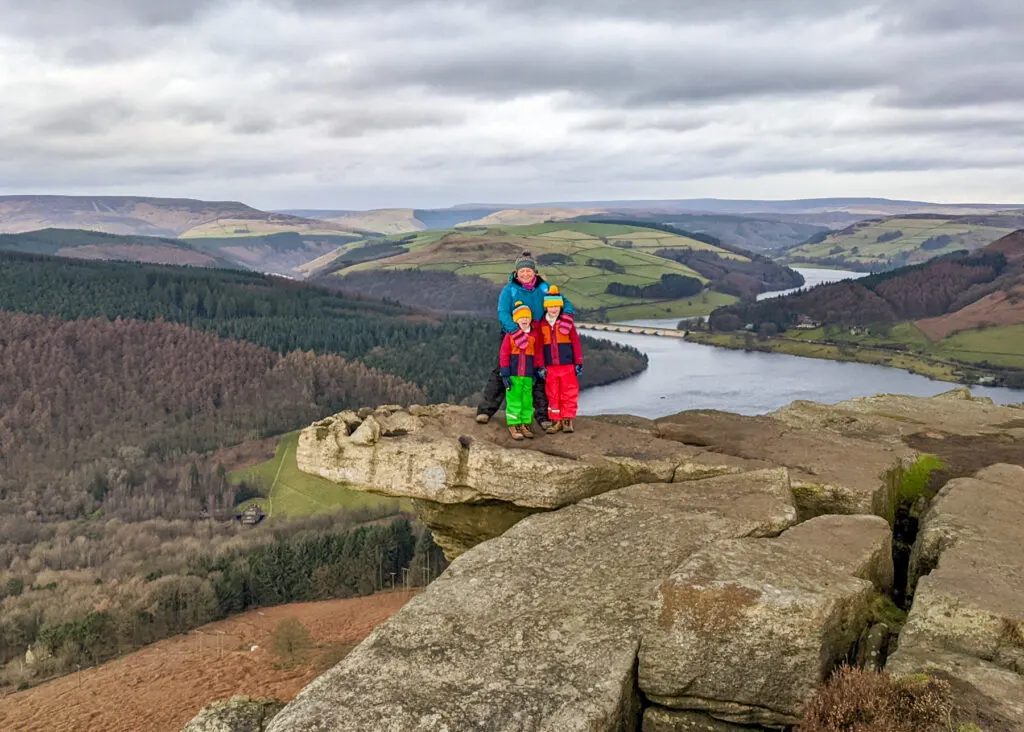 5. Continue walking along the Edge, with Ladybower Reservoir on your left. Keep to the edge and eventually you will walk through a drystone wall. Just after the drystone wall is a footpath on the left. Don't take this path. Instead walk on just a little further (150 metres) to where footpaths cross, and take the footpath down on the left.
6. Continue this footpath downhill. It will lead through woodland, then meet up with a drystone wall (on your right), before you reach a little stream. Take care, as it can get slippy along here in wet weather.
7. Cross over the stream (this may be dry in summer months) and follow the footpath sign to the right, through the drystone wall. Continue gradually downhill with the drystone wall on your right, until you meet another footpath sign (a white arrow) leading back across the stream and over a stile.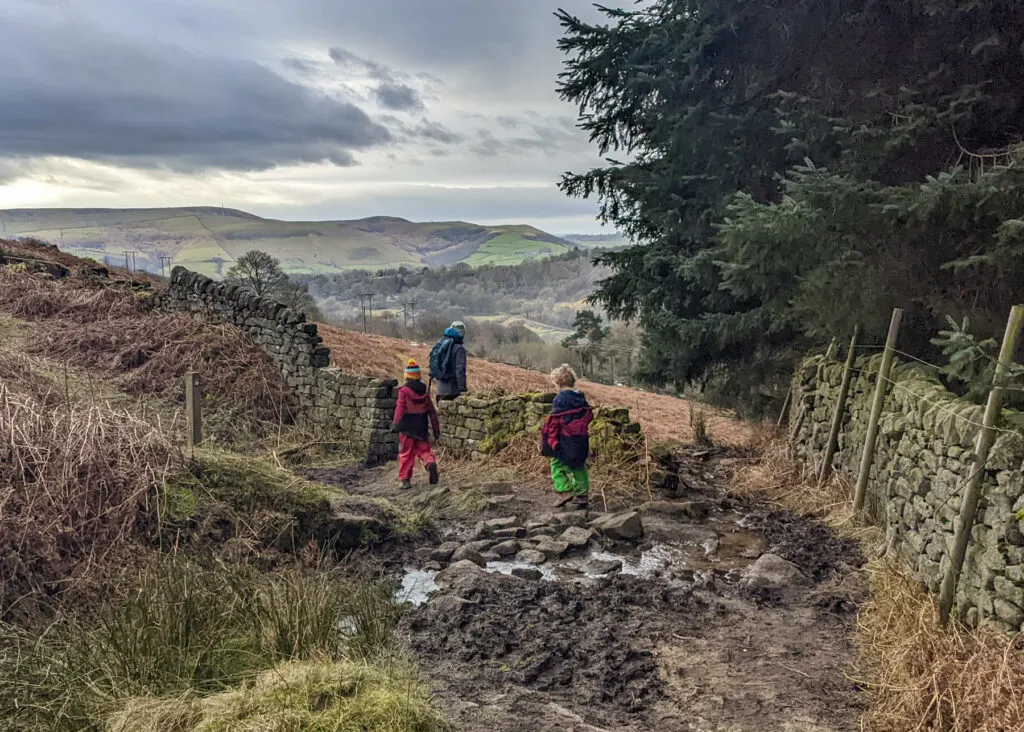 8. Continue following the waymarked path (white arrows), over a wooden footbridge. A little further on is a footpath on the left. Don't take this as it's not waymarked. Walk on 30 metres and keep following the arrows, which lead straight through woodland towards Ladybower Reservoir.
If anyone needs the loo, take a right at the next footpath junction. Just a short walk along here is Hetherdene car park, where you will find toilets as well as a drinking fountain if you need to fill up those water bottles. There are also picnic benches along this footpath, if you're looking for an easy sit down snack spot.
9. To continue along this walk, take a left to head down to the road at the footpath junction. Carefully cross the road and then walk slightly to the left to then walk through the gate to walk along Ladybower Dam. This is where you'll see the Ladybower Plug Holes (in either corner of the dam). As you walk among the dam wall, you may need to hoist little ones up so they can see the other side.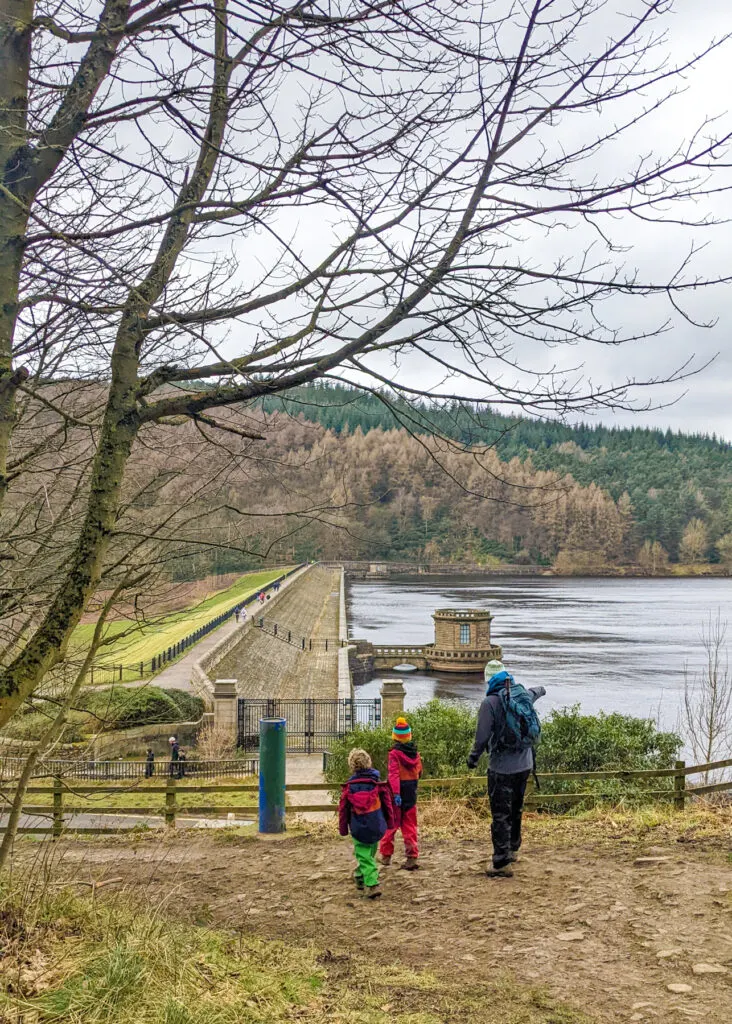 10. Once you reach the end of the dam wall, take a left, along the tarmac Thornhill Trail. Make sure you take a moment to look at Bamford Edge and see how far you've come! If you're feeling super energised and want to make this a longer walk here, take a right and follow our Win Hill walk.
11. Follow the signs for the Thornhill Trail. Don't miss the right fork 100 metres along, which is where it becomes a gravel path. Watch out for cyclists along here. About 500 metres along is a beautifully carved wooden bench that looks over to Bamford Edge (another good snack spot). Also look our for all the carved animals along the trail (these are the 'missing' animals that used to live in this area, but have now gone).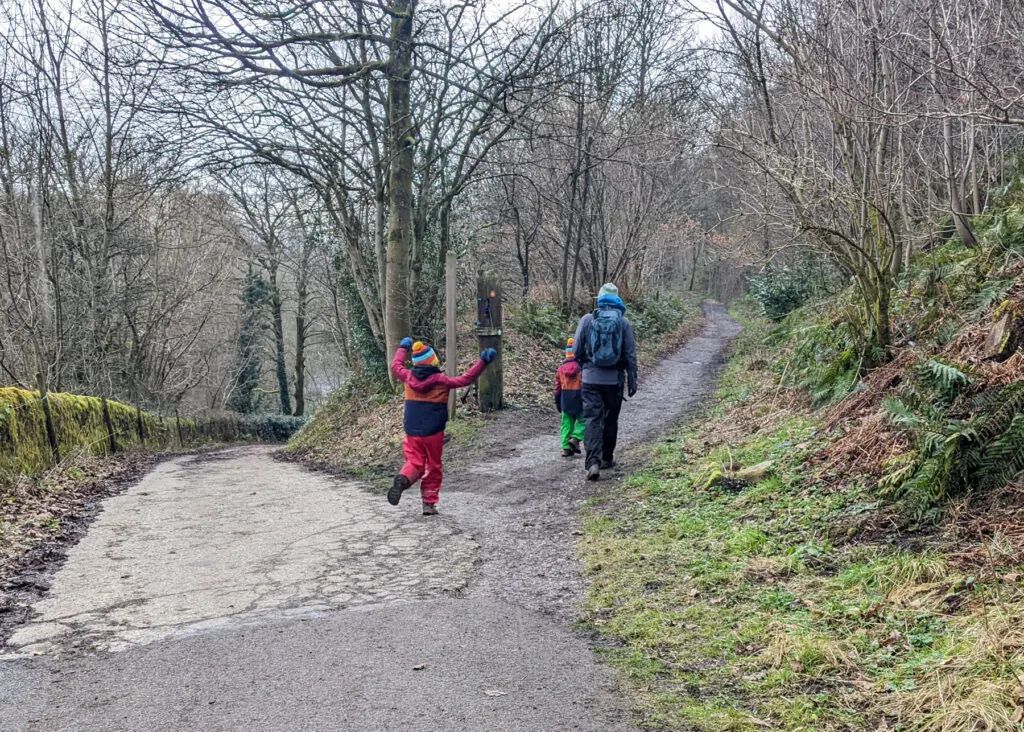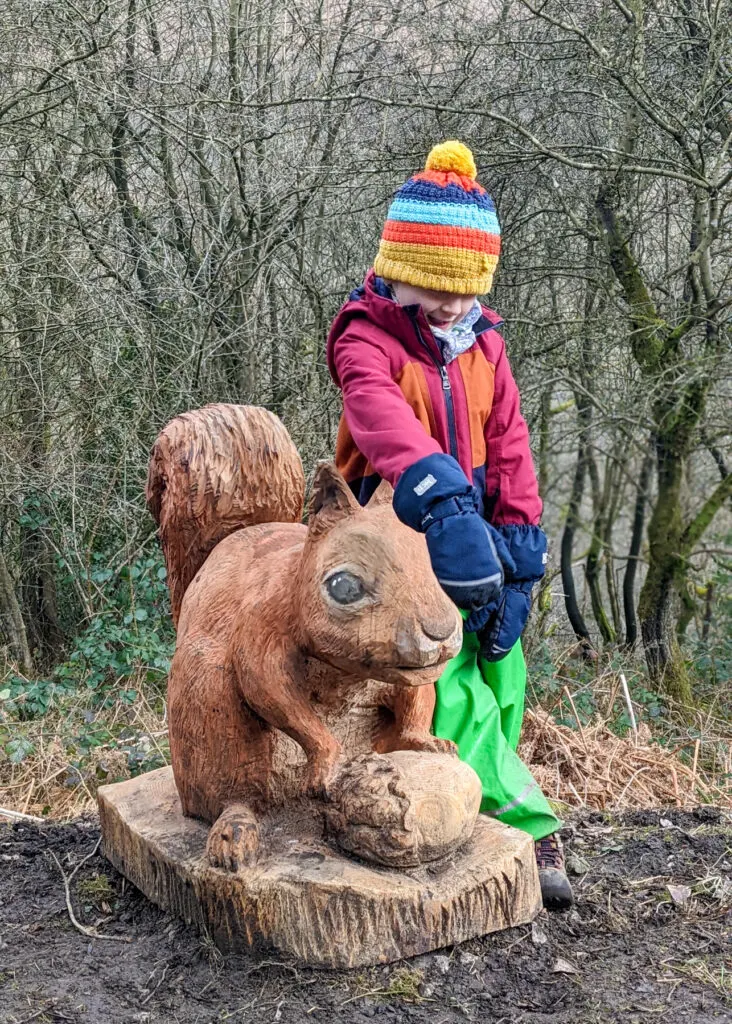 12. The trail leads out onto a quiet road. Cross over the road and follow the sign, 'Bridleway to Bamford Station'. Continue through the gate you meet after 100 metres.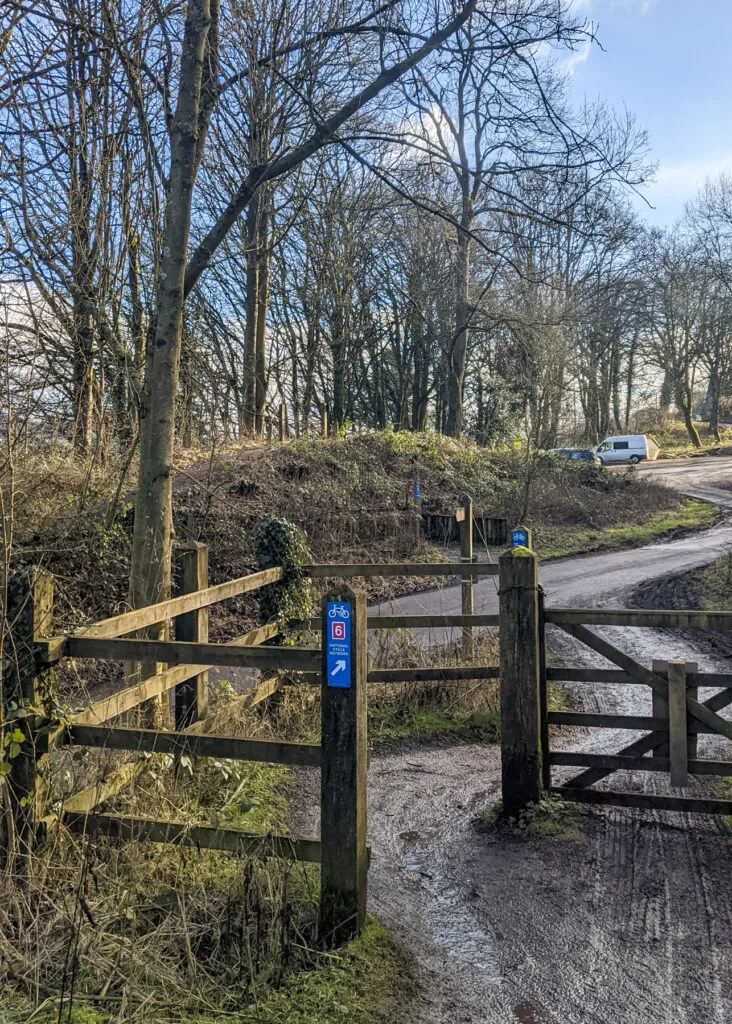 13. 200 metres on from here is a footpath that leads off the Thornhill Trail, down some steps, and through a wooden gate. Follow the direction the yellow arrow on the gate is pointing. This footpath is quite muddy and slippy, but very soon meets a level path veering right.
14. Continue straight ahead to then walk through a gate on the left. Once through the gate, the path veers to the right towards Bamford Mill on the River Derwent.
15. Once you reach the river, walk over via the wooden footbridge and the Bamford Mill stepping stones (there are barely any gaps and the stones are very sturdy, so they're much easier to cross than nearby Hathersage Stepping Stones).
16. When you've reached the other side, walk up to the road and turn right. Then after 20 meters, follow the footpath sign to the left. Continue along this quiet lane to the main road running through Bamford village.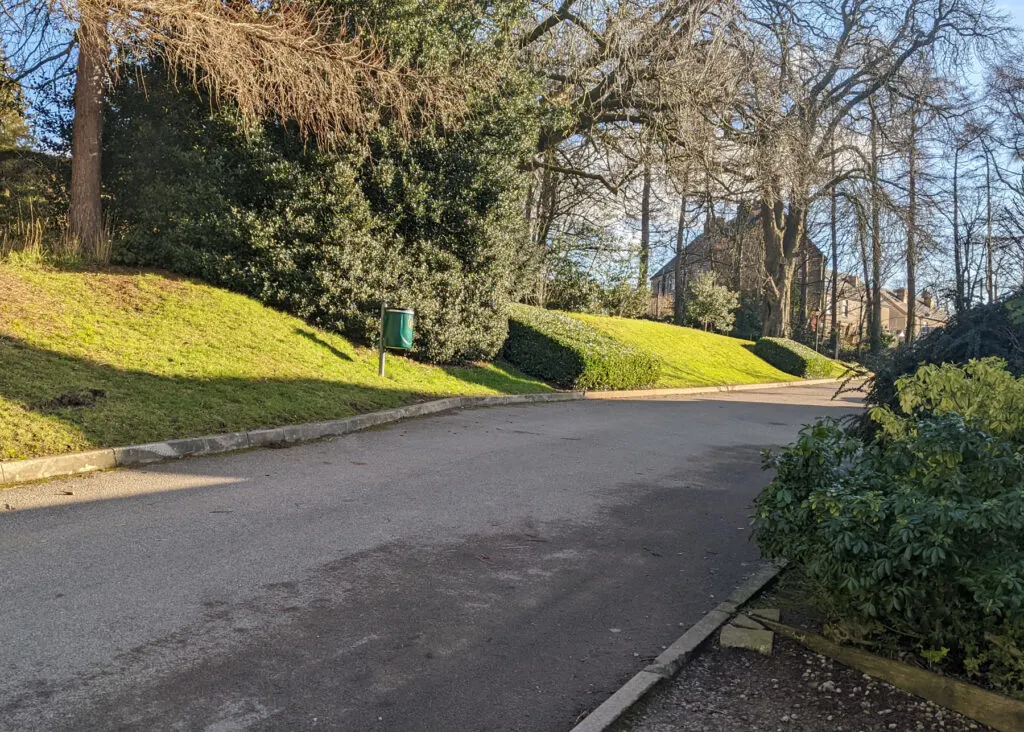 You're almost at the end, but is it time for a pint? Walk left when you get to the main road for 100 metres. Need the loo? Walk right at the main road for 40 metres to the public toilets.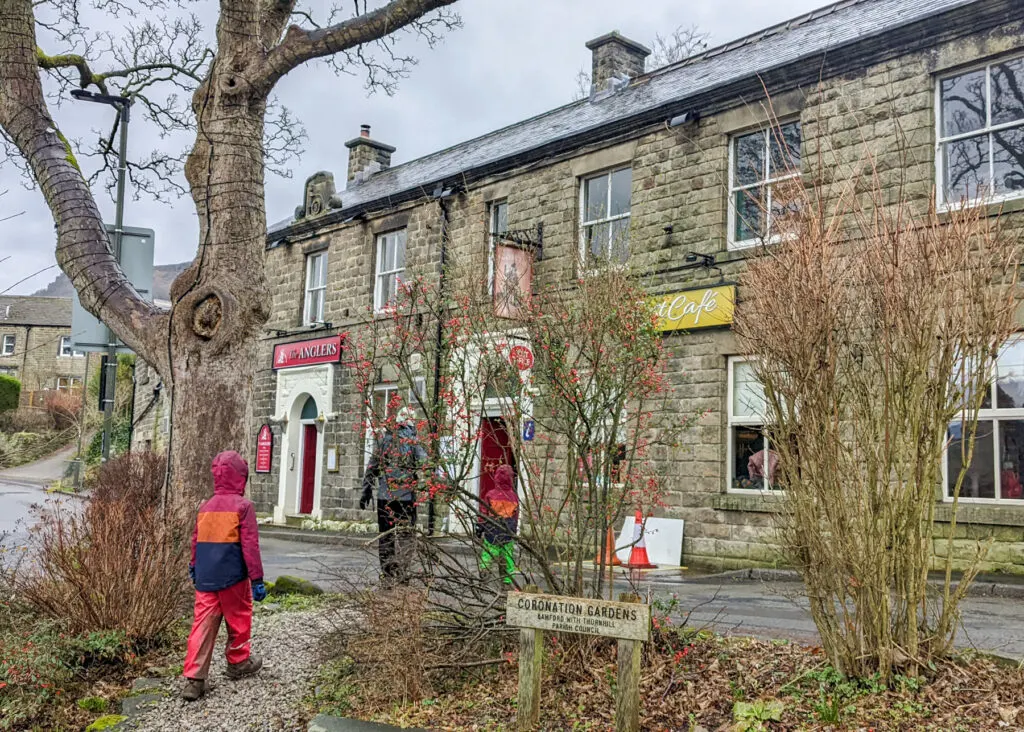 17. Carefully cross over the main road to Fiddlers Well (a bit to the left), NOT Fiddlers Close. Continue walking straight ahead as this leads into Leeside Road / Bamford Clough. It's a steep climb uphill for 600 metres (take your time, there are a couple of benches to stop at on the way up). Once you reach the top, walk along to the right back to your car to complete this circular Bamford Edge walk.
Alternative walking route back from The Angler's Rest
It is quite a slog up Bamford Clough. Also, although it's due to reopen Dec 2021, the signs are still there in 2023 to say it's closed (although you can actually walk through very easily).
For a gentle ascent back to the car turn right out of the pub and 160 meters up the road on the right is a footpath. Walk through this footpath up to the gate at the end. Walk through the small gate on the left and follow the footpath that leads up to New Road. Once you reach New Road, take a right and walk 1.12km back to the car (or one of the parents can walk on ahead to get the car).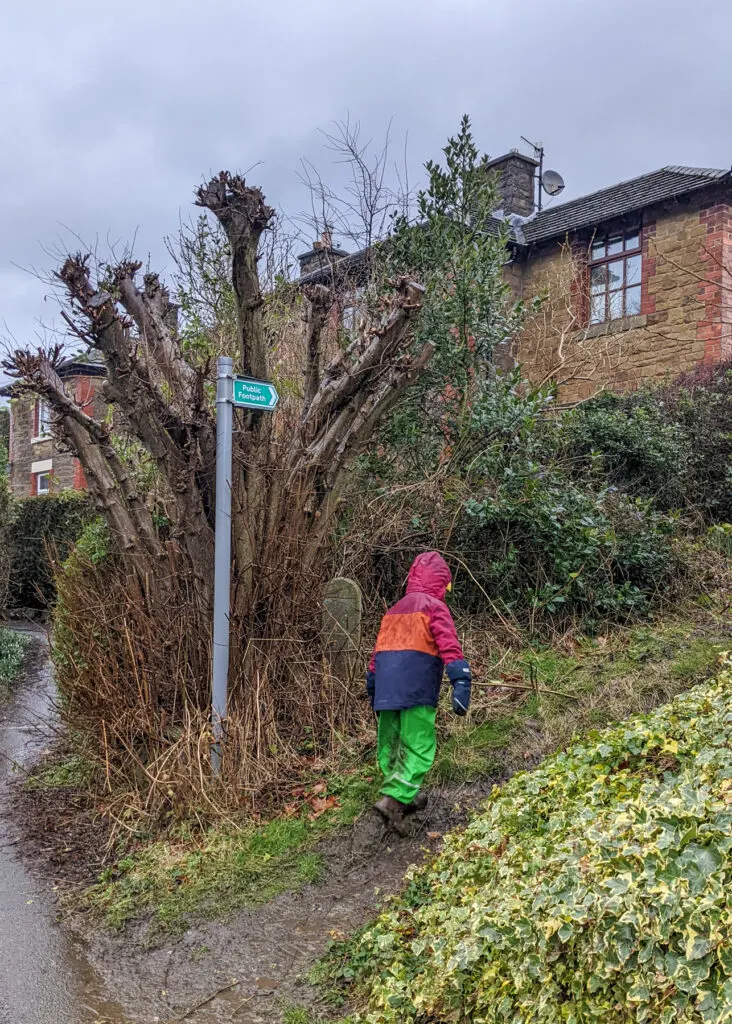 This route from the Anglers Rest and back to the starting point via New Road is 2km. If you take the route directly up Bamford Clough its 900 metres from the pub.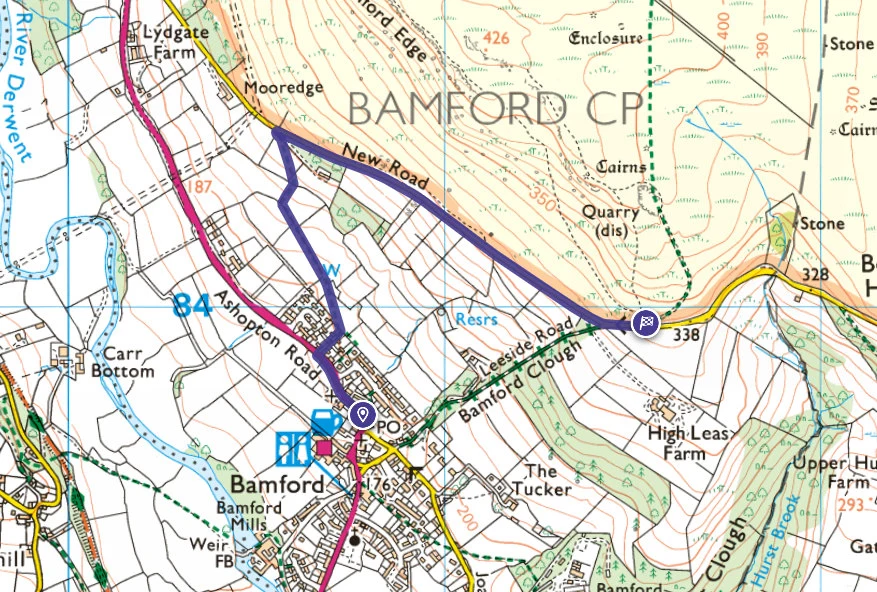 ---
You may also like to read:
Win Hill walk
Stanage Edge walk
Derwent Dam walk