Peak District Kids writer: Gemma from Families Can Travel
This High Peak Trail and Cromford Canal walk is great for kids as they will love climbing on the old train carriage and wandering around Cromford Mills. Plus there are lots of giant rocks for kids who love climbing and the views across the quarry, Cromford and Riber Hill are stunning.
The High Peak Trail runs across the southern part of the Peak District and ends just outside of theNational Park border near Cromford.
This circular pram-friendly walk follows the High Peak Trail down the former railway line to the Sheep Pasture engine house. You can see what's left of the old railway operation with the engine house still standing at the top, and the Catch Pit for runaway wagons at the bottom.
There's an old train carriage for the kids to climb on at the High Peak Junction before walking along the beautiful Cromford Canal to Cromford Mills. You might want to wander around the Cromford Mills, which is free to enter and houses shops and cafes.
Looping back round to re-join the High Peak Trail, this part of the walk is a steep incline, so little legs might need the pram or buggy at this point (which means a good workout out for mums and dads).
If you want to skip part of the incline and make this a shorter 4.5km walk, you can instead start at Cromford Wharf Car Park (details below).
Disclaimer: This post contains affiliate links. Should you click to purchase, it is at no additional cost to you, but I receive a small commission.
If you are planning a visit to the National Park, please arrive early or late in the day to avoid crowds if visiting over sunny weekends or school holidays. Please also take all litter home with you, don't bring BBQs and park your car in designated parking areas. Also, please use these walks as a guide; access and stiles may change.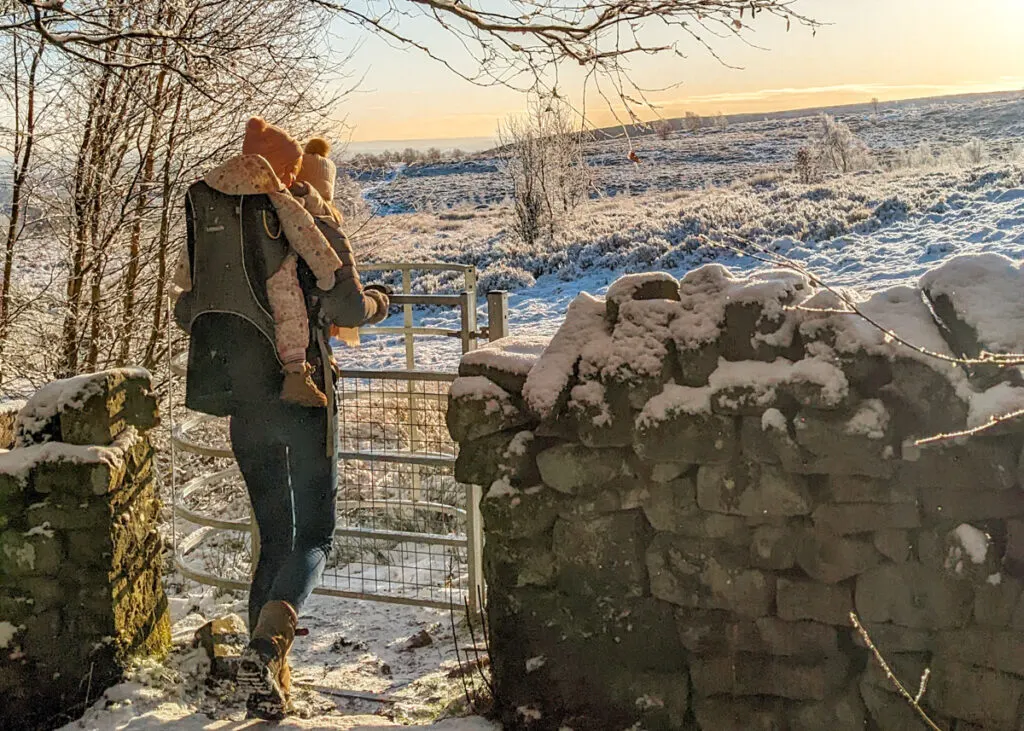 During the winter months, it's important to be extra prepared and safe when out walking and adventuring in the Peak District. The weather can change so quickly, especially on the exposed escarpments, and we don't want you to get caught out.
Read our top tips for safe winter walking with the kids.
FOLLOW US:
PARKING INFORMATION: Please do not rely solely on the postcode for parking directions. In the National Park, a postcode can cover a large area. Postcodes are only provided as guidance. Please either use the Google Maps point provided for every walk, or what3words.
Do check out our top tips for hiking with young kids, as well as our essential items to take on a family hike in the Peak District.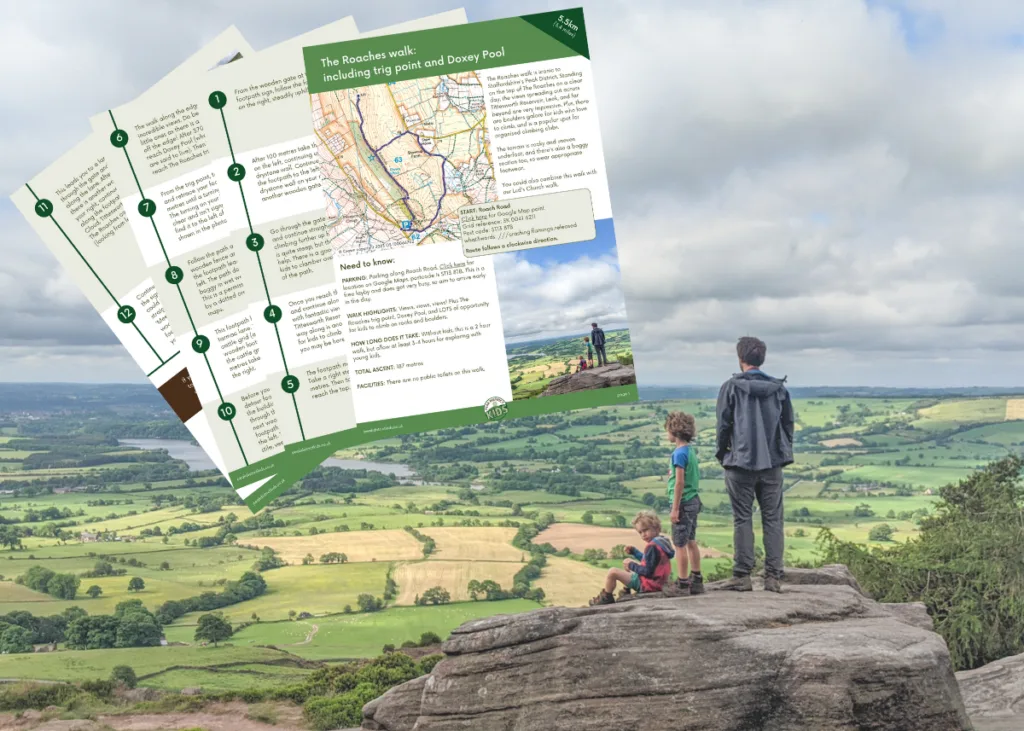 Download and print out our walking guides ready for your family walk. There are over 80 downloadable walk guides available, and these include all the main Peak District family walks, pram-friendly walks, and toddler walks.
Each printable download is just £1.50, whether it's a short 1km stroll or an epic walk up Kinder Scout.
High Peak Trail and Cromford Canal walk map
On all Peak District family walks it's a good idea to have an Ordnance Survey paper map with you, even if you have your phone on you. For this walk you need the OS Explorer Active Map OL 24 (White Peak). It's also a good opportunity to show young kids the map features and get them started with map reading.
The route directions below follow this map in an anti-clockwise direction, starting from Black Rocks Car Park.
Get a printable download of this walk
Want to print off this walk guide rather than rely on your mobile? Then click here to download the PDF to print out at home. Perhaps print out a copy for the kids to follow the step-by-step directions and/or photos? It's a great way to get them engaged with the walk and gives them a sense of responsibility.
All printable downloads are £1.50 each. Click here for the full list of Peak District Kids printable downloads.
Please note that your download link expires 72 hours from order, so make sure you save your PDF somewhere where you'll remember it. If you are unsure where your download folder is on your mobile device, we recommend you download the PDF on your laptop or desktop.
Need to know
DISTANCE OF WALK: 7.3km (4.5 miles)

TYPE OF WALK: circular pram walk along disused railway tracks and Cromford Canal

PARKING: Parking at Black Rocks Car Park. Click here to see location on Google Maps, postcode: DE4 4GT. Parking costs: 2 hours – £1.60, 4 hours – £3, all day – £4.80. CASH ONLY. For a pram-friendly and closer access to the trail, take the second entrance on the left to the car park (the first car park entrance has steps up to the trail).

WALK HIGHLIGHTS: Climbing on the giant rocks, Sheep Pasture engine house (top of incline), Catch Pit and train carriage (bottom of incline), Cromford Canal, Cromford Mills.

HOW LONG DOES IT TAKE: This walk can be done in 2.5 hours, but with time for the kids to play and a wander around Cromford Mills, allow closer to 4 hours.

ACCESSIBILTY: Pram friendly, well-surfaced paths, steep incline (1 in 8 gradient) so little legs may need the pram/buggy for the uphill section. You may choose to walk up to Black Rocks (a rocky outcrop just 150 yards from the car park) at the start/end of the walk but this is not pram friendly, so it's best to leave the pram/buggy in the car.

TOTAL ASCENT: 159 metres

FACILITIES: There are public toilets at Black Rocks Car Park and High Peak Junction (at 2.4km mark). You can get refreshments and snacks from Badger Barista (Black Rocks), High Peak Junction Coffee Shop or Cromford Wharf
The route
START: Black Rocks Car Park
Click here for Google Map point
Grid reference: SK 2914 5571
Post code: DE4 4GT
what3words: ///eagles.bigger.simulates

Route follows an anticlockwise direction.
1. With the café and toilets on your right, walk to the end of the car park. Walk through the gate and turn left onto the High Peak Trail, following the signpost 'High Peak Junction 1 ½ miles'.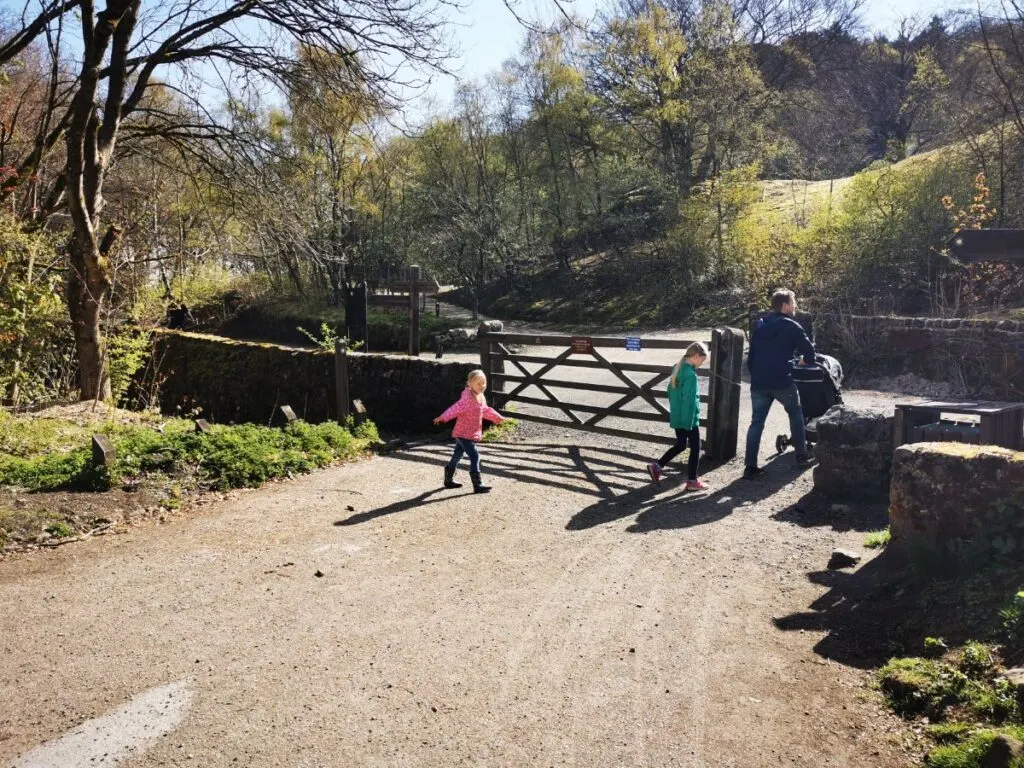 2. Follow this flat part of the trail, admiring the views across the quarry, Cromford, Matlock Bath and Riber Hill. After 1km, you'll reach the Sheep Pasture engine house which once housed the haulage engine that pulled the wagons up the incline.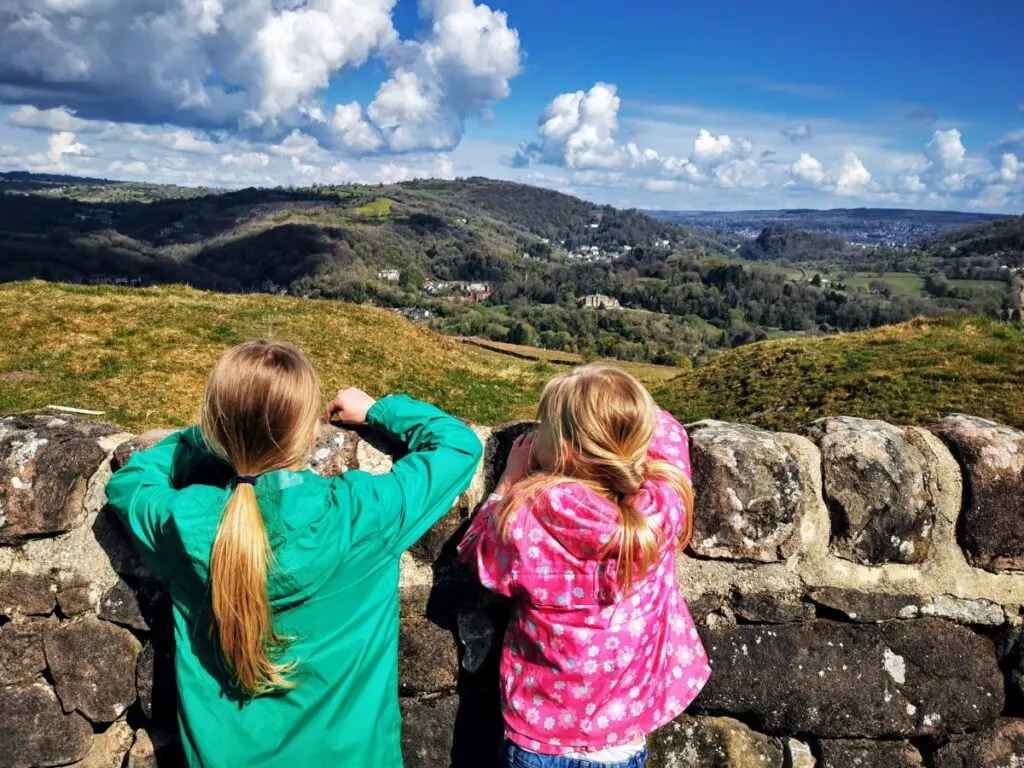 3. Walk through the gate and continue down the incline (the path gets a little bumpy here but soon evens out). Approximately 400 metres down, you'll notice a path to the right signposted to 'Intake Lane', You'll return back along this path but for now, continue walking down the incline.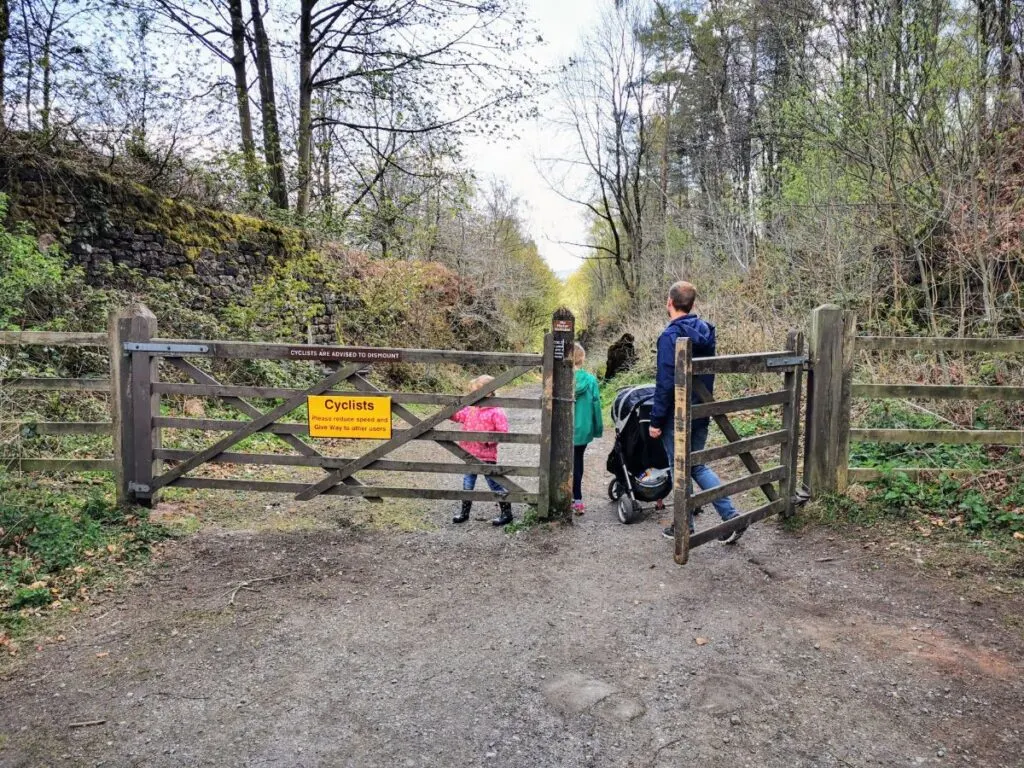 4. Continue for a further 1km, until you reach the High Peak Junction. On the way, you'll pass the Catch Pit where an old runaway wagon still lies on it's side. Shortly after, you'll walk through a small tunnel and then come to the track and train carriage at the High Peak Junction Workshops. Here's a great spot to grab a drink from the coffee shop and watch the kids play by the canal.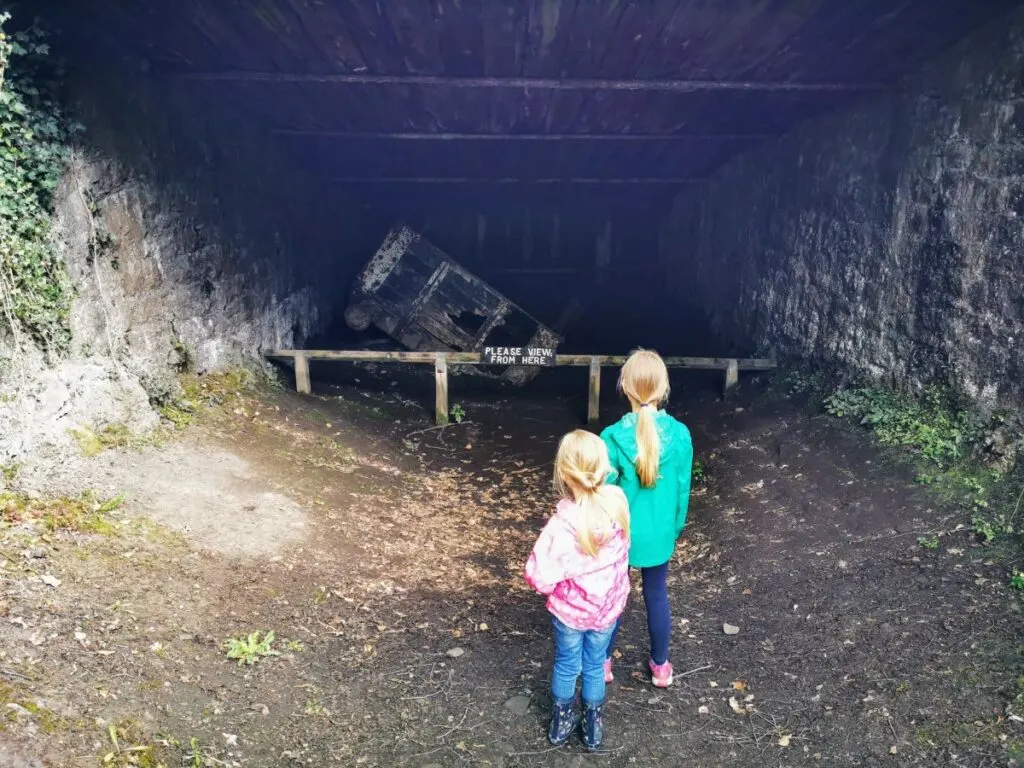 5. Cross the bridge over the canal and follow the signpost to Cromford, walking with the canal on your left-hand side. Continue for 1.8km along the canal path, passing under a bridge until the path meets the road at Cromford Wharf.
You may even spot people canoeing along here. This is a fantastic family activity (click here to find our more about canoeing along Cromford Canal).
6. You may want to cross over the road to wander around the Cromford Mills yard, shops and cafes. To continue the walk, turn left and walk along the pavement alongside Cromford Mills.
7. After 400m, you'll reach the main road (A6). Turn left, walking along the pavement and taking care alongside the busy road.
8. After 100 metres turn right onto Intake Lane, following the road round to the left. Follow this steep road uphill for 600 metres until it narrows off at the top and turns into a track. Take a moment to catch your breath and admire the beautiful views to your left.
9. Follow the path for 450 metres, keeping to the right. After passing under a bridge, turn right onto a path signposted to the High Peak Trail
10. Continue for 150 metres until the path meets back up with the High Peak Trail (you'll remember walking past this point on your way down). Turn left and follow the High Peak Trail for the final 1.4 km, back up the steep incline and along the final flat stretch to the car park.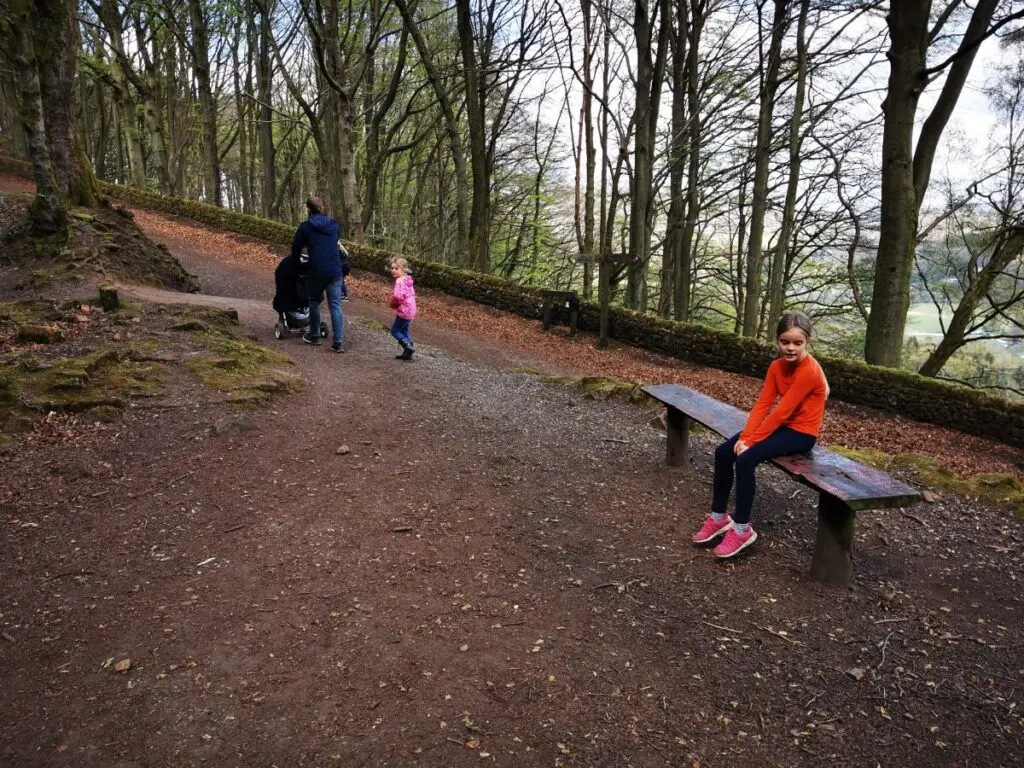 Want a shorter route?
Park at Cromford Wharf Car Park, and start at step 6. Then where the route says to turn left at the High Peak Trail to go uphill (step 10), instead head down to the right and then follow steps 4-5. This would make it into a 4.5km walk.
Click here for location of Cromford Wharf Car Park in Google Maps; postcode is DE4 3RQ.
Fancy a bite to eat on this walk?
You really are spoilt for choice on this walk for cafes and stops for a drink and bite to eat. At the beginning or end of the walk, you have the Badger Barista café at Black Rocks and there are plenty of picnic benches.
If you fancy sitting by the canal, you have a couple of choices with the cafe at the High Peak Junction or at Cromford Wharf.
Alternatively, Cromford Mills is a lovely setting to stop for light refreshments and snacks too.
What else is there to do in the area?
Check out our guide to visiting Matlock and Matlock Bath.
However, just 800 metres from the start of this walk in the other direction along the High Peak Trail, is the National Stone Centre. This is a fantastic place to visit with young kids, as they will love the gem panning, the playground, fossil hunting on the geo-trail, and can even try their hand at drystone walling. There's also a café! The National Stone Centre is free to enter, but it's £3 each for gem panning and you may want to pick up a map of the geo-trail for £1. Click here for more information.
---
You may also like to read:
Pram friendly walks in the Peak District
Cycling the High Peak Trail with kids
Peak District canoeing along Cromford Canal