Lathkill Dale is one of the prettiest dales in the Peak District National Park. This picturesque Lathkill Dale walk takes you to the cave where the River Lathkill emerges (feel the cold air seeping from underground) and along the river to a waterfall. It then leads back along the top of the dales across a series of open pastures connected by stone stiles.
For those of you looking for a shorter Lathkill Dale walk, you could just walk down to the cave (the start of the River Lathkill) and back, which is 3km return. We also have a Lathkill Dale walk from Over Haddon (5km).
This is a limestone dale so there are steep slopes and cliff faces. Do be careful on the rocks. Also, wear good hiking boots as the path is uneven in places, and limestone can be slippy when wet. Along the Lathkill Dale there are a number of caves and areas of old mine workings. Please be careful around these and keep out unless it is clear that they are safe to enter.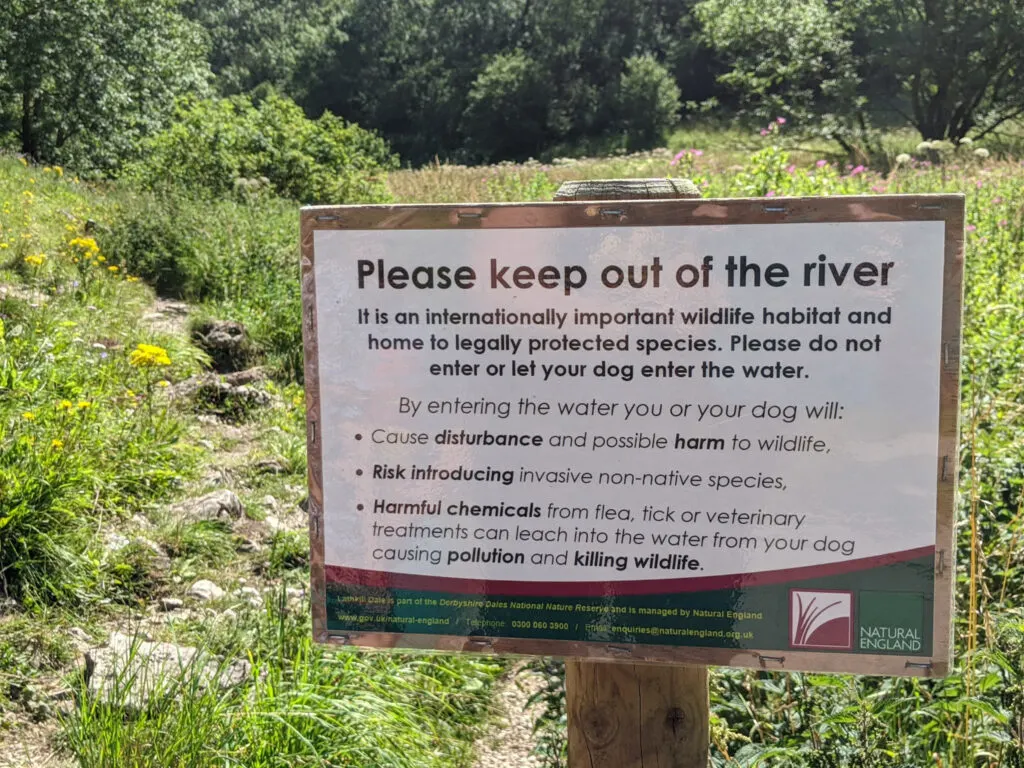 Also note that Lathkill Dale is a SSSI and there are Natural England signs along the river asking you not to go in to the water for a paddle.
If you're looking for a nearby campsite, Lathkill Dale campsite, which is one of our top Peak District family campsites, is close to the start point of this walk.
Disclaimer: This post contains affiliate links. Should you click to purchase, it is at no additional cost to you, but I receive a small commission.
If you are planning a visit to the National Park, please arrive early or late in the day to avoid crowds if visiting over sunny weekends or school holidays. Please also take all litter home with you, don't bring BBQs and park your car in designated parking areas. Also, please use these walks as a guide; access and stiles may change.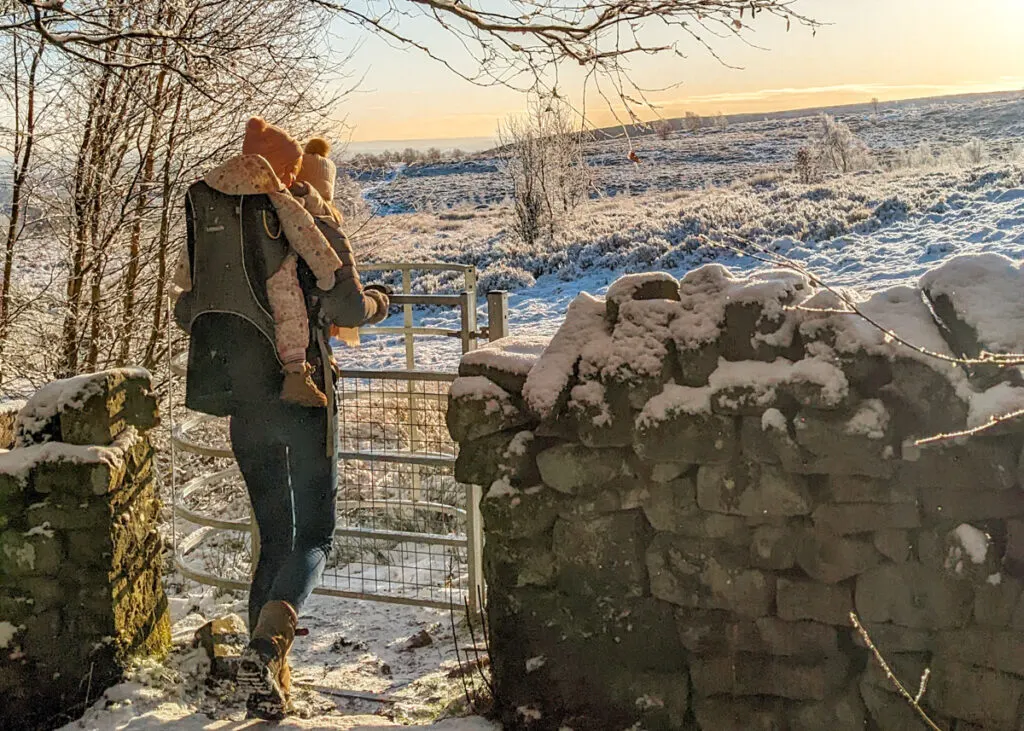 During the winter months, it's important to be extra prepared and safe when out walking and adventuring in the Peak District. The weather can change so quickly, especially on the exposed escarpments, and we don't want you to get caught out.
Read our top tips for safe winter walking with the kids.
FOLLOW US:
PARKING INFORMATION: Please do not rely solely on the postcode for parking directions. In the National Park, a postcode can cover a large area. Postcodes are only provided as guidance. Please either use the Google Maps point provided for every walk, or what3words.
Do check out our top tips for hiking with young kids, as well as our essential items to take on a family hike in the Peak District.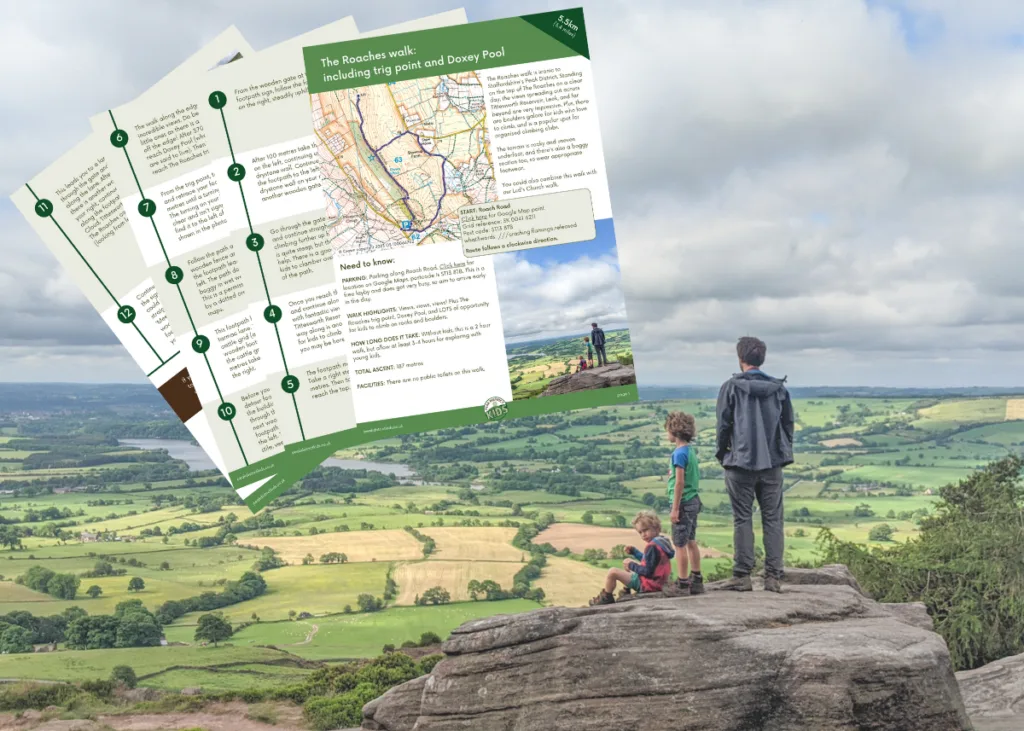 Download and print out our walking guides ready for your family walk. There are over 80 downloadable walk guides available, and these include all the main Peak District family walks, pram-friendly walks, and toddler walks.
Each printable download is just £1.50, whether it's a short 1km stroll or an epic walk up Kinder Scout.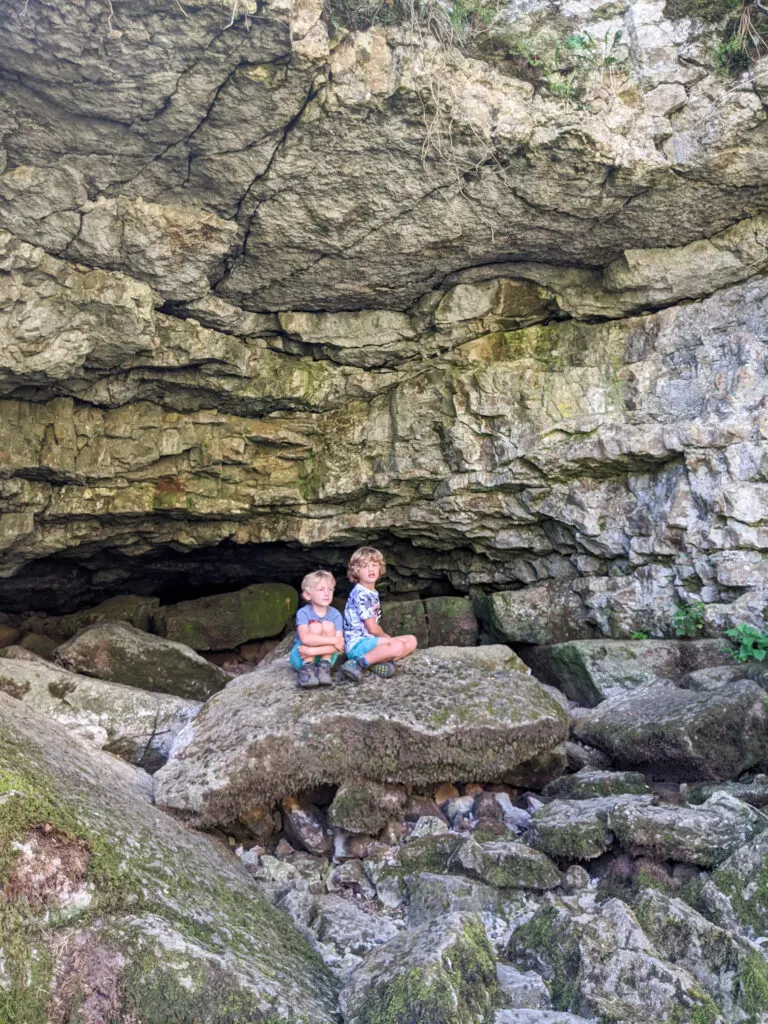 Lathkill Dale walk from Monyash map
On all Peak District family walks it's a good idea to have an Ordnance Survey paper map with you, even if you have your phone on you. For this walk you need the OS Explorer Active Map OL 24 (White Peak). It's also a good opportunity to show young kids the map features and get them started with map reading.
Get a printable download of this walk
Want to print off this walk guide rather than rely on your mobile? Then click here to download the PDF to print out at home. Perhaps print out a copy for the kids to follow the step-by-step directions and/or photos? It's a great way to get them engaged with the walk and gives them a sense of responsibility.
All printable downloads are £1.50 each. Click here for the full list of Peak District Kids printable downloads.
Please note that your download link expires 72 hours from order, so make sure you save your PDF somewhere where you'll remember it. If you are unsure where your download folder is on your mobile device, we recommend you download the PDF on your laptop or desktop.
Need to know
DISTANCE OF WALK: 6.6km / 4.1 miles

TYPE OF WALK: circular, moderately difficult with a bit of a climb

PARKING: There is free roadside parking along Church Street, outside Monyash village. Click here for Google Map point, postcode DE45 1JH.

WALK HIGHLIGHTS: Stunning scenery, caves to explore, a waterfall (although no paddling allowed), and a visit to the playground and Bulls Head in the village of Monyash at the end.

HOW LONG DOES IT TAKE: Without kids, this is a 2.5 hour walk. Allow 3.5 hours with young kids.

TOTAL ASCENT: 134 metres

PUBLIC TOILETS: Public toilets can be found across the road to the parking. It's a 600 metre walk into Monyash from the parking area, where there is a pub, café, and playground. There are no facilities on the actual walk.
The route
START: Parking layby opposite Lathkill Dale toilets
Click here for Google Map point
Grid reference: SK 1574 6645
Post code: DE45 1JH
what3words: ///magically.amaze.lavender

Route follows an anticlockwise direction.
1. Across from the parking layby is a public toilet. To the left of this is a wooden gate that leads you into Lathkill Dale. Follow this down through the pastures, passing through a couple of gates along the way.
2. Take the footpath on the left of the below photo, which continues down into the dale. The cliffs soon enclose in on you, and in summer the nettles either side of the path can be quite high (be careful!).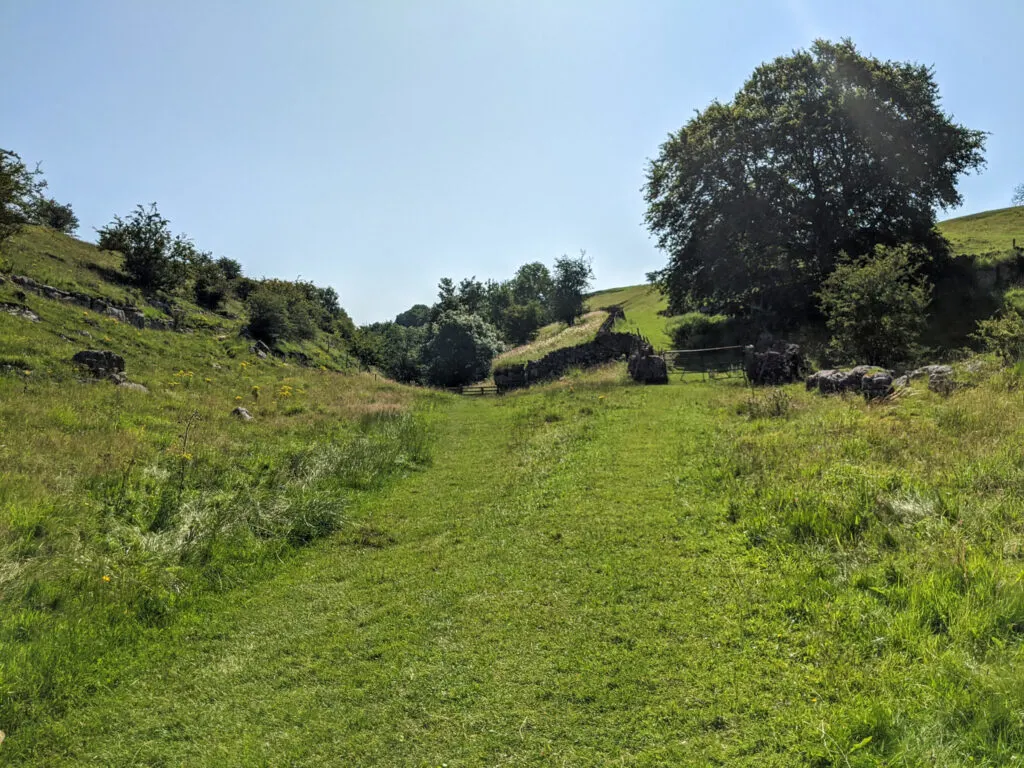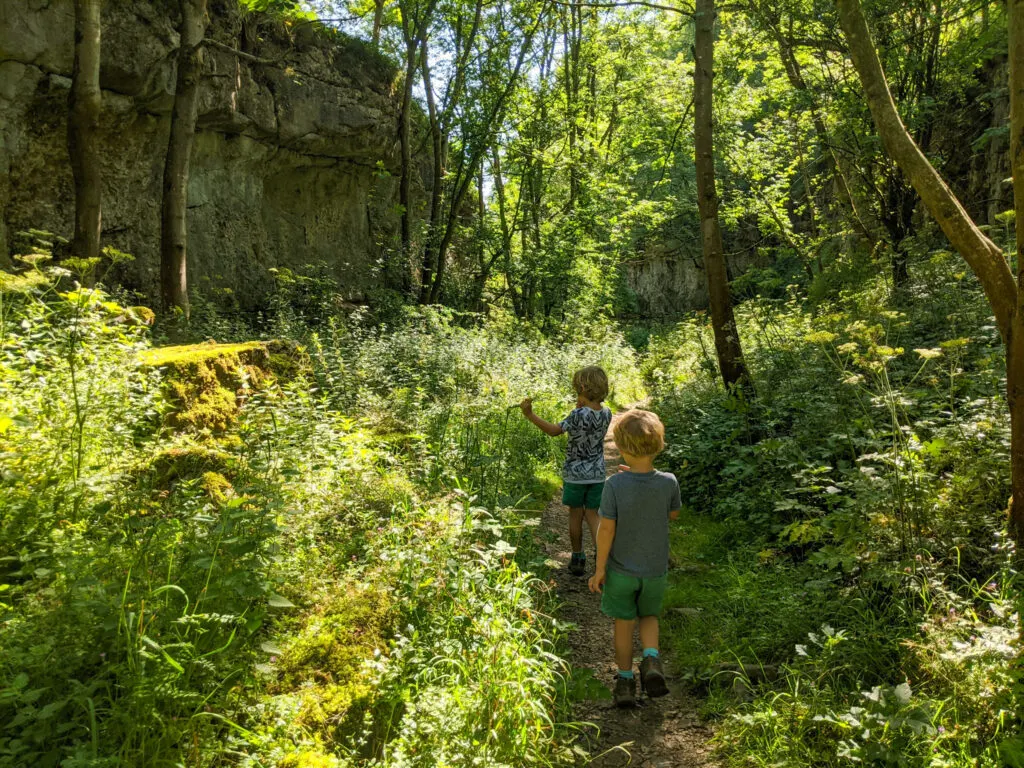 3. Across a stone stile, the path then opens up to stunning views. Continue following the path until you reach a big cave on your right. In winter, this is where the River Lathkill begins. However, during summer it will be dry, so head in to explore!
4. Continue along the footpath, following the river down in to the dale for another 1.5km until you reach the waterfall. The below photo was taken in summer, when the waterfall was not in full flow.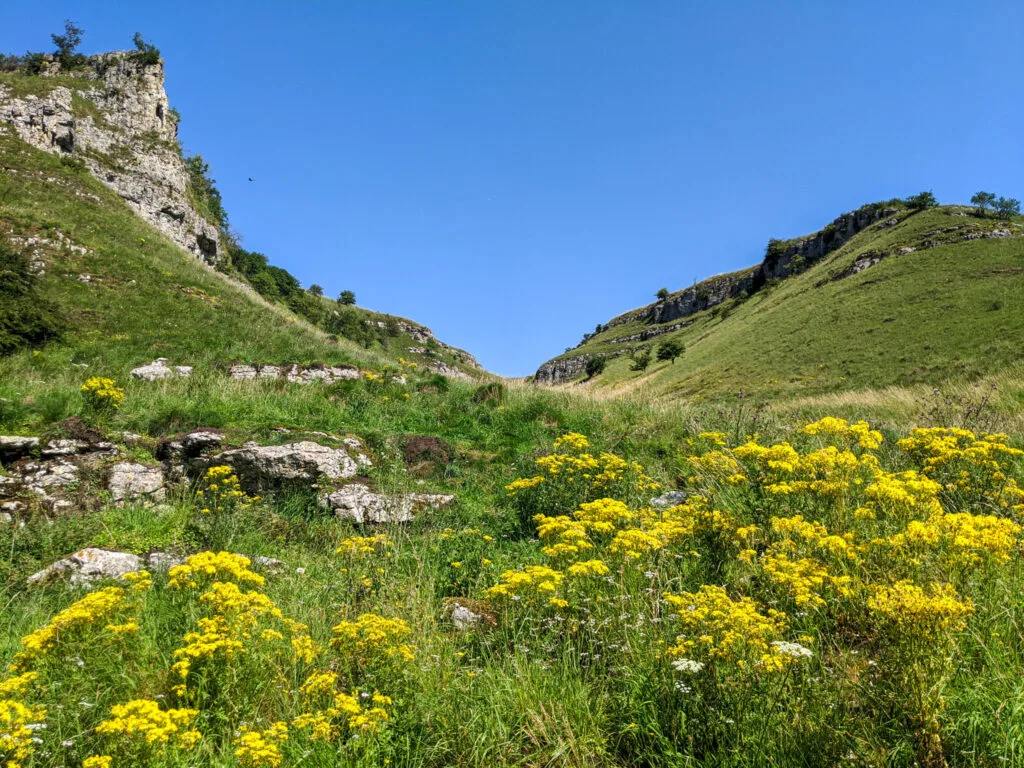 5. Follow the footpath just a little further down (about 300m) until you reach a wall with a footpath to the left, which leads you up and out of the dale. It's a steep but short climb, so take it steady.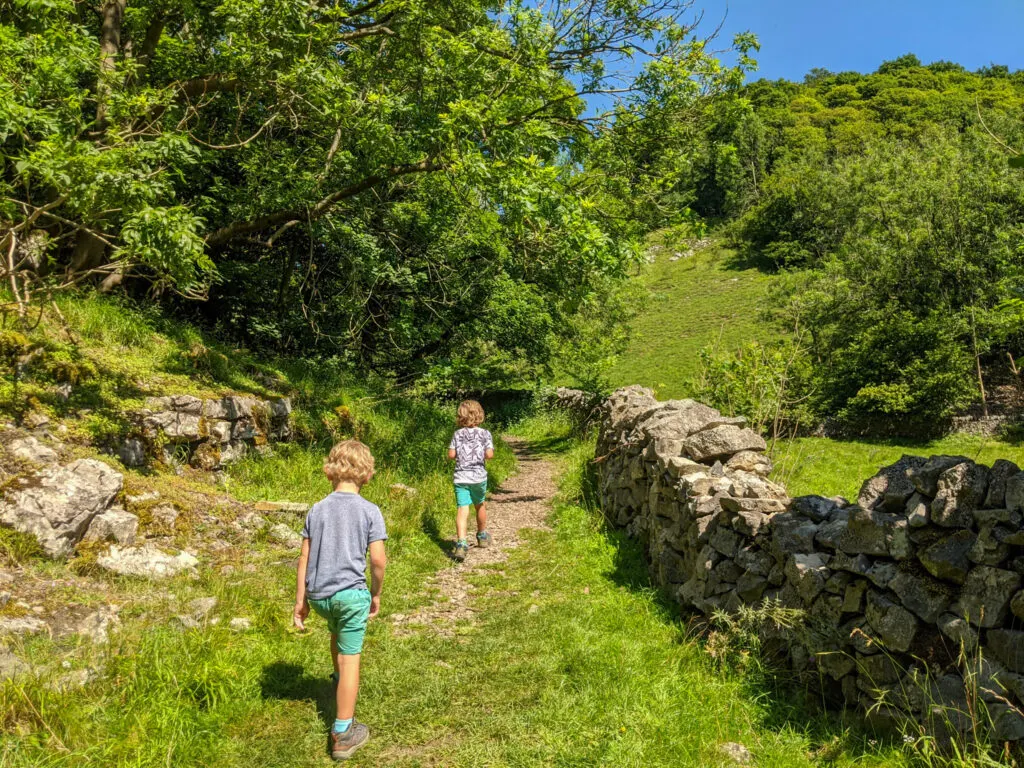 6. When you reach the wooden gate at the top, follow the footpath around to the right and through Mills Farm.
7. The gradient now levels out and that's it for the steep uphill walking. Take the path to the right of the campsite, on the other side of the farm buildings, and follow this up to the road (which is really a quiet lane).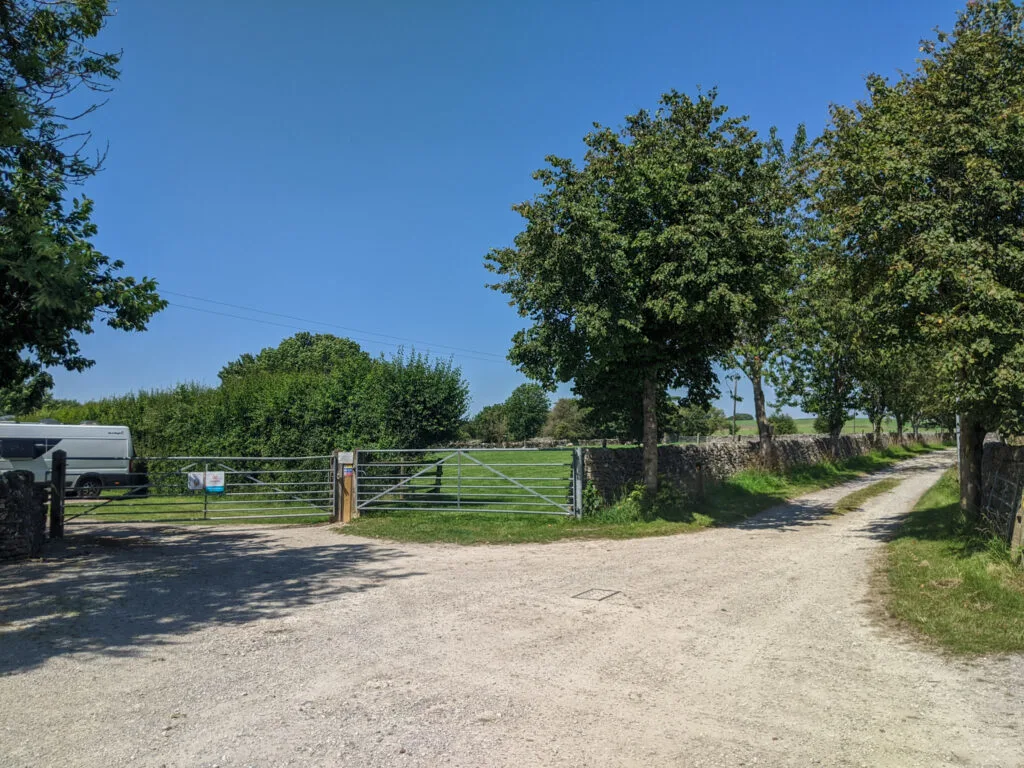 8. Turn left and continue along the tarmac lane for 300 metres, then follow the bend to the right for another 150 metres until you reach a stone stile on your left.
9. Climb over the stile. With the wall on your right, cross two fields to the next stone stile. Then take the footpath that leads slightly right.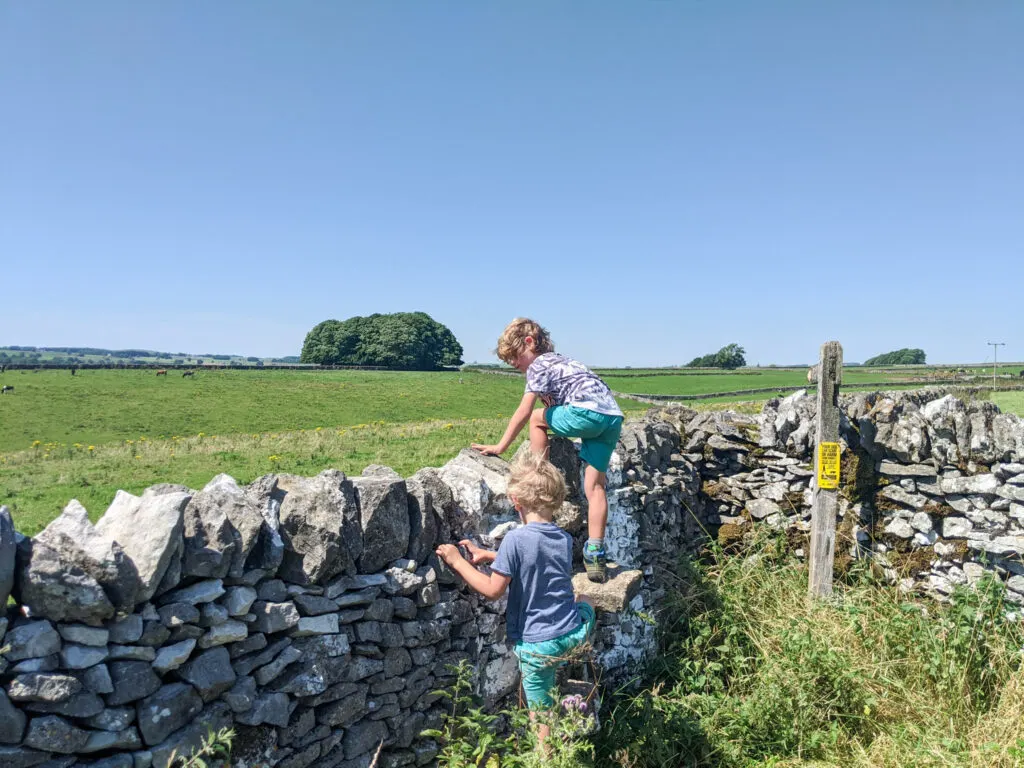 10. It's then a case of following the footpath signs across the fields to the road (there are seven stone stiles to cross). There is a bit of a climb on the last field.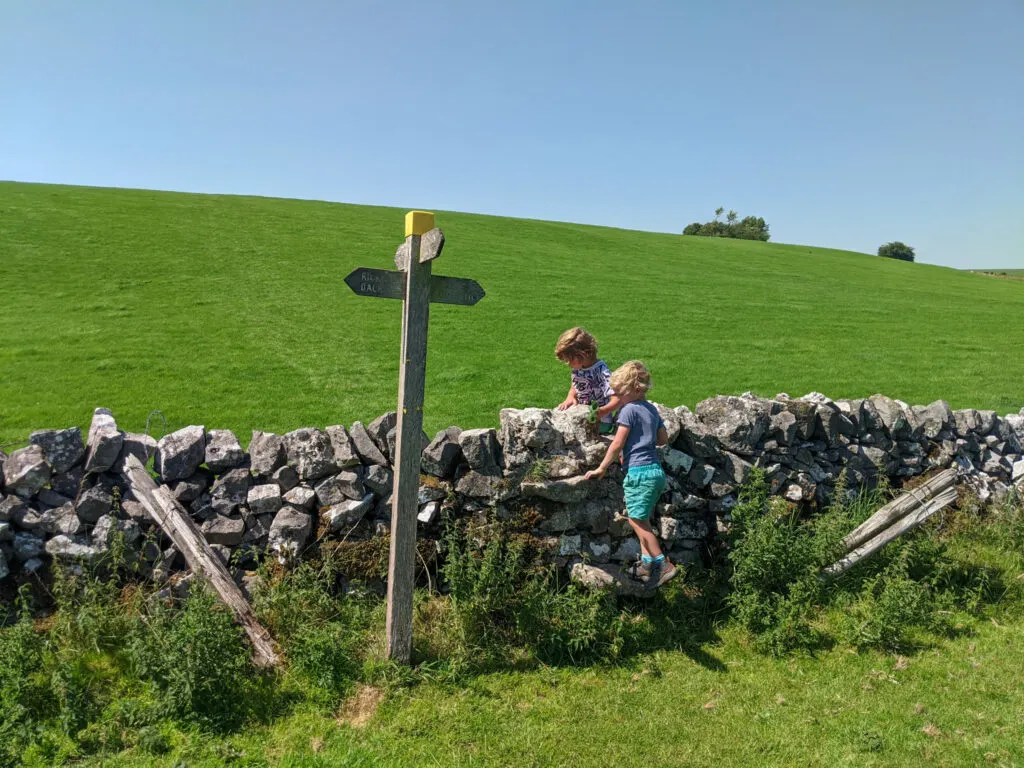 11. When you reach the road, turn left and follow it downhill for 500 metres to your car. This road does get busy, so keep hold of little ones' hands. If needed, there are sections where they can walk on the grass verge.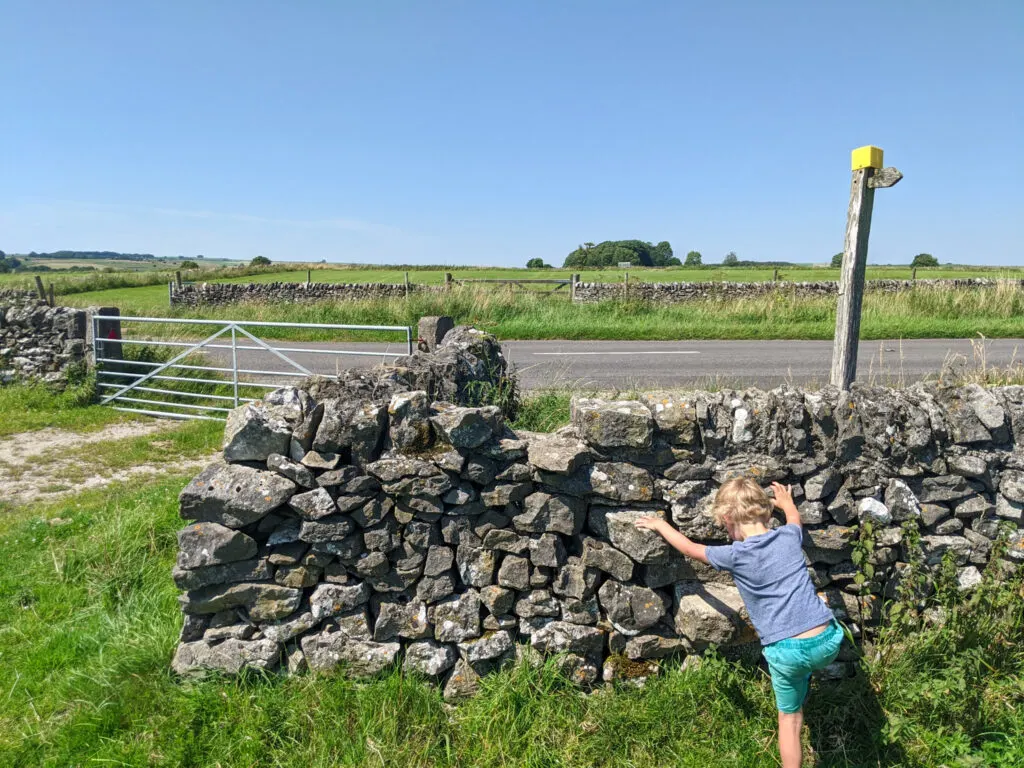 After your walk
Head to the Bulls Head in Monyash, this is our favourite pub with a playground in the Peak District. There is free parking on the right hand side of the pub.
Or if you fancy an ice-cream, head to Tagg Lane Diary, just 2km the other side of Monyash, which sells the best gelato in the Peak District and made on right on their farm.
If you love the area and would like to stay longer next time, check out nearby Haddon Grove Holiday Cottages. These cottages are oozing with charm and traditional character, and the heated pool, games room, and small playground is a winner for families!
---
You may also like to read:
Magpie Mine walk from Sheldon to Monyash pub (8km)
Over Haddon walk to Lathkill Dale (5km)
Hathersage stepping stones walk (4.9km)