If you're planning your family days out in and around the Peak District for May half term, then you've come to the right place. And this year, we have the added bonus of Jubilee Celebrations! Plus, with spring in full bloom across the National Park and lots of sunny days (fingers crossed) it really is a wonderful time of year to explore the Peak District.
May half term dates for Peak District schools are:
28th May to 5th June. Although do note that quite a few schools have an inset day on Monday 6th June.
When visiting the National Park, we recommend arriving early or late in the day to avoid crowds. Please also take all litter home with you, don't bring BBQs and park your car in designated parking areas. Please be respectful to local residents.
Disclaimer: This post contains affiliate links. Should you click to purchase, it is at no additional cost to you, but I receive a small commission
FOLLOW US:
.
For general days out, rather than specific events, please check out our guide to Family Days Out in the Peak District, which provides lots of inspiration. Although not much beats a long family walk in the Peak District or family bike ride, and perhaps a stop at a Peak District ice cream parlour afterwards to reward everyone's efforts.
As always, we'll be keeping this page updated as much as possible with news from these Peak District May half term events. But also keep an eye on the Peak District Kids Facebook Group and also our Instagram. Feel free to email us if you know of an event not listed here.
If you're looking for that special keepsake of the Jubilee year, check out these Platinum Jubilee Gifts and Souvenirs from Derbyshire Small Businesses from Molly over at Lovely Local Indie.
1. Chatsworth's Radical Horizons: The Art of Burning Man
On throughout May half term
FREE to enter
Click here for more information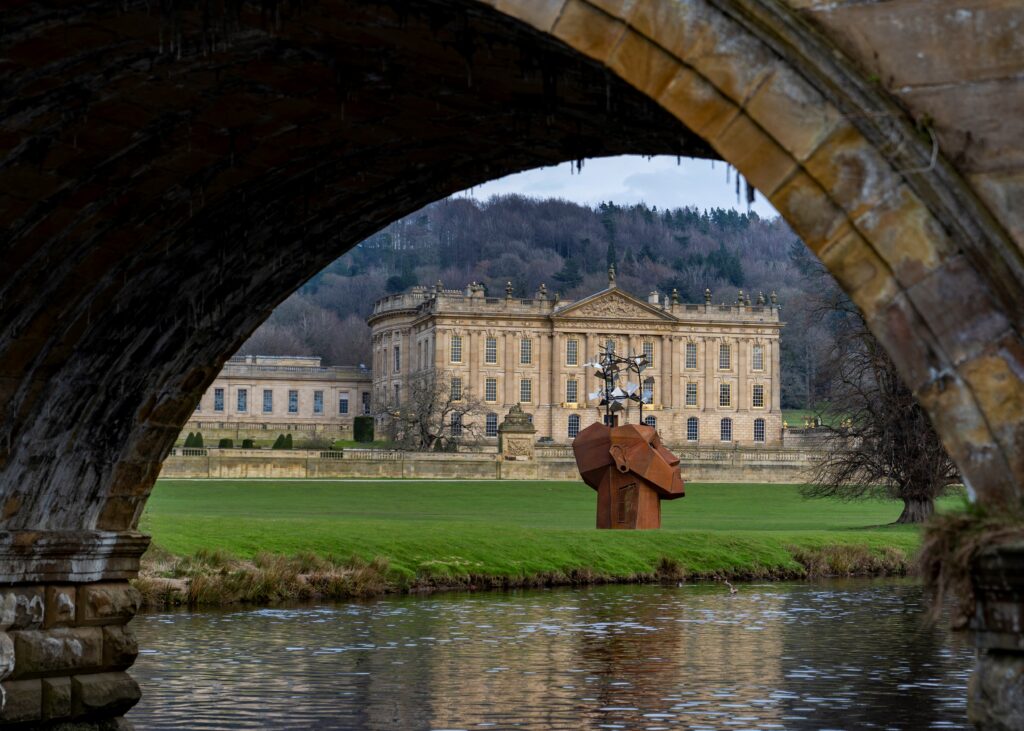 This superb large-scale exhibition at Chatsworth is still on through May half term. In fact, it's going to be on through the whole summer and into October! So you've got plenty of time to visit or even return.
Radical Horizons: The Art of Burning Man at Chatsworth features eight existing sculptures and four works built on site. These include three new participatory sculptures that have been created in the parkland with the help of visitors and local community groups over the course of the year, mirroring the build process at Burning Man that sees teams of volunteers gathering in the desert to create new artworks.
This is a free event, you just need to pay for parking. We recommend booking your parking in advance, especially over the May half term and the long bank holiday weekend. Please note that if you book a ticket for the house, garden or farmyard, parking is included, and you do not need to book a separate car park ticket. If you wish to only use the car park, an advance car park ticket must be booked.
Check out our guide to visiting Chatsworth with kids for getting the most out of your visit. We also thoroughly recommend the magical Chatsworth Hunting Tower and Aqueduct walk (click here for the pram friendly version). It's easily one of the best Peak District walks for families, and free to enter.
2. Build Buggingham Palace at Chatsworth
2nd to 3rd June (10.30am – 2.30pm)
FREE event
Click here for more information
In celebration of the Queen's Platinum Jubilee Chatsworth are building a palace for nature in the Stickyard. Drop in during your visit to lend a hand.
This free event will take place in the Stickyard. To get there, head towards the farmyard from the top of the main House car park and then go through the gate towards Stand Wood. Take the path up the hill and you will find the entrance to the Stickyard on the right hand side.
This is a great little addition to the Chatsworth Hunting Tower and Aqueduct walk (click here for the pram friendly version).
3. Abseiling, caving and mining, and canoeing
Peaks and Paddles are running family abseiling and canoeing sessions over half term. Click here for our full abseiling review, and click here for our canoeing review.
All can be booked through the website www.peaksandpaddles.org.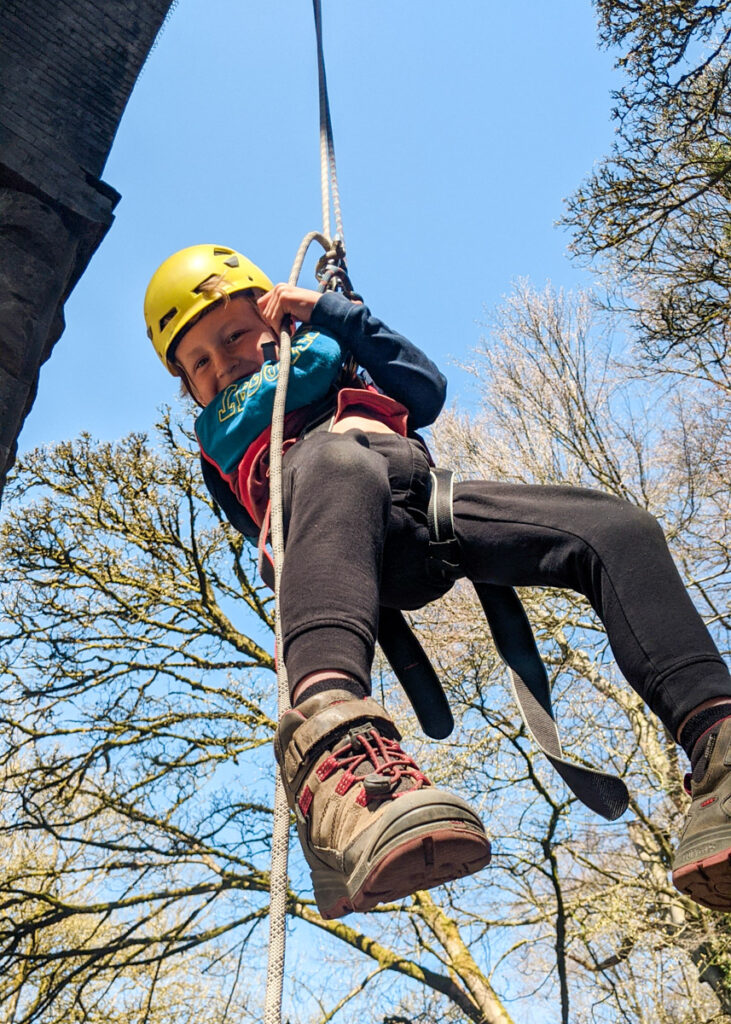 4. Punch and Judy Jubilee Special at The Heights of Abraham
2nd to 5th June
FREE event along with paid entry to Heights of Abraham
Check the website for opening times and ticket prices
The Heights of Abraham is one of the best days out in the Peak District with the cable ride, guided mine tours and two big adventure playgrounds. It's a must do if you're visiting Matlock Bath.
Over the Peak District May half term to celebrate the Queen's Platinum Jubillee, there is a visit from Punch and Judy! They've prepared a brand new show in celebration of the Her Majesty's big day! Take a seat at the summit and watch as Mr Punch returns centre stage to tell his new tale. Make sure you grab a Union Jack flag from the gift shop to wave during the show in case Her Majesty happens to turn up.
Also at Heights of Abraham this Peak District May half term, you may want to check out the brand-new period costume exhibition called A Mirror on the Past. Click here for more information.
5. Lego build sessions at Brick Corner, Buxton
Click here for session times and to book
If your kids are Lego fans, then a visit to the family-run Brick Corner café in Buxton is an absolute must. Here there are boxes galore of Lego for your kids to play with and let their imaginations go wild, whilst parents sit back with a coffee and slice of cake in peace (although by all means, there are no age limits if parents want to get involved!)
And over the May half term, there are Lego robotic and coding sessions to get involved in. These are 90 mins (approx.) sessions where kids follow a guided Lego build, and then code their build to move!
This is one of our top things to do in Buxton with kids and a great rainy day activity.
6. Fish for ducks at Thornbridge Gardens
Whilst there aren't any special events yet announced for Thornbridge Gardens, we know that there will definitely be fun and games happening on the main lawn and around the gardens this May half term. Plus we're pretty sure the ducks will be in the fountain ready for fishing out. It's a great place for young kids, and dogs are welcome too!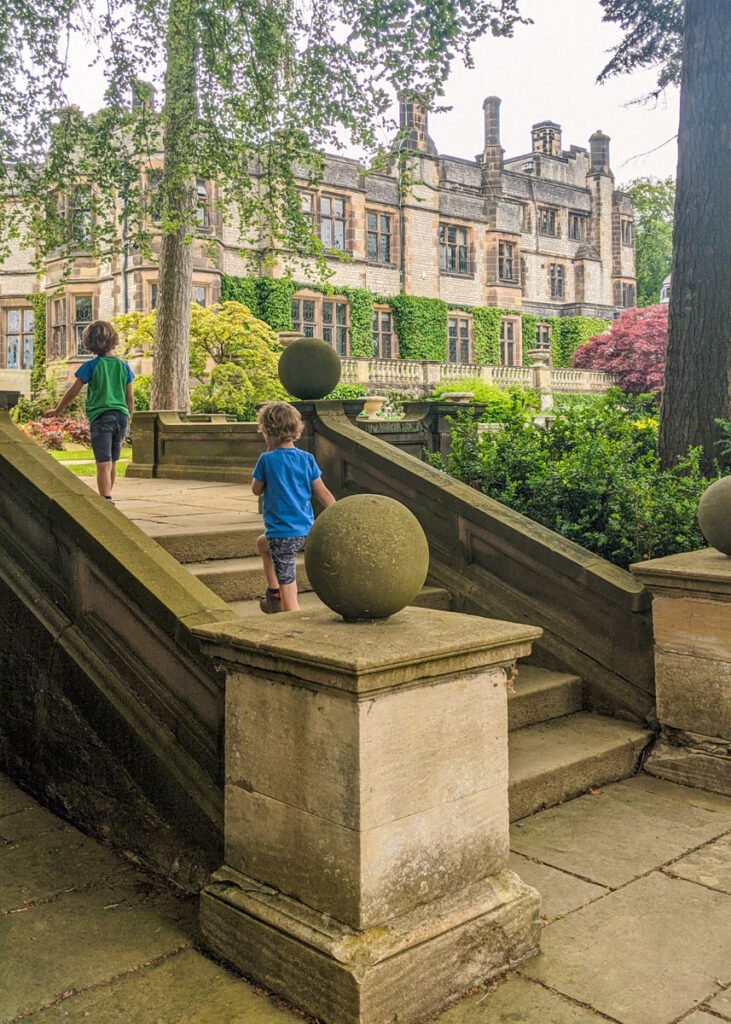 Thornbridge Gardens is open 10am to 4pm and parking is free (the entrance is on the road between Ashford-in-the-Water and Hassop Station (click here for Google Map point). Click here for more information on visiting Thornbridge Gardens.
As it's just off the Monsal Trail (and you can access Thornbridge Gardens directly from the Monsal Trail), you may want to combine your visit with a Monsal Trail bike ride. Nearby walks include our short Monsal Head walk and our Ashford-in-the-Water to Monsal Head walk.
7. Jubilee Weekend fun at Matlock Farm Park
Over the long Jubilee weekend, Matlock Farm Park are pulling out all the stops for family fun with a different event planned each day!
Interactive Exotic Animal Day!
Thursday 2nd June 10:30-4:00
FREE with park entry
Join Jungle Jo and her range of fabulous exotic animals!
Get up close, with the opportunity to handle snakes, frogs, tarantulas, giant millipedes and more, and learn all about the animals' features, needs and behaviours through the ranger's fascinating talks .
The BIG Bubbleman!
Friday 3rd June 10:30-4:30
FREE with park entry
It's Bubbles Galore… Don't miss this BUBBLE SPECTACULAR!!
The Big Bubbleman, his bubble mill, wands and special potions make the most AMAZING bubbles! Whether it's monster bubbles the size of a CAR, or swirling clouds of smaller bubbles being chased by happy children, this is pure joy!
Children can also make their own big bubbles with scaled-down monster versions or create smaller multi-coloured bubbles with hoops and trays of bubble liquid.
The Snow Sisters!
Saturday 4th June 10:30-4:30
FREE with park entry
Get the kids dressed up and let it go… Time to channel your inner Anna and Elsa and join in with the fantastic Snow Sisters' Singalong shows!!
Throughout the day at five showtimes, the sisters will be singing their well known songs for you to join in with on the Rainforest lawn, followed by meet and greet photo opportunities.
Jubilee Party Day!
Sunday 5th June 10:30-4:30
FREE with park entry
It's time to party! To wrap up an extended fabulous bank holiday of celebratory events, it's time to enjoy a Jubilee Party Day with something for everyone.
Starting off with super children's entertainer Barney Baloney, there's a late morning Jubilee Comedy and Magic Show! This will be followed by The Ireland Colliery Chesterfield Brass Band carrying out TWO afternoon, spine-tingling, musical performances to enjoy and perhaps even jig along to. Then in a nod to Her Majesty's love for the equine life, the afternoon will also see a Jubilee Horse Parade, showcasing some of Matlock Farm Park's lovely British breed horse friends looking their best, from softie Shetlands right up to stunning Shires.
There will also be Jubilee crafts for the little ones to get involved in, plus ark building, and of course, if that wasn't enough, there's all the animal fun of the farm!
8. Great British Seaside at Crich Tramway Village
Saturday 28th May to Saturday 4th June
Please note that due to 'ongoing work to resolve the safety issues', Crich Tramway Museum is closed until at least Wednesday 25th May 2022. Check their Facebook page for up to date information.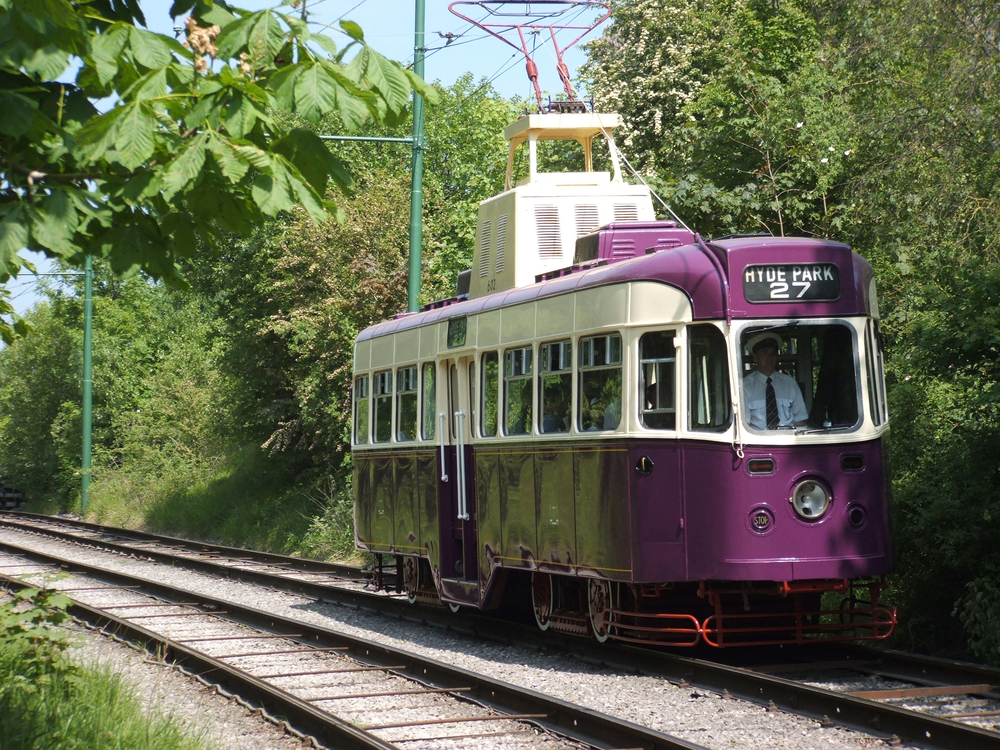 Crich Tramway Village is open throughout May half term with eight days of traditional seaside fun for all the family, including a funfair (small additional charges apply for rides on the funfair), children's entertainment, Punch and Judy, plus four days of craft activities and four days of our popular game of bingo!
Punch and Judy: every day except 4th June in the Learning Centre: 12.30pm, 2.30pm and 3.30pm.
Free Bingo: Saturday 28th May, Sunday 29th May, Friday 3rd June and Saturday 4th June in the marquee next to the bandstand:11.45pm, 12.45pm, 1.45pm and 2.45pm.
Craft activities: during the day – Monday 30th May, Tuesday 31st May, Wednesday 1st June and Thursday 2nd June.
Face painter and balloon modeller: every day (except 4th June) 11.00am – 1.00pm and 2.00pm – 4.00pm in gazebo near bandstand
Vintage trams running daily from 10.30am – 4.00pm. (5.00pm weekends and Bank Holidays).
9. Jubilee activities with the Peak District National Trust
Longshaw National Trust and Ilam National Trust are celebrating the Queen's Platinum Jubilee with a crafty event for families. – make your own crown and plant wildflowers to grow at home!
From Thursday 2nd June to Sunday 5th June, drop in to the respective visitors centre between 9am and 2.30pm. £3 per participant.
Click here for further info for Longshaw.
Click here for further info for Ilam Park.
10. Family half term activities at Buxton Crescent
30th to 31st May, 10:30 to 12:30, and 14:00 to 16:00
FREE entry
Family craft activities that will be taking place in the Assembly Rooms at Buxton Crescent.
Come along to the glorious Georgian Ballroom and make your own crown or tiara. All ages welcome.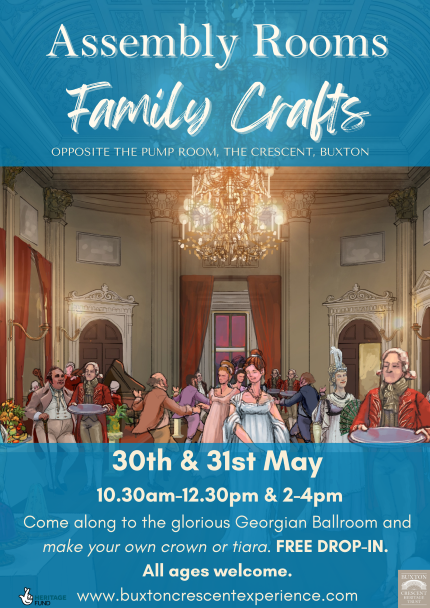 11. Local villages Jubilee Celebrations
Wondering what's on for Jubilee celebrations at local villages in and around the Peak District? You can use the search function on this official government website (click here).
This includes details of events taking place in Buxton, Bakewell, Matlock, and Darley Dale.
12. Go for a family walk
A family walk in the Peak District is really number one reason to visit the National Park, and you should at least fit in one of our family walks into your May half term.
With hundreds of public footpaths criss-crossing the National Park and gentle rolling hills that aren't too taxing on little legs, it's the perfect free activity.
On this website we have over 50 family walks, including pram friendly walks and toddler walks, to more challenging walks such as Stanage Edge or Win Hill. Or you may even want to take on our Kinder Scout walk from Edale.
13. Get out on the bikes
May half term is a good time to dust off the bikes stored away over the winter months, and head out on one of our Peak District cycle routes.
There are lots of old railway tracks that have been transformed into traffic free routes for walkers, cyclists, horse riders and wheelchair users through some of the Peak District's most spectacular limestone dales. As these are traffic free and relatively flat, they're a great place to go for a family bike ride.
Plus, there are also some lovely routes around the reservoirs (including Ladybower cycle route and Carsington cycle route), although kids will need bikes with gears for these ones.
Below are our top tried and tested Peak District family bike routes. Though remember, you don't have to do the whole route, you can always cut it short for tired legs.
---
You may also like to read:
Things to do on a rainy day in the Peak District
Short and easy family walks in the Peak District
Things to do in Matlock and Matlock Bath