Right on the Sheffield border of the National Park, Mayfield Animal Park is one of the best value Peak District attractions, although it's more commonly known as a Sheffield animal park. Whilst many visitors come to see and feed the llamas and alpacas, there are actually lots more animals to see (from sheep and ponies, to meercats and chipmunks, and there's even a python!)
Head to the cafe to pay your entry fee, and then walk through the cafe to explore the indoor enclosure of exotic animals. Here you will find the python, a bearded dragon, meercats, chipmunks, a black tailed prairie dog, and a red fox. Although do bear in mind that some of these animals are nocturnal and will be difficult to see.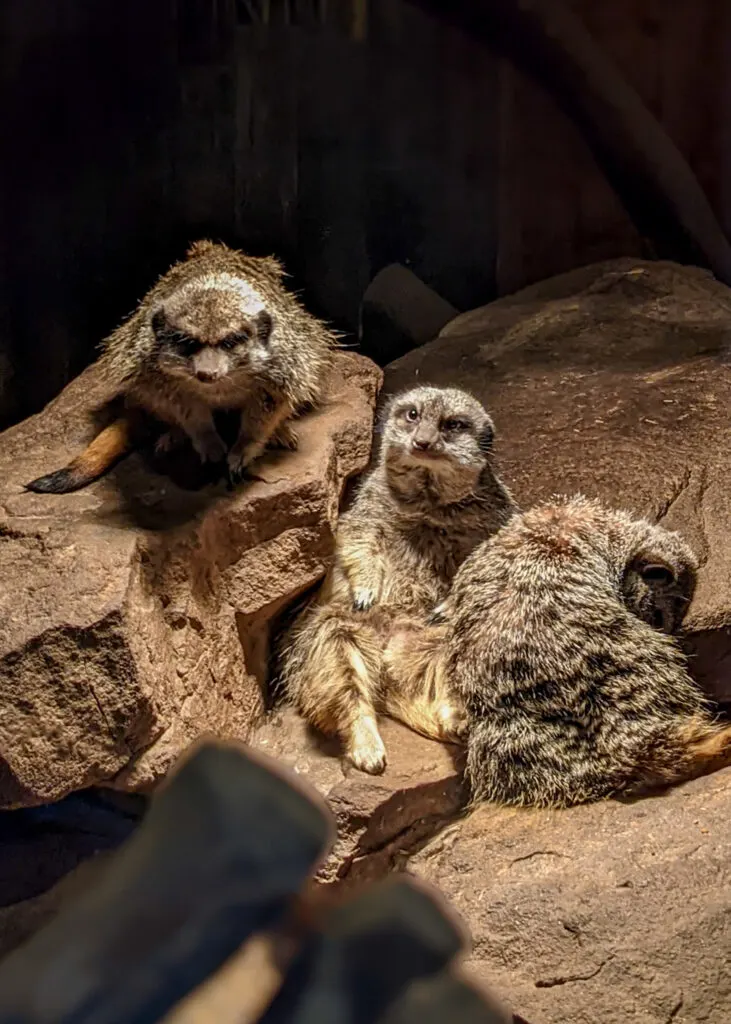 Once you exit the indoor enclosure, cross over the car park and walk through the large wooden gate to the outdoor fields. There is a circular path that leads you around the animals, including information boards, to see the the alpacas and llamas, as well as sheep, goats, horses, and a pony. This outdoor loop can get muddy, so wear wellies. We suggest walking the loop in an anticlockwise direction so that the small play area is at the end of the walk.
There is a strong focus of animal welfare, education and conservation at Mayfield Animal Park, and regular educational and training programmes are organised for schools, communities and individuals interested in animal management.
How to get to Mayfield Animal Park
There is no public transport to Mayfield Animal Park. The easiest way to get there is by car. There is a large car park by the main area.
When is Mayfield Animal Park open?
Mayfield Animal Park is open every day of the year (except Christmas Day) from 10am to 4:30pm.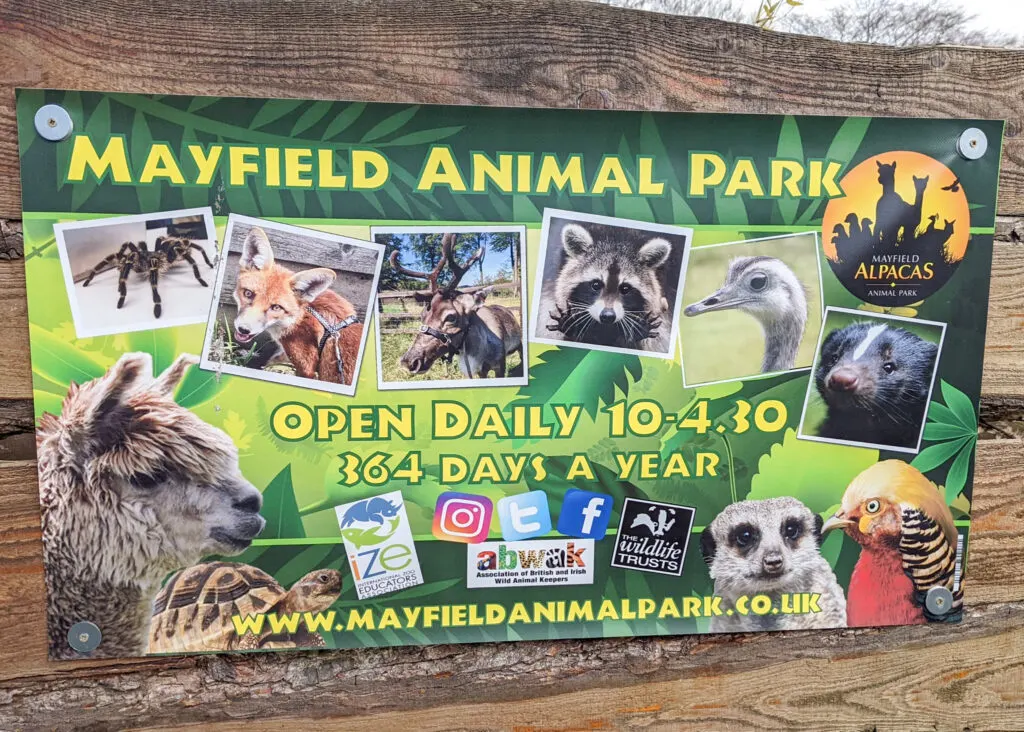 How much is the entry fee?
Entry to the Animal Park is just £5 per adult (15+ years) and £3 per child (3-14 years). Children under 3 years are free. Card payments accepted.
You can also buy animal feed (a paper bag of hay) for 50p to feed the animals outside in the field. One bag per child is more than enough.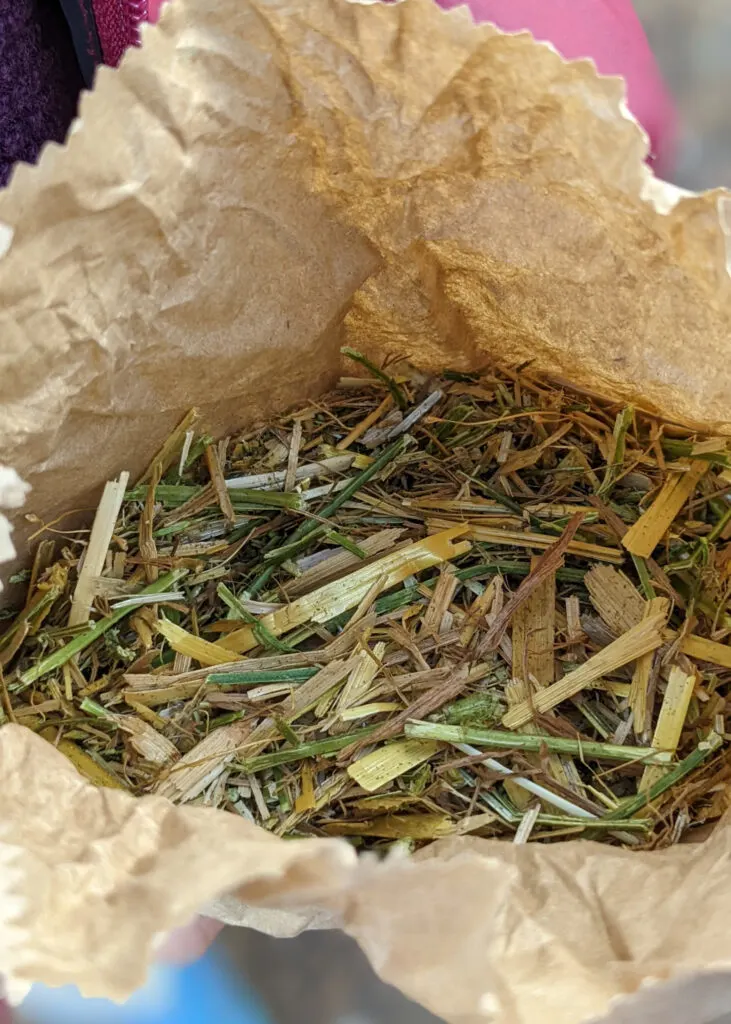 If you are local to the area (or think you will visit more than three times in a year), you may want to consider purchasing an annual pass. The pass will also get you reduced entry on special event days and community projects. Annual pass prices are £15.00 per adult (15+ years), £6.50 per child (3-14 years), and children under 3 years are free.
Do check their website for up to date ticket pricing.
Is it pram friendly?
The interior enclosure is pram friendly, although it is a little tight.
However, the outdoor loop walk isn't really pram friendly as the footpath is muddy and uneven. It is doable if you really need to take the pram. But it's a great little walk for toddlers, so don't worry about leaving the buggy in the boot of the car. We suggest putting babies in a carrier.
Mayfield Animal park play area
Yes, there is a small outdoor play area to the left of the outdoor loop. If you walk the loop anticlockwise, you will come to the play area towards the end.
Don't expect to see swings and slides. This outdoor play area is all about encouraging outdoor play with a mud kitchen, chimes, chalk boards, and little houses to explore.
Next to the play area are a few benches for parents to relax whilst keeping an eye on their little ones.
The play area is geared for kids aged 6/7 and under.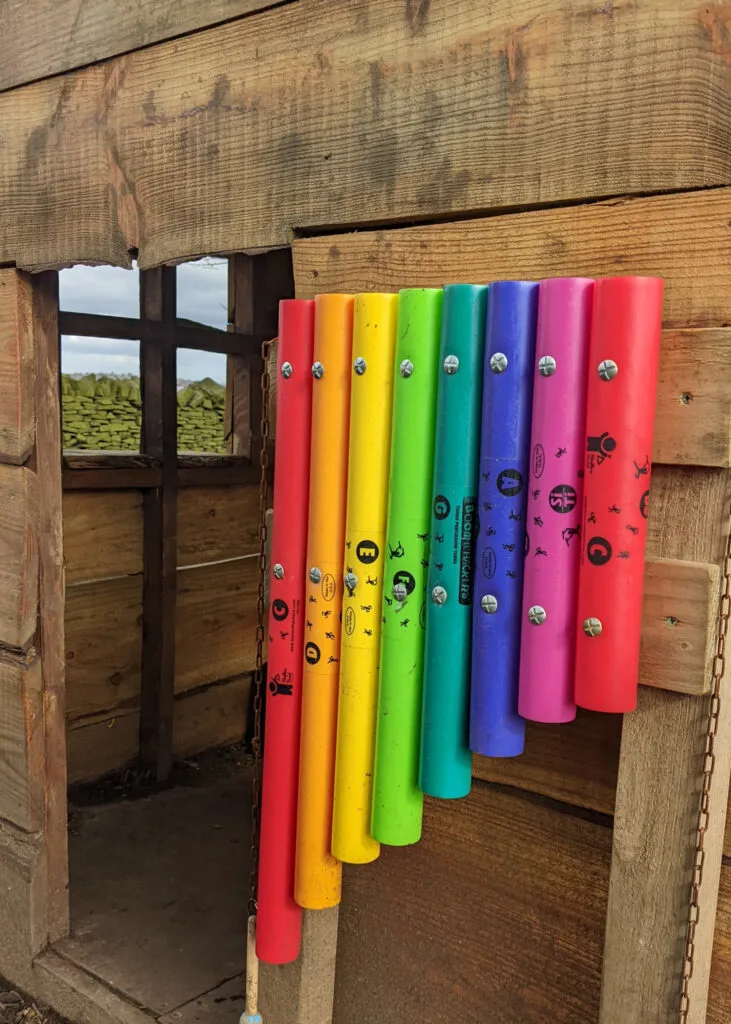 Mayfield Animal park café
Small indoor café with seating area serving hot drinks, cakes, and paninis.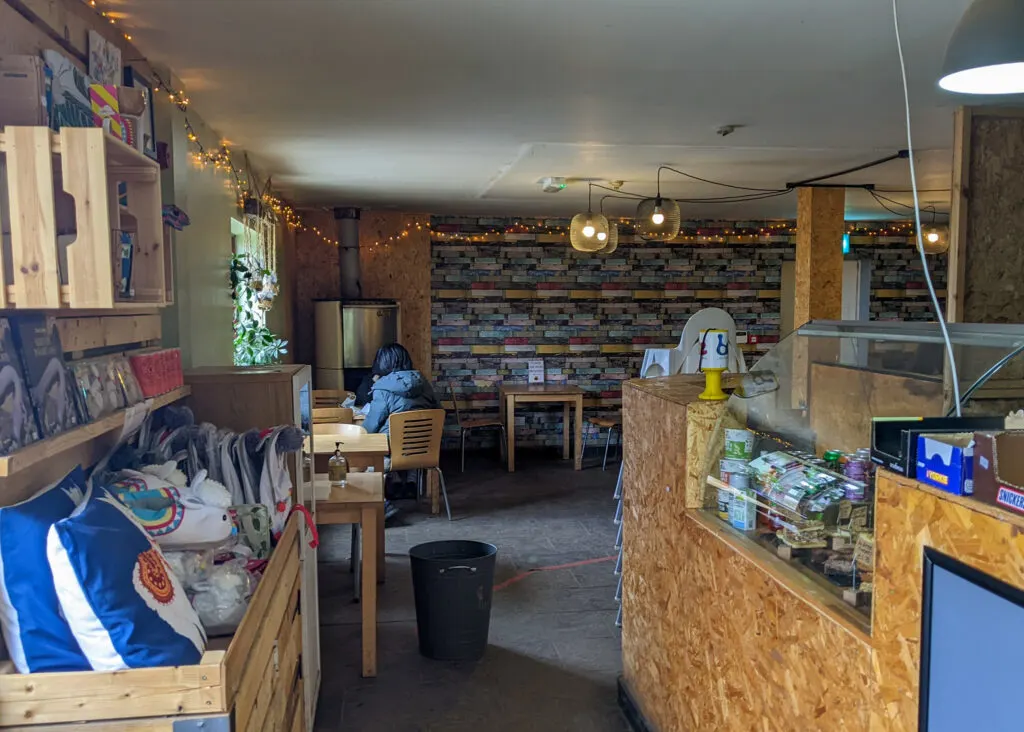 How much time should we allow?
Allow 1.5 – 2 hours at Mayfield Animal Park.
What else is there to do in the area?
Just around the corner is our short Ox Stones walk (1.7km, circular), which is perfect for toddlers as it's relatively flat with lots of variety, including rocks to climb, a trig point, amazing views, and you may even spot deer!
For a longer walk, try our Higger Tor walk (4.5km, circular), which is a bit further into the National Park. The views on this walk on a clear day are incredible.
Final thoughts on Mayfield Animal Park
Mayfield Animal Park is better value than other wildlife parks in and around the Peak District (Matlock Farm Park, Peak Wildlife Park), but you only really need a morning or afternoon, rather than a full day. So perhaps combine a visit here with one of our nearby Peak District family walks.
It's a great place to bring very young children as they will have a great time feeding the animals and then playing in the outdoor area. Plus there are paninis and cake to have in the café afterwards!
---
You may also like to read:
Peak Wildlife Park REVIEW
Matlock Fam Park REVIEW
Best days out in and around the Peak District