Here at Peak District Kids, we're all about getting kids out and about in all weathers exploring the National Park. But that doesn't just mean family walks and bike rides, we love to get crafty in nature too!
So with the help of some of the UK's top parent bloggers, here are some outdoor craft activities to keep your little ones engaged in nature.
This article contains affiliate links. Should you click to purchase, it is at no additional cost to you, but I receive a small commission.
You may also want to check out our printable Peak District activity sheets for kids
1. Clay faces
Find a nobbly bit on a tree (or fence post, or rock) and mould clay around it (this is the clay we recommend). Then add leaves, twigs, stones, and anything else you can find in your garden, to create a face!
2. Rainbow sticks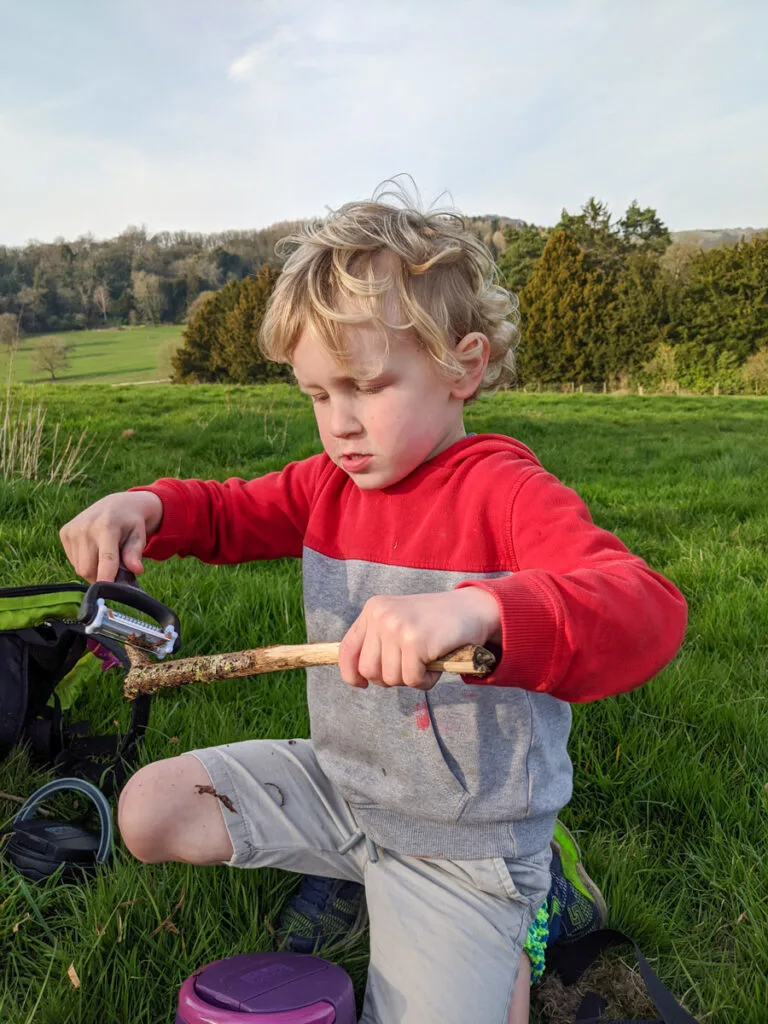 Collect some sticks and peel off the bark with a potato peeler. Then paint your stick using acrylic paint and hang them up in your garden with some thread.
3. God's eyes
All you need are two straight sticks and some wool (this assorted wool bundle is good value). Tie the two sticks together to make a cross. Then wind the wool around each spoke, one at a time, gradually feeding the wool around. Kids may need a little help to begin with, but it's amazing how quickly they pick it up.
4. A nature mobile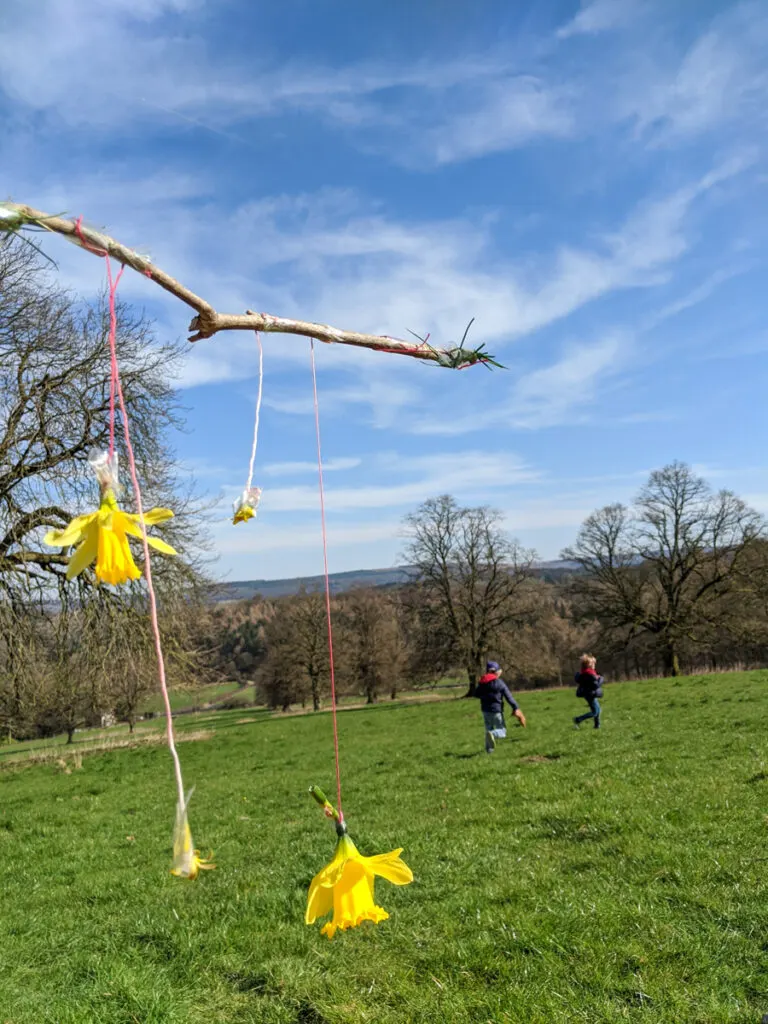 Using string and selotape, attach interesting items you find on your walk to a stick to create a nature mobile.
5. Sticky Nature Cards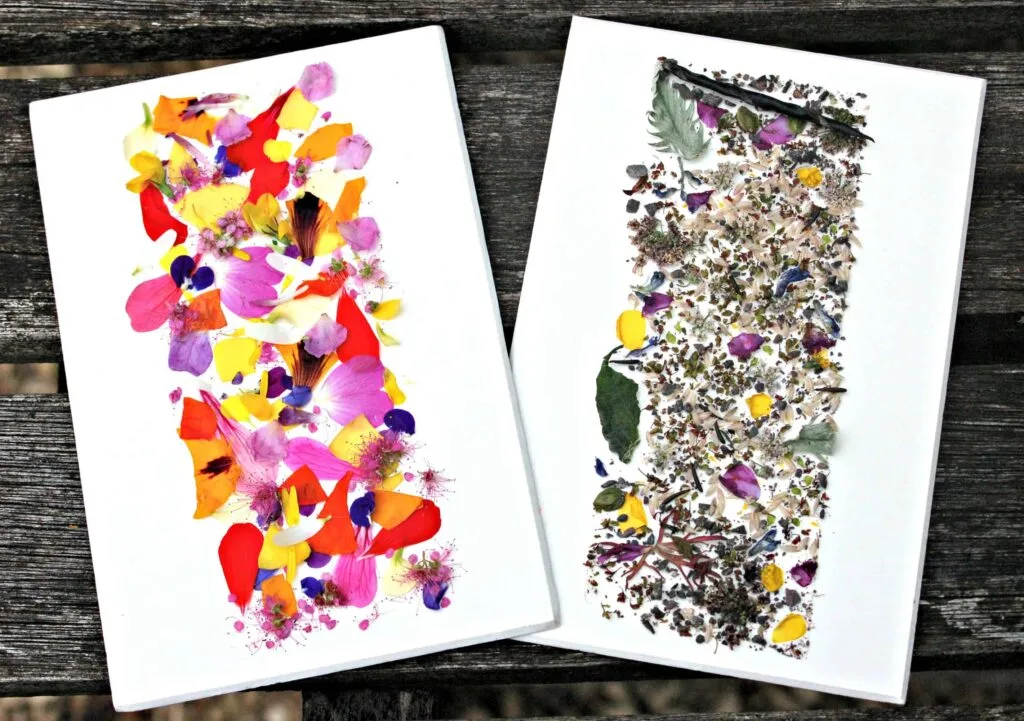 All you need for your sticky nature cards is a piece of card and some double-sided sticky tape. Put the tape onto the card, peel off the backing, and then find things around the garden to stick down. Remind children to only pick tiny pieces of growing plants so not to damage them.
Find out more about sticky nature cards on Crafty Invaders.
6. Decorate Rocks with Melted Crayon
Find some smooth rocks and stones in your garden on on your walk, and wash them clean. Place these in an oven to heat up for ten minutes at 200°C. Be careful when they come out as they will be hot! With this in mind, this activity isn't suitable for very young kids.
Place the stones on tin foil and then start drawing on them using the wax crayons. The heat from the stone will melt the wax and you can make some really interesting patterns.
Find out more about decorating rocks with melted crayon on Me Them and Others.
7. Nature weaving
Find a small branch with a fork in it. Next wind a web of string between the fork and tie into place. Then when on your family walk, collect interesting natural items along the way and weave them between the string.
Find out more about nature weaving on Monkey and Mouse.
8. Woodland characters
Find a thick branch that has fallen and shave off the bark from one end. Using acrylic pens or acrylic paint, design some funny faces. You could then display these around your garden.
Thanks to Childs Play ABC for this lovely idea.
9. A natural bird feeder
There are a lot of bird feeders made out of recycled items such as plastic bottles and egg cartons. But we really love these natural bird feeders on the CBeebies website, especially the pine cone feeder.
Take a pine cone and tie a string around it, so you can hang it up in you garden when finished. Then in a bowl, mush together seeds, lard, cheese and raisins in a mixing bowl, and lather this all around the pine cone, getting it into all the holes. Pop it into the fridge to set, and then it's all ready to hang up outside for the birds!
10. Leaf faces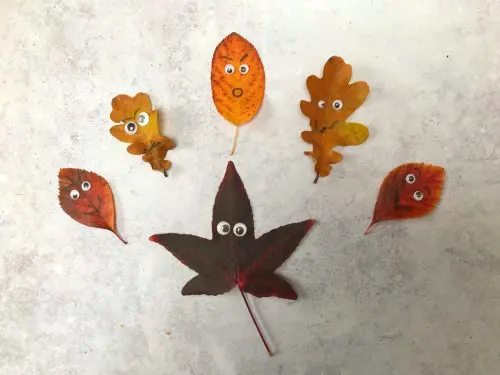 With some googly eyes and a black marker pen, make some funny leaf faces. Try these self adhesive googly eyes, or perhaps these assorted eye stickers. Please only pick leaves off the ground when out on your walks.
This lovely idea is from Hodge Podge Days.
11. Nature boat or raft
Collect some straight twigs and sticks from the ground and tie them together with string to make a raft. Then pierce a bundle of leaves through another small stick to make a sail. Find a puddle or stream and see how well your nature boat floats!
This lovely idea is from Thimble and Twig.
12. Nature crown
The simplest way to make a crown is by using card and double-sided sticky tape.
Cut a strip of card about 1.5-2 inches thick that wraps around your child's head. Then add a strip of double-sided sticky tape along the card. From you garden, or on your walk, collect items that you want to stick to your crown. Then peel off the backing of the double-sided sticky tape and stick on your items!
Once you have finished sticking your natural items onto your crown, use sellotape to attach the ends together and put it on your head!
Childs Play ABC details how you can also make one by twisting long grass together. It may be tricky to find grass long enough for a child's head, so perhaps make some crowns for your teddies!
13. Bug hotel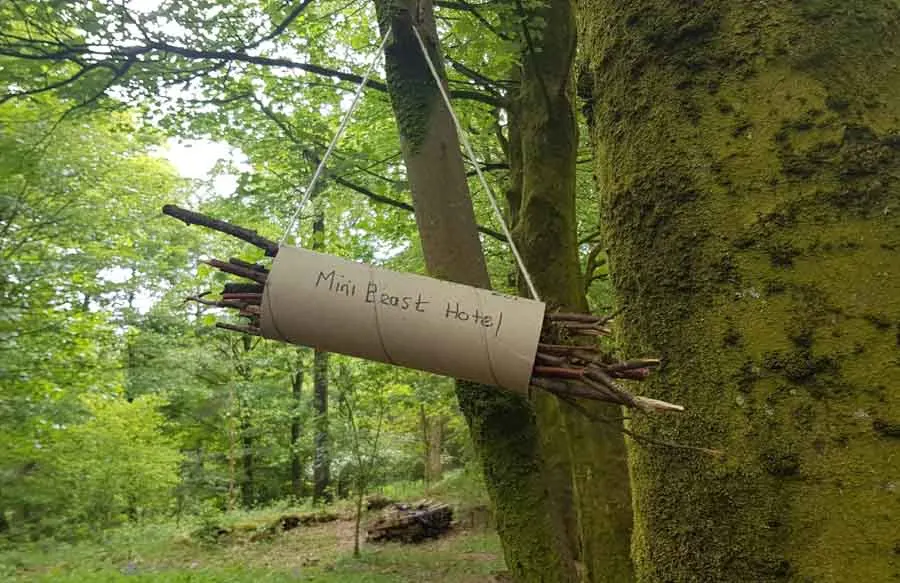 A bug hotel is a fantastic way to introduce mini beasts into you garden. You can really go to town (literally) on making a huge bug hotel. But I really like this simple bug hotel from The Ladybirds Adventures, using just a toilet roll and a bunch of sticks, tied to a tree with string.
If you wanted your bug hotel to be waterproof, you could use a plastic bottle and cut off each end. Perhaps decorate it in camouflage colours too.
---
You may also like to read:
Printable Peak District activity sheets for kids
Top things to do in the Peak District with kids
Things to do on a Peak District rainy day