Peak District Kids writer: Helen from Little Puddle People
Channel your inner pirate as you explore Stanage Pole; a large wooden pole that has stood for hundred of years, marking the border between South Yorkshire and Derbyshire, Hathersage and Sheffield, and probably the ancient kingdoms of Mercia and Northumbria. Incredible views and rare wildlife come as standard on this hill conquering hike, and kids will love clambering on the nearby rocks too.
The Stanage Pole walk is all uphill, but don't be put off! The changing terrain, flagstone paths, rocky track, open moorland and pine plantation will keep the interest going with kids, and don't forget it's downhill all the way back.
There is an option to extend the walk by continuing on to Stanage Edge too.
If you are planning a visit to the National Park, please arrive early or late in the day to avoid crowds. Please also take all litter home with you, don't bring BBQs and park your car in designated parking areas. Also, please use these walks as a guide; access and stiles may change.
Disclaimer: This post contains affiliate links. Should you click to purchase, it is at no additional cost to you, but I receive a small commission.
FOLLOW US:
Do check out our top tips for hiking with young kids, as well as our essential items to take on a family hike in the Peak District.
Map of Stanage Pole walk
On all Peak District family walks it's a good idea to have an Ordnance Survey paper map with you, even if you are using a mapping app on your phone. For this walk you need the OS Explorer Map OL1 (Dark Peak). It's also a good opportunity to show young kids the map features and get them started with map reading.
This Stanage Pole walk follows a linear route.
Need to know
DISTANCE OF WALK: 3.4km (or 4.8km if extending to Stanage Edge)
TYPE OF WALK: linear hill walk
PARKING: Redmires Plantation Car Park. Click here for the Google Map point, postcode is S10 4QZ. Parking here is FREE. If this car park is full, you can drive to the very end of the road and park along the side there. But please be considerate with your parking.
WALK HIGHLIGHTS: Spectacular views, and a fun landmark to find!
HOW LONG DOES IT TAKE: Allow 1.5-2.5 hours for this walk. Although it's not far it is steep!
ACCESSIBILITY: There are no stiles, and this is not suitable for prams.
TOTAL ASCENT: 91 metres (119 metre if you continue on to Stanage Edge)
FACILITIES: There are no facilities on this walk. But a few minutes down the road from the start point towards Sheffield is The Three Merry Lads Pub, Sportsman Lodge Moor, and Blue Moo Cafe; all on route along Redmires Road.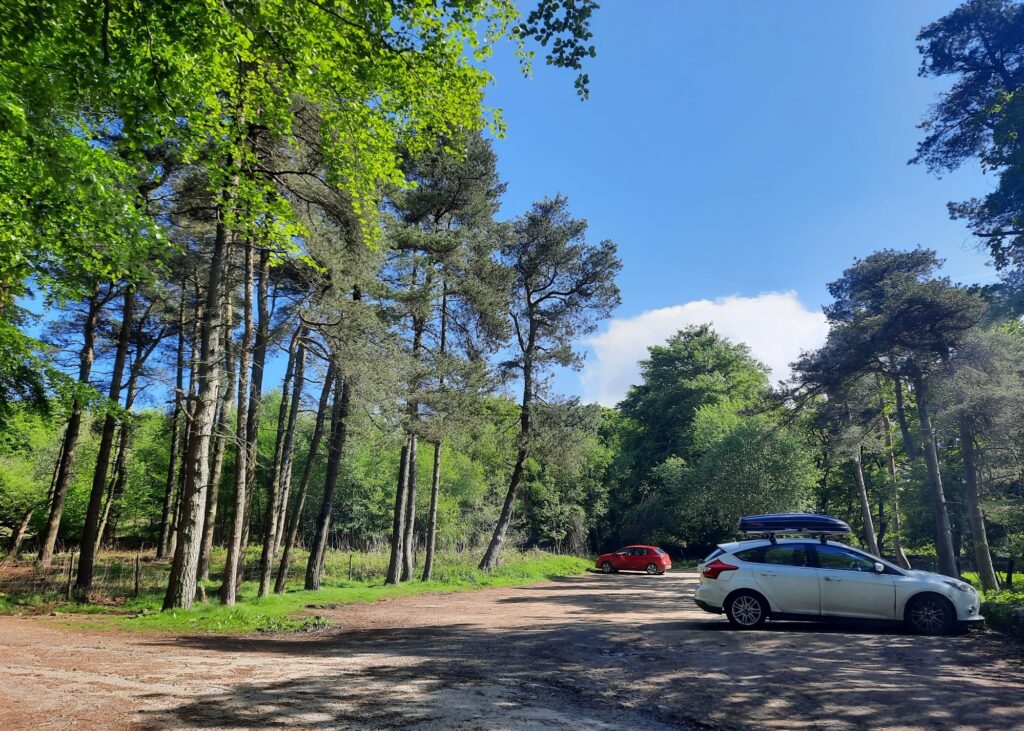 The route
START: Redmires Plantation Car Park. Click here for the Google Map point, postcode is S10 4QZ.
1. Walk out of the car park and turn right, walking along the lane with the reservoir on your left until you reach the end of the track.
2. Continue straight up the track off Redmires Road. The track is called 'The Long Causeway' and is a medieval packhorse route leading from Redmires all the way to Hathersage. A steep embankment with a tiny water run off stream (if it's been wet) should be on your left and the plantation on your right.
2. Further on you will reach a gate. Continue straight through onto the flagstone track. You should begin to see Stanage Pole up ahead.
3. Stanage Pole stands on top of the hill at 438m (1,437ft) above sea level. It is a wooden pole with metal cap mounted between rocks. After scramble about on the rocks pretending to be the captain of a pirate ship and shouting 'land ahoy!' towards the incredible Stanage Lodge, it's either time to turn around and head back the way you have come or continue down the hill to reach Stanage Edge.
4. If you continue onwards and descend to Stanage Edge you will reach an old gateway and drystone wall on your left. In front of you is a big drop over the edge, so keep children close! The views are incredible, looking left up to Stanage Trig point and right across the Hope Valley and beyond. Admire the views, have a picnic on a rock and a scramble, before heading back the way you came down.
5. Heading back over the hill from Stanage Pole descending towards the reservoirs offers a great view of Sheffield and the reservoirs.
---
You may also like to read:
Stanage Edge walk (7.7km, circular)
Hathersage Stepping Stones walk (4.9km, circular)
Bamford Edge walk (7.9km, circular)