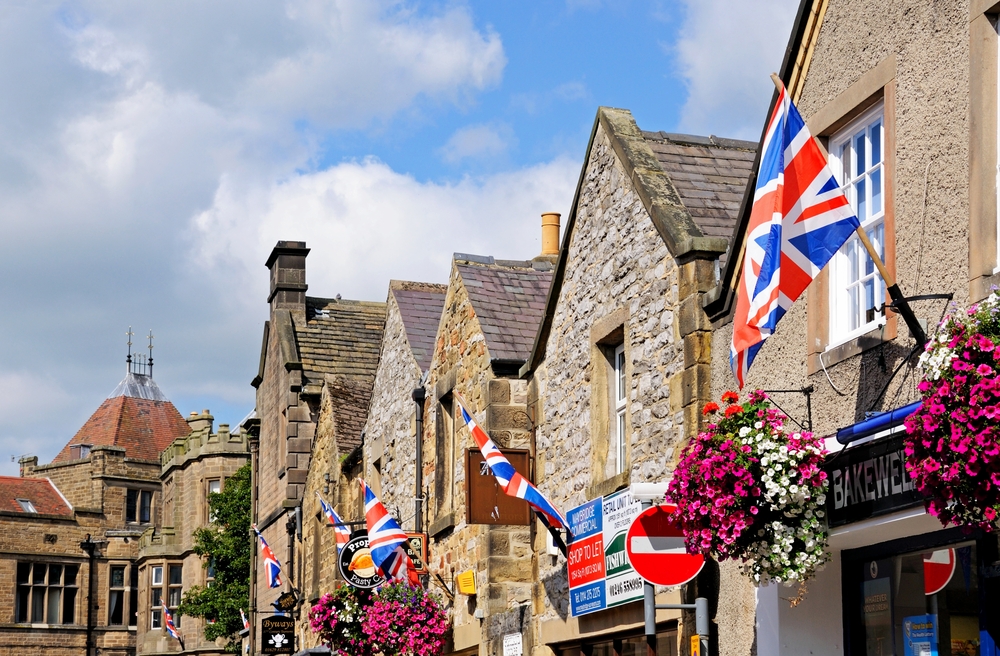 Looking for activities, attractions and things to do in Bakewell with kids? Read on…
Idyllically situated on the banks of the river Wye, Bakewell is a lovely market town for an afternoon stroll past mellow stone buildings to quaint courtyards showcasing local art work, before popping into a cosy cafe for a pot of tea and slice of Bakewell pudding.
It's the most popular (and busiest) town within the Peak District National Park and if you're looking for things to do in the Peak District with kids, Bakewell makes for a lovely stop after a family walk.
A top local tip: don't try and park in Bakewell town centre, especially on a weekend or during the school holidays. Instead, head to the car park next to the Agricultural Business Centre (click here for location). A short footpath leads you back into town.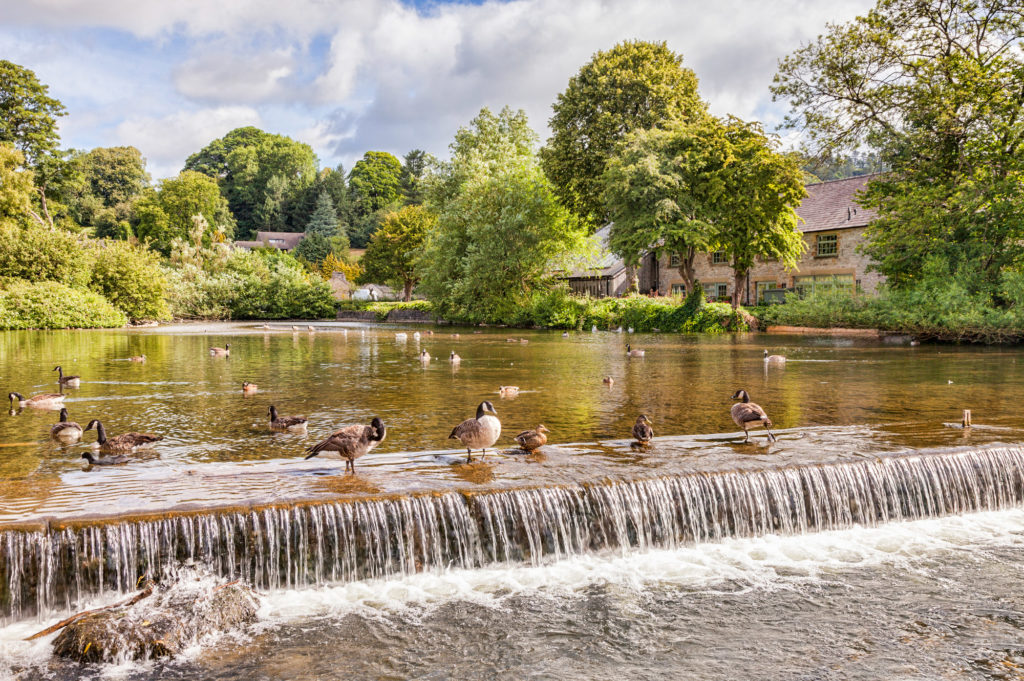 Here are our top things to do in Bakewell for kids:
1. Eat Bakewell Pudding
Bakewell Puddings are what has put the market town of Bakewell on the map, and you can't visit Bakewell without trying one. It would be like going to Brighton and not having a stick of rock, or going to Grimsby and not having fish. And sorry Mr Kipling, your Bakewell 'tart' recipe just isn't right.
There are a handful of bakeries selling the famous pudding, and it is questionable as to which is the original. Your pick of which one to go to may simply come down to which one has the shortest queue if visiting at the weekend or during school holidays.
In all honestly, my kids don't really like Bakewell Puddings (and neither do I… shhhhhh!) But the bakeries offer lots of alternative cakes and treats if you also fall into this category.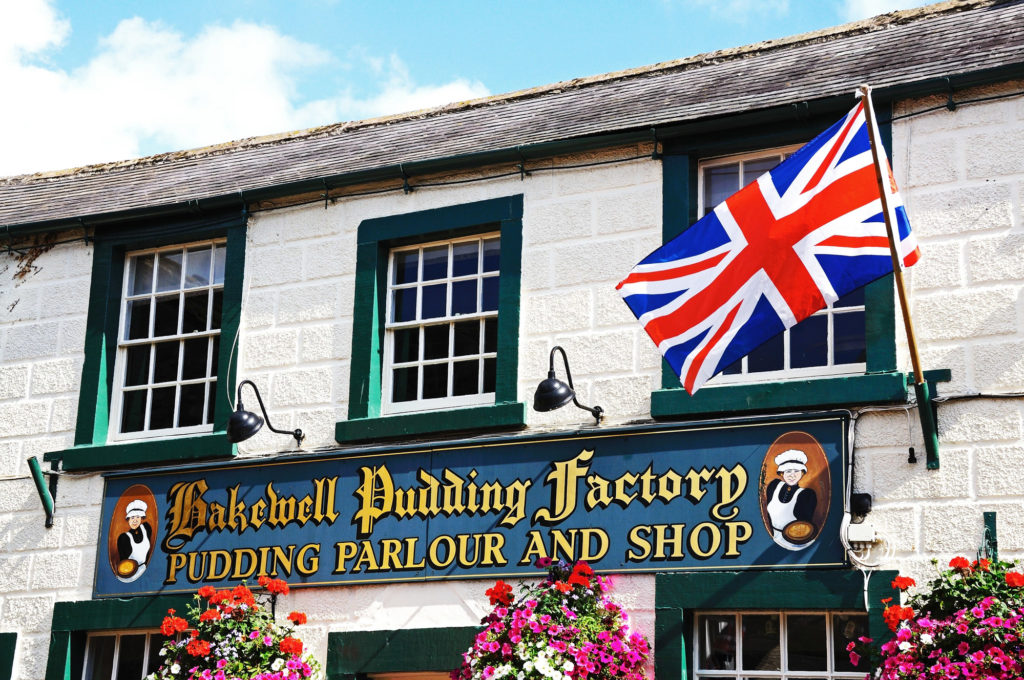 2. Let off steam at Bakewell Recreation Ground
There's a huge recreation ground for kicking a ball around and generally letting off some steam. It's a fab place to bring a picnic (including treats picked up from the bakery).
Here you will also find two tennis courts, a cricket pitch, a marked football pitch, and a fantastic playground complete with outdoor splash area for a warm summers day. The splash play area is open 1 April to 1 September and available 7 days a week 10 am to 5 pm with a one hour break (12.30 – 1.30).
3. Visit the outdoor and livestock market
Bargains galore are on offer every Monday at the bustling outdoor market. Give the kids a shopping list and allow them to shop for all the items (amount of supervision will obviously depend on the child and their age).
For an extra buzz, head for the livestock market to experience the action in the theatre-like auction ring! This Farmers Market is generally held on the last Saturday of the month and includes over 70 stalls. Check here for dates and times. It is the second largest in the country (Winchester has the top spot).
4. Feed the ducks at Lovelock Bridge
Since 2012, lovers have attached engraved locks to the pedestrian bridge in Bakewell to declare their commitment to one another, and it's now become part of local wedding ceremonies. You can purchase a lock and get it engraved from the engravers in the town. However, this is no longer recommended for environmental reasons.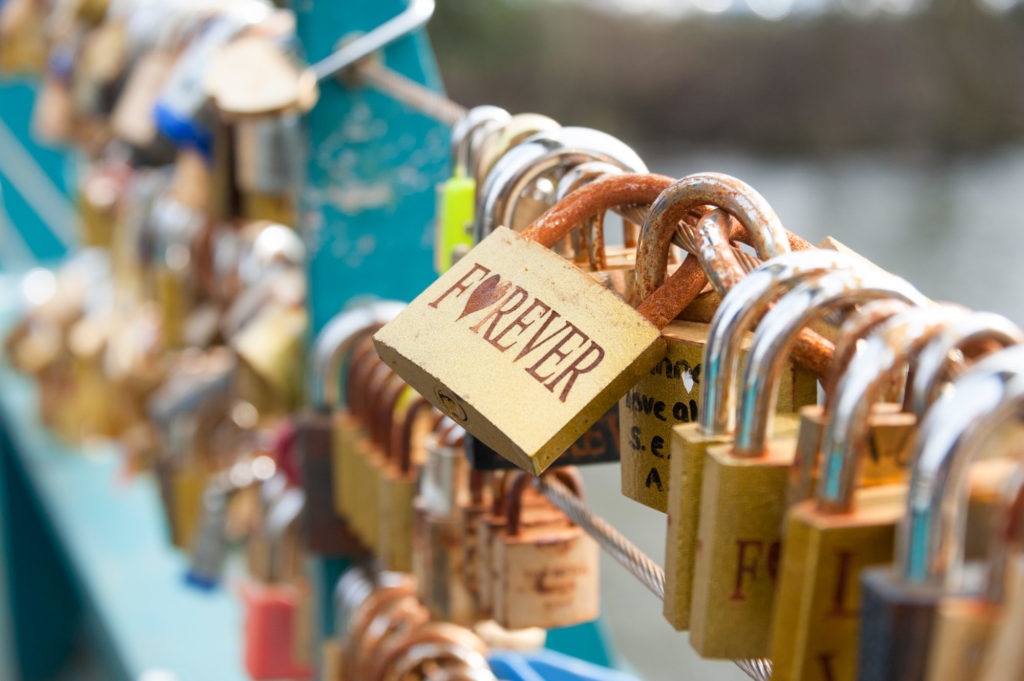 Instead, take some frozen peas down to the bridge to check out the locks and feeds the ducks there. Alternatively, grab some fish 'n' chips from Bakewell Fish Restaurant (cash only) to enjoy along the river. There are a handful of benches to perch.
Then take a short stroll up to Bakewell Bridge, a medieval five-arched stone bridge.
5. Wander around Bakewell Old House Museum
Set in a Tudor House, this award winning museum tells the story of the Peak District. From Tudor artefacts found encased in the walls, to Macedonian ceremonial swords to an elephant's foot, there are all sorts hidden away in every nook and cranny.
The museum is open 11 am to 4 pm daily from March 25th to November 5th. Adults are £5, children (5-16) are £2.50, family ticket is £14. Children under 5 go FREE. Family includes 2 adults and up to 3 children. Tickets are valid for 12 months, so you can visit as many times as you would like within the year. Check the website for up to date opening times and admission prices.
6. Go for a swim at Bakewell Swimming Pool
This 20 metre by 10 metre swimming pool is hidden within the Arcade, next to the library. It had a refurb and the changing rooms a fresh lick of paint in 2019.
Do check the opening times for general admission as Saturday mornings and most evenings it is booked out with swim school. They do have specific family fun sessions, including 'Floats and Fun' (when they have lots of floats and small inflatables in the pool) and 'Toddler Splash' (a session for parents with children under 5 years). There is also 'Auqarun', which is extremely fun. This is a session run on the first Saturday of every with double trouble aquarun!
7. Cycle, scoot, or walk the Monsal Trail
Bakewell also marks the start of the Monsal Trail, which runs along the former Midland Railway line for 8.5 miles to Chee Dale. This traffic free gravel path is a popular cycle and walking track and is our favourite family cycle trail in the Peak District. If you haven't got your own bikes, these can be hired at nearby Hassop Station Bike Hire. There's also an excellent cafe with play area here.
Everything you need to know about cycling the Monsal Trail with kids can be found here.
Things to do near to Bakewell with kids
Interesting places not far from Bakewell include:
Haddon Hall (2 km away) – a 900 year old stately home which retains many original features and is open to visitors. Explore the medieval kitchens, chapel and chambers before wandering around the exquisite Elizabethan walled gardens. Family events are often held in the school holidays and it's one of our top things to do in the Peak District with kids.
Lathkill Dale (4 km away) – a stunning picnic spot along the River Lathkill. Kids can wade in the waters on a warm day. Park here.
Peak Adventure (6.5 km away) – indoor play centre for a rainy day.
Chatsworth House (7 km away) – Another grand estate in the Peak District, but on a much bigger scale. The grounds are free to walk (and drive) through. Families will want to make a beeline for the Farmyard and Adventure Playground.
Our favourite family walks in the area are The Nine Ladies Circle and Youlgreave.
---
You may also like to read:
Top things to do in the Peak District with kids
Things to do in Eyam, the 'plague village'
Peak District pubs and cafes with a play area