Want to avoid the whinges and cover some distance on your family walk? These are our top tips for hiking with kids under 5 and hiking with toddlers.
Geared with an OS Map, good hiking boots, and a flask of hot chocolate and marshmallows, a Peak District family walk is a wonderful way to spend time together as a family. It's not just about exercise, it promotes family bonding, good mental wellbeing and hopefully an early bed time!
I frequently receive messages from frustrated parents whose kids just don't like walking, whinge after a few steps, and then demand to be carried. I've been there, and if you're an outdoorsy parent, this can be so upsetting as you really want your kids to be on the same page as you and get the most out of being in the great outdoors.
So I thought it was about time I share our top tips for hiking with kids, specifically with kids under the age of 5, including tips for hiking with toddlers and how to make hiking fun; because if the kids are having fun, they're walking further, which results in happier parents!
Also, in this post, I'm sharing what has worked for our family. Every family is different and some of these tips for hiking with kids just may not work for you. That's ok, but I hope you can find here at least a couple of ideas for when you're next out on your countryside adventures.
Disclaimer: This post contains affiliate links. Should you click to purchase, it is at no additional cost to you, but I receive a small commission.
If you are planning a visit to the National Park, please arrive early or late in the day to avoid crowds if visiting over sunny weekends or school holidays. Please also take all litter home with you, don't bring BBQs and park your car in designated parking areas. Also, please use these walks as a guide; access and stiles may change.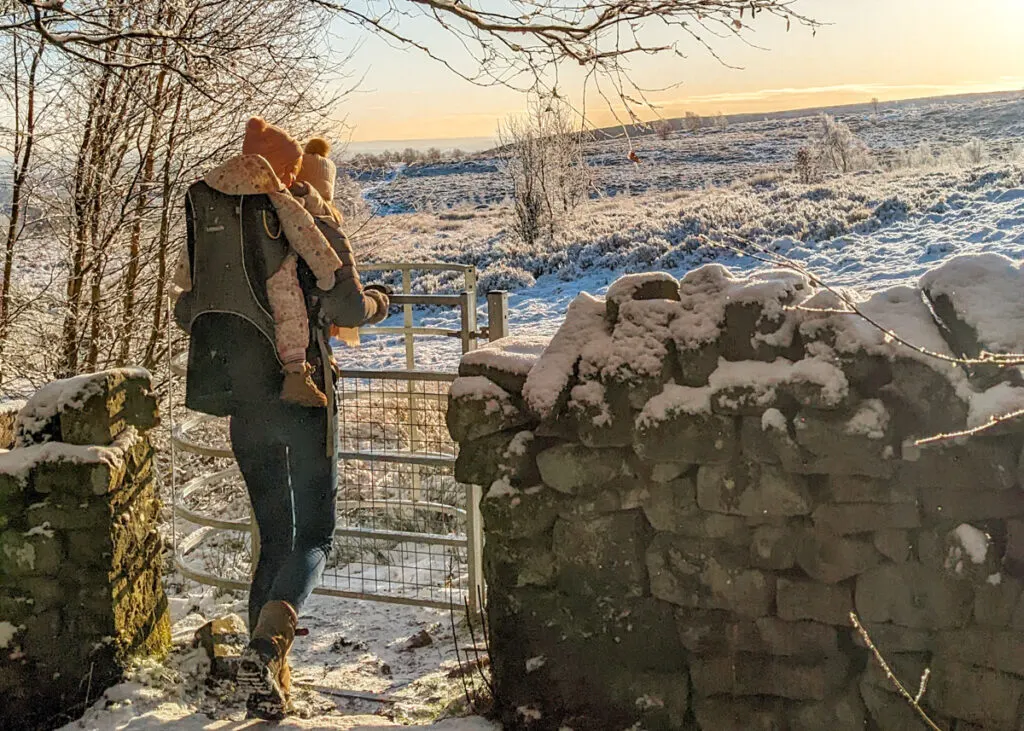 During the winter months, it's important to be extra prepared and safe when out walking and adventuring in the Peak District. The weather can change so quickly, especially on the exposed escarpments, and we don't want you to get caught out.
Read our top tips for safe winter walking with the kids.
FOLLOW US:
PARKING INFORMATION: Please do not rely solely on the postcode for parking directions. In the National Park, a postcode can cover a large area. Postcodes are only provided as guidance. Please either use the Google Maps point provided for every walk, or what3words.
Do check out our top tips for hiking with young kids, as well as our essential items to take on a family hike in the Peak District.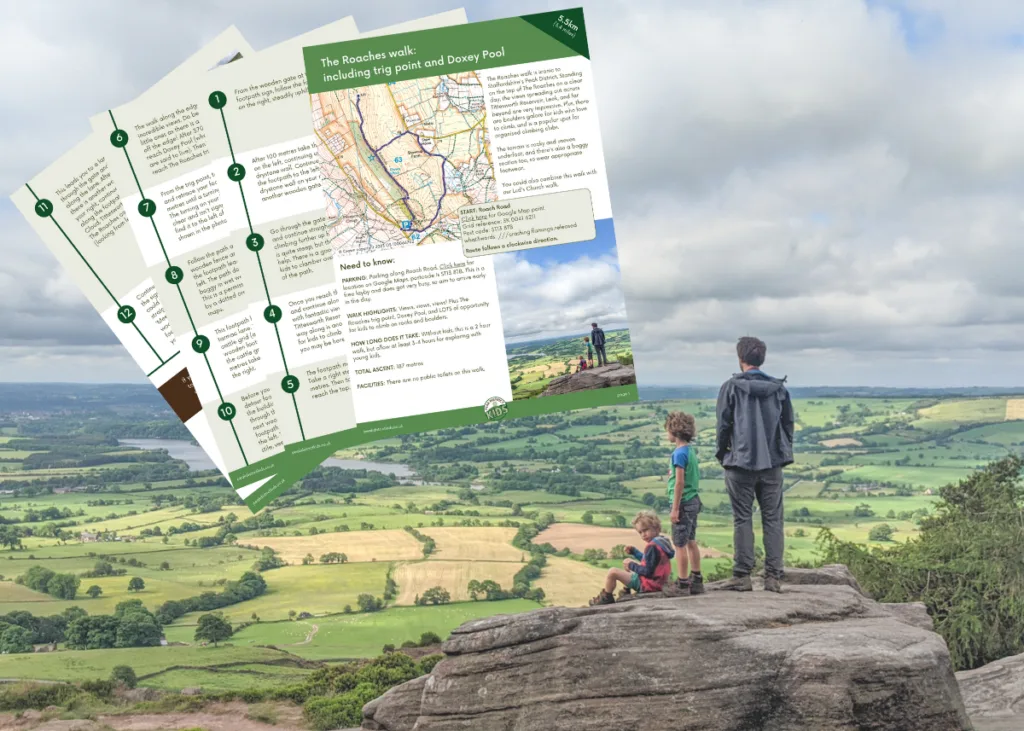 Download and print out our walking guides ready for your family walk. There are over 80 downloadable walk guides available, and these include all the main Peak District family walks, pram-friendly walks, and toddler walks.
Each printable download is just £1.50, whether it's a short 1km stroll or an epic walk up Kinder Scout.
1. Ditch the buggy and carrier
Admittedly I miss those hiking with a baby days, when you can cover a lot of miles with a little one strapped to your back or in a buggy. Many parents do continue with a carrier when hiking with toddlers, but it means that they're not actually walking and more than likely, that fresh air and rocking sends them to sleep.
Once our youngest turned 18 months, we stopped taking the carrier out on hikes and rarely took the buggy out around town unless absolutely necessary.
Yes, it was VERY slow going with them walking and it would take an age to cover a very short distance. But as there was no buggy or carrier in site, the temptation for using it was gone. It meant that they became used to hiking from a very young age.
This approach involved a bucket load of patience from us parents, that was thankfully rewarded by a looooooooooong afternoon nap afterwards.
2. Pack more snacks than you think you will need
Even now, it amazes me how much the boys eat when we're hiking. Snacks always keep them going. Start with the healthy options, of course. But towards the end of the hike, Haribo and marshmallows work a treat. We sometimes get one parent to run ahead and hide the treat behind a rock. That certainly gets them moving 😉
Also make sure you take enough water. Although hot chocolate in a flask always goes down a treat in the colder months.
Check out our essential items to take on a family hike in the Peak District.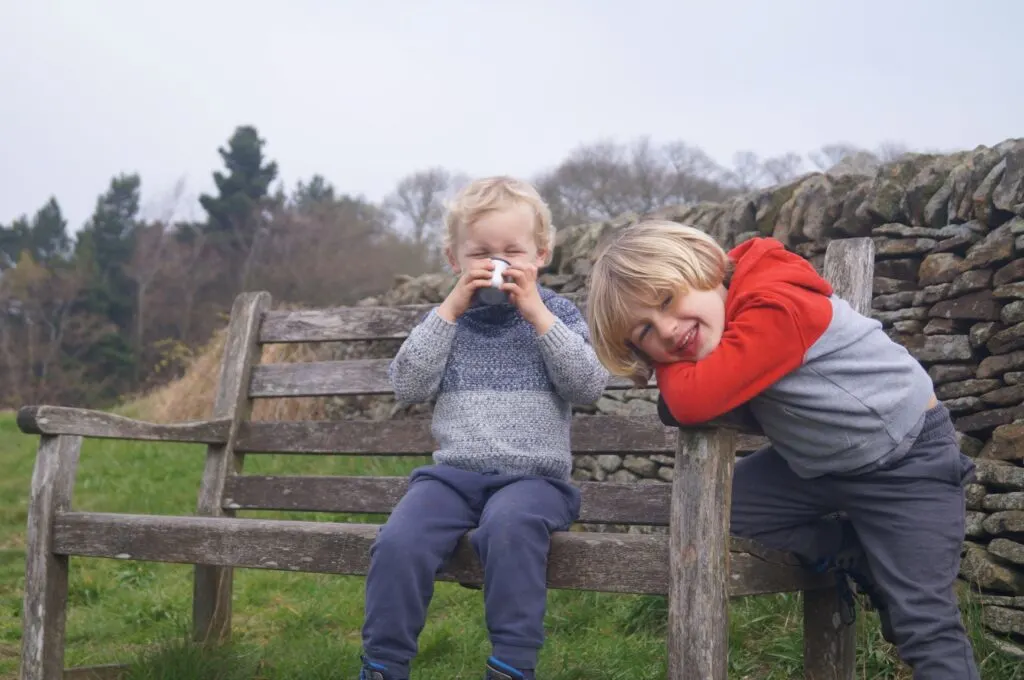 3. Get out early in the day
Kids are generally at their best in the morning, and the walk will always take you longer than you think it will. Even now we're having to allow for detours for important stuff like climbing rocks and rolling down hills.
Don't rush the kids, but try to ensure they are at least walking in the right direction, otherwise you'll never make it back to your car before night fall.
4. Good comfortable hiking boots
Wellies are fine for puddle jumping and a short stroll. But if you want your little ones to cover any serious distance, their feet need to be comfortable, well supported and dry. Wellies just won't do. Imagine how uncomfortable you would feel walking any long distance in wellies?
Check out our guide to the best kids hiking boots over on our sister-site, TraveLynn Family. Our boys have been wearing hiking boots since the age of three.
5. Wear the right gear
If you live in the UK, you'll know that we can experience four seasons in one day. This is only heightened in the Peak District where the weather on an escarpment can differ tremendously from down in the valley. The only way to cope with this is to wear layers.
Similarly, kids running up and down hills get hot and want to strip off. But once you sit them down to have their sarnies, they get cold again.
Unless it's a hot summers day, when shorts, t-shirt, sun hat and hiking boots will do, our standard attire for hiking with kids is: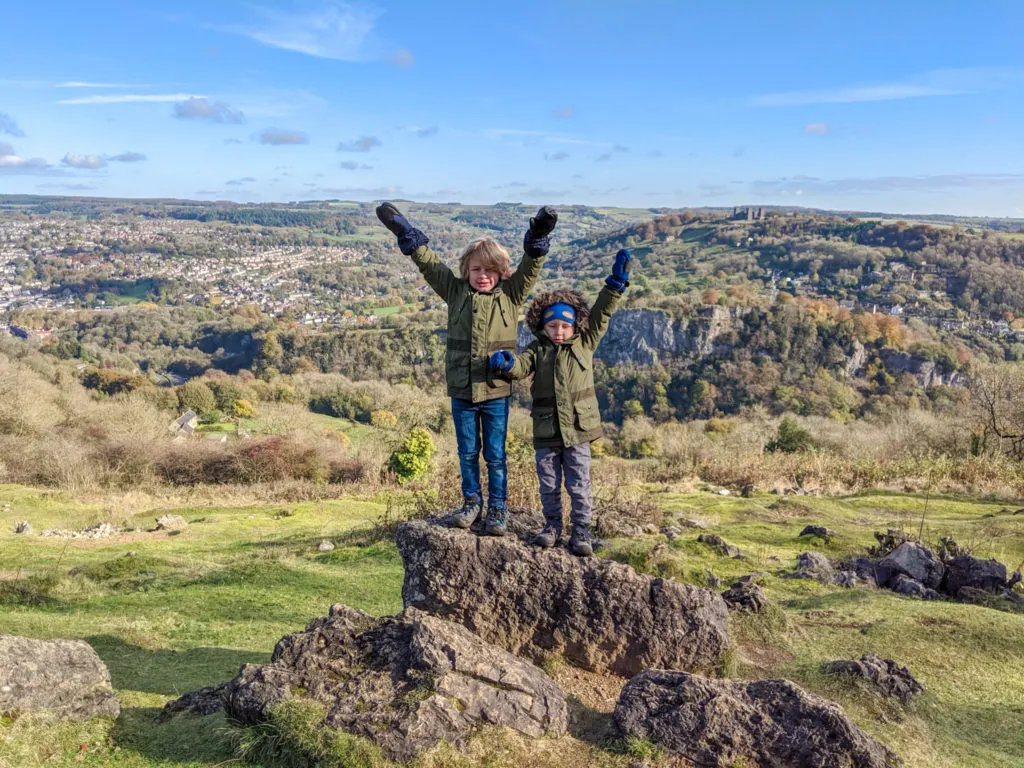 6. Hike regularly
The more your little ones go hiking, the more they'll get used to it. We try to do some sort of hike every weekend. It doesn't have to be a hike in the hills, even just a walk along a beach, woodland or around town will do.
7. Select an interesting walk
A flat, straight hike may be tempting if you've still got a little one in a buggy. But in all honesty, this type of walk is very dull for kids. The hike needs to encourage lots of play to make it fun!
Find walks that have hills to run down, trees or boulders to climb, animals to meet, and are broken up with styles to climb and gates to open. And of course allow time for these mini adventures along the way. 1 km could indeed take 1 hour 😉
Check out our top BEST Peak District walks for toddlers and pre-schoolers.
8. Play games, sing songs, and engage with them
'Going on a bear hunt' (from the book by Michael Rosen) was always a popular song on our hikes when the boys were little. This can then be adapted for anything along the way. We recommend doing a verse about 'poo'. That always lifts spirits!
We're going on a bear hunt (We're going on a bear hunt)
We're going to catch a big one (We're going to catch a big one)
We're not scared (We're not scared)
What a beautiful day! (What a beautiful day)

Uh-oh Grass! Long wavy grass.
We can't go over it, we can't do under it,
Oh no! We've got to go through it!
Swishy swashy! Swishy swashy! Swishy swashy!
A popular game is the 'nature shopping list'. The kids are given a list of items that they need to find. This may be a feather, stone, stick, leaf, for example. With older kids, the list may be something like – something spikey, something yellow, something smooth. This is a great game to get them exploring their surroundings on a family hike, and these items can be collected for a craft project back at home.
Or perhaps get them to to take photos on a kids camera, to print out and make into a collage once home.
We also like to get them involved with the navigation. Show them on the map the objects you're looking for on your hike if you're using an OS Map. I often pretend that I can't find the style or gate we need to find, and the boys run off giggling to wear it is, wondering how blind their Mum is!
Another idea is geocaching. This is an outdoor treasure-hunting game where participants (Geocachers) use a GPS receiver or other navigational techniques to hide and seek containers (called "geocaches" or "caches"). This is a good idea for kids ages 4+ and more information can be found on the geocaching.com website.
9. Incorporate crafts into your walk
Check out these outdoor craft activities for kids. Some of these ideas, such as a nature mobile, nature weaving, or nature crowns, can be made whilst on your walk using the items that your find along the way. Just make sure you take some card, scissors, string and double-sided sticky tape along with you; they shouldn't take up too much space in your day sack.
You may want to do some of the other crafts when you get home, but it will be fun looking for the nature items you need whilst on your walk. Please only pick up twigs and leaves that have fallen to you ground. Don't pick anything living (unless it's in your garden).
10. Let the kids guide the way
From the start of your walk, allow the kids to decide which direction you walk in (although please stick to marked footpaths). If you have two or more kids, and to avoid arguments, it may be a good idea for them to take it in turns.
So each junction you arrive at, the kids decide which way to go! They will love being in charge of the walk and it promotes independence.
You may end up walking in never-ending circles, but go with the flow. Similarly, you don't want to get lost! So make sure you have your OS Map to hand, and keep track of where you are.
11. Hike with friends
With extra kids along for the hike, there are more pals to play with. This can be tricky when kids are at different stages with their physical ability. Try to meet up with families with kids of similar ages, otherwise parents with younger kids may be too tempted to shoulder carry their little one to keep up with everyone. These photos below were taken in 2019. Please respect current social distancing government guidelines.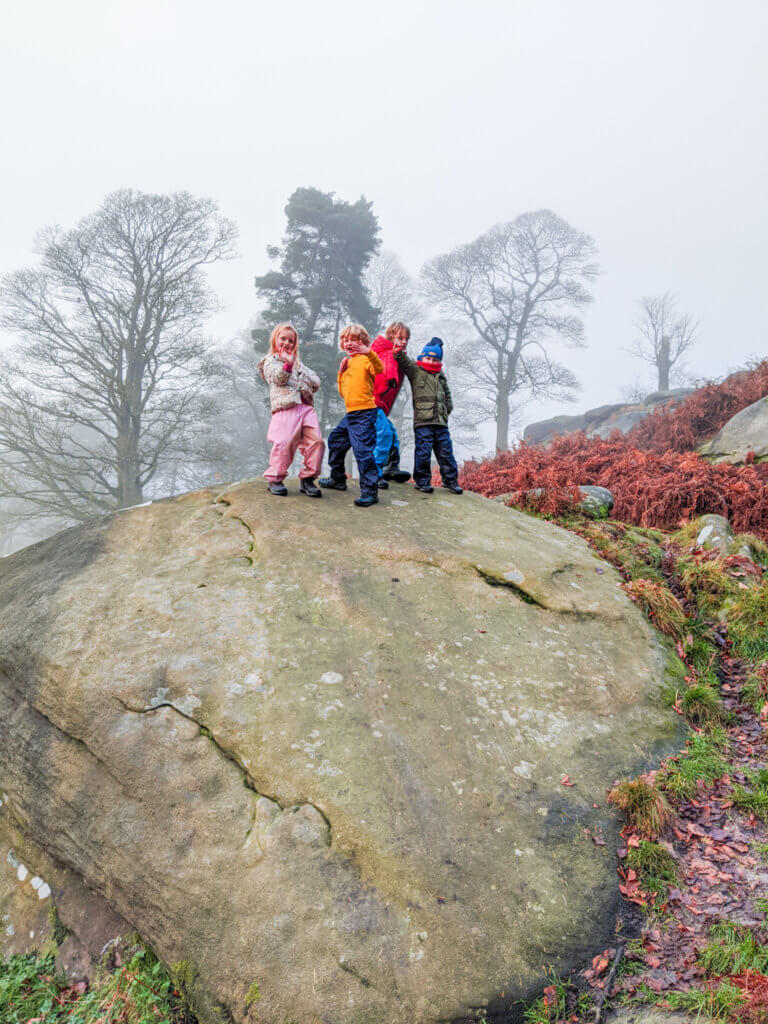 12. Accept that they're still going to have major strops
With all good intentions on your part, kids are going to have their off days and they just refuse to walk. Try playing a game with them, or bring out the snacks. But if all this fails, abort the hike and try another day.
But don't give up! I firmly believe that making hiking fun for kids and hiking regularly as a family are the key to long family hikes in the future 🙂
I hope these tips for hiking with kids are useful! Let me know if you have any tricks up your sleeve that you would like to share!
---
You may also like to read:
The 12 BEST Peak District walks for toddlers and pre-schoolers (age 1-4)
Essential items to take for a family hike in the Peak District
Outdoor craft activities for nature loving kids