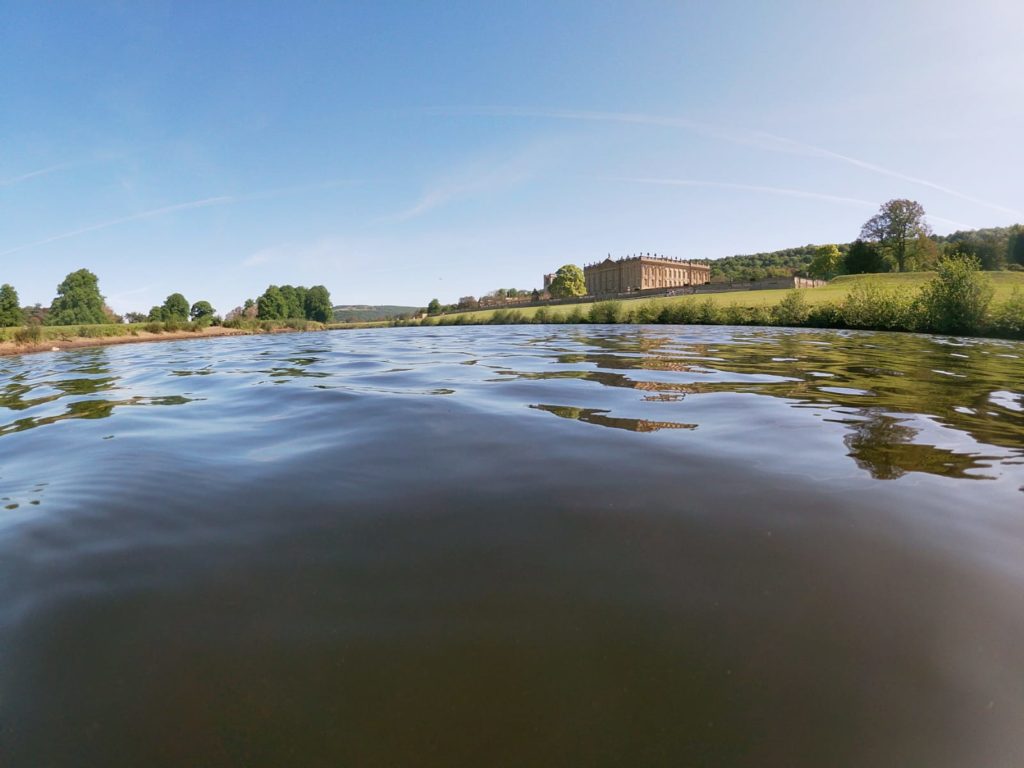 Take a dip in the River Derwent that sweeps through the Chatsworth Estate of the Peak District. With Chatsworth House on one side, and the manicured rolling fields dotted with grazing sheep and deer as your backdrop on the other, you would be hard pressed to find a more idyllic wild swim location in England. Indeed people in the know put it as their top wild swimming Peak District location!
This post contains affiliate links. Should you click to purchase, it is at no addition cost to you, but I receive a small commission.
Wild swimming is one our top things to do in the Peak District with kids, and whilst the Youlgreave swimming area is perhaps the best location for young kids, wild swimming at Chatsworth is a close second.
Here the current is not too strong, and there are gradual banks leading down to the waters edge for easy access. Moreover, there is A LOT of open space and it's very easy to social distance and find your own patch.
Please note that park authorities are still urging people to stay close to home. Only visit if you are a short drive away, and plan to arrive early or late in the day to avoid crowds. Please respect social distancing. To enable social distancing, parking must be booked online before your visit. Temporary individual toilet units, including one accessible, and a hand wash station can be located near the house entrance and Calton Lees car park. All permanent toilet facilities remain closed.
Can you swim at Chatsworth in the river?
Legally yes you can. Read this about your legal rights of wild swimming. But essentially, 'as long as you are not trespassing, then you can swim in most public places and open spaces'. But please do so responsibly and respectfully, and be aware of any dangers. Be considerate of local communities and wildlife. The laws are still pretty murky though (excuse the pun) and is why, understandably, there has been so much anger and conflict around it, especially when the National Park is being over-run with visitors. The National Park is there for all to enjoy. But just be responsible, especially at this uncertain time with covid.
However, the Estate don't allow kayaks and canoes, and on a hot busy day, security may come along and move you down the river about half a mile down past the weirs to this location. They have always been very polite and courteous, so please just go along with it and remain non-confrontational. It's just nicer to keep it that way 🙂
How to get there
There are a number of local bus services from Bakewell, Buxton, Matlock, Chesterfield, Manchester and Sheffield that pass through the estate.
However, the easiest way to get to Chatsworth is by car. You have to park in a designated car park, and with social distancing measures in place, you must book your car parking online, before your arrival. No tickets are available on arrival. The House Car Park and Calton Lees Car Park are currently the two open. Cost of car parking is £4 and there is no time limit on this.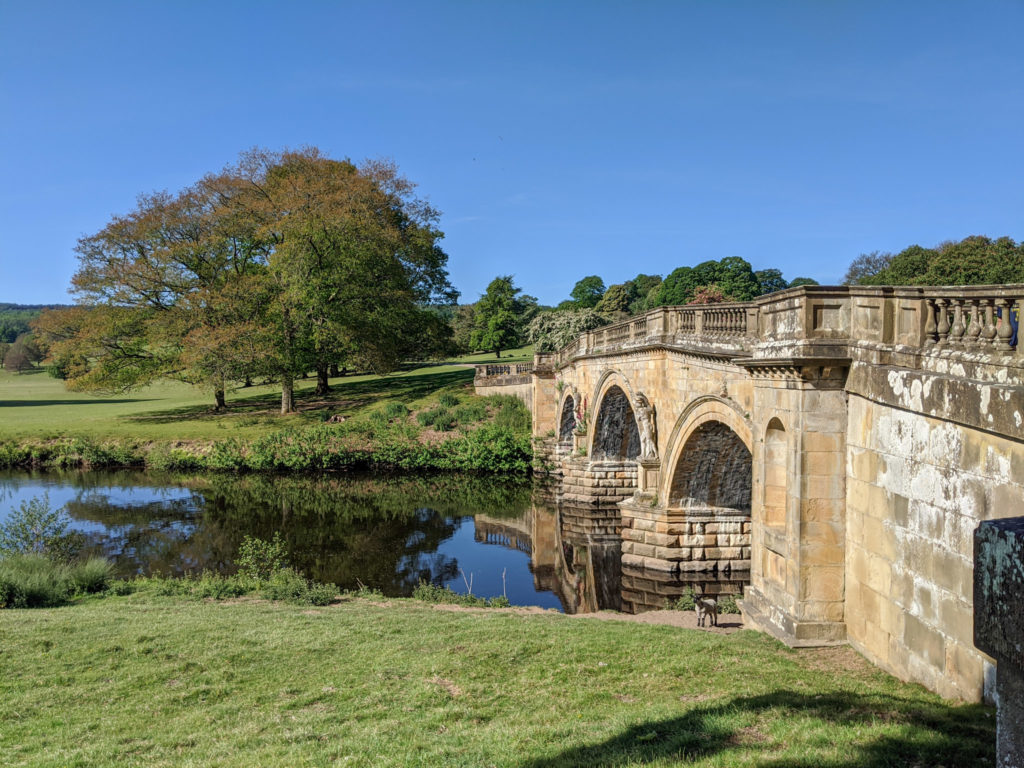 Park at the House Car Park and then walk over Paine's Bridge, following the river to the left. Just a short walk along you will find little sandy river banks, which allow for easy access into and out of the Derwent River. There are lots of suitable spots to choose from. It's really just a case of wandering along and seeing where takes your fancy.
However, Chatsworth House prefer people to swim out of site of the house, so you may be asked to venture a little further along past the weirs for your swim.
What to expect
The river here is wide and there's a gentle current. There's a large expansive area of open lawn for you to find a base (bring a picnic) which looks back over to Chatsworth House. It really is a stunning location.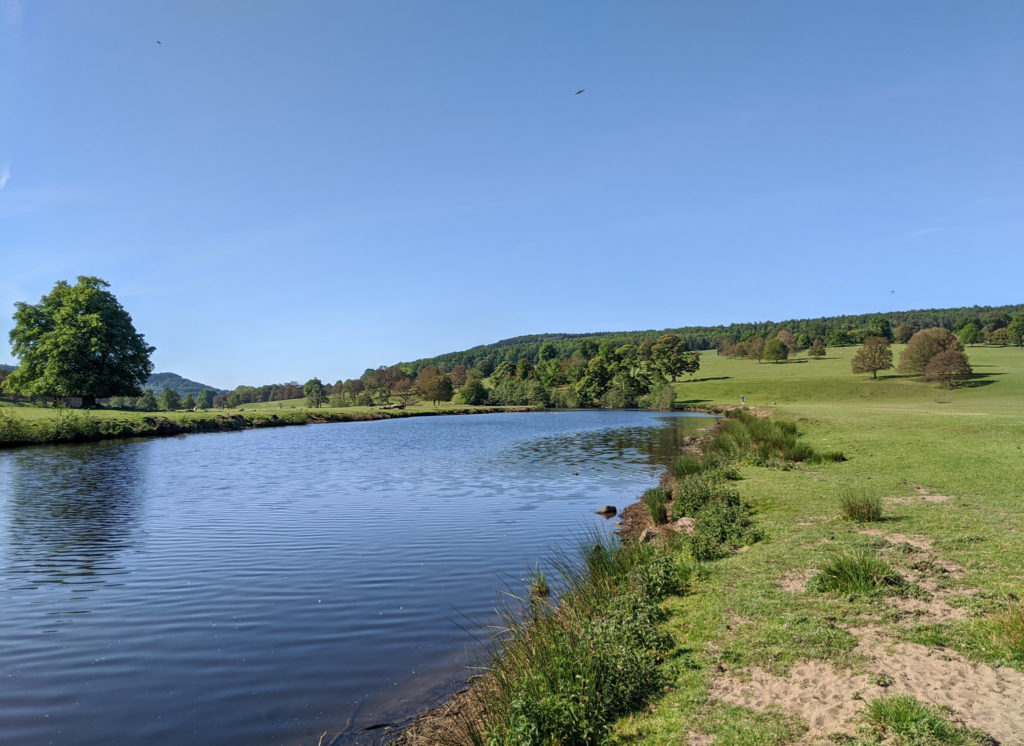 A gradual bank leads you into the river, making for easy access; although it is rather silty and your feet sink in a fair bit. There is a fair bit of vegetation along the river banks, but you can easily find a clear patch to walk through.
As you swim away from the bank towards the Chatworth House side, the water gets much deeper (I can't stand up on the House side, I'm 5'4"), and the current is slightly stronger here too (although still classed as gentle).
Is the water clean?
The water is clean, but not necessarily clear as the river bed is quite silty.
Is the water cold?
Yes! Though warmer than the water at Youlgreave.
I dress my kids in wetsuits. Although I've been fine in just a normal swimsuit with swim T-shirt and shorts over the top, and it's amazing how quickly your body gets used to the temperature. It's certainly refreshing!
What's lurking at the bottom of the river?
It's very silty and muddy on the banks. Your feet can sink in quite far when you first walk in. There's the odd large rock, but it's generally soft.
My boys wear these sandals from Keen to protect their feet, although I go in bare foot.
What else is there to do at Chatsworth?
A visit to Chatsworth is one of our top days out in the Peak District! Aside from the free walking trails around the estate and swimming, you can visit inside the house and wander the ornate gardens. Young kids may perhaps better appreciate the Farmyard and Adventure Playground. Although do note that these attractions are currently closed due to COVID-19.
The Emperor Fountain is also a good spot for little ones to have a paddle and a splash.
---
You may also like to read:
Youlgreave wild swimming
Easy Peak District cycle route
The BEST Peak District wild swimming locations