The Peak District may be landlocked with a distinct lack of salty sea air, but there are some fantastic spots for a refreshing dip and paddle with the kids. If you're looking for the best paddling and wild swimming Peak District locations, then grab your swimmers and a towel, and read on. On a warm summer day, wading in the rivers is one of the best days out in the Peak District.
I've included some well known spots for a dip, and whilst there are dozens more I could include, it's best to keep them a secret so that they don't get over run with visitors. But we warned, these Peak District waters are rather nippy and powered to awaken the senses (which translates to bloody freezing!) We put our kids in wetsuits when we go wild swimming in the Peak District, but I go in just in swimmers, and well… it certainly wakes me up! Aqua shoes are also a good idea as the river beds are often rocky.
You may also want to check out our Peak District river walks for ideas beyond this post.
Please do not bring BBQs and take all litter home with you. Also, please be respectful to local residents with parking and noise levels.
Read this about the legalities of wild swimming England. But essentially, 'as long as you are not trespassing, then you can swim in most public places and open spaces'. But please do so responsibly and respectfully, and be aware of any dangers. Be considerate of local communities and wildlife. The laws are still pretty murky though (excuse the pun) and is why there is sometimes conflict around it, especially when the National Park is struggling with visitor numbers. The National Park is there for all to enjoy, but please be responsible and considerate.
Please note that Chatsworth Estate used to be on this list, but has now been removed as Chatsworth now state on their website that swimming in the river is not permitted.
1. Youlgreave
In the valley sitting below the picturesque village of Youlgreave (also sometimes spelt Youlgrave) runs the River Bradford. This is the perfect spot for kids to go wild swimming as there's a designated section of the water that has been carved out for swimming, with fresh water running through. There are even large stone slabs that acts as levels for very small kids.
To the side is a grassy bank inviting you for a picnic. If you follow the river upwads, just 30 metres, the water is much shallower and perfect for a paddle.
Parking is very limited in the village and the lanes narrow. There is a small car park along Alport Lane (bring change). So arrive early to secure a space. In the village itself, the George Hotel pub is a personal favourite and serves kids meals. There's no beer garden here, but a little further out of the village along Alport Lane is a large rec with playground.
Click here for more information on Peak District wild swimming at Youlgreave.
2. Three Shires Head
Where the counties of Derbyshire, Cheshire and Staffordshire all meet, this stretch of the River Dane makes for a perfect wild swimming dip. Whilst parts are rocky and shallow, there is a deep pool which can be 7 feet deep at the foot of one of the waterfalls. It's also one of our favourite picnic spots, and even on a grey cloudy day, our boys love walking between the boulders and dipping their feet into the icy cold water.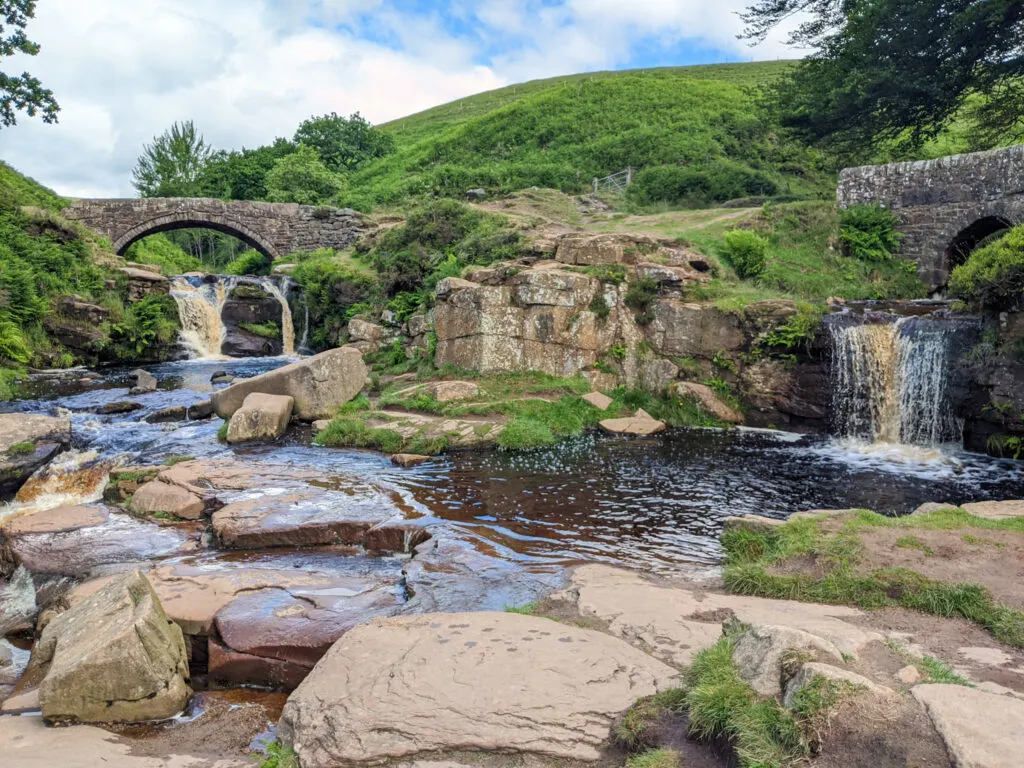 You can either park here, from where it's a 1.5 km walk down to Three Shires Pools. However, parking here is very limited and the path down can get busy.
Instead, try our Three Shires Head walk from Gradbach Car Park. This is a 6.2 km circular walk and it's very pretty.
3. Slippery Stones
A picturesque plunge pool in the North of the Derwent Valley, Slippery Stones wild swimming is very beautiful spot.
There is a road that runs along the western shores of Derwent and Howden Reservoirs to get there. Please note that this road is closed on Sundays. Park at the end of the road, and from there it is a short, pram-friendly walk of 1.4 km walk to Slippery Stones.
Click here for our walking guide to Slippery Stones.
If the road is closed you have to park at the Upper Derwent Visitor Centre. It's then a 10km walk (or bike ride). Alternatively, park here close by to Langsett Reservoir and take the 6km hike south.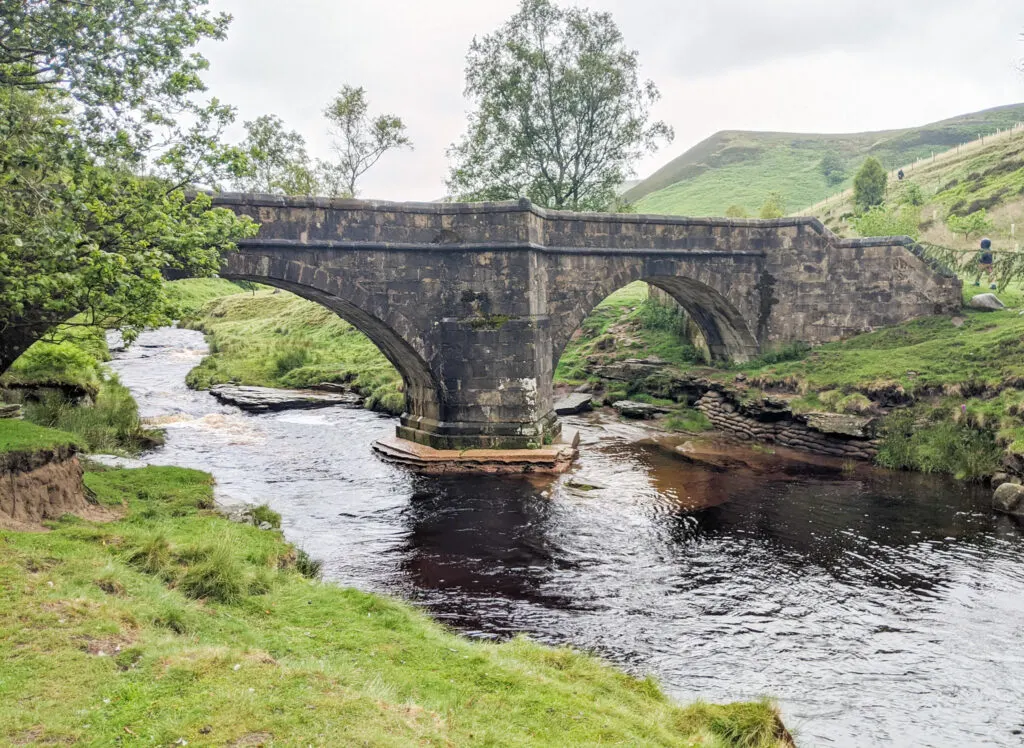 The actual swim area is quite small, but it's a good plunge pool for a submerge, although be wary of the current. On one side, the bank is gentle and has a natural platform area, which is a good place for little ones to paddle.
4. Padley Gorge
Padley Gorge is a very popular place for kids to have a paddle, and on a warm summer's day we advise arriving early. You can park for free here, or your can park at Longshaw Estate carpark (pay and display, although free for National Trust members), or Surprise View car park (pay and display), and walk down.
Find a spot in the shade under a tree and let the kids clamber on the rocks and wade in the fresh waters. It's not deep enough for a swim, but this is perfect paddling territory. There's often an ice-cream van on the roadside where you park. Make sure you bring change.
Enjoy a paddle in the river as part of our Padley Gorge walk, or if you're doing the pram friendly Longshaw Estate walk, it's just a short detour across the road.
5. Thornbridge Gardens
Kids can paddle in the fountain at Thornbridge Gardens (free for kids under 16, adults £7, open everyday 10am to 4pm). Plus if you purchase a fishing net from the café, they can hook a duck in the fountain! Please note that the ducks are in hibernation over the winter months.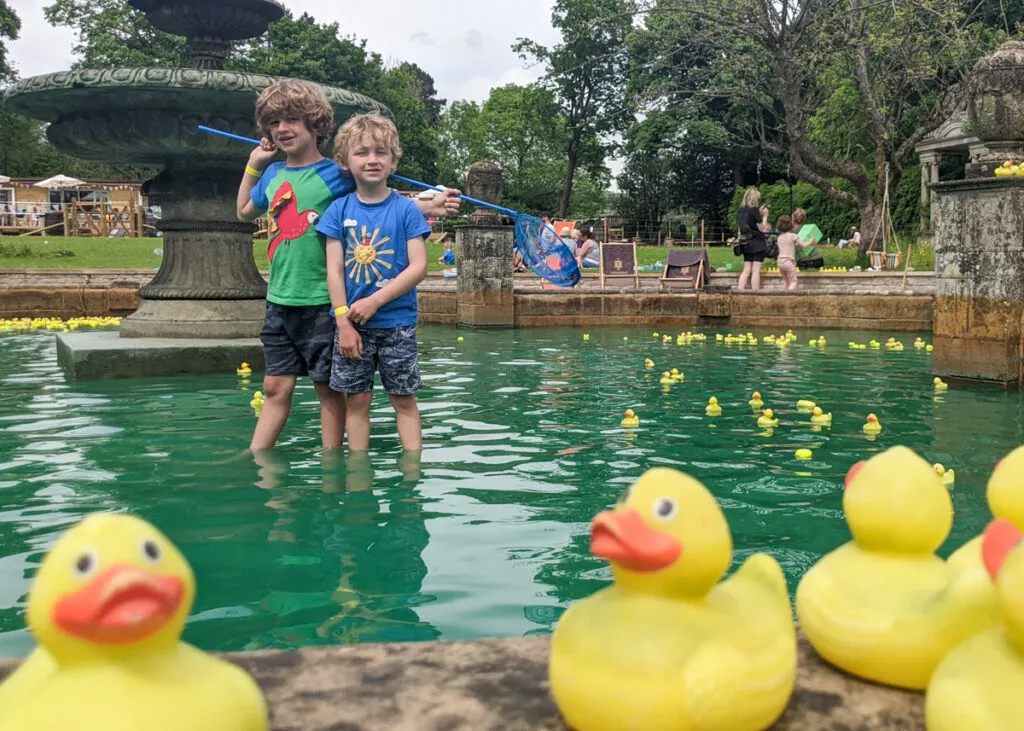 Encircling the fountain, marked with coloured festival bunting, is the outdoor kids play area; including a den, hammocks and swings, blocks to play with, chimes, and painting easels. Lots to spark imaginations! There are even pop up badminton nets (complete with rackets and shuttle cocks) and a basketball hoop for older kids nearby.
Plus there's the extensive gardens to explore (with a few more games along the way including croquet) and also Quackers Café serving lots of scrummy food!
6. Hathersage Pool
Whilst this isn't technically a wild swimming location as it's a chlorinated pool, it still has a 'wild' element to it as it's open air with incredible views. And maybe after all your Peak District wild swimming, you need your waters a few degrees warmer? There's even a little café to enjoy a snack pre or post swim.
Click here to read our review of Hathersage Outdoor Swimming Pool. Check the website for opening times and prices.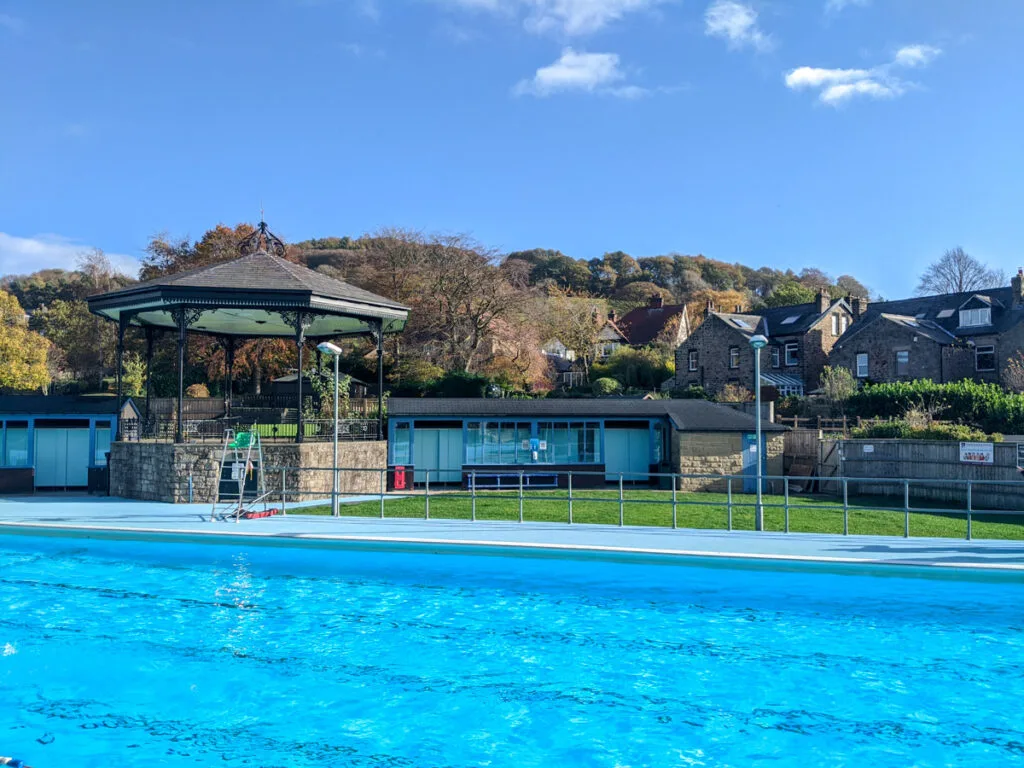 So there you have it, our top paddling and wild swimming Peak District locations for families.
---
You may also like to read:
Things to do in Matlock and Matlock Bath
Peak District cycle routes
Best days out in the Peak District