Please note that parts of this walk are closed on the following dates: 19th to 28th May, 30th to 31st May, 1st to 2nd June, 5th to 9th June, 12th to 16th June, 19th to 22nd June.
On 3rd November 1948, a Boeing B-29 Superfortress (American bomber) called Overexposed crashed into the Peak District moorlands, near Higher Shelf Stones on Bleaklow. Part of the 16th Photographic Reconnaissance Squadron, used for military photography, the plane crashed due to a fatal navigation error in poor visibility. All thirteen crew members lost their lives. Much of the wreckage remains on the moors as a memorial and an official plaque has been erected.
Where is the B29 crash site?
This walk leads you to the B29 crash site from Snake Pass Summit and also takes in Higher Shelf trig point. The crash site itself is a lonely and sombre place. Please be respectful, do not allow your children to climb or play on the wreckage and please do take all rubbish home with you.
Click here for the Google Maps location
Grid reference: SK 0909 9486
what3words: ///mouth.scarecrow.annual
⚠️ A word of warning ⚠️
Only attempt this walk on a clear day. Many of the footpaths over the moor between the Pennine Way and Higher Shelf Stones are unclear and there are multiple options. It can be rather disorientating and in poor visibility it is very easy to get lost. The boggy tracks add to the difficulty.
It is extremely exposed on this walk. On hot, sunny days there is no shade, in the winter months the temperature drops, and you can often experience four seasons in one day. Wear appropriate clothing, including sturdy footwear, and bring enough water.
This is also a very popular Peak District walk and parking is limited. Aim to arrive before 9:30am on weekend and holiday days to secure a parking spot. Do not park behind the double yellow lines, you will be ticketed.
Finally, there are no facilities whatsoever on this walk. No toilets, no café. Please find all food and drink with you, and take all rubbish home with you.
Disclaimer: This post contains affiliate links. Should you click to purchase, it is at no additional cost to you, but I receive a small commission.
If you are planning a visit to the National Park, please arrive early or late in the day to avoid crowds if visiting over sunny weekends or school holidays. Please also take all litter home with you, don't bring BBQs and park your car in designated parking areas. Also, please use these walks as a guide; access and stiles may change.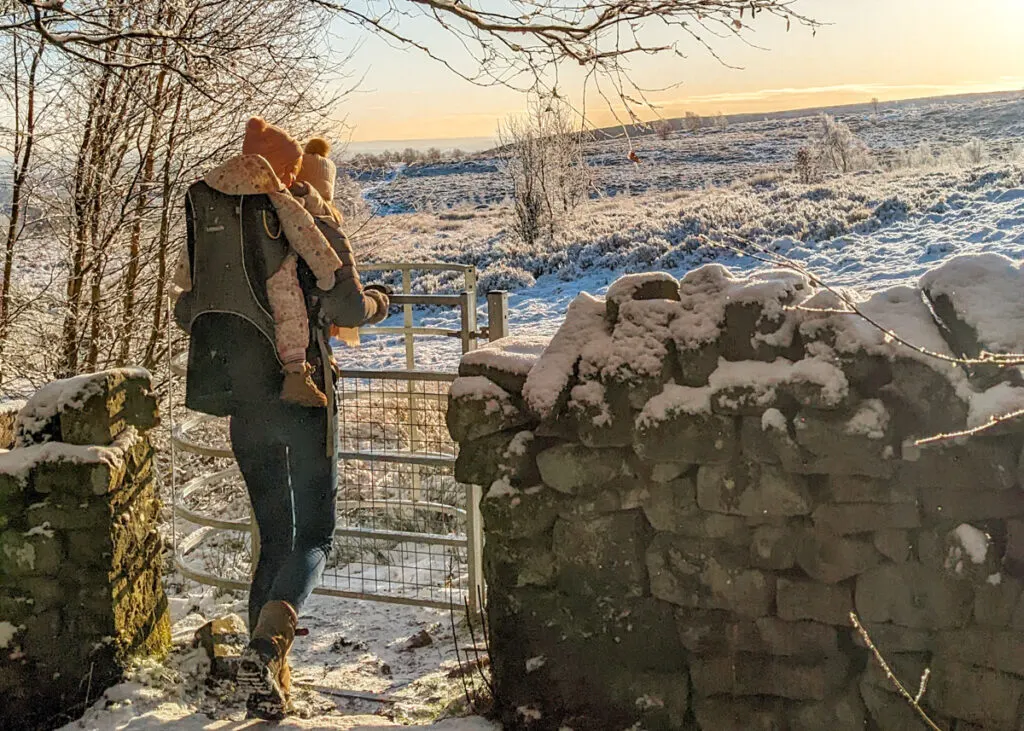 During the winter months, it's important to be extra prepared and safe when out walking and adventuring in the Peak District. The weather can change so quickly, especially on the exposed escarpments, and we don't want you to get caught out.
Read our top tips for safe winter walking with the kids.
FOLLOW US:
PARKING INFORMATION: Please do not rely solely on the postcode for parking directions. In the National Park, a postcode can cover a large area. Postcodes are only provided as guidance. Please either use the Google Maps point provided for every walk, or what3words.
Do check out our top tips for hiking with young kids, as well as our essential items to take on a family hike in the Peak District.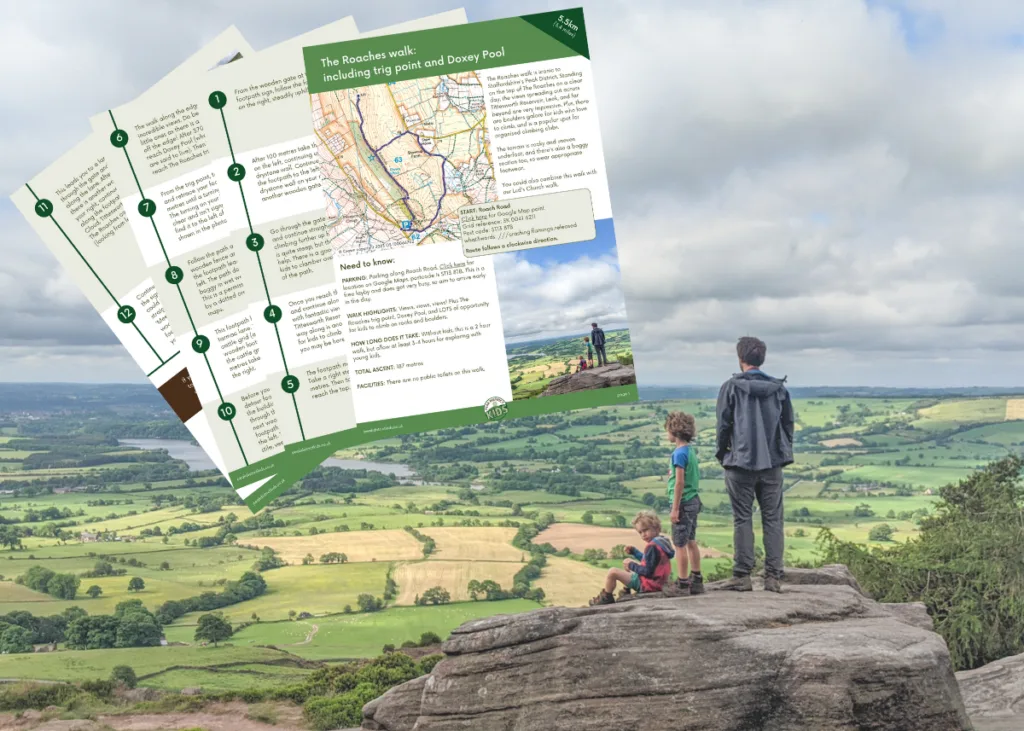 Download and print out our walking guides ready for your family walk. There are over 80 downloadable walk guides available, and these include all the main Peak District family walks, pram-friendly walks, and toddler walks.
Each printable download is just £1.50, whether it's a short 1km stroll or an epic walk up Kinder Scout.
Map of B29 'Overexposed' Crash Site walk
On all Peak District family walks it's a good idea to have an Ordnance Survey paper map with you, even if you have your phone on you. For this walk you need the OS Explorer Map OL 01 (Dark Peak). It's also a good opportunity to show young kids the map features and get them started with map reading.
This B29 crash site walk follows the below map in a clockwise direction.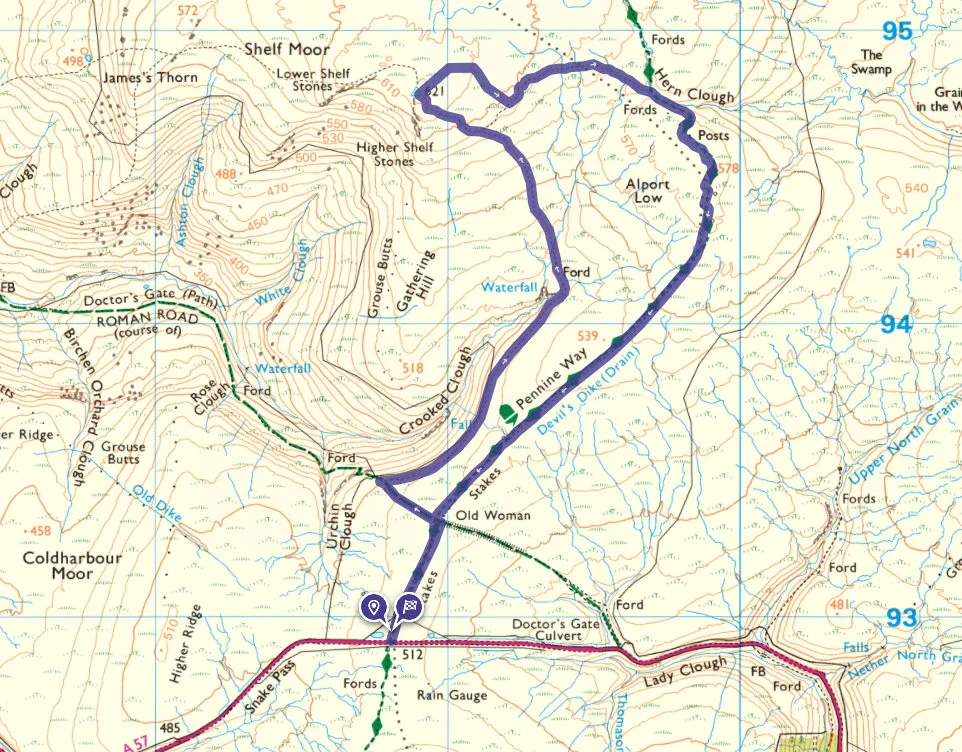 Get a printable download of this walk
Want to print off this walk guide rather than rely on your mobile? Then click here to download the PDF to print out at home. Perhaps print out a copy for the kids to follow the step-by-step directions and/or photos? It's a great way to get them engaged with the walk and gives them a sense of responsibility.
All printable downloads are £1.50 each. Click here for the full list of Peak District Kids printable downloads.
Need to know
DISTANCE OF WALK: 6km / 3.7 miles

TYPE OF WALK: Exposed moorland circular walk.

PARKING: Roadside parking along Snake Pass Summit. Click here for Google Maps location. Postcode is SK13 7PQ. Parking is very limited and this is an exceptionally busy walk, so aim to arrive by 9:30am on weekend and holiday days. Do not park behind the double yellow lines, you will be ticketed.

PUBLIC TRANSPORT: You will see a bus stop at the start of this B29 crash site walk. Unfortunately, this bus service is no longer operational. The only way to reach the start of this walk is by car.

WALK HIGHLIGHTS: Higher Shelf Stones trig point, B29 plane crash site, epic views across the moors to Manchester.

HOW LONG DOES IT TAKE: This walk without kids will take over 2 hours. Allow for 3+ hours with young kids.

ACCESSIBILTY: Between the Pennine Way and the Higher Shelf Stones trig point, this walk can be tricky to navigate. Rather than there being one direct footpath to follow, multiple footpaths criss-cross the boggy moors, and in low visibility it is very easy to get lost. And yes, the footpaths can be extremely boggy. Please only do this walk on a clear day and start early in the day to allow for as much daylight as possible.

TOTAL ASCENT: 153 metres

FACILITIES: There are no public toilets at the start or along this walk. There are also no cafes or anywhere to buy food. Bring everything you need with you, and please take all rubbish home with you.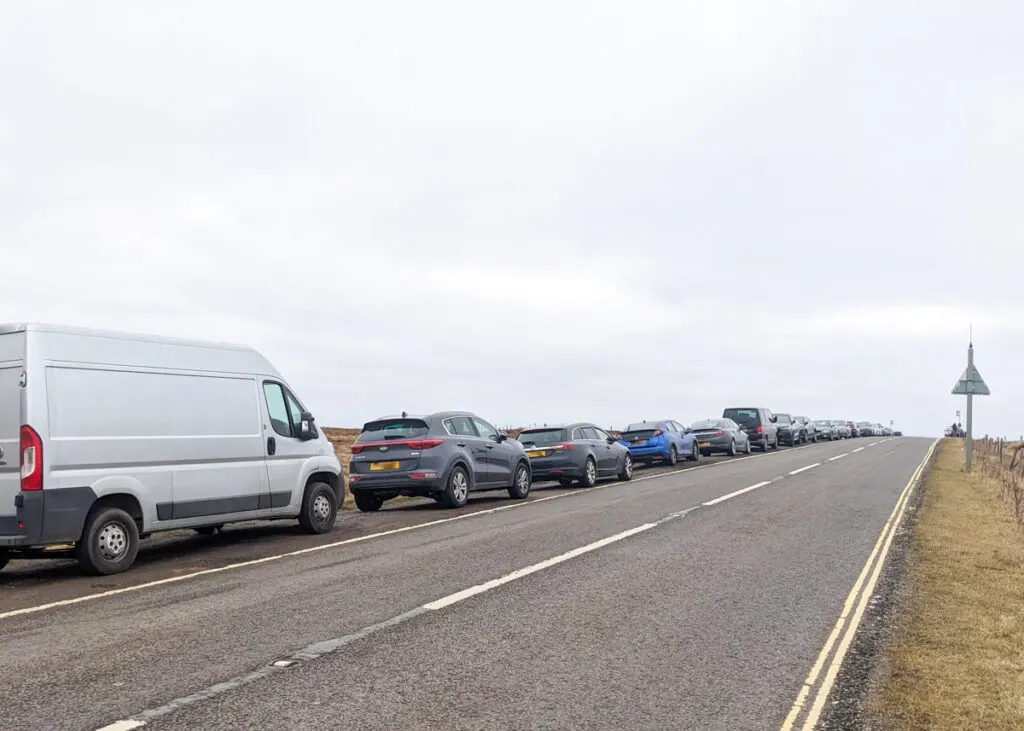 The route
START: Snake Pass Summit
Click here for Google Map point
Grid reference: SK 0880 9292
Post code: SK13 7PQ
what3words: ///starters.spilling.pythons

Route follows a clockwise direction.
1. Walk along the Pennine Way, next to the bus stop sign. This is a nice, even path. Walk through a wooden gate after 70 metres with a sign for Hope Woodlands Moor. As you continue ahead you can see the skyscrapers of Manchester to the left of you on a clear day.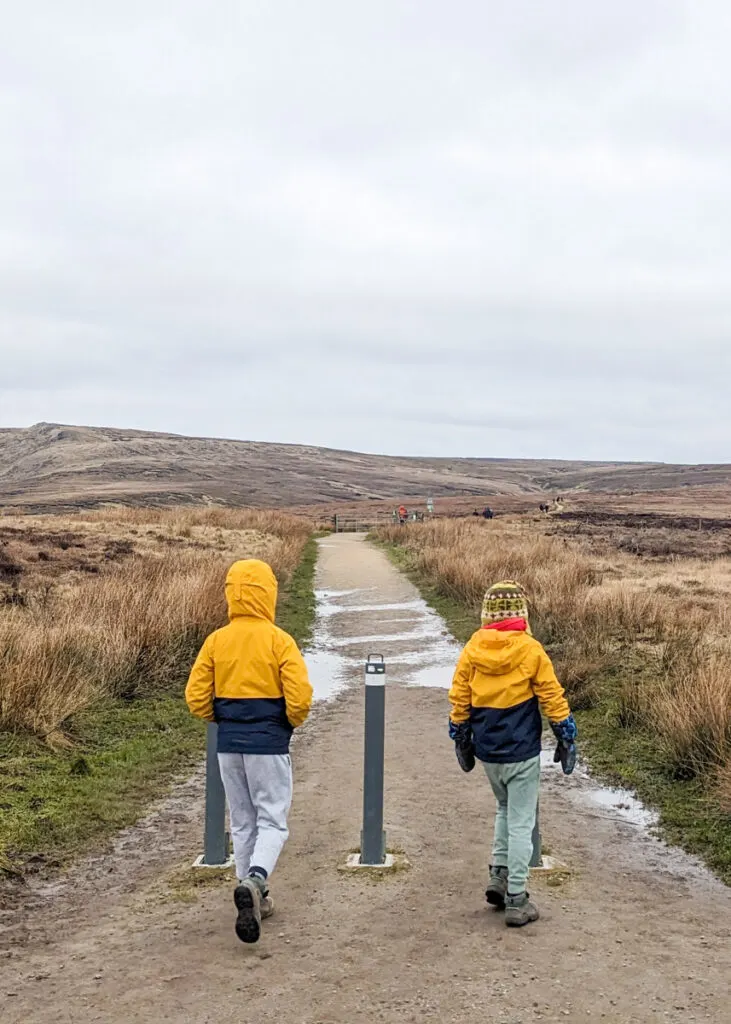 2. After 460 metres from the road, you will meet footpaths crossing. Turn left. The footpath along here is rocky, as well as some muddy and boggy sections. A good opportunity to play The Floor is Lava!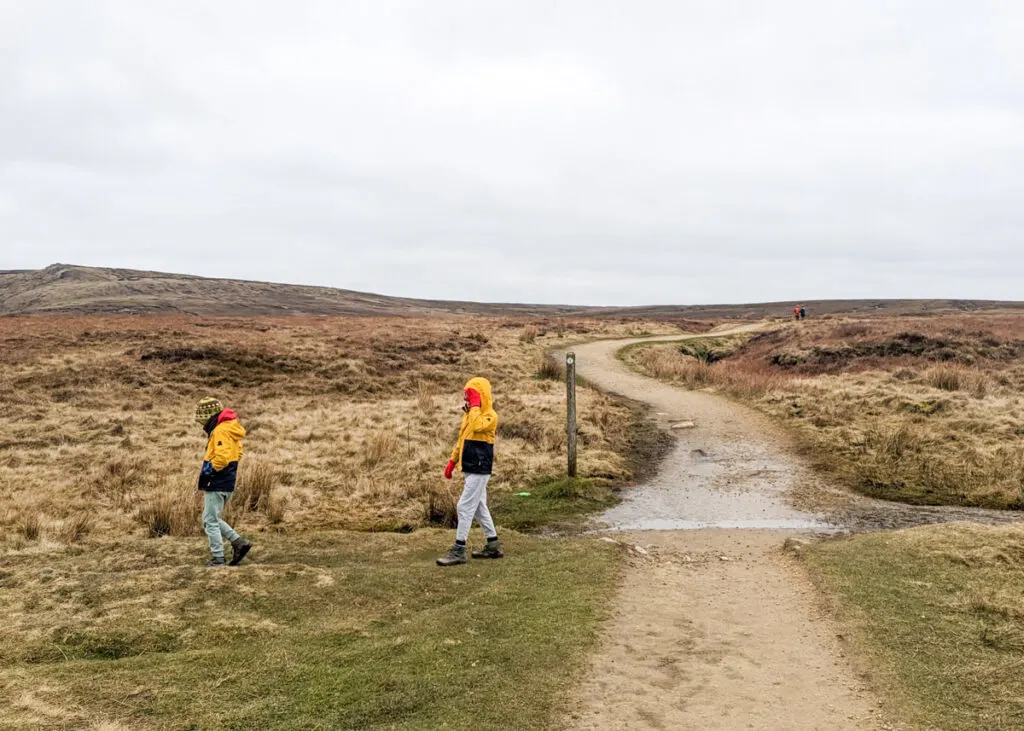 3. At the cairn (big pile of rocks) 250 metres along, take the footpath on your right. Down in the valley on your left (Crooked Clough) is a ribbon of waterfalls. Continue along this footpath for 1km.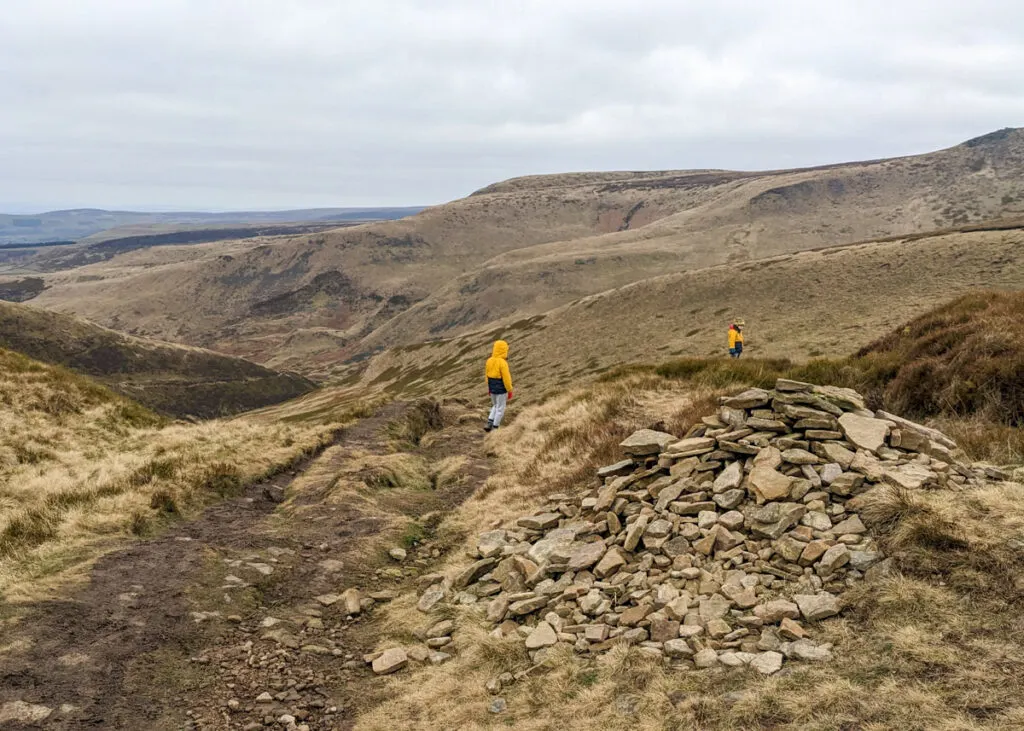 4. When the path meets the ford, cross over and follow the footpath the other side. This crossing is exceptionally muddy and boggy. Take care!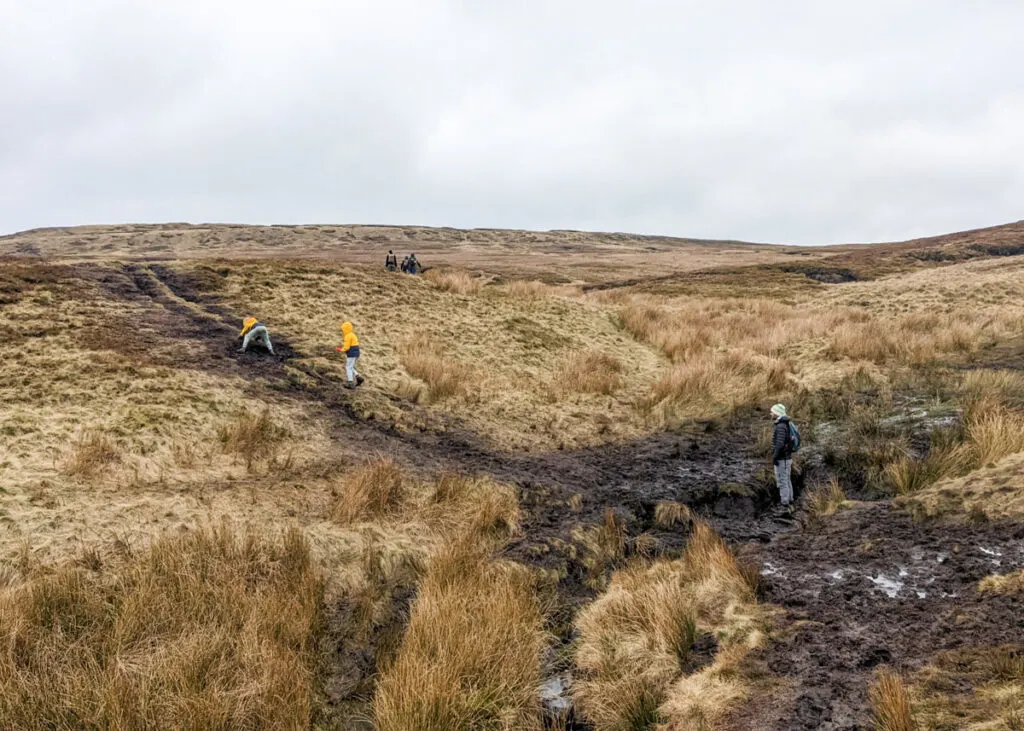 5. Walk ahead veering slightly left and cross another ford. Then follow the footpath straight ahead. The footpaths here aren't very obvious, but just keep walking uphill. Having the OS mapping app is handy here to follow the GPS arrow. When the trig point comes into view, make a beeline for it. This is Higher Shelf Stones trig point.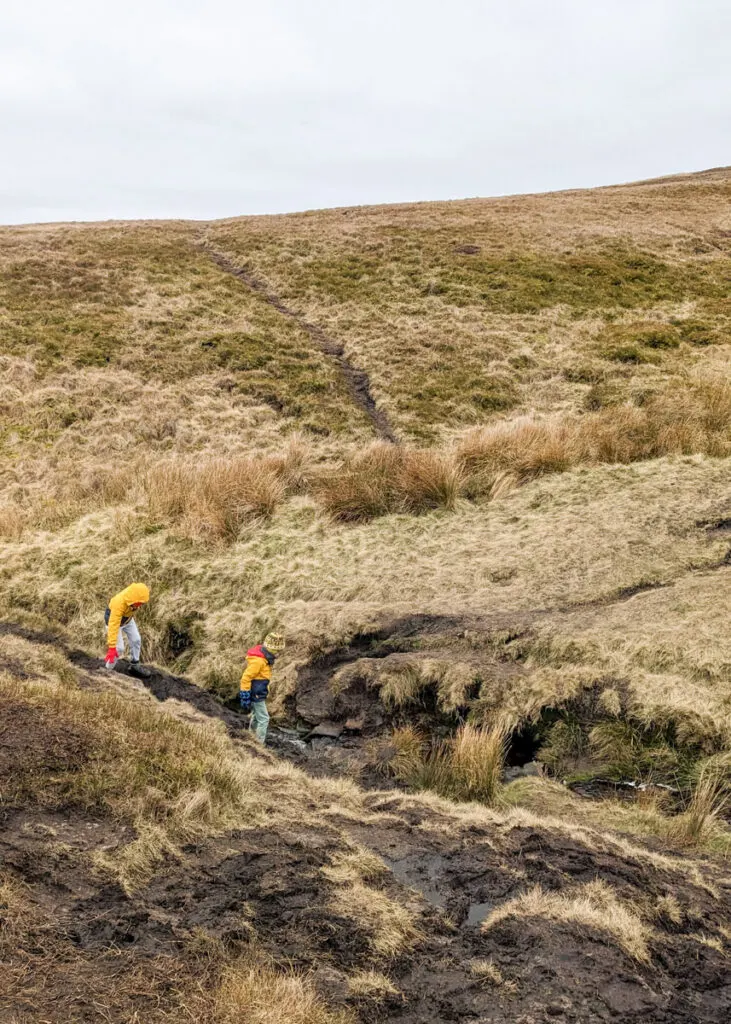 6. Take in the views across the moors and over to Manchester. Kids will want to play on the boulders with engravings to the left of the trig point.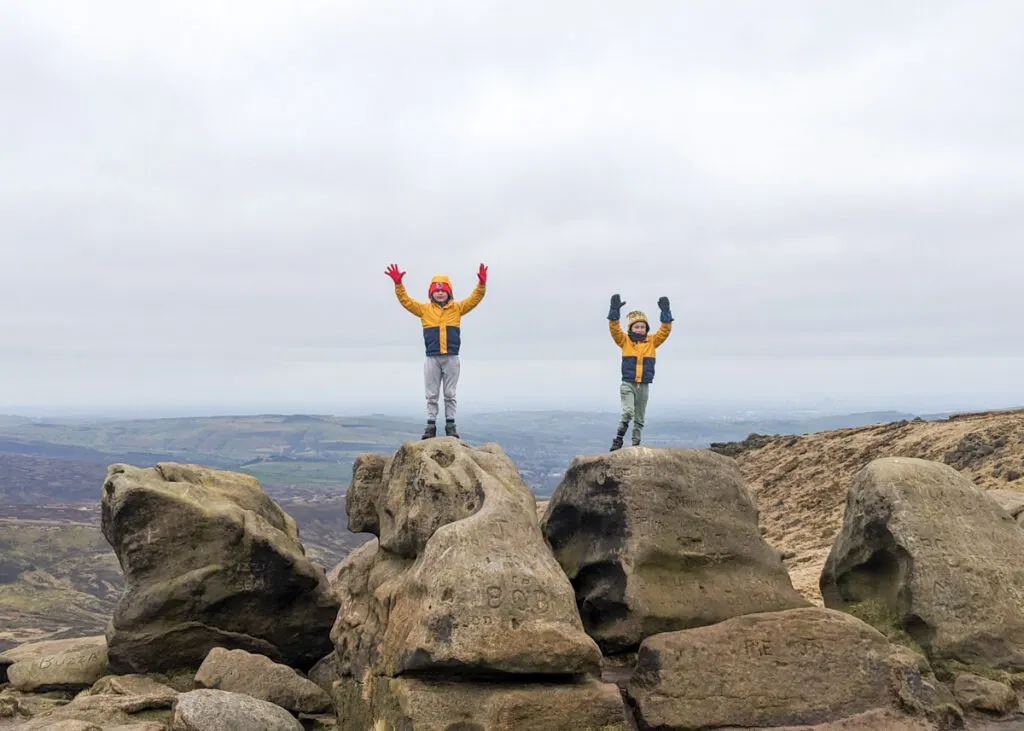 7. To get to the B29 crash site, walk back to Higher Shelf Stones trig point, away from the engraved boulders. Then continue walking ahead to then follow the wide footpath that veers to the right. You will spot the first signs of the B29 wreckage after 200 metres along here. Please be respectful, do not allow your kids to play on the wreckage and please do not take any of the wreckage home with you.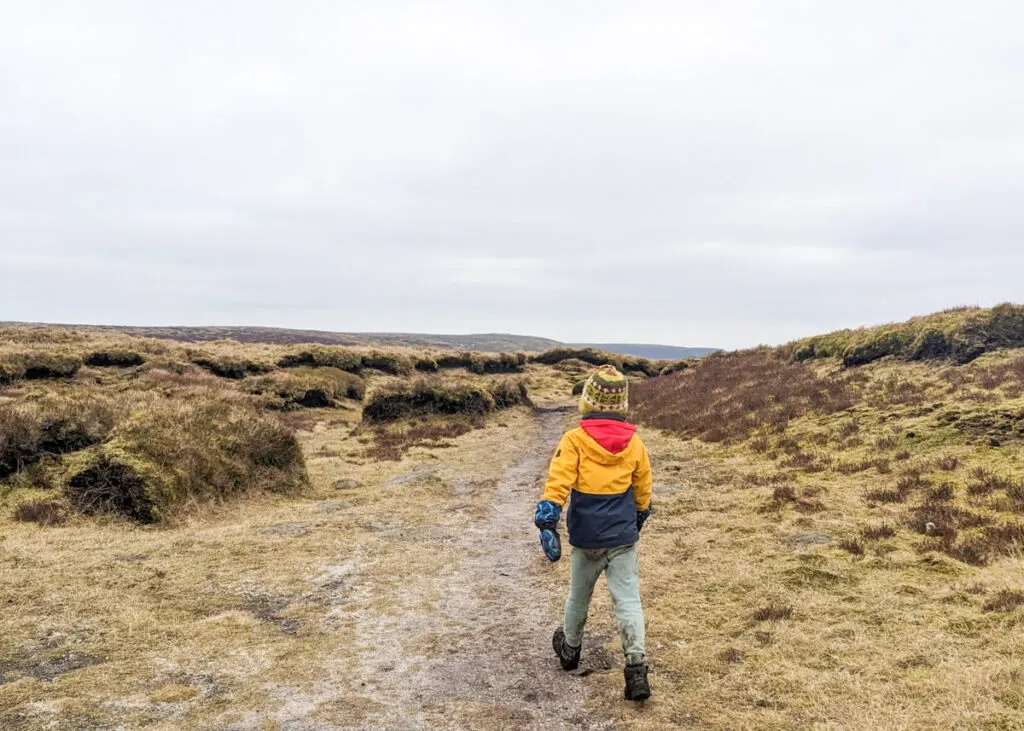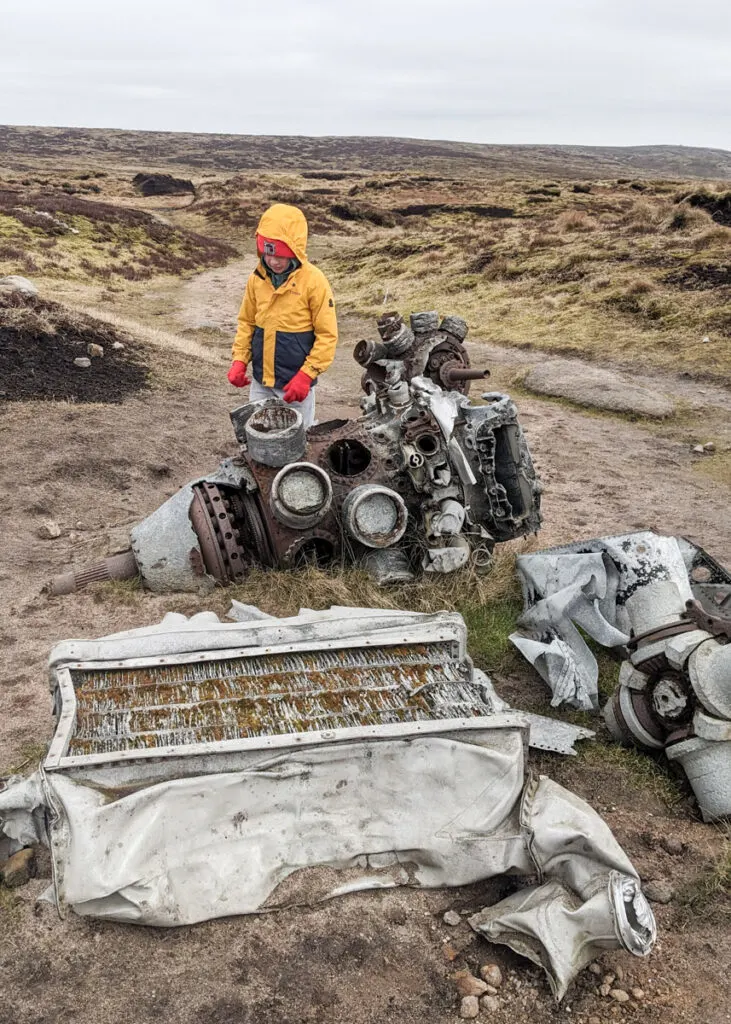 8. Follow the wreckage down along the footpath. Whilst this footpath isn't marked on the OS Maps, this is Open Access Land and the footpath is very obvious.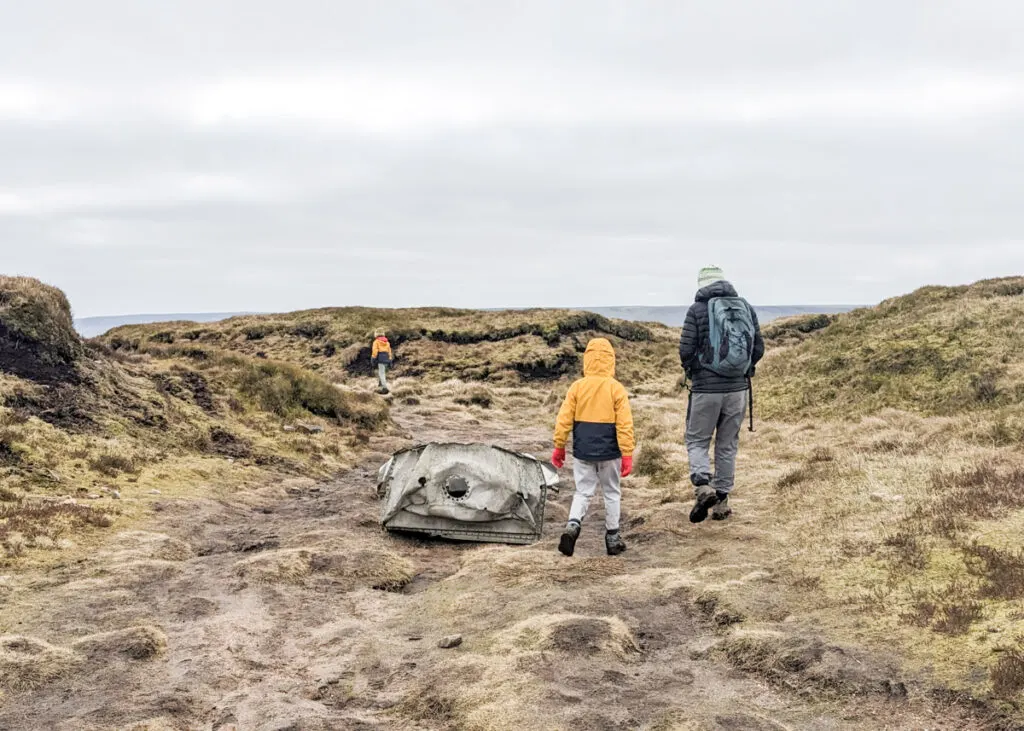 9. Before the scenery opens up, take a left. Keep on this footpath, until you reach the Pennine Way. Lots of different footpaths cross the moors here as walkers try to find a less boggy route. It can be quite disorientating, but the footpaths in this direction do lead to the Pennine Way, so don't worry too much if you're not on the 'right' path. On a clear day you can see where other hikers are coming from (a reason not to do this walk on a day with poor visibility).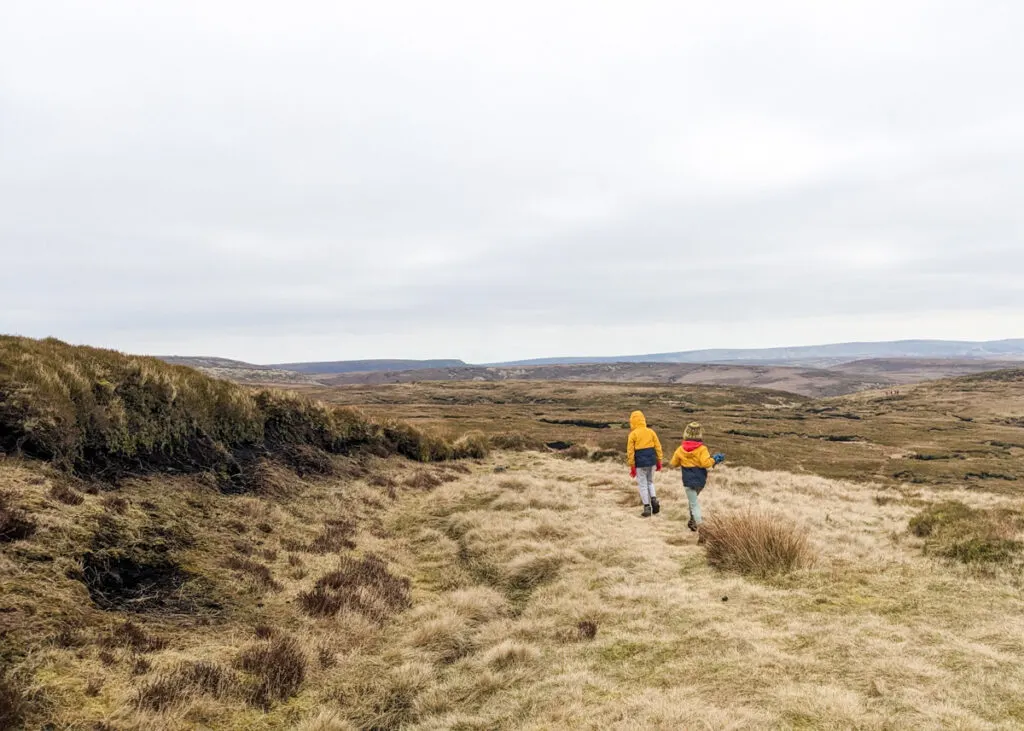 10. When you meet the Pennine Way (a much more obvious footpath), take a right and follow the waymarked concrete and wooden pillars.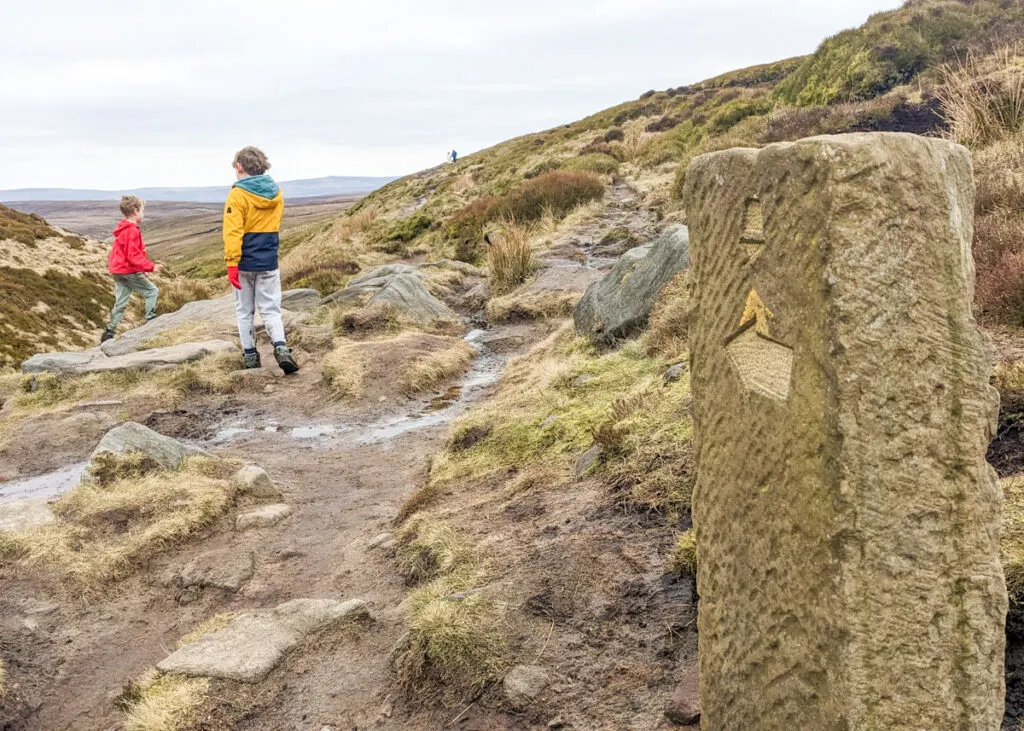 11. This then leads onto a flagstone path. Follow this path to the cairn (pile of rocks) and veer right. Then continue all the way back to Snake Pass (you will be able to see your car on a clear day).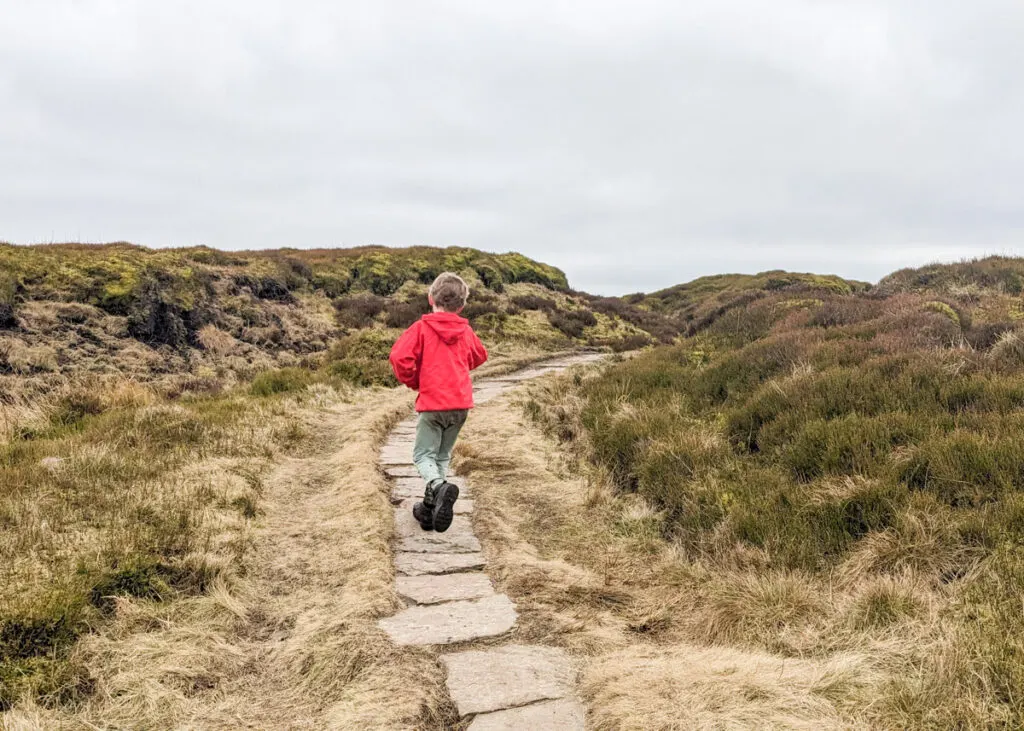 ---
You may also like to read:
Snake woodlands walk (2.4km)
Derwent Dam walk to Pike Low (6.8km)
Bamford Edge walk (7.9km)