When people think of Peak District stepping stones, they automatically think of the iconic Dovedale Stepping Stones. But did you know that there are also stepping stones at Chee Dale and Hathersage?
We have three lovely walks on Peak District Kids that takes in each of these Peak District stepping stones. In fact they all feature in our top Peak District walks with kids.
Please bare in mind that after heavy rain, these stepping stones in the Peak District are often submerged and impassable. Save these walks for when the weather has been dry, or even better, a warm summers day when little ones can have a paddle or wild swim.
If you are planning a visit to the National Park, please arrive early or late in the day to avoid crowds. Please also take all litter home with you, don't bring BBQs and park your car in designated parking areas. Also, please use these walks as a guide; access and stiles may change.
Disclaimer: This post contains affiliate links. Should you click to purchase, it is at no additional cost to you, but I receive a small commission.
Before you head out on your family hike this winter, please read our guide: Safe Winter Walking Tips
Do check out our top tips for hiking with young kids, as well as our essential items to take on a family hike in the Peak District.
1. Dovedale Stepping Stones walk – 5.3km
Where are Dovedale Stepping Stones located? Click here to view on Google Maps.
Read: Dovedale circular walk
Unsurprisingly, due to it's stunning beauty and iconic stepping stones across the River Dove, Dovedale is one of the most popular hotspots in the Peak District National Park, and Dovedale car park (£3.50 cash only, free for National Trust members) is often exceptionally busy. However, our Dovedale circular walk starts from the much quieter village of Thorpe, and leads you around Thorpe Cloud, across Dovedale Stepping Stones. It's easily one of our favourite Peak District family walks.
This is a much quieter route. But to avoid crowds at Dovedale Stepping Stones, plan to start this Dovedale circular walk either early or late in the day, especially on sunny weekends.
This route also includes an optional detour up Thorpe Cloud from Dovedale Stepping Stones. This is a steep 15 minute climb with superb views. Or perhaps just leave that to another day; it's up to you.
Click here for start point
Distance: 5.3km
2. Chee Dale Stepping Stones walk – 5km
Where are Chee Dale Stepping Stones located? There are two sets along Chee Dale – click here for set 1 and click here for set 2 to view on Google Maps.
Read: Chee Dale stepping stones walk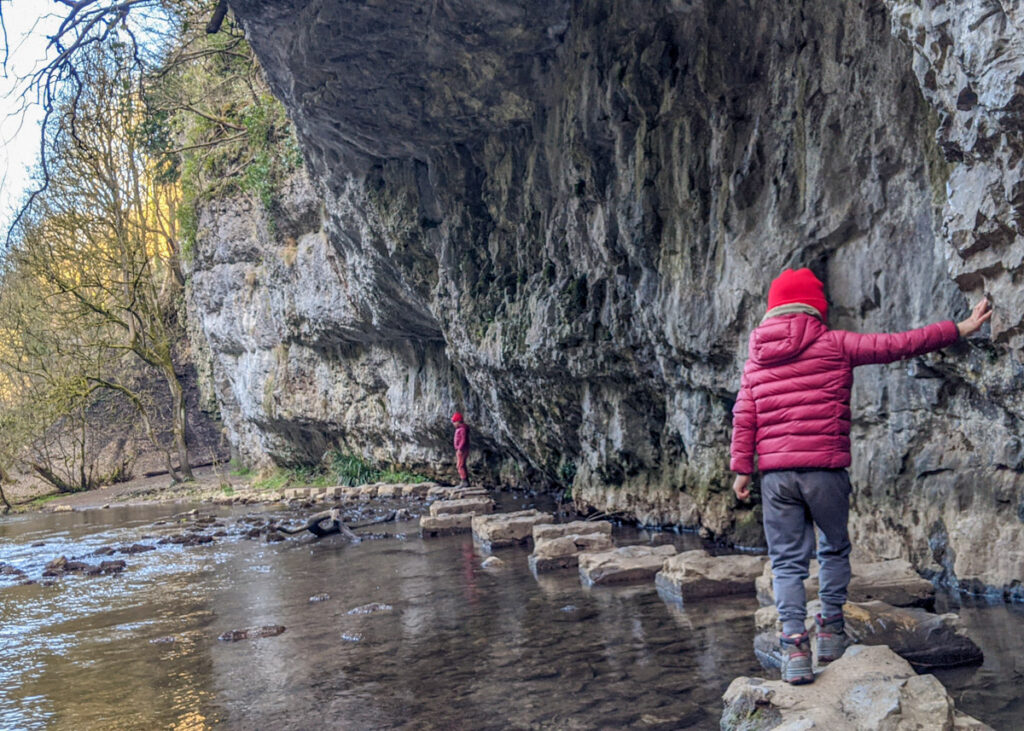 Sheltered beneath the Monsal Trail, is the peaceful nature reserve of Chee Dale where the River Wye meanders through a deep limestone gorge, and two sets of stepping stones provide access to walkers through the dale.
Our Chee Dale Stepping Stones walk starts from Millers Dale and leads you down into the verdant gorge where you need to navigate two sets of stepping stones along the limestone walls, before climbing back up to the Monsal Trail and walking through the long tunnels.
In heavy rain, the Chee Dale Stepping Stones are often submerged in water, so plan this walk for when the weather has been dry and perhaps check in our Facebook group for an update. Also, the footpath along the river is rocky and very uneven in places (with a couple of spots where you may need to slide on your bum), so those with little ones in a carrier may find it tricky in places.
You can read the full details of the Chee Dale walk here.
Click here for start point
Distance: 5km
3. Hathersage Stepping Stones walk – 4.9km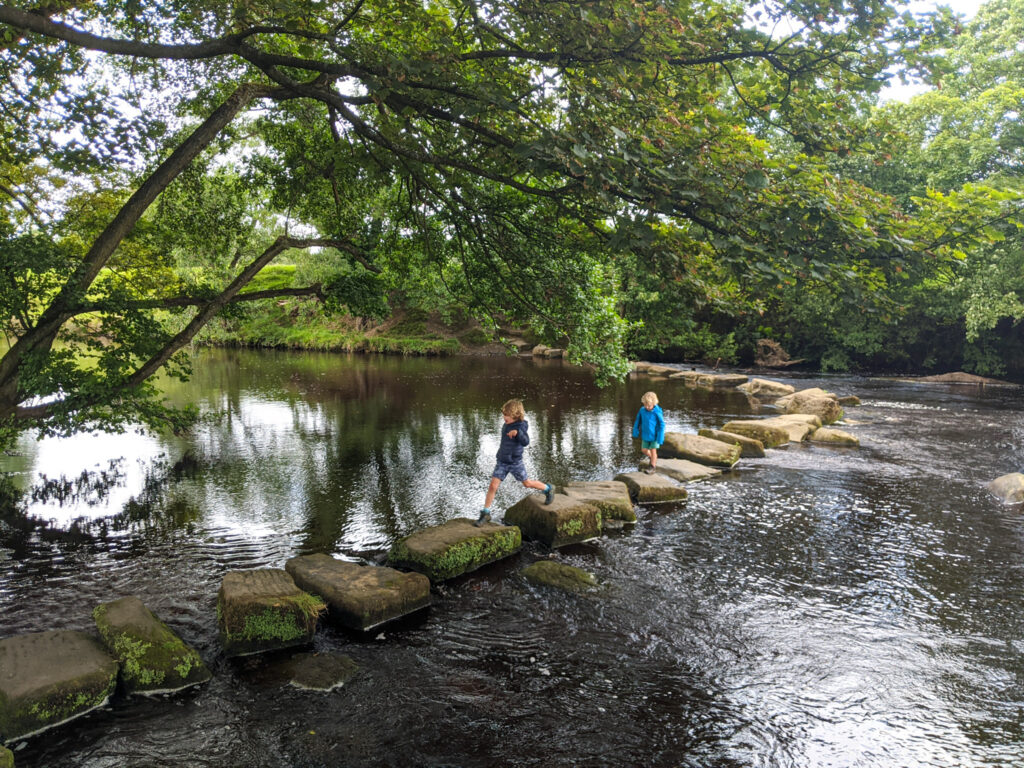 This almost-5km circular Hathersage Stepping Stones walk is easy and relatively flat. It mostly follows the footpaths along the River Derwent, through shady trees backed by open fields. The Hathersage stepping stones themselves are a little trickier than the Dovedale and Chee Dale ones, so take care if you're unsteady on your feet; kids under 5 will need a helping hand as their legs aren't quite long enough to reach across to each stone.
It's a very pretty walk, and the reward at the end is a hot chocolate in one of Hathersage's cafes! Or perhaps head to Hathersage Outdoor swimming pool for a swim.
Click here for start point
Distance: 4.9km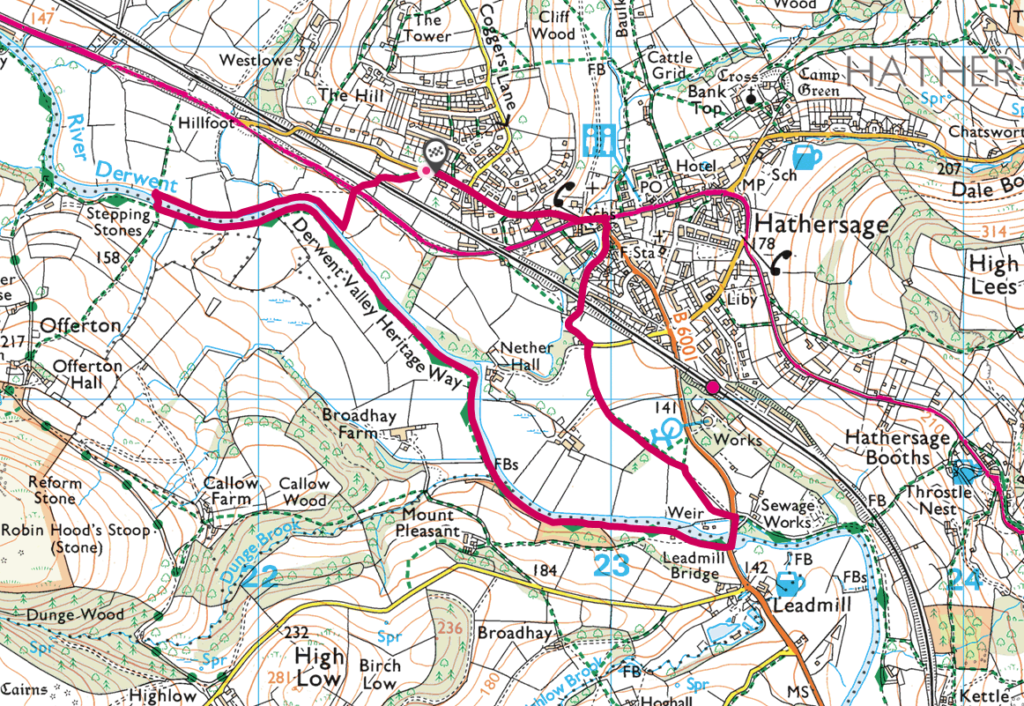 ---
You may also like to read:
Ladybower Reservoir walk: pram friendly (9km)
Padley Gorge walk including Longshaw Estate (2.7km)
Shutlingsloe walk (4.6km)