Those child-free dates can be few and far between for the majority of parents. So when they do happen, you want to make the most of them! Whilst a Peak District pub walk makes for a great date day, now and again a sprinkling of luxury is deserved, and this is when a Peak District spa break fits the bill.
Here we recommend five Peak District spa days for weary parents, which includes the best spa hotels in the Peak District if you're able to extend the date day to an overnight stay.
So book in that annual leave day, arrange the child care, and treat yourselves to some time together at a Peak District spa, you deserve it.
Please note that for all these suggested Peak District spa days, pre-booking is essential. Towels, robe and slippers are provided to all spa guests. Spa packages booked Monday-Thursday are generally cheaper than Friday-Sunday.
This article contains affiliate links. Should you click to purchase, it is at no additional cost to you, but I receive a small commission.
Map of the Peak District spa days
If we're getting super-technical here, the only spa featured here that is specifically within the Peak District National Park boundary is Losehill House Hotel & Spa.
All the Peak District spas are just a mile or two from the park boundary and, surprisingly to many visitors, Buxton (where two of the spas listed here are located) isn't actually in the National Park.
1. Losehill House Hotel & Spa
losehillhouse.co.uk/spa
Click here to check accommodation rates for an overnight stay
Technically the only Peak District spa within the National Park boundary, Losehill House offers a tranquil indoor heated pool with panoramic views over Win Hill and the Hope Valley, a sauna and a fantastic outdoor hot tub (check out those views).
Open 7 days a week, the spa offers an extensive range of revitalising and relaxing treatments using Thalgo's range of expert marine products.
You can book for an individual spa treatment. However, we recommend booking the Half Day spa experience (£110 per person), which includes a welcome hot drink, one hour in the spa area, a two-course light lunch, and a 50 minute spa treatment (choice of Thalgo Discovery Facial, Men's Ocean Facial, the Face & Body Discovery or the 3 Algae Back Ritual or any Pregnancy Treatments).
This is spread over approximately four hours. We were able to check in at 10am, so our visit nicely fitted within the school day. We paid £10 extra per person for a full 1-hour body massage.
2. Shrigley Hall Hotel & Spa
shrigleyhallhotelandspa.co.uk
Click here to check accommodation rates for an overnight stay
On the edge of the Peak District, nestled in the Cheshire hills, is Shrigley Hall Hotel & Spa; a Georgian country house, set in 262 acres of grounds. The spa itself is built within and around the old chapel. It's beautiful, and perhaps the most impressive-looking Peak District spa on this list.
I've visited the spa here a few times over the years as I've often been able to find a good deal on Buyagift or on their website for a half-day experience . Although session times are 9am-1pm or 1.30pm – 5.30pm, which can be tricky around the school run. There are also sunrise and twilight sessions.
Set around a large pool with mood lighting, there's a sauna, steam room, two jacuzzies and plenty of loungers to relax with a book. But the best part is the heated outdoor pool that overlooks the golf course and beyond to open countryside. It really is quite an idyllic setting and where I spend most of my time when I visit.
Spa sessions include a choice of one treatment from the package treatment options. However, being brutally honest, I've not had a good massage here. Perhaps this is due to the fact that staff have back to back clients on special offers? I'm not sure.
The food included in the package is not totally worthwhile either. It's very light pickings and your money is probably better spent at a pub lunch elsewhere after your spa experience.
But as Peak District spas go, the setting is stunning and you really can't beat that outdoor pool. Just don't expect too much from a massage and perhaps skip the lunch.
3. Three Horseshoes Country Inn & Spa
3shoesinn.co.uk/spa-facilities/
Click here to check accommodation rates for an overnight stay
Close to Leek on Staffordshire's Peak District border, is the Three Horseshoes Country Inn & Spa which provides a tranquil and rejuvenating escape for a day. It's just a stone's throw from The Roaches and Ramshaw Rocks, so you could even combine your spa visit with a morning (sunrise?) hike.
The lack of swimming pool at this spa is made up for by the fantastic range of relaxation options, including:
The Beach Hut – an enclosed room that replicates a sunrise and sunset at a warm beach over 25 minutes with relaxing music and essential oils completing the 'holiday' experience. A perfect way to combat Seasonal Affective Disorder (SAD) to top up Vitamin D levels helping beat winter blues. This can even stimulate the metabolism.

Rasul – a two-person spa experience involving mud being lathered over your skin whilst the room heats up over a 30 minute period. As the treatment nears its end, water will rain down onto you to wash away the mud, revealing fresh, revitalised, healthy skin.

The Farmers Sauna – replicating an Alpine cabin, this alternative, wood-panelled sauna enables you to breathe in the spicy goodness of the forest.

The Cedar Plunge Pool – stimulate your body with a 30 second dip into the Plunge Pool. This has a therapeutic effect on the whole body, helps to tighten the skin and leaves you fully refreshed.

The Peak District Stonebath – a steam bath experience set in a typical Peak District stone barn. Local mineral stones are heated in the oven and then dipped into a basin of cold water to omit all the valuable minerals along with the steam to fill the room.

Outdoor Vitality Pool & Spa Garden – a small hydrotherapy pool with jets set to 36 °C will keep you warm and rejuvenated in the spa garden. There are also comfy chairs and loungers to relax on if the weather is playing nice.

The Mill Wheel Shower – from a water wheel forming the focal point of the spa, shovels of alternating cold and warm water fall over you.

The Relaxation Suite – the place to relax and unwind with big fluffy blankets, plush cushions, comfy loungers, and a cosy fire.
There is also a therapy lounge offering a selection of treatments, including massages, facials, waxing and manicures.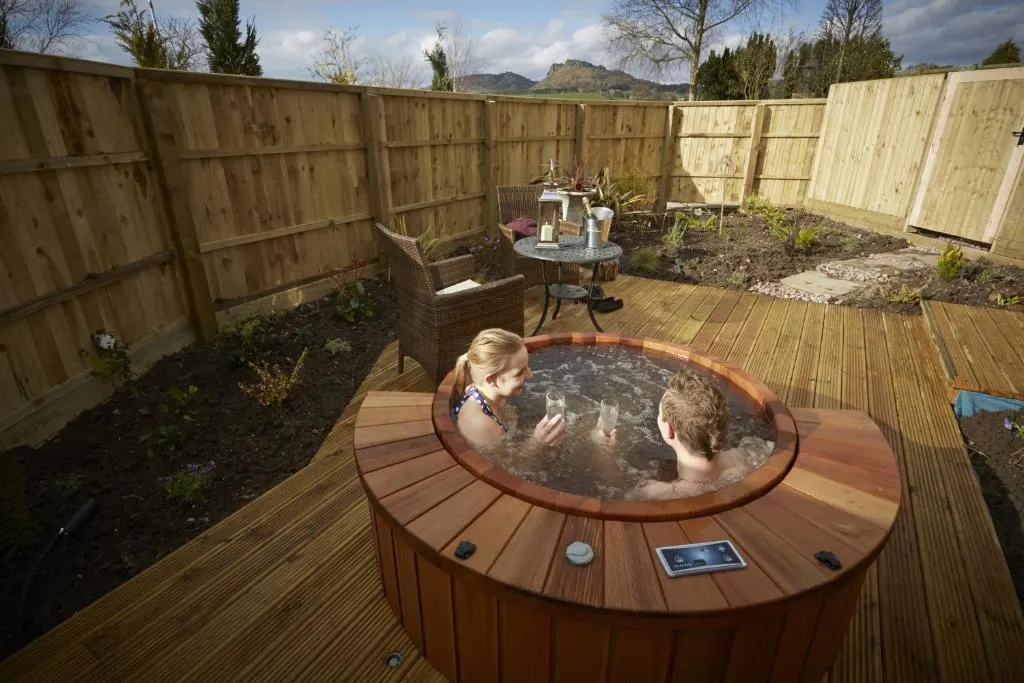 There are a range of spa packages to select from and you can book online. Packages can also include lunch.
As Peak District spas go, Three Horseshoes Country Inn & Spa wins for the range of spa experiences to be had.
4. Ensana Buxton Crescent Spa
ensanahotels.com/en/hotels/buxton-crescent/spa-days
Click here to check accommodation rates for an overnight stay
Buxton has a long history associated with mineral-rich thermal springs, and its spa water has been celebrated for its supposed health benefits. Indeed, Buxton Crescent is where the Georgian upper classes would visit to bathe in the thermal waters and partake in spa treatments.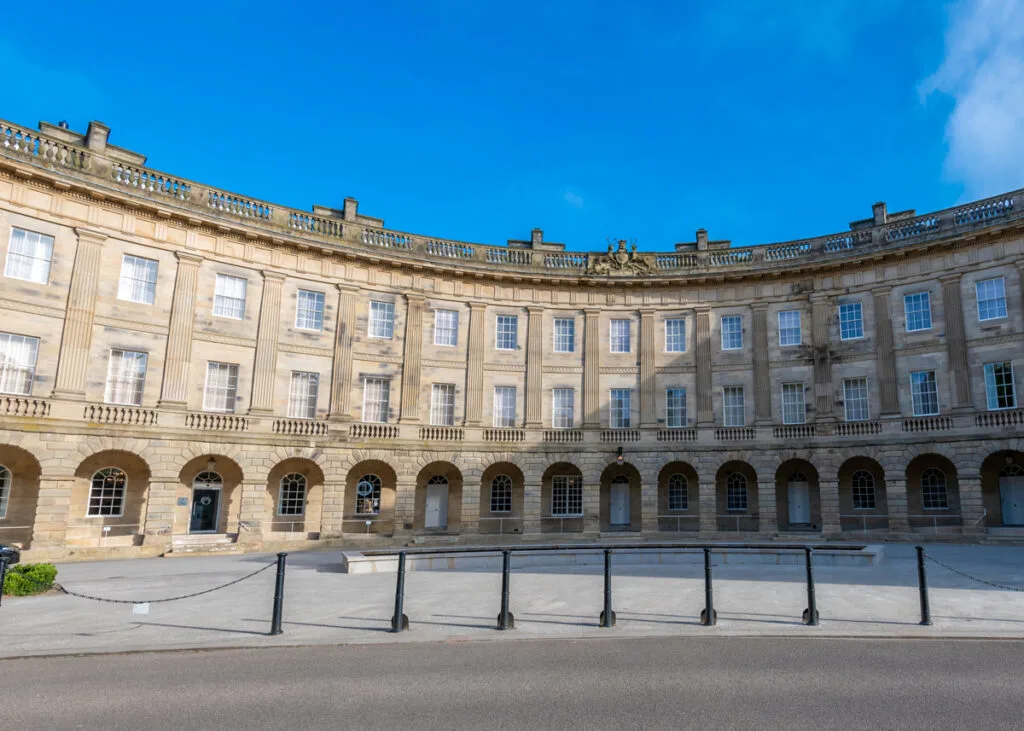 Over recent years the spa at Buxton Crescent (known as Ensana Buxton Spa) has undergone significant renovations, thus helping to restore the town as a premier UK spa destination. It is very impressive.
There are three pools:
the impressive indoor-outdoor rooftop pool
the relaxation pool, with its atmospheric dark ceiling pierced with shafts of natural light
the fully refurbished Victorian baths with many original features and filled daily with Buxton's thermal water
There are also a couple of saunas and steam rooms, a salt cave, ice fountain, a fitness studio, and a range of treatments on offer.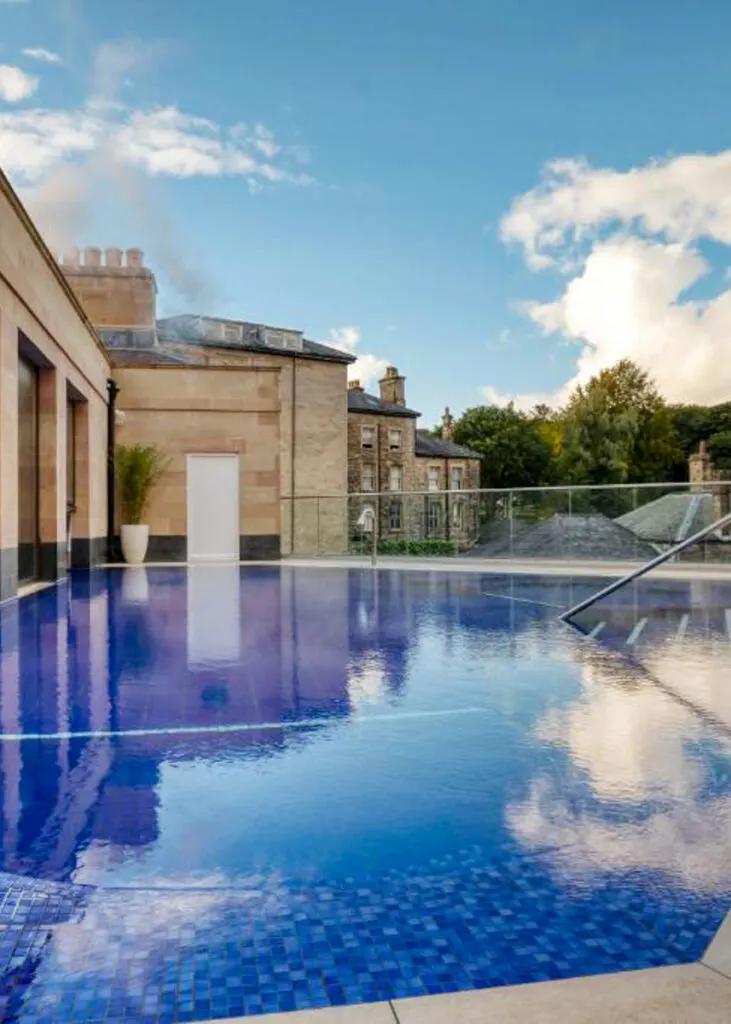 Considering the location and facilities, a spa day at Buxton Crescent isn't outrageously expensive and pricing justifies the treat. Although it's not the cheapest option here, and the spa day packages are limited on spa treatment inclusions.
5. Devonshire Spa, Buxton
Being a renowned spa-town, it may come as no surprise that there is another spa option in Buxton, Devonshire Spa, situated inside the impressive 'Devonshire Dome'.
Built in 1779 by the 5th Duke of Devonshire, the Dome dominates the skyline of Buxton and is the largest unsupported Dome in Europe at over 145ft in diameter.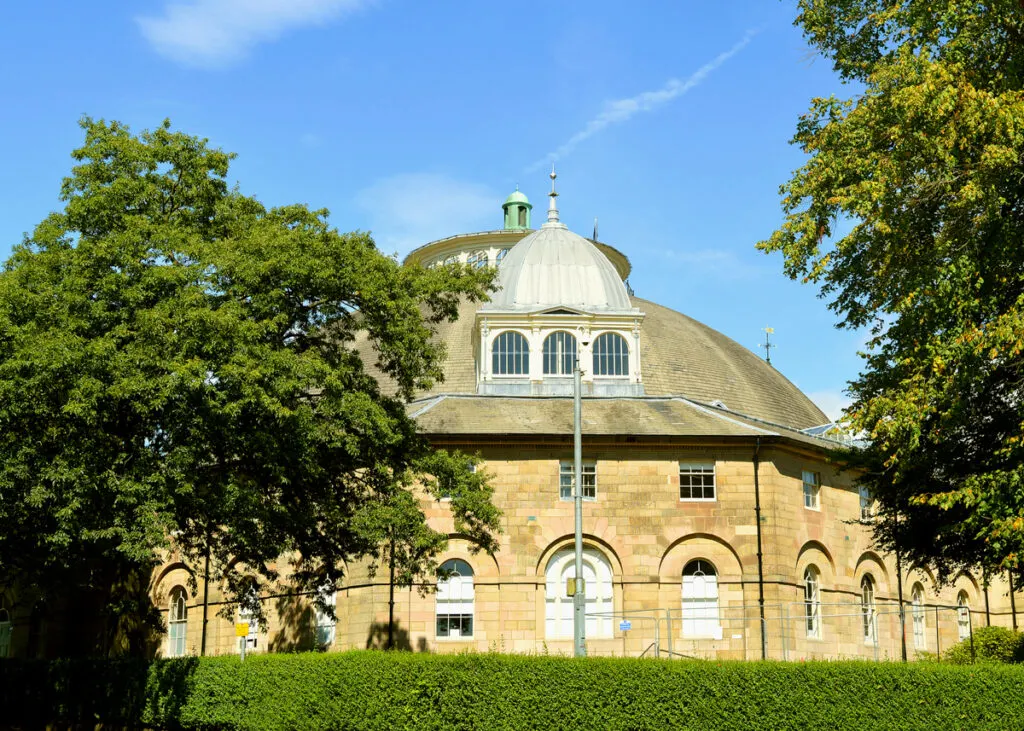 The University of Derby acquired the building in 2001 and, after a multi-million pound refurbishment, opened its doors in 2005. Yes, this Peak District spa is actually on a university campus, and is the only spa listed here where you can't stay overnight.
Devonshire Spa offers more affordable spa packages that Ensana, yet still provides the impressive historical backdrop. Choose from a half day or full day, and the spa can tailor your session at no extra cost.
---
You may also like to read:
Best view walks in the Peak District
Peak District family friendly cottages
The BEST quiet walks in the Peak District