There are over 70 Peak district family walks featured on this Peak District Kids website, from toddler walks and pram-friendly walks, to epic walks up Kinder Scout. These have all been tested by kids, for kids, to ensure they get the thumbs up from the people who matter. For the first time visitor, the choice may be rather overwhelming. So for those of you who want to know the absolute best Peak District walks with kids, we've narrowed it down to the ultimate top 10.
Trust us, this was no easy task as there are so many beautiful family walks in the Peak District, and even though this website was launched at the start of 2020, we're still adding more walks to the ever-growing list every month.
But for those visiting the UK's oldest National Park for the first time and wanting to experience the very best Peak District walks with kids, here is a condensed list for you to work through. Although we can guarantee that your first visit won't be your last visit; the Peak District National Park is a place that draws visitors back, time and time again.
Please note that the best of the Peak District often means the most popular. Arrive early (before 10am) to have the best chance of finding a parking spot, especially over weekends and school holidays. If you want to escape the tourist hotspots of the National Park, however, check out our quiet Peak District walks for inspiration
Click here to join our Facebook group! We have over 24k members sharing ideas and tips for exploring the Peak District with kids.
Disclaimer: This post contains affiliate links. Should you click to purchase, it is at no additional cost to you, but I receive a small commission.
If you are planning a visit to the National Park, please arrive early or late in the day to avoid crowds if visiting over sunny weekends or school holidays. Please also take all litter home with you, don't bring BBQs and park your car in designated parking areas. Also, please use these walks as a guide; access and stiles may change.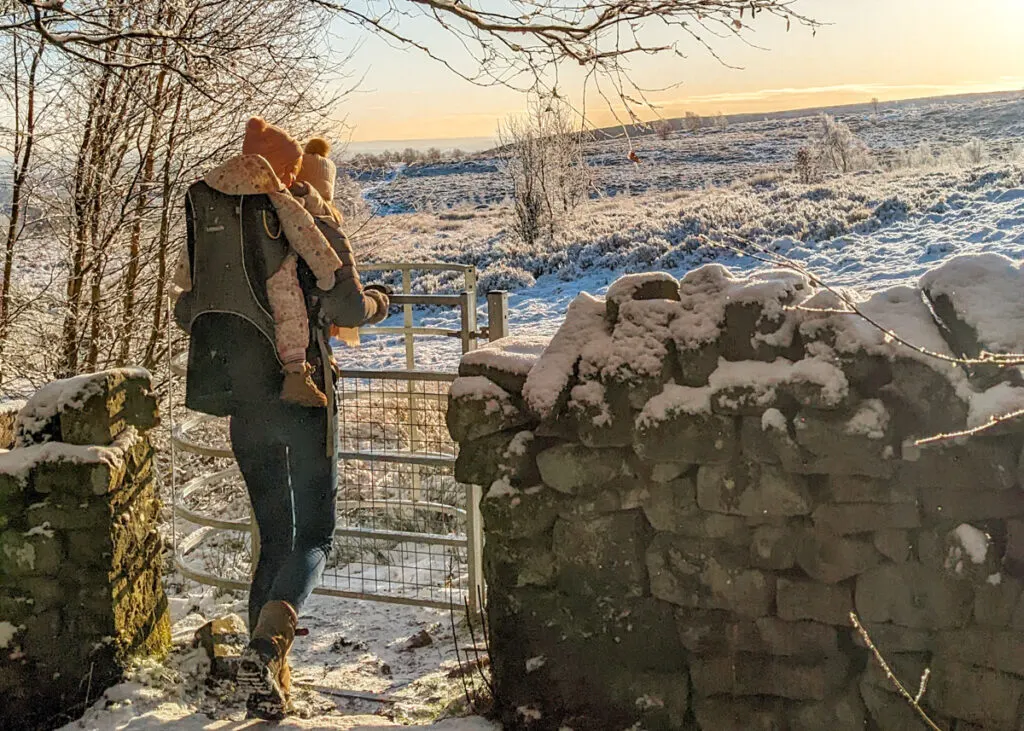 During the winter months, it's important to be extra prepared and safe when out walking and adventuring in the Peak District. The weather can change so quickly, especially on the exposed escarpments, and we don't want you to get caught out.
Read our top tips for safe winter walking with the kids.
FOLLOW US:
PARKING INFORMATION: Please do not rely solely on the postcode for parking directions. In the National Park, a postcode can cover a large area. Postcodes are only provided as guidance. Please either use the Google Maps point provided for every walk, or what3words.
Do check out our top tips for hiking with young kids, as well as our essential items to take on a family hike in the Peak District.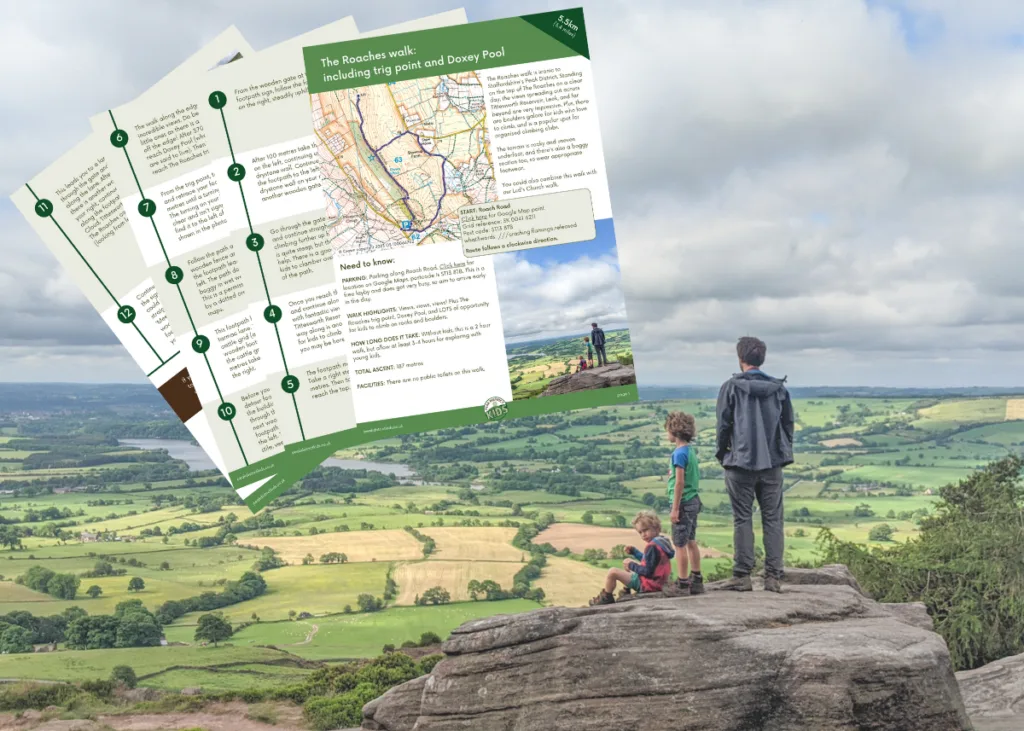 Download and print out our walking guides ready for your family walk. There are over 80 downloadable walk guides available, and these include all the main Peak District family walks, pram-friendly walks, and toddler walks.
Each printable download is just £1.50, whether it's a short 1km stroll or an epic walk up Kinder Scout.
Under each walk recommendation you will find a link to the full walking guide, which includes parking information, a map, and step-by-step directions with photos.
You can also download a pdf of each of these walks to print out. This means that you don't need to rely on your mobile phone for our step-by-step directions. How about printing out a copy for the kids to get them involved in navigating? This is a great way to get them engaged on the walk and build their map reading skills. The printable walking guides are available for a charge of £1.50 each. If you do print these out for your walks, we recommend putting the printouts in a waterproof map case that you can carry (such as this one).
Map of the top 10 Peak District walks with kids
Use the map below to see where our short and easy Peak District walks with kids are located.
Don't leave home without your Peak District OS Map!
Sale
Want to tick off these family walks and keep track?
The Peak District Kids Walks Log Book is designed for kids of all ages to keep track of their amazing walks in the Peak District and beyond. It provides 100 possible walk entries (that's a walk a week for almost two years) and kids can record their total distance by colouring in the hiking boots in the back pages.
Seeing their collection of walks logged in one place over time will bring such a sense of achievement, and what a wonderful memento for years to come.
Top 10 Peak District walks with kids
These are in no particular order. It was difficult enough to narrow it down to the top 10 Peak District walks with kids, let alone order them to favourites (too much pressure)!
Enjoy, and feel free to share photos of your walk(s) in the Peak District Kids Facebook Group or use the #peakdistrictkids hashtag on Instagram to feature on the Peak District Kids Instagram stories or grid.
1. Mam Tor (4.1km, circular)
Mam Tor walk guide
Click here for start point
Printable download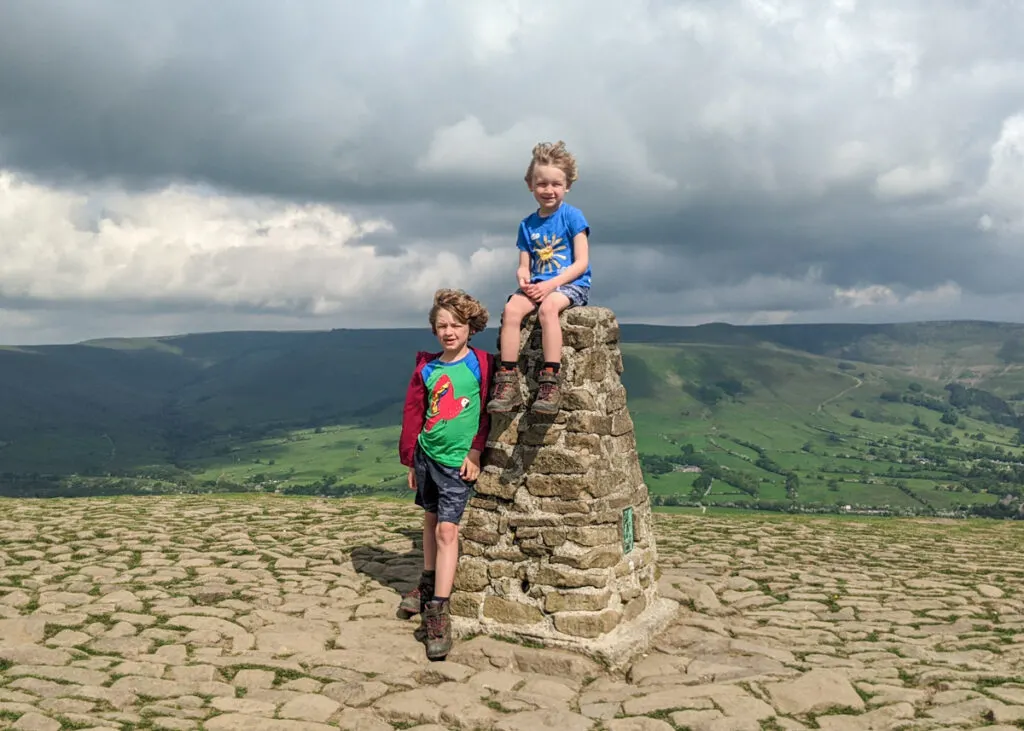 Mam Tor, meaning 'Mother Hill', is a 517 metre high hill overlooking Castleton and is one of the most popular walks in the Peak District and the trig point is perhaps the most photographed trig point in the Peak District. The views from the top are spectacular, although arrive early during school holidays and weekends to avoid the crowds.
You don't actually have to endure a long hike to get to Mam Tor trig point itself. If you park at this car park it is just a short (but steep) 550 metre walk uphill. Click here to read all about the quick and easy route to Mam Tor trig point.
However, our 4.1km Mam Tor walk takes in the classic loop along Great Ridge and Broken Road. Starting at the Mam Tor National Trust car park it's a short climb to the top of Mam Tor (517m). From here, the walk leads you down to Hollins Cross, and then down through the woodlands to meet Broken Road (which is a very broken road that was abandoned due to landslides in the 1970s). Following Broken Road the walk leads you up past the entrance to Blue Johns Cavern, before returning back to the car park.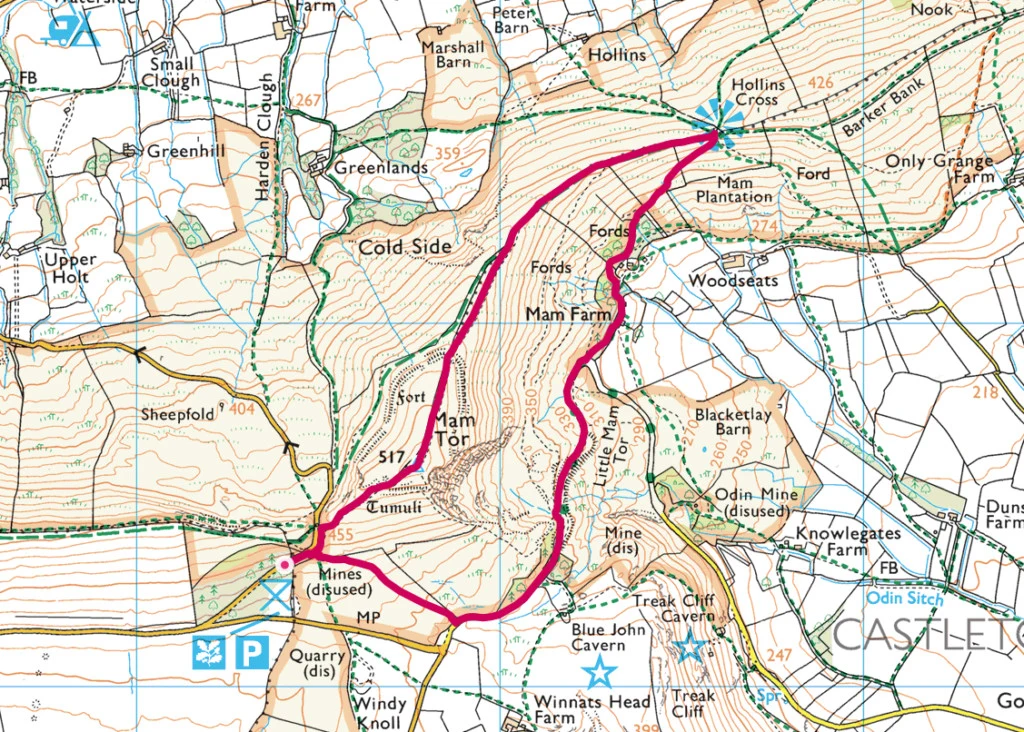 2. Chatsworth Hunting Tower and Aqueduct (2km, circular)
Chatsworth Hunting Tower and Aqueduct walk guide
Click here for start point
Printable download
Standing proud over the Chatsworth Estate and on the edge of Stand Wood is the Chatsworth Hunting Tower, built in the 1570s. This high prospect tower can be seen for miles, and if your pockets are deep enough, you can even book to stay here! Then further along this walk is Sowter Stone Waterfall, which feeds down to the Chatsworth Aqueduct where four tall arches finish with another waterfall. It's an impressive sight, especially in wet weather.
This really is a magical Peak District walk for kids (and adults!) as you weave through Stand Wood to visit these landmarks. The woodland itself can feel like a jungle in the summer months with it's thick vegetation and abundance of bright flowers. And there are of course trees to climb! Plus, now and again, you get glimpses of Chatsworth House along the way.
It is free to walk around this section of the Chatsworth Estate, but you do need to pay for parking (£5). Parking payment is for a full day, so after this short Chatsworth Hunting Tower walk, you could visit the Farmyard and Adventure Playground, or the House and Gardens (tickets must be pre-booked online). Or head down to the river (which is free to do) for a picnic.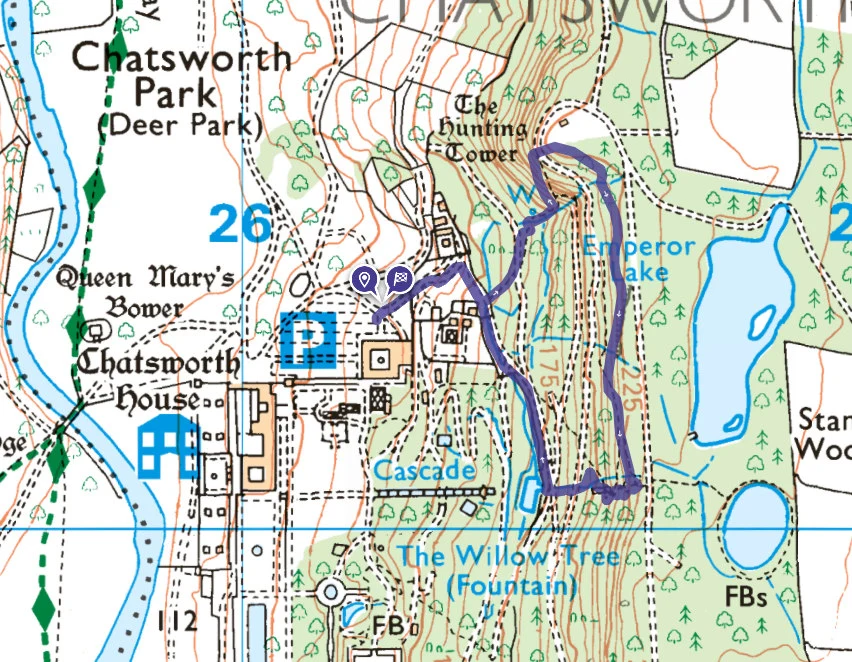 3. Dovedale Stepping Stones (5.3km, circular)
Dovedale walk guide
Click here for start point
Printable download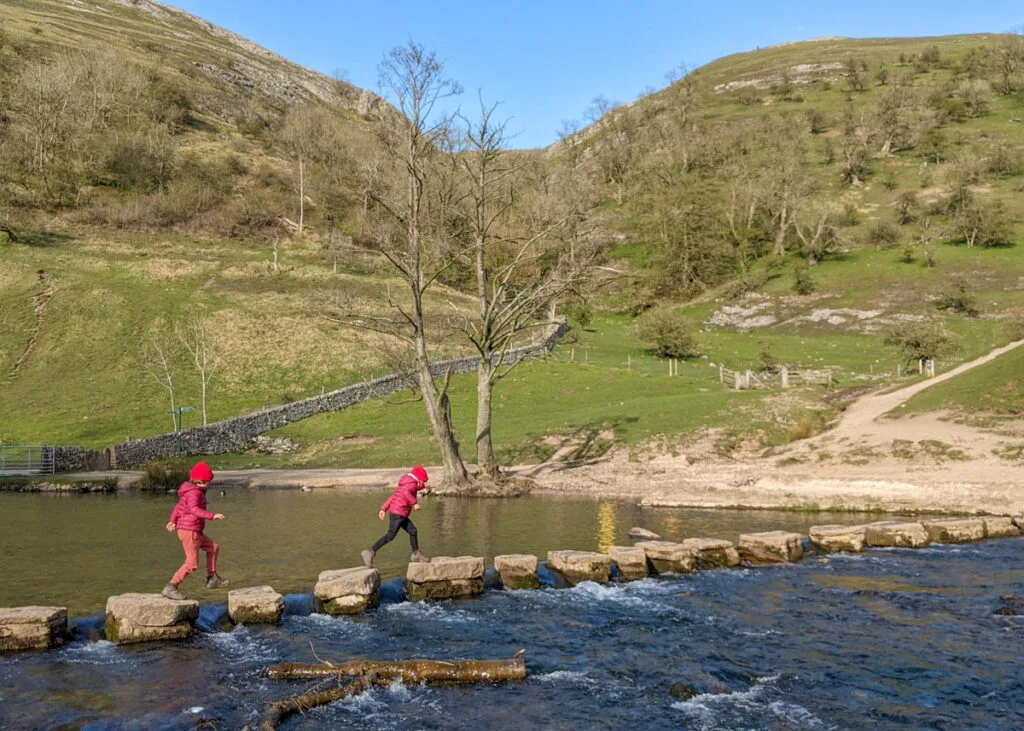 Unsurprisingly, due to it's stunning beauty and iconic stepping stones across the River Dove, Dovedale is one of the most popular hotspots in the Peak District National Park, and Dovedale car park (£3 cash only) is often exceptionally busy. However, this Dovedale circular walk starts from the much quieter village of Thorpe, and leads you around Thorpe Cloud, across Dovedale Stepping Stones. It's easily one of our favourite Peak District family walks.
This is a much quieter route. But to avoid crowds at Dovedale Stepping Stones, plan to start this Dovedale circular walk either early or late in the day, especially on sunny weekends.
This route also includes an optional detour up Thorpe Cloud from Dovedale Stepping Stones. This is a steep 15 minute climb with superb views. Or perhaps just leave that to another day; it's up to you.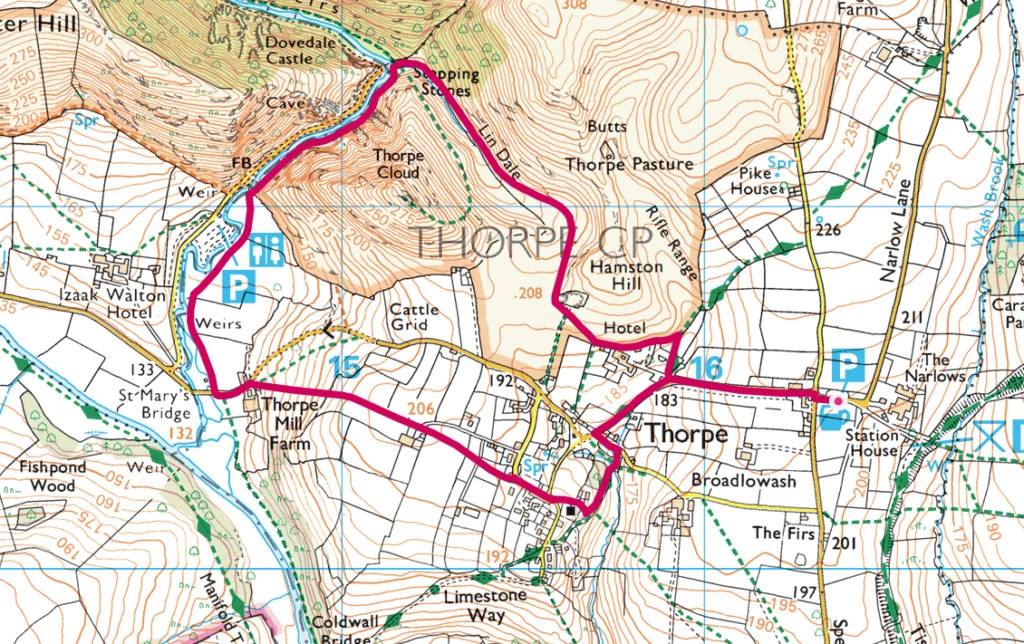 4. Stanton Moor walk (3.1km, circular)
Stanton Moor walk guide
Click here for start point
Printable download
This short circular Stanton Moor walk has it all – unusual stones to explore, rocks to climb, woodland, open moorland views, muddy puddles, and Stanton Moor trig point! It's easily one of our favourite family walks, and it's a flat Peak District walk, which makes it easier on little legs and a good option for those with mobility issues (there are no stiles too).
At the start of the walk is a large rock that looks like a corkscrew; it's begging to be climbed by the grownups if you're up for the challenge. And half way around is a Bronze Age circle (the 'Nine Ladies') that was used by the Druids.
5. Bamford Edge (7.9km, circular)
Bamford Edge walk guide
Click here for start point
Printable download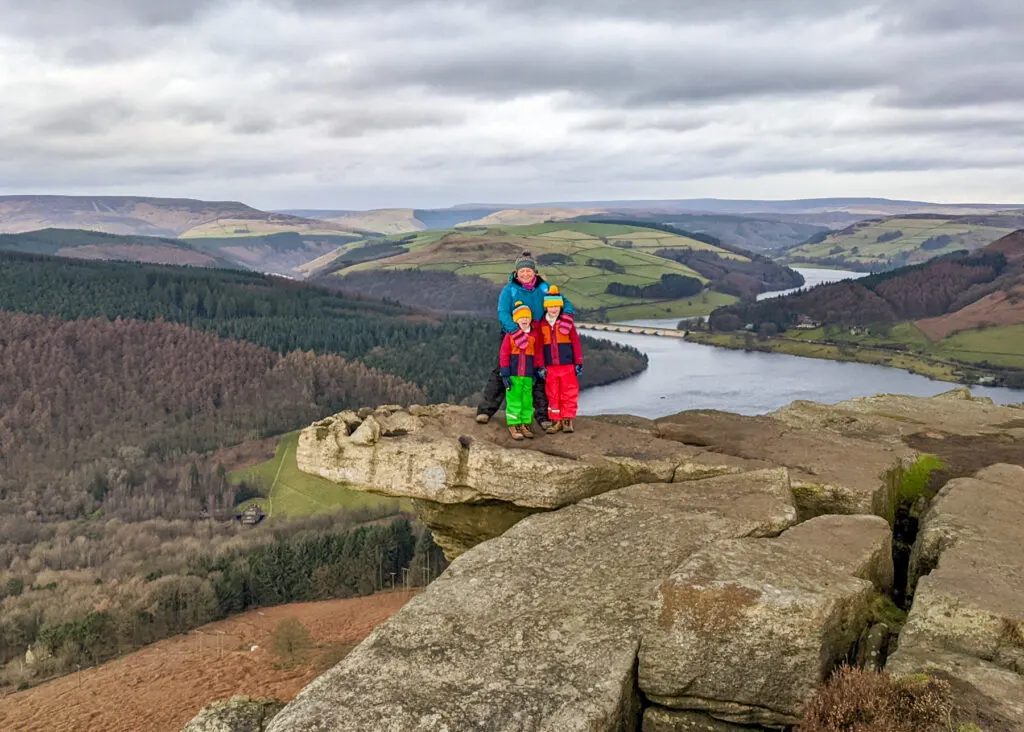 Bamford Edge is one of the most iconic spots in the Peak District. You may have see a fair few posts on Instagram of someone stood on that rock overlooking Ladybower Reservoir, more often than not at sunset?
Many people head up to this spot, grab a photo, and then head back down again (check out our guide: how to get to Bamford Edge). But here we offer a lovely Bamford Edge circular walk, which includes epic views, Ladybower Reservoir (and plug holes), wood carvings for kids to find, Bamford stepping stones, and The Anglers Rest (which is the village pub, café, and post office).
There's a steep climb at the end of this walk, but doing this walk anticlockwise will be easier for little legs. We've also provided an alternative gentler route back from the pub at the end, which adds 1.1km to the walk.
6. Chee Dale Stepping Stones (5km, circular)
Chee Dale walk guide
Click here for start point
Printable download
Sheltered beneath the Monsal Trail, is the peaceful nature reserve of Chee Dale where the River Wye meanders through a deep limestone gorge, and two sets of stepping stones provide access to walkers through the dale.
Our Chee Dale Stepping Stones walk starts from Millers Dale and leads you down into the verdant gorge where you need to navigate stepping stones along the limestone walls, before climbing back up to the Monsal Trail and walking through the long tunnels.
In heavy rain, the Chee Dale Stepping Stones are often submerged in water, so plan this walk for when the weather has been dry. Also, the footpath along the river is rocky and very uneven in places (with a couple of spots where you may need to slide on your bum), so those with little ones in a carrier may find it tricky in places.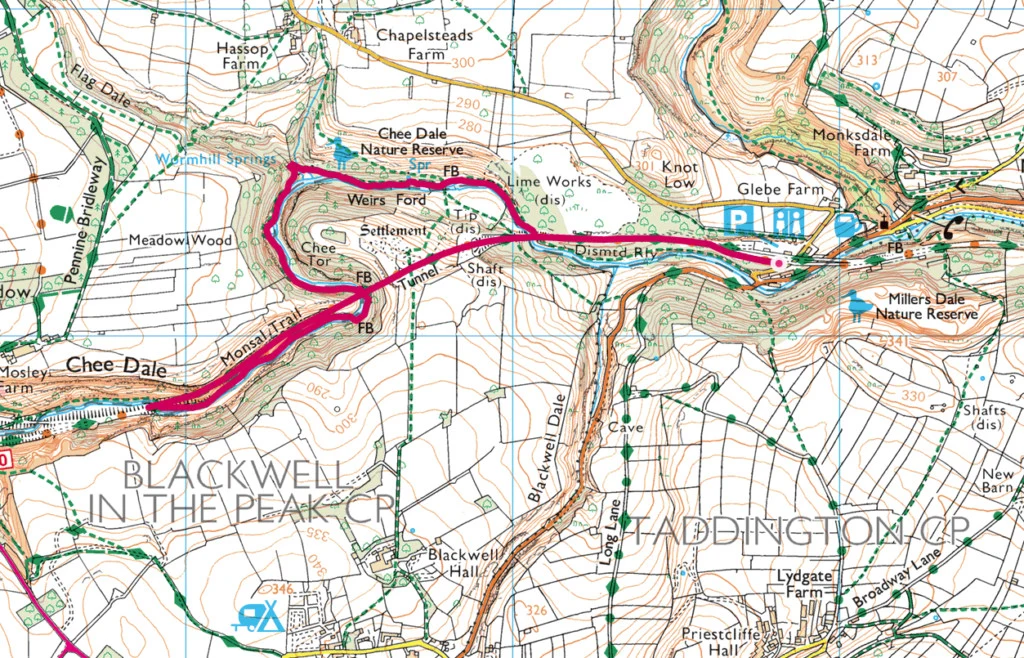 7. B29 'Overexposed' crash site walk, Bleaklow (6km, circular)
B29 'Overexposed' crash site walk guide
Click here for start point
Printable download
On 3rd November 1948, a Boeing B-29 Superfortress (American bomber) called Overexposed crashed into the Peak District moorlands, near Higher Shelf Stones on Bleaklow. Part of the 16th Photographic Reconnaissance Squadron, used for military photography, the plane crashed due to a fatal navigation error in poor visibility. All thirteen crew members lost their lives. Much of the wreckage remains on the moors as a memorial and an official plaque has been erected.
Only attempt this walk on a clear day. Many of the footpaths over the moor between the Pennine Way and Higher Shelf Stones are unclear and there are multiple options. It can be rather disorientating and in poor visibility it is very easy to get lost. The boggy tracks add to the difficulty.
It is extremely exposed on this walk. On hot, sunny days there is no shade, in the winter months the temperature drops, and you can often experience four seasons in one day. Wear appropriate clothing, including sturdy footwear, and bring enough water.
This is also a very popular Peak District walk and parking is limited. Aim to arrive before 9:30am on weekend and holiday days to secure a parking spot. Do not park behind the double yellow lines, you will be ticketed.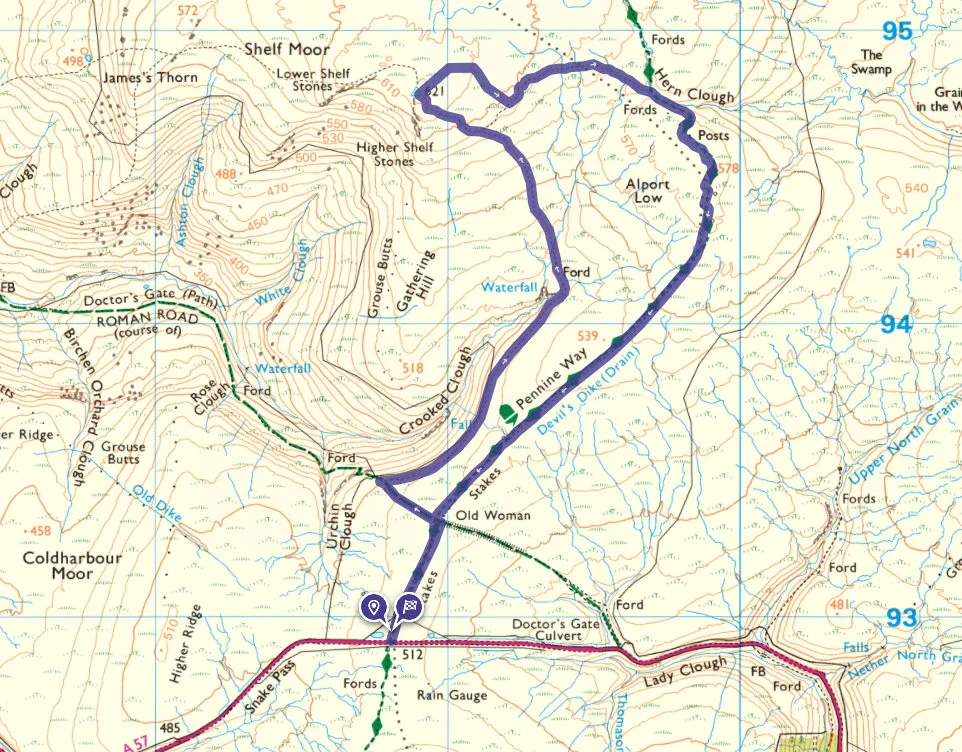 8. Padley Gorge and Longshaw Estate (2.7km, circular)
Padley Gorge walk guide
Click here for start point
Printable download
This Padley Gorge walk is one of our favourite Peak District walks with kids, especially for little ones as they can paddle in the stream, climb boulders and trees, and there's even ice-cream at the end! It's a 2.7km circular walk that takes in the National Trust's Longshaw Estate too (which is free to walk though). And even though it may seem a short distance, do allow a good three hours for this walk as there are so many places to play!
Don't forget your cash for the ice-cream van. They don't take cards.
If you want a shorter walk at Longshaw, we also have a specific walk just for toddlers. Check out our Longshaw walk for toddlers.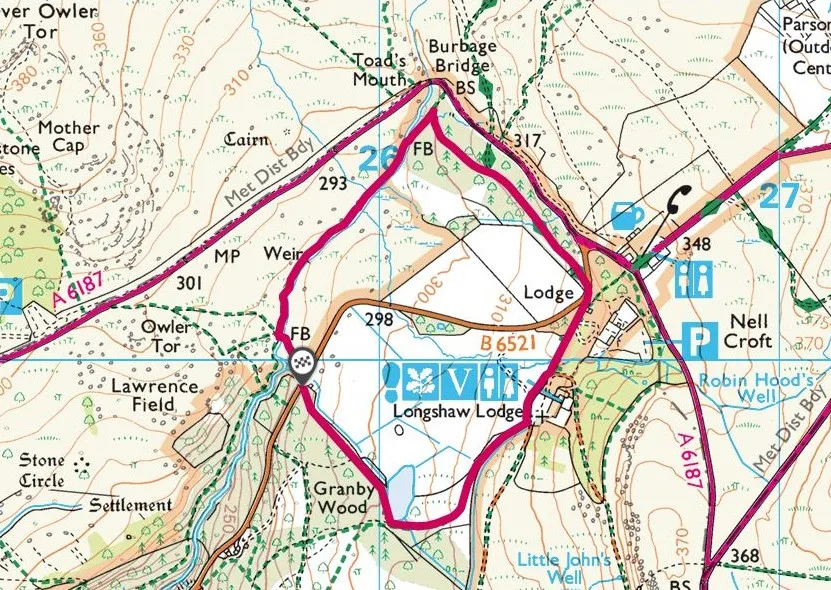 9. The Roaches (5.5km, circular)
The Roaches walk guide
Click here for start point
Printable download
The Roaches walk is iconic to Staffordshire's Peak District. Standing on the top of The Roaches on a clear day, the views spreading out across Tittesworth Reservoir, Leek, and far beyond are very impressive. Plus, there are boulders galore for kids who love to climb, and is a popular spot for organised climbing clubs.
The footpath along the top of The Roaches to the trig point can get busy, but the second half of this short circular Roaches walk is much quieter. The terrain is rock and uneven underfoot, and there's also a boggy section too, so wear appropriate footwear. Also, as this is a Peak District tourist hot spot (and understandably so), aim to arrive by 9am to secure a parking space (and only park in designated parking areas).
You could also combine this walk with our Lud's Church walk. Combining the two walks into a Roaches and Lud's Church walk makes a total distance of 12.6km.
10. Grindleford Station to Padley Gorge, Owler Tor, and Mother Cap (5.8km, circular)
Grindleford walk guide
Click here for start point
Printable download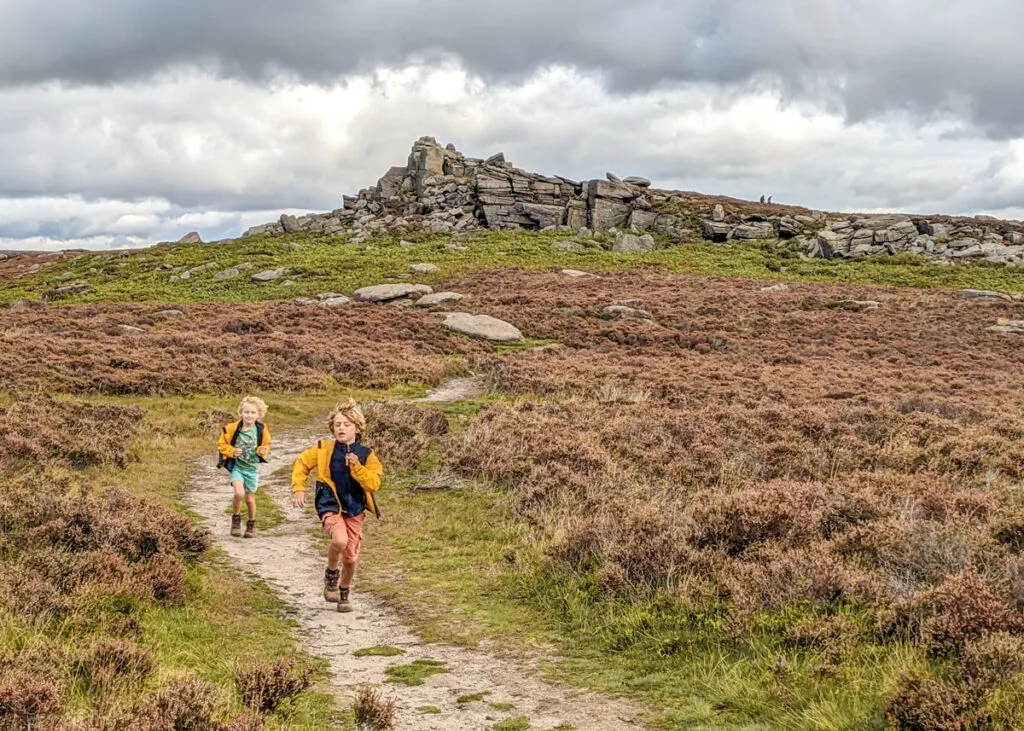 Direct from Grindleford train station, this classic Peak District family walk shows off the fantastic natural diversity of the National Park; from the magical mossy woodland of Padley Gorge, to the sweeping views of Surprise View and Mother Cap with boulders beckoning to be scrambled on. With so many natural play areas, this circular Grindleford walk will easily fill a whole day despite this only being 5.8km.
This Grindleford walk starts by leading you through the twisted mossy trees of Padley Gorge with the sound of rushing water as your soundtrack. It's a magical setting with mushrooms to find and trees to climb, plus the water to play in. Then walking away from Padley Gorge you are led past Owler Tor, with views back down to Longshaw Estate, and onto the rocky outcrops of Surprise View and the domineering Mother Cap; this section is boulder climbing galore! A rocky path then leads you down to Millstone Edge with superb views over to Hathersage, Stanage Edge, Mam Tor, and beyond, before heading back down into Padley Gorge and returning to the train station for hot chips from Grindleford Station Café.
This is one of our more challenging Peak District family walks as the terrain is rarely flat and most paths are uneven underfoot. But take your time and embrace the stops for play, as this walk really does show off some of the best bits of the Peak District.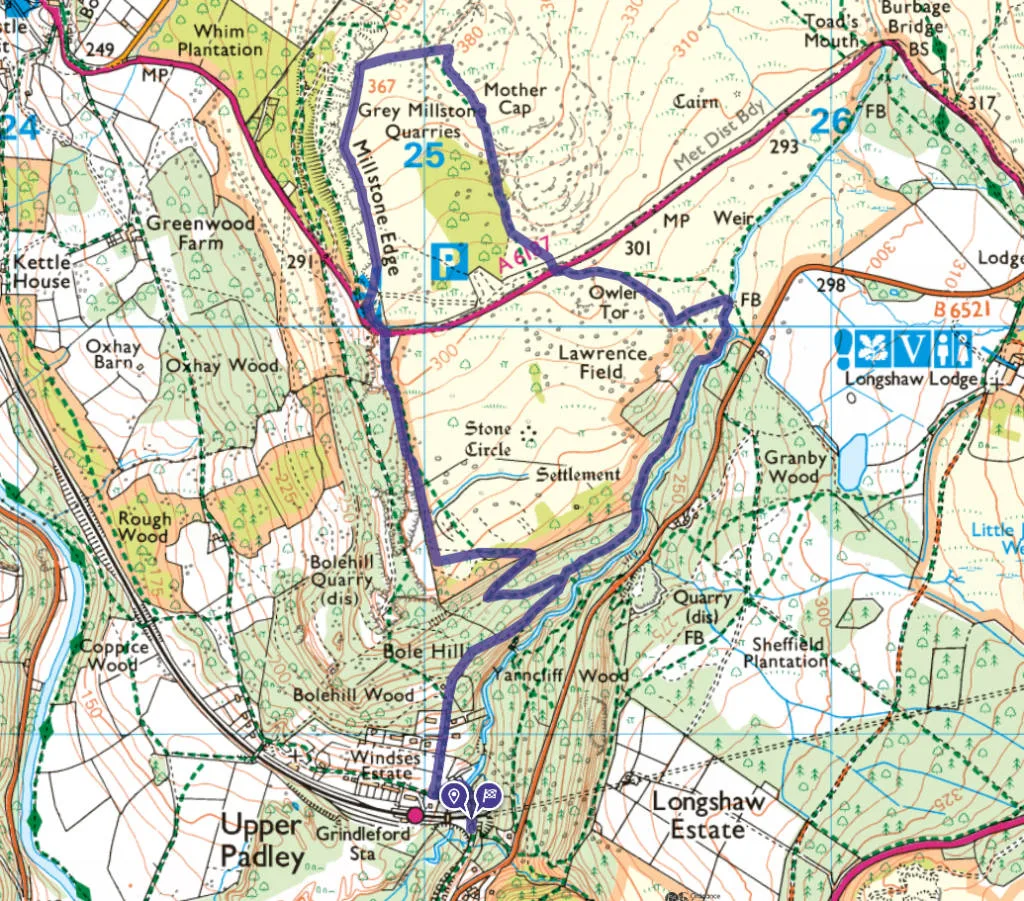 ---

You may also want to read:
Top things to do in the Peak District with kids
Best Peak District cycling routes for families
Best pubs and cafes with a play area in the Peak District