Kinder Scout is arguably the most impressive place to walk in the Peak District and many people have this on their bucket list. The views from the plateau on a clear day are incredible and the landscape feels wild and untouched.
There are two main options to climb Kinder Scout. You can either walk up to Kinder Scout from Edale (continue reading for this route) or from Hayfield (click here for our Kinder Scout from Hayfield walk). For either route, be prepared for a bit of a climb; your efforts will be rewarded with incredible views on a clear day!
This Kinder Scout from Edale walk takes a circular route starting with the climb up Grindsbrook Clough, then along the Kinder Plateau passing Pym Chair and Noe Stool. The route then meets up with the Pennine Way and follows this all the way back down into Edale via Jacob's Ladder to The Old Nags Head (where we wholeheartedly recommend popping in for a burger and pint / Fruit Shoot to reward your efforts).
Please only attempt this Kinder Scout walk with young kids if they are used to hiking. This is a challenging walk with some scrambling required in places, and once you're up on the Kinder Plateau, it's very exposed.
Disclaimer: This post contains affiliate links. Should you click to purchase, it is at no additional cost to you, but I receive a small commission.
If you are planning a visit to the National Park, please arrive early or late in the day to avoid crowds if visiting over sunny weekends or school holidays. Please also take all litter home with you, don't bring BBQs and park your car in designated parking areas. Also, please use these walks as a guide; access and stiles may change.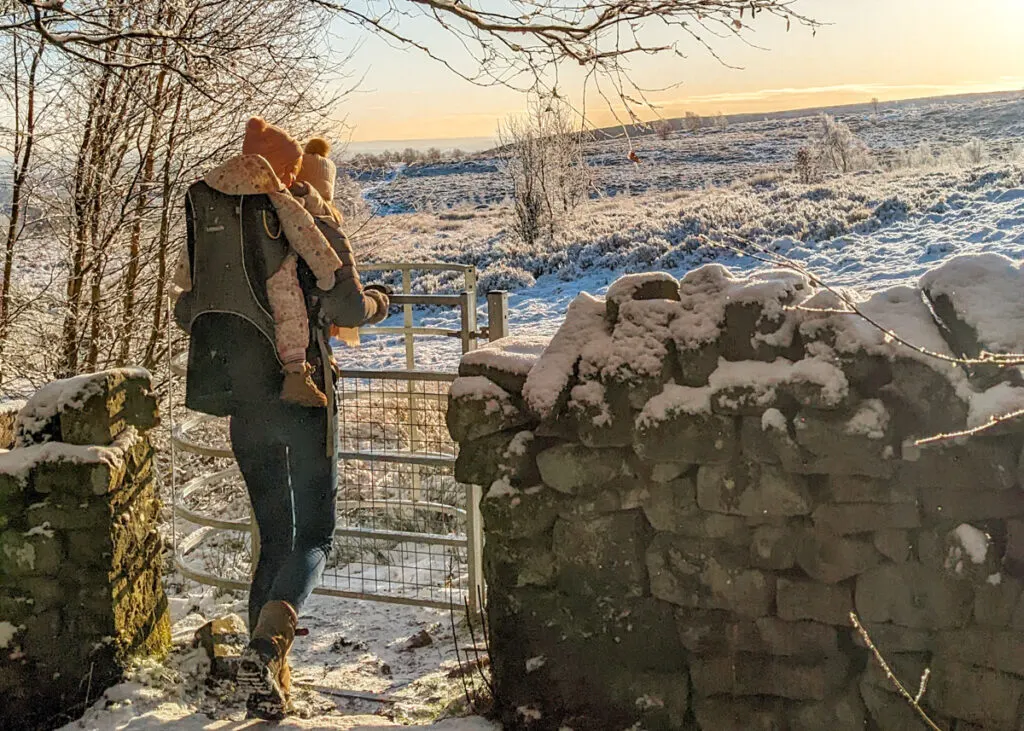 During the winter months, it's important to be extra prepared and safe when out walking and adventuring in the Peak District. The weather can change so quickly, especially on the exposed escarpments, and we don't want you to get caught out.
Read our top tips for safe winter walking with the kids.
FOLLOW US:
PARKING INFORMATION: Please do not rely solely on the postcode for parking directions. In the National Park, a postcode can cover a large area. Postcodes are only provided as guidance. Please either use the Google Maps point provided for every walk, or what3words.
Do check out our top tips for hiking with young kids, as well as our essential items to take on a family hike in the Peak District.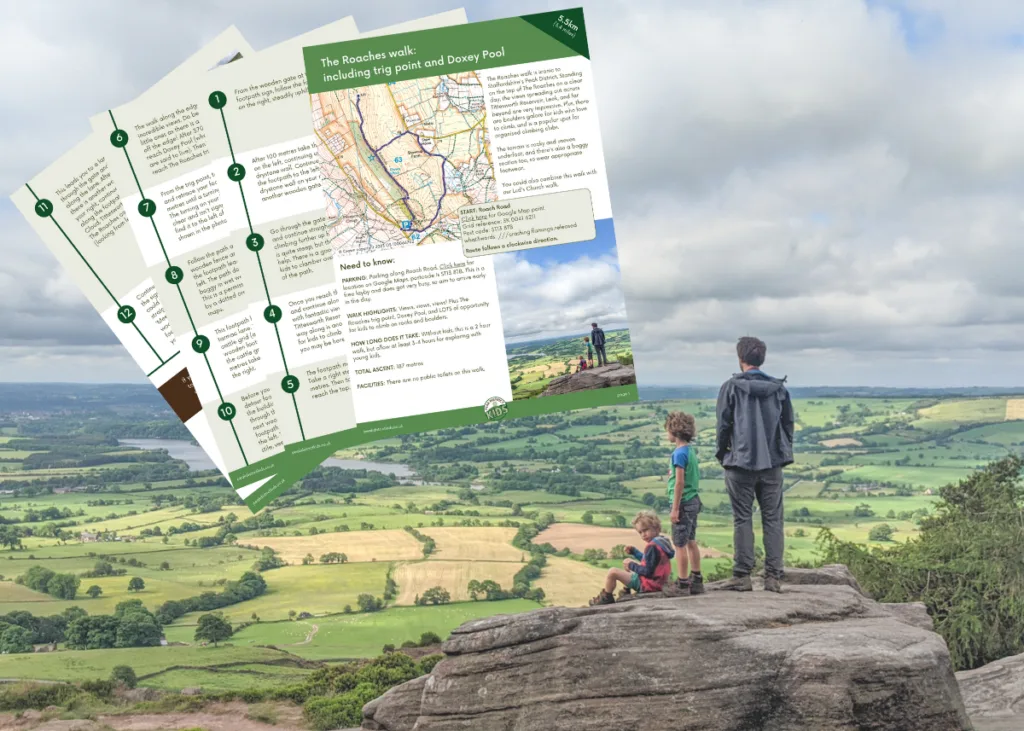 Download and print out our walking guides ready for your family walk. There are over 80 downloadable walk guides available, and these include all the main Peak District family walks, pram-friendly walks, and toddler walks.
Each printable download is just £1.50, whether it's a short 1km stroll or an epic walk up Kinder Scout.
Top tips for hiking Kinder Scout with kids
Pack lots of snacks to keep the kids going.
Have lots of little breaks along the way, rather than aiming for big long breaks.
The weather can change very quickly up there, pack an extra layer than what you're hiking in.
Only do this walk in good hiking boots. This walk is technical in places (by this I mean you need to get on your bum at times).
Consider taking water purification tablets so you can fill up your water bottles from streams safely enroute.
Take a compass and OS Map in case visibility is low.
Start your walk early in the day, so as to maximise daylight hours and allow yourselves lots of time.
Consider camping the night before and after at Newfold Farm Campsite. This means you don't have to drive the same day, and you're sorted for parking.
Hiking poles are a good idea for the parents.
Kinder Scout from Edale walk map
On all Peak District family walks it's a good idea to have an Ordnance Survey paper map with you, even if you have your phone on you. For this walk you need the OS Explorer Map OL 01 (Dark Peak). It's also a good opportunity to show young kids the map features and get them started with map reading.
This Kinder Scout from Edale route follows an anti-clockwise direction starting from Edale car park. This way round makes for a steeper ascent up Grindsbrook Clough, but it's easier to go up this section than down.
This route passes the entrance to Newfold Farm Campsite (opposite The Old Nags Head), which is a good place to camp if you want to make a weekend of it. If you start this walk from The Old Nags Head (opposite the entrance to the campsite) it's a 11.2km loop walk.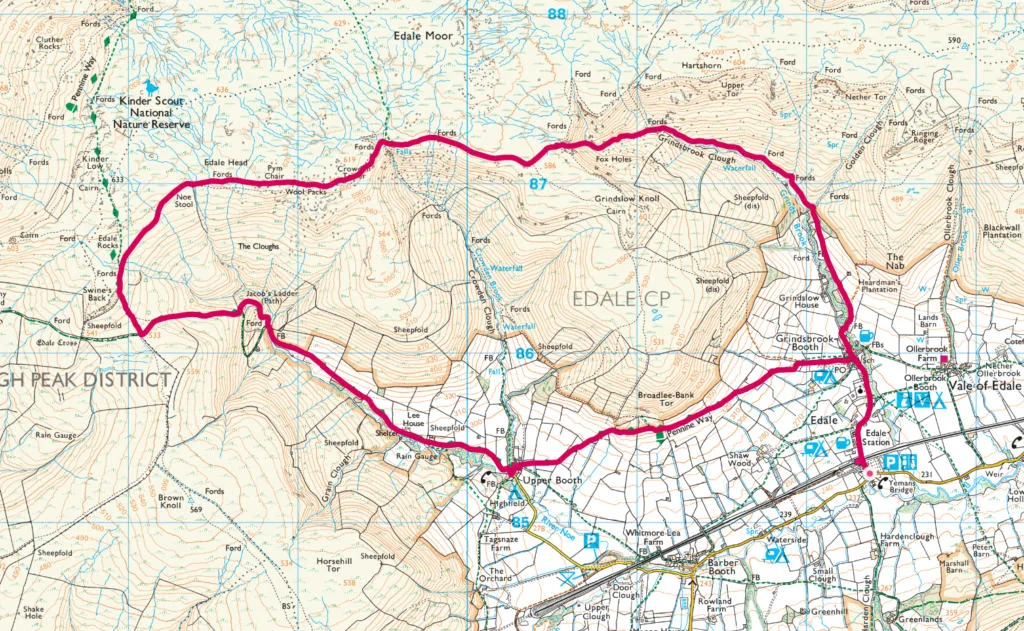 Get a printable download of this walk
Want to print off this walk guide rather than rely on your mobile? Then click here to download the PDF to print out at home. Perhaps print out a copy for the kids to follow the step-by-step directions and/or photos? It's a great way to get them engaged with the walk and gives them a sense of responsibility.
All printable downloads are £1.50 each. Click here for the full list of Peak District Kids printable downloads.
Please note that your download link expires 72 hours from order, so make sure you save your PDF somewhere where you'll remember it. If you are unsure where your download folder is on your mobile device, we recommend you download the PDF on your laptop or desktop.
Need to know
DISTANCE OF WALK: 12.7km (7.9 miles)

TYPE OF WALK: circular Kinder Scout walk with scrambling and exposed moorland

PARKING: Edale Car Park. Click here for location on Google Map, postcode S33 7ZQ. The pay machine is cash only or your can use PayByPhone; parking for 4-10 hours is £6, click here for current parking fees. Arrive early at weekends and school holidays as this car park gets exceptionally busy, although there is an overflow car park further along the main road (£5 all day).

PUBLIC TRANSPORT: The Hope Valley Train Line between Sheffield and Manchester stops at Edale.

WALK HIGHLIGHTS: Scrambling up Grindsbrook Clough, epic views, weird shaped boulders to climb on, Jacob's Ladder, a burger and pint / Fruit Shoot at The Old Nag's Head at the end of the walk.

HOW LONG DOES IT TAKE: Allow a good 6+ hours to do this walk with kids.

TOTAL ASCENT: 526 metres

ACCESSIBILTY: Not pram or wheelchair friendly at all. Steep rocky sections. You need to be sturdy on your feet. Walking poles are a good idea to assist the hike down. Only attempt this hike with young kids if they are used to hiking.

FACILITIES: There are public toilets at Edale car park. There are also two pubs in Edale (The Old Nag's Head and The Ramblers), and a café (Newfold Farm Cafe). On the walk itself there are no facilities.
The route
START: Edale Car Park
Click here for Google Map point
Grid reference: SK 12378528
Post code: S33 7ZQ
what3words: ///kitchen.complains.shelving

Route follows an anticlockwise direction.
1. Follow the road into the village of Edale, walking underneath the railway line, past The Rambler Inn and up to The Old Nag's Head. From Edale car park to The Old Nag's Head is 750 metres.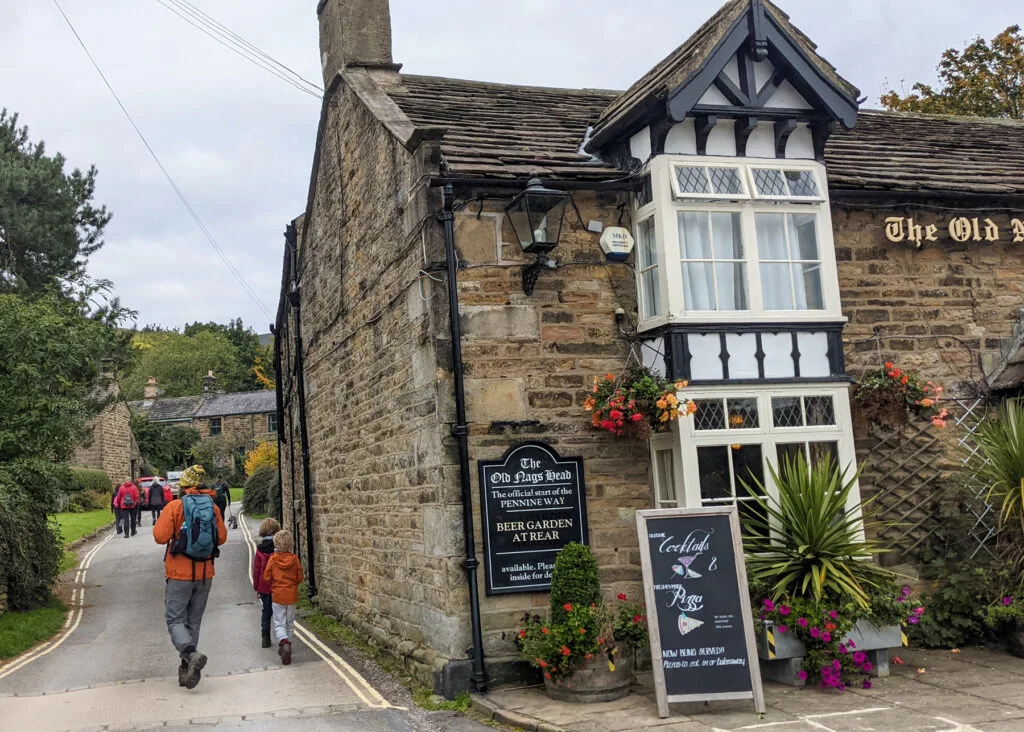 2. Continue along the road for another 100 metres past The Old Nag's Head to the Grindsbrook signpost on your right. Cross over the brook using the wooden bridge and walk up to meet the flagstone path to the left.
3. Walk along the flagstone path (don't take the path that veers off to the right) to a gate that leads into woodland. Cross over the brook again, and continue the footpath straight ahead. The path then continues steadily uphill.
4. After 1.5km the path up Grindsbrook Clough steepens and some scrambling is required. Try and keep the brook on your right (although the kids will probably enjoy going back and forth). The footpath bears left as you reach the very top. There's a cool 'bottle cork' rock to take in the views from.
5. Don't follow the path that continues round to the left, instead take the obvious flagstone path that leads away from the edge. Continue along here for 1.3km to Crowden Brook, passing the weathered rock that looks like rabbit ears.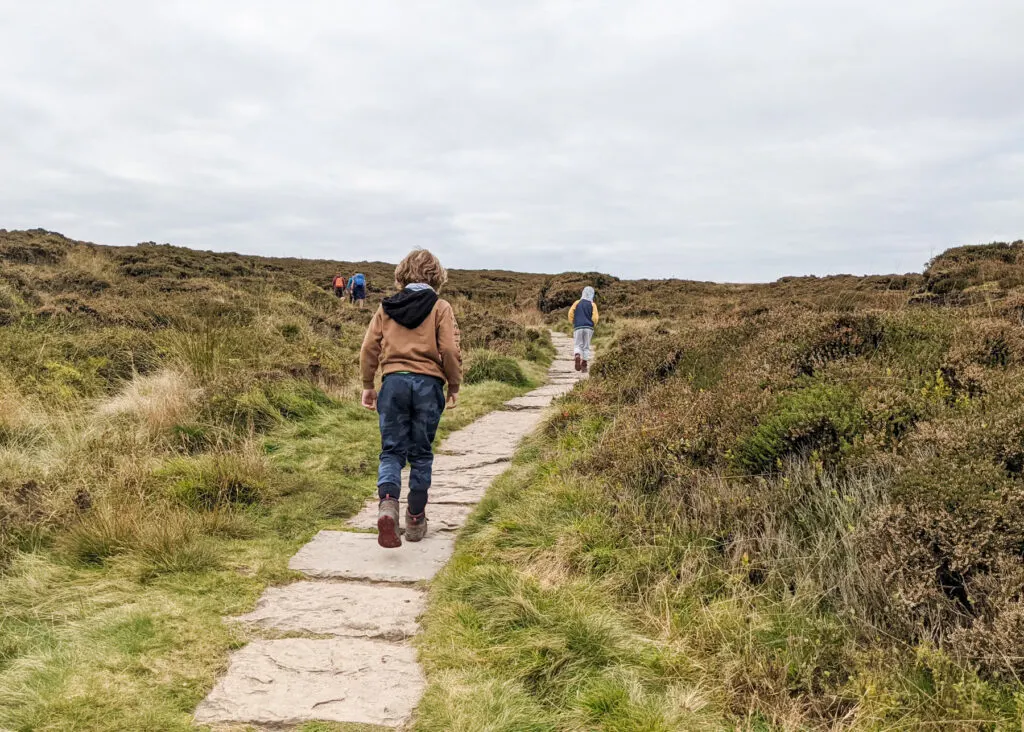 If you need to cut the walk short here for any reason, you can descend left here along the footpath leading down Crowden Brook. After 1.3km along this path, if you then take the footpath to the left (rather than to Upper Booth) this cuts out a little climb and then meets the Pennine Way, which then leads you back to Edale. The top of Crowden Brook to Edale (The Old Nags Head) is 4km.
6. Cross over Crowden Brook and take the footpath straight ahead that climbs up to the left. From here to Noe Stool (1.4km) the footpath isn't always clear and it gets rather boggy. Take care along here.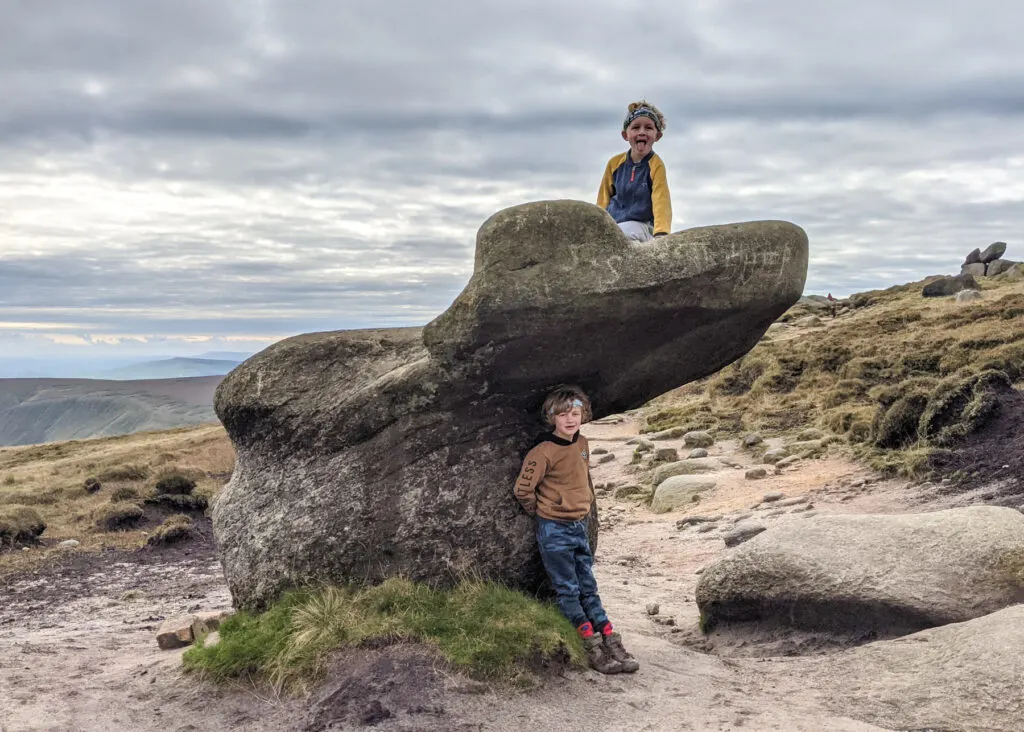 7. Once you reach Noe Stool (photo immediately above), it's a clear footpath down to the cairn that marks the intersection with the Pennine Way. Continue straight ahead and then left at the little flagstone junction to cut off the corner.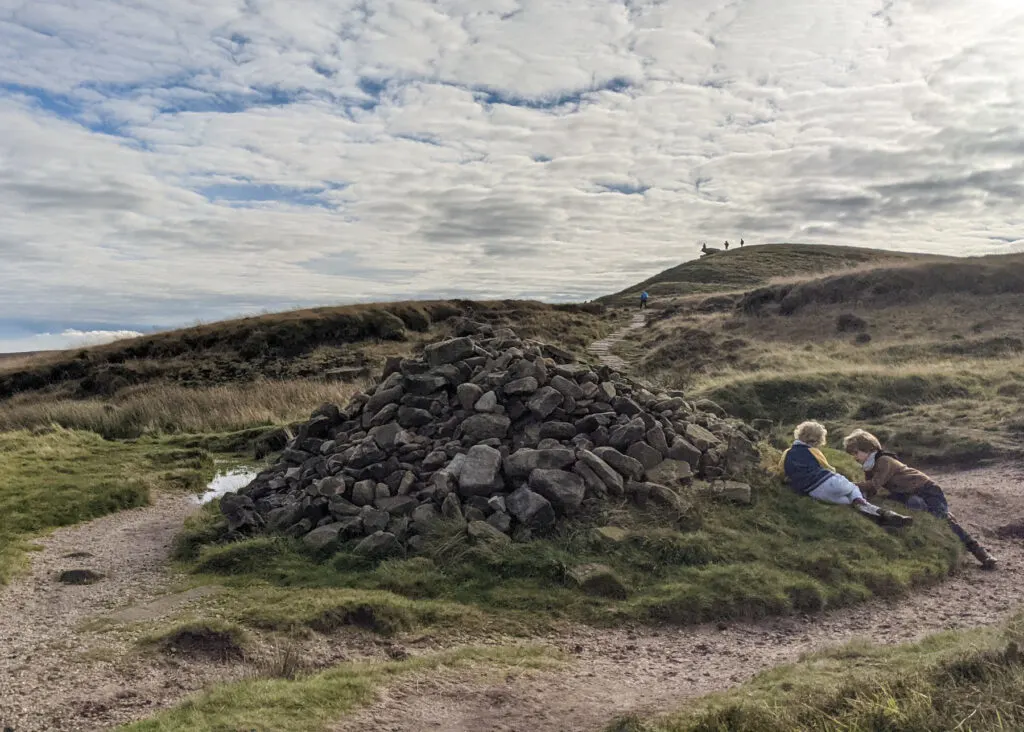 8. After 100m, turn left again and continue down to Upper Booth (2.7km) via Jacob's Ladder. Please note that there are no facilities at Upper Booth (no pub or café).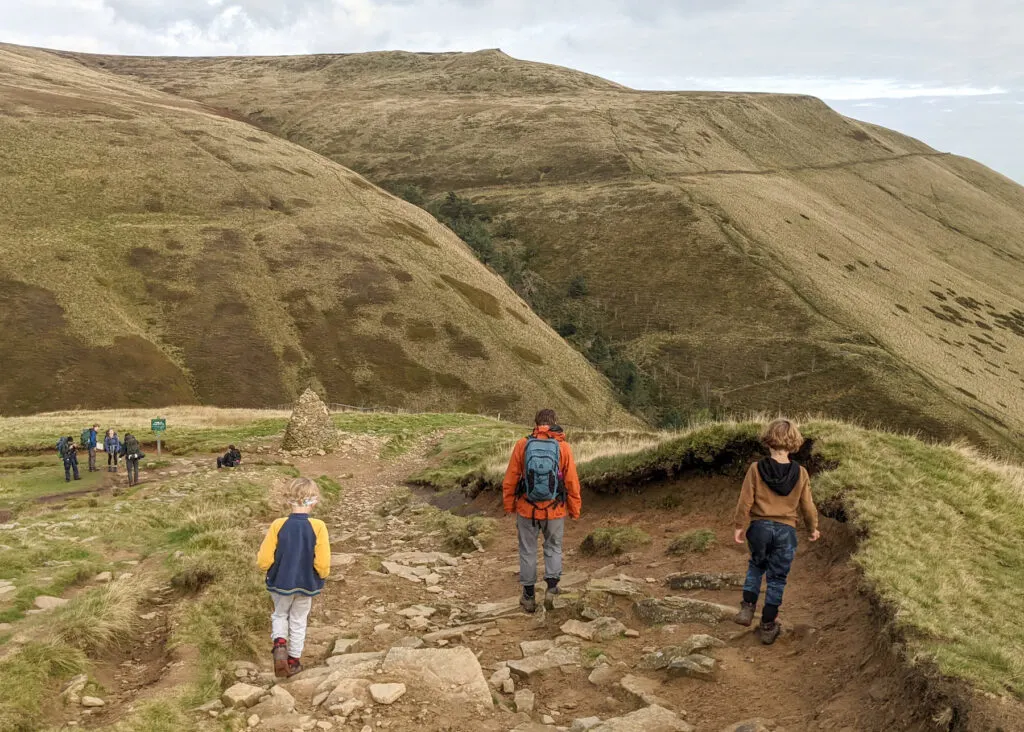 9. From Upper Booth, follow the signs back to Edale (2.3km). There is an annoying short uphill section, but then it's a steady decline back to The Nag's Head.
Once you're back in Edale
The Old Nag's Head at the start/end of the Pennine Way is family friendly; there's a family room towards the back of the pub and a separate kids menu. Alternatively, you could go to the café at Newfold Farm (open to everyone) or head to The Rambler Inn (which also has a children's menu). None of these eateries take table bookings.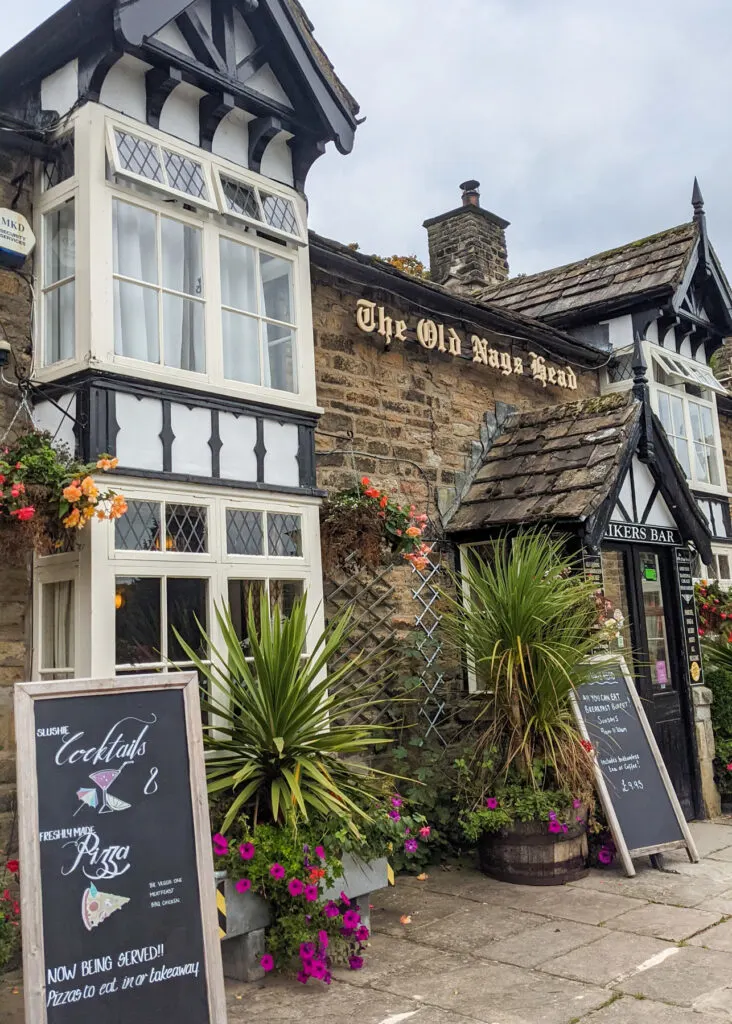 ---
You may also like to read:
Kinder Scout from Hayfield (14km, circular)
Newfold Farm Campsite, Edale: REVIEW
Mam Tor walk, including Broken Road (4.1km, circular)