Sandwiched between Great Ridge and the Kinder Scout in the Peak District, with a direct train from Manchester and Sheffield, the village of Edale is a fantastic base for hikers, and a popular campsite for families here is Newfold Farm. Indeed, this campsite features in our top Peak District family campsites and is often recommended by members of the Peak District Kids FB group.
This article contains affiliate links. Should you click to purchase, it is at no additional cost to you, but I receive a small commission.
The views of Great Ridge are incredible! Plus, campfires are allowed here (as long as they're 30cm off the ground – we recommend and use this foldable fire pit); which is just what you need to warm up after a long hike in the hills.
There's no playground here, but with so much wide open space on your doorstep and other kids to play with, that's really not a problem. And here's hoping that a hike up Kinder Scout or Mam Tor will have knackered them out anyway 😉. Plus, ball games and kite flying is allowed; just make sure that the kids (and adults) be respectful and keep their distance from people's pitches.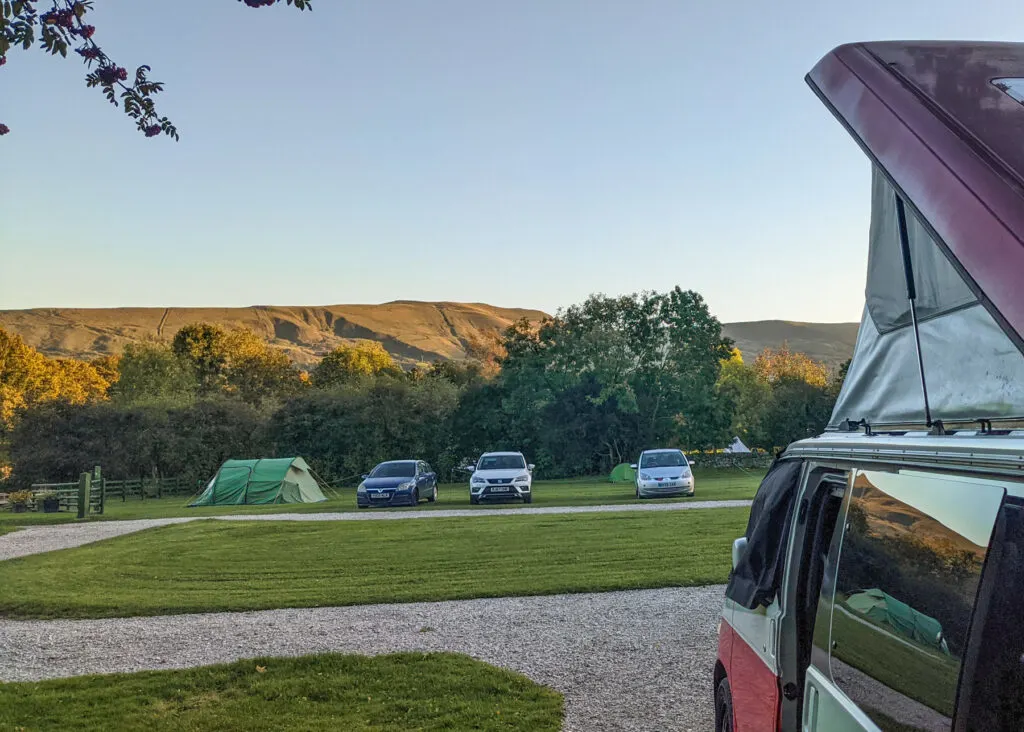 Please note that this campsite can get rather loud in the evening. There is a policy of quiet after 10pm, although this isn't adhered to no one around at that time to enforce it. It's pot luck whether you're next to a pitch playing music late at night, but something to be aware of as a handful of parents have reported to us that this is a slight downside to camping at Newfold Farm.
The camping areas
There are three large camping fields for general camping. Tents, caravans, and campervan are all welcome, as well as pets. However, Newfold Farm is unable to accommodate large caravans and motorhomes over 7.2m.
In Sparrowhawk (the main field you first drive into) there are 12 hard standing pitches along the edge of the field with EHU. The view gets better as you walk up the hill away from the entrance. We recommend trying to get a pitch as close to number 12 as possible. At pitch 1, there are lots of cars parked in front of you.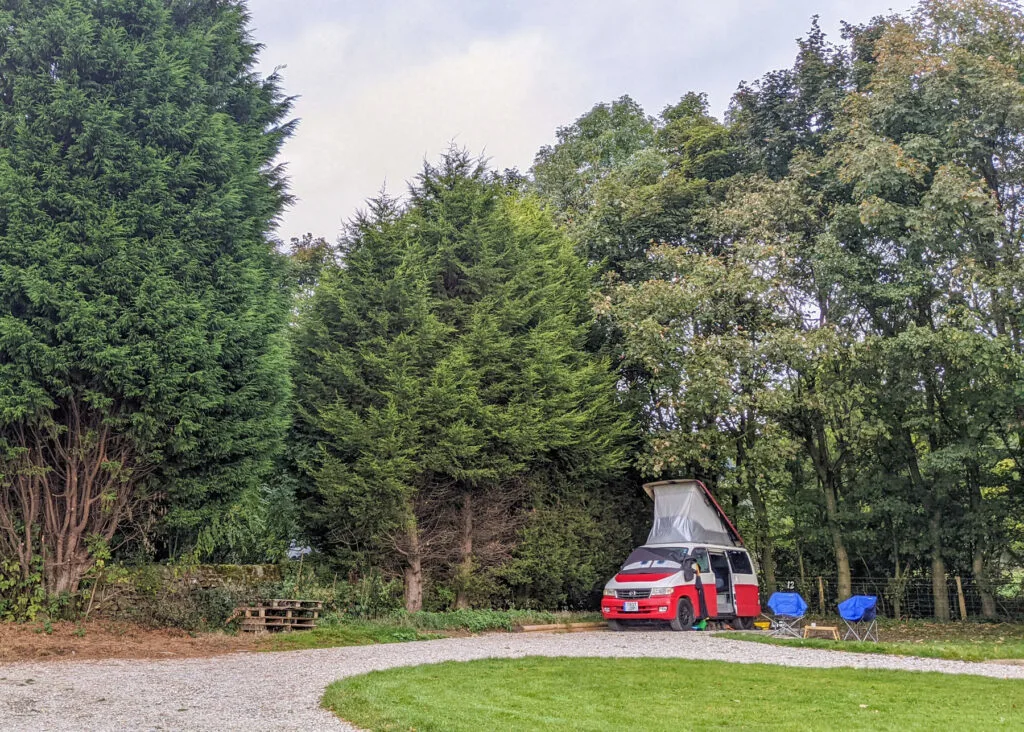 If you don't need EHU, you can choose from three large fields to camp. Sparrowhawk is closest to the washblock and reception, but the other two fields (Curlew and Grouse) offer more space and better views. There are no designated pitches for non-EHU, so you're free to camp wherever suits you.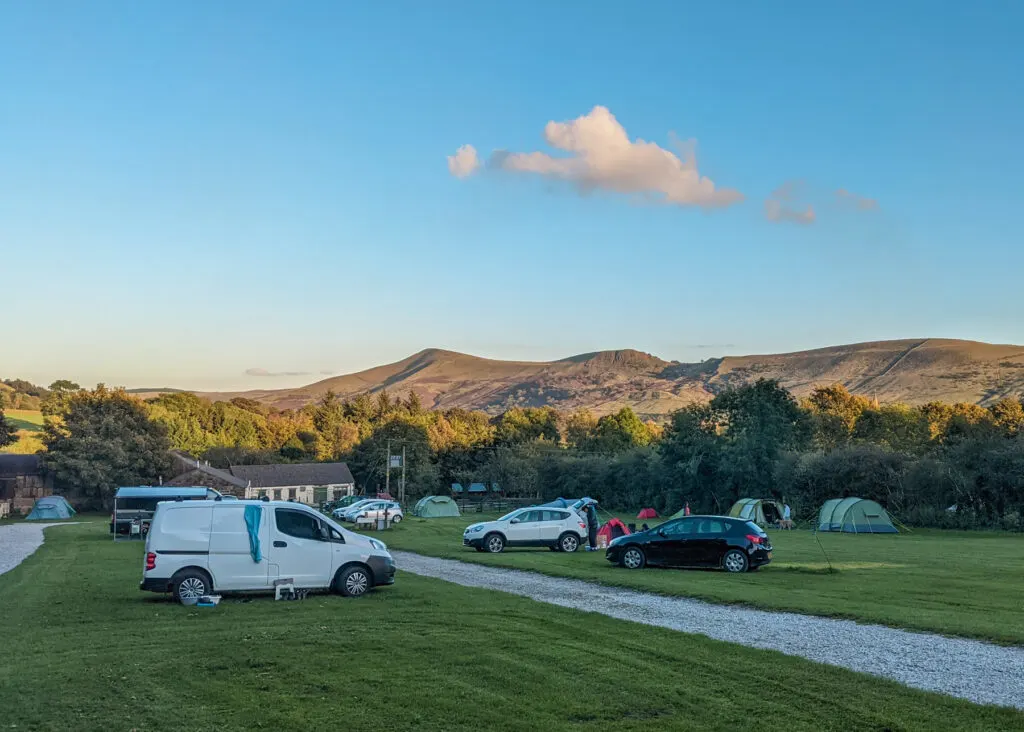 Family glamping and rent-a-tent
Don't have your own camping gear? Over the summer months you can hire a tent! These are ready to go and can be kitted out for two or four with inflatable mattresses, sleeping bags, a stove and a kettle. Maximum occupancy is 4 per tent.
There are also luxury bell tents to hire in Lapwing field. However, there is only one family bell tent consisting of a king size bed and two single beds. All bell tents are kitted out with duvets, pillows, table, chairs, camping stove, kettle and a fire pit.
Click here to check out other Peak District glamping sites for families.
The facilities
The washblock facilities are rather tired, but the showers are hot and powerful. However, a new washblock is being built, which should be open soon.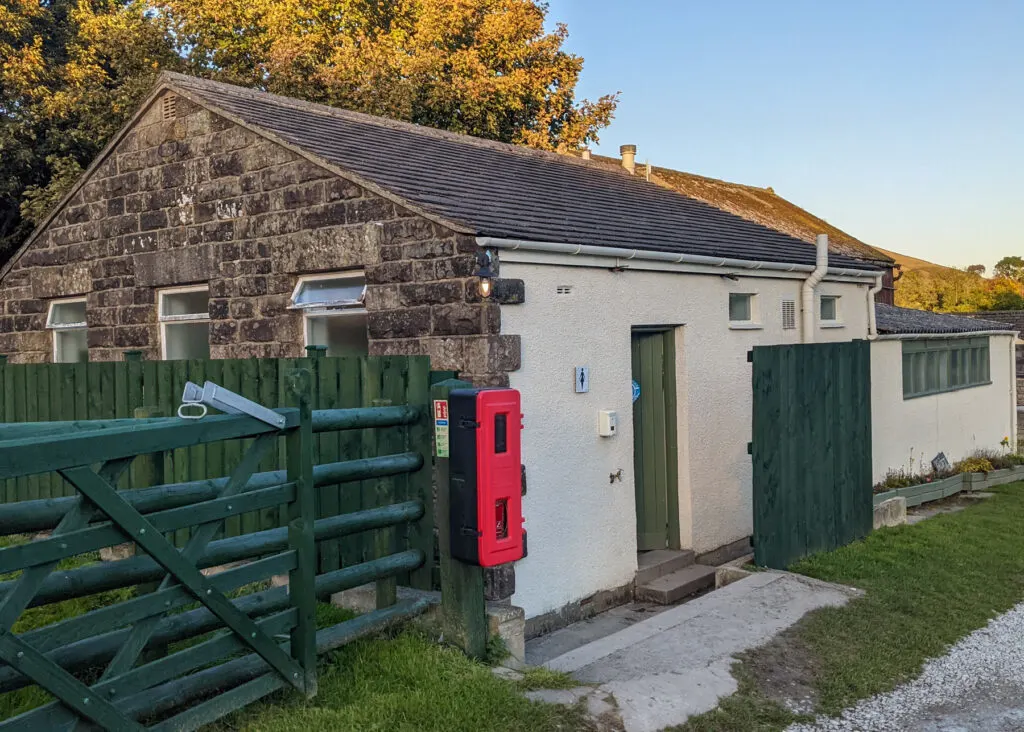 There is also a lovely café onsite with both outdoor and indoor seating, selling fresh coffee, teas, cakes, ice cream, sandwiches, and breakfasts.
In the summer months you can purchase woodfire pizzas on site.
Fire pits can be hired from reception, where you can also buy your fire logs and kindling too. Please don't take sticks and wood from the trees around the campsite.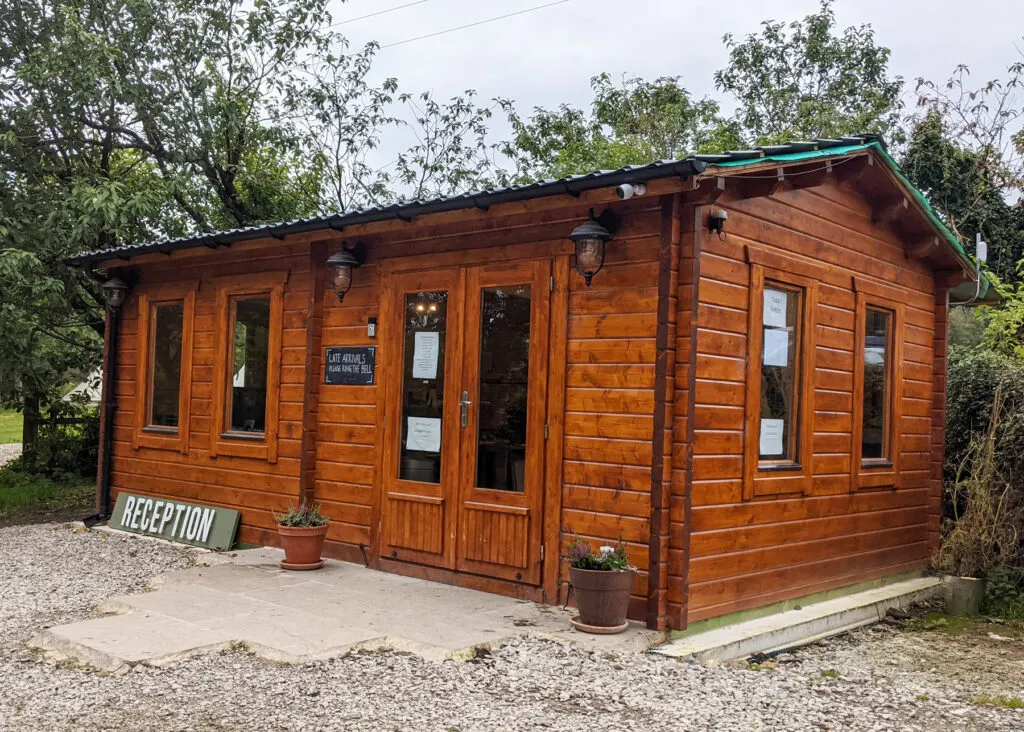 Things to do nearby
The main reason anyone come to Edale is to hike, and in all honesty, there isn't much else to do here except hike or visit one of the two pubs. Although, Castleton and it's underground caves are a short ten minute drive away.
Newfold Farm is situated at the start of the Pennine Way and the footpath leading up to Grindslow Knoll. Both these footpaths take you up to the Kinder Plateau. Click here for our circular Kinder Scout from Edale walk. On the other side of the valley is Great Ridge where you can hike up to Mam Tor and Lose Hill.
Please bare in mind that both these hikes from Newfold Farm (whether hiking up Kinder Scout or Mam Tor) are rather strenuous, and you need to be confident that your kids are up for the challenge. Please also be mindful of the weather conditions too and wear appropriate gear. The weather changes very quickly and you can experience four seasons in one day. Plus, on the Kinder Plateau especially, when the clouds roll in, visibility can be zero; and navigation very difficult.
But after any hike from Newfold Farm, a visit to the pub is an absolute must. You can choose from either The Old Nags Head (which is right at the end of the Pennine Way, just across the road from the campsite) or The Rambler Inn (which is closer to the train station). Both pubs have a kids' menu and good vegetarian options. Neither pubs take table bookings.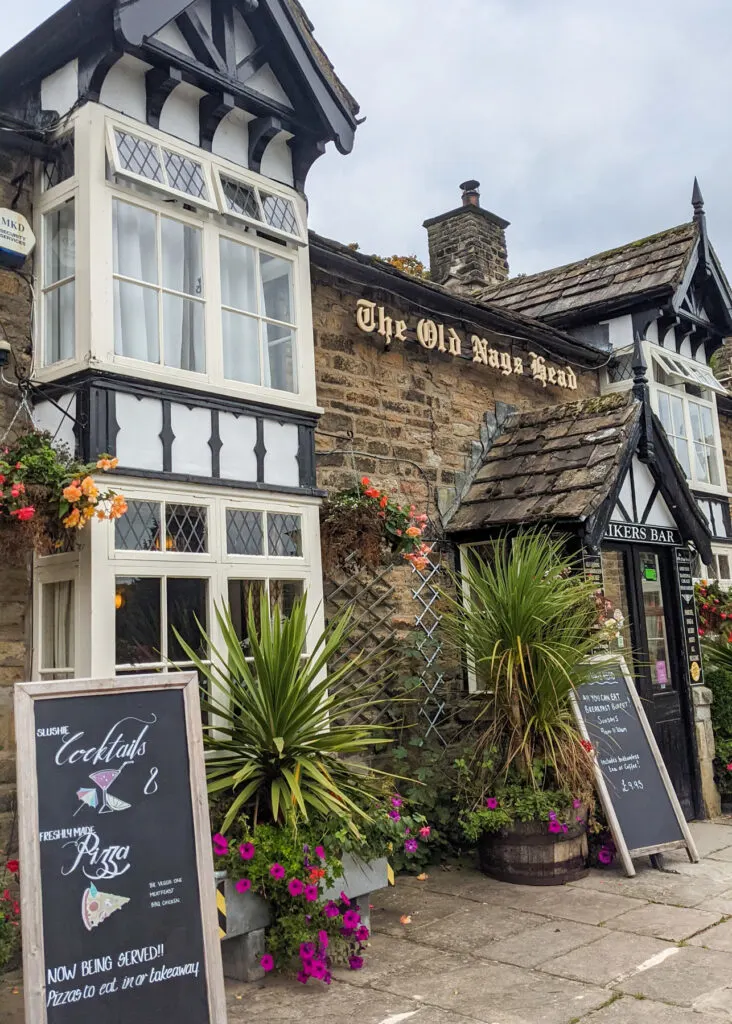 Final thoughts on Newfold Farm Campsite
If you're planning a hike up Kinder Scout from Edale with the kids, then Newfold Farm is a fantastic base for a weekend camping. Start your hike early in the day, allowing lots of time for snack stops and climbing on boulders, then reward your efforts with a burger and pint / Fruit Shoot from The Old Nags Head, before returning to your pitch and chilling by the campfire.
The staff here are very accommodating and friendly to kids, and there's a fantastic walking-community vibe to this campsite. The view are pretty special too.
The only downside seems to be that the zero tolerance to noise after 10pm isn't adhered to or enforced.
How to book Newfold Farm
Newfold campsite is open all year round. Head over to their website to book online.
There is a 2 night minimum stay for standard camping pitches over weekends, and a 3 night minimum stay over the summer holidays and Bank Holiday weekends.
---
You may also like to read:
Mam Tor walk (circular, 4.1km)
Best family campsites in the Peak District
Kinder Scout from Edale walk (circular, 12.7km)