Details of Peak District toddler walks and pre-schooler walks that are short, relatively flat, and incorporate lots of variety to keep little ones engaged. All these walks have been tested out by a toddler and pre-schooler, and even though some may be only 1km long, you will need to allow for a good couple of hours for exploring!
We recommend getting your toddler hiking as soon as they are stable on their feet. This will require bucket loads of patience from the parents as toddlers rarely walk in a straight line and like to stop to watch every bug enroute, but the sooner you get them used to hiking, the sooner you'll be able to take on those longer hikes as a family.
Our top tip for hiking with very little ones (click here to read all our tips) is selecting the right walk. Whilst the disused railway trails of the Peak District (such as the Monsal Trail and High Peak Trail) may seem like good options as they're relatively flat, we don't actually recommend them for a Peak District toddler walk. Why? Because they are monotonous, offer little in the way of climbing and exploring, and on a weekend or school holiday when the cyclists are out in force, you can't let your little one(s) loose and may need to resort to walking in single file.
So what are the best toddler and pre-schooler walks in the Peak District? Well below we've compiled our best Peak District family walks that are:
very short (3km or less)
relatively flat
have no big drops off edges (which is why the short Baslow Edge walk and Birchen Edge walk aren't included here)
have lots of variety (woodland, rocks to climb, puddles and stiles) to keep your toddler engaged.
We advise that you don't take the pram or carrier on these walks. If you're little one sees the carrier or pram, they'll just want to go in it! Remove the temptation, and if they really do get tired and cranky towards the end of the walk, you can always resort to carrying them on your shoulders (if you're able to, if not, have the carrier hidden away but at the ready). Save the pram or buggy for a Peak District pram friendly walk another day.
So parents, grab the snacks, wrap up warm, and bring bucket loads of patience for these Peak District walks for toddlers and pre-schoolers. Start your day early, and we can almost guarantee a good, long nap after these(you're welcome).
Disclaimer: This post contains affiliate links. Should you click to purchase, it is at no additional cost to you, but I receive a small commission.
If you are planning a visit to the National Park, please arrive early or late in the day to avoid crowds if visiting over sunny weekends or school holidays. Please also take all litter home with you, don't bring BBQs and park your car in designated parking areas. Also, please use these walks as a guide; access and stiles may change.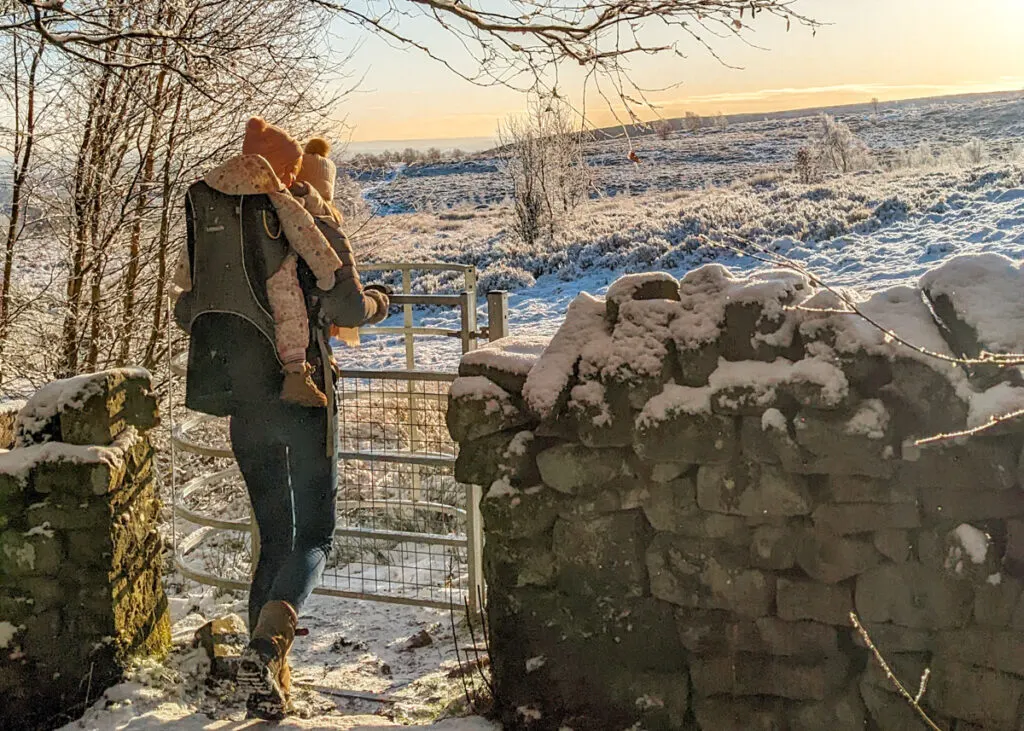 During the winter months, it's important to be extra prepared and safe when out walking and adventuring in the Peak District. The weather can change so quickly, especially on the exposed escarpments, and we don't want you to get caught out.
Read our top tips for safe winter walking with the kids.
FOLLOW US:
PARKING INFORMATION: Please do not rely solely on the postcode for parking directions. In the National Park, a postcode can cover a large area. Postcodes are only provided as guidance. Please either use the Google Maps point provided for every walk, or what3words.
Do check out our top tips for hiking with young kids, as well as our essential items to take on a family hike in the Peak District.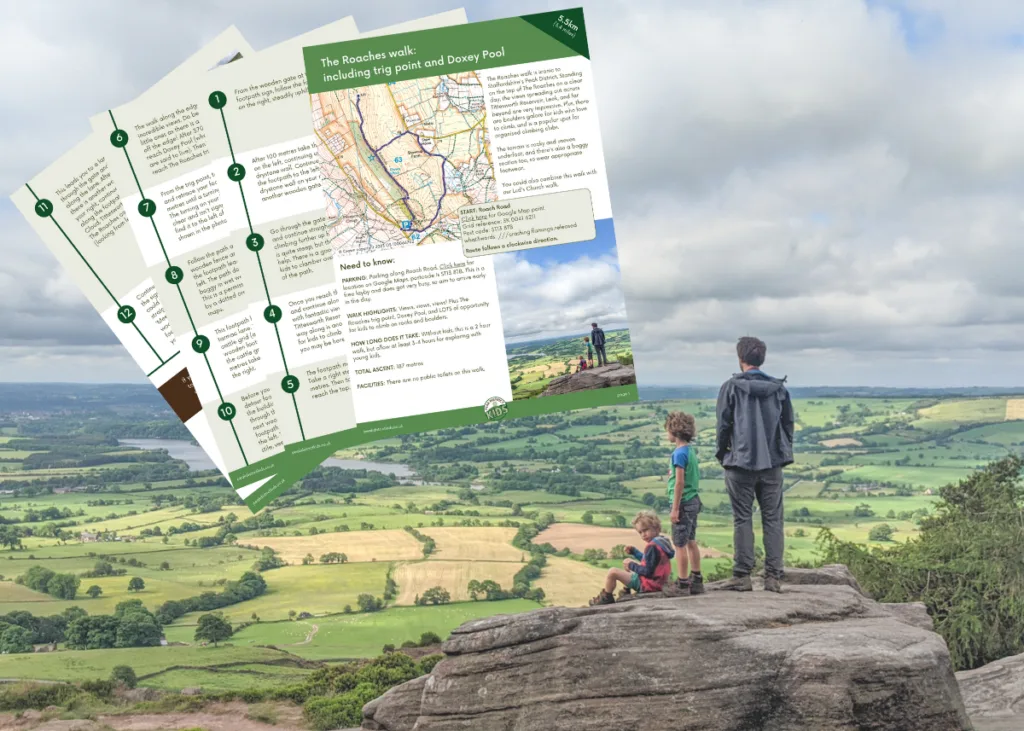 Download and print out our walking guides ready for your family walk. There are over 80 downloadable walk guides available, and these include all the main Peak District family walks, pram-friendly walks, and toddler walks.
Each printable download is just £1.50, whether it's a short 1km stroll or an epic walk up Kinder Scout.
Don't leave home without your Peak District OS Map!
Sale
Locations of our recommended pre-schooler and toddler walks in the Peak District
Want to tick off these family walk and keep track?
The Peak District Kids Walks Log Book is designed for kids of all ages to keep track of their amazing walks in the Peak District and beyond. It provides 100 possible walk entries (that's a walk a week for almost two years) and kids can record their total distance by colouring in the hiking boots in the back pages.
Seeing their collection of walks logged in one place over time will bring such a sense of achievement, and what a wonderful memento for years to come.
1. Hope Valley Ice Cream walk – 0.7km
Hope Valley Ice Cream walk guide
Click here for start point
Printable download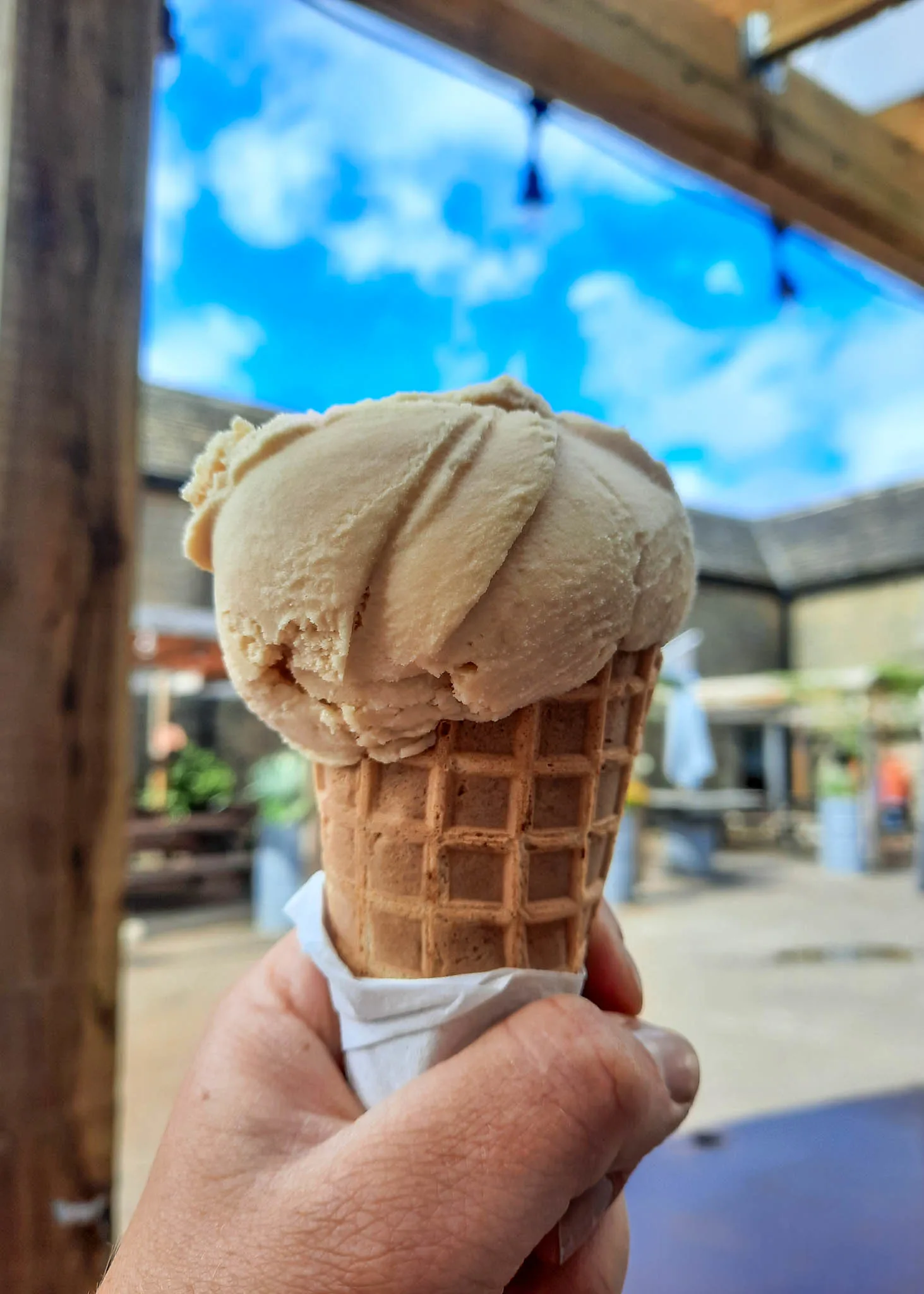 Hope Valley Ice Cream is based at Thorpe Farm in the Hope Valley and open 12pm to 5pm every day. This is family run farm that has been milking here for generations; in fact over 300 years! And they make some of the best homemade ice-cream in the Peak District.
Hope Valley Ice Cream is primarily a working farm. It's important to remember this when visiting as there may be tractors or animals moving around. The farm provides a fantastic first-hand experience of field to plate; you can watch the cows being milked in the barn by a futuristic robot that allows the cows to be milked whenever they are ready, watch them graze in the fields around the farm, then grab a burger, chilli nachos, ice cream or coffee made with their very own beef and fresh milk.
There are other farm animals to meet aside from the cows, including donkeys and chicken, and there's an old vintage tractor to pretend to drive and a couple of large tractor tyre sandpits.
Once you've enjoyed a potter and play around the farm why not head for a short walk from Hope Valley Ice Cream following the route detailed here, which takes a short loop away from the farm across fields and down a quiet lane.
2. Blaze Farm Nature Trail – 1km
Blaze Farm Nature Trail walk guide
Click here for start point
Printable download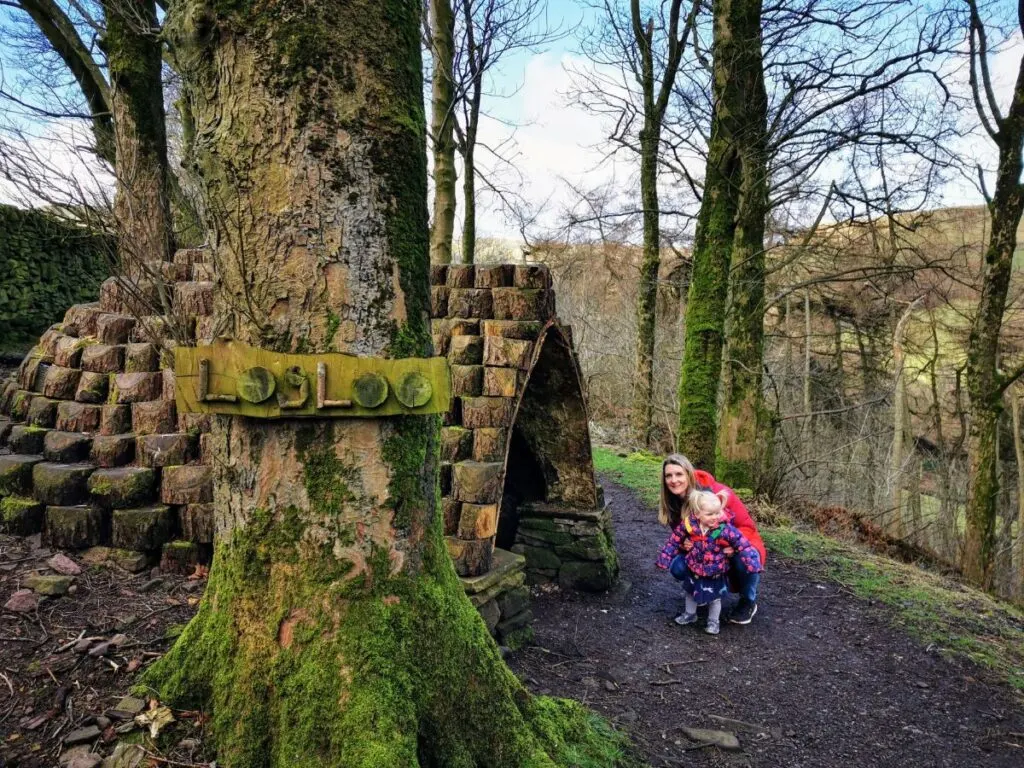 Blaze Farm is the number one spot to take a toddler in the Peak District and is indeed one of our top things to do in the Peak District with kids.
Entry is FREE and there are lots of farm animals to meet (cows, peacocks, donkeys, geese, ducks, sheep). If you're visiting during the lambing season you may even be lucky enough to see a lamb being born in the lambing shed (arrive early).
There's a lovely short 1km nature walk around the farm. Follow the footpath that leads alongside the lambing shed and follow the signs across the meadows and into the woodland. Once you're in the woodland, there are carvings to find and dens to explore.
On return to the farm, head to the cosy tea room and treat yourselves to some Peak District ice-cream made right on the farm. Behind the tearoom you'll find a slide and a tractor to play on. This is one of our top places to eat with kids in the Peak District.
3. Longshaw Estate – 1km
Longshaw Estate walk guide
Click here for start point
Printable download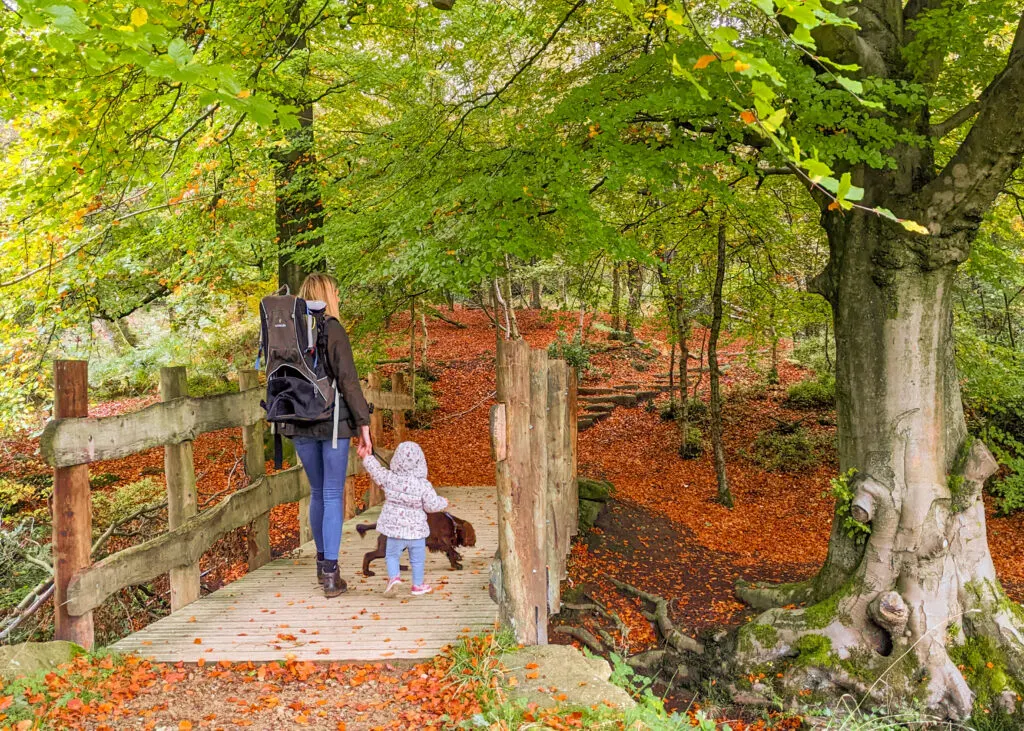 In a quiet corner of woodland, this Longshaw Estate walk offers accessible paths, fallen trees to balance along, dens to hide in, and bridges to toddle across and paddle under. It's one of our favourite Peak District toddler walks, and will keep your little nature-explorers busy for hours.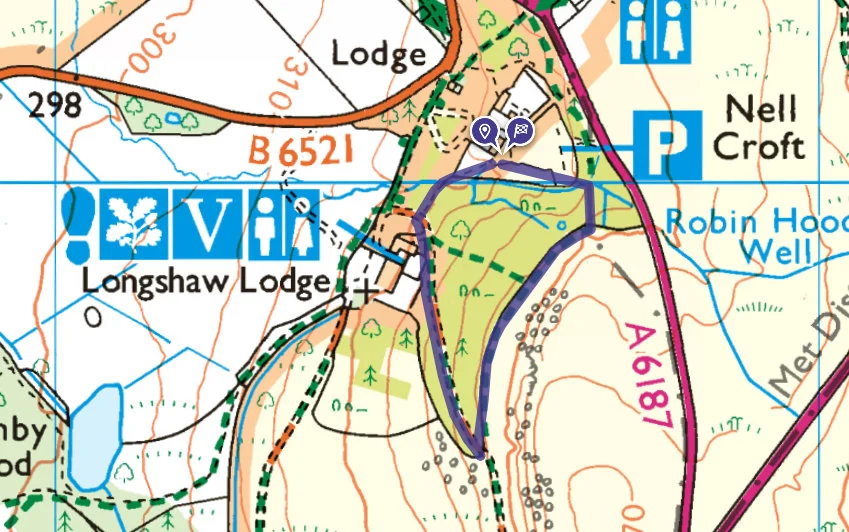 4. Whim Wood and Little Moor – 1km
Whim Wood and Little Moor walk guide
Click here for start point
Printable download
This is a short, circular toddler walk close to Hathersage. Get your little ones out of their carrier and active in beautiful woodland and stunning views. This walk will lead you across quaint wooden bridges over bubbling brooks with opportunities for rock scrambling, den building and stick stacking, before heading out onto Little Moor. Pack a picnic as there is a perfect picnic rock. If you're lucky, you may even spot highland cattle grazing.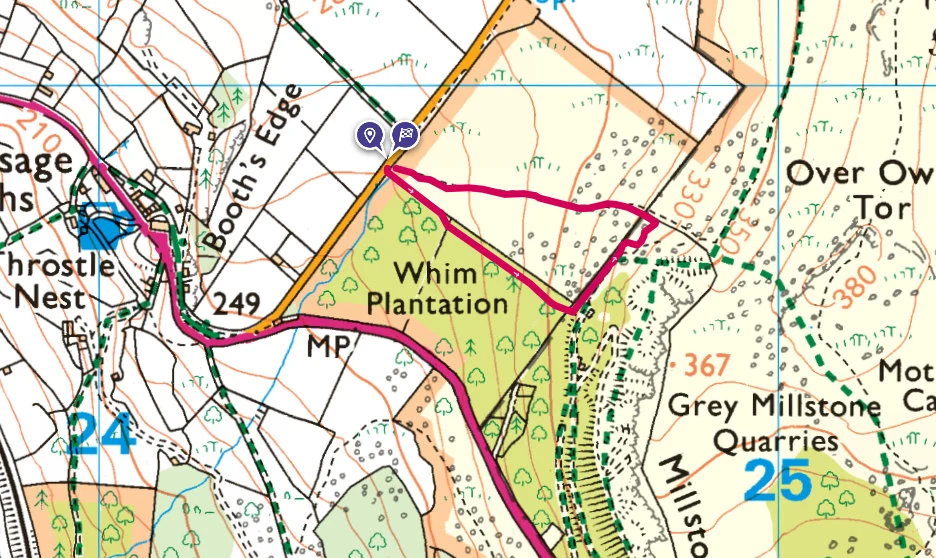 5. Ilam Park – 1.6km
Ilam Park walk guide
Click here for start point
Printable download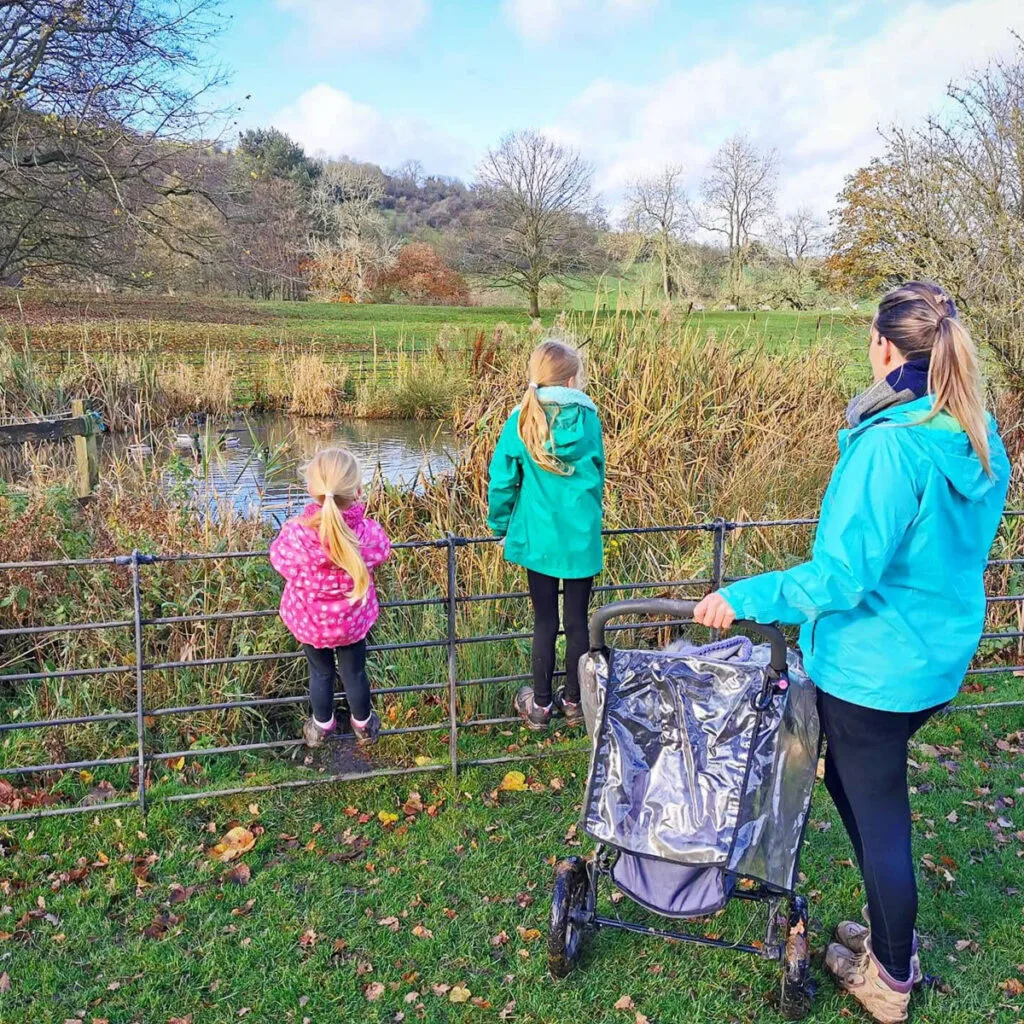 This walk actually features in our pram friendly walks, but as it's just 1.6km with lots of variety in the beautiful setting of Ilam Park and picturesque Dovedale, we thought it should be included here.
The walk starts by crossing the parkland and dropping down towards the River Manifold. It then follows the 'Paradise Walk' path along the river to St. Bertram's Bridge, which used to be the main route into Ilam. This attractive section of the walk was known for its carriage rides for visitors during Victorian times. Finish off by heading back to the hall and formal Italian Gardens, enjoying the stunning and iconic views of Thorpe Cloud and Bunster Hill.
Kids will love this walk as there's plenty of fun places to run around and explore, including the wavy 'ridge and furrow' fields created by medieval ploughing. There's also a small natural play trail and on the way, they can spot the boil holes where the river has travelled through caves and bubbles up out of the rocks.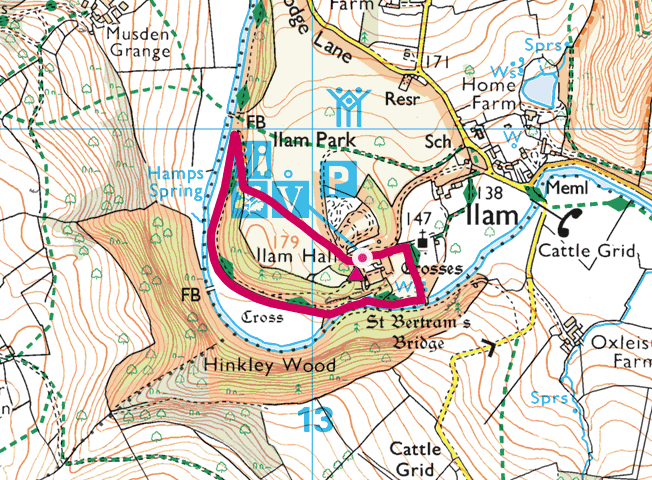 6. Derwent Dam – 1.6km
Derwent Dam walk guide
Click here for start point
Printable download
Derwent Dam, which towers above the northern tip of Ladybower Reservoir, is an impressive feat of engineering and is an incredible site when flowing after heavy rain or snow melt. It's a short walk to get here from Fairholmes Car Park, and there's a detour to a short nature trail enroute for little ones to explore the woodland and find carved creatures under the trees. A train carved from a fallen tree is the ideal snack stop overlooking the water.
It's a perfect Peak District toddler walk for little ones to be out of the carrier and exploring, to start building up their stamina for those longer family walks.
If parents want to enjoy a relaxed stroll whilst your little one naps in the buggy after their adventures, how about walking the loop around Ladybower Reservoir (9.1km), which is pram friendly.
7. Mam Tor – 1.1km
Mam Tor easy route walk guide
Click here for start point
Printable download (this is for the longer Mam Tor loop)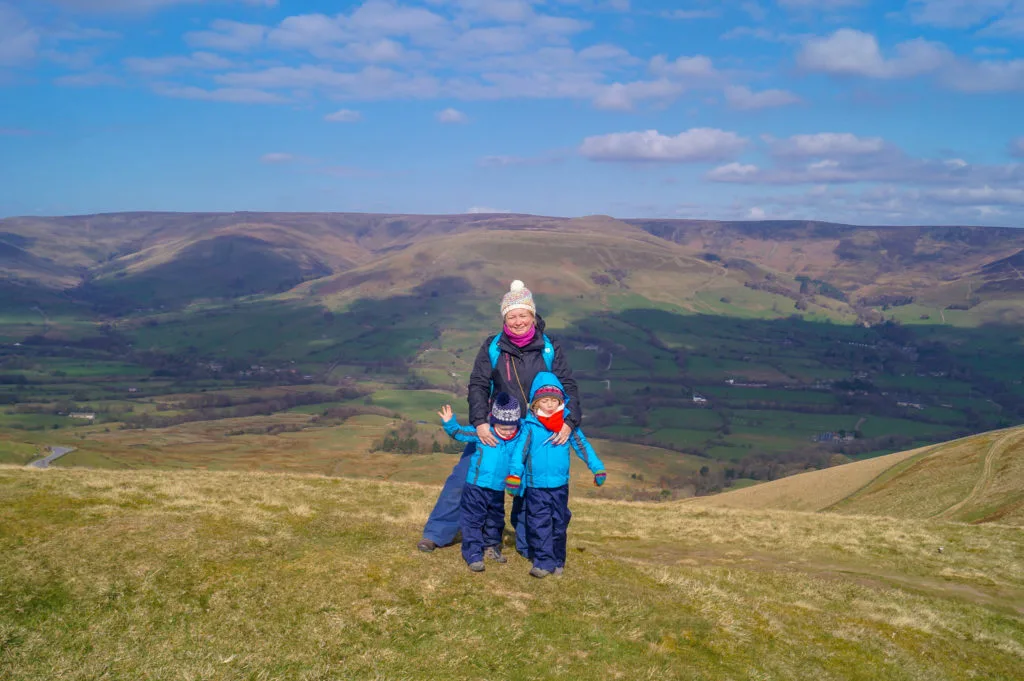 Mam Tor, meaning 'Mother Hill', is a 517 metre high hill overlooking Castleton and the views from the top are spectacular. However, despite it's height, it's actually very doable Peak District walk for toddlers and pre-schoolers.
Indeed, you don't need to endure a long hike to get to Mam Tor trig point. If you park at this car park it is just a short (but steep) 550 metre walk uphill along a flagstone path. Imagine the sense of achievement from your little one when they reach the top! Although aim to arrive before 10am on weekends and school holidays as this car park gets exceptionally busy.
If you did want to continue for a longer walk, our 4.1km Mam Tor walk takes in the classic loop along Great Ridge and Broken Road. But you may need the carrier for this one.
8. Padley Gorge and Longshaw Estate – 2.7km
Padley Gorge walk guide
Click here for start point
Printable download
This Padley Gorge walk is one of our favourite Peak District family walks, especially for young kids, as they can paddle in the stream, climb boulders and trees, and there's even ice-cream at the end! It's a 2.7km circular walk that takes in the National Trust's Longshaw Estate too (which is free to walk though).
Allow a good three hours for this walk as there are so many places to play! Indeed, on a warm summer's day, you could spend a full day here as it's one of the top spots to paddle in the Peak District.
Don't forget your cash for the ice-cream van. They don't take cards.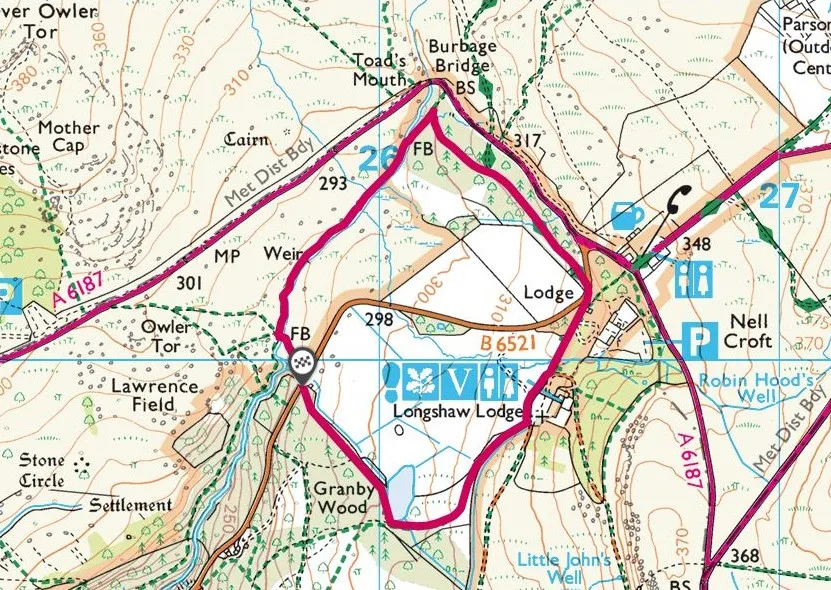 9. Alport to Youlgreave – 3km
Alport to Youlgreave walk guide
Click here for start point
Printable download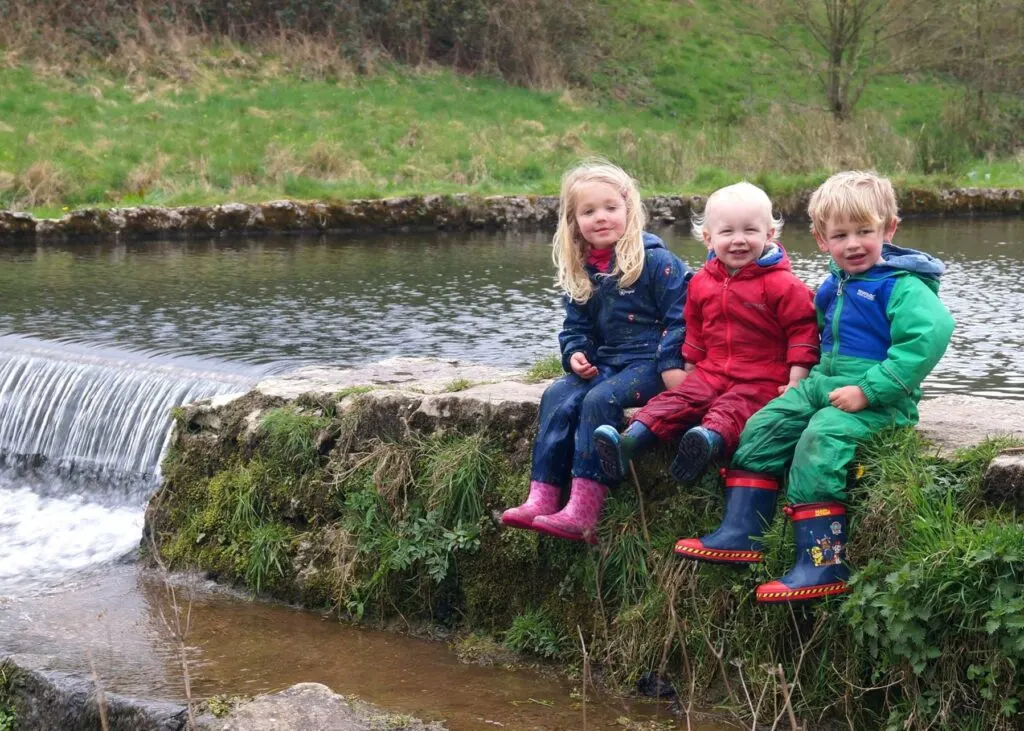 Our Alport to Youlgreave walk is an easy circular stroll along either side of the River Bradford. The views on the last section are particularly beautiful as you take a short climb up to a hill top. We recommend that kids wear wellies on this walk so they can paddle in the river, and if you're doing this walk in the warmer summer months, bring the kids' wetsuits and towels as there is a small designated swimming area.
Youlgreave is a very pretty village and worth a detour from the walk for lunch at one of the three pubs (you're spoilt for choice, although do book a table at weekends and school holidays).
There's also a fantastic playground in Youlgreave.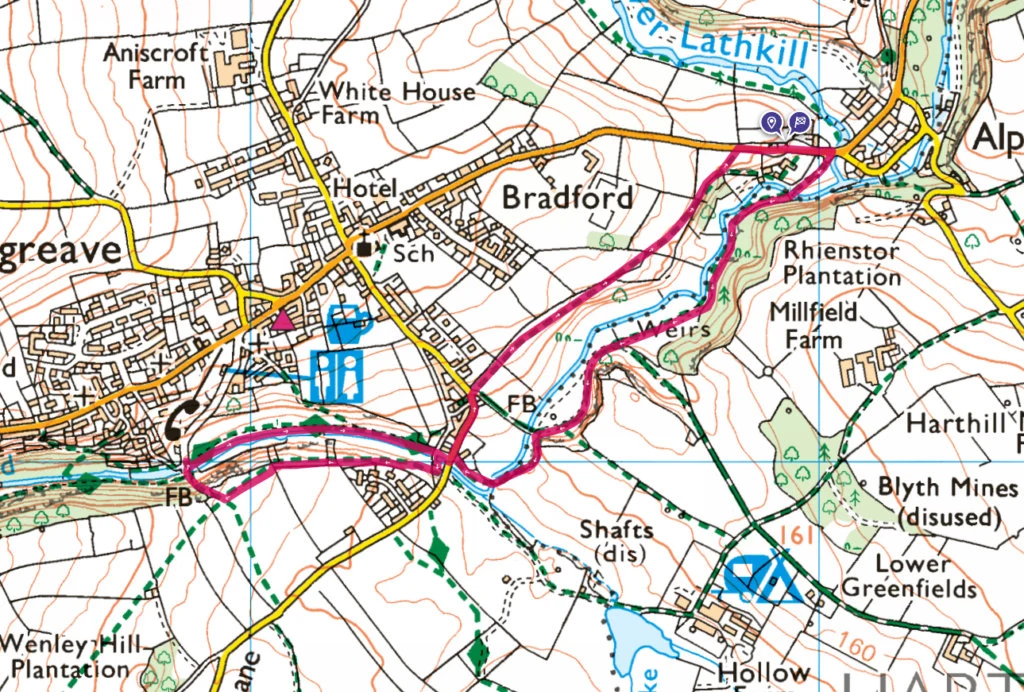 10. Chatsworth Hunting Tower and Aqueduct – 2km
Chatsworth Hunting Tower and Aqueduct walk guide
Click here for start point
Printable download
Standing proud over the Chatsworth Estate and on the edge of Stand Wood is the Chatsworth Hunting Tower, built in the 1570s. This high prospect tower can be seen for miles, and if your pockets are deep enough, you can even book to stay here! Then further along this walk is Sowter Stone Waterfall, which feeds down to the Chatsworth Aqueduct where four tall arches finish with another waterfall. It's an impressive sight, especially in wet weather.
Now we'll be honest, there's quite a steep climb up to the Hunting Tower. But it's all steps and we find that toddlers and pre-schoolers always find steps fun (and probably easier than us parents!) and your efforts will be rewarded with amazing views.
This really is a magical Peak District walk for young kids (and adults!) as you weave through Stand Wood to visit these landmarks. The woodland itself can feel like a jungle in the summer months with it's thick vegetation and abundance of bright flowers. And there are of course trees to climb! Plus, now and again, you get glimpses of Chatsworth House along the way.
It is free to walk around this section of the Chatsworth Estate, but you do need to pay for parking (£5). Parking payment is for a full day, so after this short Chatsworth Hunting Tower walk, you could visit the Farmyard and Adventure Playground, or the House and Gardens (tickets must be pre-booked online). Or head down to the river (which is free to do) for a picnic.
For this walk, not all the footpaths are marked on the OS Map; although Chatsworth allow visitors to walk along these footpaths. The below map is provided for guidance, but it's probably best to follow the route description and photos in this walking guide. Also, if you arrive to Chatsworth and your little one isn't really feeling the walk, we do have a pram friendly version of this walk.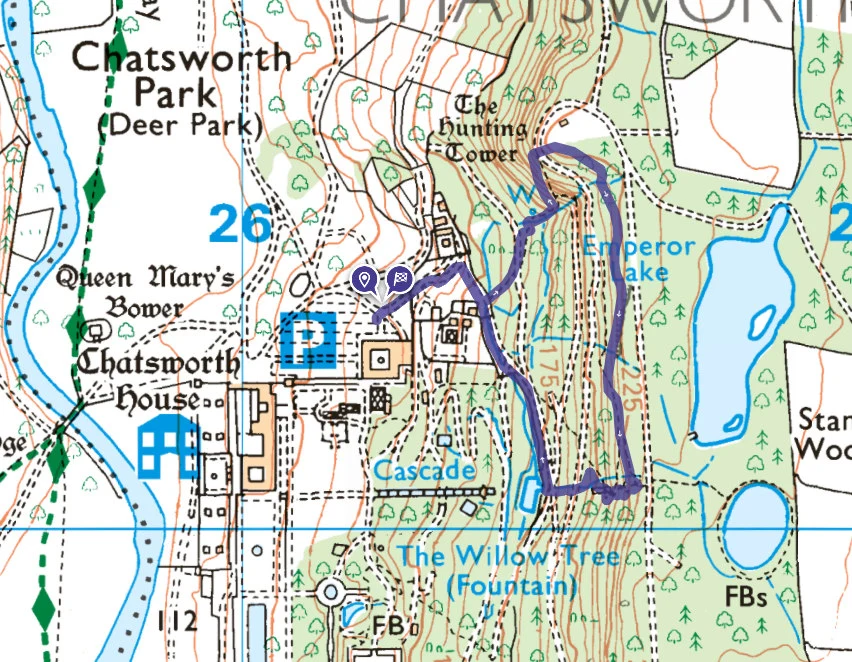 11. Stanton Moor (aka 'The Cork Walk' or 'Nine Ladies Circle') – 3.1 km
Stanton Moor walk guide
Click here for start point
Printable download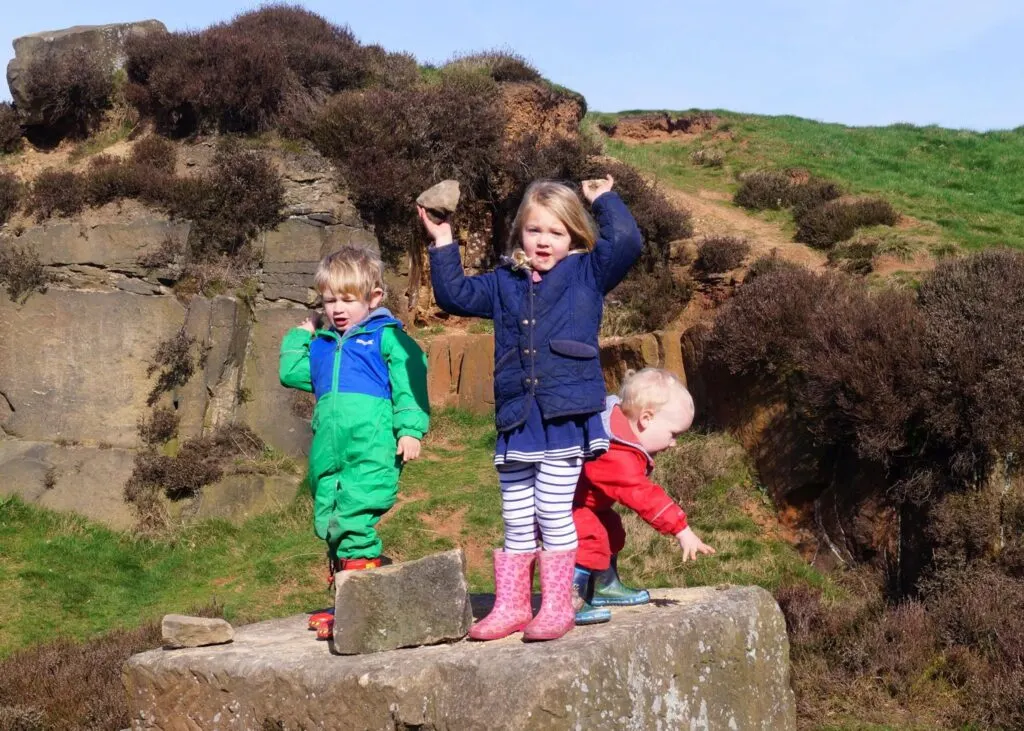 So this walk is actually one of the longest toddler and pre-schooler walks here, but our youngest first completed this walk when he was 18 months old, so it had to be included.
This circular Stanton Moor walk has it all – unusual stones to explore, rocks to climb, woodland, open views and muddy puddles!
At the start of the walk is a large rock that looks like a corkscrew; it's begging to be climbed by the grownups if you're up for the challenge. The walk continues round to the left, although we suggest taking a detour down the old quarry to play amongst the boulders. A snack at the Nine Ladies Circle is standard; a Bronze Age circle used by the Druids. Enjoy the views over to Darley Dale as you loop back round to the beginning.
12. Cressbrook Dale – 1.8km
Cressbrook Dale walk guide
Click here for start point
Printable download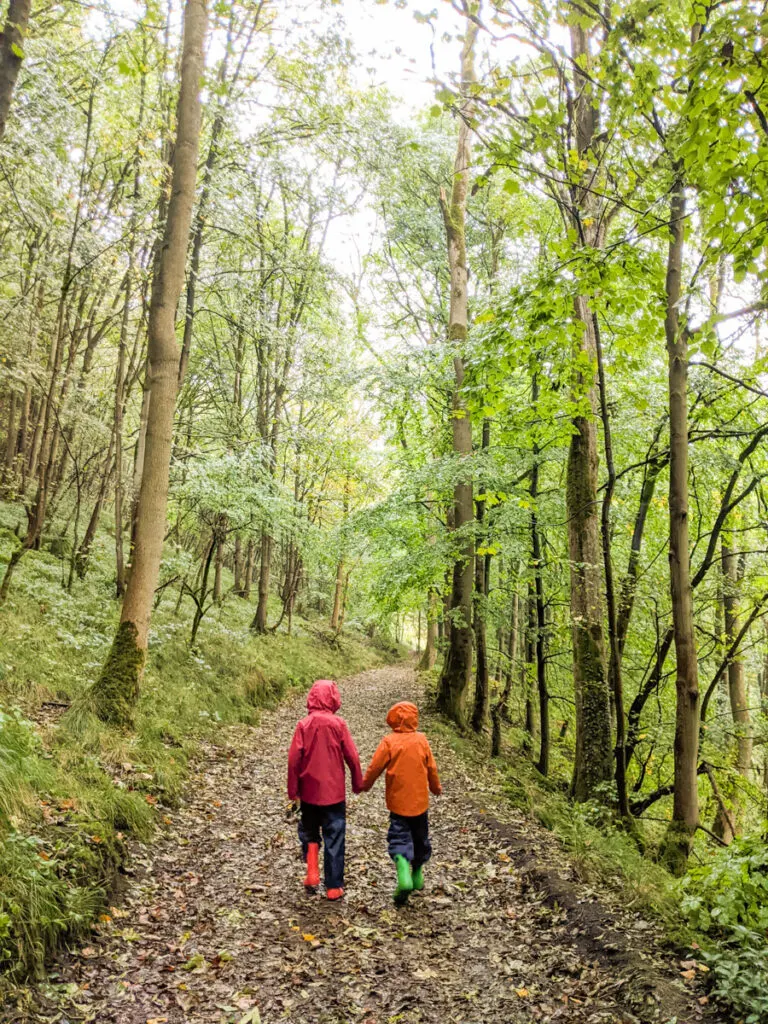 An easy going, circular walk through the woodland at Cressbrook Dale. This is tucked away from main tourist hot spots in the National Park and is a particularly lovely Peak District family walk in the rain as it's somewhat sheltered.
It isn't altogether flat with a slight decline and incline to and from the brook, but it's very doable for little legs. Just take care on those downward sections as they can get muddy and slippy in the rain.
13. Solomon's Temple walk, Buxton – 2.4km
Solomon's Temple walk guide
Click here for start point
Printable download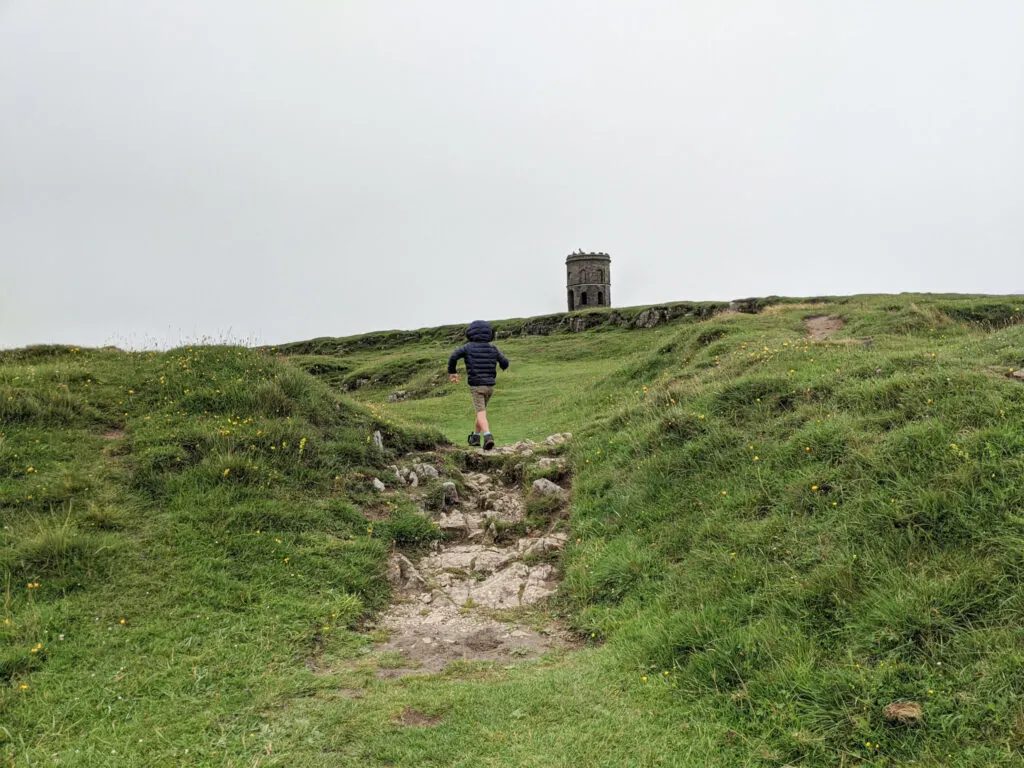 Perched high over the Victorian town of Buxton stands Solomon's Tower proudly on the summit of Grin Low. This is a viewpoint tower built in 1896 on the site of a tumulus, which is a Neolithic burial mound. The views from the top are very impressive, and on a very clear day you can even see across to Mam Tor.
It's an easy walk through woodland from the Poole's Cavern car park to the summit. The footpath is waymarked, following the yellow route up and the green one back. There is a slight incline through the woods, but kids will be distracted by woodland carvings and information boards.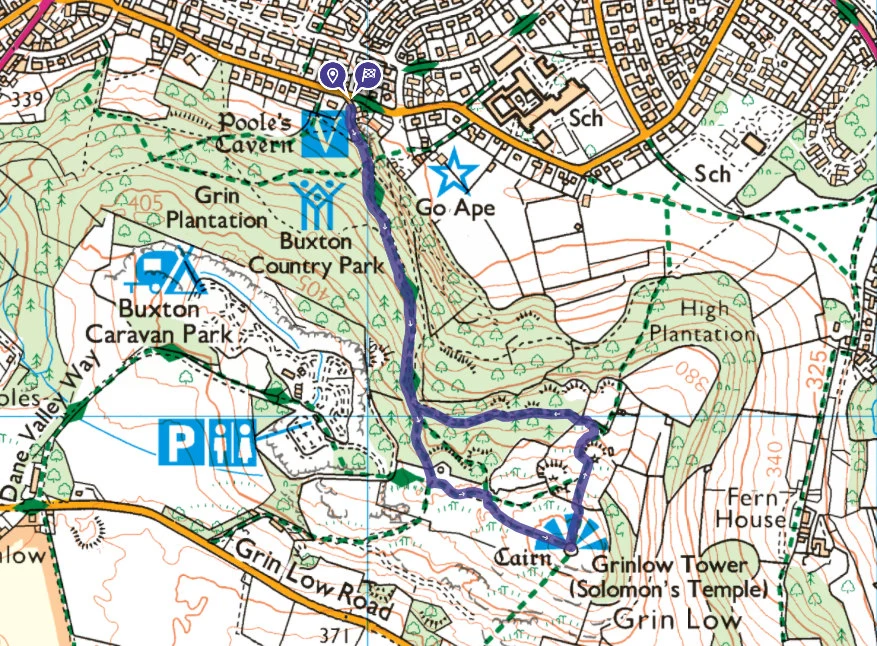 14. Tittesworth Reservoir – 2.8km
Tittesworth Reservoir walk guide
Click here for start point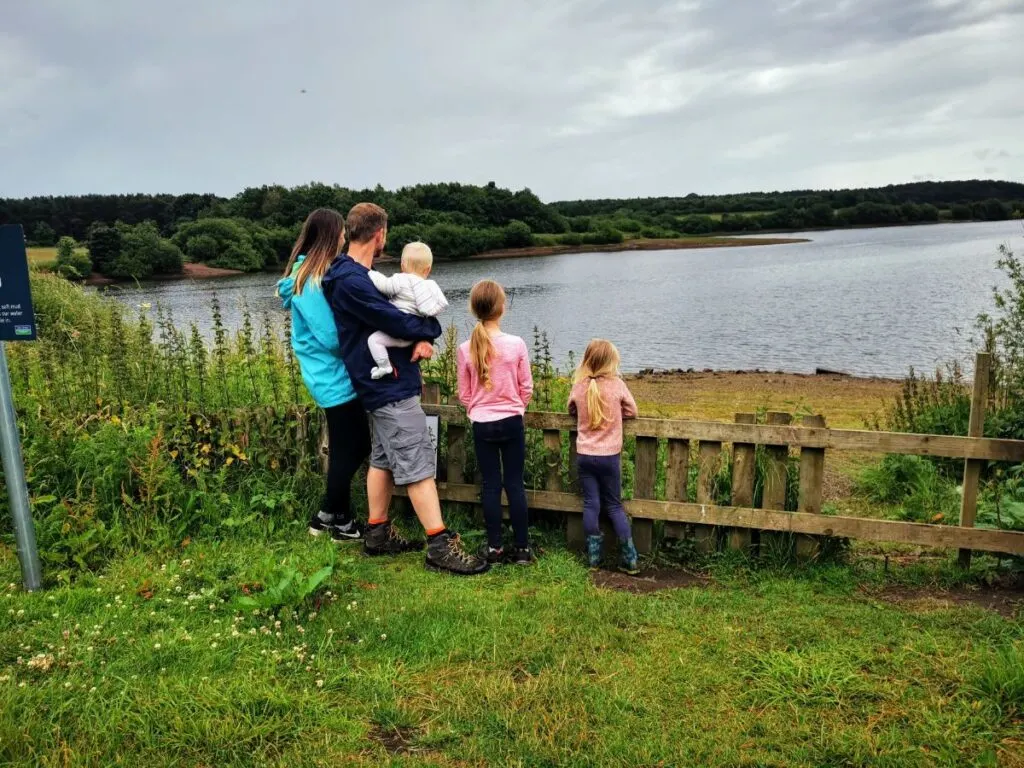 On the Staffordshire edge of the Peak District not far from Leek is Tittesworth Reservoir, the perfect place for families with a range of walking trails to suit all ages and abilities.
There's a couple of short accessible routes including this 2.8 km pram friendly loop. The walk offers beautiful views across Tittesworth Reservoir, sheltered woodland and a shallow river for paddling so don't forget to bring the kids' wellies.
A highlight for little ones is the fantastic playground which has two separate play areas for different ages, a zip line and sand pit. It's one of the best playgrounds in the Peak District. There's also plenty of picnic benches, a take-away café and the Waterview Restaurant.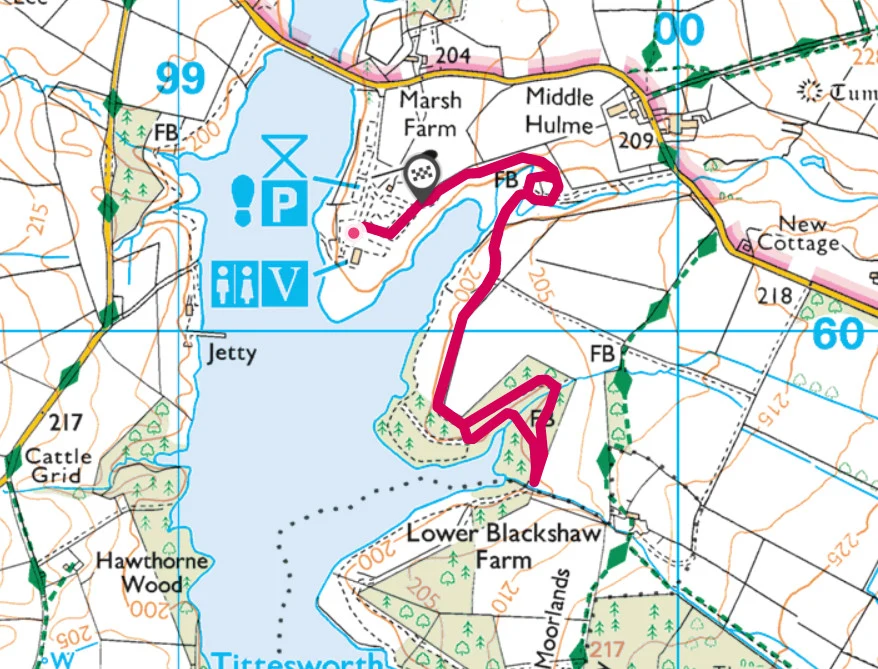 15. Ox Stones – 1.7km
Ox Stone walk guide
Click here for start point
Printable download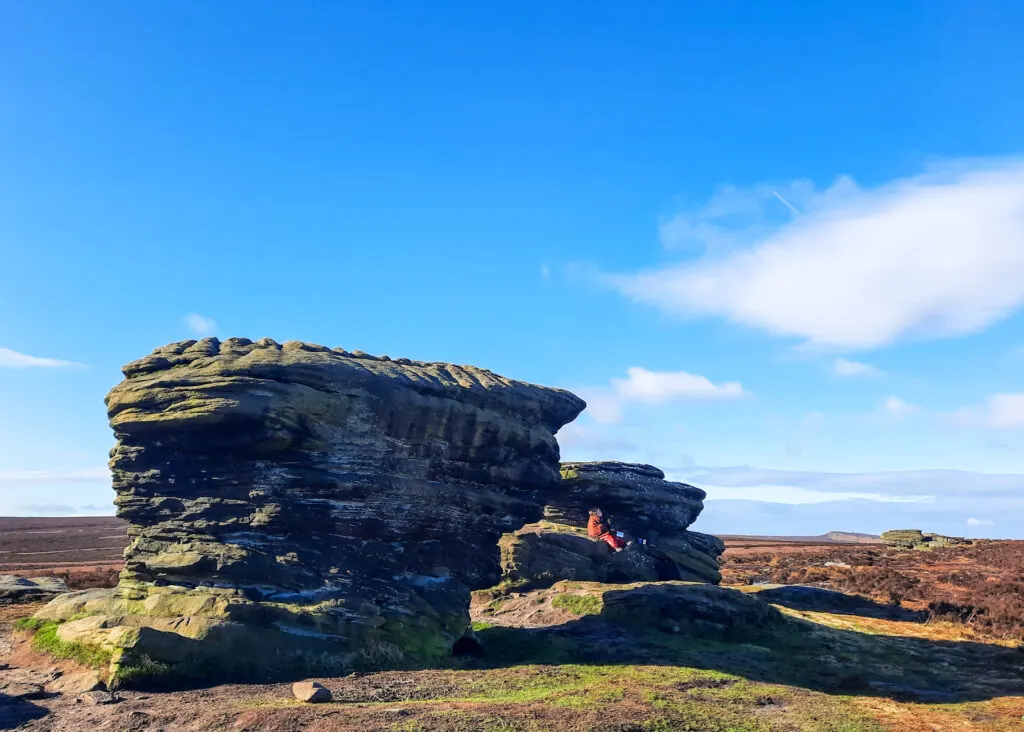 We've perhaps saved the best Peak District toddler walk to last, as this one ticks all the boxes. This short Ox Stones walk close to the Sheffield border is relatively flat, you can bag a trig point (in fact, it's one of the easiest Peak District trig points to reach), the views are incredible, and there are rocks to climb. Plus there's lots of wildlife to spot (caterpillars, butterflies, lizards, curlews and other ground nesting birds, hares and more!), and be sure to look across the landscape for deer, especially when on top of the rocks.
With the changing terrain this is a great walk for little ones to build core strength and balance. But please note that this walk is not pram friendly due to the rocky and uneven terrain.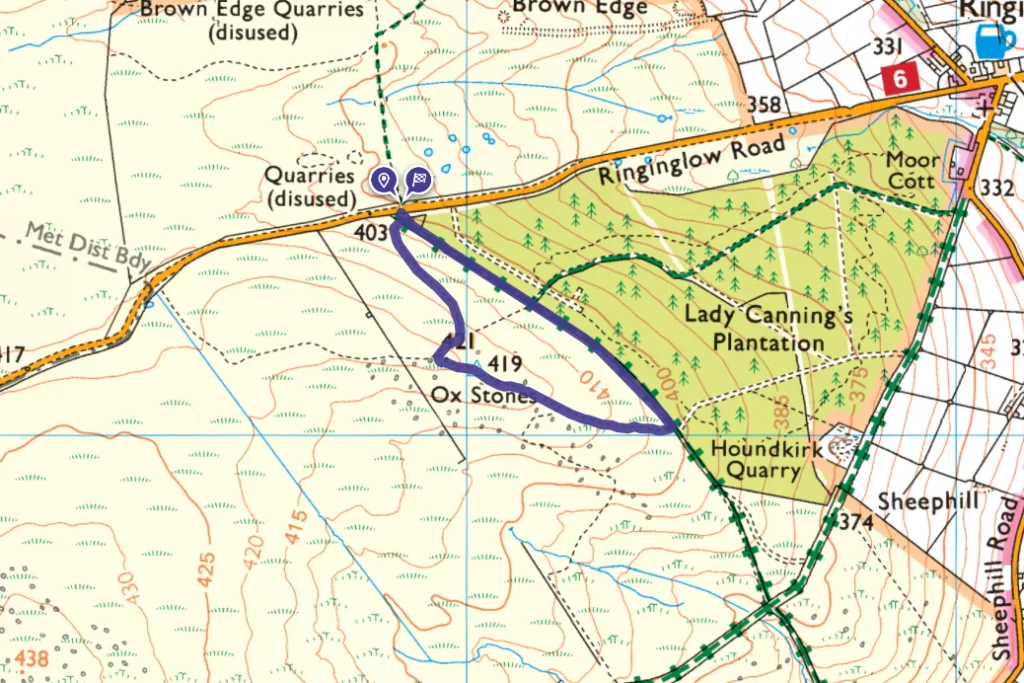 16. Blacka Moor 1.7km
Blacka Moor walk guide
Click here for start point
Printable download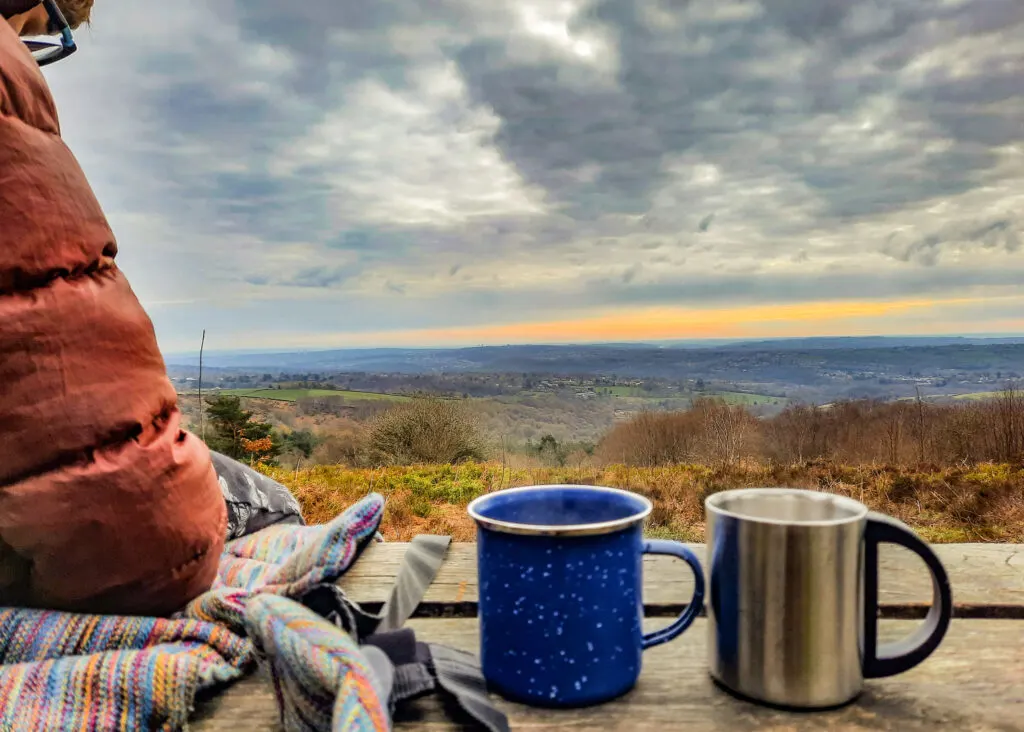 Blacka Moor is the largest reserve cared for by Sheffield and Rotherham Wildlife Trust and is part of the Eastern Peak District Moors. It is a peaceful reserve teeming with wildlife and changing landscapes, stunning views and a perfect spot for a cuppa.
This Blacka Moor walk, starting from Stoney Ridge car park, is just the right distance for a Peak District toddler walk and there are some great trees for climbing.
Red Deer are often spotted in this area (a good time to see them is dawn and dusk), and you may also spot birds of prey and rare migratory birds in this area (pack a bird book and some binoculars). In summer the bushes are filled with bilberries, attracting the rare Bilberry Bee.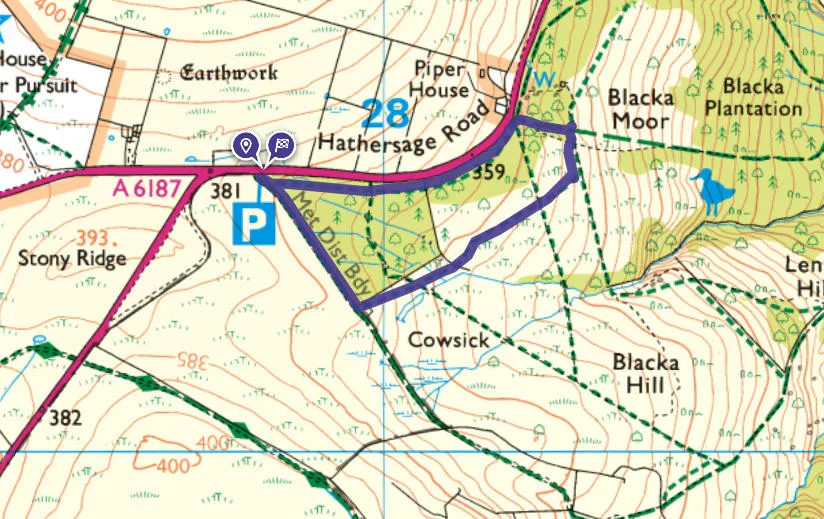 ---
You may also like to read:
Things to do in Matlock and Matlock Bath
Things to do in Castleton
Things to do in Buxton with kids