Peak District Kids writer: Helen from Little Puddle People
Hope Valley Ice Cream is based at Thorpe Farm in the Hope Valley. This is a family-run farm that has been milking here for generations; in fact over 300 years! And they make some of the best homemade ice-cream in the Peak District.
The farm is primarily a working farrm. It's important to remember this when visiting as there may be tractors or animals moving around. The environment is rustic but beautifully cared for with colourful flower display planted in every corner. The Marsden family have respectfully created a farm that works with nature, sensitive to nesting seasons, hedge cutting, creating wild areas, and planting pollinating plants and wildlife corridors, meaning the farm and surrounding fields are home to an abundance of rare wildlife including water voles and curlews.
Disclaimer: This post contains affiliate links. Should you click to purchase, it is at no additional cost to you, but I receive a small commission.
If you are planning a visit to the National Park, please arrive early or late in the day to avoid crowds if visiting over sunny weekends or school holidays. Please also take all litter home with you, don't bring BBQs and park your car in designated parking areas. Also, please use these walks as a guide; access and stiles may change.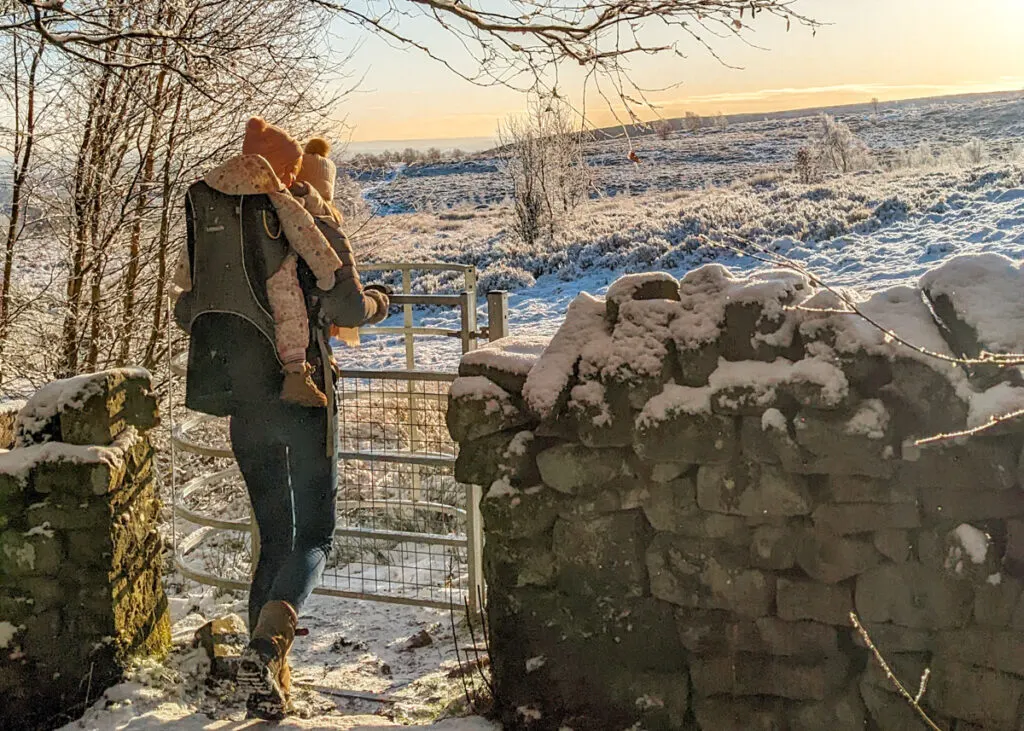 During the winter months, it's important to be extra prepared and safe when out walking and adventuring in the Peak District. The weather can change so quickly, especially on the exposed escarpments, and we don't want you to get caught out.
Read our top tips for safe winter walking with the kids.
FOLLOW US:
PARKING INFORMATION: Please do not rely solely on the postcode for parking directions. In the National Park, a postcode can cover a large area. Postcodes are only provided as guidance. Please either use the Google Maps point provided for every walk, or what3words.
Do check out our top tips for hiking with young kids, as well as our essential items to take on a family hike in the Peak District.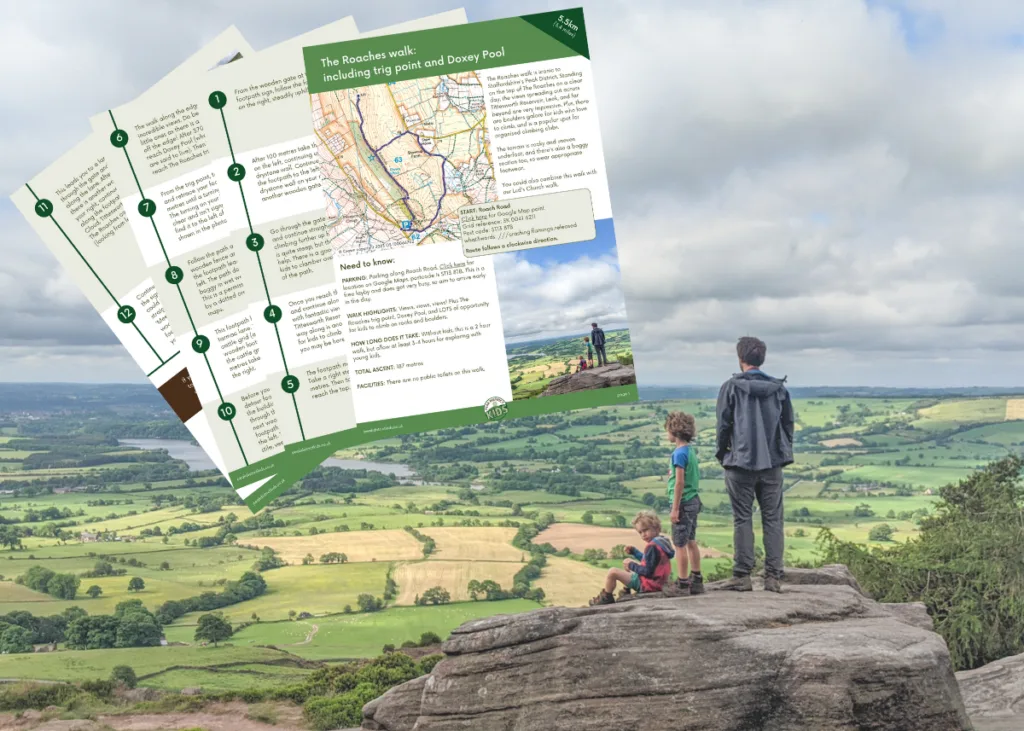 Download and print out our walking guides ready for your family walk. There are over 80 downloadable walk guides available, and these include all the main Peak District family walks, pram-friendly walks, and toddler walks.
Each printable download is just £1.50, whether it's a short 1km stroll or an epic walk up Kinder Scout.
What is there to do at Hope Valley Ice-Cream?
Hope Valley Ice Cream provides a fantastic first-hand experience of field to plate; you can watch the cows being milked in the barn by a futuristic robot that allows the cows to be milked whenever they are ready, watch them graze in the fields around the farm, then grab a burger, chilli nachos, ice cream or coffee (where ingredients are farm-sourced where possible).
We all love their homemade ice cream but you have really got to try the 'Hopeccino'; it is something pretty special!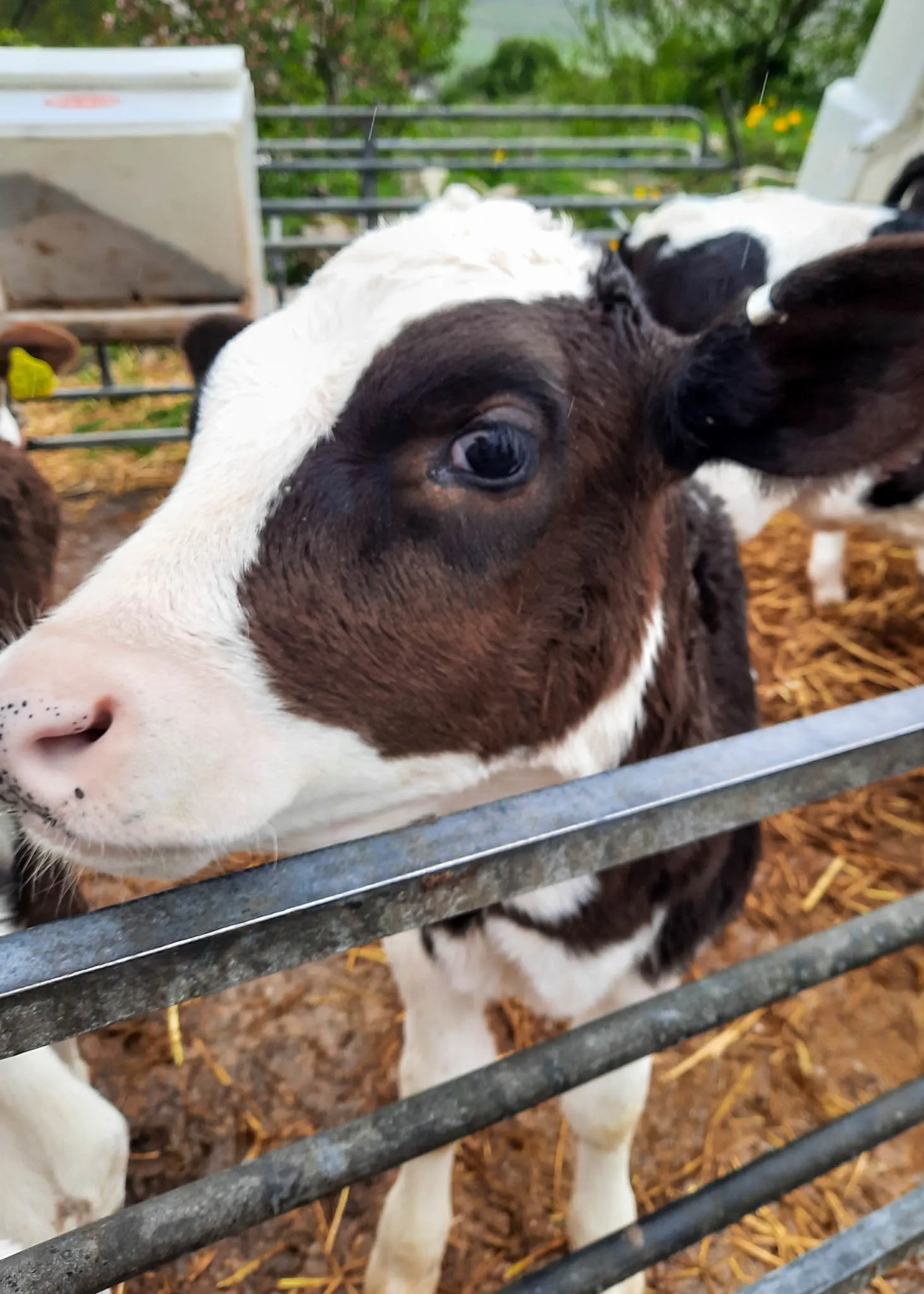 The farm has lots of great information signs that explain how things work on the farm, including facts about cows, their milk and how they are looked after. The young calves in nearby nursery pens are curious cuties with incredibly long tongues, they are sure to make you giggle with their giddy gallops! The farmers are often around tending to the animals and are always so friendly and happy to explain anything you ask.
Around the farmyard there are also a couple of friendly donkeys always happy to take a handful of dandelions from you and enjoy a good stroke, a couple of gorgeous pigs who like a pat on the back, and some free ranging chickens pottering around.
In the centre of the farm is a courtyard with an abundance of sheltered outdoor seating, an old vintage tractor to pretend to drive for the budding young farmer and a couple of large tractor tyre sandpits.
Once you've enjoyed a potter and play around the farm why not head for a short walk from Hope Valley Ice Cream following the route below.
Hope Valley Ice Cream opening times
Hope Valley Ice Cream Parlour is open from 12pm to 5pm every day, where you can enjoy the 'Flavour of the Week', which is only available here on the farm. You can also buy lattes, hot chocolates, homegrown Aberdeen angus burgers, paninis, as well as a 'Hopeccino'.
For more information please visit their website.
Hope Valley Ice Cream parking
There are a few spaces on the right of the farm yard, just passed the pigs and donkeys. However once these are full, parking along the right-hand side of the farm track on the grass regularly happens.
Click here for the Google Map location. Post code is S32 1BQ.
The Hope Valley Ice Cream walk
The below details everything you need to know for the short Hope Valley Ice Cream walk. It's just a short 30 minute walk and a great Peak District walk for toddlers, offering lovely views and an opportunity to stretch your legs after eating lots of ice-cream.
Please not that this walk isn't pram friendly, with some narrow gates and a short section of quiet road.
Map of the Hope Valley Ice Cream walk
On all Peak District family walks it's a good idea to have an Ordnance Survey paper map with you, even if you have your phone on you. For this walk you need the OS Explorer Map OL 01 (Dark Peak). It's also a good opportunity to show young kids the map features and get them started with map reading.
This short Hope Valley Ice Cream walk follows the below map in an anticlockwise direction.
Get a printable download of this walk
Want to print off this walk guide rather than rely on your mobile? Then click here to download the PDF to print out at home. Perhaps print out a copy for the kids to follow the step-by-step directions and/or photos? It's a great way to get them engaged with the walk and gives them a sense of responsibility.
All printable downloads are £1.50 each. Click here for the full list of Peak District Kids printable downloads.
Please note that your download link expires 72 hours from order, so make sure you save your PDF somewhere where you'll remember it. If you are unsure where your download folder is on your mobile device, we recommend you download the PDF on your laptop or desktop.
Need to know
DISTANCE OF WALK: 0.7km

TYPE OF WALK: short circular farm walk

PARKING: There are a few spaces on the right of the farm yard, just passed the pigs and donkeys. However once these are full, parking along the right-hand side of the farm track on the grass regularly happens. Click here for the Google Map location. Post code is S32 1BQ.

WALK HIGHLIGHTS: A great little loop around the local tracks and field with a halfway 'lookout bench' with open views across the valley to Mam Tor.

HOW LONG DOES IT TAKE: Allow 30-45 minutes for this walk with little ones.

ACCESSIBILITY: This walk is not suitable for prams, there are also a stile to climb over.

TOTAL ASCENT: 36 metres

FACILITIES: There are basic facilities including multiple handwashing stations, sanitiser stations and a toilet at the farm. There is also the ice-cream parlour for pre- and post-walk treats.
The route
START: Hope Valley Ice Cream
Click here for Google Map point
Grid reference: SK 2227 8232
Post code: S32 1BQ
what3words: ///flocking.trip.directive

Route follows an anticlockwise direction.
1. Head out the back of the farmyard between the buildings, following the track up to the right behind the bunkhouse.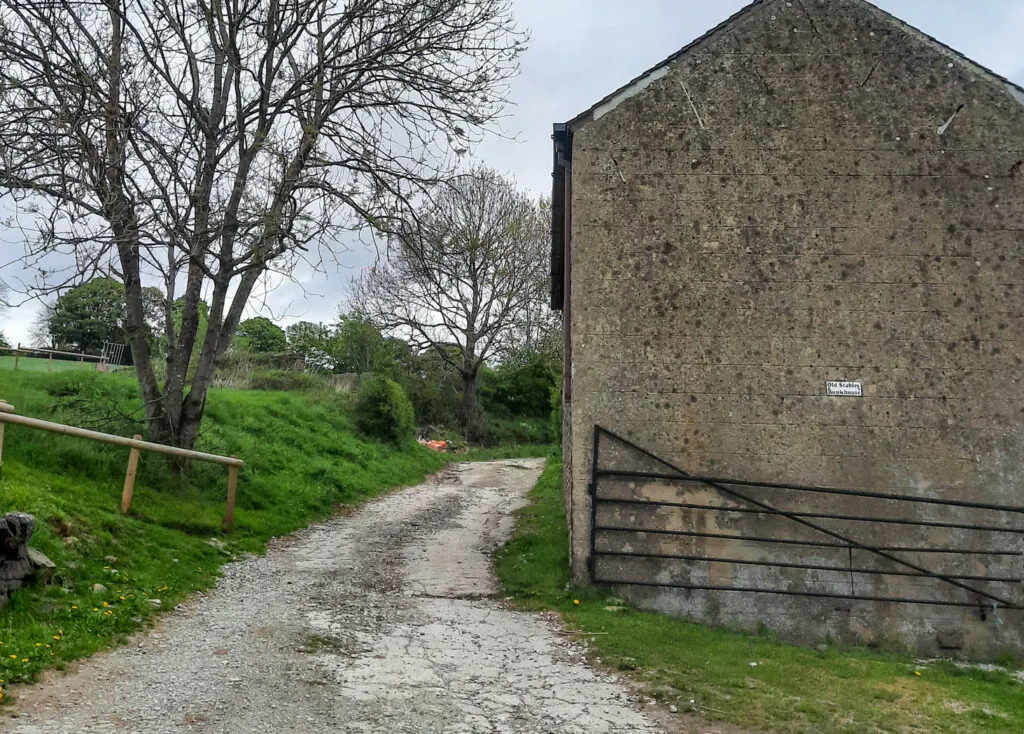 2. Continue following the farm track uphill (vehicles do occasionally use this track). You may be able to see cows and sheep in the surrounding fields and beautiful wildflowers line the edges of this shaded track.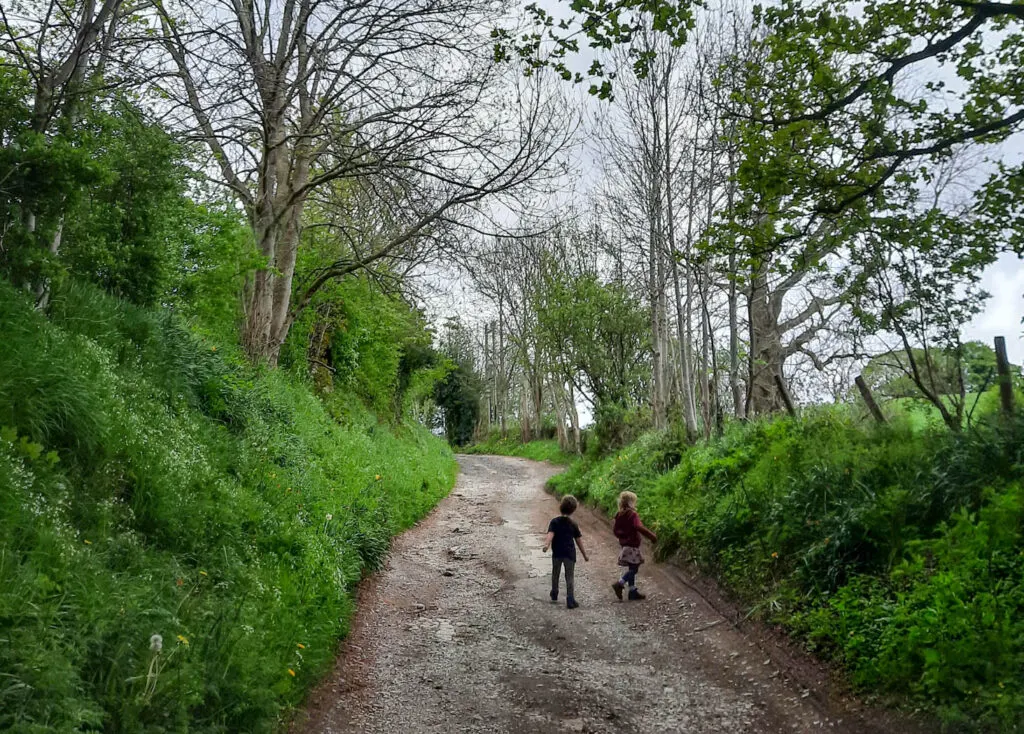 3. When you reach the top you will notice an old stone pillar and sign for the farm in the centre of the track. Turn left and follow the road along. This is a quiet lane so people take priority over vehicles, but please take care, walk at the edge and keep children close. You'll soon come to what we call 'The Lookout Bench' that looks out over the fields and across the valley, in the distance you can see Hope cement works and quarry, Mam Tor and the swallows swooping over the fields. A great spot to rest, play 'I spy', take some deep breaths and have a snack before continuing along the lane.
4. On your left is a wooden gate in the hedgerow. Walk through this gate and then take the kissing gate immediately on your left into the field.
5. Head diagonally across the field towards the large tree at the other side.
6. When you reach the tree, you'll notice a fence and stile. Head over the stile, down the very steep embankment (bum sliding optional) and you will find yourself back on the farmtrack you began on.
7. Turn right and walk past the farm cottages and back into the farmyard on your left.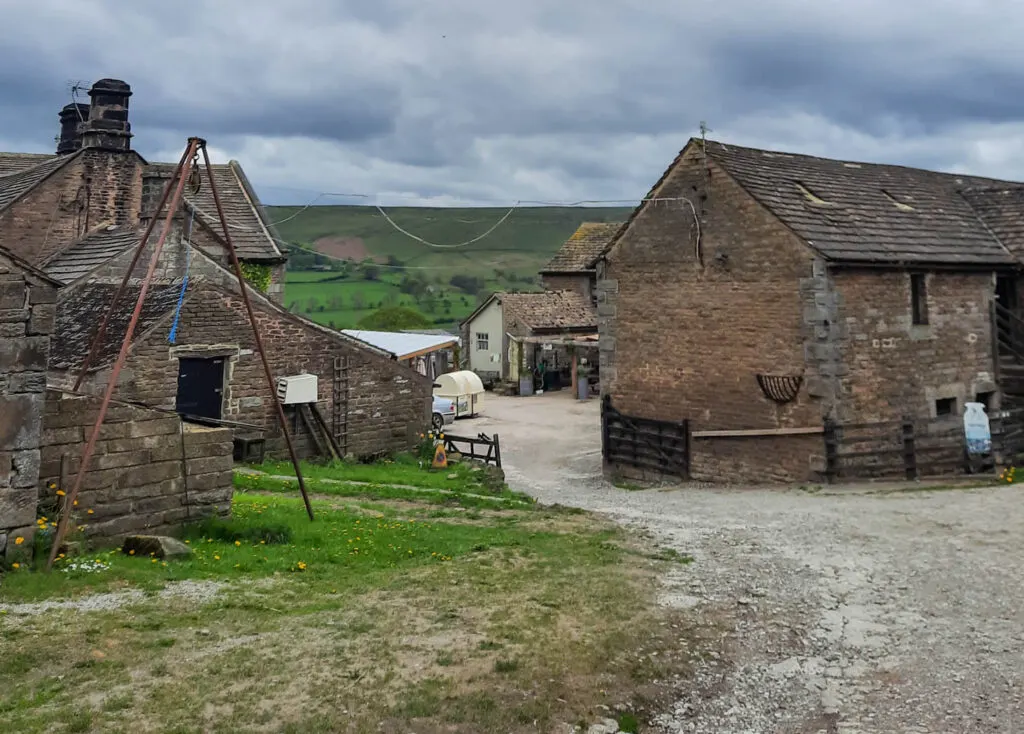 After your visit to Hope Valley Ice Cream
There are many other footpaths around the farm if you want to extend the walk. Hathersage Steppings Stones is also very nearby, as is Hathersage village for an abundance of shops, pubs, cafes, fish and chips. Plus, there is also Hathersage Outdoor Pool, where you can pre-book an outdoor family swim session.
---
You may also like to read:
Visiting Blaze Farm
Where to find the BEST Peak District ice-cream
Hathersage Stepping Stones walk