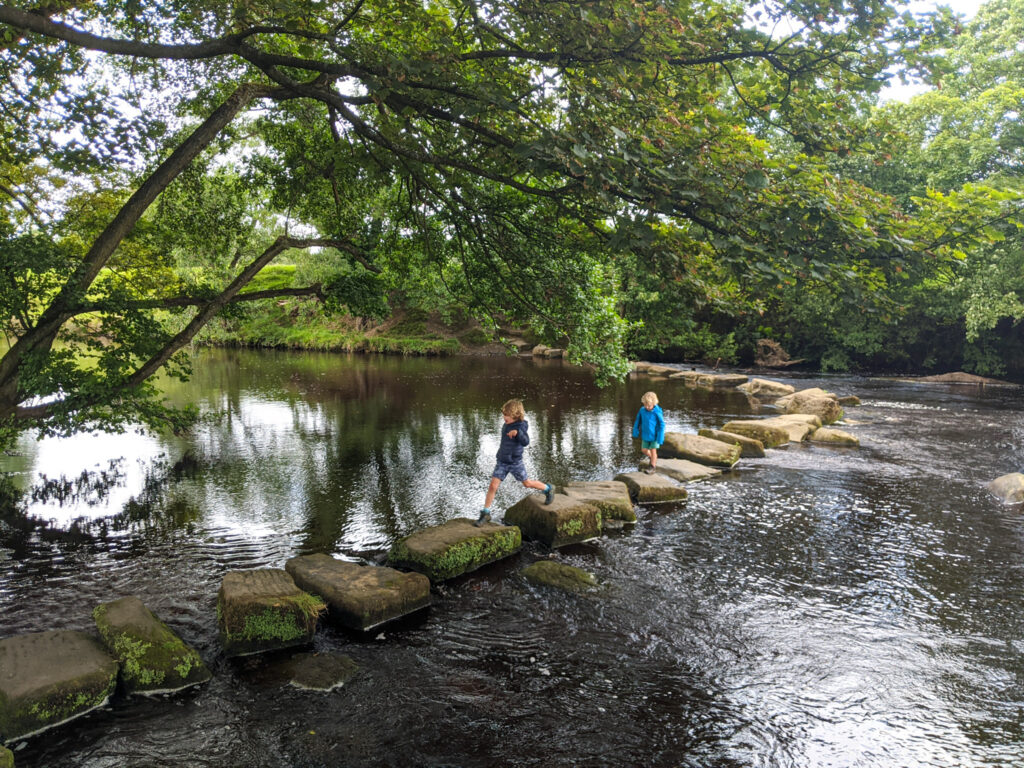 Hathersage stepping stones sees a fraction of the tourist numbers of Dovedale stepping stones, but they are just as fun, and it is also a lovely spot for the kids to have a paddle (a little further downstream).
This almost-5km circular Peak District family walk from Hathersage is easy and relatively flat. It mostly follows the footpaths along the River Derwent, through shady trees backed by open fields. The stepping stone themselves are a little trickier than the Dovedale ones, so take care if you're unsteady on your feet; kids under 5 will need a helping hand as their legs aren't quite long enough to reach across to each stone.
It's a very pretty walk, and the reward at the end is a hot chocolate in one of Hathersage's cafes!
If you are planning a visit to the National Park, please arrive early or late in the day to avoid crowds, and respect social distancing. Please also take all litter home with you, don't bring BBQs and park your car in designated parking areas.
Disclaimer: This post contains affiliate links. Should you click to purchase, it is at no additional cost to you, but I receive a small commission.
Make sure you check out our essential items for a Peak District family walk, as well as our top tips for hiking with kids!
Map of the Hathersage stepping stones walk
On all Peak District family walks it's a good idea to have an Ordnance Survey paper map with you, even if you have your phone on you. For this walk you need the OS Explorer Map OL1 (Dark Peak). It's also a good opportunity to show young kids the map features and get them started with map reading.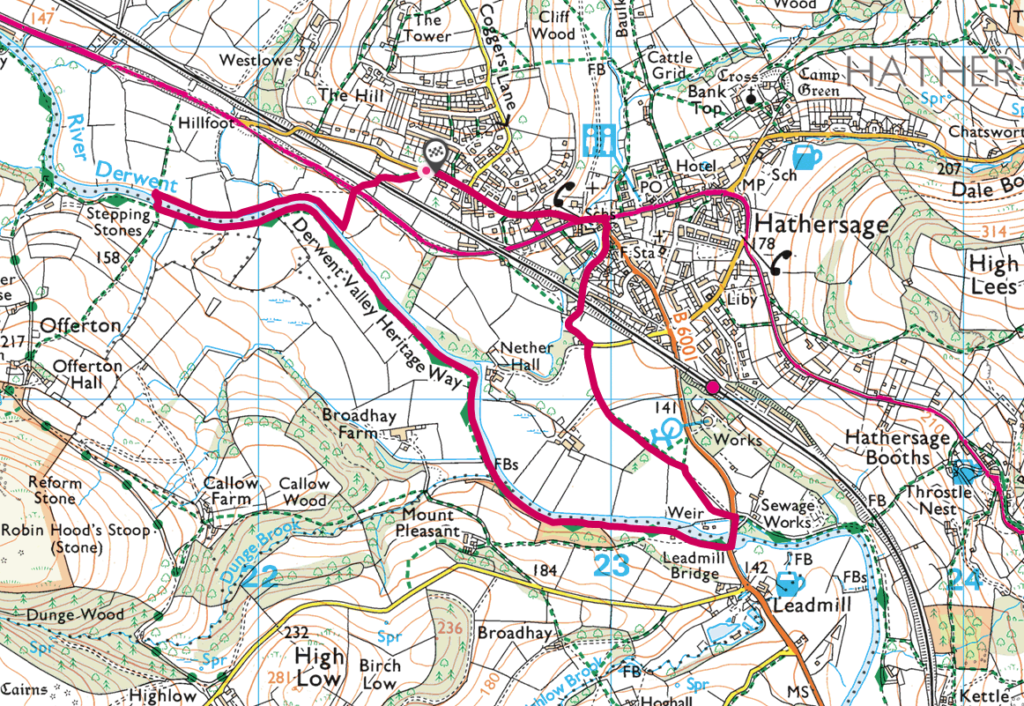 Need to know
DISTANCE OF WALK: 4.9km
TYPE OF WALK: circular
PARKING: There is roadside parking along here. Spaces are limited, so aim to arrive early in the day. Otherwise there is paid parking opposite the entrance to Hathersage Swimming Pool.
WALK HIGHLIGHTS: Cross the Hope Valley railway line that links Manchester and Sheffield, jump across the Hathersage Stepping Stones, and enjoy hot chocolate from a Hathersage cafe at the very end.
HOW LONG DOES IT TAKE: Without kids, this is a 1 hour walk. However, we allow a couple of hours with young kids.
TOTAL ASCENT: 66 metres
PUBLIC TOILETS: There are public toilets in Hathersage, as well as cafes, restaurants and pubs. However, there are no other facilities along the Derwent River.
The route
Please be warned that the Hathersage Stepping Stones may be impassable after heavy rains, and this circular walk may not be possible. However, if you do the walk in reverse to the stepping stones and back again, it still makes for a lovely walk with kids.
1. Walk through the stone stile and follow the path across the meadow to another gate, which then leads down diagonally to the Hope Valley railway line.
2. Climb over the wooden stile and hold the kids' hands as you check for trains and cross the tracks.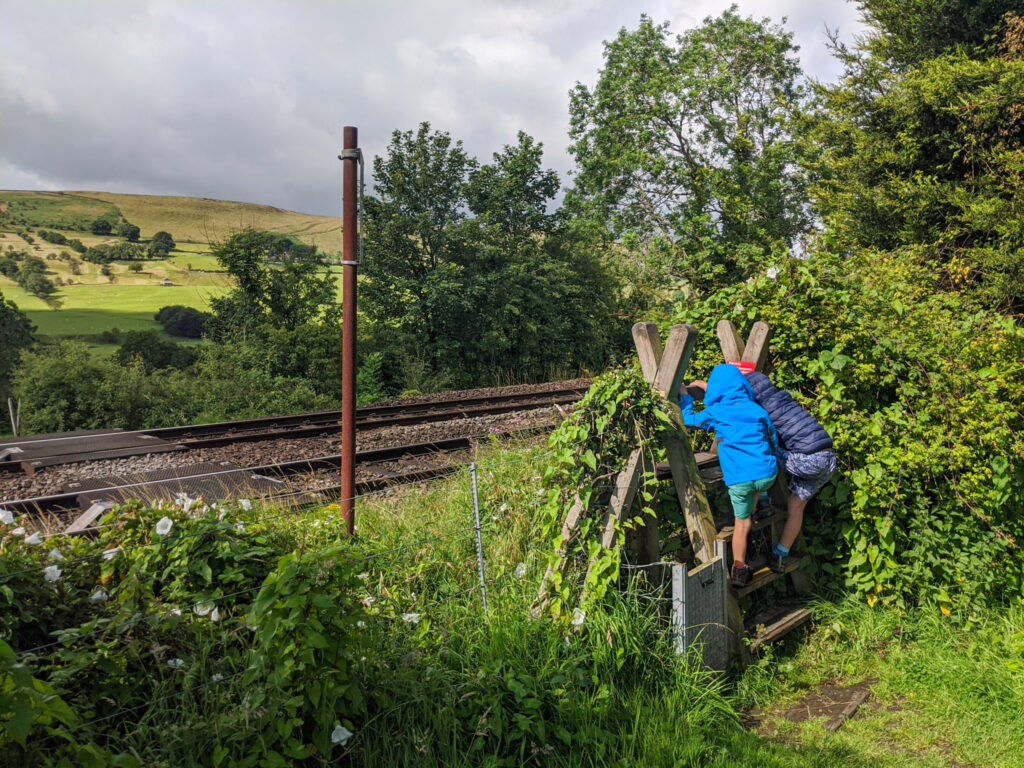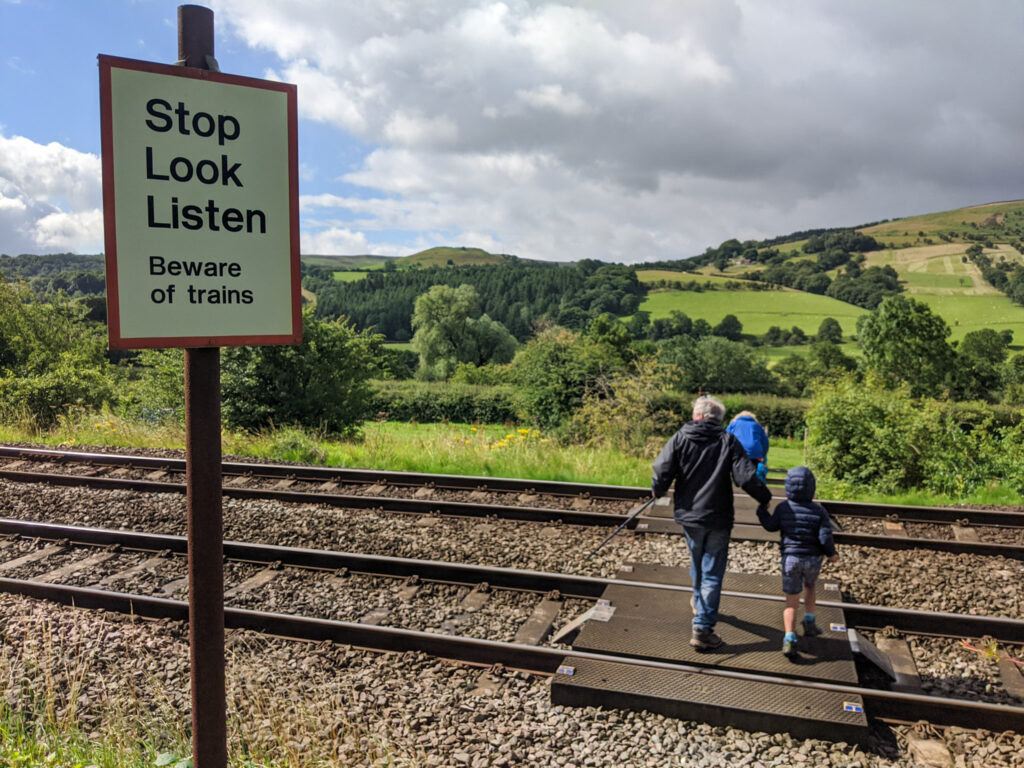 3. Cross another field to a stile that leads you on to the main road from Hathersage. Take care crossing the road and then follow the footpath immediately opposite that leads you down to the River Derwent.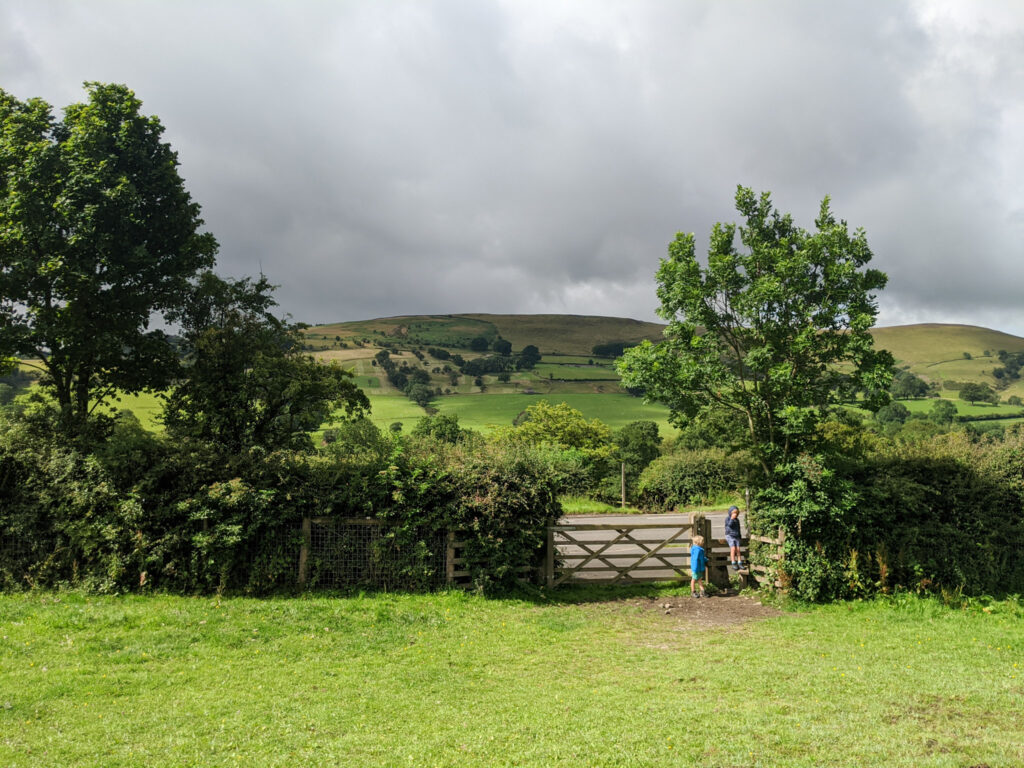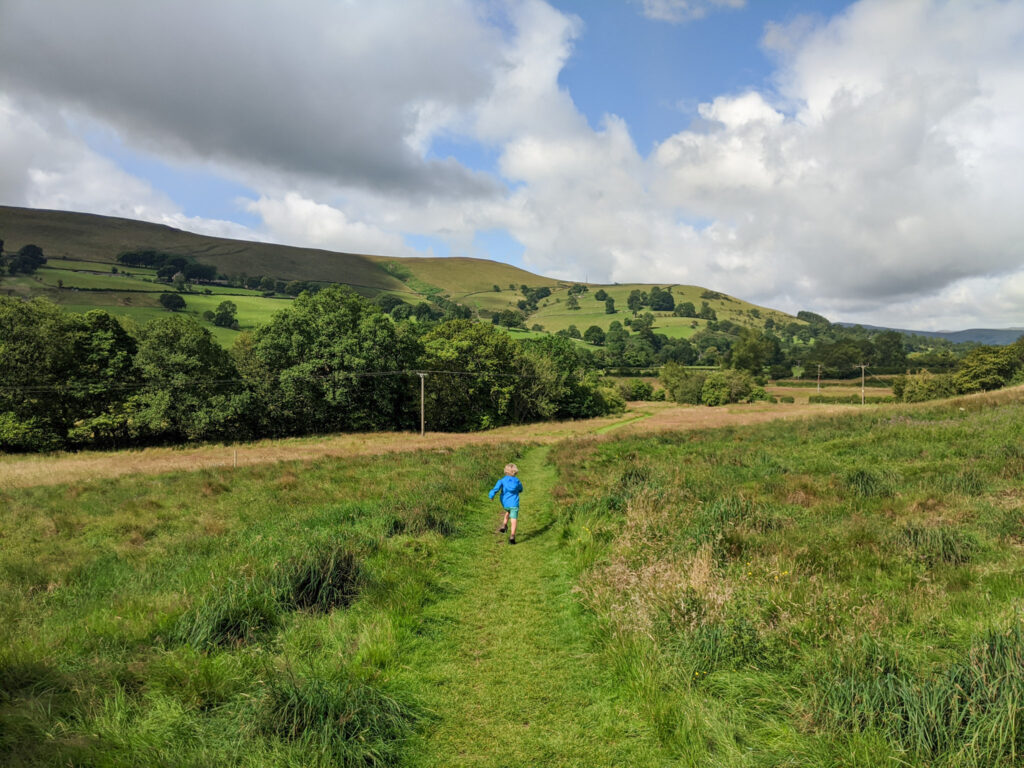 4. Follow the footpath along, with the River Derwent on your left, for 600 metres until you reach the Hathersage stepping stones.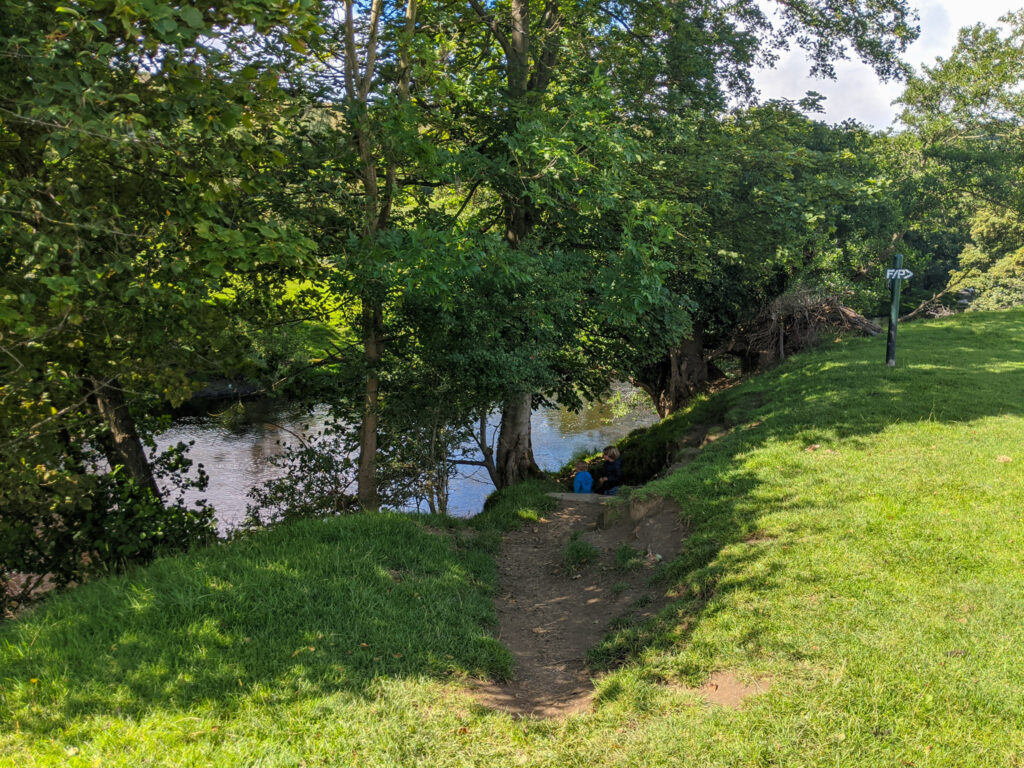 5. Careful crossing the stones. Little ones may need a helping hand if their legs aren't quite long enough.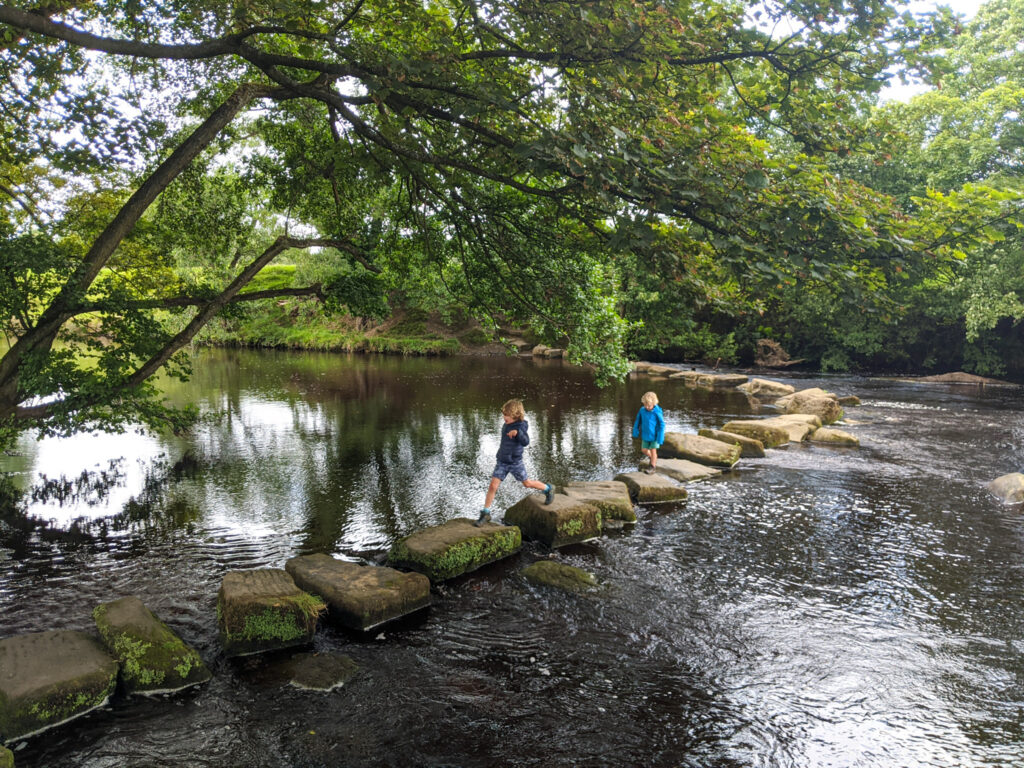 6. Once you're safely across the other side, follow the footpath to the left, signposted 'Leadmill & Hathersage'. The River Derwent is on your left.
7. Follow this footpath along the River Derwent for just over 2km, until you reach the B6001 that leads back in to Hathersage. Along the way are a couple of spots that are perfect for a picnic and a paddle (or even a spot of wild swimming).
8. Once you reach the road, take a left and go over the bridge. Just 100 metres along, there is a footpath to the left. Follow this footpath (it's much more pleasant a walk along here than the main road) and pass through two gates.
9. You will soon reach a beautiful house by a tarmac lane. Take the road to the left, behind the house shown in the photo below.
10. This road then takes you under the railway track and back into Hathersage. You could head straight back to the car, but before doing so, we recommend taking a very short detour and heading to one Hathersage's cafe's for a hot chocolate or bite to eat (we like Bank House). Well deserved all round! Or your may want to go for a play at Hathersage Playground.
---
You may also like to read:
Our top Peak District family walks
Hiking Kinder Scout with kids
Family fun at Hathersage Swimming Pool