That awkward time between Christmas and New Year can be an odd one. You're stuffed from Christmas, genuinely have no idea what day it is, but you've still got to keep the kids entertained and store some energy for the obligatory New Year celebrations.
This is often a time when families look to do a staycation in the Peak District; perfect to decompress after the Christmas rush. Plus, a brisk walk in the hills is just what everyone needs to balance out all those mince pies. Check out our best Peak District view walks for inspiration.
So if you are wondering what's on this Twixmas in the Peak District, then read on…
Click here to join our Facebook group! We have over 13k members sharing ideas and tips for exploring the Peak District with kids.
1. Christmas at Chatsworth
This runs through to 7th January and tickets are available from 27th to 31st December.
Click here to for ticket information (a family ticket for 2 adults and 3 children is £70 – kids under 3 are free).
Step inside one of the grandest houses in the country and marvel their fabulous festive transformation; a sure way to get you into the Christmas spirit. This year, Chatsworth celebrates 20 magical years of Christmas at Chatsworth, with displays are inspired by the past two decades of spellbinding decorations throughout the house.
After walking around the house, you then exit into the 105-acre gardens with waterworks, sculptures and twinkling lights.
Tickets include entry to the House, Garden, Farmyard and Adventure Playground, and car park.
2. Percy the Park Keeper's Winter Wander Trail
The Percy the Park Keeper's Winter Wander Trail continues at Peak District National Trust properties through to the 3rd January (closed Christmas Day), 10:30am to 3:30pm. No booking needed to take part in the trail. £2 per child.
3. Matlock Farm Park
Open all year round (although closed 25th and 26th December)
Click here for further information
READ: Matlock Farm Park REVIEW
Matlock farm, just outside the National Park, is open over Twixmas. There is nothing special planned over these few days, but it's still a lovely day out if you're looking for something to do.
Although for New Years Day, there is an organised New Years Day brunch taking place. Click here for details (no booking necessary).
4. Panto at Buxton Opera House – Aladdin
Saturday 11th December 2021 to Saturday 1st Jan 2022
Click here to buy tickets (there is still availability over Twixmas)
Life in far-off Peking is tough for Aladdin and his poor old mum Widow Twankey.
They're always just a prawn cracker away from poverty until Aladdin finds an ancient lamp with magic powers. What follows is a rip-roaring adventure that takes our hero from rags to riches and back again, on a rollercoaster ride of fun and laughter.
With glittering stage sets, colourful dance routines and unforgettable comedy moments, Aladdin at Buxton Opera House is the ultimate Christmas panto treat.
Starring Buxton's favourite dame James Holmes, back for another hilarious year as Widow Twankey, alongside Annalise Liard-Bailey as Princess Willow and Matthew Jay Ryan as Wishy Washy!
5. Visit a Peak District cavern
All of the caverns in Castleton and Buxton are open over Twixmas. They're a fantastic day out for a Peak District rainy day as the weather above ground really doesn't matter when you're underground.
Open caverns over Twixmas include:
Please note that Heights of Abraham and their caverns have closed for the year and will reopen February 2022.
6. Lightopia at Alton Towers Resort
Open through to 2nd January and suitable for all the family
Click here for further information.
Alton Towers is just outside the Staffordshire Peak District and open over Twixmas.
However, rather than queueing for rides, you may be more interested in Lightopia at Alton Towers. This is Europe's longest light and lantern trail; a magical, immersive walk-through the 4 seasons that will transport you to a whim-tastical land where you can control time!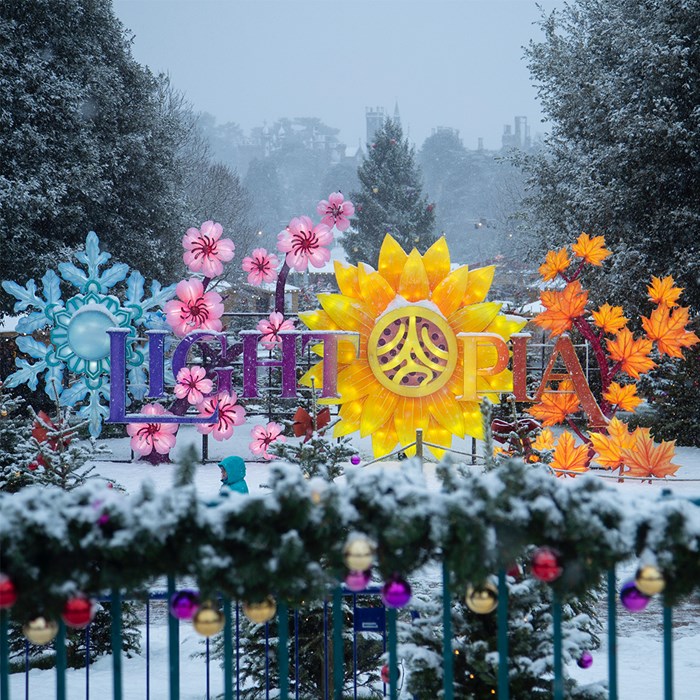 Covering 2km, the trail will dazzle you with a mix of spectacular lanterns, immersive light installations, and colour transformations that will light up the seasonal pathway and lead you through this spectacular after dark wonderland where a whole year will go by in just a day!
7. Hathersage Swimming Pool
Open year round
Click here to read our review
Click here to book. Tickets go on sale to non members at 7pm every Friday for session in the next week Monday to Sunday.
There's something very special about swimming in an outdoor pool as the snow falls around you (we're still hoping for a white Christmas!)
Hathersage Swimming Pool is supposedly heated to a constant 28°C all year round, although over the winter season it's probably a fraction colder and if you do take your kids here, we suggest that everyone wear wetsuits.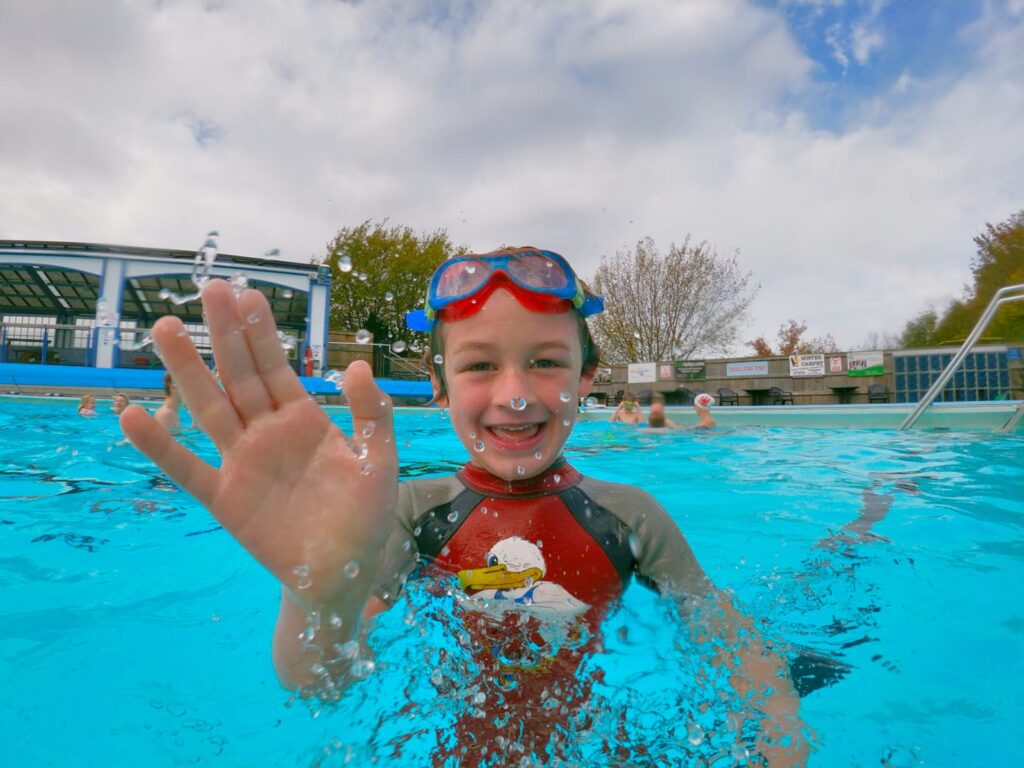 8. Brick Corner, Buxton
The fabulous Brick Corner (a Lego Café in Buxton) is running Lego sessions for kids over Twixmas. See below for details.
You can book your tickets online. Although the website can be a little confusing, so it may be worthwhile dropping them an email for availability.
Even if your kids aren't doing a Lego session, you can pop in for a slice of cake and there are boxes of Lego to play with at the table.
9. National Stone Centre
Open Tuesday 28th December 2021 and throughout the New Year
Check out our guide to visiting the National Stone Museum
No booking necessary
Pan for gems, build a drystone wall, and hunt for fossils at The National Stone Centre, just a five minutes drive from the National Park boundary, close to Cromford and Matlock.
The National Stone Centre is free to enter, although it's £3 to do the panning for gems, and £1 for geo-trail map. There's also a café on site (with a rock shop and small exhibition), as well as a playground.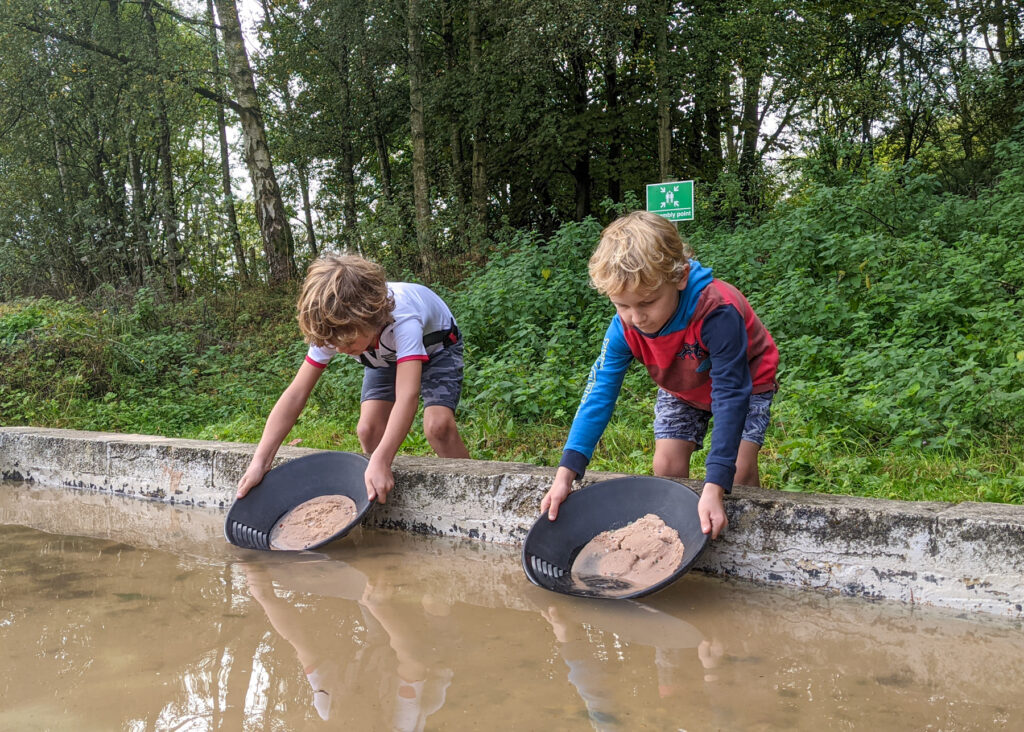 Combine your visit with a walk along the High Peak Trail to Black Rocks, or even further to Cromford Canal. Although, do allow 2-3 hours for wandering about The National Stone Centre, which includes a bite to eat at the Blue Lagoon Café.
10. Peak Wildlife Park
Open year round, except Christmas Day and Boxing Day
Click here to book tickets
Click here to read our review
Come face to face with exotic and endangered animals from across the world, including penguins, lemurs, meercats, zebras, deer and lots of farm animals at Peak Wildlife Park! It's one of the top days out in the Peak District. Kids will love the walk through areas where you can venture inside animal enclosures, and they will especially love petting the farm animals.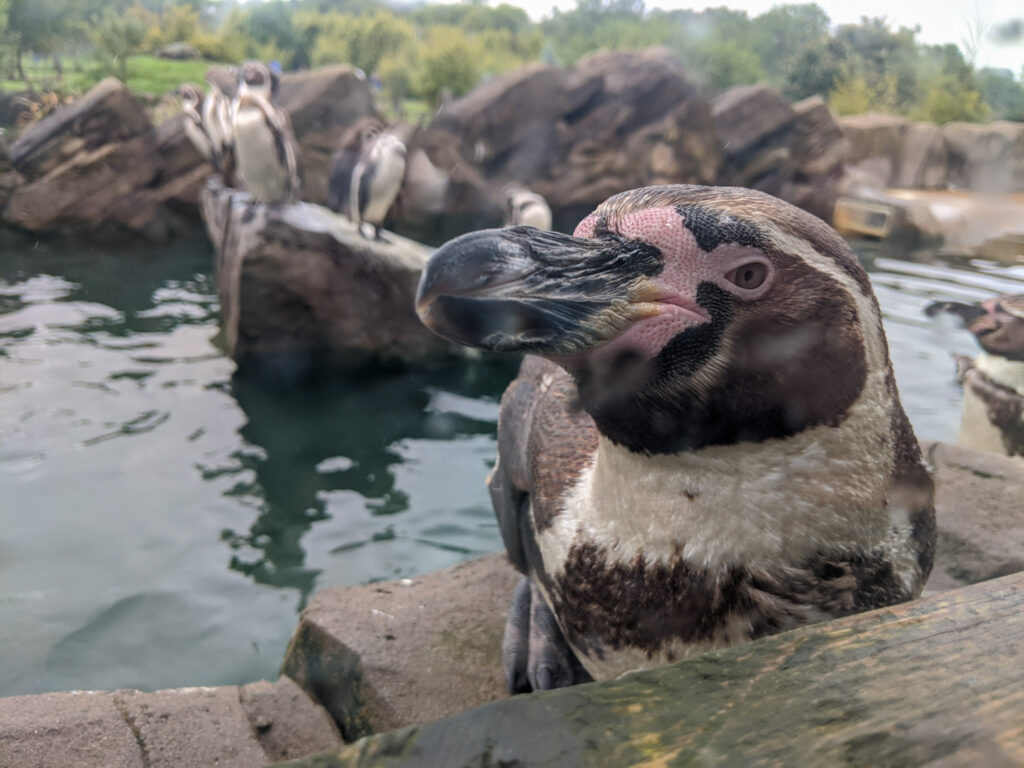 This isn't a normal zoo to see the 'big five'. Instead it is an immersive experience to enjoy walking amongst less ferocious animals. Its a fantastic day out for little ones especially as they can be hands on with some of the tamer residents
Peak Wildlife Park is just 1km outside the National Park boundary near Leek in Staffordshire.
11. Get outdoors
At this time of year, nothing quite beats a brisk walk in the hills followed by a pub lunch. Check out our pub walks in the Peak District, and if you do plan on dining at one of our suggested pubs, we recommend booking a table at least a couple of days in advance.
You can check out all our family walks here, or you may specifically be looking for Peak District pram friendly walks. Alternatively, if it's not too icy and cold over the Peak District Twixmas, check out our guide to family bike rides in the Peak District.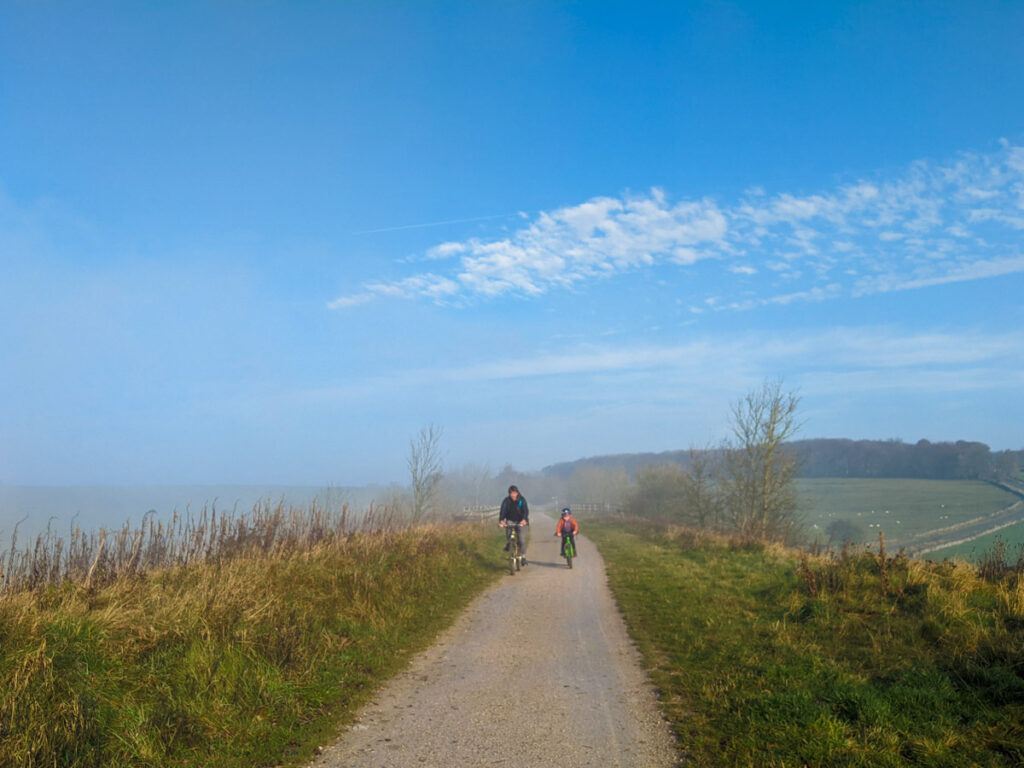 ---
You may also like to read:
Best days out in the Peak District
Family walks in the Peak District
Things to do in Matlock and Matlock Bath