One of the charms of the Peak District are the old pubs and cosy cafes. They are the perfect place to retreat after a long bike ride or family hike in the hills, to warm up by the fire and enjoy a hearty meal. Indeed, you may have tried one of our Peak District pub walks.
But if you've got young kids in tow, it can be a big ask for them to stay seated whilst parents enjoy their meal, however many colouring and activity books you're armed with. Having a play area just makes parenting life easier when eating out.
The majority of pubs and cafes in the Peak District are welcoming to families, and many have separate kids' menus. But if you're looking specifically looking for pubs with playgrounds in the Peak District or cafes with a play area, then read on…
Also, if it's a rainy day, you may want to be armed and ready with these Peak District activity sheets for kids.
We recommend pre-booking your table.
Peak District pubs with a playground
1. Bulls Head, Monyash
One of the best Peak District pubs with playground has to be the Bulls Head in Monyash. Oozing with charm and serving fantastic food, it's a lovely pub in its own right. But add the fact that there's a fantastic playground to the rear of the pub (photo at the top of this article), complete with zip wire and basketball ring, it's perfect for families.
The playground isn't actually part of the pub. It's the village playground, conveniently located right next to the pub's large beer garden. So parents can enjoy a drink whilst keeping an eye on their little ones in the playground. Easy! For older kids, there is also a pool table in the pub.
If you're following our Magpie Mine walk, this is the half way point for a lunch stop, and it's not too far away from the start of our Lathkill Dale walk.
2. The Bridge Inn, Curbar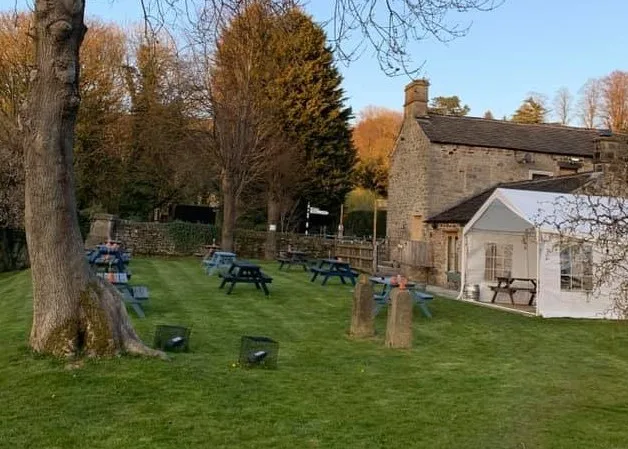 The Bridge Inn, Curbar, is the start of our River Derwent walk from Curbar to Froggat. There's a large beer garden out the back as well as a play area for the kids.
Kids meals are £4.50, including burgers, meat balls, chicken dippers, and fish goujons. Ask staff for veggie options when ordering your meal.
3. Wheatsheaf, Baslow
The Wheatsheaf in Baslow has a perfect beer garden for families and is always popular on a summers day. Large climbing frames and slides are situated right in the middle with picnic tables spread around, so it's very easy to find a spot to enjoy your drink and watch your little ones play.
It does have a rather 'chain feel' to it and whilst the food is good value (lunches from £6), it's not anything special, although there is a separate kids menu.
Easy going is the vibe here. Parents may enjoy the gin menu.
Close by is Chatworth House, so it's a good lunch stop after a visit to the Chatsworth Farm Park (one of the top things to do in the Peak District with kids). You may also want to combine this with our Baslow to Chatsworth walk (pram friendly).
4. The Travellers Rest, Hope Valley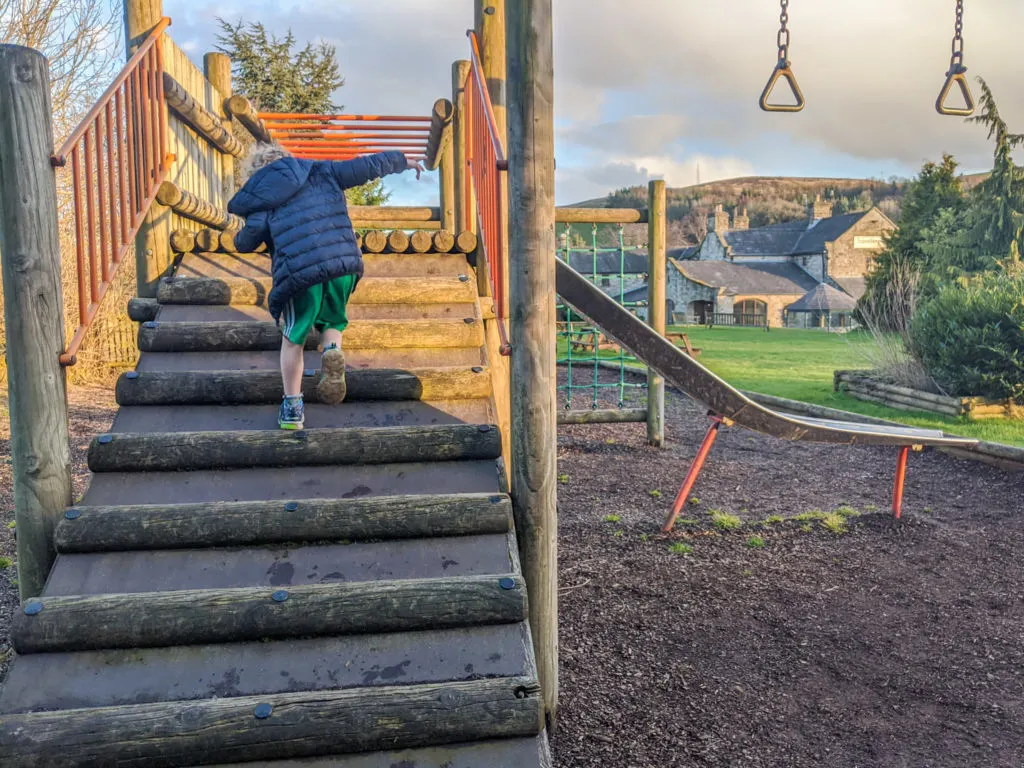 Kids are more than welcome at this traditional pub in the Hope Valley. There's a large enclosed garden with a play area with loads of space to run.
All the meals on the kids menu are just £4.45. The food is standard pub grub though, although I personally appreciated the range of veggie options on the main menu.
This kid-friendly pub is not too far from the caves at Castleton and a very short walking distance from Hardhurst Farm Camping & Caravan Site. But really, on a warm summers day, this is the place to come for a full afternoon spent in the beer garden.
Peak District cafés with a play area
1. Thornbridge Gardens and Café, Ashford-in-the-Water
READ: Thornbridge Gardens and Café review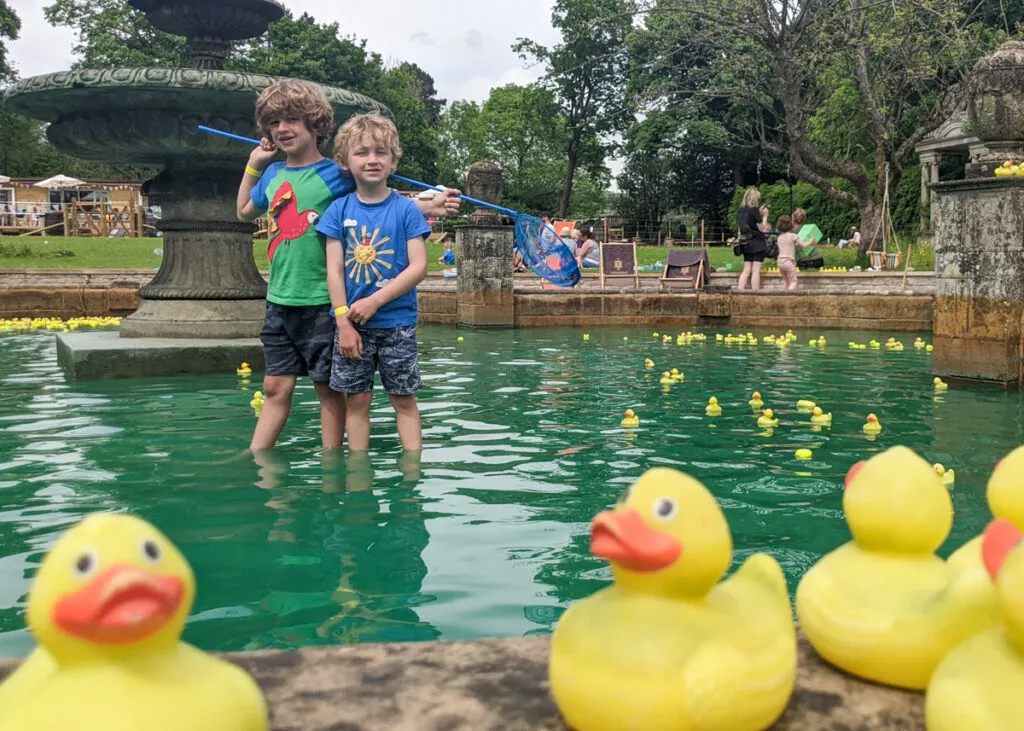 Sat just off the Monsal Trail between Ashford-in-the-Water and Great Longstone, Thornbridge Gardens has become the must visit place for those visiting the Peak District with kids. 12 acres of quirky and quintessentially English gardens surround the grand Thornbridge Hall, dotted with statues and temples, and bursting with colour.
But why is it so special for kids? Well first and foremost is the splashingly fantastic fun paddling in the fountain and catching ducks with a net (rubber ones, not real ones!) Honestly, this keeps the kids entertained for hours. Parents will find it fascinating watching kids of all ages meticulously line rubber ducks along the sides and search for 'special ones'.
Encircling the fountain, marked with coloured festival bunting, is the outdoor kids play area; including a den, hammocks and swings, blocks to play with, chimes, and painting easels. Lots to spark imaginations! There are even pop up badminton nets (complete with rackets and shuttle cocks) and a basketball hoop for older kids nearby.
Plus there's the extensive gardens to explore (with a few more games along the way including croquet) and also Quackers Café serving lots of scrummy food!
2. Brick Corner, Buxton
READ: Brick Corner review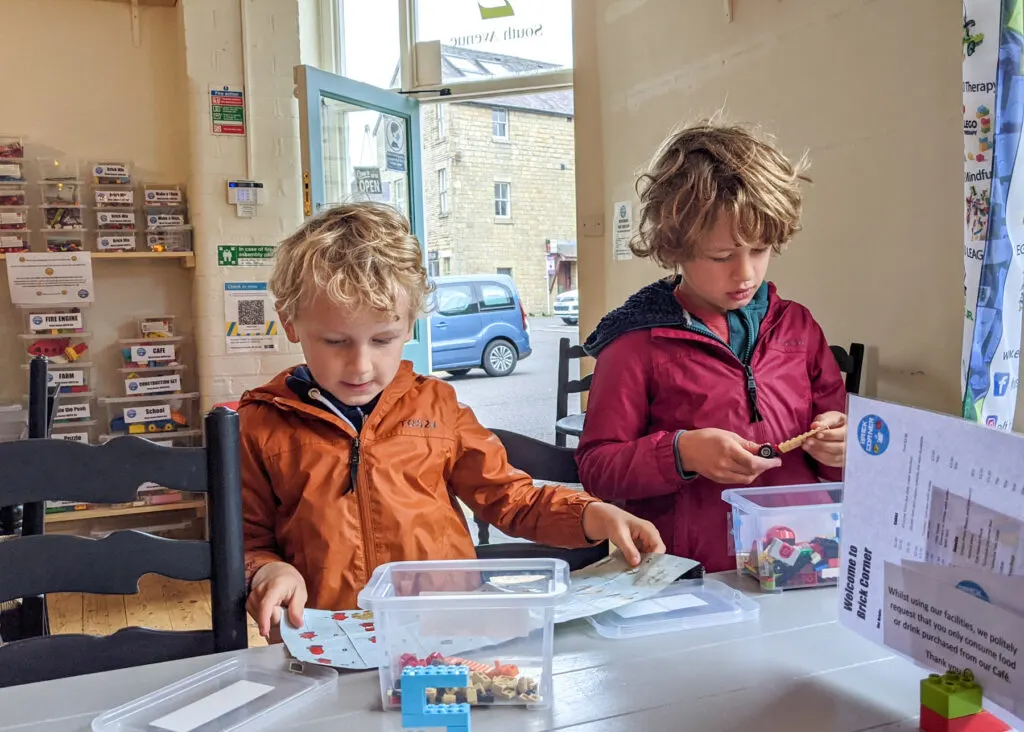 If your kids are Lego fans, then a visit to the family-run Brick Corner café in Buxton is an absolute must. Here there are boxes galore of Lego for your kids to play with and let their imaginations go wild, whilst parents sit back with a coffee and slice of cake in peace (although by all means, there are no age limits if parents want to get involved!)
Plus, there are Lego robotic and coding sessions to get involved in. These are 90 mins (approx.) sessions where kids follow a guided Lego build, and then code their build to move! Prices start from £7.50 per session.
This is one of our top things to do in Buxton with kids.
3. The Play Village, Ashbourne
READ: The Play Village review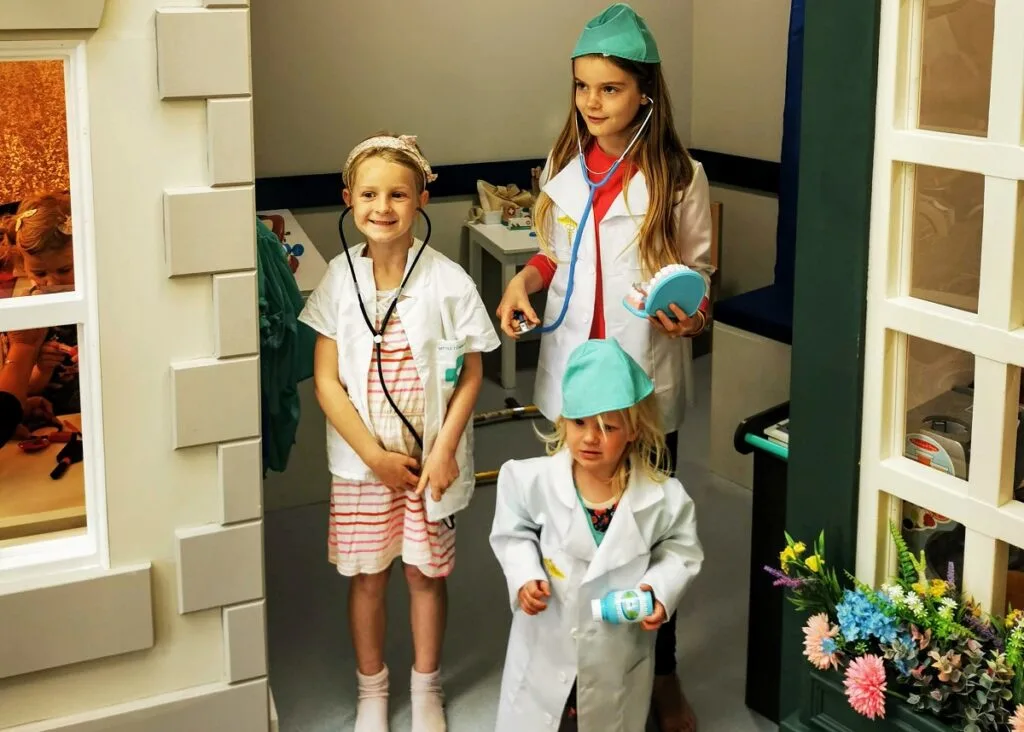 If you're looking for a unique indoor experience where kids can let their imaginations run free, then you'll love The Play Village in Ashbourne, just outside of the South Peak District border.
Completely different to soft play, this experience is centred around the magical art of role play. There are eight play pods set up as life-like settings designed to ignite the imagination.
Whilst the kids play, parents can relax in the tastefully designed cafe and enjoy the amazing food and drink. The menu is really refreshing for a kids' play centre with everything prepared freshly from locally sourced produce where possible and the coffee is good too!
The sessions are at set times and last for two hours and 15 minutes. Booking is essential to ensure that the maximum number of children per session isn't exceeded. This is a great Peak District rainy day activity or if you just want some time to relax and enjoy good food and drink whilst keeping the kids entertained.
4. Blaze Farm Tea Room, Wildboarclough
READ: Blaze Farm review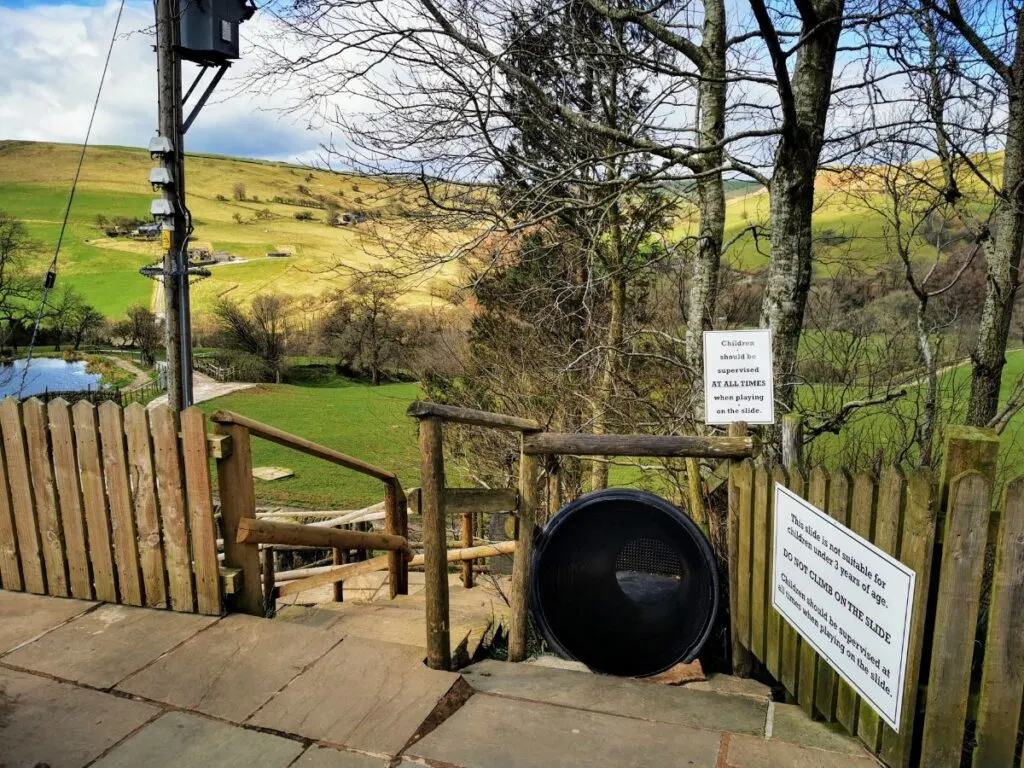 Blaze Farm is free to enter and you can walk round to meet all the various residents – cows, sheep, chickens, pigs, goats – and if you're visiting in Spring, you can see lambs being born in the lambing shed! There's also a short family walk around the farm (detailed here).
But one of the top reasons to visit Blaze Farm is to taste their homemade Peak District ice cream. From the Tea Room you can also order delicious home made lunches, including sandwiches, paninis, soups, jacket potatoes, traditional ploughmans, and mouth-wateringly good deserts.
Just outside the Tea Room is a courtyard with picnic, and kids will enjoy the tunnel slide her and tractor to climb on and pretend drive.
5. Matlock Meadows
READ: Matlock Meadows review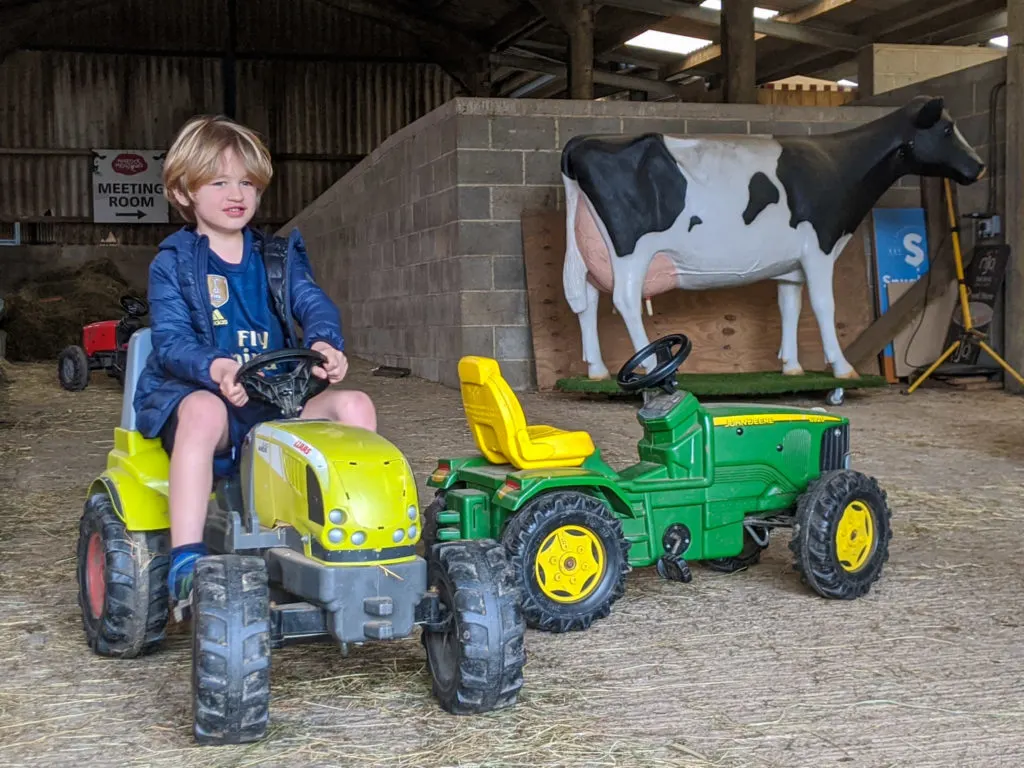 Matlock Meadows is a similar set up to Blaze Farm. Entry is free to visit the farm animals and play, and there's also a café serving breakfasts, light lunches, and the most delicious homemade Peak District ice-cream.
There is no nature trail here, but the outdoor and indoor play area is much bigger. The indoor play area is inside a barn and there are small ride on tractors to play on, as well as coin-operated go-carts. Adjacent to the café is a separate seating area with a small softplay area for toddlers, and a large wooden train set to play with. To use this area, you must have spent at least £2 in the café.
Matlock Meadows is also a good option for a Peak District rainy day.
6. Hassop Station Café, Hassop
Situated right on the Monsal Trail, this is a perfect lunch stop if you're planning a Peak District family bike ride or looking for a pram friendly walk.
Hassop Station Café has a lovely menu, including vegan options and a separate kids menu. There's an outside playground area with wooden climbing frame, as well as a covered outdoor area.
Adjacent to the café is a shop selling books and gifts, as well as Monsal Trail bike hire with adult bike hire starting from £19 and child seats and trailer hire available. Parking is free if you're eating in the café, otherwise there is separate pay and display parking.
7. Daisies Coffee Shop near Taddington
www.beechcroftfarm.co.uk/daisies-coffee-shop/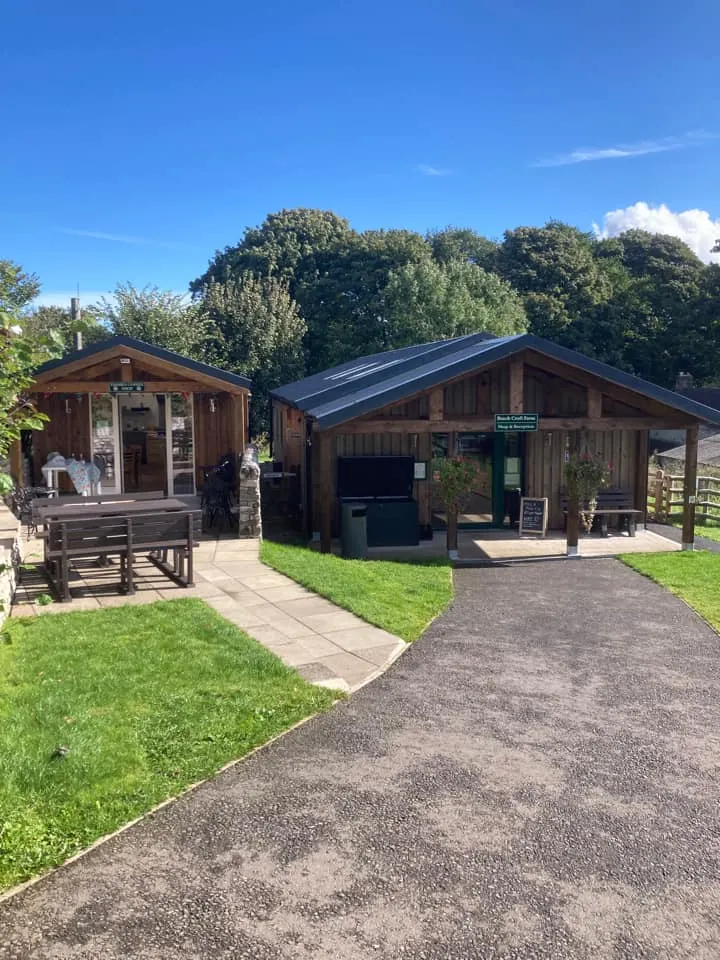 Daisies Coffee Shop is located Beech Croft Farm Campsite in Blackwell, near Taddington, serving cakes, breakfasts and lots of other yummy delights to eat in or take away!
There's a play area onsite for the campsite (with climbing frame and zip wire!) and visitors to the café are allowed to use it. The campsite itself is one of the best family campsites in the Peak District and the Chee Dale Stepping Stones are close by!
8. Little Fika in Whaley Bridge
READ: Little Fika review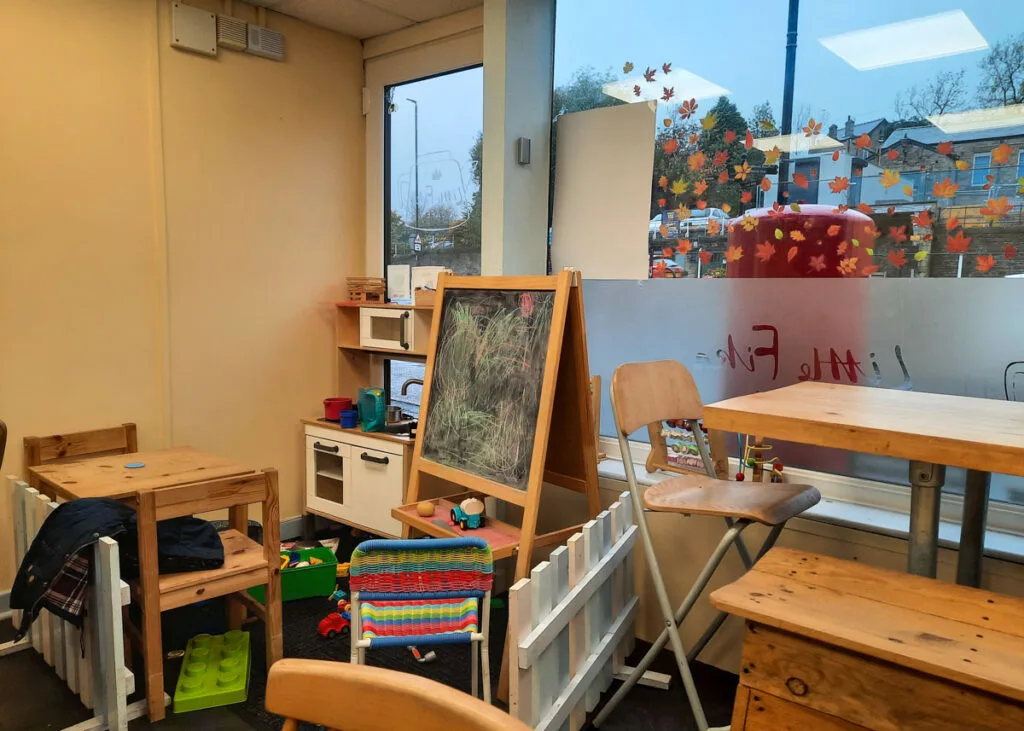 Clearly well loved by the local community, Little Fika is a cosy Swedish-inspired café featuring a play corner, board games, bookshelf and home cooked food. Plus menus have pictures to help little ones choose their meal. It is jam packed with local information and small business suppliers of gifts and produce, as well as a fantastic pay it forward scheme. This café is a bustling hub of Whaley Bridge.
But more importantly for Peak District Kids readers, Little Fika is very kid-friendly, and this is why we've included it in our best cafes in the Peak District with a play area, even though it's actually 1km outside of the National Park boundary. The café also welcomes our four-legged friends and even boasts a dog treats section on the menu.
9. The Old Smithy in Beeley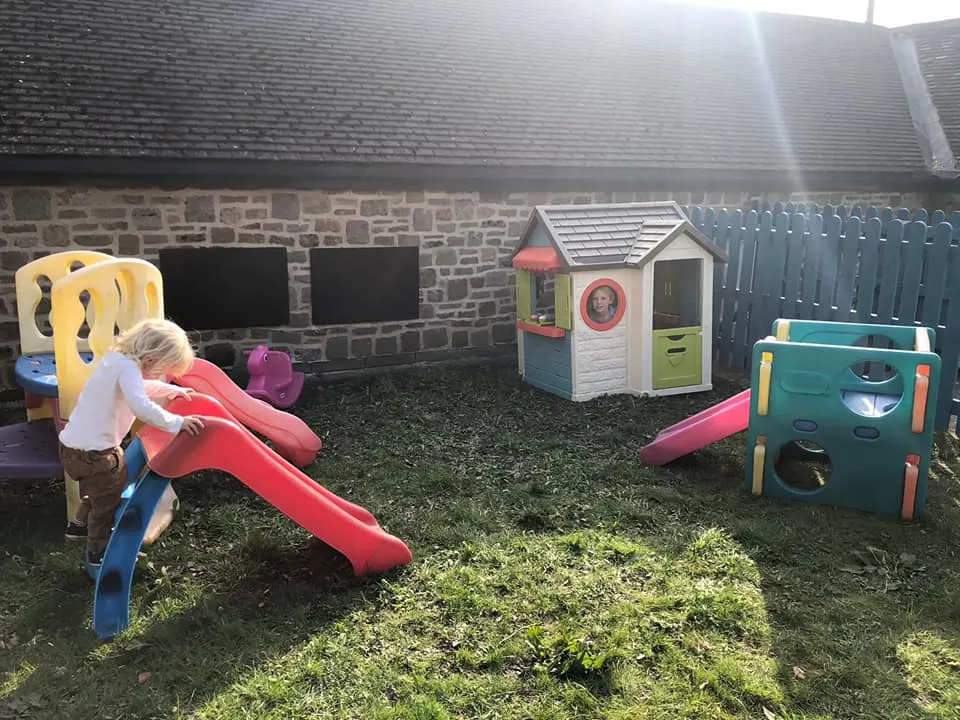 Nestled between Rowsley and Chatsworth, this quaint café and bistro have a lovely garden for young kids especially with outdoor bean bags, chalk fun and magnetic fishing!
For all those parents who deserve a break, let your kids play while you enjoy fresh food and coffee that is to die for! There is also a children's park directly across the road.
---
You may also want to read:
Top things to do in the Peak District with kids
Best family bike rides in the Peak District
Best family walks in the Peak District