Have you heard about Thornbridge Gardens and Café? Sat just off the Monsal Trail between Ashford-in-the-Water and Great Longstone, it has become the must visit place for those visiting the Peak District with kids. 12 acres of quirky and quintessentially English gardens surround the grand Thornbridge Hall, dotted with statues and temples, and bursting with colour.
But why is it so special for kids? Well first and foremost is the splashingly fantastic fun paddling in the fountain and catching ducks with a net (rubber ones, not real ones!) Honestly, this keeps the kids entertained for hours. I found it fascinating watching kids of all ages meticulously line rubber ducks along the sides and search for 'special ones'.
Please not that the rubber ducks go into hibernation over the winter months and the fountain is emptied. However, the ducks are often back in time for the Peak District February half term.
Encircling the fountain, marked with coloured festival bunting, is the outdoor kids play area; including a den, hammocks and swings, blocks to play with, chimes, and painting easels. Lots to spark imaginations! There are even pop up badminton nets (complete with rackets and shuttle cocks) and a basketball hoop for older kids nearby. Please note that the games and activities on offer change with the seasons, but there's always something fun to do!
Plus there's the extensive gardens to explore (with a few more games along the way including croquet) and also Quackers Café serving lots of scrummy food! So if you're looking for a Peak Distict café with a play area, you can't do better than Thornbridge Gardens and Café.
But what makes this Peak District gem truly family friendly is the warm welcome to everyone. Staff sometimes walk round with a big bucket of sweets for everyone for free; just an example of the little touches around the estate that go a long way to welcoming families.
Top tips for visiting Thornbridge Gardens
Bring a towel and a change of clothes. If your kids are like mine, they will be going in for a paddle in all weathers.

Bring a picnic blanket to sit on. Whilst there are deckchairs dotted around, during busy times you may not find a free one.

Purchase a fishing net from the café when you pay for your Thornbridge Gardens entry. This just saves you from walking back up.

Do make time for wandering the actual gardens. There is still so much for kids to do away from the play area by the fountain. You can also pick up a little quiz from the café to find characters around the estate.

Allow at least 3 hours for your visit. But on a warm summers day, it's very easy to spend all day here!
What are the entry fees for Thornbridge Gardens?
The gardens are £3 for kids (under 16), free for carers and foster carers with their ID, and £7 for adults. RHS Members are free on Wednesday and Thursdays, then also Tuesdays between 1st June and 31st August. Please check their website for up to date entry pricing.
No need to book. Just turn up and then purchase a ticket for the gardens from either the café or the plant shop. You will then be provided with a wristband to wear and there is no time limit.
If you are only visiting the café (and not the gardens), there is no entry fee.
When are they open?
Every day of the week, from 10am to 4pm.
Do I need to pay for parking?
There's a large carpark for visitors and it's free.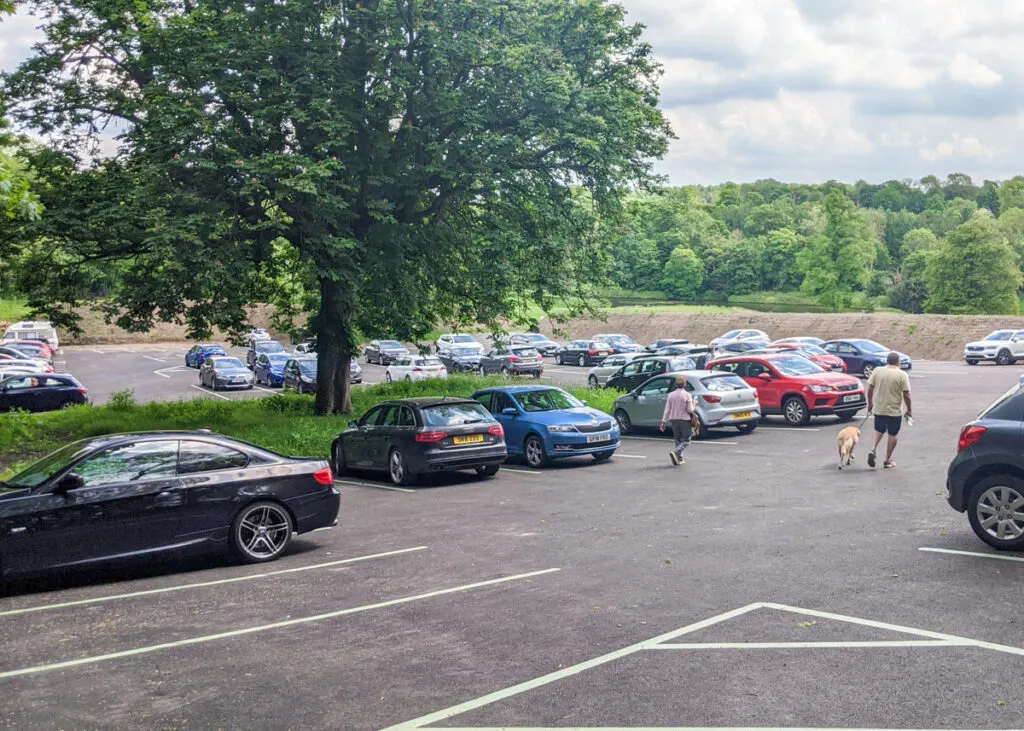 How do I get to Thornbridge Gardens?
If you're driving, don't follow the directions to 'Thornbridge Hall' on Google Maps. The entrance is actually on the A6020, just a little further along from the turning to Ashford-in-the-Water. Click here for the location on Google Maps. Then follow the long drive through the estate to the car park. From the car park there are signs directing you to the entrance.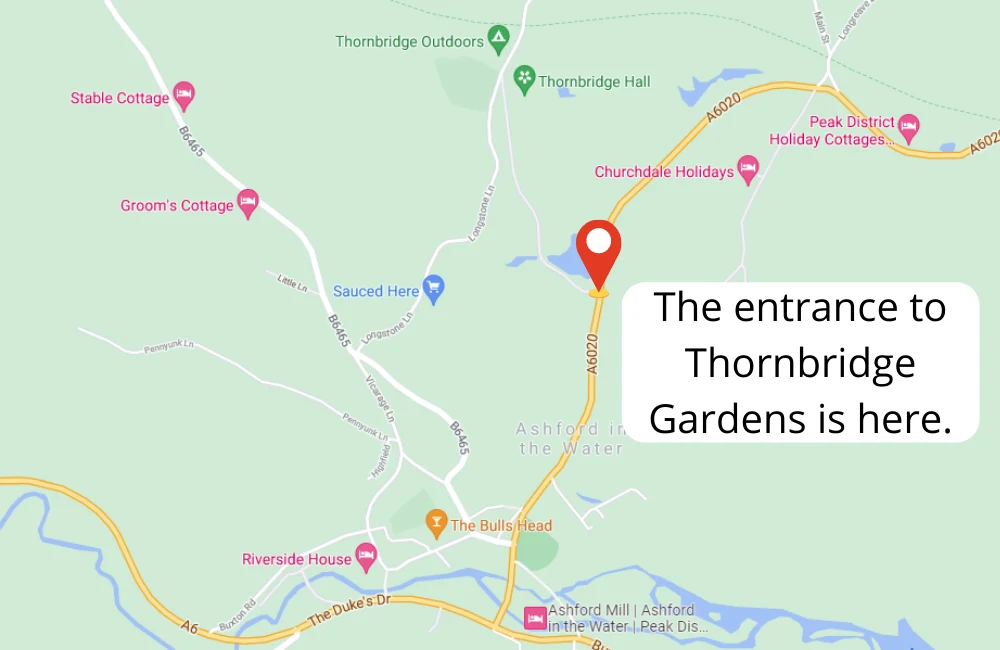 There are regular buses to Ashford-in-the-Water if you're using public transport.
Alternatively, you can access Thornbridge Hall and Gardens directly from the Monsal Trail if you are along there for a walk or cycle. Just follow the signs from the raised platform at Great Longstone Station.
Can I bring a picnic?
Visitors are kindly asked not to bring picnics onto the estate. Please support Quackers Café, serving hot drinks, cold drinks and draft beer, along with filled baguettes, pasties, homemade sausage rolls and delicious cakes, almost all locally sourced. Vegetarian and vegan options are available, and staff are very accommodating to any dietary requirements you may have.
However, a few of our Facebook Group members have mentioned that the food is rather pricey for what you get, and not great quality. So bare this in mind if you're planning to visit for lunch, rather than a snack.
Can I take a pushchair?
It's very easy to get from the car park to the fountain and play area with a pushchair. However, walking around the footpaths of the gardens with the gravel footpaths and some steps may be a bit tricky.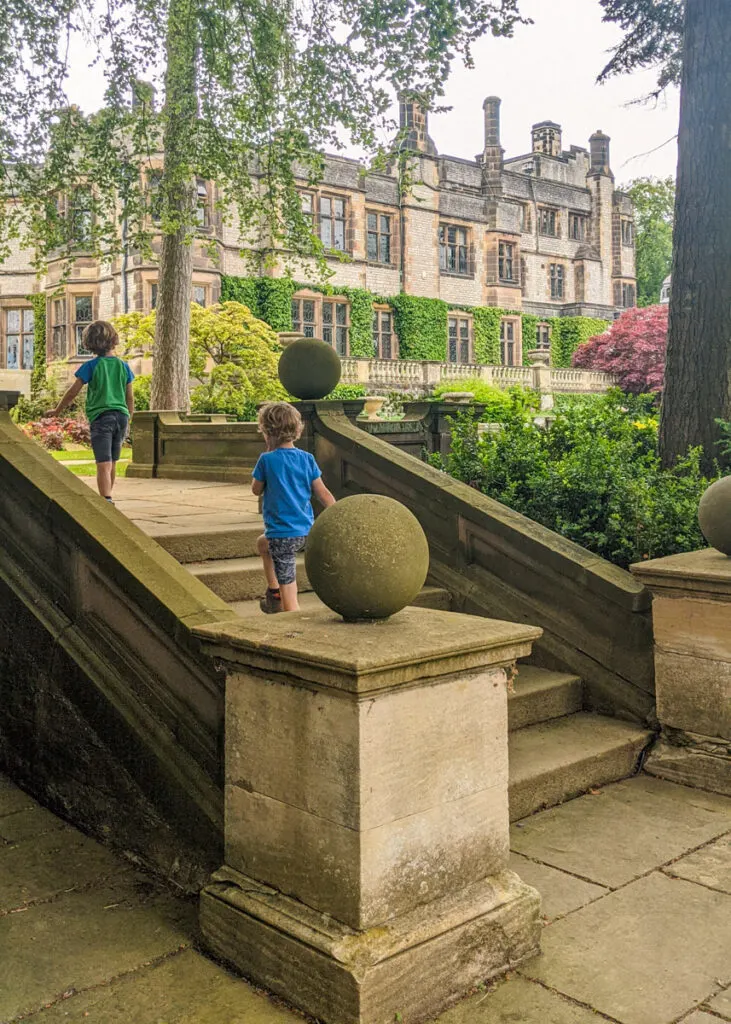 Are dogs welcome at Thornbridge Gardens and Café?
They most certainly are if they're on a lead.
What else is there to do in the area?
There are lots of fantastic family-friendly walking trails nearby including:
Or you may want to enjoy a cycle along the Monsal Trail.
The historical market town of Bakewell is just a 5 minutes drive down the road too (check out our guide for things to do in Bakewell).
If you're looking for more ideas of things to do further afield in and around the National Park, check out our guide to days out in the Peak District.
---
You may also like to read:
Dovedale walk
Short Monsal Head walk
Best places to paddle in the Peak District