Along with Bakewell, Castleton is one of the most visited villages in the Peak District and makes for a lovely Peak District day out. Visitors flock here for it's underground caverns (some of the best in the country), as well as a base for hiking up to some epic view points (there are some superb Castleton walks including Mam Tor walk and Cave Dale walk). But it's also a charming place to wander around before popping into a pub (there are quite a few to chose from!).
How to get to Castleton
Whilst there are regular buses into Castleton, the easiest way to get to Castleton is by car. However, even in winter, Castleton gets exceptionally busy. Aim to arrive before 11am (10am in the school holidays) to secure a parking space.
There are three main car parks dotted around Castleton:
Castleton Car/Coach Park – this is next to the Visitors Centre (click here for parking charges)
Peak Cavern All Day Car Park
Speedwell Cavern Car Park
If you're looking for things to do in Castleton with kids (or without!), or Castleton attractions, here are our top suggestions…
1. Venture deep into Castleton's caverns
With their fascinating rock formations, rare stones and amazing atmospheres, the caverns and caves around Castleton are very unique places to visit. Plus, they are a great option for a Peak District rainy day activity as you are underground where the weather doesn't matter! Although do wrap up warm, as it does get rather chilly down there, even in the height of summer.
In addition to those at The Heights of Abraham near Matlock, the caves around Castleton are some of the best show caverns in the country, and is home to:
Peak Cavern
With the largest cave entrance in the UK and the only natural cave in Castleton as it is almost entirely natural, carved out by melting glacier waters. This is the only Castleton cave that wasn't actually a mine. Instead, Peak Cavern was home to the rope makers who supplied the mines. And fun fact for the kids – Peak Cavern is also known as The Devil's Arse, so called because of the flatulent-sounding noises from inside the cave when flood water is draining away.
Click here for more information.
Speedwell Cavern
Visitors descend 106 steps, down to an underground canal to board a boat that transports you deeper into the cave system. It's brilliant fun, but not for the claustrophobic.
Click here for more information.

Blue John Cavern
With 245 steps in (and out!) of the cavern, there is a reasonable amount of fitness required, but the series of caverns you get to explore makes it absolutely worth it. It is home to eight of the fourteen known varieties of Blue John stone, a beautiful and ornamental fluor-spar. The mineral has been mined here for centuries and continues to be in the winter months. Do note that online bookings are not possible as there is no internet connection at the cavern. You just have to turn up on the day.

Treak Cliff Cavern
This Castleton cave is unique as you need to download an app to your phone to follow a self-guided tour around the cavern. So this one isn't really ideal for very young kids. The famous Blue John stone is also found here. Make sure you pre-book online before your visit.
2. Hike up Mam Tor
Mam Tor, meaning 'Mother Hill', is a 517 metre high hill overlooking Castleton and is one of the most popular walks in the Peak District. The views from the top are spectacular, although arrive early during school holidays and weekends to avoid the crowds.
Follow the classic Mam Tor loop walk that takes in Great Ridge, Hollins Cross, and Broken Road, with an optional detour to Lose Hill. However, you don't actually need to endure a long walk to get to the summit of Mam Tor. Read our quick and easy way to get to Mam Tor (there's a car park just 550 metres away).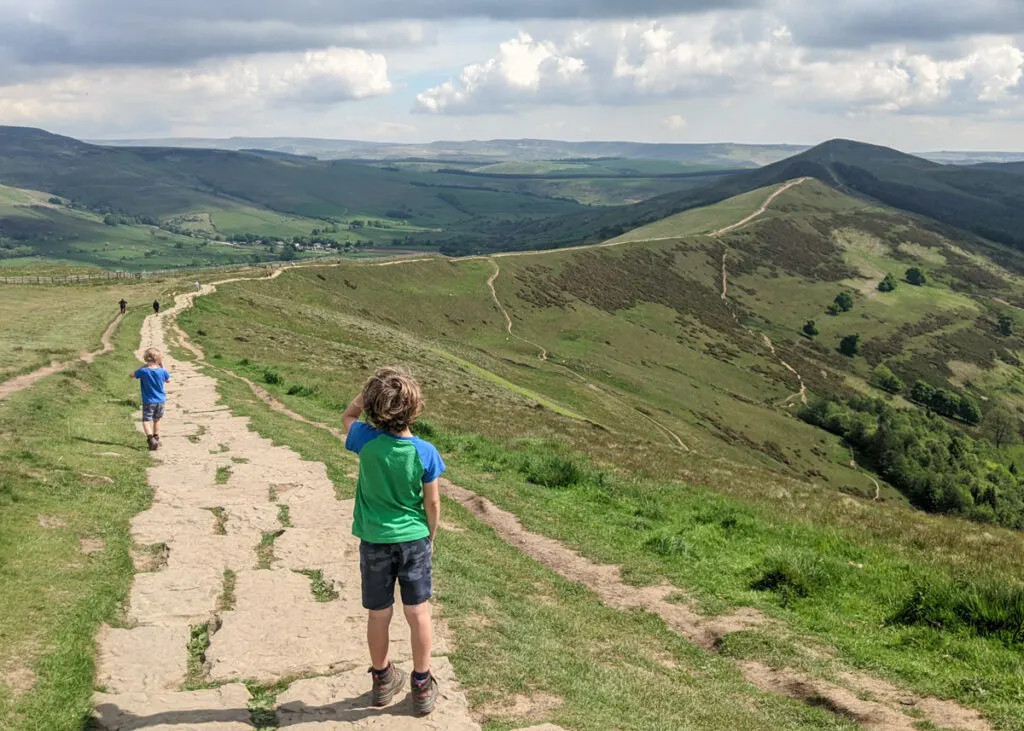 3. Visit Peveril Castle
Mentioned in the Domesday survey, Peveril Castle is one of England's earliest Norman fortresses and stands high over the town of Castleton.
The castle was built by William Peveril, son of William the Conqueror in 1086. The keep was built in 1176 by Henry II to whom Peveril forfeited his estates. It attained its greatest importance during the reign of King Edward I, and fell into decline after 1400.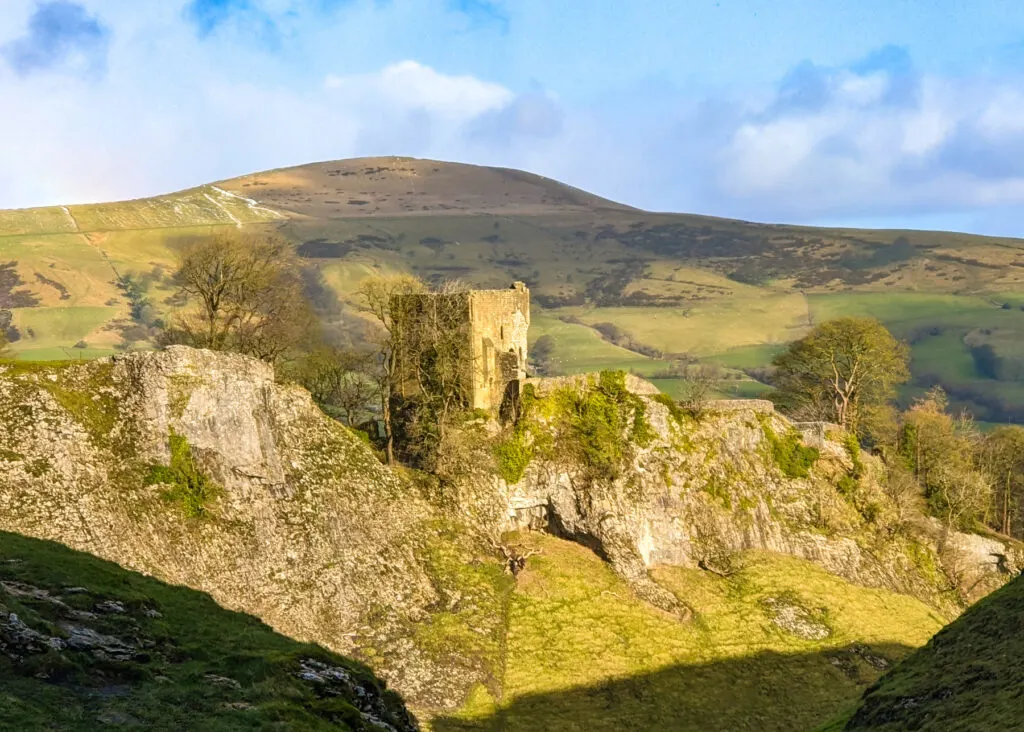 The castle today belongs to the Duchy of Lancaster, and is in the custody of English Heritage and open to visitors to see the ruins and walk inside the tower. Be warned that it's a very steep climb from the ticket entrance, up to the Castle.
The entrance to Peveril Castle is just off the market square in Castleton (click here for Google Map location). Click here to check opening times and to book your tickets.
Although the best views of Peveril Castle are on the Cave Dale walk.
4. Walk up Cave Dale
Click here for our Cave Dale walking guide.
Another popular walk around Castleton, is the climb up Cave Dale. It's a steep and rocky climb up there, but the views back down to Peveril Castle and beyond are absolutely worth it.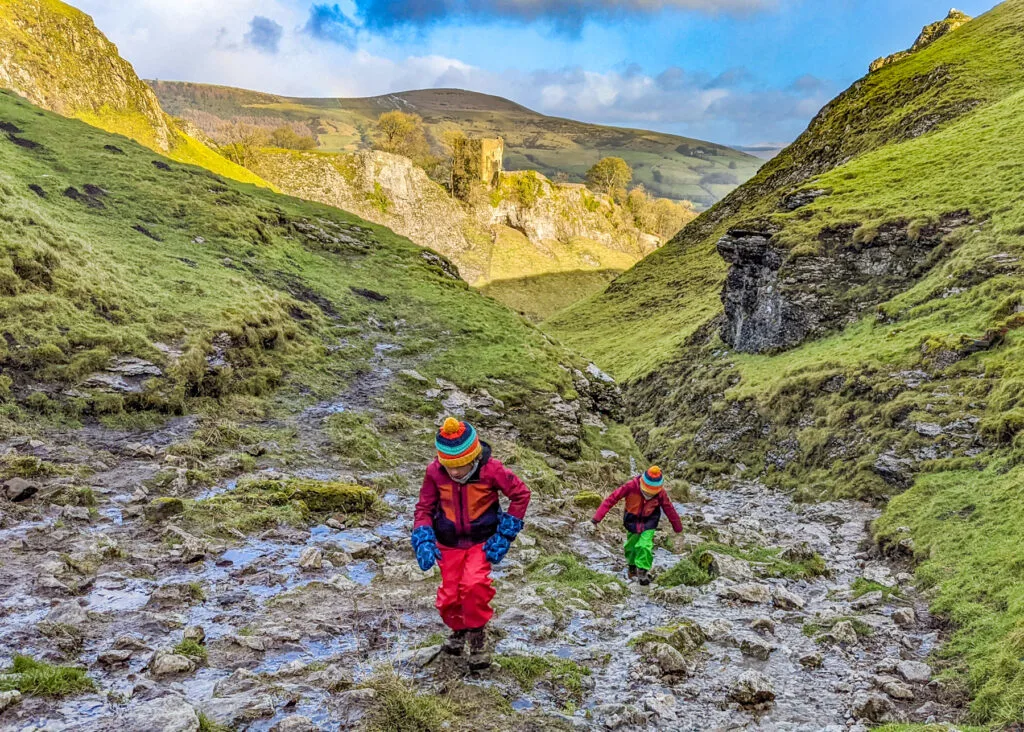 Our circular Cave Dale walk takes you past Peveril Castle and up through the rocky, steep path of Cave Dale to meet the Limestone Way at the top. The views on a clear day here are beautiful. The walk then circles round back into the village, past Peak Cavern (aka "Devil's Arse").
It's a steady climb to the top of Cave Dale and the footpath is rocky and uneven underfoot. Plus after wet weather, a small waterfall flows down the footpath, so waterproof hiking boots are recommended. The last section of this walk is very steep downhill and you may need to do some 'bum sliding' (this is obviously a technical hiking term), so it's also a good idea to have waterproof trousers with you.
5. Snap a photo of Winnats Pass
Winnats Pass, whether it be the dramatic view from the top or the winding road below, has to be of one the most photogenic parts of the Peak District. It's a spectacular spectacular limestone gorge and there are numerous footpaths around it to appreciate the view.
Take the footpath from the Speedwell Cavern entrance to reach the top, or you can take the footpath along the road (although the cars may get annoying). Either way, take your time and be careful, it's quite a treacherous climb.
But the safest way to enjoy Winatts Pass is by driving down it.
6. Eat handmade fudge
Fancy some homemade, melt-in-the-mouth fudge? Head to The Real Fudge Company on the main road who specialise in traditional fudge in over fifty different flavours. They also make and sell their own toffee and marzipan and have a huge range of old-fashioned sweets sold from jars and drinks sold from swing top bottles. The perfect treat for the kids after a long hike!
7. Visit the free museum and information centre
The Castleton Museum, which is housed at Castleton Visitor Centre, is a showcase for the history of Castleton and the surrounding area.
There are small displays featuring the archaeology and geology, the past industries and inhabitants, as well as its significance as a Norman fortified town. Learn about the history of what happened to Castleton during the world wars, see the various tools and clothing used over the centuries, and even see a carved head dating from 1,000 BC which is believed to represent a god worshipped by Iron Age people.
There's also this fun interactive map to play with (see photo below) although little ones may struggle to reach the top images.
8. Head to the pub
There are no less than six pubs in the relatively small village of Castleton, so take you're pick, or maybe visit a few! Each one is oozing with character and serving hearty pub grub, perfect after a hike up Mam Tor or Cave Dale.
Where to stay in Castleton
Whilst there's a range of pubs and BnBs in Castleton to stay in, if you're looking for a budget option and don't want to camp, we very much recommend YHA Castleton Losehill (although they do actually have a campground too).
Click here to check availability and rates for YHA Castleton Losehill
Set in 27 acres of parkland and with its clean and well-maintained rooms, hearty cheap breakfast, family-friendly facilities, and welcoming staff, it's easily the best YHA in the Peak District. We particularly love the huge gardens, onsite bar, and outdoor play box for kids.
---
You may also like to read:
The best days out in the Peak District
The best family camping in the Peak District
Short and easy family walks in the Peak District