YHA Castleton Losehill Hall is a YHA with a difference, one which combines all the YHA features you'd expect (affordability, relaxed, welcoming of muddy boots), with some unexpected bonuses (recently renovated Gothic mansion, extensive grounds, family-friendly play area).
Factor in the location, adjacent to both the popular village of Castleton and many classic Peak District family walks, and this is arguably the best Peak District YHA.
This article contains affiliate links. Should you click to purchase, it is at no additional cost to you, but I receive a small commission.
Click here to check availability and rates for YHA Castleton Losehill Hall
About Castleton village
READ: Things to do in Castleton
If you're in Castleton on a sunny summer weekend, it won't come as a surprise to learn that it's one of the most visited villages in the Peak District and (assuming you don't mind crowds) it makes for a lovely Peak District day out.
The village has been welcoming tourists for decades, and is well setup and managed for their arrival, with multiple activities including its underground caverns (including Peak Cavern, aka Devil's Arse) and hiking up to some epic view points (there are some superb Castleton walks including Mam Tor walk and Cave Dale walk).
If you don't fancy anything too strenuous, it's also a lovely place to amble around, stopping in one of the many pubs or cake shops. If you're planning a hike but forgot any essential gear, there's no need to panic; Castleton has perhaps the highest concentration of outdoor shops in the country per resident.
How to get to YHA Castleton Losehill Hall
YHA Castleton Losehill Hall is an easy fifteen minute walk from the centre of Castleton, with the majority of the walk through the glorious parkland grounds. Keep an eye out for lambs in the spring.
From Castleton village centre, head east towards Hope along the main road and keep an eye out for the turning at the brown YHA sign. Be careful when you cross the road as cars travel quite fast and visibility can be tricky.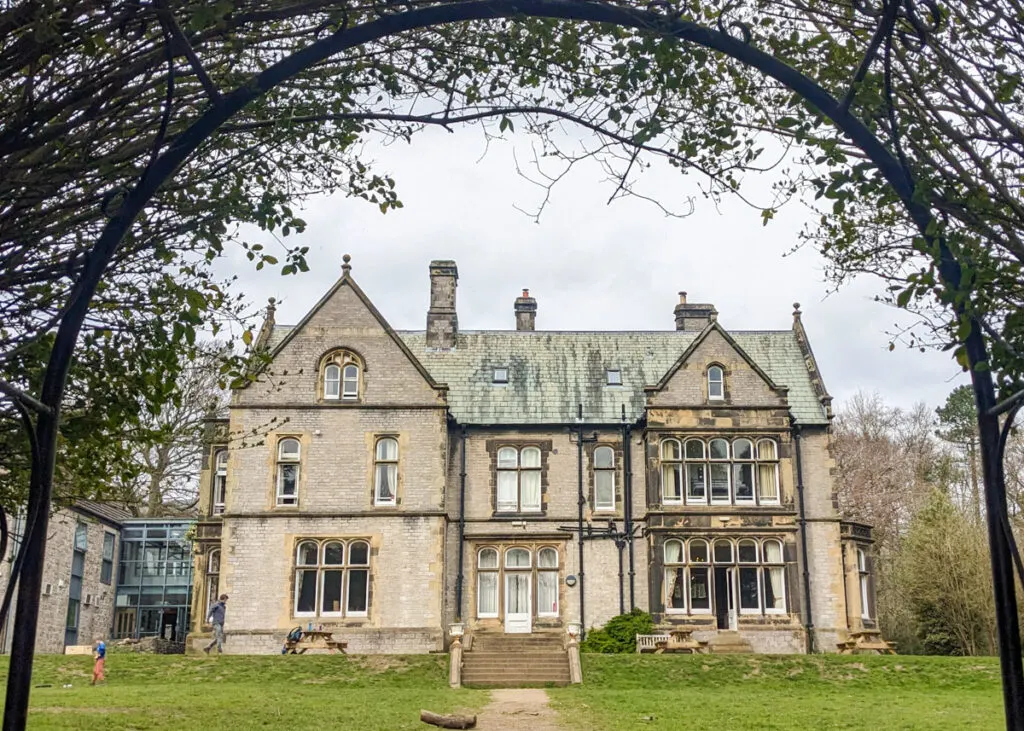 Castleton village isn't the easiest village to park in but luckily YHA Castleton Losehill Hall has its own car park, located at the rear of the building. It's accessed via a well-signposted track from the main road, look for the brown YHA road sign.
If you're planning to use public transport, the closest railway station is at Hope which is about two miles from Castleton. Hope is on the Hope Valley railway line and has hourly trains to/from Manchester and Sheffield.
Alternatively, there are a couple of bus routes serving the village, the 272 service links Castleton and Sheffield via Hathersage, and the 173 service links Castleton with Bakewell via Tideswell. The 173 service also goes via Hope, giving you the option to connect with the train.
Arriving to YHA Castleton Losehill Hall
Most, if not all, YHAs enforce a strict check-in time of 5pm which can be a problem if you arrive too early. When we stayed at the YHA Hathersage, the entire building was locked up with no indoor space accessible which was quite a big problem due to the heavy rain at the time.
You'll have no such issues at YHA Castleton Losehill because, the check in time is 3pm and even if you do arrive early, there are plenty of indoor and outdoor activities to keep you occupied and dry.
The welcome was friendly, as it always seems to be at YHA, and there were soft drinks, snacks, and alcoholic drinks available to purchase, plus a couple of vending machines. The large reception area was warm and open for use, with several places to sit but we decided to head outside to the garden area and catch some of the late mid-afternoon sun.
As soon as we sat down, a member of staff kindly brought out a selection of outdoor toys for the boys to play with and they quickly got stuck into boules, swing-ball, tug-of-war and a target throwing game. Once they'd finished with the games, we took a stroll over to the pond area and checked out the animals who were enjoying the outdoor space as much as the humans.
It was a huge bonus having all this to access before check-in and something which really made this YHA stand out amongst the other YHAs we'd stayed at. Especially if you've arrived after a long hike, the last thing you want to do is sit on a cold bench, waiting for reception to open.
What to expect from a family stay at YHA Castleton Losehill Hall
We chose a family room (with ensuite bathroom) that contained three bunk beds (six single beds in total) which gave us plenty of space to spread out.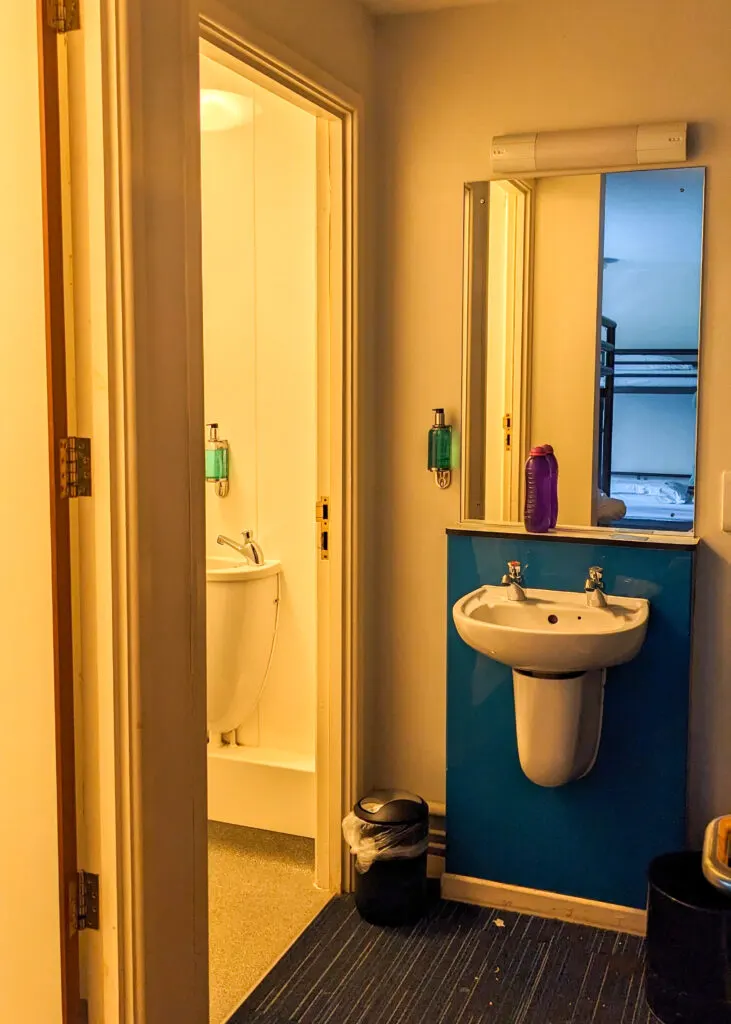 The building has been recently renovated and this was clearly evident as soon as we arrived, everything had that fresh feel which was perhaps missing from YHA Hathersage. The ensuite bathroom was clean and fully-functional, the warm shower was very welcome after day one of our multiday hike from Edale to Grindleford.
Away from the family room, the facilities in the rest of the YHA are high-quality, with a modern looking reception and dining area, complete with a fantastic outdoor space to relax in. As it's set in its own 27 hectare grounds, the YHA feels peaceful and remote, despite having Castleton village right on the doorstep.
If you fancy something to eat, the onsite restaurant serves dinner and breakfast (booking recommended), or you can access the self-catering kitchen to make your own meals. Peveril Stores in Castleton is worth a visit if you need supplies.
Camping at YHA Castleton Losehill Hall
YHA Castleton Losehill offers two types of camping experience, both highly recommended if you're looking to cut down the costs and get that bit closer to nature. Both types of camping provide access to the rest of the hostel facilities, making it even better value.
The traditional pitch-up camping option which we all recognise is available in the spacious grounds, all just a few steps away from the main hostel building. Choose a patch of grass and pitch your tent, just don't be surprised if you have a sheep or two for company. You'll have access to the BBQ area and also a small wash block.
If you'd prefer a little more protection from the elements, give the Camping Barn a try; a cosy and recently renovated barn which can sleep up to six people in a variety of sleeping configurations. As well as access to all the hostel facilities, you also get your own lounge area with armchairs, hot water, shower and toilet. It's an ideal place to rent as a group and is an experience you'll certainly remember.
Breakfast at YHA Castleton Losehill Hall
There's nothing like a filling breakfast before setting off on a day's hike and the one at YHA Castleton Losehill certainly delivers. If you've ever stayed in a Premier Inn you'll recognise the style; all you can eat, kids eat free, lots of choice and good variety.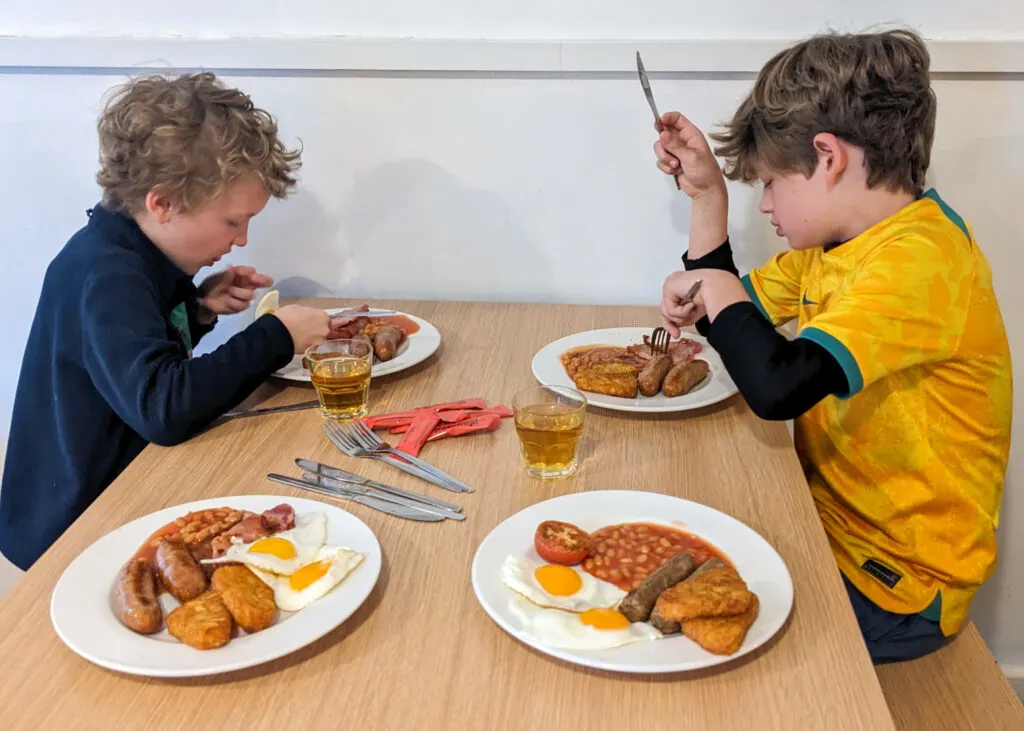 We loved that the kids eat free which meant our family of four (two adults, two children) paid £20 for all we could eat, a challenge the boys took on with some determination. The chef is friendly and doesn't judge, however many hash browns you might ask for. Stock up on tea and coffee as well; with the cost of a coffee in the village so high, you're almost breaking-even just on the drinks.
What is there to do nearby
Castleton is a fabulous location in the heart of the Peak District, with lots of walks nearby. Check out these downloadable PDFs for some inspiration.
We have a full post on things to do in Castleton, so be sure to check that out for all the information you'll need.
What we loved about YHA Castleton Losehill Hall
The location of this YHA, set in its own beautiful parkland grounds, makes for a very special YHA experience. It has managed to smooth off some of the rougher edges you find at other YHAs, in particular the rooms are clean and modern, yet still retaining the rustic nature we all know and love.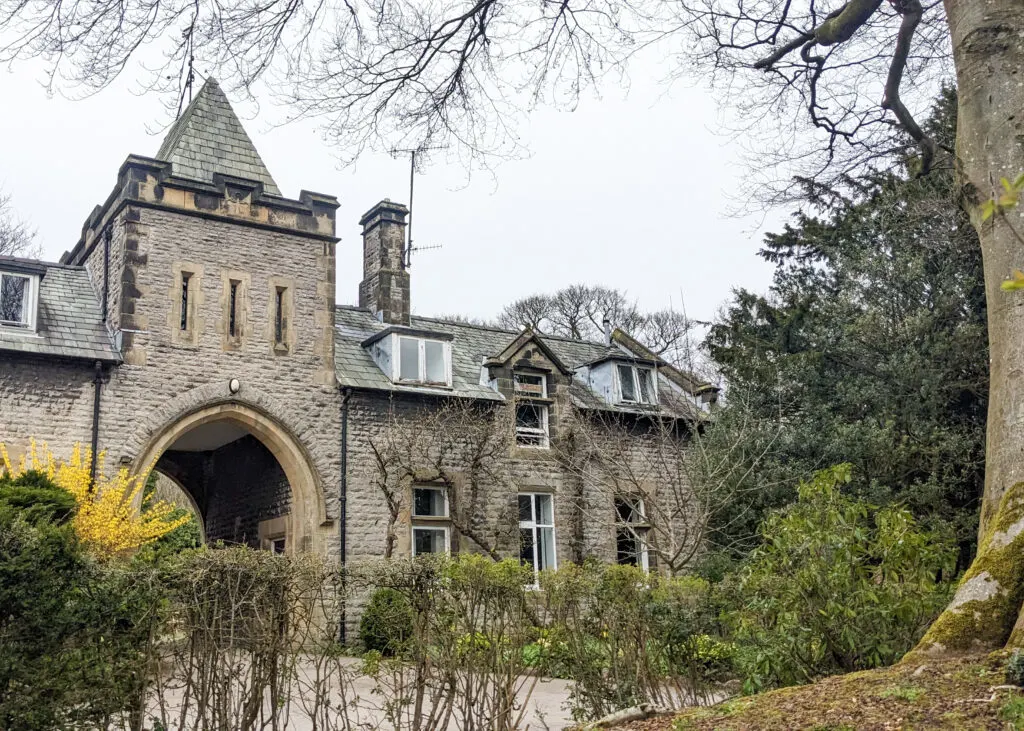 It was handy to have access to the hostel before check in time, and the outdoor games on offer kept the kids entertained, allowing us parents the chance to sample a beer or two from the onsite shop. We also liked the choice of accommodation options, in particular the camping barn which is a unique experience if you're travelling in a group.
Having Castleton only a few minutes walk away, with its shops, pubs, and activities is a big plus point, especially since the walk there is mainly through the hostel grounds.
Final thoughts on YHA Castleton Losehill Hall
Finding somewhere to stay in Castleton is a challenge, especially when you're on a budget, but YHA Castleton Losehill Hall is a fantastic option which won't break the bank. With its clean and well-maintained rooms, hearty cheap breakfast, family-friendly facilities, and welcoming staff, it's the best place to stay in Castleton for families and hikers alike.
Click here to check availability and rates for YHA Castleton Losehill Hall
Make sure you venture into Castleton as well, there are lots of things to do in the village and surrounding areas, and you'll be happy to know you've got the cosy YHA to return to in the evening.
---
You may also like to read:
Things to do in Castleton
Mam Tor walk
Cave Dale walk