Feature photo: Higger Tor walk
As part of the Peak District National Park falls within the Sheffield boundary, the city of Sheffield is frequently called England's outdoor city. Indeed, the National Park is very accessible for those living or working in Sheffield, especially with the Hope Valley train line that connects Sheffield to Manchester with a handful of stop in the Dark Peak, including Grindleford, Hathersage, Bamford and Edale.
For those Sheffield-dwellers with a car, the options for walks really does open up. However, where are the best Peak District walks near Sheffield city to avoid too much of a drive? Well read on.
This website has over 60 Peak Districts family walks (including pram friendly walks) that have been tested by kids, and here we detail the best of these walks that are within easy driving reach from Sheffield, all within a 40 minute drive from Sheffield City centre (unless there is bad traffic on the roads).
Disclaimer: This post contains affiliate links. Should you click to purchase, it is at no additional cost to you, but I receive a small commission.
If you are planning a visit to the National Park, please arrive early or late in the day to avoid crowds if visiting over sunny weekends or school holidays. Please also take all litter home with you, don't bring BBQs and park your car in designated parking areas. Also, please use these walks as a guide; access and stiles may change.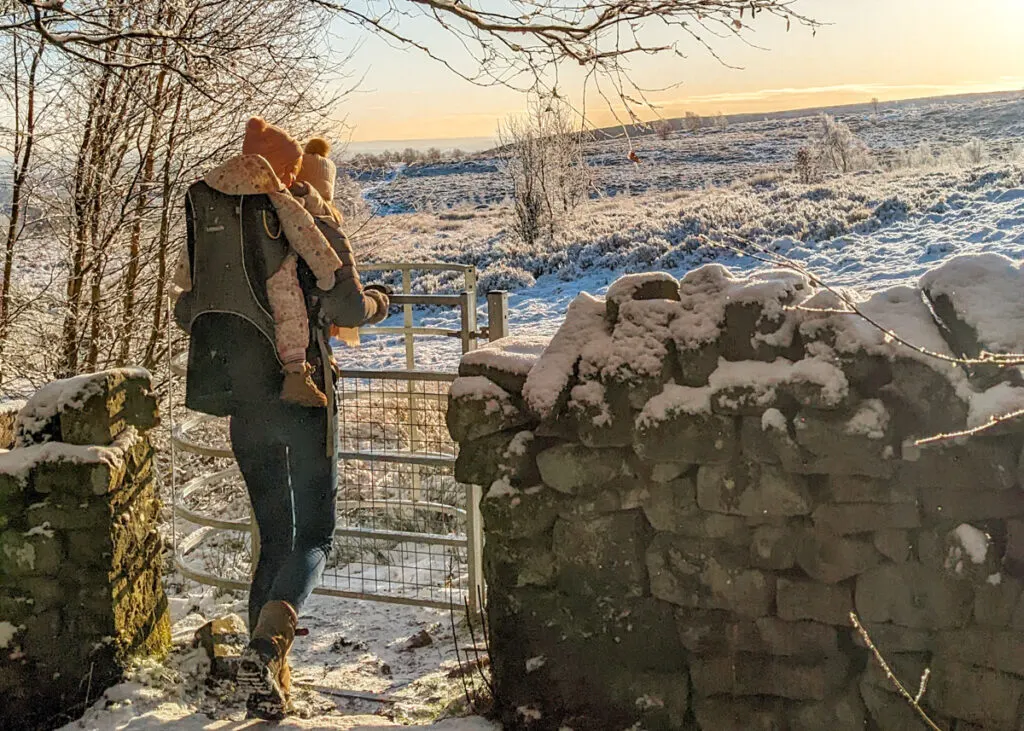 During the winter months, it's important to be extra prepared and safe when out walking and adventuring in the Peak District. The weather can change so quickly, especially on the exposed escarpments, and we don't want you to get caught out.
Read our top tips for safe winter walking with the kids.
FOLLOW US:
PARKING INFORMATION: Please do not rely solely on the postcode for parking directions. In the National Park, a postcode can cover a large area. Postcodes are only provided as guidance. Please either use the Google Maps point provided for every walk, or what3words.
Do check out our top tips for hiking with young kids, as well as our essential items to take on a family hike in the Peak District.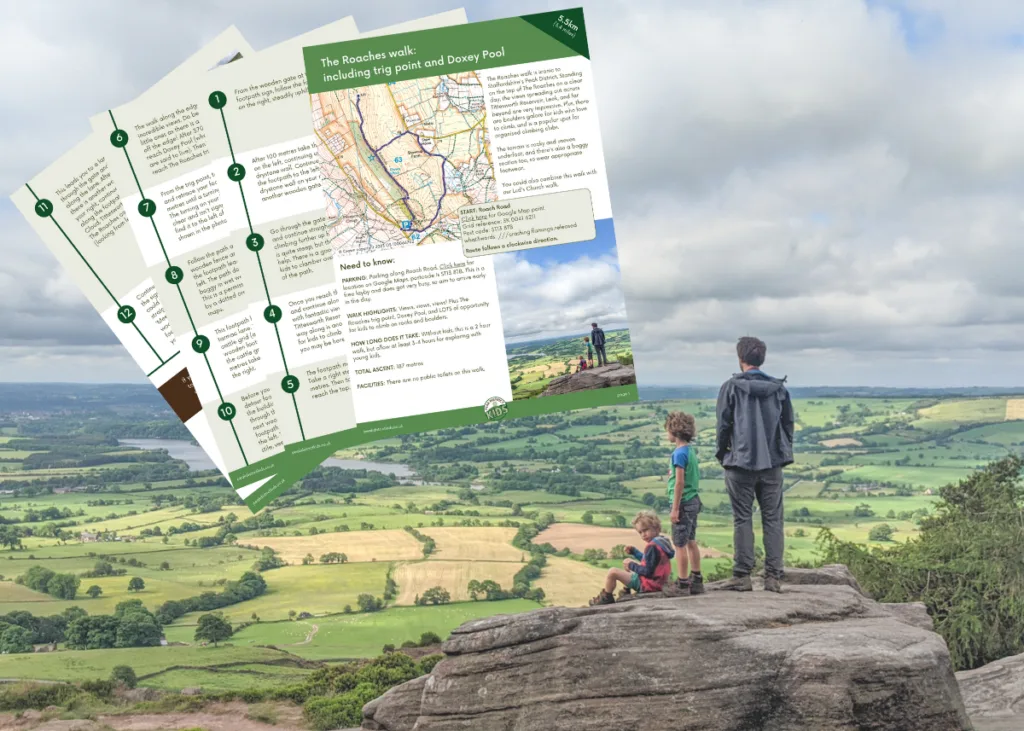 Download and print out our walking guides ready for your family walk. There are over 80 downloadable walk guides available, and these include all the main Peak District family walks, pram-friendly walks, and toddler walks.
Each printable download is just £1.50, whether it's a short 1km stroll or an epic walk up Kinder Scout.
Don't leave home without your Peak District OS Map!
Sale
Map of our Peak District walks near Sheffield
1. Ox Stones walk – 1.7km
Ox Stones walk guide
Driving time from Sheffield city centre: 20 mins
Click here for start point
Printable download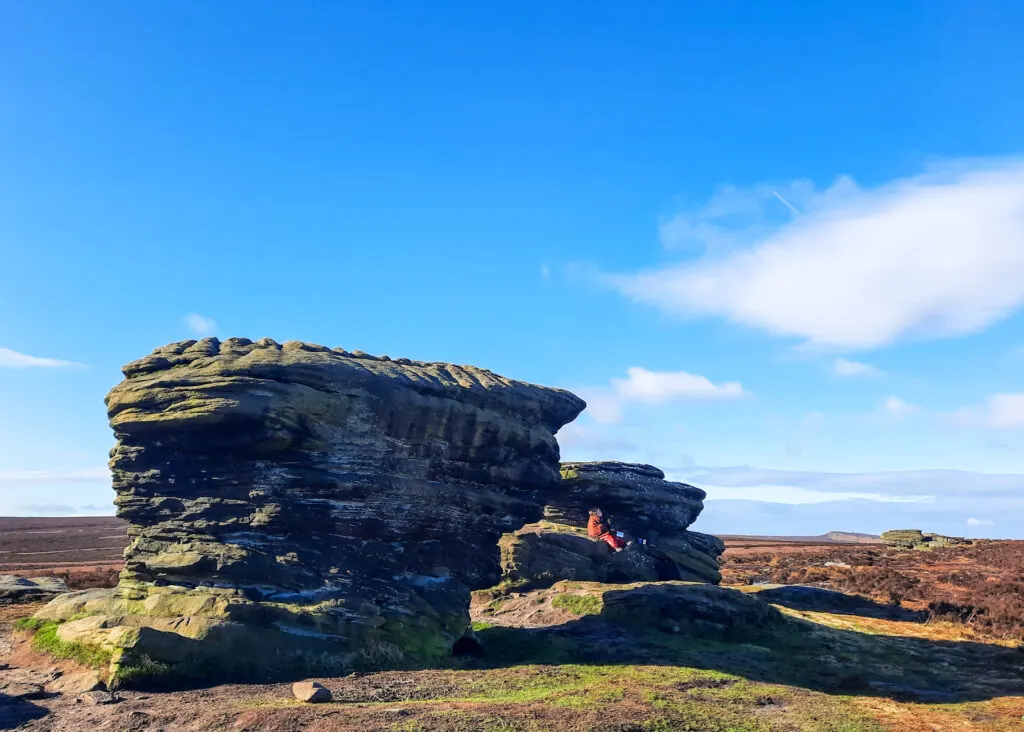 Probably our favourite Peak District toddler walk, the easiest Peak District trig point walk, and the closest of our Peak District walks to Sheffield City.
This short Ox Stones walk close to the Sheffield border is relatively flat, you can bag a trig point, the views are incredible, and there are rocks to climb. Plus there's lots of wildlife to spot (caterpillars, butterflies, lizards, curlews and other ground nesting birds, hares and more!), and be sure to look across the landscape for deer, especially when on top of the rocks.
With the changing terrain this is a great walk for little ones to build core strength and balance. But please note that this walk is not pram friendly due to the rocky and uneven terrain.
And just around the corner is Mayfield Animal Park where you can feed llamas and alpacas, and see meerkats, reindeer and more. There's also a small outdoor play area (with mud kitchen) and small indoor café.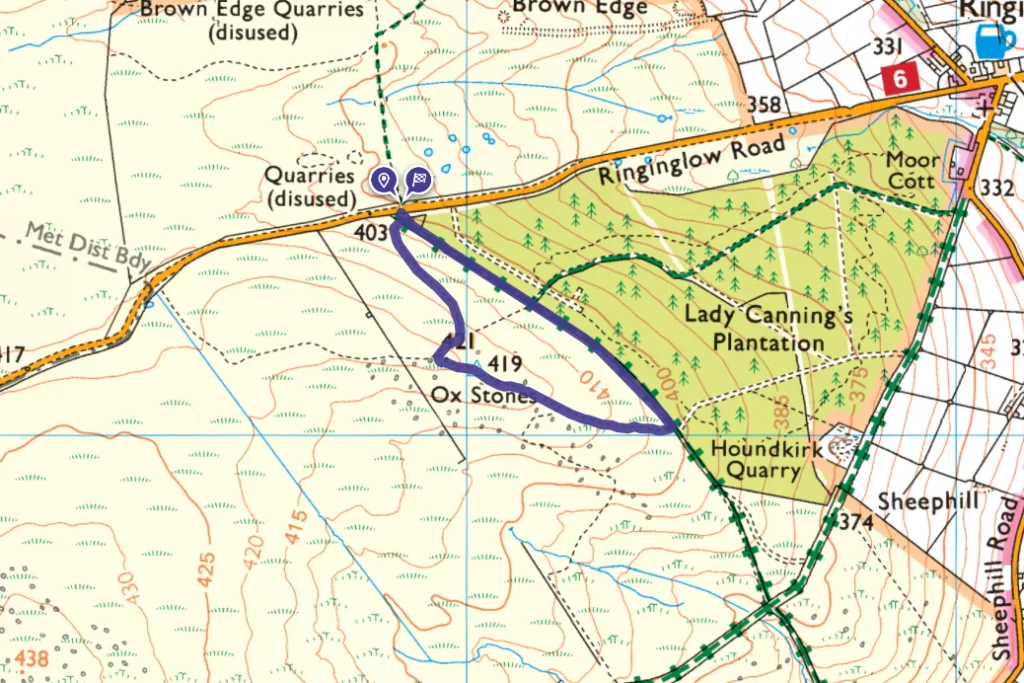 2. Blacka Moor – 1.7km
Blackamoor walk guide
Driving time from Sheffield city centre: 27 mins
Click here for start point
Printable download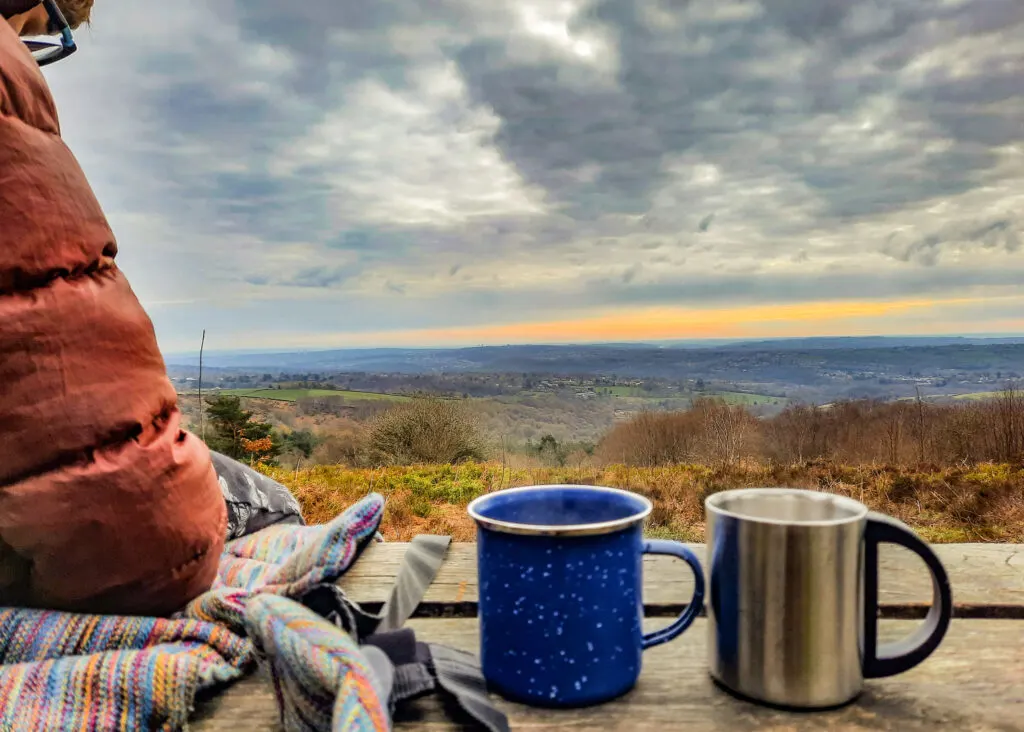 Blacka Moor is the largest reserve cared for by Sheffield and Rotherham Wildlife Trust and is part of the Eastern Peak District Moors. It is a peaceful reserve teeming with wildlife and changing landscapes, stunning views over Sheffield and a perfect spot for a cuppa.
This Blacka Moor walk, starting from Stoney Ridge car park, is just the right distance for a Peak District toddler walk and there are some great trees for climbing.
Red Deer are often spotted in this area (a good time to see them is dawn and dusk), and you may also spot birds of prey and rare migratory birds in this area (pack a bird book and some binoculars). In summer the bushes are filled with bilberries, attracting the rare Bilberry Bee.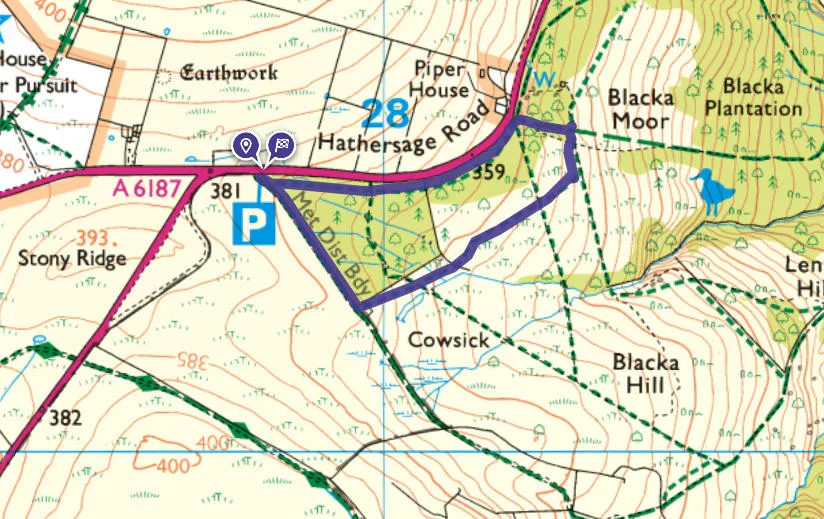 3. Higger Tor – 4.5km
Higger Tor walk guide
Driving time from Sheffield city centre: 24 mins
Click here for start point
Printable download
This Higger Tor walk is all about the superb expansive views, so save this one for a clear day. When the clouds roll in, visibility makes navigation tricky, especially through the boggy section half way through. It's also very exposed, so wear layers and bring appropriate clothing. And if you have kids who love climbing, there are boulders galore on this walk, so we suggest at least three hours for this walk to allow for Spiderman training.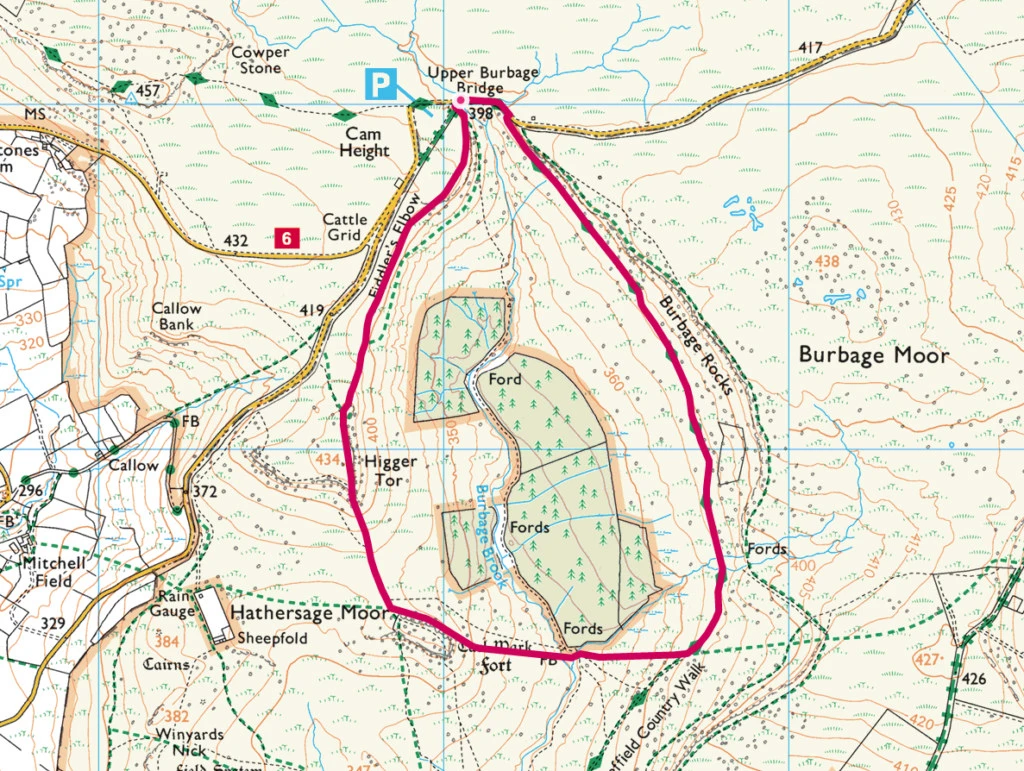 4. Padley Gorge and Longshaw Estate – 2.7km
Padley Gorge walk guide
Driving time from Sheffield city centre: 30 mins
Click here for start point
Printable download
This Padley Gorge walk is one of our favourite Peak District walks from Sheffield, and is especially great for young kids as they can paddle in the stream, climb boulders and trees, and there's even ice-cream at the end! It's a 2.7km circular walk that takes in the National Trust's Longshaw Estate too (which is free to walk though). And even though it may seem a short distance, do allow a good three hours for this walk as there are so many places to play!
Don't forget your cash for the ice-cream van. They don't take cards.
If you want a shorter walk at Longshaw, we also have a specific walk just for toddlers. Check out our Longshaw walk for toddlers.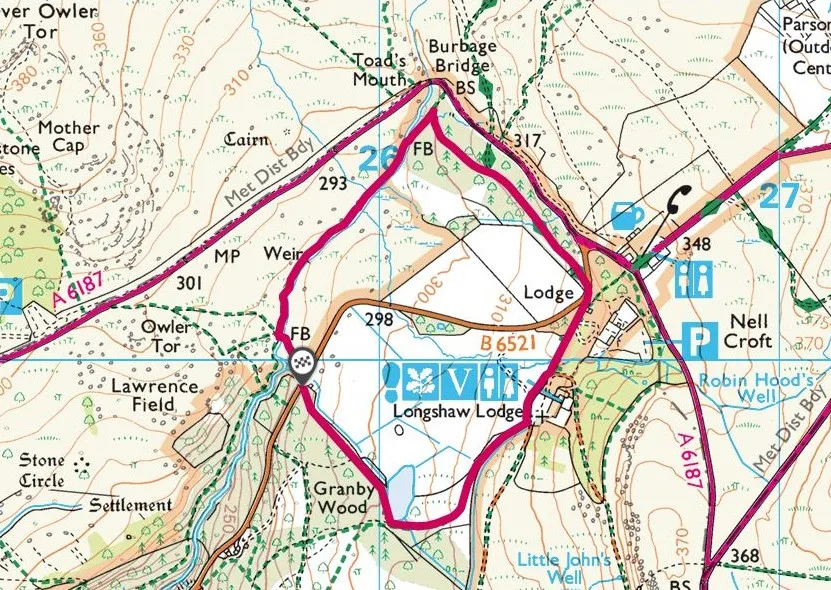 5. Grindleford Station to Padley Gorge, Owler Tor, and Mother Cap – 5.8km
Grindleford walk guide
Driving time from Sheffield city centre: 30 mins
Click here for start point
Printable download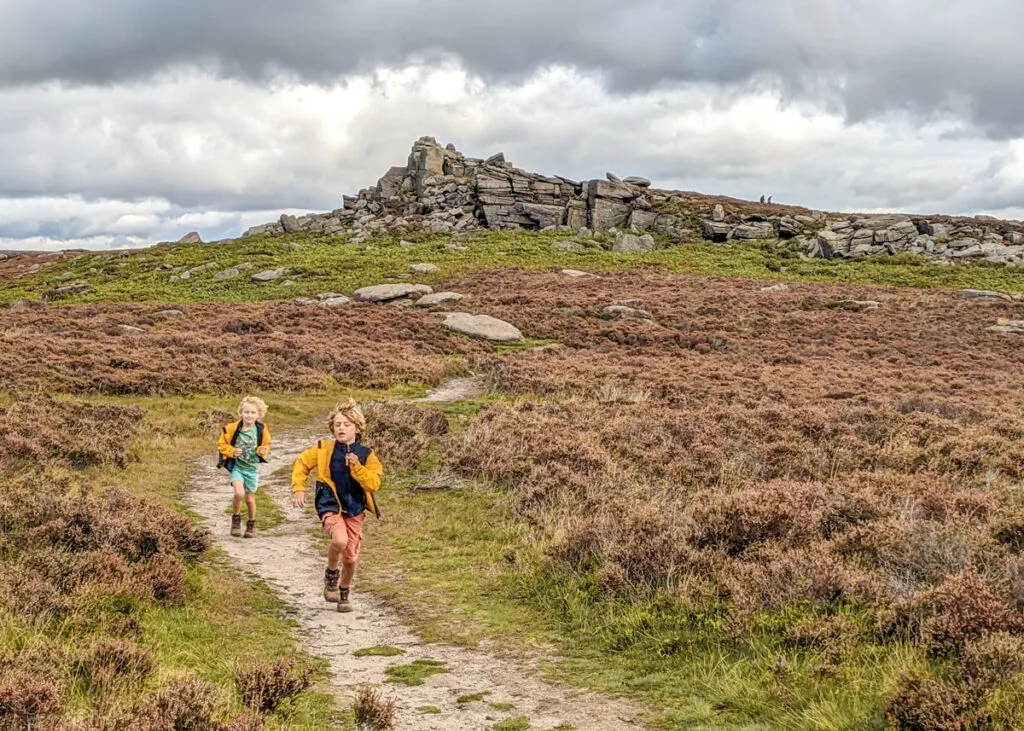 Direct from Grindleford train station, this classic Peak District family walk shows off the fantastic natural diversity of the National Park; from the magical mossy woodland of Padley Gorge, to the sweeping views of Surprise View and Mother Cap with boulders beckoning to be scrambled on. With so many natural play areas, this circular Grindleford walk will easily fill a whole day despite this only being 5.8km.
This Grindleford walk starts by leading you through the twisted mossy trees of Padley Gorge with the sound of rushing water as your soundtrack. It's a magical setting with mushrooms to find and trees to climb, plus the water to play in. Then walking away from Padley Gorge you are led past Owler Tor, with views back down to Longshaw Estate, and onto the rocky outcrops of Surprise View and the domineering Mother Cap; this section is boulder climbing galore! A rocky path then leads you down to Millstone Edge with superb views over to Hathersage, Stanage Edge, Mam Tor, and beyond, before heading back down into Padley Gorge and returning to the train station for hot chips from Grindleford Station Café.
This is one of our more challenging Peak District family walks as the terrain is rarely flat and most paths are uneven underfoot. But take your time and embrace the stops for play, as this walk really does show off some of the best bits of the Peak District.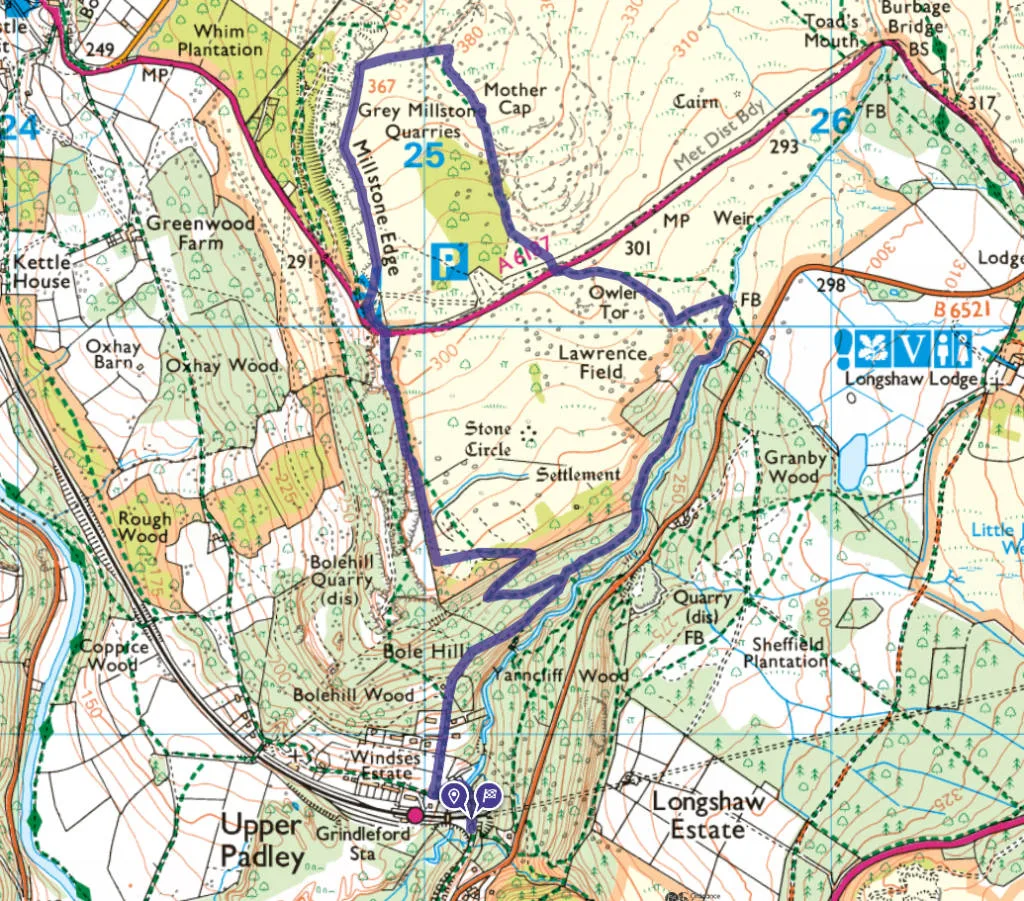 6. Little Barbrook – 5km
Little Barbrook walk guide
Driving time from Sheffield city centre: 35 mins
Click here for start point
Printable download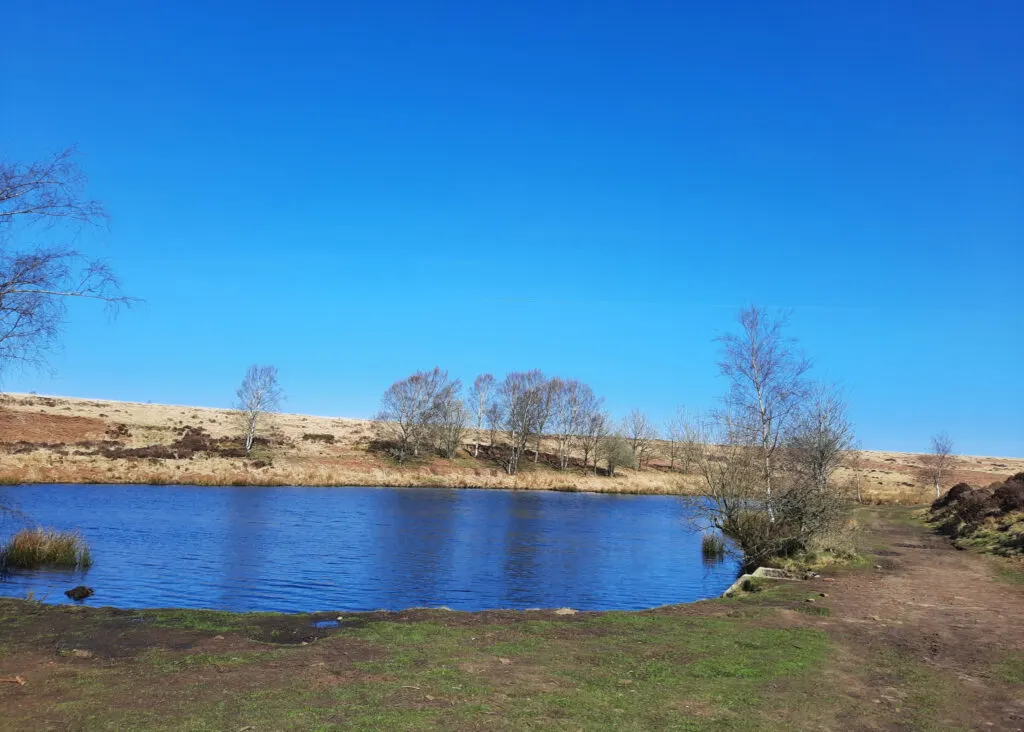 This Little Barbrook walk offers a 'there and back' route, which includes some fantastic views, an ancient standing stone circle, a Bronze Age cairn, plus a great picnic spot at the furthest point with opportunities to paddle, play poo sticks and feed ducks. You may even spot deer, kestrel and butterflies here!
A very simple walk following one main track, and very easy going. In fact this walk to Little Barbrook is one of our favourite flat walks in the Peak District.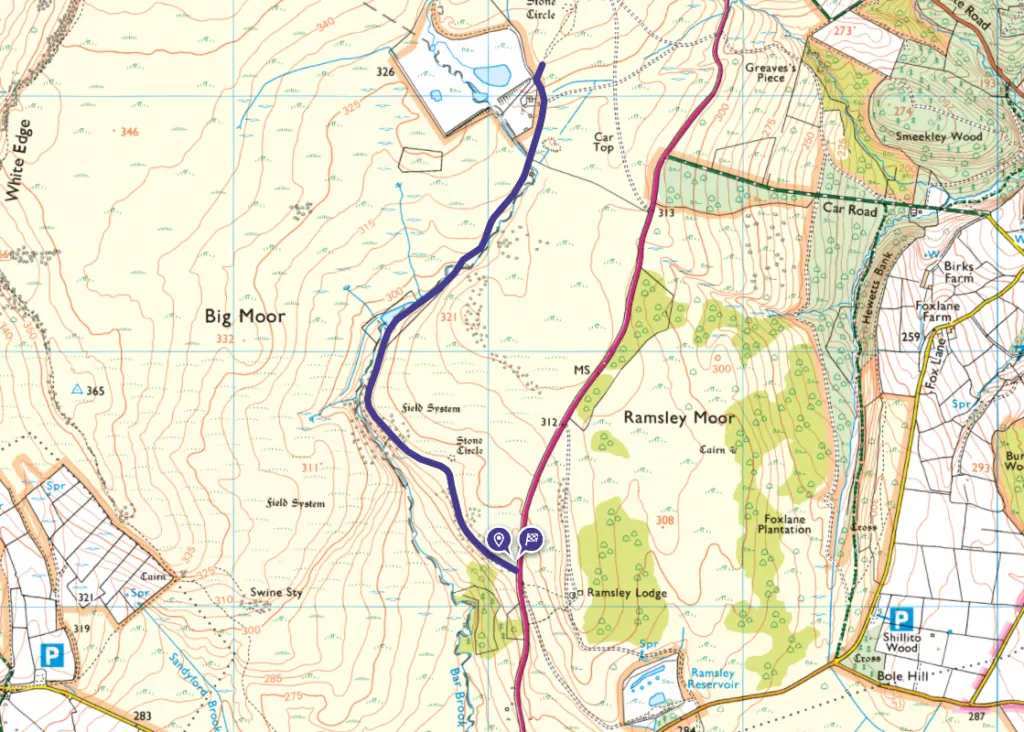 7. Hathersage Stepping Stones – 5.3km
Hathersage Stepping Stones walk guide
Driving time from Sheffield city centre: 35 mins
Click here for start point
Printable download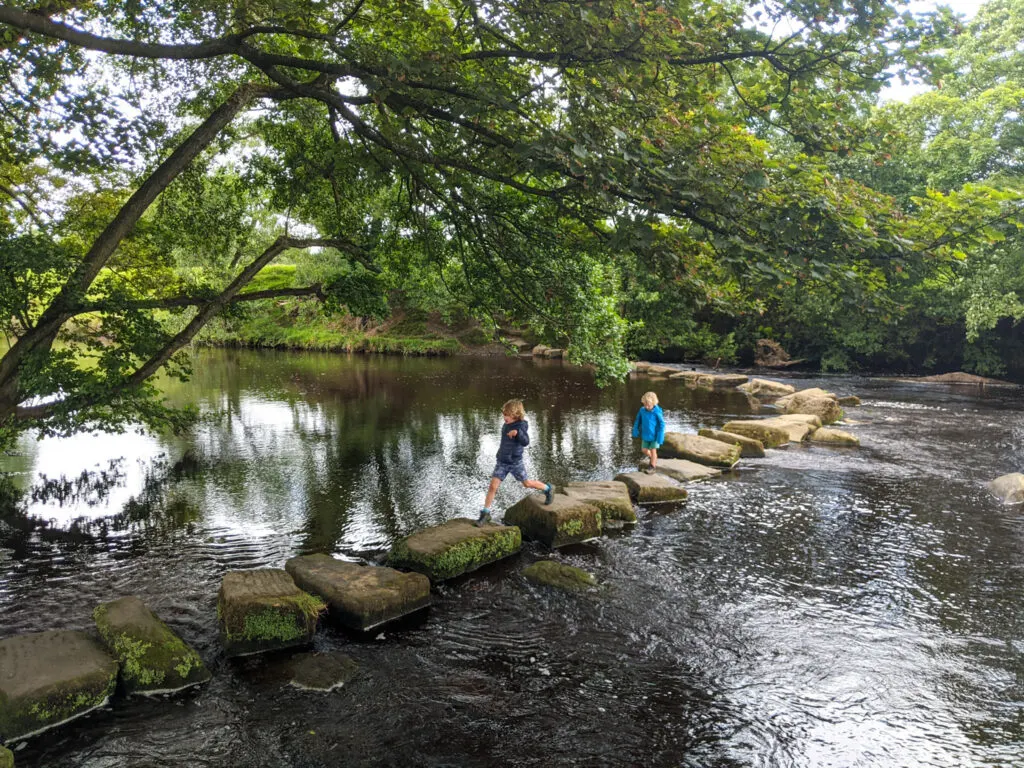 A much quieter alternative to Dovedale Stepping Stones, is Hathersage Stepping Stones.
This almost-5km circular Peak District family walk from Hathersage is easy and relatively flat. It mostly follows the footpaths along the River Derwent, through shady trees backed by open fields. The stepping stone themselves are a little trickier than the Dovedale ones, so take care if you're unsteady on your feet; kids under 5 will need a helping hand as their legs aren't quite long enough to reach across to each stone.
It's a very pretty walk, and the reward at the end is a hot chocolate in one of Hathersage's cafes!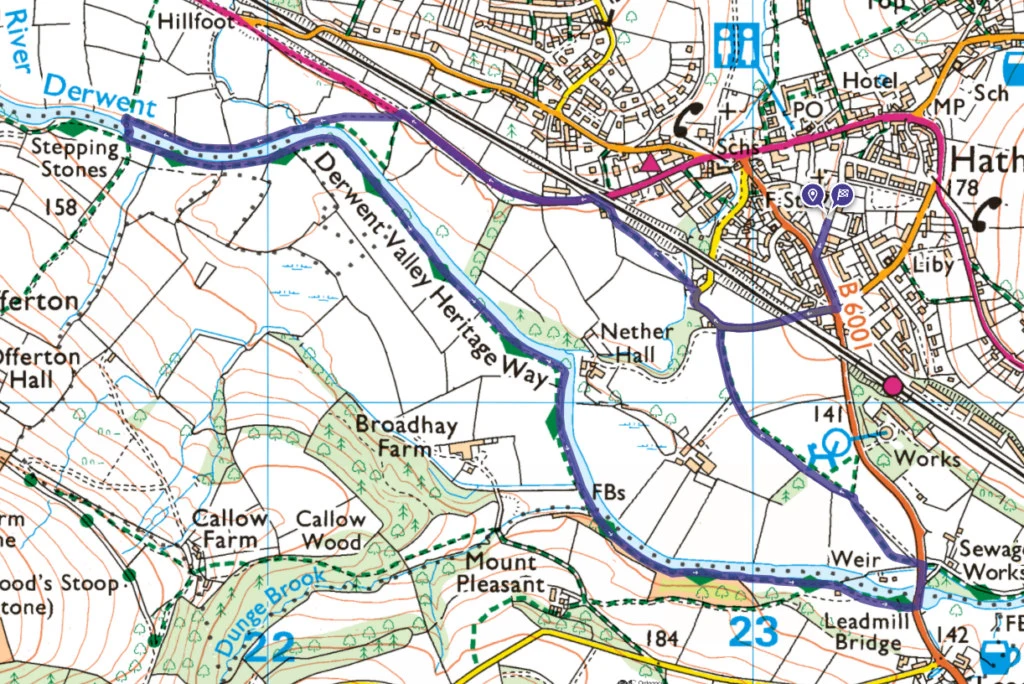 8. Bamford Edge – 7.9km
Bamford Edge walk guide
Driving time from Sheffield city centre: 35 mins
Click here for start point
Printable download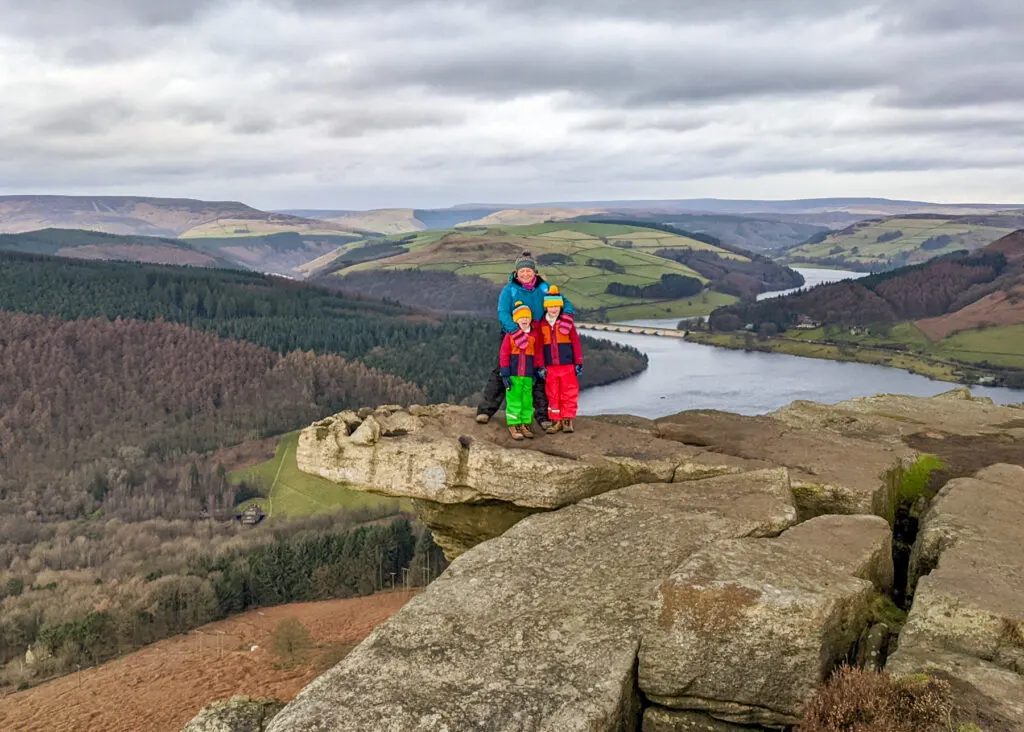 Bamford Edge is one of the most iconic spots in the Peak District. You may have see a fair few posts on Instagram of someone stood on that rock overlooking Ladybower Reservoir, more often than not at sunset?
Many people head up to this spot, grab a photo, and then head back down again (check out our guide: How to get to Bamford Edge). But here we offer a lovely Bamford Edge circular walk, which includes epic views, Ladybower Reservoir (and plug holes), wood carvings for kids to find, Bamford stepping stones, and The Anglers Rest (which is the village pub, café, and post office).
There's a steep climb at the end of this walk, but doing this walk anticlockwise will be easier for little legs. We've also provided an alternative gentler route back from the pub at the end, which adds 1.1km to the walk.
9. Dale Dike Reservoir – 4.3km
Dale Dike walk guide
Driving time from Sheffield city centre: 30 mins
Click here for start point
Printable download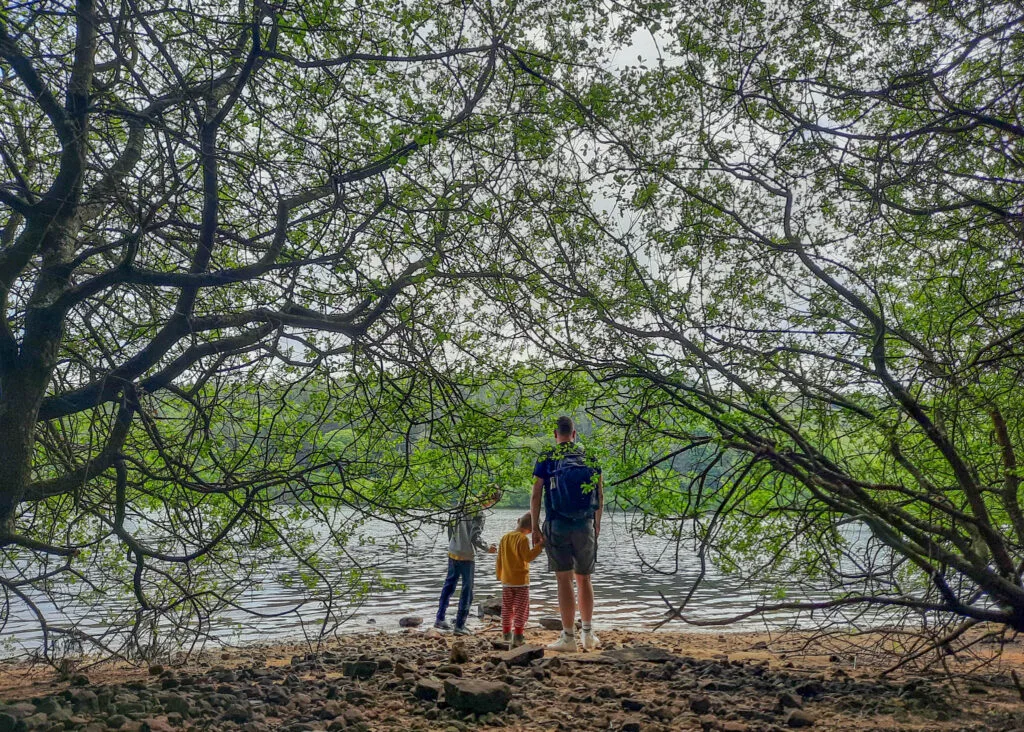 The Dale Dike Reservoir walk is another not-well-known Peak District reservoir walk. It oozes with calm and tranquillity as you amble through woodland and meadows following the water's edge. Waves gently lap against the sandy shores, twisted old trees grow as close to the reservoir as possible, and the sky reflects upon the water; you can't help but feel relaxed here. Plus, the surrounding fields with grazing cows, geese and sheep make this a really wonderful, diverse environment for a Peak District family walk.
Dale Dike Reservoir (also sometime spelt Dale Dyke Reservoir) was the site of the Great Sheffield Flood when the Dam failed in 1864 killing over 250 people. There is signage enroute with more information about this catastrophic event. Watch the below YouTube video to find out more before your visit.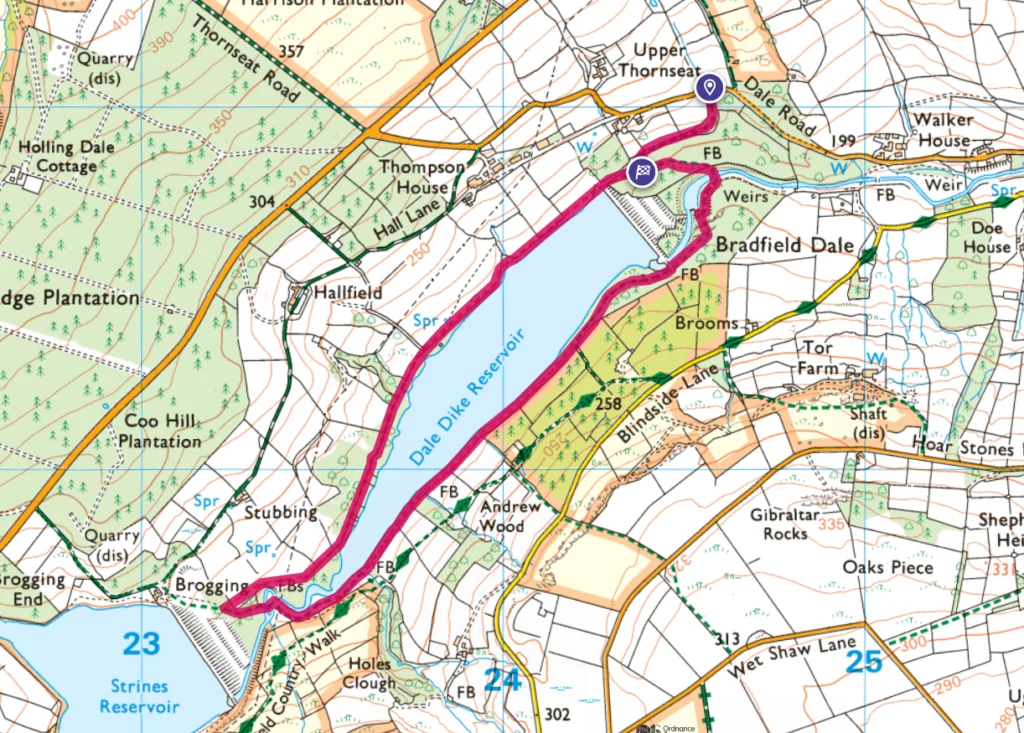 10. Win Hill – 6.2km
Win Hill walk guide
Driving time from Sheffield city centre: 30 mins
Click here for start point
Printable download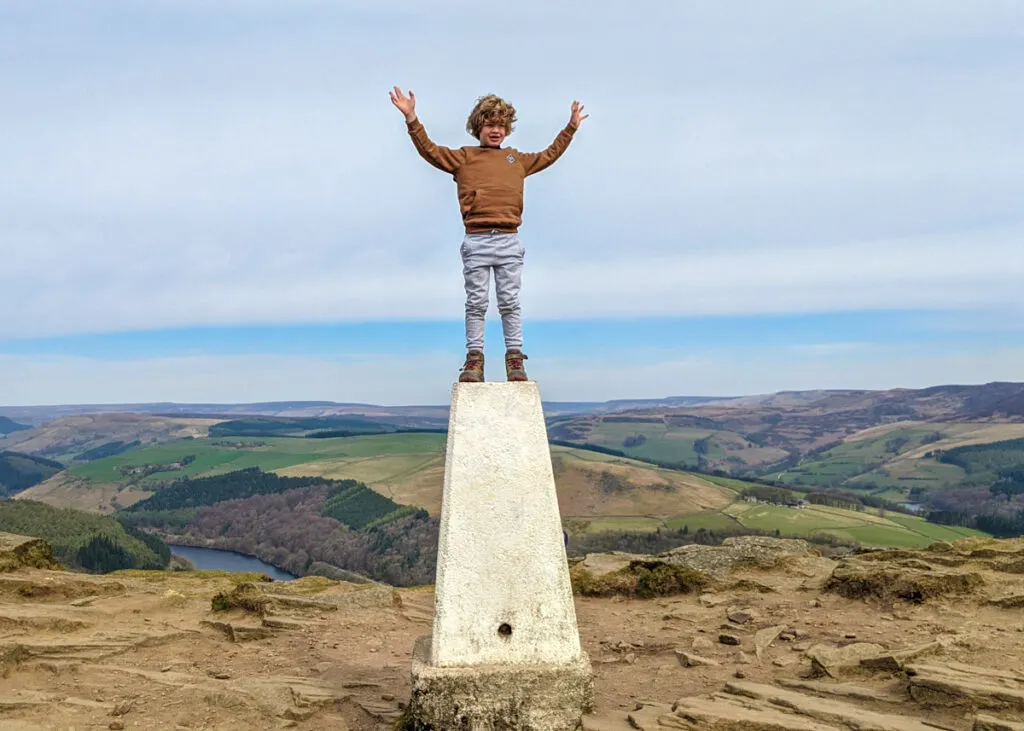 The views from Win Hill (462m) over Ladybower Reservoir and the Great Ridge in the Dark Peak are superb on a clear day and one of our favourite Peak District walks near Sheffield. Whilst the direct route up to the summit is rather steep, this circular Win Hill walk allows for a steadier incline through the pine forest, more suitable young families. There is, however, a steep decline from the summit; whilst kids will probably bound down, parents may want to use walking poles, and it may be tricky for those with little ones in carriers.
This Win Hill walk is super fun, with woodland explorations, incredible views, boulders to scramble up to the summit, and a family snap at the Win Hill Trig point is a must! Starting from Heatherdene car park, this walk crosses over Ladybower Dam, meaning that you will also pass the Ladybower plugholes (technically known as shaft spillways), which drain water when the reservoir becomes full after heavy rains.
Make sure you have change for parking at Heatherdene car park (the machine doesn't take cards). And on weekends and school holidays, arrive before 10am to get a parking space, as this car park does get exceptionally busy.
---
You may also like to read:
Best Peak District reservoir walks
Best view walks in the Peak District
Best pubs walks in the Peak District