The Stanage Edge walk is all about taking in the superb views from arguably the most impressive gritstone escarpment in the Peak District. On a clear day, you can see across to Kinder Plateau and Mam Tor, with the angular summit of Win Hill protruding from the foreground behind Bamford Edge, and further along this walk, you will get a glimpse of Ladybower Reservoir. Hathersage can also be easily spotted as Stanage Edge stands over this picturesque village. It really is a stunner of a walk for Peak District views. And for kids, there are LOTS of opportunities to play on the boulders (just keep an eye on them and make sure they don't go too close to the edge!)
This Peak District family walk starts from the Hollins Bank car park (at the base of Stanage Edge), which is just a short, steady climb to the top. You then follow the footpath along the top, passing High Nebb trig point, right to the end of the escarpment (aptly named Stanage End), before descending to the footpath below and following it all the way back to the car park.
Even on a warm summers day, it can get very blustery up on Stanage Edge, so take an extra layer with you. The footpath is also very uneven underfoot, so take care; kids will love playing 'the floor is lava'.
Standage Edge features in the latest BBC adaptation of Pride & Prejudice (where Keira Knightly stood windswept and pensive over the landscape). And whilst we can't guarantee you'll find Mr Darcy on this walk, you will see lots of discarded millstones on the latter half of this walk, many still in tact from their industrial heyday.
At the end of this walk and if everyone still has energy, you may want to walk on a little bit further to find Stanage Pole. This is a large wooden pole that has stood for hundred of years, marking the border between South Yorkshire and Derbyshire, Hathersage and Sheffield, and probably the ancient kingdoms of Mercia and Northumbria.
If you are planning a visit to the National Park, please arrive early or late in the day to avoid crowds. Please also take all litter home with you, don't bring BBQs and park your car in designated parking areas. Also, please use these walks as a guide; access and stiles may change.
Disclaimer: This post contains affiliate links. Should you click to purchase, it is at no additional cost to you, but I receive a small commission.
FOLLOW US:
Do check out our top tips for hiking with young kids, as well as our essential items to take on a family hike in the Peak District.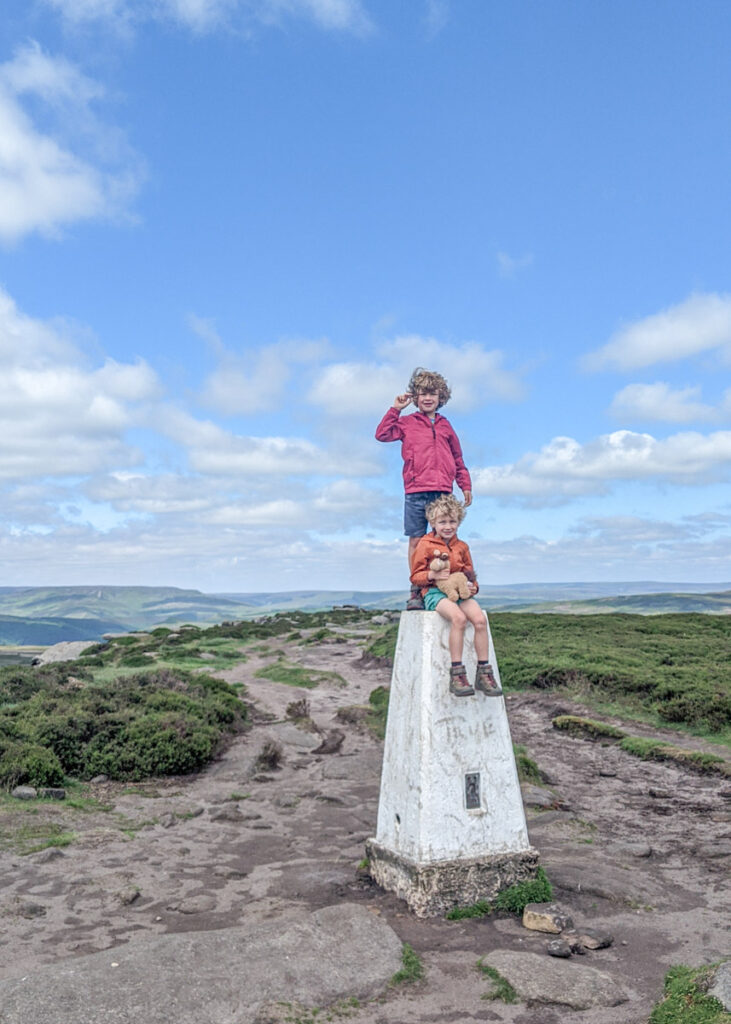 Stanage Edge walk map
On all Peak District family walks it's a good idea to have an Ordnance Survey paper map with you, even if you are using a mapping app on your phone. For this walk you need the OS Explorer Map OL1 (Dark Peak). It's also a good opportunity to show young kids the map features and get them started with map reading.
Our route follows an anticlockwise direction starting from Hollins Bank car park.
Need to know
DISTANCE OF WALK: 7.7 km
TYPE OF WALK: circular, escarpment walk
PARKING: Parking at Hollins Bank car park. Click here for location on Google Maps, postcode is S32 1BR. All day parking here is £4.50 (bring coins). Although you don't need to pay if you have a Peak District annual parking pass to display.
WALK HIGHLIGHTS: Views, views, views! Plus, High Nebb trig point, finding millstones (how many can you count?), and LOTS of places to climb on boulders.
HOW LONG DOES IT TAKE: Without kids, this is a 2.5 hour walk, but allow at least 4 hours for exploring with young kids.
TOTAL ASCENT: 307 metres
ACCESSIBILTY: Not pram or wheelchair friendly. Steep climb at the beginning of the walk. Rocky and uneven underfoot in places. There is one steep stile that dogs may struggle with.
FACILITIES: 24 hour public toilets can be found 150 metres from the entrance to the car park; come out of the car park and take a left. There are no other facilities on this walk.
The route
This Stanage Edge walk description follows the above OS Map in an anti-clockwise direction.
START: Hollins Bank car park
1. Take the footpath at the rear of the car park and continue along the main path steadily uphill to a double wooden gate, leading into woodland.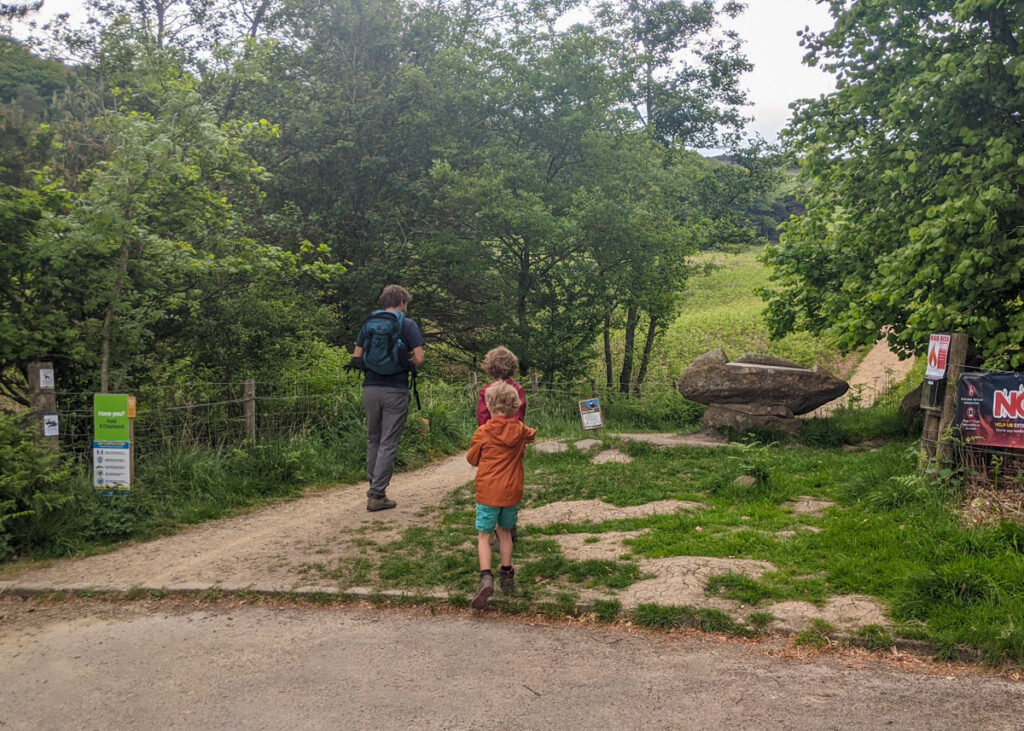 2. Continue through the woodland. Kids will love playing 'floor is lava' along the footpath stones. This leads out to another wooden gate.
3. Then continue the steady climb straight ahead to lead up to Stanage Edge. You will walk through a drystone wall along the way.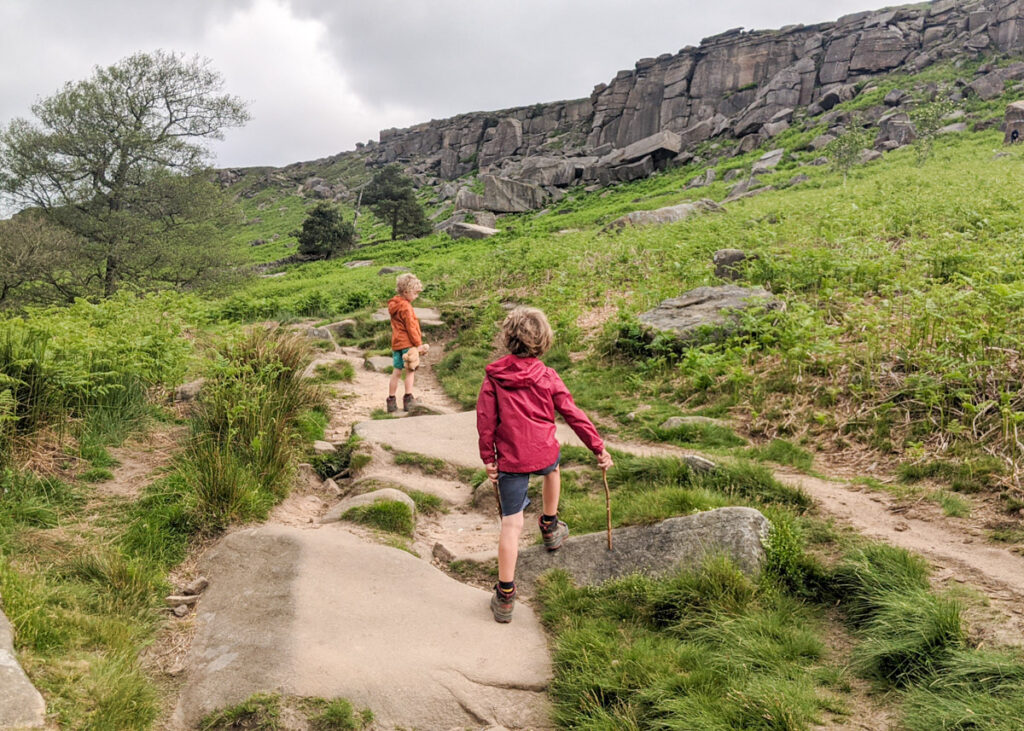 4. Once you reach the top. Take the footpath to the left. After 300 metres there is a fork in the path. Take the footpath on the right and continue along Stanage Edge taking in those amazing views.
5. After 1.2 km you will reach High Nebb trig point.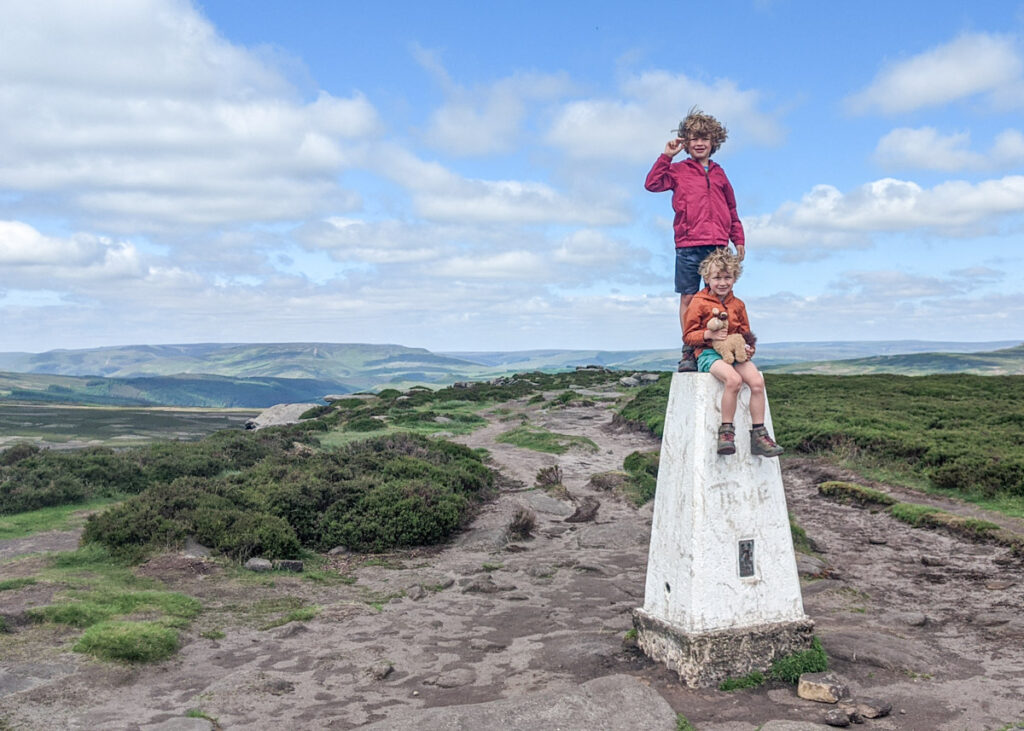 6. Continue straight ahead, following the footpath along the top of Stanage Edge for 1.5km. Eventually you will come to the end of Stanage Edge; aptly named Stanage End. Take the footpath down to the left (WW is marked on a stone pillar).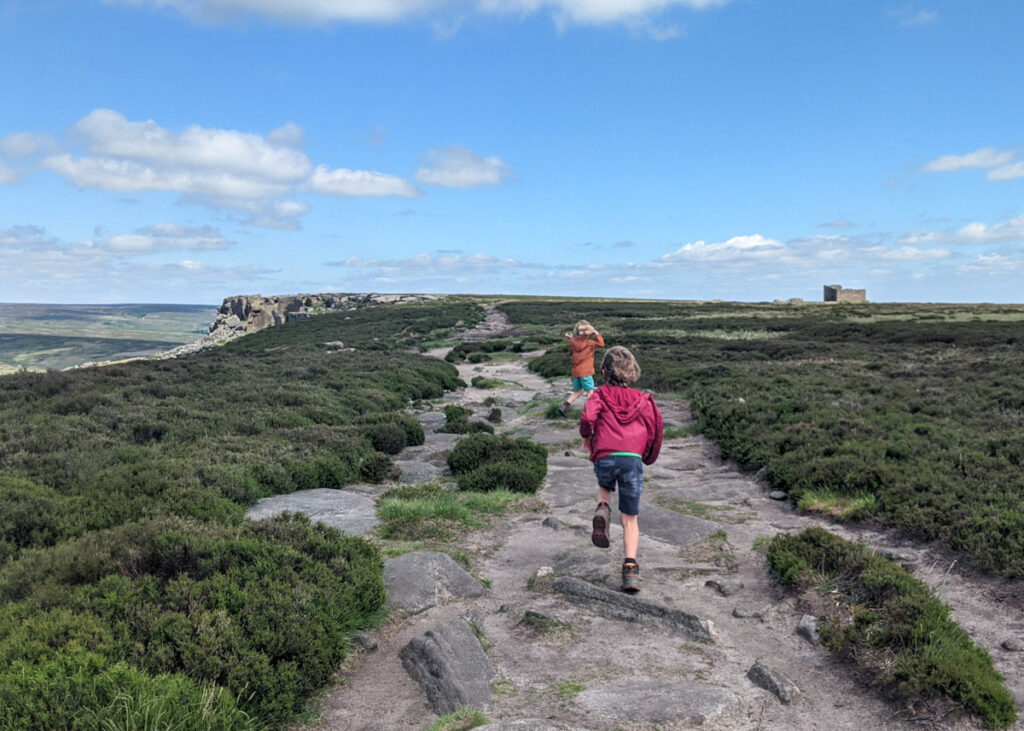 7. After 30 metres you meet another footpath. Take a left again and follow this footpath back for 2.4km, with the escarpment of Stanage Edge now on your left. Always keep on the footpath closest to Stanage Edge. Look out for the millstones on the last km of this footpath – you can't miss them!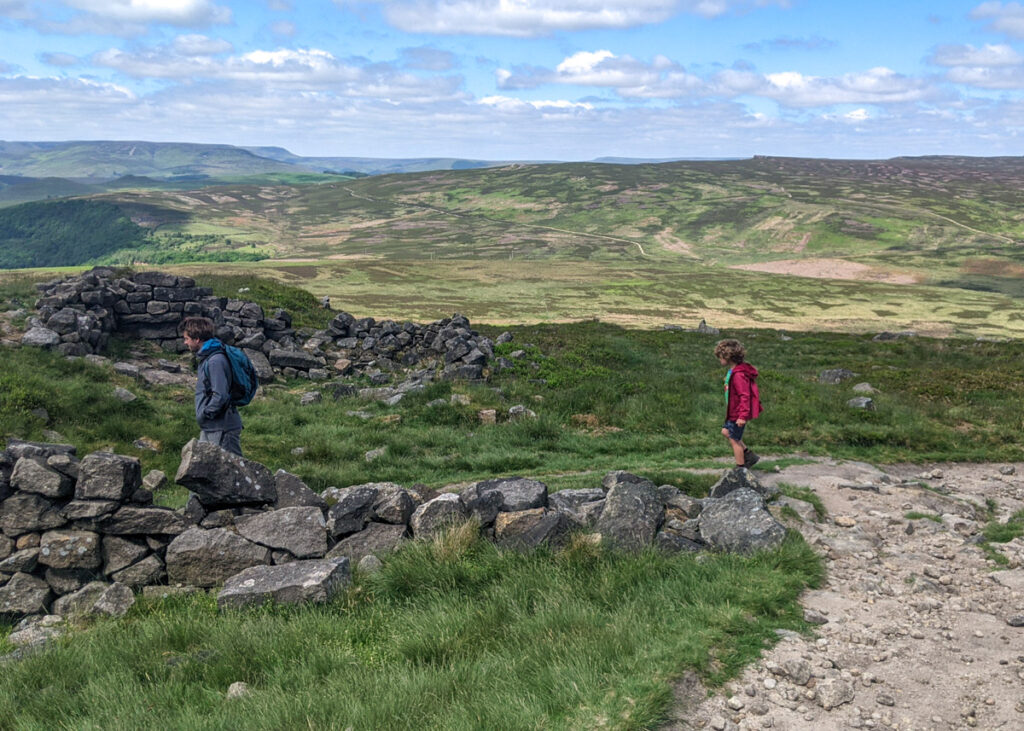 8. This eventually leads you to a wooden ladder stile. Climb over and walk left up the hill to meet the fork in the footpath that you met at step 4.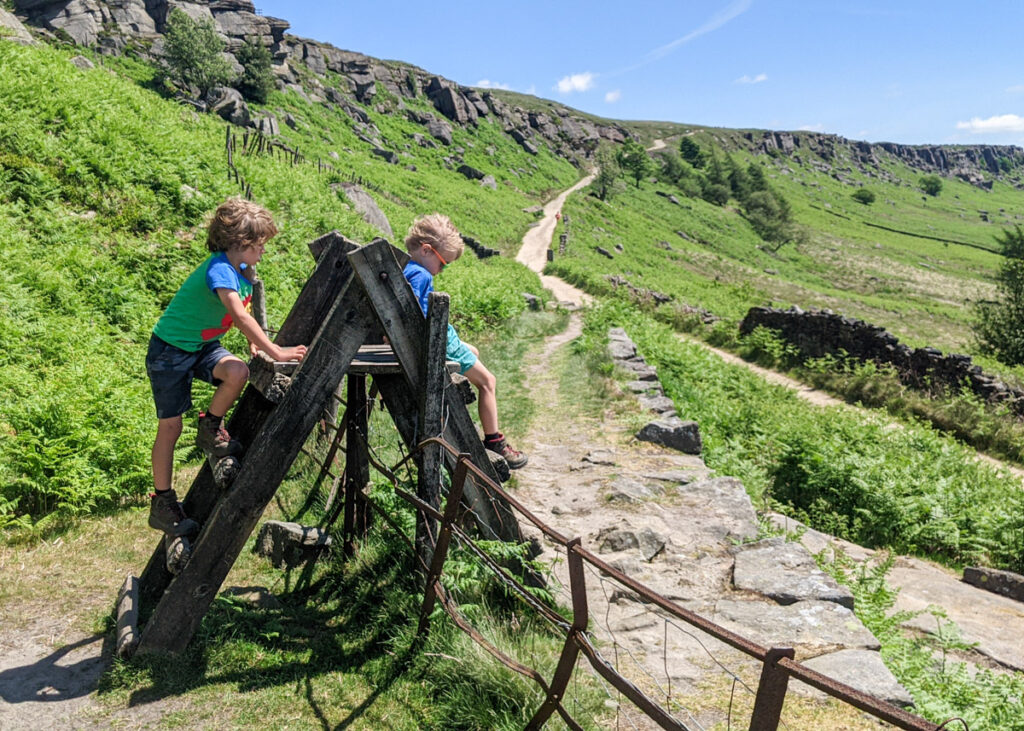 9. Just 300 metres past the fork, take the turning on the right and retrace your footsteps back to the carpark. Don't forget to take the right at the pancake rocks! If everyone still has some energy, don't take this turning, and instead walk on a little further to take a turning on your left. It's then a 600 metre walk to Stanage Pole.
After your Stanage Edge walk
Head into Hathersage and take your pick from a range of pubs and cafes. There's also a playground in Hathersage if the kids still have energy to burn. Or you may want to try out Hathersage Outdoor swimming pool (you must prebook tickets online).
Fancy an ice-cream? Then you must head to Hope Valley Ice Cream just outside Hathersage. There are farm animals to meet, sand pits in old tractor tyres, a short walk around the farm, and some of the best homemade ice-cream in the Peak District. Yum!
---
You may also like to read:
Hathersage Stepping Stones walk
Win Hill walk
Ladybower Reservoir walk