With all the diary farms in the Peak District, you probably won't be surprised to hear that many farms sell their own homemade ice-cream! A scoop of the freezing, yummy stuff is a fantastic reward after a Peak District walk or an extra treat after a day out with the kids. And Peak District ice-cream is not just a treat for the warmer months; kids (and adults!) enjoy ice-cream in all weathers!
So where are the best places to go for a taste of real Peak District ice-cream? Well read on…
Where can I find the best Peak District ice-cream?
Here are the locations:
Blaze Farm
blazefarm.com
Wildboarclough, Macclesfield SK11 0BL
READ: Blaze Farm review
Over on the Cheshire side of the Peak District is Blaze Farm, selling their exclusively homemade Hilly Billy ice-cream in over 15 different flavours, including Chocolate Orange, Ginger, and Toffee Malt Ball, amongst your more traditional flavours of vanilla and strawberry. Plus they have seasonal flavours such as Christmas Pudding and Irish Cream.
Whilst visiting the farm, have a walk around to meet the animals (lots of cows, goats and pugs) or feed the ducks at the pond. During lambing season, you can pay a small fee to see lambs being born in the lambing shed!
In the courtyard seating area to the back of the café is a tractor to play on and a tunnel slide.
There is also a short nature trail for you to follow (although not pram friendly); along the way you'll find a little den and carved woodland creatures. This is a great little Peak District toddler walk.
Click here for the Blaze Farm walk

Nearby walks include:
Shutlingsloe (4.6km)
Three Shires Head (6.2km)
Tagg Lane Dairy
tagglanedairy.com
Tagg Ln, Bakewell DE45 1JP
Tagg Lane Dairy claim to sell the 'very best in artisian gelato', and we certainly agree that it tastes incredible! Being gelato, rather than ice-cream, it has a lower fat content and a softer texture.
Luxury flavours are hand crafted with the finest all-natural ingredients, from the fresh fruit in the fruit flavours to the cocoa in their award winning chocolate. The gelato is patiently churned that little bit longer and that little bit slower. The result is heavenly.
There are benches outside to sit, although there isn't anything else here to do (no play area or animals to see) after you've eaten your ice-cream.
Nearby walks include:
Lathkill Dale (6.6km)
Over Haddon (5km)
Pomeroy Ice Cream
pomeroycaravanpark.co.uk
Street House Farm, Pomeroy, Buxton SK17 9QG
Just around the corner from Tagg lane Diary towards Buxton, and often with much shorter queues for ice-cream, is Pomeroy Ice Cream. The ice-cream counter is in their reception for the campsite. The campsite gets good reviews from families too!
Staff are super friendly here, and there are often luxury flavours to try, such as Malteser and Cherry Bakewell. Once you've bought your ice-cream, take it over to the benches to eat and be amused by the resident goats. There's lots of space here for the kids to run around too.
There's also a raw milk dispenser in the car park if you need to stock up for your milk for your breakfast cereal.
Nearby walks include:
Longnor (3.3km)
Solomon's Temple (1.8km)
Matlock Meadows
matlockmeadows.co.uk
Snitterton Road, Matlock, Derbyshire DE4 2JG
READ: Matlock Meadows review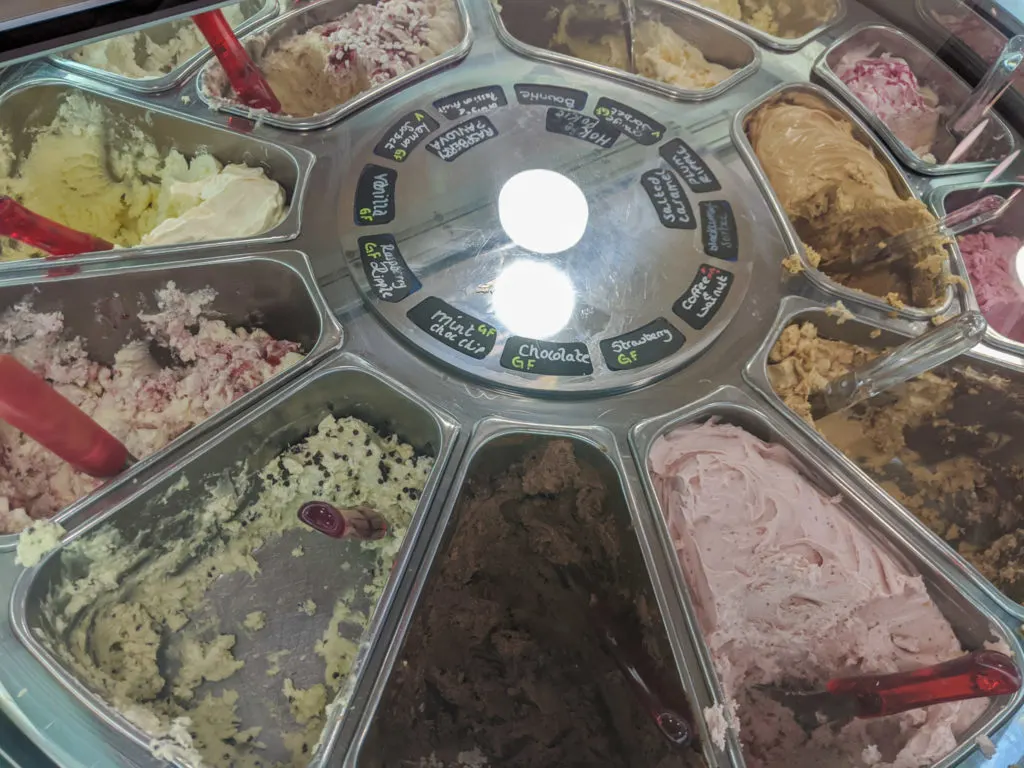 On the very edge of the Peak District National Park, just outside Matlock, is Matlock Meadows. This is a must visit place if you are looking for things to do in Matlock as there are farm animals to see, both an indoor and outdoor playground, and of course, ice-cream!
You must try the award-winning Italian style gelato, which is made on site. There are 15 flavours to choose from and each and every one is absolutely delicious (not that we've tried them all… yet)! There are also dairy free and gluten fee ice-creams available.
You can also purchase breakfasts and light lunches, as well as the usual hot drinks. Adjacent to the café is a separate seating area with a small play area for toddlers, and a large wooden train set to play with.
Nearby walks include:
Cromford Canal and High Peak Trail (7.3km)
Stanton Moor (3.1km)
Hope Valley Ice Cream
hope-valley.co.uk
Thorpe Farm, Hathersage, Hope Valley, S32 1BQ
READ: Hope Valley Ice Cream review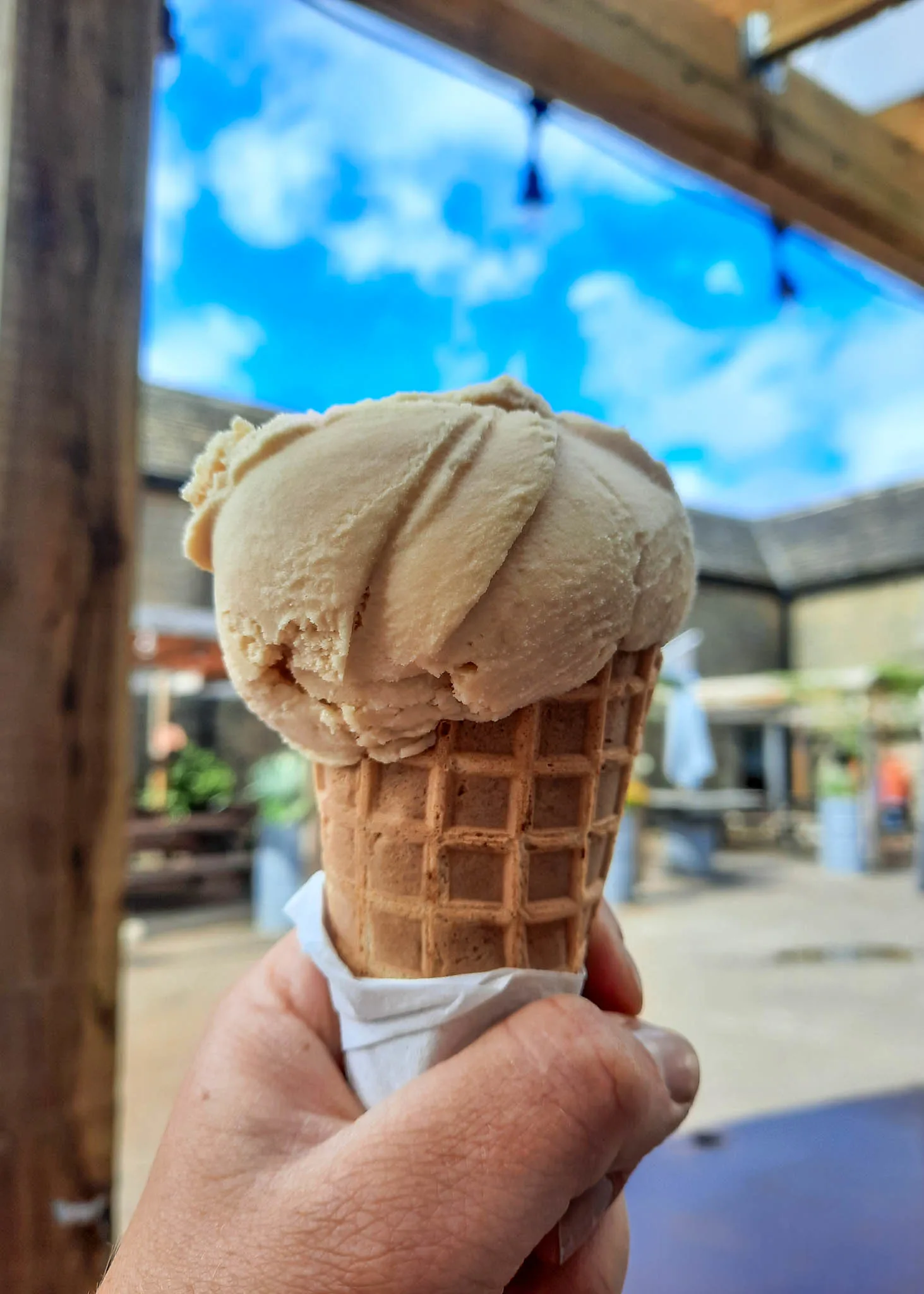 Hope Valley Ice Cream is run by the Marsden Family, who've been milking cows at Thorpe Farm for over 300 years. Open 12 to 5pm every day, they have a a wide range of traditional flavours of ice cream, along with some slightly more unusual flavours (such as Gertrude's Ginger and Whisky), all made right on the farm.
If you love their ice-cream, you can even buy a tub to take home with you, or buy it online when you run out.
The farm has lots of great information signs that explain how things work on the farm, including facts about cows, their milk and how they are looked after. The young calves in nearby nursery pens are curious cuties with incredibly long tongues, they are sure to make you giggle with their giddy gallops! The farmers are often around tending to the animals and are always so friendly and happy to explain anything you ask.
Around the farmyard there are also a couple of friendly donkeys always happy to take a handful of dandelions from you and enjoy a good stroke, a couple of gorgeous pigs who like a pat on the back, and some free ranging chickens pottering around.
Once you've enjoyed a potter and play around the farm why not head for a short walk from Hope Valley Ice Cream following the route detailed here. This is a great little Peak District toddler walk.
Click here for the Hope Valley Ice Cream walk

Nearby walks include:
Stanage Edge (7.7km)
Hathersage Stepping Stones (4.9km)
---
You may also like to read:
Peak District pub walks
Best places for a Peak District hot chocolate
Flat walks in the Peak District