Matlock Bath Illuminations is a long standing tradition (since 1897) where small boats along the River Derwent are decorated with twinkling lights. The first decorations were candle lights to celebrate the Diamond Jubilee of Queen Victoria, but these days the boats are decorated in colourful electric lights, featuring Ghost Busters and a roving Carousel last year!
Held at Derwent Gardens, opposite the entrance to Gulliver's Kingdom, Matlock Bath Illuminations takes place over September and October weekends. It's a must do if you're visiting Matlock or Matlock bath during this time, especially over the October half term.
It's a fantastic event, and you will also find food stalls, fair ground rides (aimed at kids aged 5 and under), and roving entertainers.
Here are our top tips for visiting Matlock Bath Illuminations in 2023:
1. Pre-book your tickets
For 2023, Matlock Bath Illuminations will run every Saturday and Sunday night from 9th September to 29th October, with fireworks finales every October Saturday and the final night, 29 October.
This is a ticketed event; £7.50 for adults on firework nights and £6.50 on non-firework nights if booked online. Kids under 16 are free. Your ticket gets you entry into Derwent Gardens (the only place where you can view the illuminations) where entertainment will take place throughout the night including jugglers, fire shows, brass bands and children's activities.
Click here to check availability and pre-book tickets.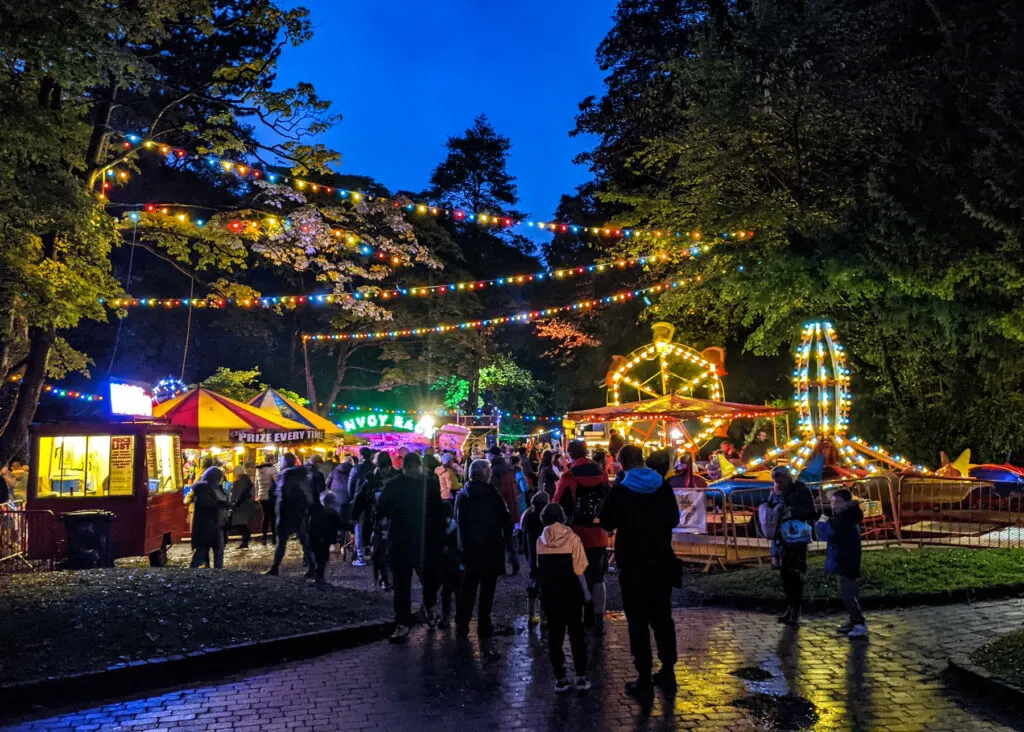 2. Know where you're going
Matlock Bath Illuminations is held at Derwent Gardens in Matlock Bath (note that Matlock Bath is a different place to Matlock).
The entrance to the event is next to the Peak District Mining Museum (click here for entrance location). Though really you just need to follow the crowds to find where to go.
3. Know what time the illuminations start
Over the season, the start of the actual illuminations (when the boats switch their lights on) varies. Click here to check the event program for illumination start times. You don't want to miss them, nor do you want to arrive too early and stand around waiting.
4. Have the snacks ready whilst you wait for the Matlock Bath Illuminations to begin
There is a rather long drawn out introduction and history of Matlock Bath Illuminations before the lights actually switch on, and little ones may get rather fidgety (have sweets from the Pick 'n' Mix stand at the ready, or snacks from home). But once the lights come on – wowers… it really is a wonderful site!
Check out this video of the 2022 Matlock Bath Illuminations:
5. Be prepared for it to be busy
This event can get extremely busy, especially on the fireworks nights.
The quietest section to view the boat procession is across the bridge and to the right.
6. Time your arrival for parking
Parking nearby to the event can be an absolute nightmare. If you're making a day of your visit to Matlock Bath and arriving before 4pm, you should be able to find parking at Matlock Bath Station (which is also the recommended car park for Heights of Abraham) or Temple Road car park (which is at the bottom of the road leading up to Gulliver's Kingdom Matlock).
But the actual switch on doesn't happen until around 7:30pm. So if you arrive to get a parking spot at 4pm, there will be a fair amount of hanging around (not ideal with young kids). It also makes for a very long day if you're trying to tag it on to one of the Matlock Bath attractions.
There are a couple of other options for parking, if you want to arrive nearer to the time of the illuminations:
Park at Artists' Corner (DE4 3PS). There is often plenty of space here. It's then a 1.1 mile (1.7km) walk to Derwent Gardens. This is a flat walk along a pavement, but the road is very busy and loud. The walk through the main stretch of Matlock Bath is quite fun though, and you may want to stop for some fish 'n' chips (there is A LOT of choice).

Use the Park & Ride service from Cromford which operates from 5pm until 10:30pm on fireworks nights only, every 15-20 minutes. Park at Cromford Meadows for free (post code DE4 3RQ), and then you pay £2.00 (return) per adult, £1.00 for children and under 5s are free. There is no parking charge at Cromford Meadows on top of the Park & Ride fee. The Park & Ride buses are fully accessible and well behaved dogs are welcome.

Take the train to Matlock Bath Station and then walk the half mile / 800 metres to the entrance of Matlock Bath Illuminations. The train service is operated by East Midlands Trains.
7. Dress warmly and bring the waterproofs
The weather this time of year is notoriously unpredictable. Bring warm layers, and waterproofs. Comfortable (and waterproof) footwear is ideal if you're walking from Artist's Corner car park (we wore our hiking boots).
Additionally, there is a lot of standing around at the event and puddles to potentially walk through, so best to be comfortable.
8. Ride the fair ground rides BEFORE the illuminations display
There are a handful of small fair ground rides at the event, aimed at kids aged 5 and under. Rides are generally 1 token (£2) per ride, pre-purchase tokens from the token stand (cards accepted).
The queues for these rides immediately after the illuminations are long, and due to the crowds, it's not easy to work out where they end to join.
Best to enjoy these rides before the illuminations display, rather than after.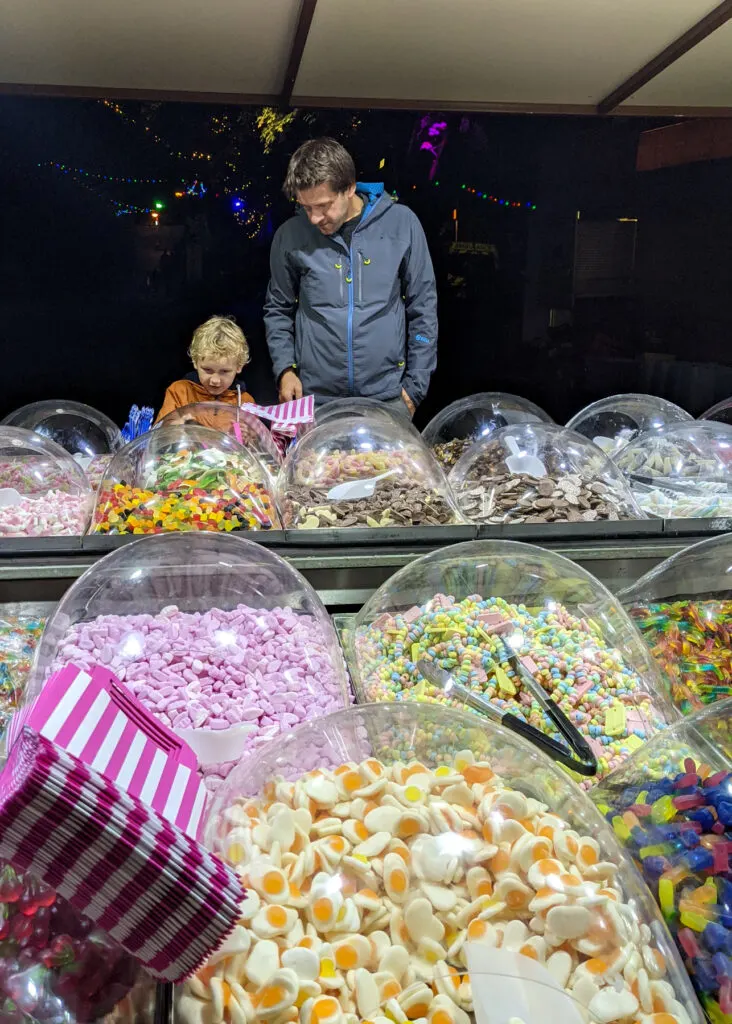 9. Card payments are accepted
Cards are accepted for payment throughout the event (for the rides and food stalls).
BUT… if you want to pick up a glow-in-the-dark-twizzly-thing at the entrance (I'm sure there's a more accurate name), then you need to have cash.
10. Treat yourselves to fish 'n' chips
Matlock Bath is often referred to as 'Derbyshire-on-Sea', and even though it's a very long way to any actual seaside, there are no less than 8 fish 'n' chip cafes along it's 800 metre 'promenade'. So either before or after visiting the Illuminations, treat yourselves to a fish 'n' chippy.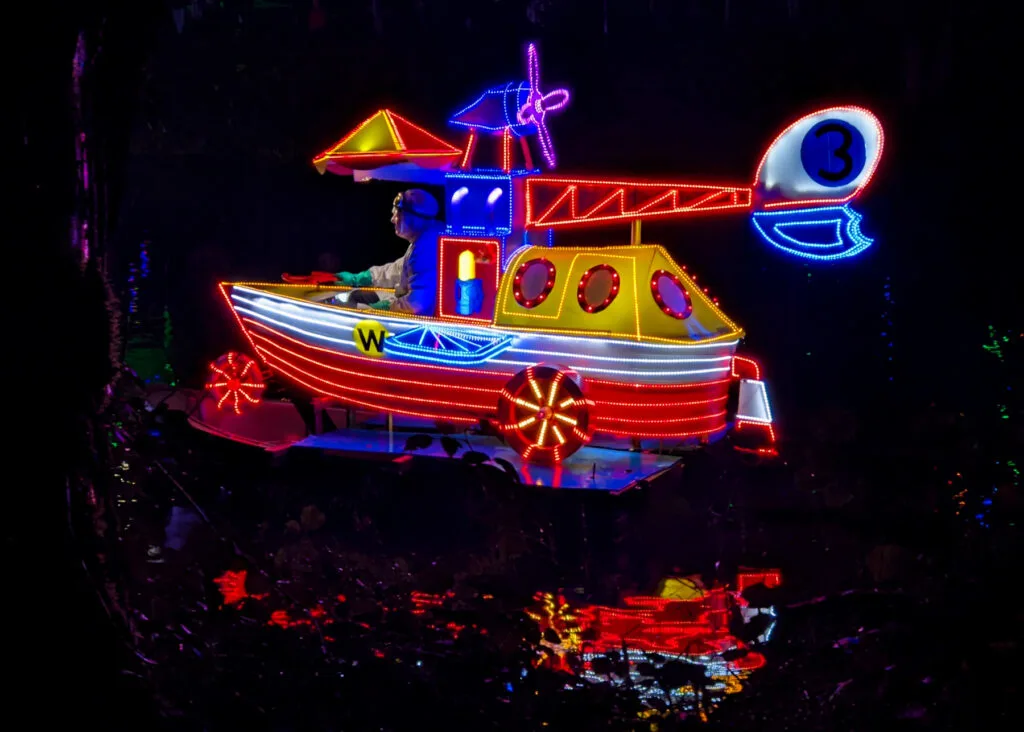 ---
You may also like to read:
Top things to to in Matlock and Matlock Bath
Top tips for visiting Gulliver's Kingdom Matlock
What's on in the Peak District October half term