Updated by Peak District Kids writer, Gemma, from Families Can Travel
Peak District Kids were provided with complimentary tickets to review Heights of Abraham in return for this honest review. As always, these are all our own words.
A visit to the Heights of Abraham, Matlock, is one of our favourite days out in the Peak District and a must for any family visiting Matlock. Your journey starts with a cable car ride across the Derwent Valley and up to a hilltop estate. But there's a lot more than stunning views to admire here! Your ticket also gives you entry to two caverns where you venture deep underground and learn about the history of lead mining in the area, there's a tower to climb, you can hunt for fossils, and there are also two adventure playgrounds! Plus, dogs are more than welcome.
Getting to the Heights of Abraham and parking
The entrance to the cable car that takes you up to Heights of Abraham is right next to Matlock Bath Train station, making it one of the few main attractions near the Peak District that is easily accessible via public transport.
If you come by train and present your valid train tickets at the ticket office, you will get 20% off your admission (you still need to pre-book online though using this special link). There are hourly direct train services to Matlock Bath from Derby, Nottingham, Long Eaton, Beeston and Newark on Trent. Check train times here.
If you are driving, there is no allocated car park for Heights of Abraham. Your best bet is to park at Matlock Bath station car park (postcode DE4 3NS, google maps location here). This pay and display car park is separate from the Heights of Abraham and run by the council. Bring coins as the card machine can be unreliable. On our last visit prices for parking were:
0-1 hour stay £1.50
1-2 hour stay £2.50
2-3 hour stay £3.80
3-4 hour stay £5.00
All day (up to 8am) £6.00
We recommend getting all day parking as Heights of Abraham is easily a full day out.
During the school holidays this car park gets exceptionally busy. Plan to arrive early, or consider using one of the other car parks at Temple road car park or Artists Corner car park.
Purchasing your ticket
Pre-book your tickets online to avoid disappointment. Ticket price includes the cable car, and entry to caverns, exhibitions and Hilltop Park.
If you plan to visit more than once in a year, you may want to consider purchasing an annual pass. Bring an annual pass holder means that any friends and family you bring with you get 20% off their admission price too.
There are also preferential rates for NHS, Military, and Emergency services personnel and those who travel to Matlock Bath by rail or bus. Check here for up to date details.
On arrival to The Heights of Abraham, provide your booking reference number and you will be issued with your ticket for the day.
How much time should you allow?
We always spend a good five hours or more at The Heights of Abraham, and arrive just after 10am to get one of the first cable cars up. There is so much to explore, and the adventure playgrounds always fill a lot of time.
Can you take a pram to Heights of Abraham?
Yes you can! Prams and buggies can go in to the cable car and as it's a full day out, it's handy to have somewhere for little ones to nap. However, the Great Masson Cavern is not suitable for prams due to the 175 steps and natural formation of the cavern, so we advise taking a carrier for this tour. There is a little area to leave your pram before venturing into each cavern.
Whilst the website states that neither of the cavern tours are suitable for pushchairs, we have always been allowed to take the pram into the Great Rutland Cavern which is all one level and more spacious.
Things to do at Heights of Abraham
The cable car ride
The ride up in the cable car begins and ends your visit and is perhaps the highlight of the day. There is a hand washing station to wash your hands before you go up.
The ride last a few minutes and takes you up to 339 metres, which isn't actually that high but provides you with stunning views across the Derwent Valley.
The Heights of Abraham caverns
Venturing underground to explore the caverns are the main reason people visit Heights of Abraham and one of the top things to do in Derbyshire on a rainy day. There are two main caverns – The Masson Cavern and Rutland Cavern. You can not go into these alone, instead there are guided tours throughout the day. You don't need to book on to these, it's just a case of turning up. They sometimes turn people away if at maximum capacity, but it's never too long to wait until the next one.
Do wear an extra layer when you visit the caves as it is much cooler underground, and wear sturdy footwear.
Tours around the Masson Cavern take around 30 minutes and involve walking up over 150 steps. Learn about the 350 million year story that led to the cavern being what it is today as you weave and duck through tunnels (this tour does involve bending over in places). Caverns are beautifully lit in rainbow colours and there are a few geological surprises along the way to wow both little and big kids. At the end of the Masson Cavern tour you emerge to fantastic views over Matlock, right next to Tinkers Shaft.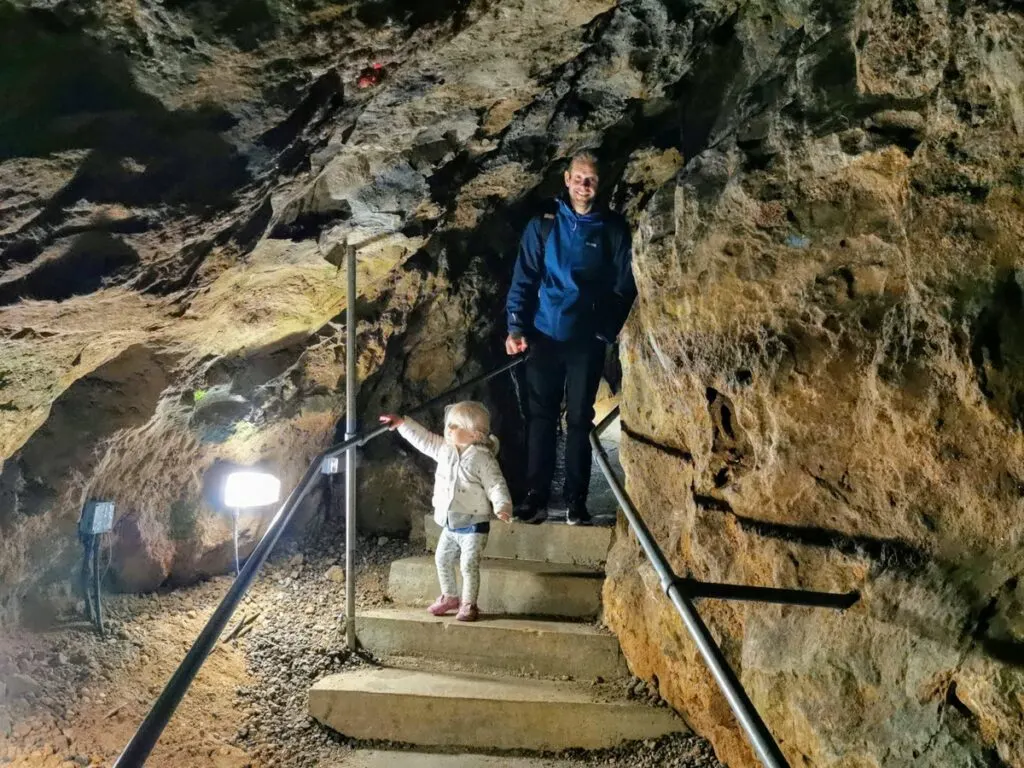 Tours at the Rutland Cavern take around 20 minutes and involve no steps. Once inside, you walk down a tunnel into a larger cave and listen to a recorded story from a manikin to hear what life was really like for a 17th Century lead mining family. This does involve standing still and listening for a good 15 minutes, so very little ones may get a bit jiffly. But it is fascinating learning about the role of women and children within the mines, and how they took on the most dangerous work.
Do you kids enjoy caverns? In that case, also try out Poole's Cavern, Buxton, and Speedwell Cavern, Castleton.
Tinkers Shaft view point
As you exit Masson Cavern, walk left and follow the path up to Tinkers Shaft. This is an old mining shaft that has been turned into a safe viewing platform for visitors. Kids will love climbing and jumping off the rocks around here and it's a good spot for a picnic with views.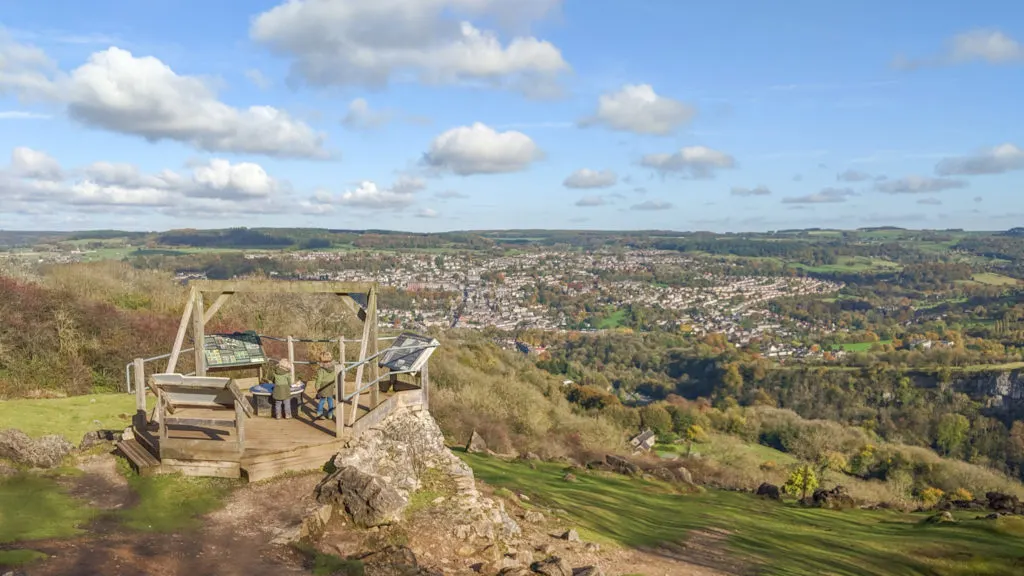 Victoria Prospect Tower
Another fantastic viewpoint is from the top of Victoria Prospect Tower. Although small kids won't be able to see over the wall at the top, they will enjoy the steep climb up the narrow winding staircase! It's VERY narrow and steep and may give you heart palpitations, especially when coming down. There is a handy camera screen at the bottom so that you can check there is nobody coming down before you start your climb up.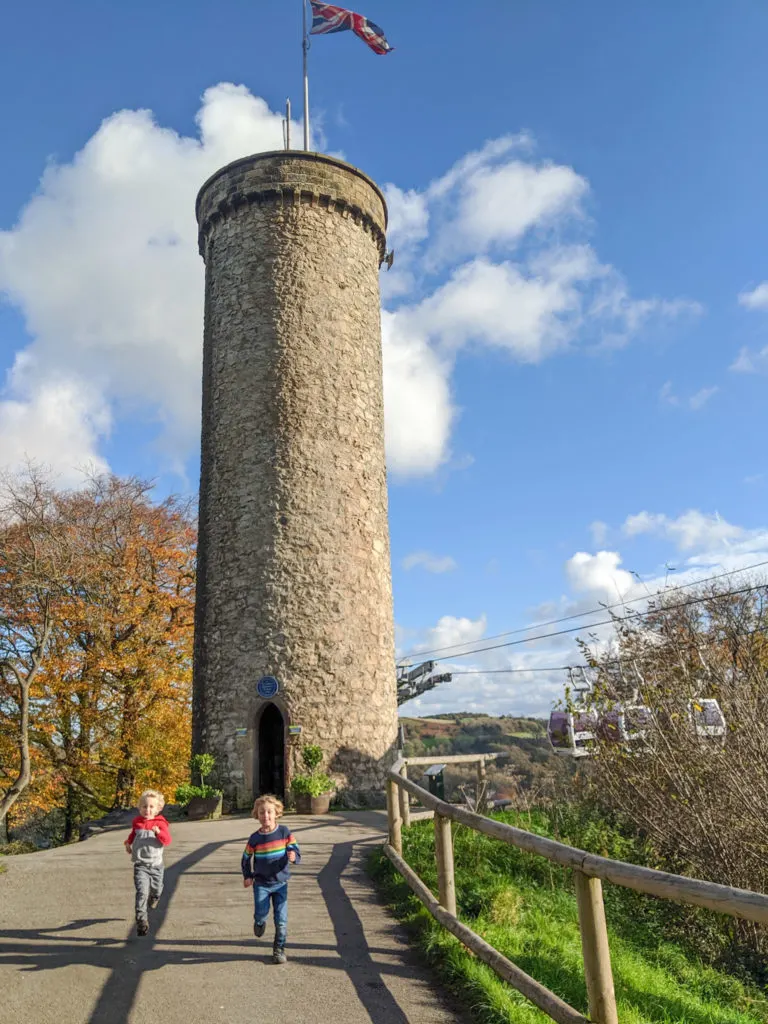 The Long View Exhibition and Rock Shop
Learn about the history of the Heights of Abraham and how Victorian tourists were attracted to the site. Upstairs from the Long View Exhibition, there are films being played on repeat showing you a virtual tour of the Great Masson Cavern.
330 million years ago, Matlock Bath was deep under water, and over the years of mining some fascinating fossils have been found. You can get up close to these fossils now on display, including a giant Ichthyosaur which is around three metres long- touching is encouraged!
The Rockshop is located next door for those wanting to take home a souvenir of fools gold or any rock-themed gift you could need (this is now the main gift shop).
Adventure playgrounds
The playgrounds at the Heights of Abraham are why families spend a full day here. Kids can spend hours playing here, especially on the giant slides.
There is the 'Explorer's Challenge' located at the summit, and then the bigger 'Woodland Adventure'. There is picnic seating around for parents to sit.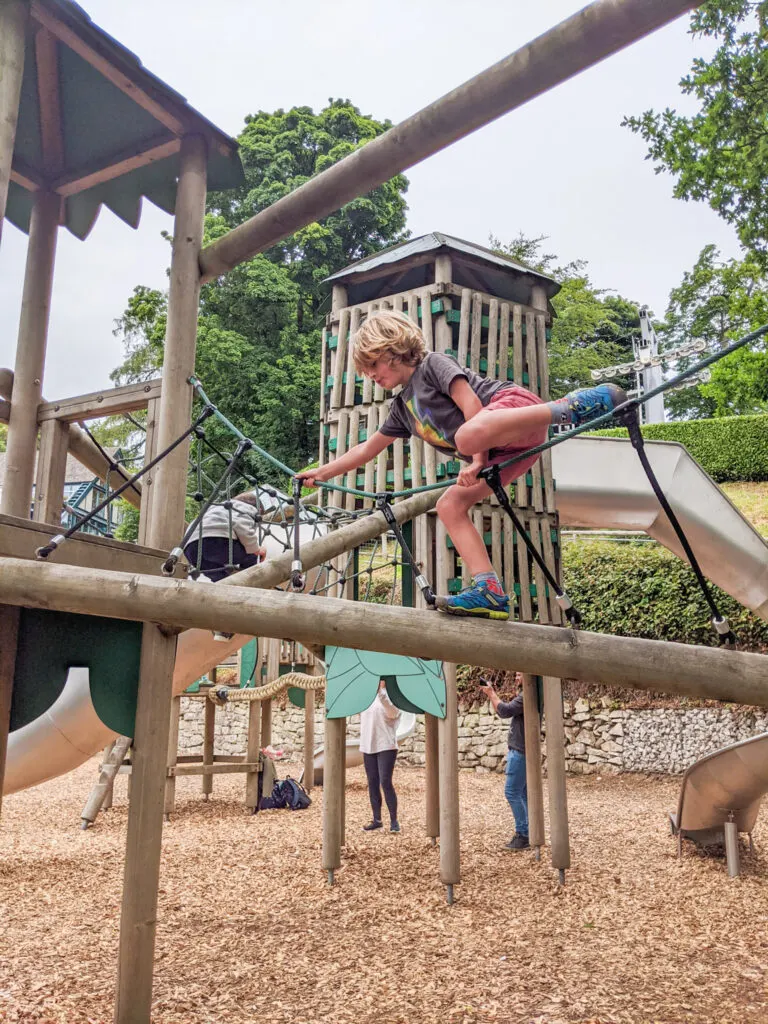 Eating
There are a handful of eateries including a restaurant, café and pub. Details can be found here. I can't really comment on them as we always take a picnic! But on our recent visit I noticed the café was selling kids picnic meals for£5.25 and a hot dog with chips for £6.25.
Make sure you treat yourselves with an ice-cream each from the Matlock Meadows ice-cream stand, right next to the cable car. Delicious!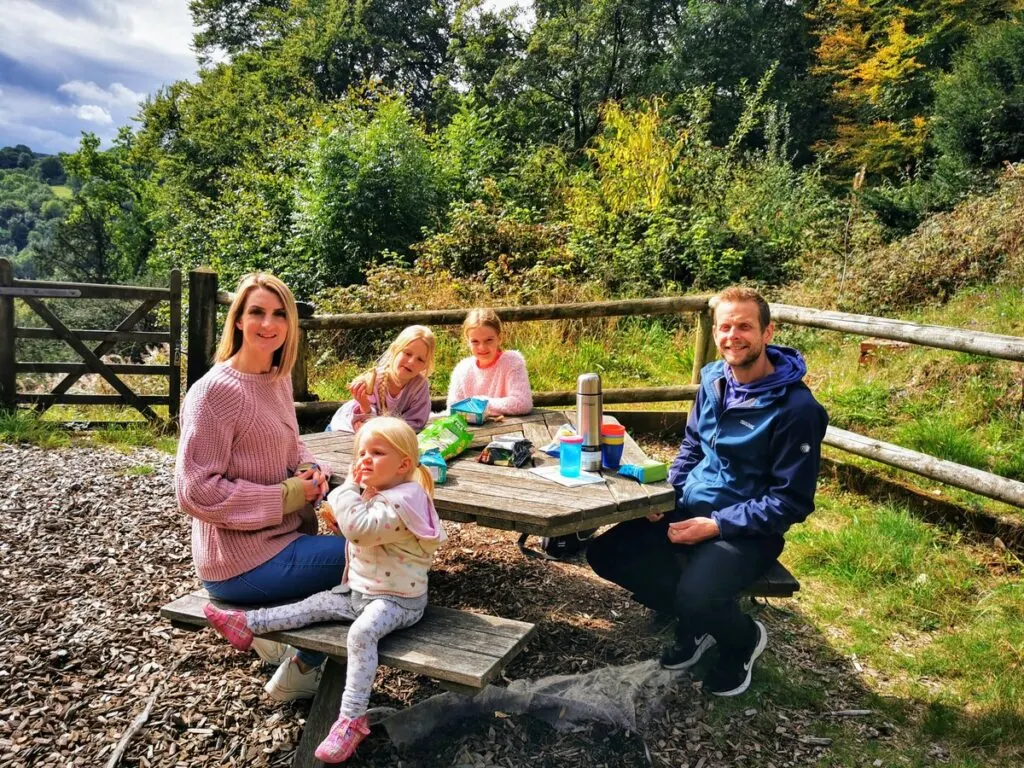 Final thoughts
The Heights of Abraham is always a guaranteed fantastic day out. Try and visit the adventure playground first thing, as it does get busier later in the day.
We'd also recommend heading down to the Great Rutland Cavern earlier in the day as most people head straight to the Great Masson Cavern first. Be warned that it is hilly in places; you are on a hill top after all. Be prepared for the occasional steep climb, such as the steps leading out of Masson Cavern, and the climb back up the hill after visiting Rutland Cavern. It's always a good idea to wear comfortable walking shoes. If you are visiting with a baby or toddler, consider taking a carrier as you cannot take buggies into the Masson Cavern.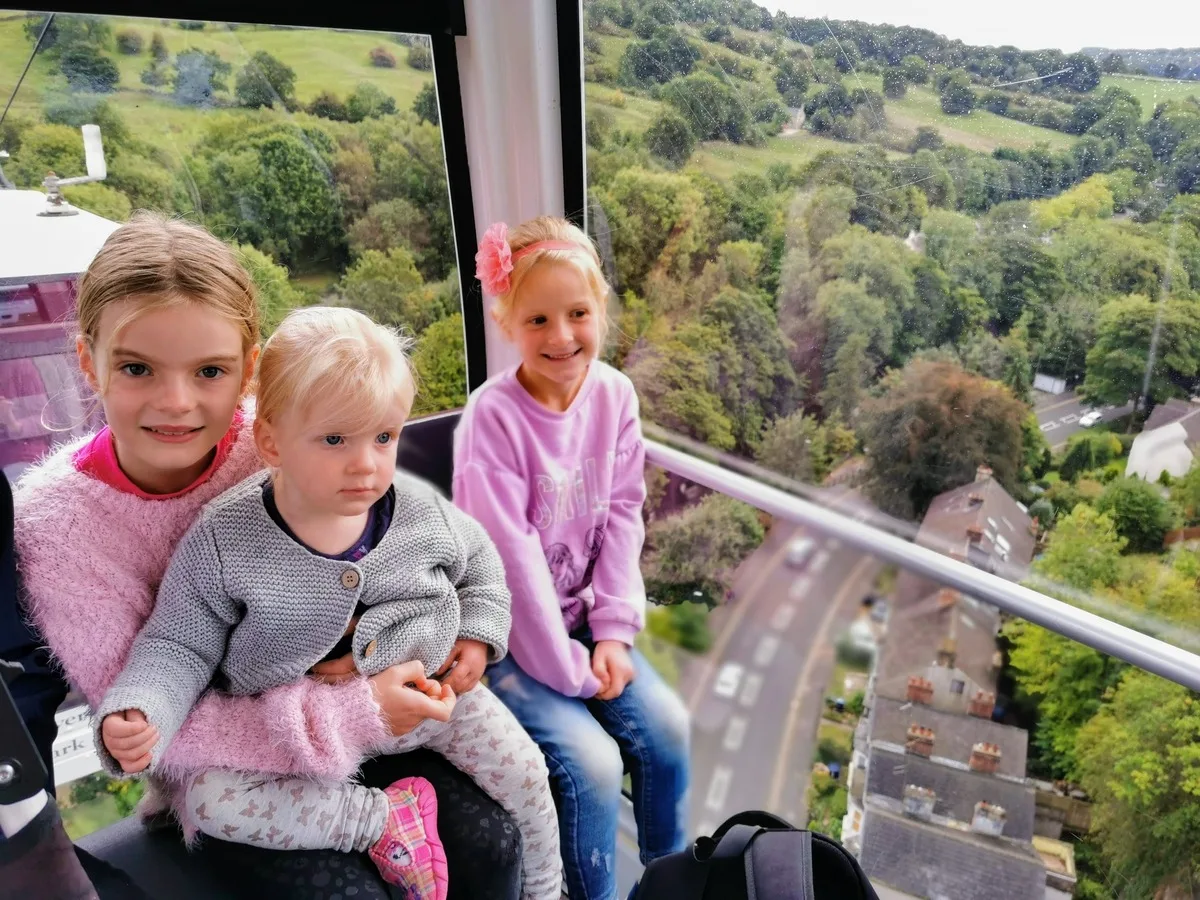 ---
You may also like to read:
Top things to do in the Peak District with kids
Things to do in Matlock
Best family camping in the Peak District