The Peak District is well known for it's rolling dales and dramatic escarpments and not surprisingly, many of our Peak District family walks involve a bit of a climb. But if you're looking for flat walks in the Peak District – do not fear, we have found some for you! Here we have compiled the best Peak District flat walks (in order of distance)!
There are also the old railway track trails to walk along that are relatively flat (Monsal Trail, Tissington Trail, High Peak Trail, etc.), but these form some of the very popular Peak District cycle routes; these trails are often very busy over weekends and school holidays, and keeping an ear and eye out for bikes coming up from behind you doesn't make for a relaxing walk. So we haven't included them, although they may form part of a suggested circular flat Peak District walks detailed below.
Disclaimer: This post contains affiliate links. Should you click to purchase, it is at no additional cost to you, but I receive a small commission.
If you are planning a visit to the National Park, please arrive early or late in the day to avoid crowds if visiting over sunny weekends or school holidays. Please also take all litter home with you, don't bring BBQs and park your car in designated parking areas. Also, please use these walks as a guide; access and stiles may change.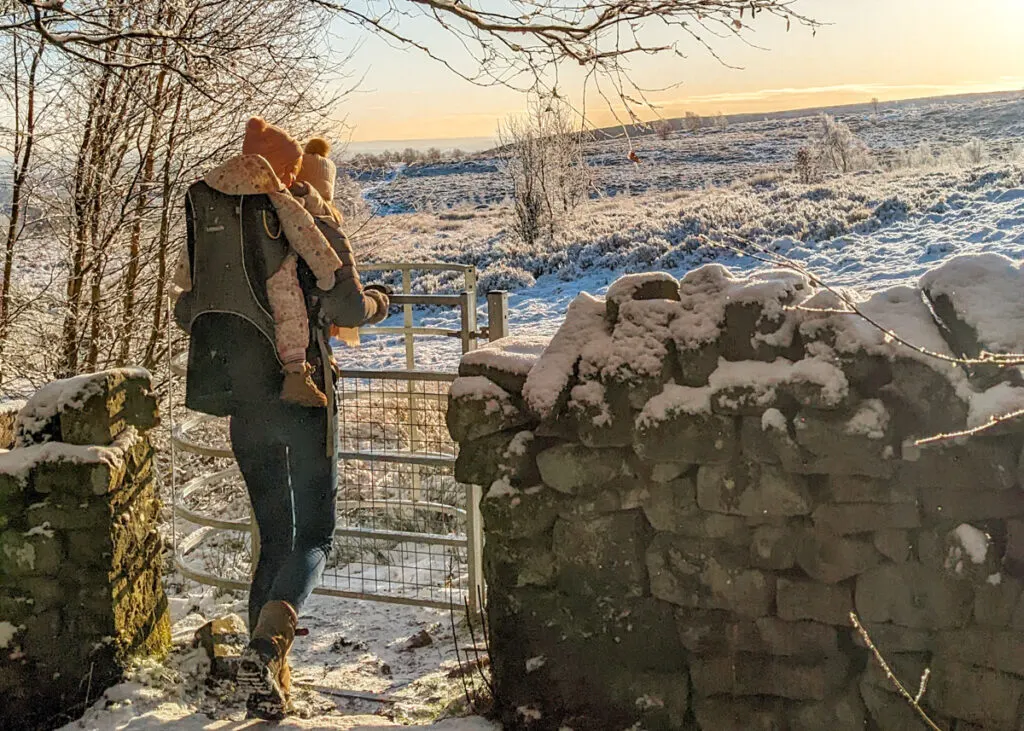 During the winter months, it's important to be extra prepared and safe when out walking and adventuring in the Peak District. The weather can change so quickly, especially on the exposed escarpments, and we don't want you to get caught out.
Read our top tips for safe winter walking with the kids.
FOLLOW US:
PARKING INFORMATION: Please do not rely solely on the postcode for parking directions. In the National Park, a postcode can cover a large area. Postcodes are only provided as guidance. Please either use the Google Maps point provided for every walk, or what3words.
Do check out our top tips for hiking with young kids, as well as our essential items to take on a family hike in the Peak District.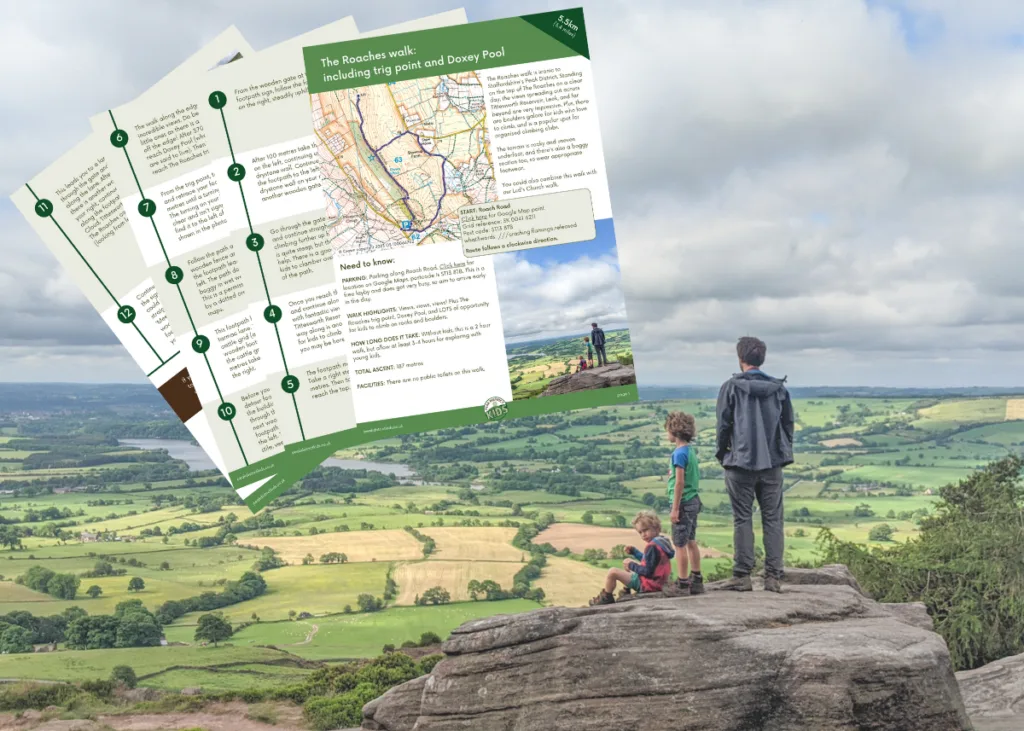 Download and print out our walking guides ready for your family walk. There are over 80 downloadable walk guides available, and these include all the main Peak District family walks, pram-friendly walks, and toddler walks.
Each printable download is just £1.50, whether it's a short 1km stroll or an epic walk up Kinder Scout.
Map of flat Peak District walks
Use the map below to see where our Flat walks in the Peak District are located.
Don't leave home without your Peak District OS Map!
Sale
1. Ilam Park – 1.6km
Ilam Park walk guide
Click here for start point
Printable download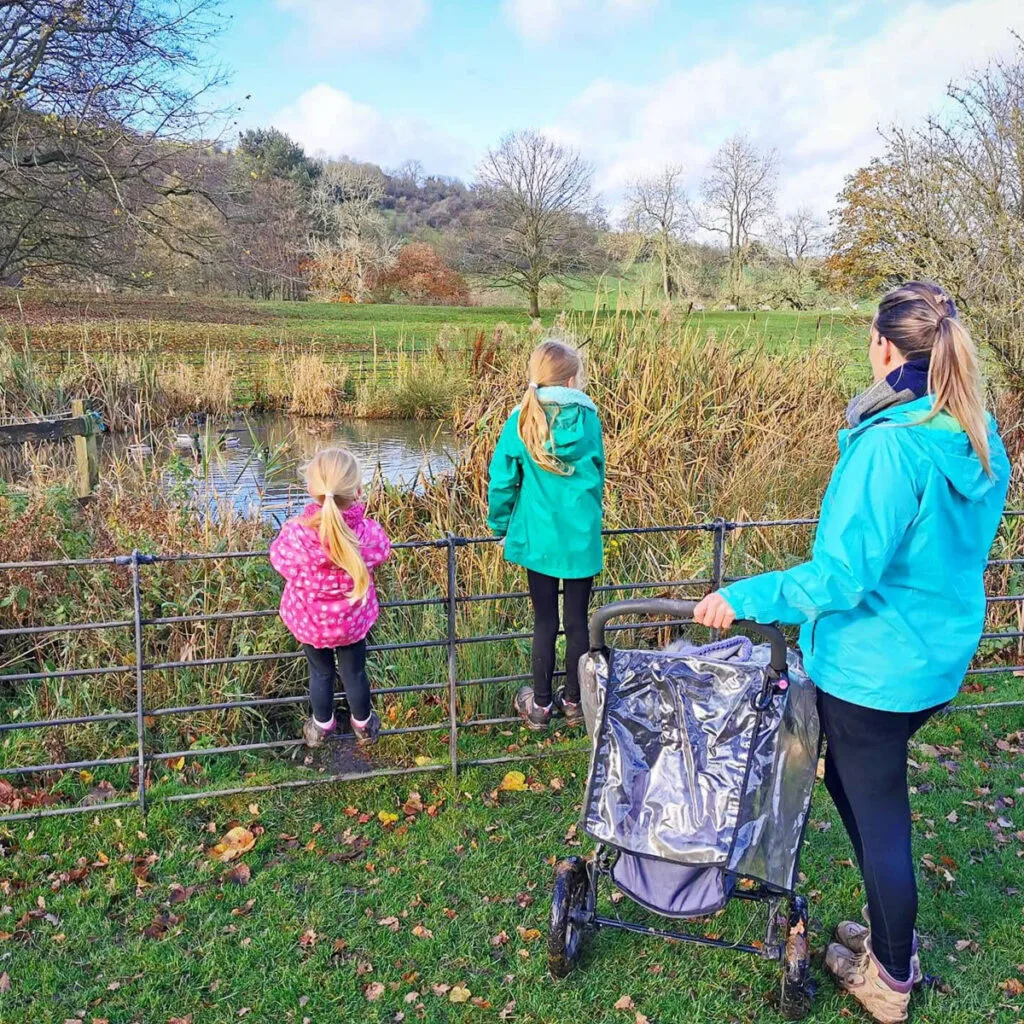 A lovely leisurely walk in the beautiful setting of Ilam Park and picturesque Dovedale. The walk starts by crossing the parkland and dropping down towards the River Manifold. It then follows the 'Paradise Walk' path along the river to St. Bertram's Bridge, which used to be the main route into Ilam. This attractive section of the walk was known for its carriage rides for visitors during Victorian times. Finish off by heading back to the hall and formal Italian Gardens, enjoying the stunning and iconic views of Thorpe Cloud and Bunster Hill.
Kids will love this walk as there's plenty of fun places to run around and explore including the wavy 'ridge and furrow' fields created by medieval ploughing. There's also a small natural play trail and on the way, they can spot the boil holes where the river has travelled through caves and bubbles up out of the rocks.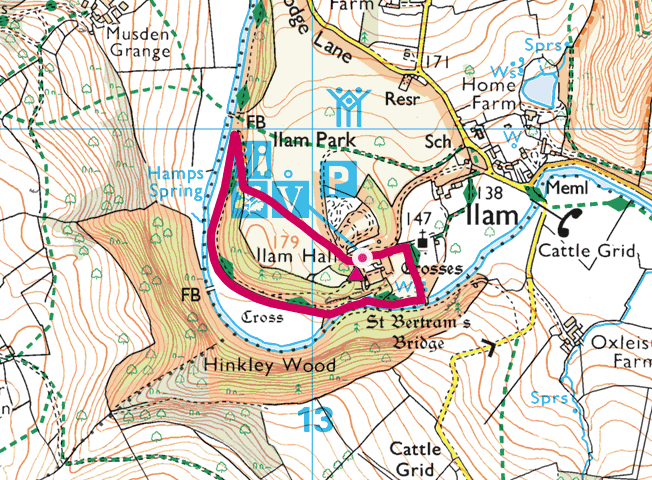 2. Padley Gorge and Longshaw Estate – 2.7km
Read the full details of the Padley Gorge walk guide
Click here for start point
Printable download
This Padley Gorge walk is one of our favourite Peak District family walks, especially for young kids, as they can paddle in the stream, climb boulders and trees, and there's even ice-cream at the end! It's a 2.7km circular walk that takes in the National Trust's Longshaw Estate too (which is free to walk though). And even though it may seem a short distance, do allow a good three hours for this walk as there are so many places to play!
Don't forget your cash for the ice-cream van. They don't take cards.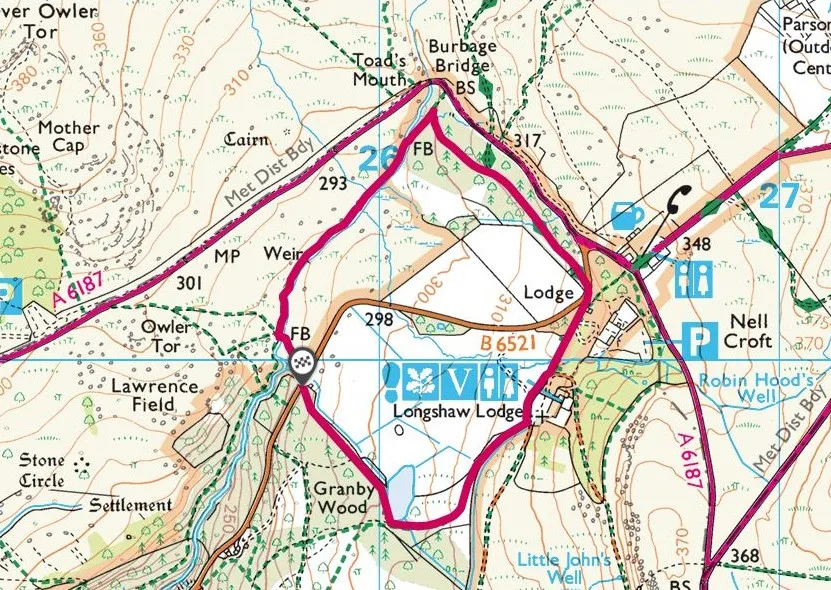 3. Baslow Edge – 2.7km
Baslow Edge walk guide
Click here for start point
Printable download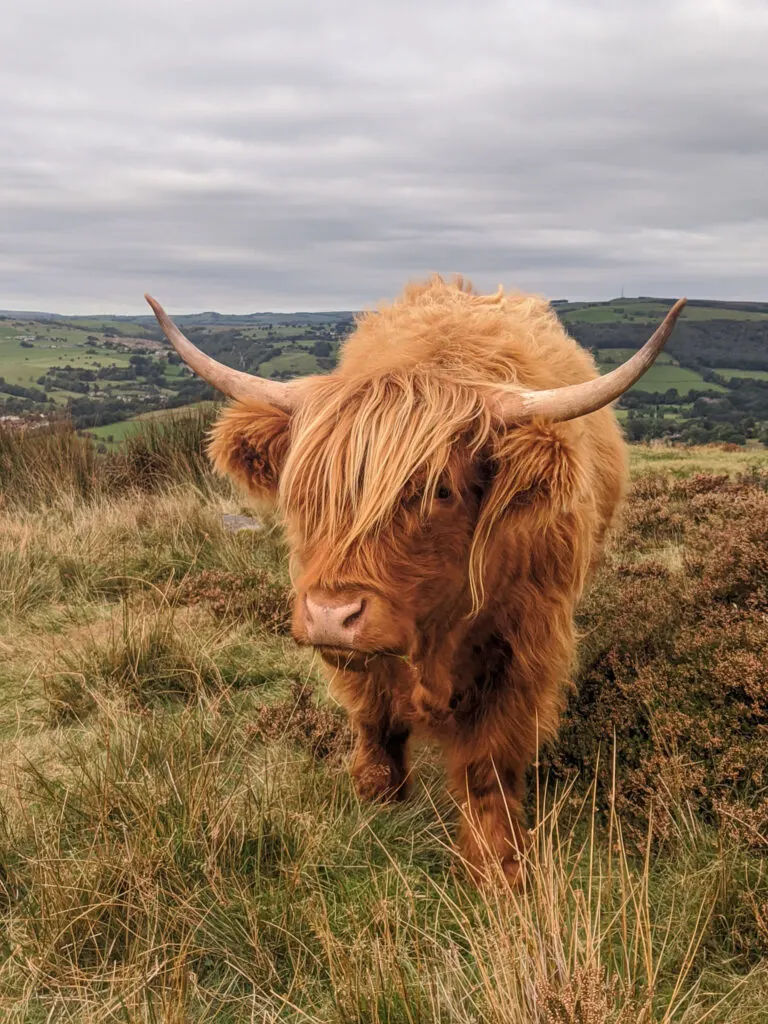 This is a flat Peak District walk AND you get some of the best views in the National Park! Standing on Baslow Edge on a clear day you can see Chatsworth House to the left and then Kinder Plateau in the far distance to the right. Plus, Baslow Edge is a great place to see Highland Coos!
Our short Baslow Edge walk offers an easy loop from Curbar Gap car park, perfect for little legs. There are lots of fun boulders to climb over, under and through, and our boys always love seeing the Highland cattle here (you're almost guaranteed to spot them!) And did we mention the views?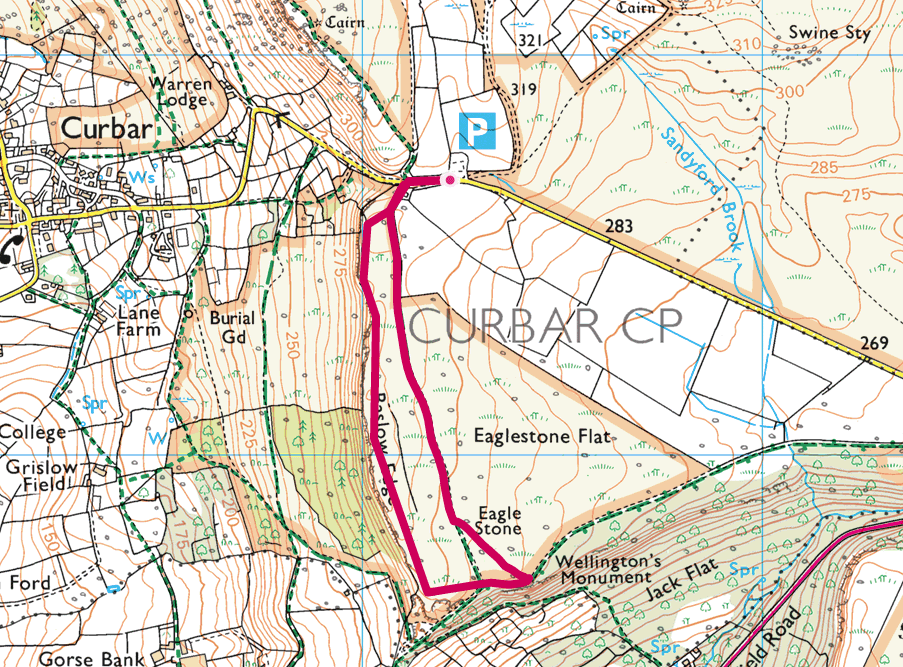 4. Tittesworth Reservoir – 2.8km
Tittesworth Reservoir walk guide
Click here for start point
Printable download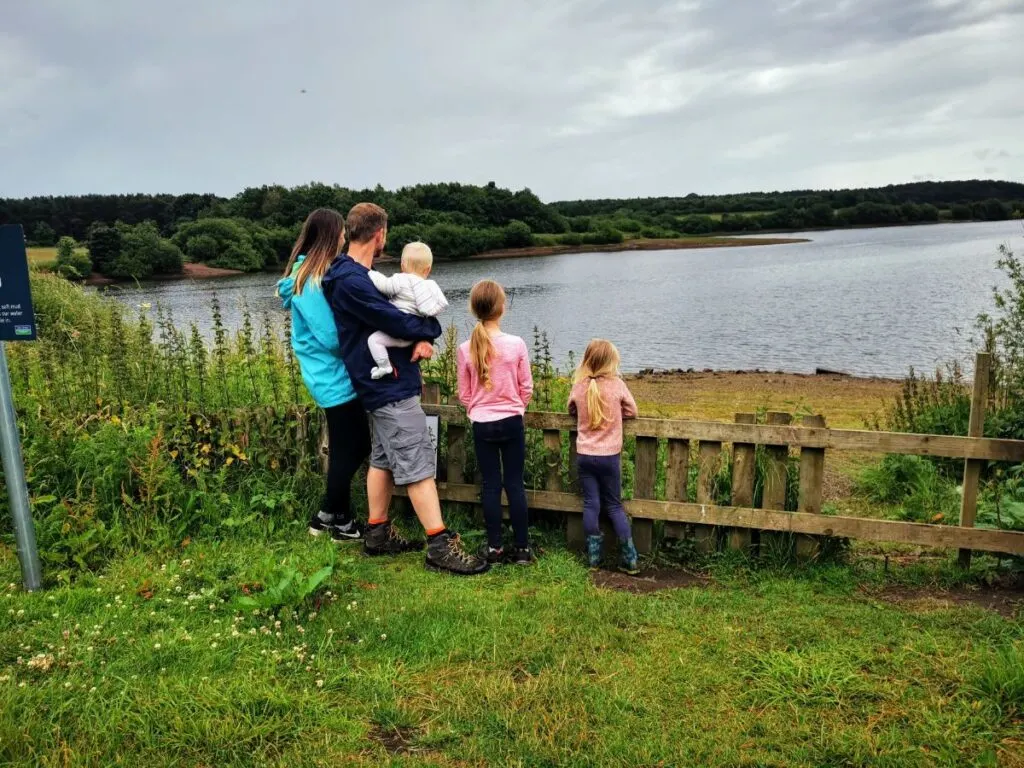 On the Staffordshire edge of the Peak District not far from Leek is Tittesworth Reservoir, the perfect place for families with a range of walking trails to suit all ages and abilities.
There's a couple of short accessible routes including this 2.8 km pram friendly loop. The walk offers beautiful views across Tittesworth Reservoir, sheltered woodland and a shallow river for paddling so don't forget to bring the kids wellies or waterproof boots. The paths are a mixture of flat gravel terrain and wooden boardwalks, so perfect for little legs, prams and buggies.
A highlight for the kids is the fantastic playground which has two separate play areas for different ages, a zip line and sand pit. It's one of the best playgrounds in the Peak District. There's also plenty of picnic benches, a take-away café and the Waterview Restaurant.
If you're looking for a longer walk, there's also a 4.5 km trail and 7.5 km complete reservoir loop. Although please note that these options are not pram friendly. Or for something a little different, you might want to try out paddle boarding or kayaking at the Tittesworth Water Sport and Activity Centre.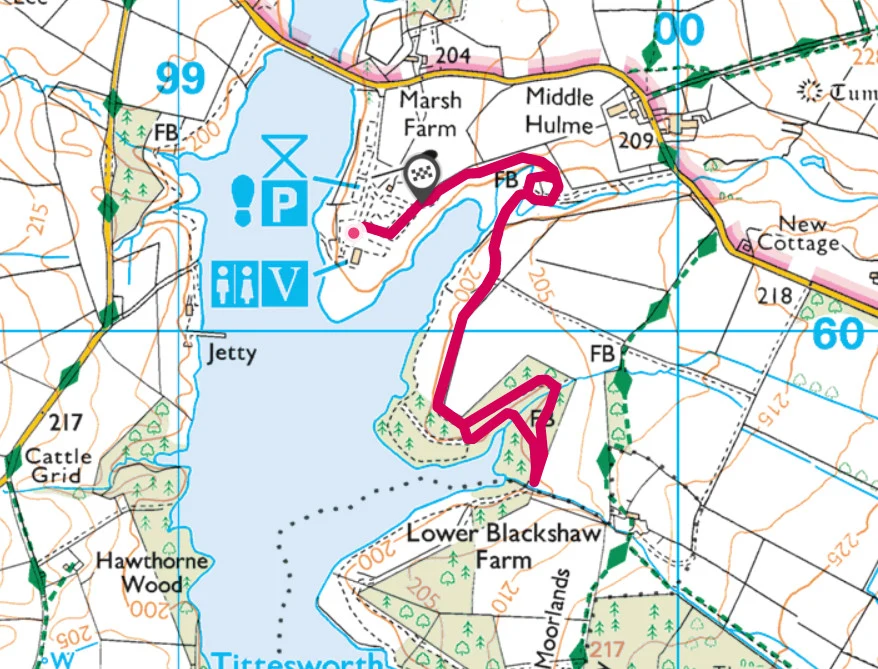 5. Stanton Moor (aka 'The Cork Walk' or 'Nine Ladies Circle') – 3.1 km
Stanton Moor walk guide
Click here for start point
Printable download
This short circular Stanton Moor walk has it all – unusual stones to explore, rocks to climb, woodland, open moorland views, muddy puddles, and Stanton Moor trig point! It's easily one of our favourite family walks, and it's a flat Peak District walk, which makes it easier on little legs and a good option for those with mobility issues (there are no stiles too).
At the start of the walk is a large rock that looks like a corkscrew; it's begging to be climbed by the grownups if you're up for the challenge. And half way around is a Bronze Age circle (the 'Nine Ladies') that was used by the Druids.
6. Broomhead Reservoir – 3.6km
Broomhead Reservoir walk guide
Click here for start point
Printable download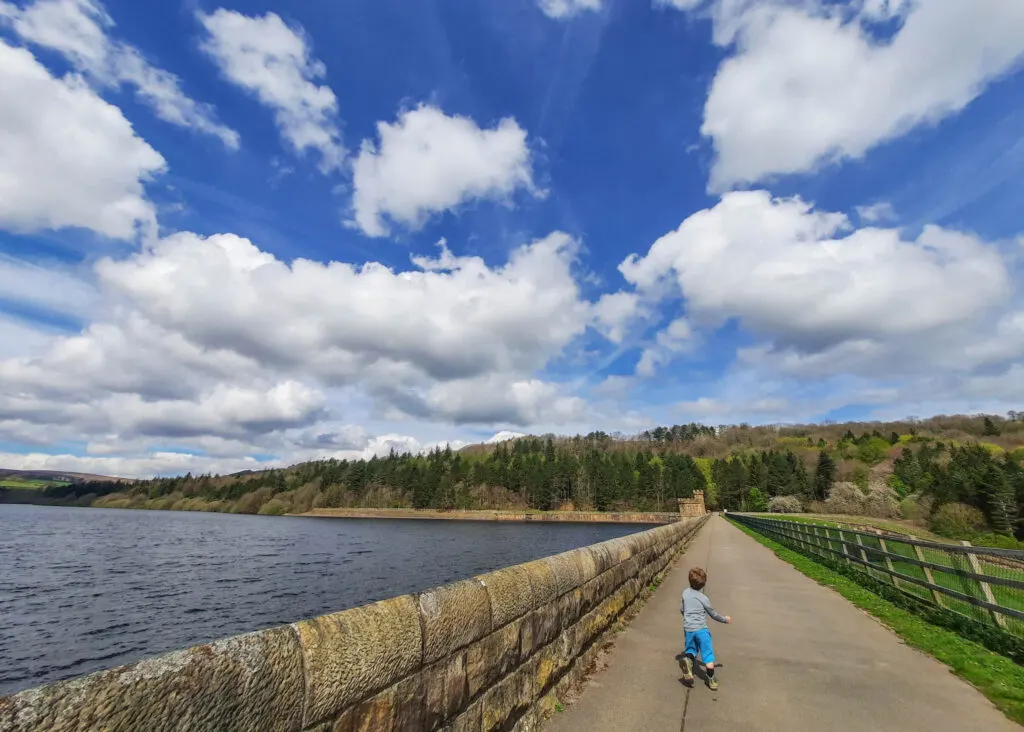 The Broomhead Reservoir walk sits within the South Yorkshire and Sheffield area of the Peak District National Park. With waves gently lapping at the shore and sandy secluded beaches to enjoy a picnic, this is a peaceful walk where you are gently reminded of the sea. And the area commonly referred to as the 'Mangrove' (a tangle of knotted trees growing from within and beside the water) is an interesting places to climb and find fungi.
With it's changing terrain, this is a fun walk for kids, but it's also one of the best flat walks in the Peak District.
7. Longshaw Estate – 3.7km
Longshaw Estate walk guide
Click here for start point
Printable download
Longshaw Estate is a beautiful expanse of parkland, moors and ancient woodland, close to Padley Gorge. You'll find yourself wanting to return again and again with so many different routes to try out. It's great for kids with dens to play in, tree stumps to jump on, logs to balance on, and plenty of open space for them to burn some energy.
The flat, well-surfaced paths make for a perfect Peak District pram friendly walk. This is also a good walk option for the wetter months if you want to avoid the muddier walks.
Starting and finishing at the National Trust Wooden Pole car park, the walk follows the woodland path onto the open parkland. Allow some time for the kids to explore near the pond and play in Boggart Burrow. Stop for a drink from the Croft Cabin or Longshaw Café before heading across the grassland back to the car park.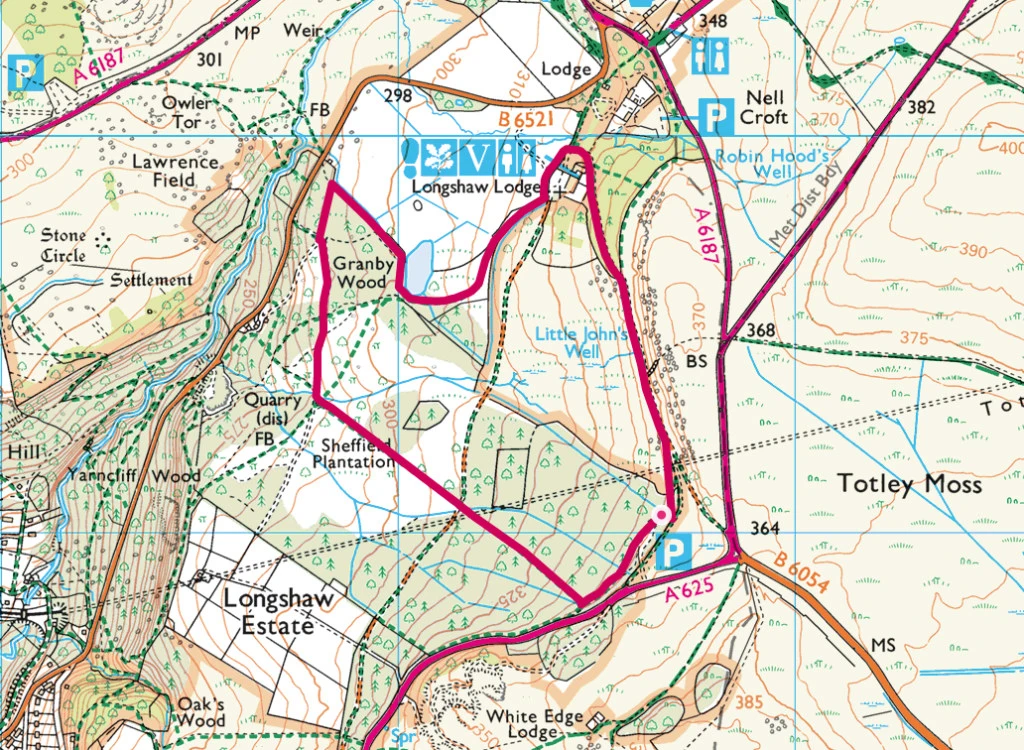 8. Minniglow – 3.8km
Minninglow walk guide
Click here for start point
Printable download
The High Peak Trail in the Derbyshire Peak District follows the old railway trackbed from Dowlow, near Buxton to Cromford. This circular Minninglow walk starts by following the trail at Minninglow, high up on the embankment before cutting through the hillside. Kids will love playing in the old quarry and finding leftover sections of the railway track. There's also an old rusty crane to admire too, which would have been used to load limestone onto the trains.
From here, you can leave the trail to take an optional and worthwhile detour up to Minninglow Hill. At the top, you'll find an ancient neolithic burial site surrounded by a distinctive ring of trees. You can reach the site with a pram or buggy but you may need a little help over a small rocky section near the top.
The second half of the walk takes you back to where you started, along another gentle track with stone walls and fields either side. Apart from the small rocky climb up to Minninglow Hill (which can be missed out), the rest of the route is flat with well-surfaced paths so perfect for a Peak District pram friendly walk.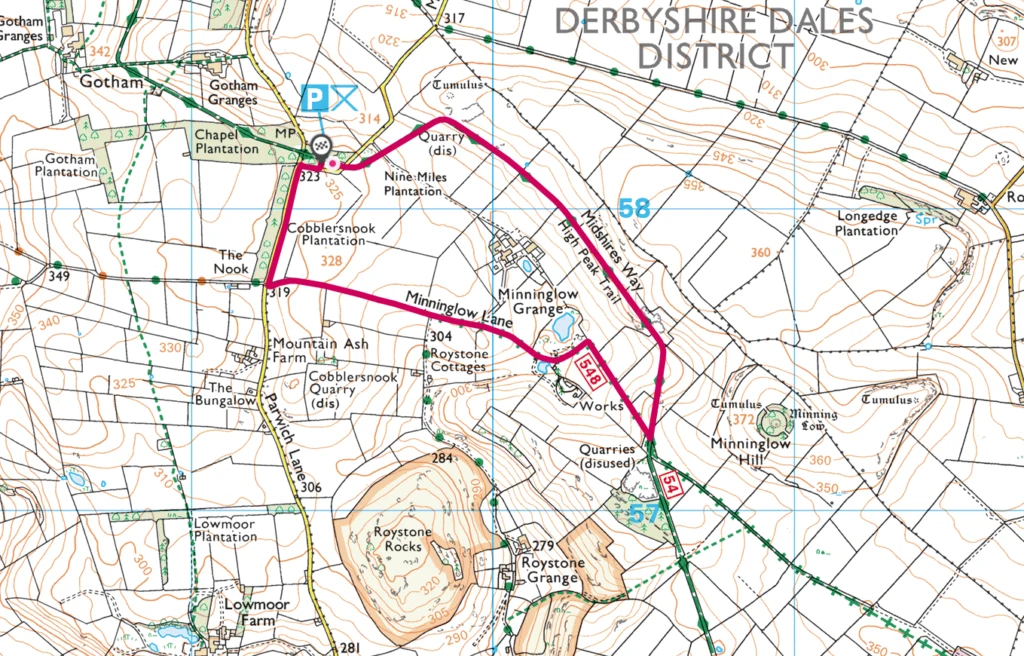 9. River Derwent walk from Curbar to Froggatt – 4km
River Derwent walk guide from Curbar to Froggatt
Click here for start point
Printable download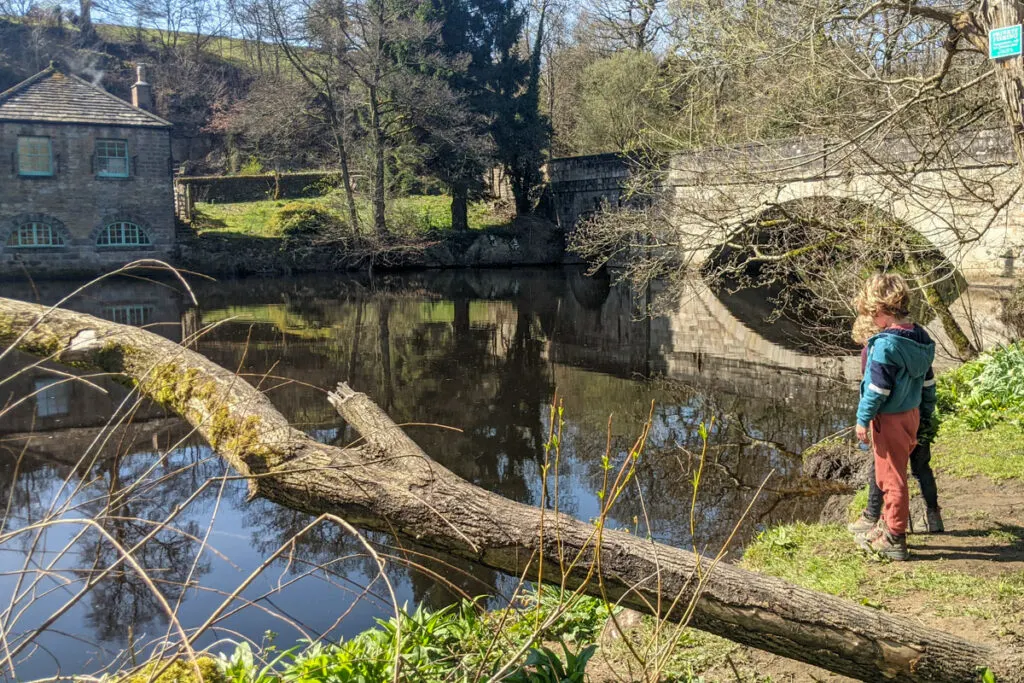 This easy-going and flat Peak District walk begins by the The Bridge Inn, Curbar, and leads along one side of the river to Frogatt Bridge, returning on the other side of the river, following a clockwise loop. It's a very pretty walk; on a clear day the imposing boulders along Curbar and Frogatt Edges are in view, and in spring the river banks are covered in daffodils and wild garlic. Half way is Calver Weir, a Grade 2 listed structure, built in the 19th century to provide water to power cotton spinning at Calver Mill.
You can shorten this walk by just doing the loop from Curbar to the A625 road crossing, just after the weir. This is a 2.4km loop.
Unfortunately, despite the even, flat footpaths, this River Derwent walk is not pram friendly. There are very narrow gates to pass through, and steep stone steps at one of the bridges. Instead, take little ones in a carrier. Click here to check out our pram friendly walks.
10. Little Barbrook – 5km
Little Barbrook walk guide
Click here for start point
Printable download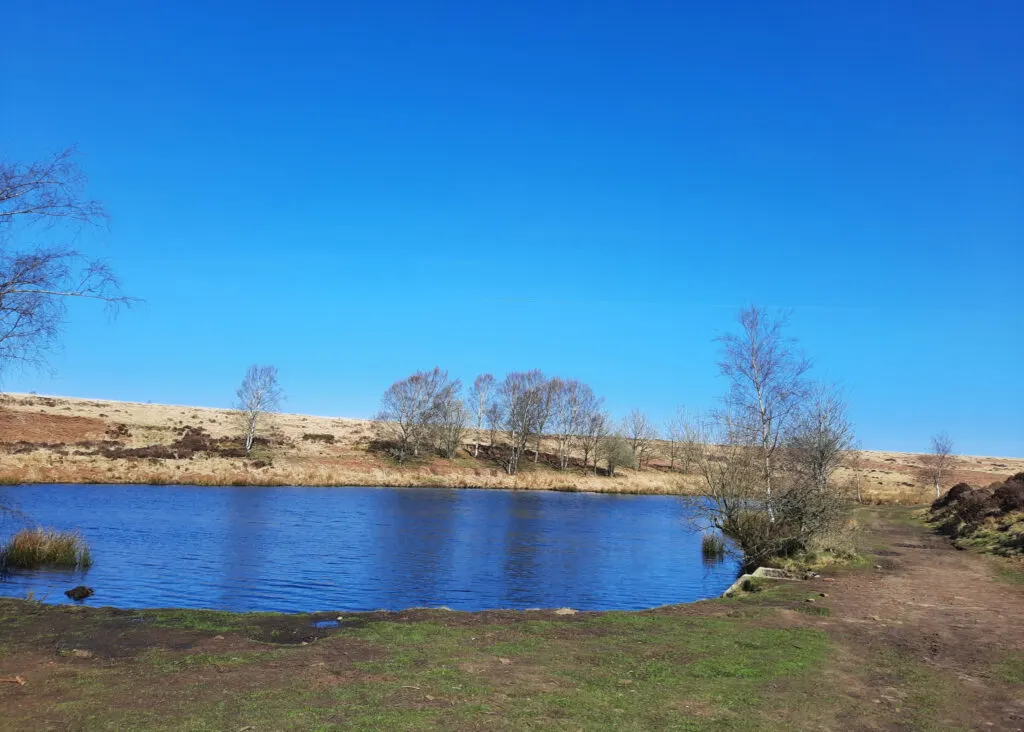 Our Little Barbrook walk offers a 'there and back' route, which includes some fantastic views, an ancient standing stone circle, a Bronze Age cairn, plus a great picnic spot at the furthest point with opportunities to paddle, play poo sticks and feed ducks. You may even spot deer, kestrel and butterflies here!
A very simple walk following one main track, and very easy going. In fact this walk to Little Barbrook is one of our favourite flat walks in the Peak District.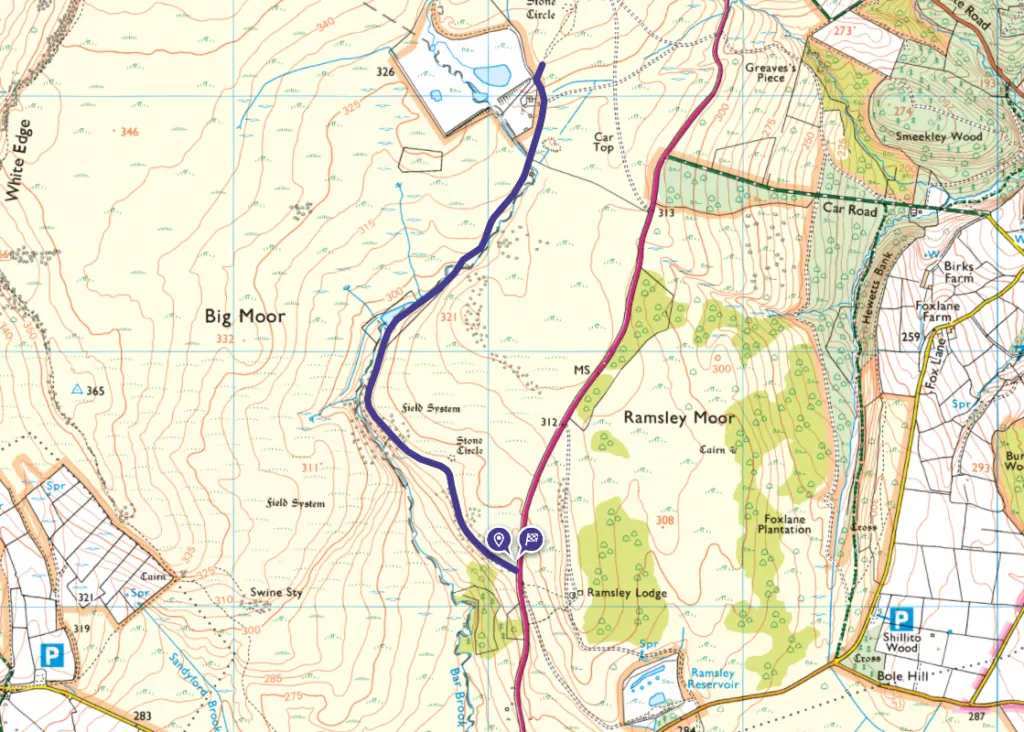 ---
You may also like to read:
Peak District river walks
Stepping stone walks in the Peak District
Peak District pub walks