Chatsworth House is one of the grandest estates in the UK and the jewel of the Peak District. Set in expansive parkland where wild deer roam and backed by wooded hills, it's been chosen as Britain's favourite country house several times, and it's an absolute must do if you're looking for things to do in the Peak District.
Whilst the interior of the house boasts impressive galleries and stately rooms, it's likely to be the farmyard and adventure playground that will be appreciated more if you're visiting Chatsworth with kids. The outdoor adventure playground is easily the best playground in the Peak District, complete with a water and sand play area, a huge zip line, and rope park, and young kids will love meeting and petting the farm animals. There are children's activities and trails set throughout the year, as well as the beautiful gardens to explore (separate ticket).
Although many visitors to Chatsworth don't realise that much of the open parkland area around the estate is totally FREE to walk through. This includes magical Stand Wood behind the main house with the Hunting Tower and Aqueduct Waterfall; an absolute must visit for kids.
Purchasing tickets
To enter the house, farmyard and adventure playground, and gardens, you need to purchase a ticket. These can be pre-booked online.
Click here to check pricing and book tickets for the Chatsworth House, Gardens, and the farmyard/adventure playground. Car parking is included at one car parking space per every five tickets booked. Child entry for the House & garden and Garden tickets are age 4-16 inclusive, children aged 3 and under are free of charge.
Please note that the parklands of the Estate are open and free to wander all year round.
Chatsworth opening times
Chatsworth House, Gardens, and the farmyard/adventure playground often close over the winter months. For 2022 they are closed from 10th January to 25th March 2022, although the Farmyard and Playground re-open for the Peak District February half term.
Please check the Chatsworth website for official opening times.
Parking at Chatsworth
There are two car parks on Chatsworth Estate; Carlton Lees car park and the House car park. The latter is more convenient if you're visiting the House, Garden, Farmyard and Adventure Playground, or Stand Wood (to see Chatsworth Aqueduct and Hunting Tower). You can pay on arrival for these car parks (£5 all day), although it's advised to pre-book the House car park during busy times (such as school holidays and events).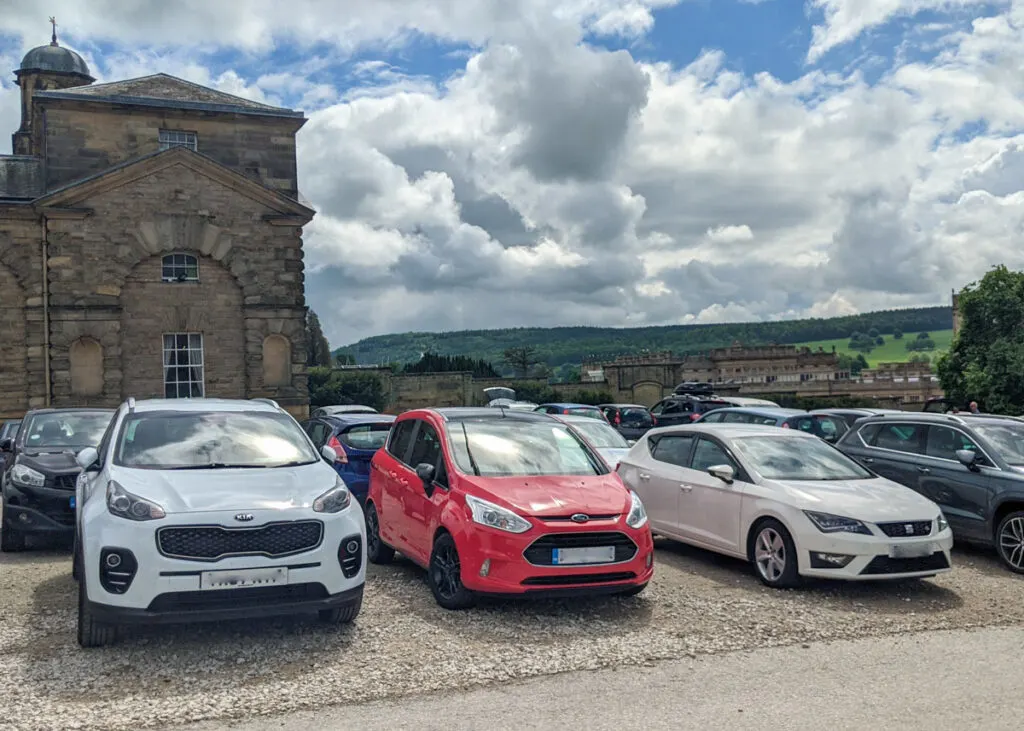 Alternatively use the pay and display at Nether End Car Park in Baslow (click here for Google Maps location) and walk in. There is a pram-friendly footpath that leads from Baslow to Chatsworth House. You can then follow the footpath round to the right and over to Edensor and pop to the Tea Rooms. Alternatively, head up to the Hunting Tower and follow the footpaths through the woods behind the House.
Are prams allowed at Chatsworth?
Prams, pushchairs or rucksack style baby carriers are not allowed in the house; side and front baby carriers are welcome.
However, for everywhere else at Chatsworth, prams and pushchairs are allowed. You may want to follow one of our two pram friendly walks at Chatsworth (you can even combine the two for a longer pram friendly Chatsworth walk):
How long do you need at Chatsworth?
In all honesty, you could spend a full day at Chatsworth…
Park in Baslow and walk through Chatsworth Estate to Edensor for breakfast at the tea rooms, then head back over the bridge to wander the House and Gardens. Then after a relax and play next to the banks of the River Derwent, venture into the Farmyard and Adventure Playground (you'll need a good two hours here) and/or walk up to the Aqueduct and Hunting Tower in the woods.
But seeing that you don't pay to enter Chatsworth Estate itself, you may want to visit over two days.
Alternatively, just pick and choose whatever suits you best. But allow at least a full morning or a full afternoon for whatever you plan to do. A visit to Chatsworth isn't to be rushed, it's very much a place to relax amongst the grandeur and nature.
Things to do at Chatsworth for families
Is it worth going to the House? In all honesty, if you've got young kids, we recommend giving it a miss and instead go off exploring into the woods for free, or visit the farmyard and adventure playground.
However, it is worth going to the gardens with kids; in the summer they can paddle in the fountain, and at Christmas, the lights are magical.
1. Go inside Chatsworth House
Chatsworth is home to the Duke and Duchess of Devonshire, and has been passed down through 16 generations of the Cavendish family. The interiors are fit for a royalty with historical paintings, tapestries and sculptures dating back centuries.
With pushchairs and back carriers not allowed in the House, parents of toddlers especially may find it hard work keeping little hands off shiny things, and there is no trail to keep young kids engaged. Considering the ticket price for the House, some parents may understandably feel that it's not really worth visiting.
However, all kids are different, and if you have a young aspiring historian, they would very much be welcome, and friendly staff are on hand to answer any questions
2. Go wild at Chatsworth Farmyard and Adventure Playground
Now THIS is where you want to take the kids. The adventure playground is one of the best in Derbyshire and young kids will love the animal handling sessions at the farm. There's also cow and goat milking demonstrations, and sometimes arts and crafts organised.
In the adventure playground, there is a giant rope park, climbing walls, a trampoline, huge slides, zip wire and swings to burn off their energy, as well as an Archimedes screw to fetch water from the stream, and a huge sand play area. Wellies are a good idea.
There are often special events taking place here for kids. These will be detailed on our Easter, Halloween and Christmas guides.
Before you pay the entrance fee, do check their website to see if everything is open, as occasionally the playground shuts for maintenance or bad weather.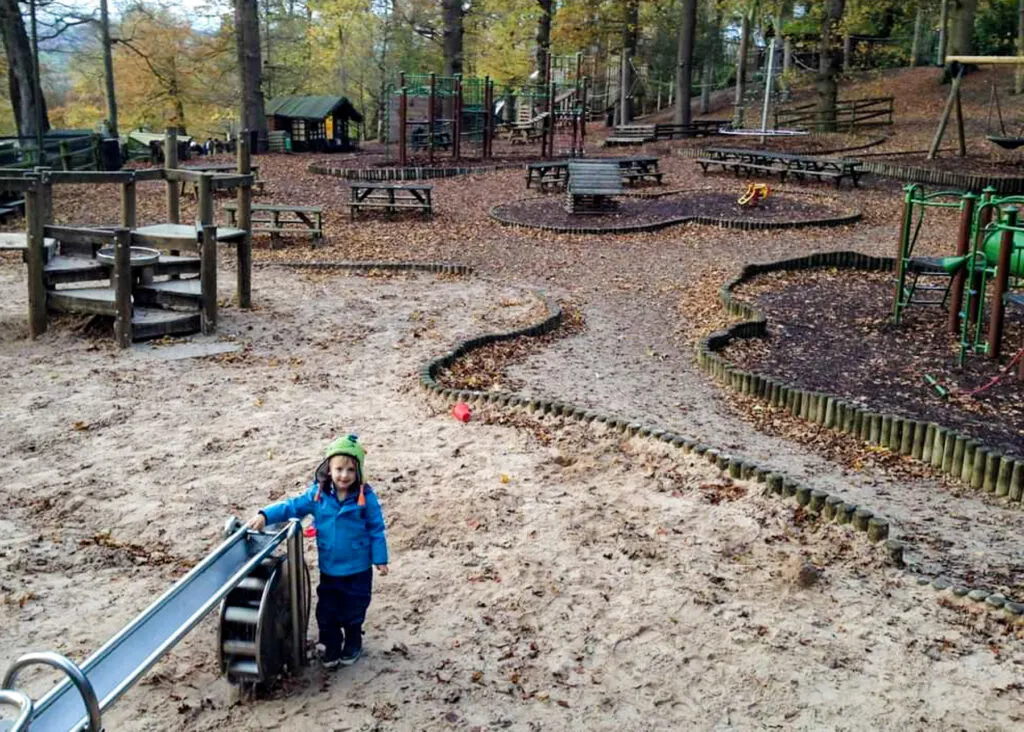 3. Wander and splash at Chatsworth Gardens
105-acres of Chatsworth Garden are beautiful, and worth the entry fee with young kids (you can purchase a separate ticket from the House). The 105-acre gardens are rich history, with historic and modern waterworks and sculptures to marvel, and also with its Victorian rock garden, there is something for everyone.
In the summer, kids will especially love splashing in the fountain!
4. Picnic along the River Derwent
Sitting on the banks of the River Derwent with Chatsworth House and parklands as your backdrop, must make for one of the most idyllic picnic spots in the UK. Lots of space for the kids to run, as well as plenty of shade under trees on a warm summers day.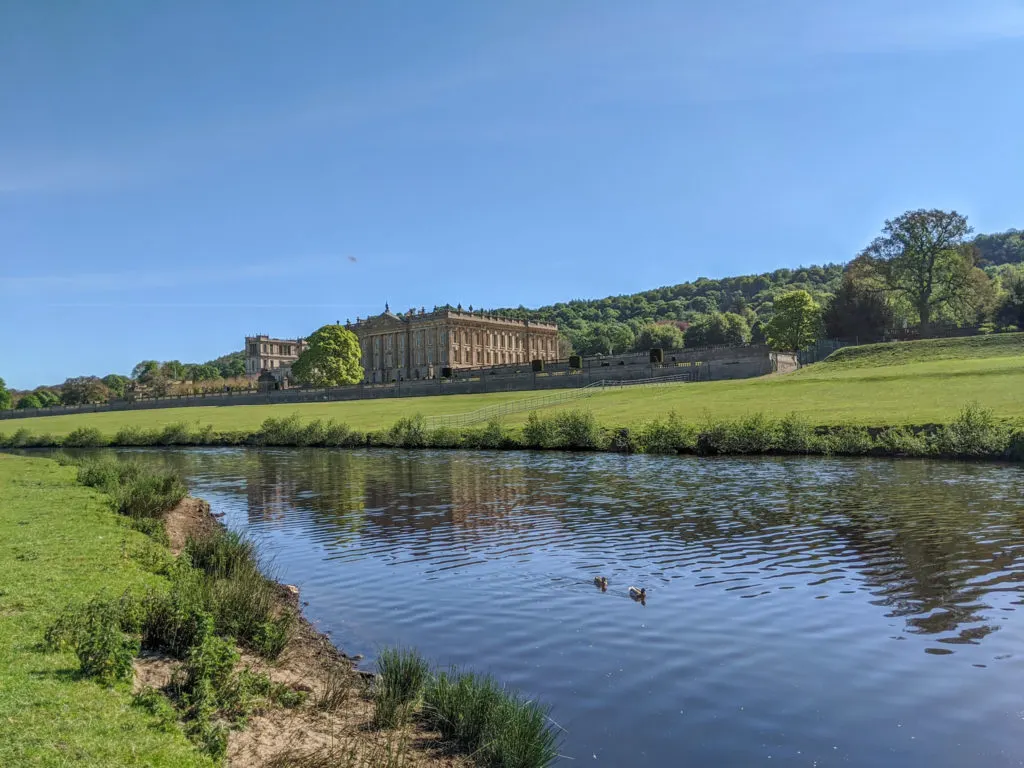 5. Walk through the parklands and spot deer
It is free all year round to walk through the parklands of Chatsworth. Please stick to footpaths and keep your distance from the deer.
We have two walks on this website that lead you through the parklands:
Both these walks lead you through Edensor. We very much recommend stopping at The Edensor Tea Cottage for tea and cake.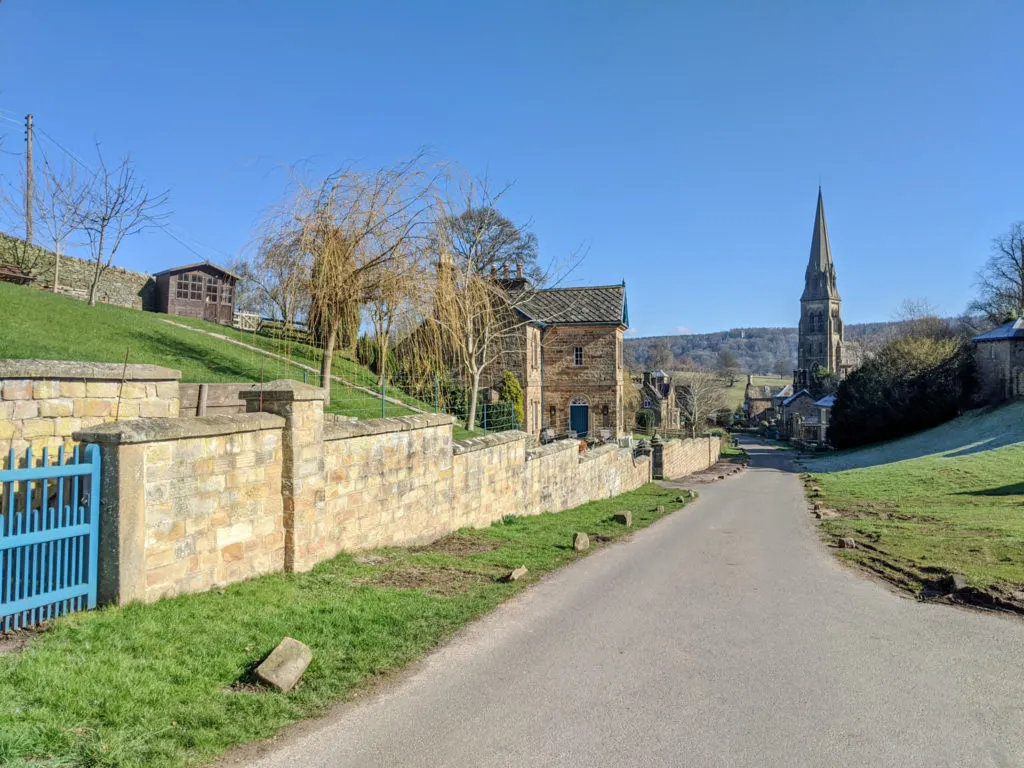 6. Find the Hunting Tower and Aqueduct Waterfall
The woods behind Chatsworth House are magical for kids (and adults!) and arguably one of the best woodland walks in the Peak District. As you weave through Stand Wood you will find the Hunting Tower, which can be seen for miles around, as well as Sowter Stone Waterfall, which feeds down to the Chatsworth Aqueduct where four tall arches finish with another waterfall. It's an impressive sight, especially in wet weather. And then there's also peaceful Emporer's Lake.
The woodland itself can feel like a jungle in the summer months with it's thick vegetation and abundance of bright flowers. And there are of course trees to climb! Plus, now and again, you get glimpses of Chatsworth House along the way.
We have two walk on this website for Stand Wood:
Things to do near Chatsworth with kids
Wheatsheaf Pub in Baslow
In Baslow, the village just outside Chatsworth where you can walk in from, there is the Wheatsheaf pub. There's a fantastic play area in the beer garden; if kids aren't playing on the climbing frames, they will be off in the trees encircling the garden. The food isn't the best here, but it's a great place to have a pint whilst the kids play and for that reason alone, it's one of our favourite pubs in the Peak District with a play area.
Baslow Edge walk
The short and reasonably flat Baslow Edge walk (2.7km, circular) is one of our favourite Peak District walks. There are lots of fun boulders to climb over, under and through, and you're almost guaranteed to spot Highland cattle here. Plus the views are very impressive; standing on Baslow Edge on a clear day you can see Chatsworth House to the left and then Kinder Plateau in the far distance to the right.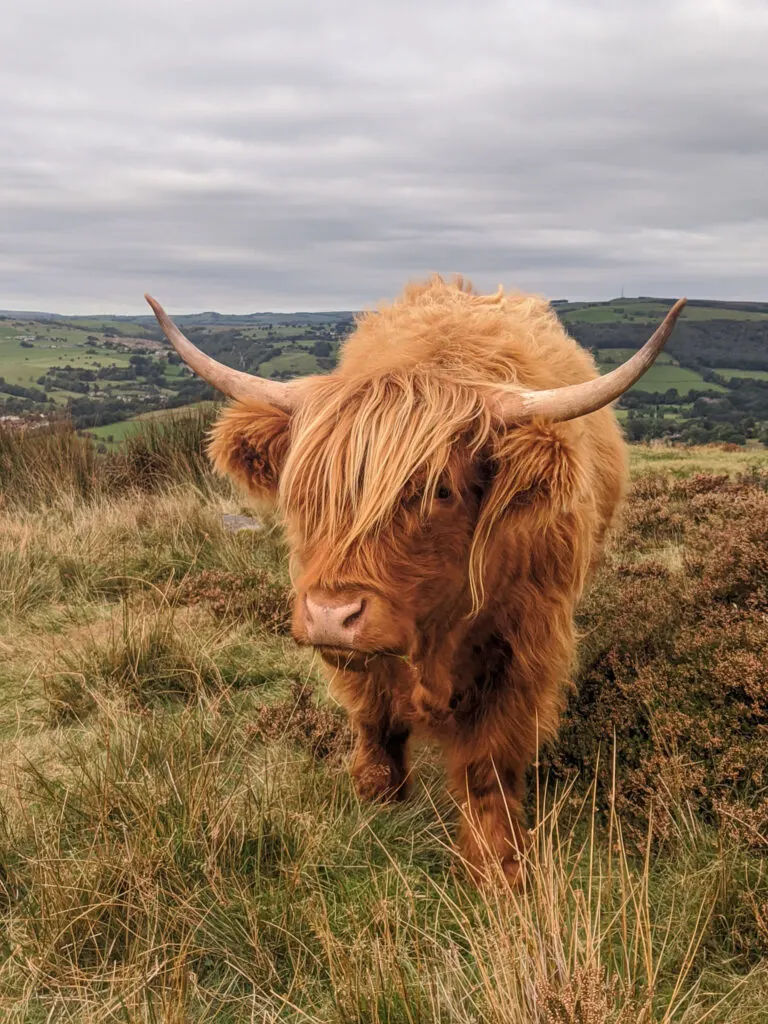 Bakewell
The historical market town of Bakewell is short drive drive from Chatsworth House. Check out our guide for things to do in Bakewell. Kids will probably want to make a beeline for the large recreation ground and a taste of Bakewell Pudding from one of the little cafes.
---
You may also like to read:
Best family walks in the Peak District
Things to do in Matlock
Things to do in Bakewell