Standing proud over the Chatsworth Estate and on the edge of Stand Wood is the Chatsworth Hunting Tower, built in the 1570s. This high prospect tower can be seen for miles, and if your pockets are deep enough, you can even book to stay here! Then further along this walk is Sowter Stone Waterfall, which feeds down to the Chatsworth Aqueduct where four tall arches finish with another waterfall. It's an impressive sight, especially in wet weather.
This really is a magical Peak District walk for kids (and adults!), and arguably one of the best woodland walks in the Peak District, as you weave through Stand Wood to visit these landmarks. The woodland itself can feel like a jungle in the summer months with its thick vegetation and abundance of bright flowers. And there are of course trees to climb! Plus, now and again, you get glimpses of Chatsworth House along the way.
It is free to walk around this section of the Chatsworth Estate, but you do need to pay for parking (£5). Parking payment is for a full day, so after this short Chatsworth Hunting Tower walk, you could visit the Farmyard and Adventure Playground, or the House and Gardens (tickets must be pre-booked online). Or head down to the river (which is free to do) for a picnic.
You could also combine this with our Baslow to Chatsworth walk, although bear in mind that this Chatsworth Hunting Tower walk is not pram friendly. However, we do have a pram friendly version of this walk – check out our Stand Wood pram friendly walk here.
Disclaimer: This post contains affiliate links. Should you click to purchase, it is at no additional cost to you, but I receive a small commission.
If you are planning a visit to the National Park, please arrive early or late in the day to avoid crowds if visiting over sunny weekends or school holidays. Please also take all litter home with you, don't bring BBQs and park your car in designated parking areas. Also, please use these walks as a guide; access and stiles may change.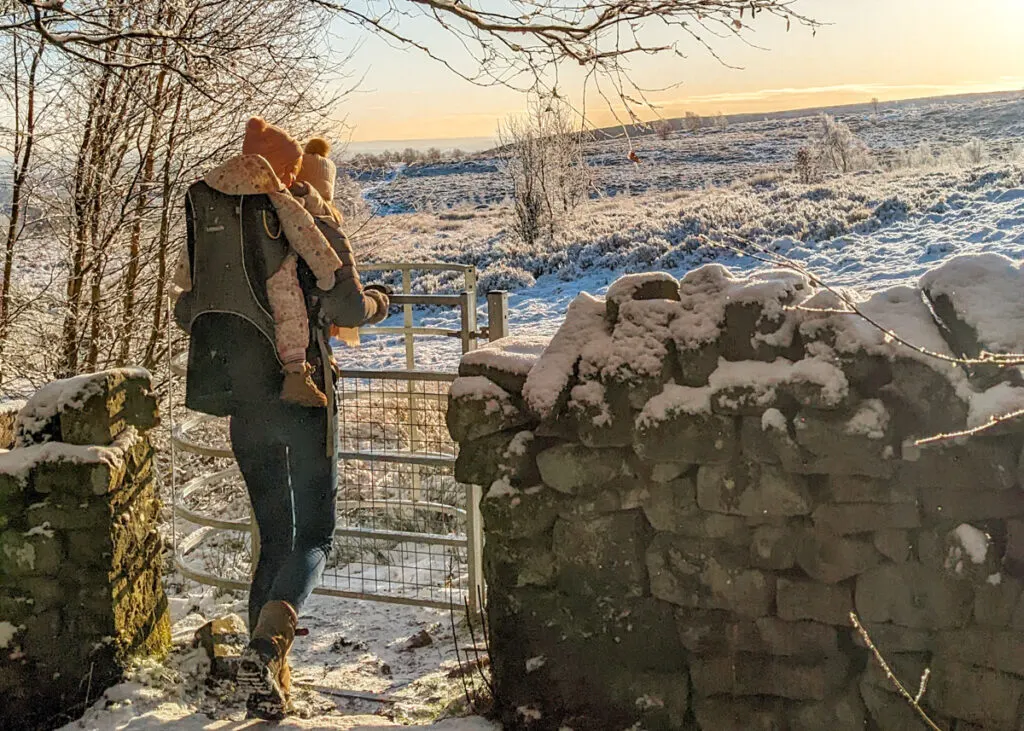 During the winter months, it's important to be extra prepared and safe when out walking and adventuring in the Peak District. The weather can change so quickly, especially on the exposed escarpments, and we don't want you to get caught out.
Read our top tips for safe winter walking with the kids.
FOLLOW US:
PARKING INFORMATION: Please do not rely solely on the postcode for parking directions. In the National Park, a postcode can cover a large area. Postcodes are only provided as guidance. Please either use the Google Maps point provided for every walk, or what3words.
Do check out our top tips for hiking with young kids, as well as our essential items to take on a family hike in the Peak District.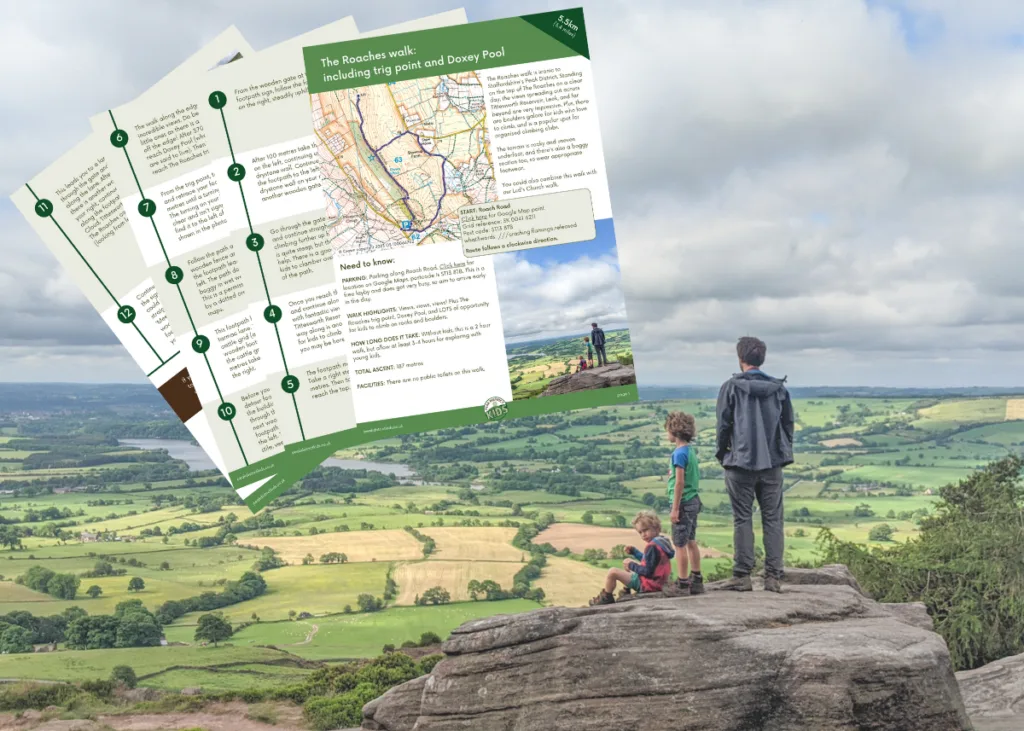 Download and print out our walking guides ready for your family walk. There are over 80 downloadable walk guides available, and these include all the main Peak District family walks, pram-friendly walks, and toddler walks.
Each printable download is just £1.50, whether it's a short 1km stroll or an epic walk up Kinder Scout.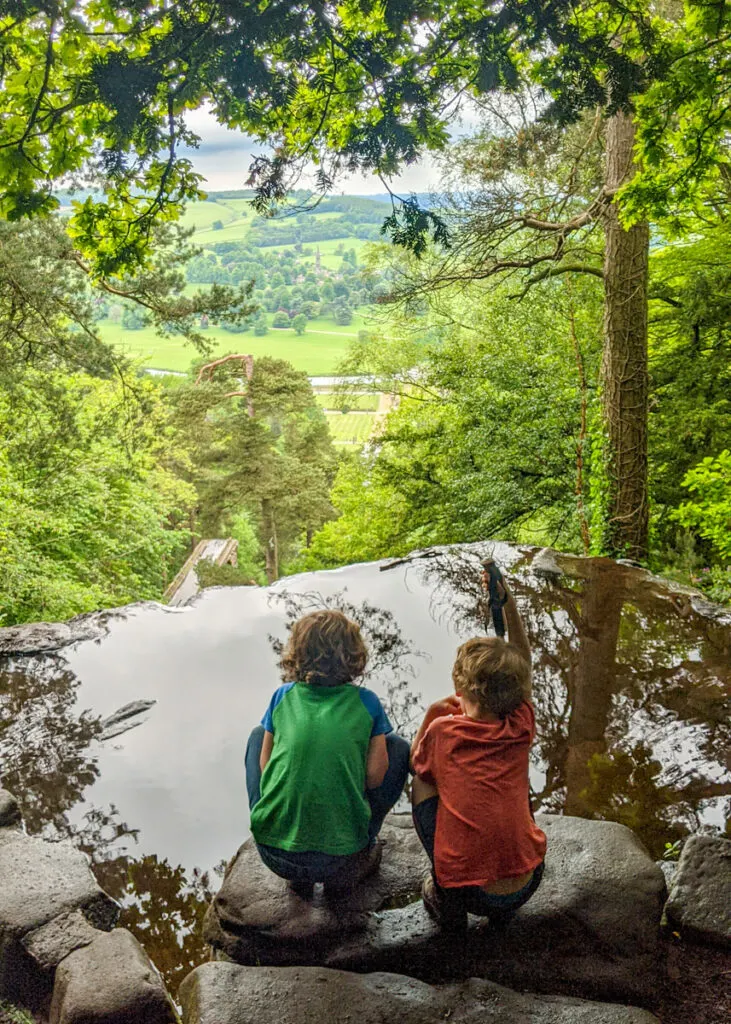 Chatsworth Hunting Tower and Aquaduct walk map
For this walk, not all the footpaths are marked on the OS Map; although Chatsworth allow visitors to walk along these footpaths. The below map is provided for guidance, but it's probably best to follow the route description and photos below.
Our route follows a clockwise direction starting from the House Car Park.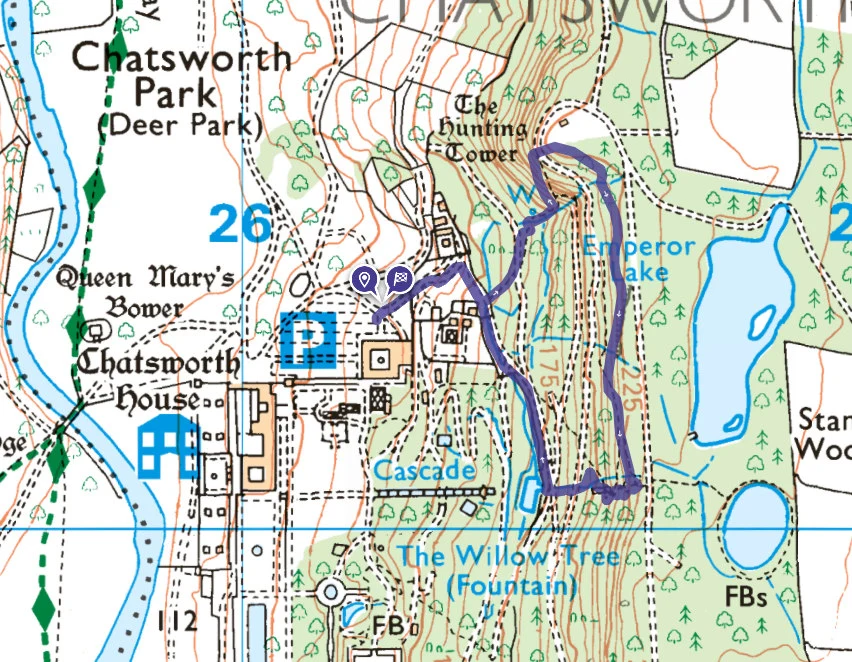 Get a printable download of this walk
Want to print off this walk guide rather than rely on your mobile? Then click here to download the PDF to print out at home. Perhaps print out a copy for the kids to follow the step-by-step directions and/or photos? It's a great way to get them engaged with the walk and gives them a sense of responsibility.
All printable downloads are £1.50 each. Click here for the full list of Peak District Kids printable downloads.
Please note that your download link expires 72 hours from order, so make sure you save your PDF somewhere where you'll remember it. If you are unsure where your download folder is on your mobile device, we recommend you download the PDF on your laptop or desktop.
Need to know
DISTANCE OF WALK: 2km / 1.2 miles

TYPE OF WALK: circular, woodland walk

PARKING: Parking at Chatsworth House car park. Flat fee of £5 for the day. Car park tickets can be purchased on arrival rather than in advance, but best to book in advance for weekends and holidays. Click here for Google Maps location, postcode DE45 1PN.

PUBLIC TRANSPORT: You can catch a bus to the start of this walk from Bakewell, Matlock, Buxton, Chesterfield, Sheffield, and Manchester. Click here for further details.

WALK HIGHLIGHTS: Chatsworth Hunting Tower, Sowter Stone Waterfall, Aqueduct, climbing trees and woodlands.

HOW LONG DOES IT TAKE: Without kids, this is a 50 minute walk, but allow about 1.5 hours for exploring with kids.

TOTAL ASCENT: 134 metres

ACCESSIBILTY: Not pram or wheelchair friendly. Steep climb at the beginning of the walk. Rocky and uneven underfoot in places.

FACILITIES: Public toilets can be found by the entrance to Chatsworth House, but there are no facilities on the actual walk. For food options, there's often a food cart by the entrance to Chatsworth House, or walk over to the tea rooms at Edensor. Alternatively, head to The Wheatsheaf in nearby Baslow, which has a playground in the beer garden.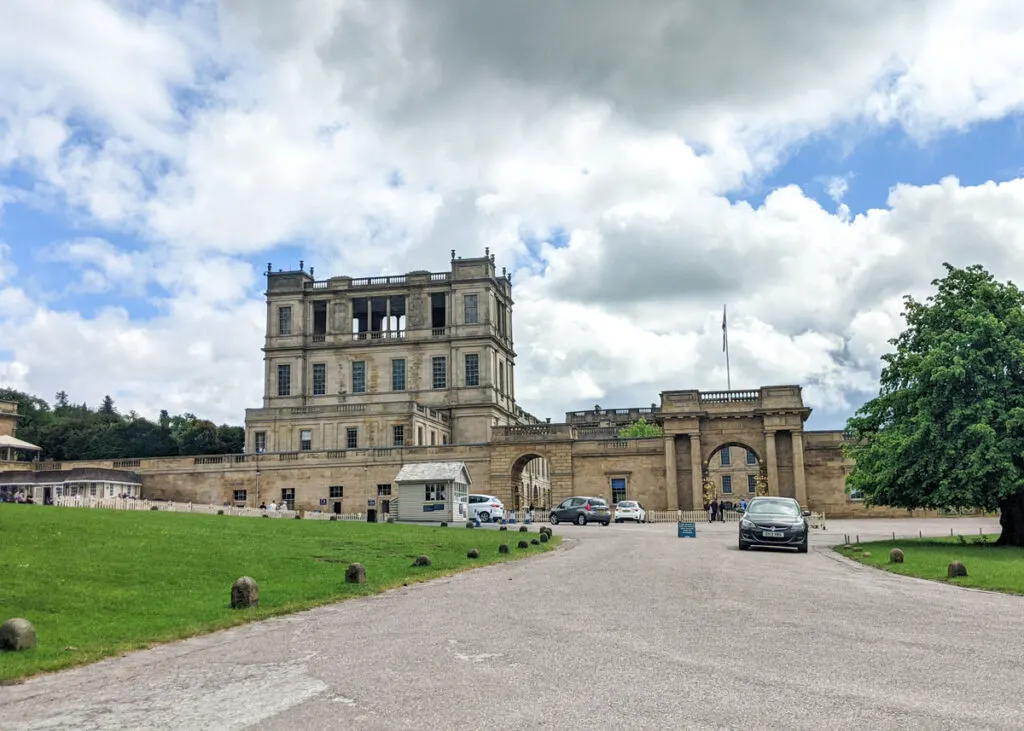 The route
START: Chatsworth House Car Park
Click here for Google Map point
Grid reference: SK 2622 7035
Post code: DE45 1PN
what3words: ///scope.cinemas.motive

Route follows a clockwise direction.
1. Walk to the back of the car park (opposite end to the car park entrance) and follow signs for the Farmyard and Adventure Playground. Before you get to the entrance to the Farmyard, walk through the gate on the right to Stand Wood and climb the footpath straight ahead.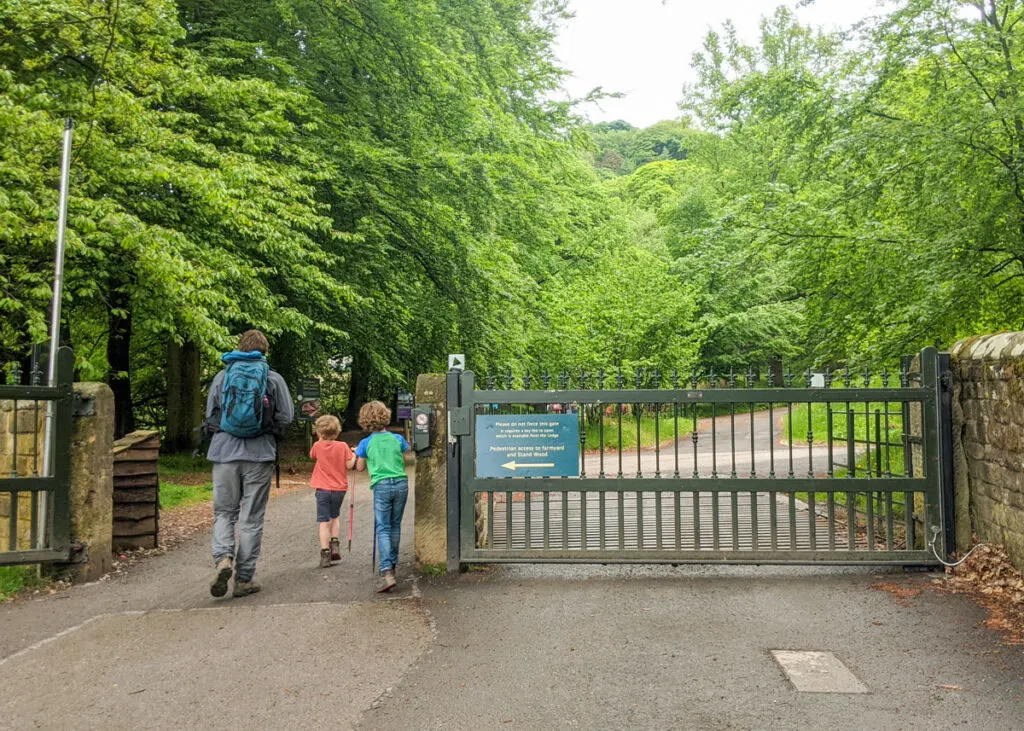 2. At the road, go straight across to the footpath opposite, and then straight ahead at the next junction too. You then cross a little stream. This next section is a bit of a steep climb up the steps, but in the warmer months it feels like you're trekking through the jungle! Keep climbing straight ahead, and eventually you'll come out to Chatsworth Hunting Tower. This is a good picnic stop to take in the views.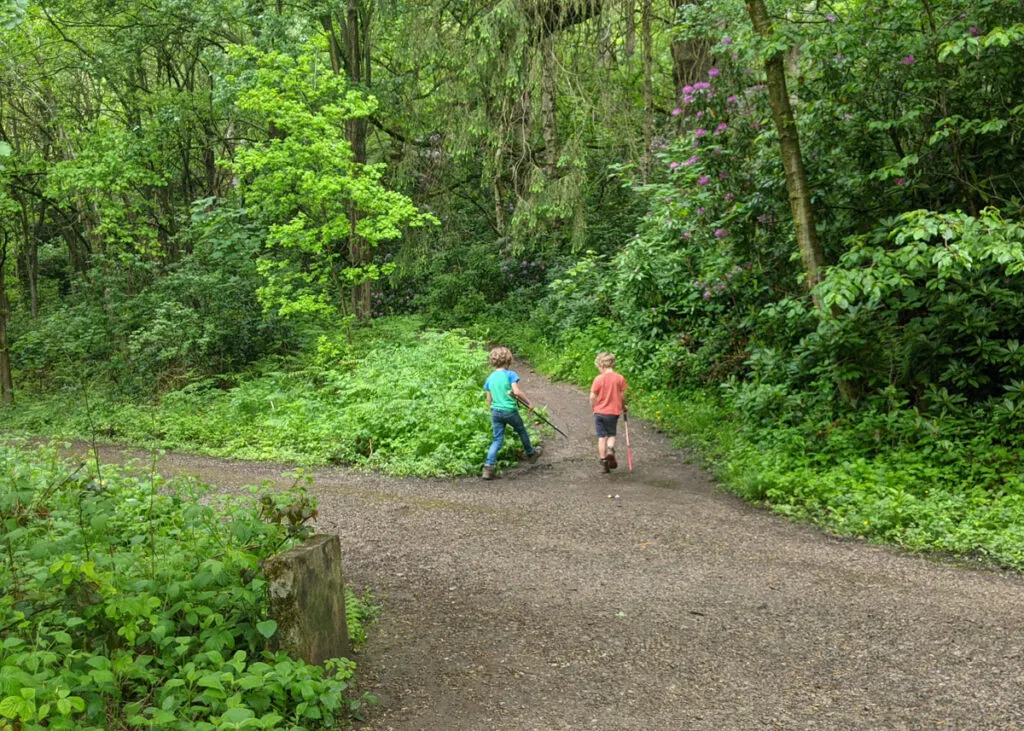 3. To the right of Chatsworth Hunting Tower is a footpath that leads through the woods. Follow this path. There are lots of places to climb trees through here. Continue past a turning on the right with steep steps down.
4. You will eventually meet a waterfall (Sowter Stone Waterfall). Follow the footpath the the left of the waterfall and round the back, to come down the other side.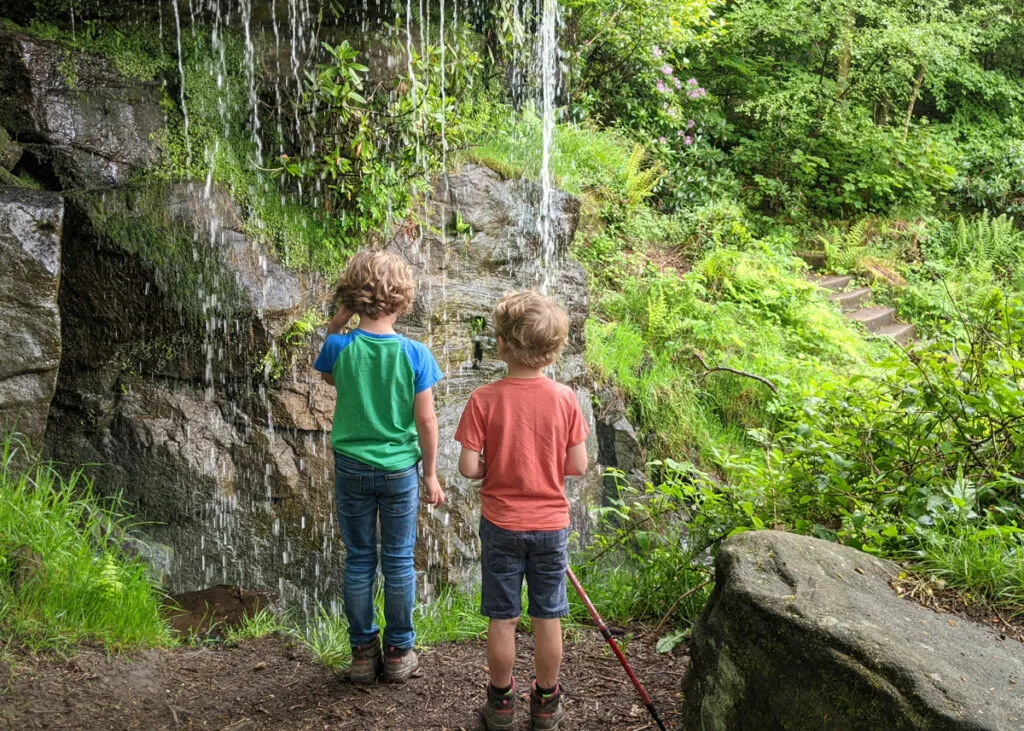 5. Follow the switchbacks down the hill towards the aqueduct.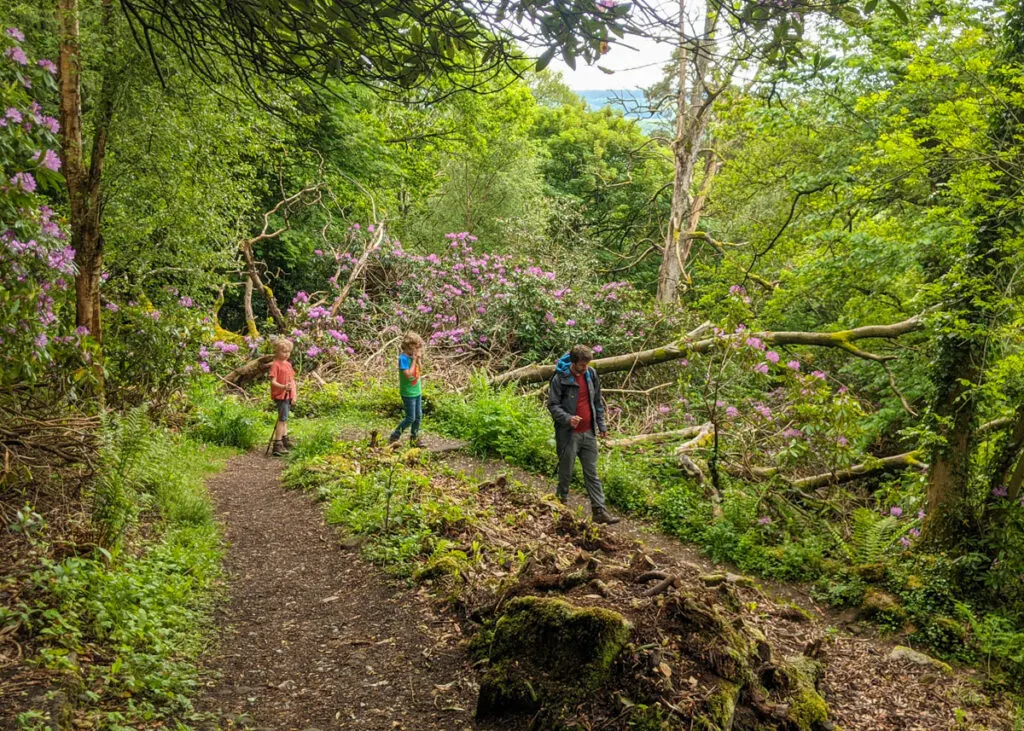 6. Cross the road in front of the aqueduct and follow the footpath immediately opposite. This leads down to another road with views of Chatsworth House in front of you. Take a right and follow this very quiet road back to the car park (only Chatsworth official vehicles allowed on here).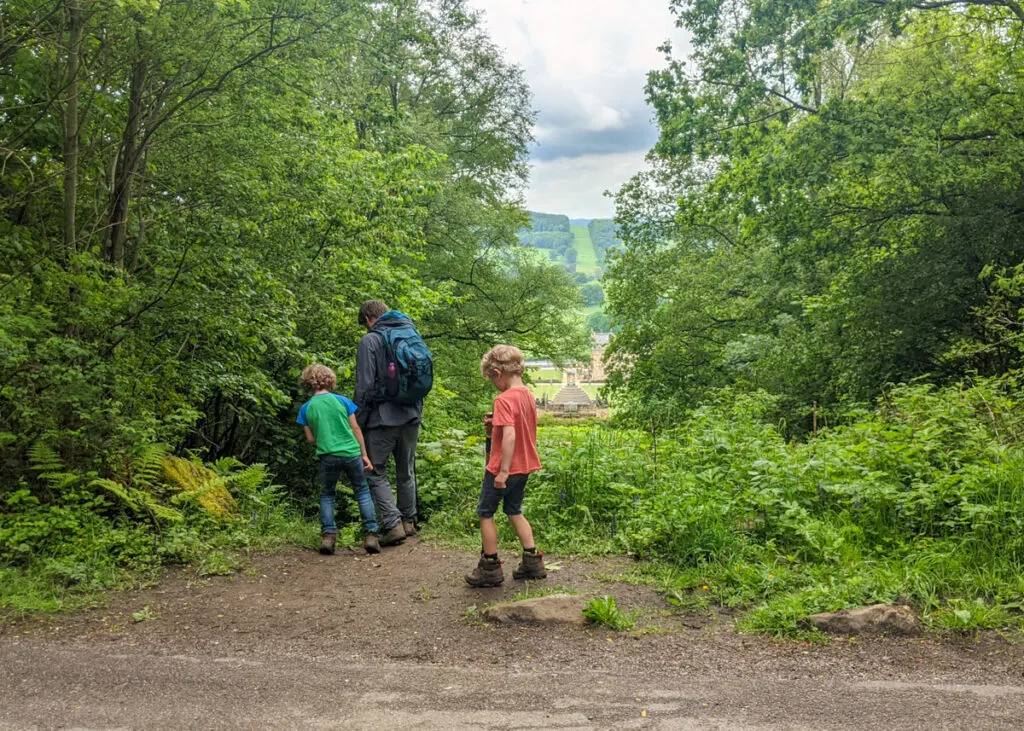 ---
You may also like to read:
Baslow to Chatsworth walk (pram friendly, 5.8km)
Baslow Edge walk (2.7km): highland coos and epic views
Bakewell to Chatsworth walk (circular, 10km)