If you've managed a few long day hikes with your kids in the Peak District (such a Kinder Scout or Bamford Edge), how about taking on a multi-day family hike?
This 3-day Edale to Grindleford walk offers stunning views every day and stops at Peak District YHAs enroute. The distance covered each day is very doable of families, taking an easy-going pace to include The Great Ridge, Win Hill trig point, the River Derwent, and Hathersage Stepping Stones.
This article contains affiliate links. Should you click to purchase, it is at no additional cost to you, but I receive a small commission.
Staying at YHAs means that there is a hot shower and bed waiting for you at the end of each day (no need to carry camping gear) and a pub not too far away for dinner (no need to cook). Plus, the YHA breakfasts are a pretty amazing start to your next day of hiking with an all-you-can-eat cooked breakfast and kids under 10 eat free. So food-wise, all you really need to carry is snacks and water!
Also, this walk starts and ends at train stations, so is ideal for families who want to use public transport. Indeed on day 2 and day 3, the walk weaves around the Hope Valley railway line and train-spotters will be in their element.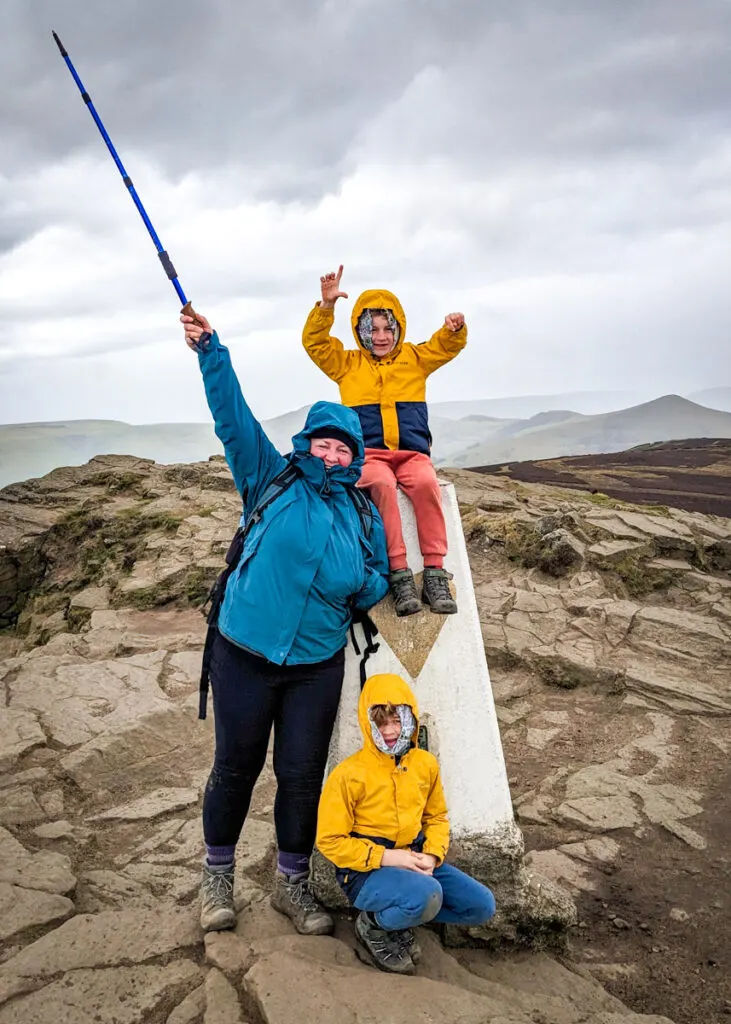 Here we detail the planning side of this multiday trek with kids, such as what to expect at the YHAs, what to pack, and other essential tips. A brief overview of the route is provided, but for detailed step-by-step route instructions with photos, please refer to the individual walks guides for each day:
You can also download pdf walk guides for each day to use offline on your phone or to print out (the kids may want copies too to do some of their own navigating).
Record this multiday hike and more with our Walks Log Book for kids
The Peak District Kids Walks Log Book is designed for kids of all ages to keep track of their amazing walks in the Peak District and beyond. It provides 100 possible walk entries (that's a walk a week for almost two years) and kids can record their total distance by colouring in the hiking boots in the back pages.
Seeing their collection of walks logged in one place over time will bring such a sense of achievement, and what a wonderful memento for years to come.
Booking your YHA
This Edale to Grindleford walk stops overnight at two different YHAs:
Often situated in heritage buildings, the YHAs offer basic bunkbed accommodation (family rooms available, sometimes ensuite). Rooms can be a little rough around the edges, but they are reasonably priced compared to alternative Peak District accommodation and are very family friendly. Indeed, YHA are one of the few accommodations in the National Park where you can book for just the one night; many accommodations require a two-night minimum stay.
However, the Peak District YHAs are perhaps not as cheap as you would expect. We paid a total of £156.75 for the two nights over the Easter holidays (2023). For YHA Castleton Losehill we had a private ensuite room, whereas for YHA Hathersage, only a private room with shared bathroom was available.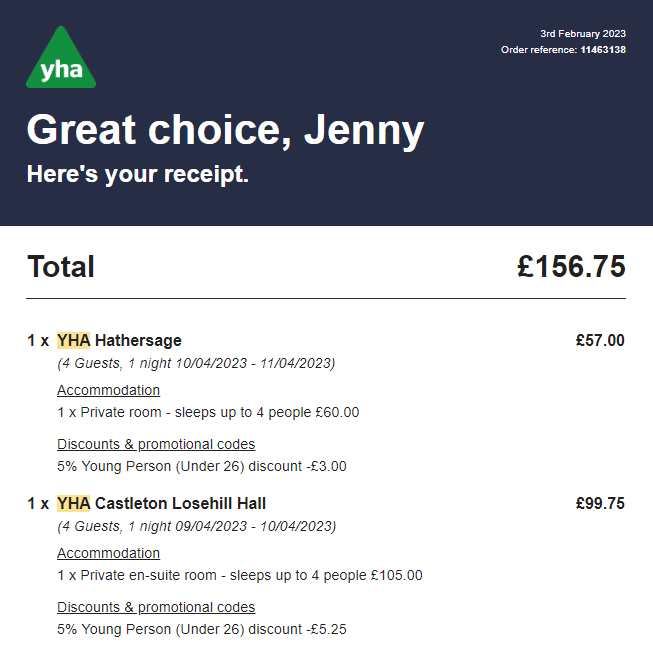 The YHAs are still considerably cheaper than other accommodations in the Peak District and so they do get booked up very quickly. Check availability and book your accommodation as soon as you can.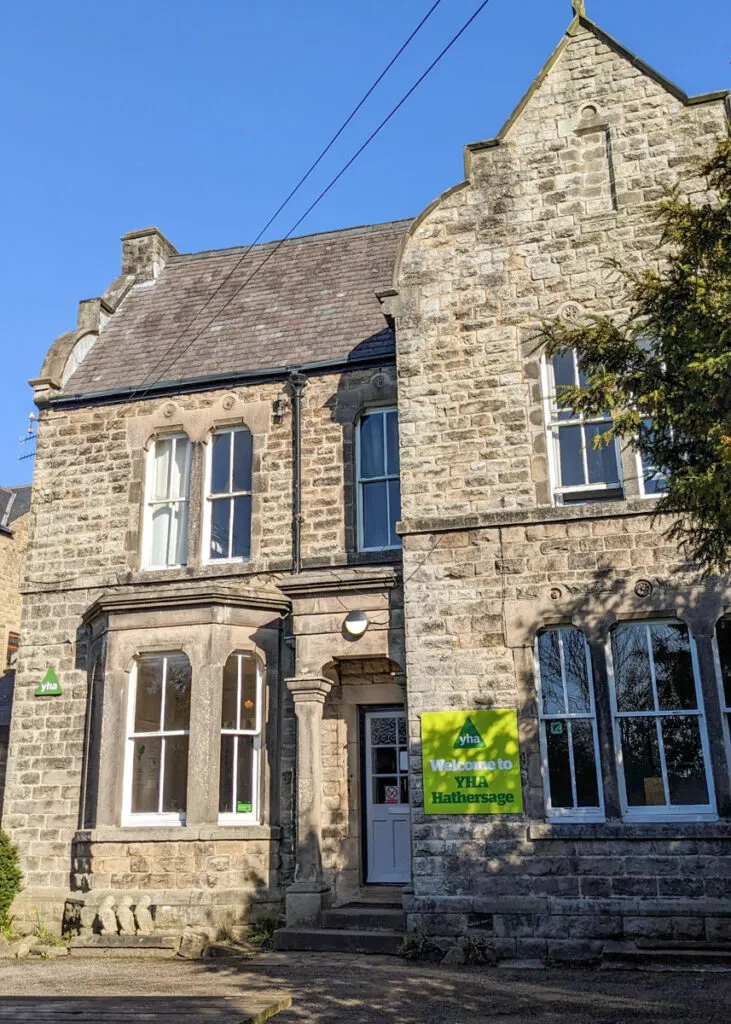 What we love about the YHAs is that they are very family friendly. There's always a separate lounge area with a box of toys and games to play with. YHA Castleton Losehill also has a huge garden for kids to run around (yes, somehow the kids still have energy after a day's hiking) and a box of outdoor games is also provided.
The breakfasts are also a winner at the YHAs and a perfect start to a day of hiking. An 'Unlimited YHA breakfast' is £9.95 and under 10s eat free. It's very similar to the Premier Inn breakfasts with a full English fry up, cereals, yogurts, croissants, hot drinks, juices etc. Vegetarians and vegans are catered for.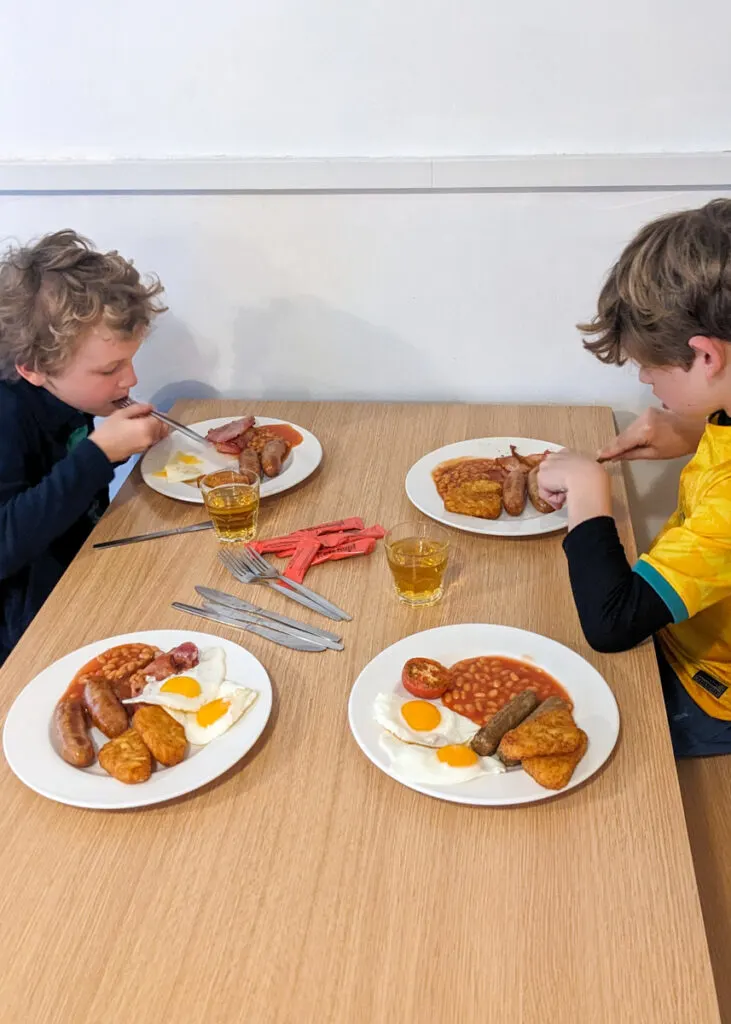 Check-in at YHA Castleton Losehill is 3pm, whereas it's 5pm for YHA Hathersage.
Parking and train travel
This multiday hike starts at Edale railway station and ends and Grindleford railway station. Both stations are on the Hope Valley line that connects Sheffield and Manchester.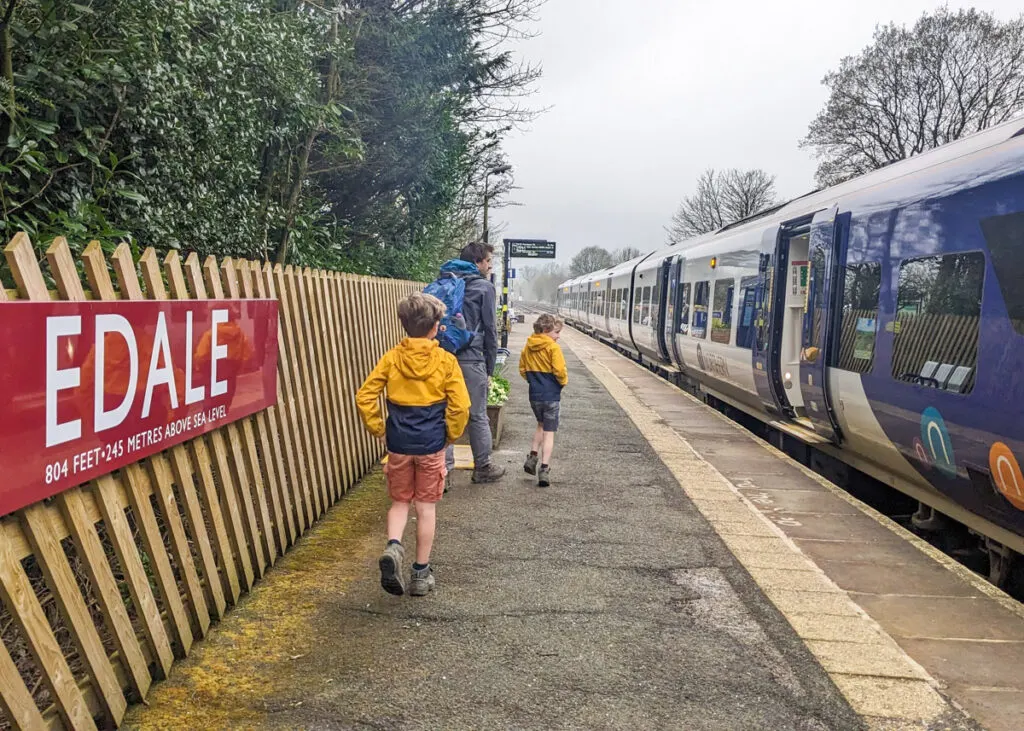 If you are arriving by car, you can either park at Edale Car Park (the car park is a 2 minute walk from the station) or Grindleford Station (there is parking along the road to the station). You can then either take the train to Edale at the end of the walk or the start of the walk, depending on where you park.
Both car parks do get very busy, especially over sunny weekends and school holidays, so we advise arriving before 9:30am.
Edale Car Park

Click here for location on Google Maps
Postcode S33 7ZQ
what3words: ///kitchen.complains.shelving

24 hours parking is £7
Pay via PayByPhone app (location number 806749)
Grindleford Station parking

Click here for location on Google Maps
Postcode S32 2HQ
what3words: ///direct.watch.rent

24 hours parking is £2
Pay via RingGo app (location number 35712)
Both carparks can be paid for using an app. You can only pay for 24 hours at a time. So make sure you pay for an extra day when your 24 hours runs out.
Do also check in advance if any trackwork planned.
What to do about food
Really, you just need to pack snacks for this walk. We recommend the YHA breakfast on the morning of Day 2 and Day 3, and a pub dinner on the evening of Day 1 and Day 2; both Castleton and Hathersage offer lots of choice for pubs and cafes. Otherwise, it can get quite complicated (and heavy) carrying food for all the family for three days.
Fruit, pita bread and dips, crisps, boiled sweets, nuts and raisins, chocolate bars, are all good snacks to pack for a day of hiking. Also, make sure you pack enough water at the start of each day as there is nowhere enroute to fill up (except for Hope on Day 2).
You only need to be carrying water and snacks for one day at a time. Snacks for the first day can be brought from home. For Day 2, you can either purchase from Castleton, or from Hope (which you pass through towards the start of Day 2). For Day 3 you can purchase from Hathersage.
What to pack
Aside from the all-important snacks (please don't even attempt to hike with kids without them, you have been warned!) you will also need to pack for each person:
water bottle
waterproof jacket and trousers
one full change of clothes (trousers, socks, t-shirt, jumper, underwear)
plus 1 x underwear and socks
hat, gloves, Peak District Kids snood
sunglasses
toothbrush
pyjamas
book to read in the evening
Combined for all the family you also need to pack:
You can wear the same hiking gear for two days (although you will probably want to change your underwear), leaving the extra change of clothes for day 3. If your main set of clothes gets wet on day 1 and you need to wear your extra set, you can dry them overnight at the YHA. You do not need a separate change of clothes for each day.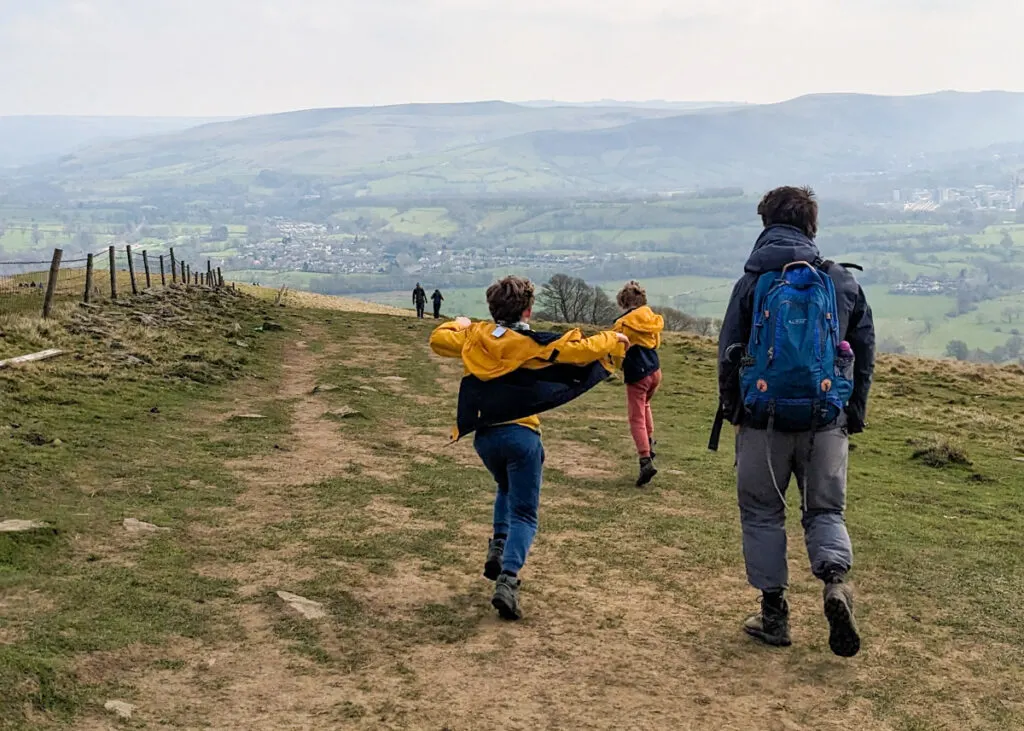 With light packing and two parents carrying a backpack each, the kids don't need to carry backpacks.
We suggest one parent carrying a 40L backpack for the majority of kit listed above, and the other parent carrying a regular daypack with all the snacks, water, and picnic mat. If there is only one parent, everything for up to 4 people should fit into a 50L backpack easily.
Put clothes and valuables in plastic bags inside your rucksack so as to protect them from rain.
What to wear
Each family member should wear (this is separate from the kit list above):
Waterproof hiking boots
Hiking socks
Trousers / shorts
T-shirt
Fleece / jumper
Thermals for the colder months (we recommend taking these between October and May)
The weather in the Peak District, especially up on the hilltops, is notoriously unpredictable and interchangeable. The key is to be prepared for all weathers.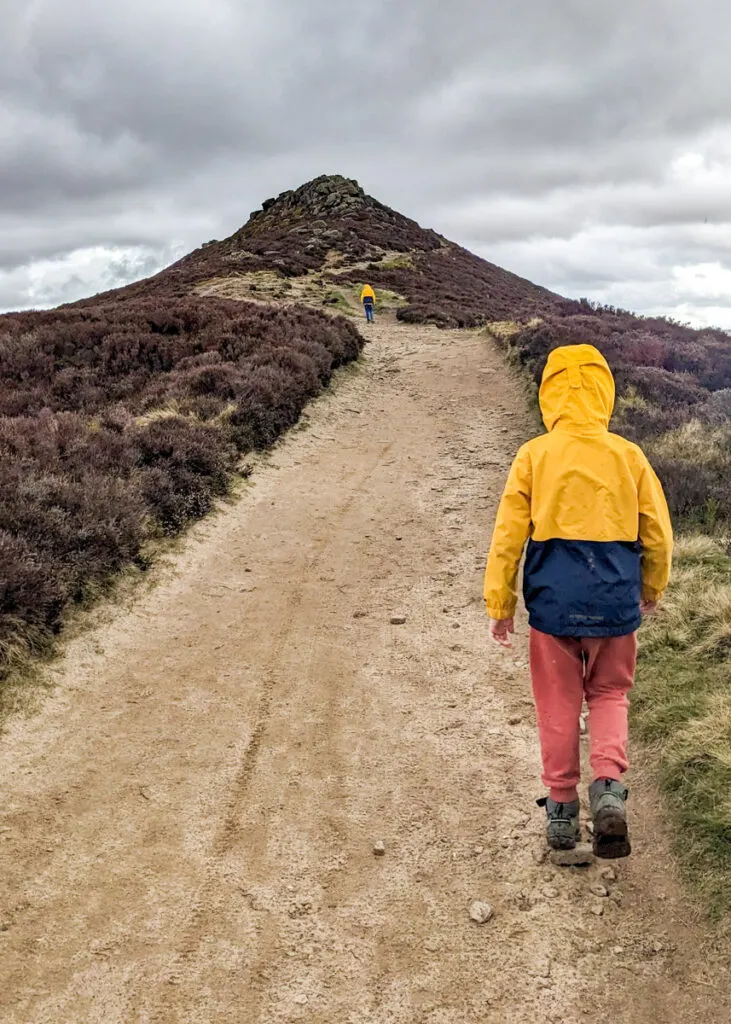 Tips for a multiday trek with the kids
Here are our top tips for taking on this Edale to Grindleford walk. Many of these have already been mentioned, but just to reiterate:
Pack lots of snacks to keep the kids going
Have lots of little breaks along the way, rather than aiming for big long breaks
The weather can change very quickly, pack for all weathers
Wear good hiking boots
Water purification tablets or a water filtration bottle so you can drink water from streams enroute if needs be
Take a compass and OS Map incase visibility is low
Start your walk early in the day, so as to maximise daylight hours and allow yourselves lots of time
Hiking poles are a good idea
The route from Edale to Grindleford
Whilst it is possible to complete the entire Edale to Grindleford walk (24km) in a day, albeit and pretty epic and hardcore day, this route is all about taking it easy, enjoying the views, and disconnecting from the everyday treadmill of home/school-life.
The first two days are involve uphill climbing and descents, taking in Mam Tor, Hollins Cross, Lose Hill and Win Hill. From Win Hill the route descends down along the River Derwent and across the Hathersage Stepping Stones, with then a short 4.3km to Grindleford for the last day.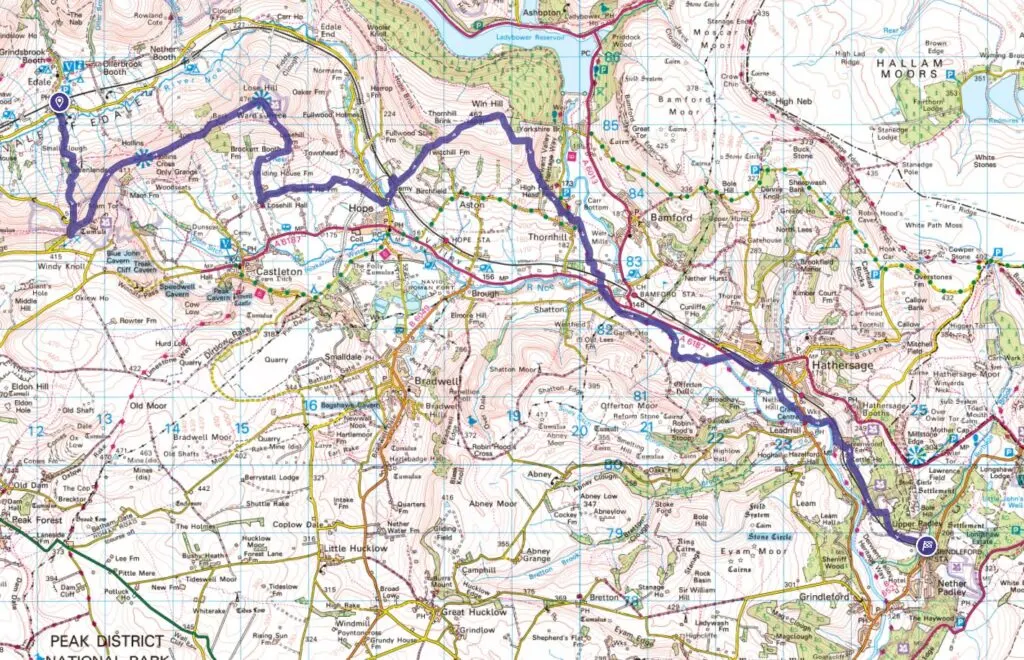 Download the printable walk guides for this multiday trek
Day 1: Edale Station to YHA Castleton Losehill
(8.1km, 433m ascent, 467 descent)
Edale Station to YHA Castleton Losehill walk guide
Printable download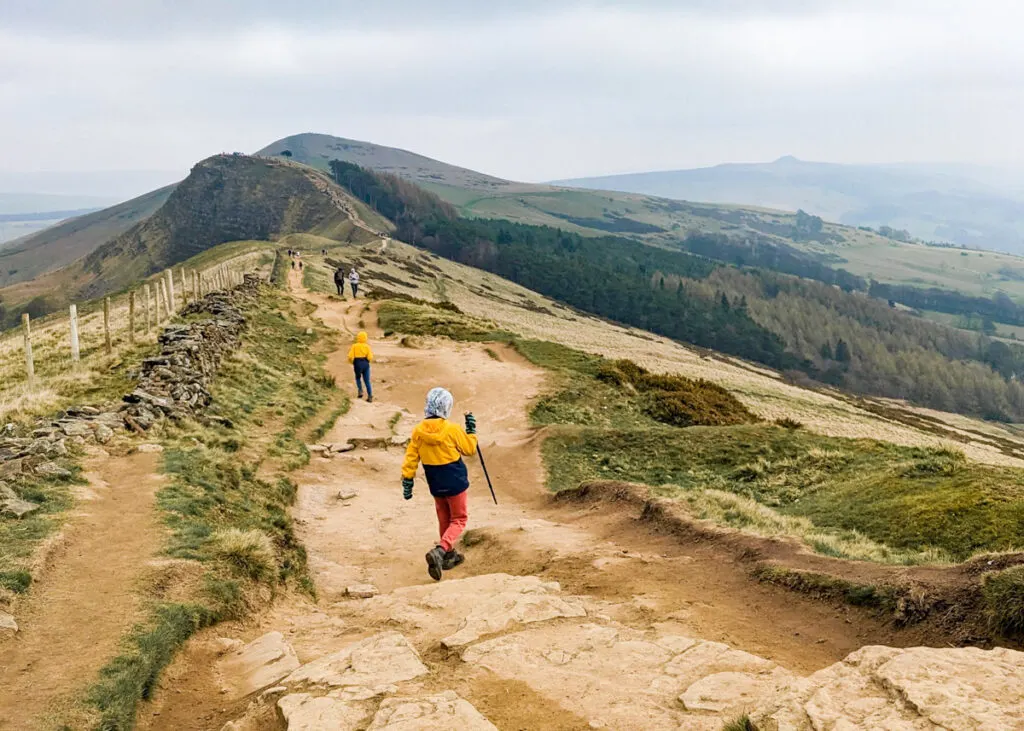 Starting with a steady climb up from Edale Station, Day 1 makes the most of the epic views along the Great Ridge between Mam Tor and Lose Hill. On one side you look down into the Hope Valley and over to Kinder Scout, and on the other is Castleton and the dales rolling towards the White Peak. It truly is one of the most spectacular (but also busiest) footpaths in the Peak District. The stretch down to YHA Castleton Losehill from Lose Hill then leads you through farmland.
Once you arrive at YHA Castleton Losehill, there is a small bar for a celebratory beer for the adults and ice-lolly for the kids, as well as a huge outdoor garden with benches and a box full of outdoor games. It's just a 10 minute walk to the nearest Castleton pub, Ye Olde Cheshire Cheese Inn, for dinner.
Day 2: YHA Castleton Losehill to YHA Hathersage
(11.3km, 408 ascent, 449 descent)
YHA Castleton Losehill to YHA Hathersage walk guide
Printable download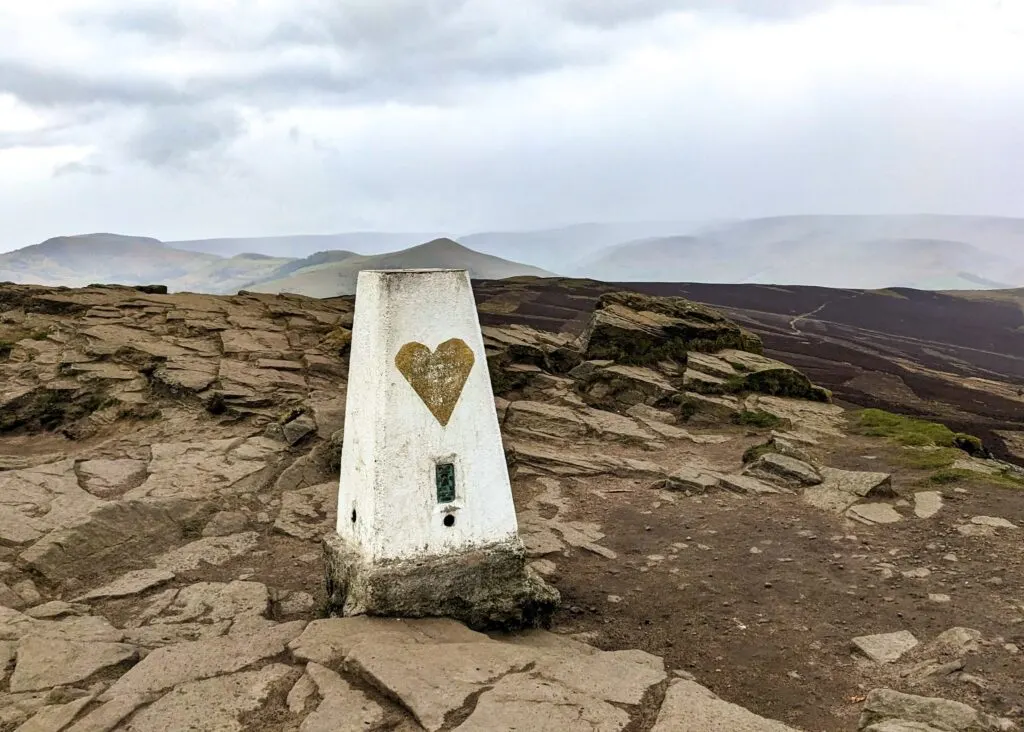 An easy-going start from Castleton to Hope warms you up for the climb up to Win Hill. The climb can be quite strenuous, so take your time to enjoy those views before bagging the trig at the top. The route then leads downhill to the Thornhill Trail to eventually meet up with the River Derwent. It's a gentle amble along the river before braving the Hathersage Stepping Stones. From here it's just a short walk into the village, where there are a range of cafes and pubs to refuel after your epic day.
This leg is the longest day of the Edale to Grindleford walk, so get an early start and have snacks at the ready.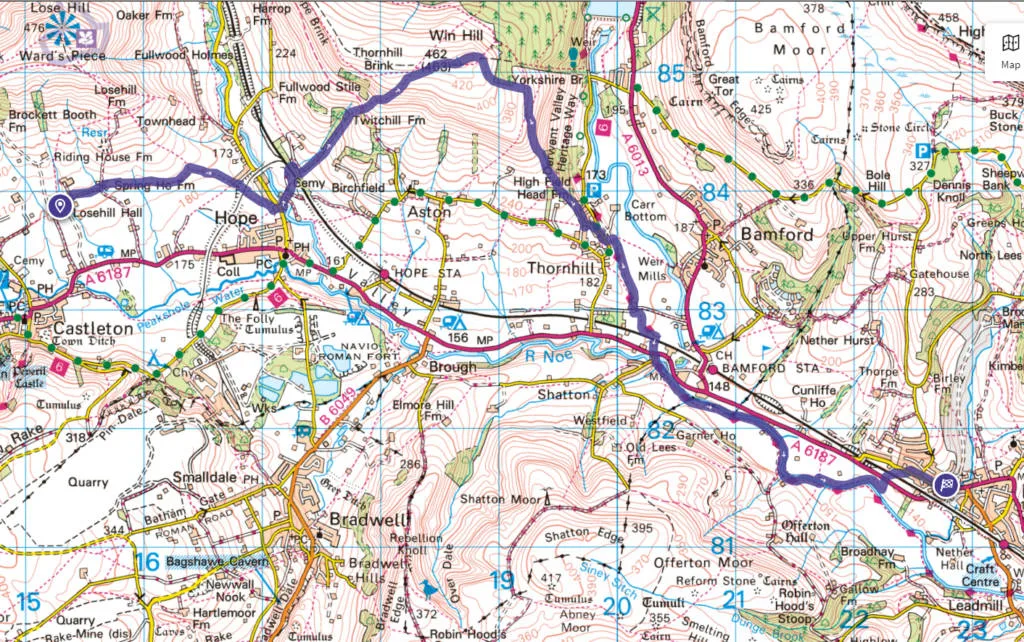 Day 3: YHA Hathersage to Grindleford Station
(4.3km, 98m ascent, 82m descent)
YHA Hathersage to Grindleford Station walk guide
Printable download
After the hill climbs of Day 1 and Day 2, it's a an easy-going and relatively flat walk for Day 3; walking along the River Derwent and through woodland from Hathersage to Grindleford, as you weave around the railway track. Remind yourself to look back behind you on this walk to spot Win Hill and the Great Ridge and appreciate how far you've walked over the three days.
Make sure you have cash on you to treat yourself to a drink and hot chips at Grindleford Station Café.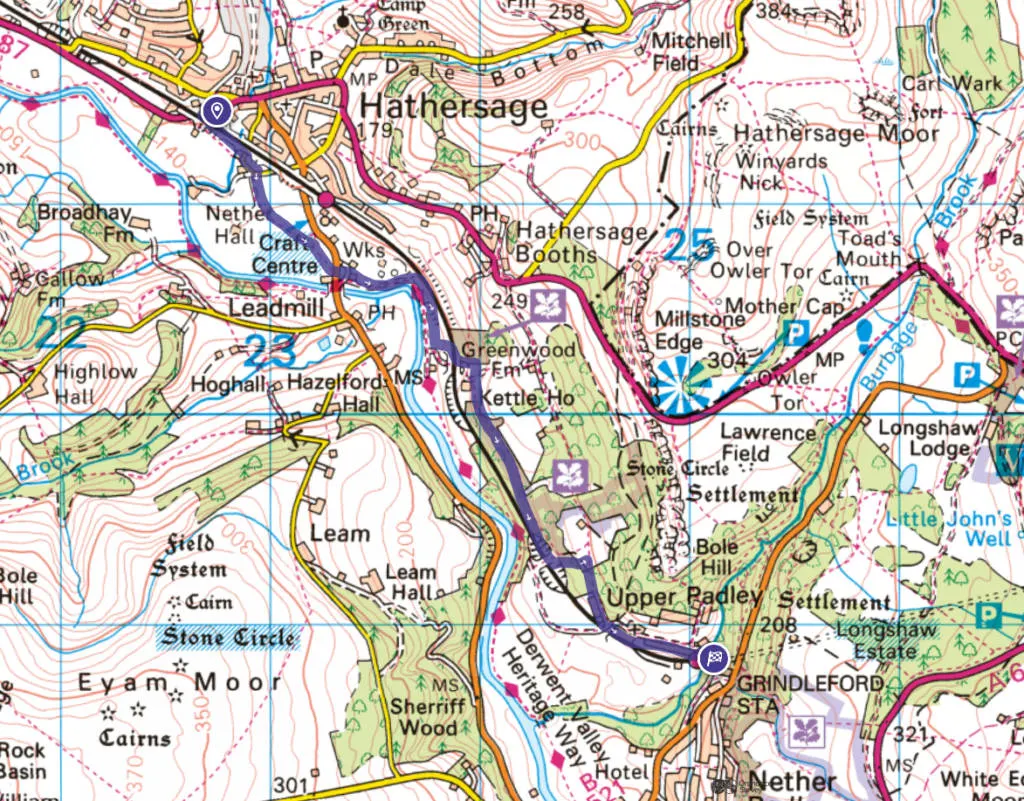 ---