Kinder Scout is arguably the most impressive place to walk in the Peak District and many people have this on their bucket list. The views from the plateau on a clear day are incredible and the landscape feels wild and untouched.
There are two main options to climb Kinder Scout. You can either walk up to Kinder Scout from Edale or from Hayfield, and we detail both routes on this website, with step-by-step directions and photos.
Please only attempt Kinder Scout if your kids have had a bit of experience hiking. It's very exposed up on the plateau and the routes are technical in places (some footpaths are boggy and unclear, and others require scrambling). There are no facilities whatsoever, so take everything you need (including enough snacks and water) and pack layers.
For either route, be prepared for a bit of a climb; your efforts will be rewarded with incredible views on a clear day!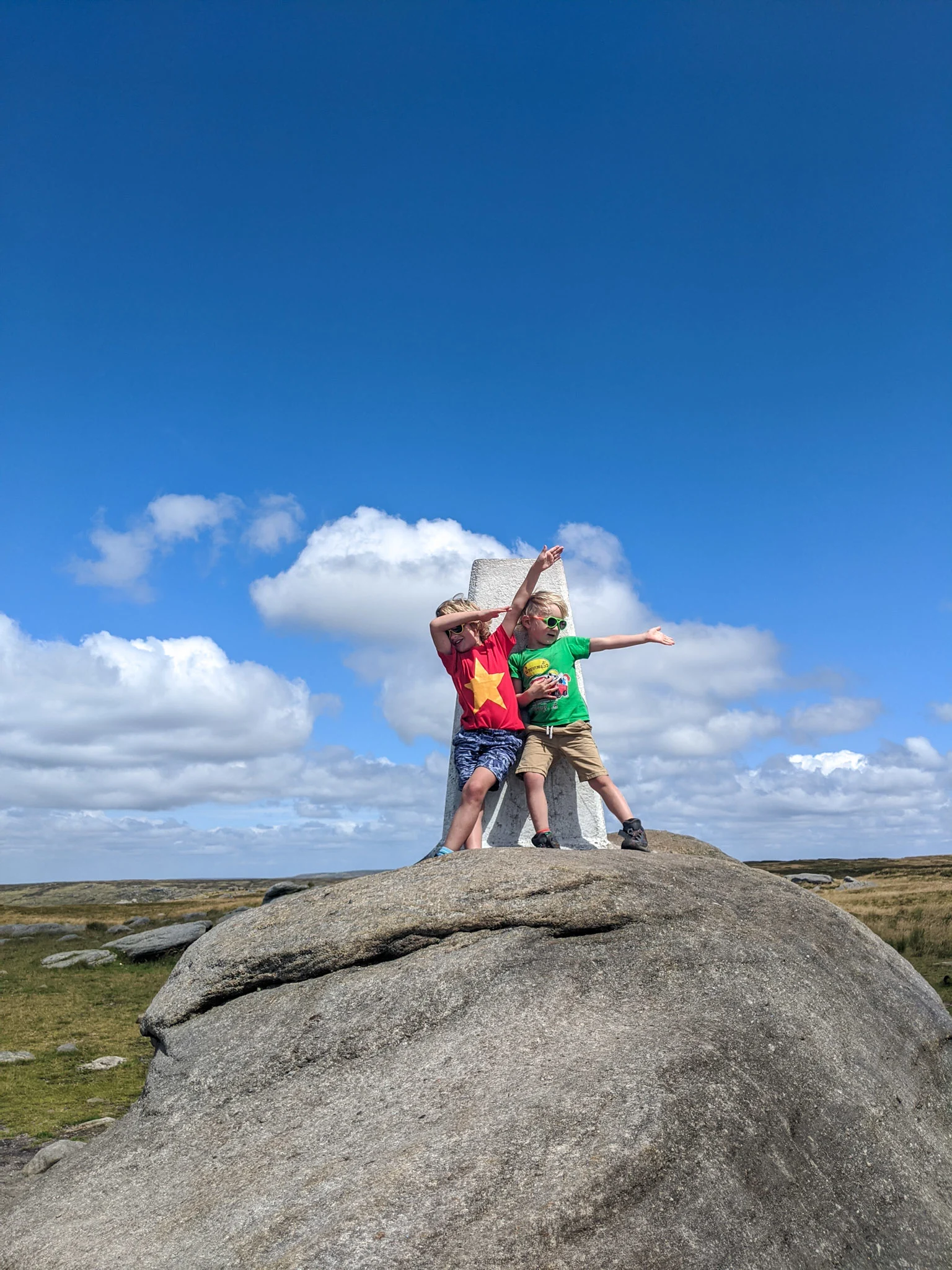 Disclaimer: This post contains affiliate links. Should you click to purchase, it is at no additional cost to you, but I receive a small commission.
If you are planning a visit to the National Park, please arrive early or late in the day to avoid crowds if visiting over sunny weekends or school holidays. Please also take all litter home with you, don't bring BBQs and park your car in designated parking areas. Also, please use these walks as a guide; access and stiles may change.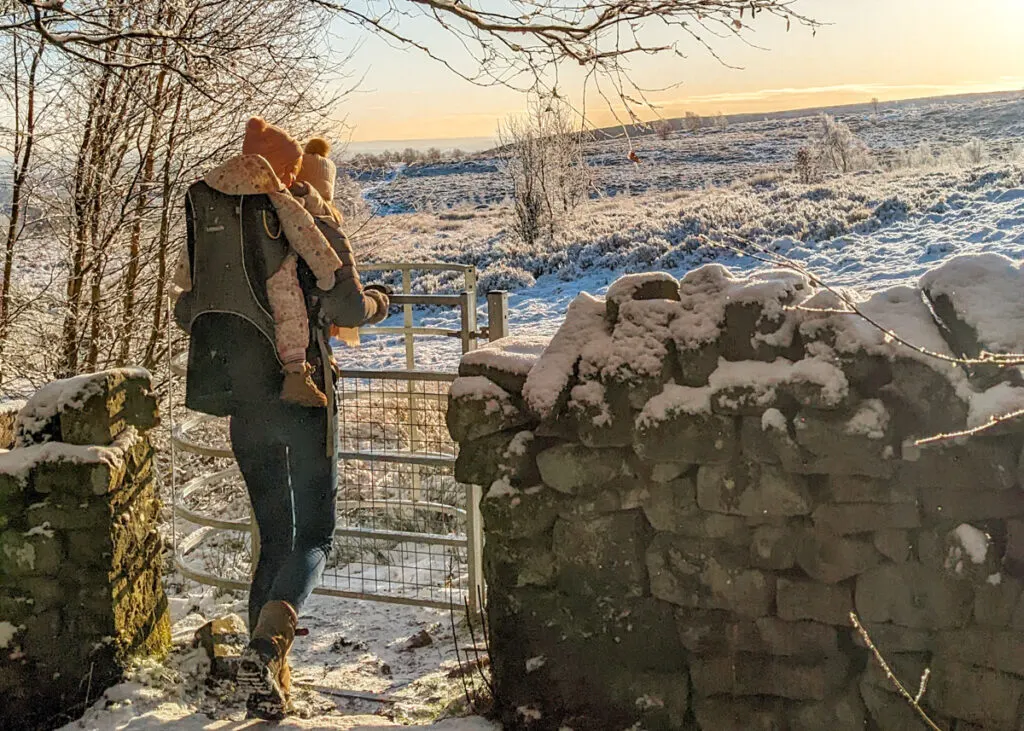 During the winter months, it's important to be extra prepared and safe when out walking and adventuring in the Peak District. The weather can change so quickly, especially on the exposed escarpments, and we don't want you to get caught out.
Read our top tips for safe winter walking with the kids.
FOLLOW US:
PARKING INFORMATION: Please do not rely solely on the postcode for parking directions. In the National Park, a postcode can cover a large area. Postcodes are only provided as guidance. Please either use the Google Maps point provided for every walk, or what3words.
Do check out our top tips for hiking with young kids, as well as our essential items to take on a family hike in the Peak District.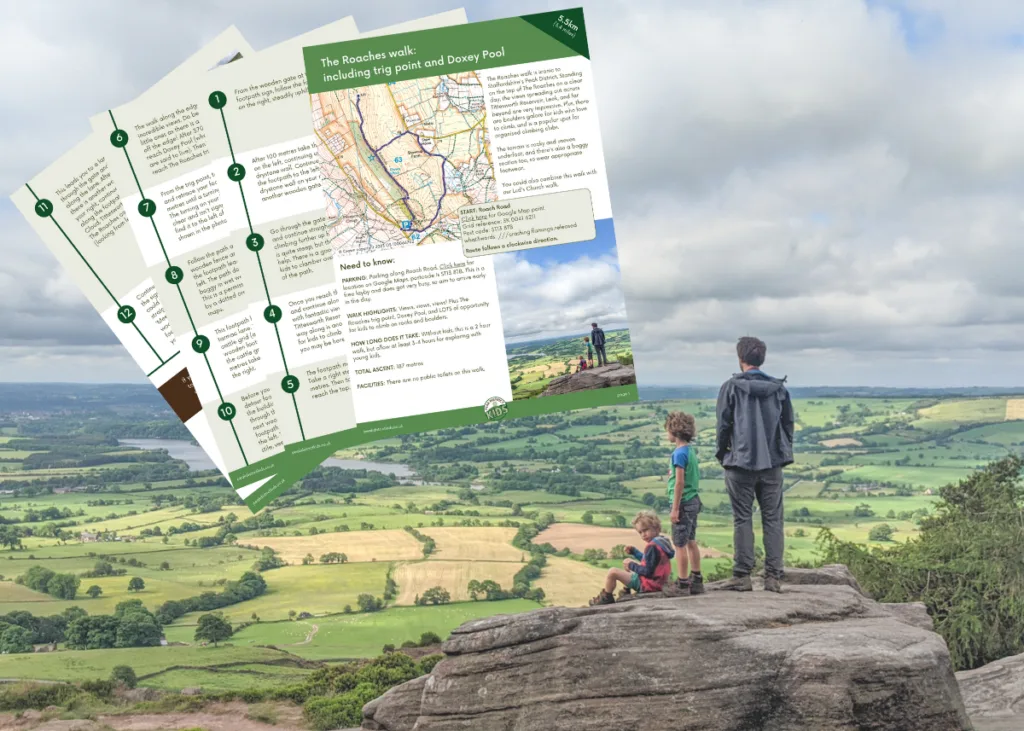 Download and print out our walking guides ready for your family walk. There are over 80 downloadable walk guides available, and these include all the main Peak District family walks, pram-friendly walks, and toddler walks.
Each printable download is just £1.50, whether it's a short 1km stroll or an epic walk up Kinder Scout.
Which OS map do you need for Kinder Scout?
On all Peak District family walks it's a good idea to have an Ordnance Survey paper map with you, even if you have your phone on you. For Kinder Scout you need the OS Explorer Map OL 01 (Dark Peak). It's also a good opportunity to show young kids the map features and get them started with map reading.
Top tips for hiking Kinder Scout with kids
Pack lots of snacks to keep the kids going.
Have lots of little breaks along the way, rather than aiming for big long breaks.
The weather can change very quickly up there, pack an extra layer than what you're hiking in.
Wear good hiking boots. These walks are technical in places (by this I mean you need to get on your bum at times).
Consider taking water purification tablets so you can fill up your water bottles from streams safely enroute.
Take a compass and OS Map in case visibility is low.
Start your walk early in the day, so as to maximise daylight hours and allow yourselves lots of time.
Consider camping the night before either at Newfold Farm Campsite (for Edale) or Hayfield Camping and Caravanning Club (for Hayfield). This means you don't have to drive the same day, and you're sorted for parking.
Hiking poles are a good idea.
Kinder Scout from Edale (12.7km)
Kinder Scount from Edale walk guide
Click here for start point
Printable download
The route from Edale is very handy if you're using public transport as there is a train station in Edale, at the start of the walk. The 12.7km loop takes you up Grindsbrook Clough, along to then along the Kinder Plateau passing Pym Chair and Noe Stool. The route then meets up with the Pennine Way and follows this all the way back down into Edale via Jacob's Ladder to The Old Nags Head (where we wholeheartedly recommend popping in for a burger and pint / Fruit Shoot to reward your efforts).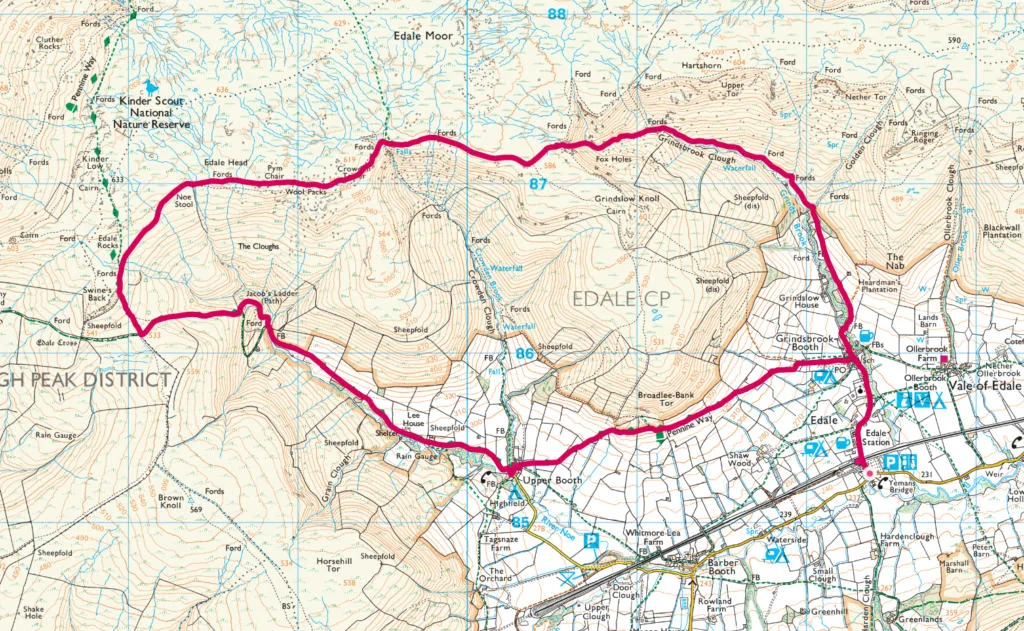 Kinder Scout from Hayfield (14km)
Kinder Scount from Hayfield walk guide
Click here for start point
Printable download
The Hayfield route is slightly longer (14km) but offers a more gradual ascent to take in Kinder Low Trig Point and Kinder Downfall. This route then descends steeply down William Clough towards Kinder Reservoir.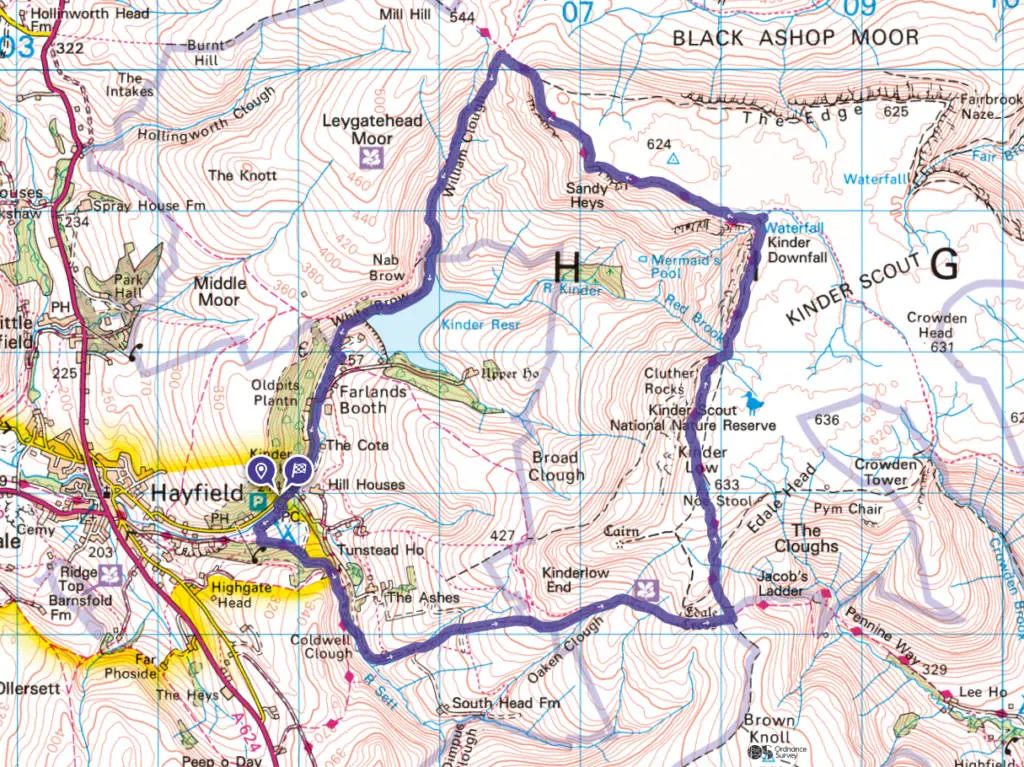 ---