Cast aglow by the setting sun, a crimson Kinder Scout overlooked the campsite whilst wild hares hopped around our camper. It would have been absolutely perfect if it weren't for all the midges floating around. However, as a base for exploring the Peak District's Kinder Plateau, the Hayfield campsite run by the Camping and Caravanning Club comes very close.
Peak District Kids received a two night complimentary stay at Camping and Caravanning Club's Hayfield campsite in return for this honest review and social media coverage. As always, these are all our own words. Also, this post contains affiliate links. Should you click to purchase, it is at no additional cost to you, but I receive a small commission.
Hayfield campsite is in a secluded location, just one kilometre from Hayfield village, with a stream running alongside and mostly surrounded by woodland. Split in two sections via a public footpath, one side has hard standing pitches, and the other has grass pitches. Electric hook ups are available both sides. There is also a playground on site, which is great if you're looking for family campsites in the Peak District.
No campfires or ball games are allowed. Dogs very welcome.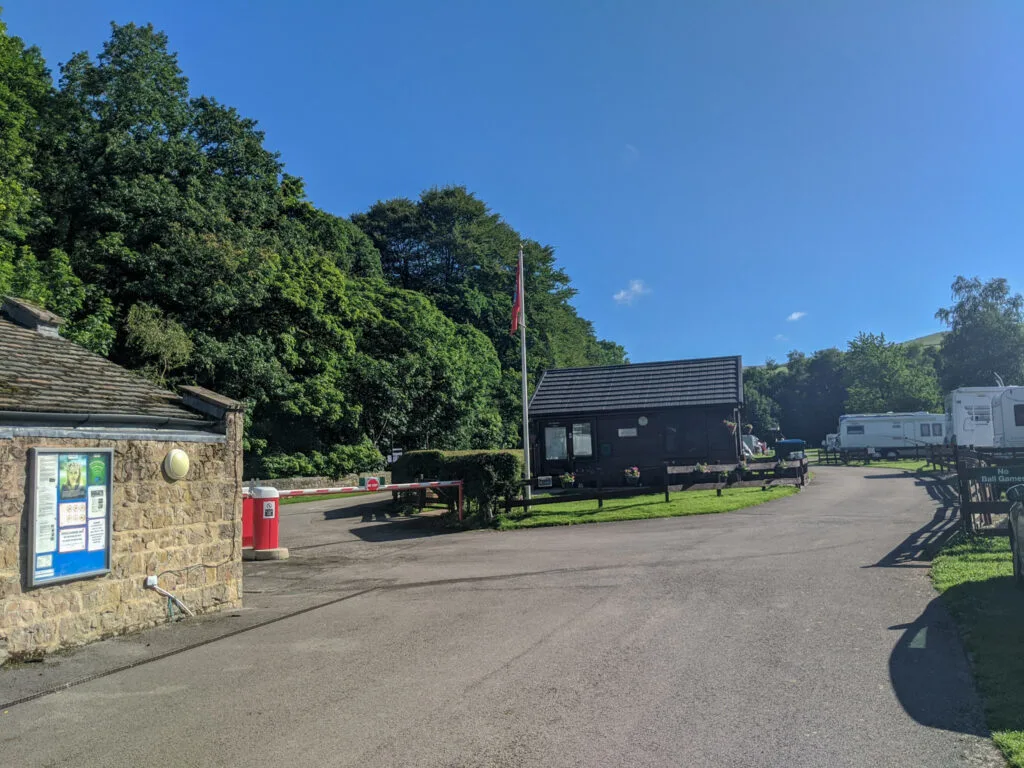 There's a very clean washblock, and also a playground!
Our pitch
The Peak District Kids team stayed two nights at the Hayfield campsite (Saturday to Monday) in July in our Mazda Bongo camper. The Saturday was totally full and we had the last EHU pitch. By Sunday morning, the majority of campers departed, leaving us to a very quiet campsite on the Sunday night.
Our pitch was right at the far end of the Hayfield campsite on the grass pitch side, with electric hook up. As we were right down the far end, we had the best view of Kinder Scout and a big grassy area next to us for the boys to run wild and play. But we were quite a trek from the loo!
It really was a lovely spot, but the midges first thing in the morning and at dusk were a nuisance. So much so, we retreated to our camper.
What to do in the area
Hayfields campsite is the perfect place to base yourself to hike up to Kinder Scout. The views from the top are absolutely incredible on a clear day, and you can even see across to Manchester. It's a steep climb though and took us a full day (8 hours, 14km) of hiking to complete the circuit with our two boys (ages 5 and 6). Have a read of our experience here.
If you're looking for a shorter hike, it's a more sedate hike to nearby Kinder Resevoir, which afford stunning views up to the Kinder Plateau.
The Sportsman pub is just a 3 minute walk from the campsite entrance, and does excellent food. There's also a good fish n chippy in the village.
Our final thoughts
Hayfield campsite is an excellent location and perfectly placed for hiking up Kinder Scout.
Be prepared for all seasons in a day, but when the sun is shining the views up to Kinder are fantastic. If you're visiting in summer though, pack the midge spray!
How to book
Head over to the Camping and Caravanning Club website. Pricing starts from £23 per night and is dependant on whether you're camping in a tent, camper or motorhome. Significant discount if you're a Camping and Caravanning Club Member.
---
You may also like to read:
The best family camping in the Peak District
Hiking Kinder Scout with kids
Things to do in Castleton