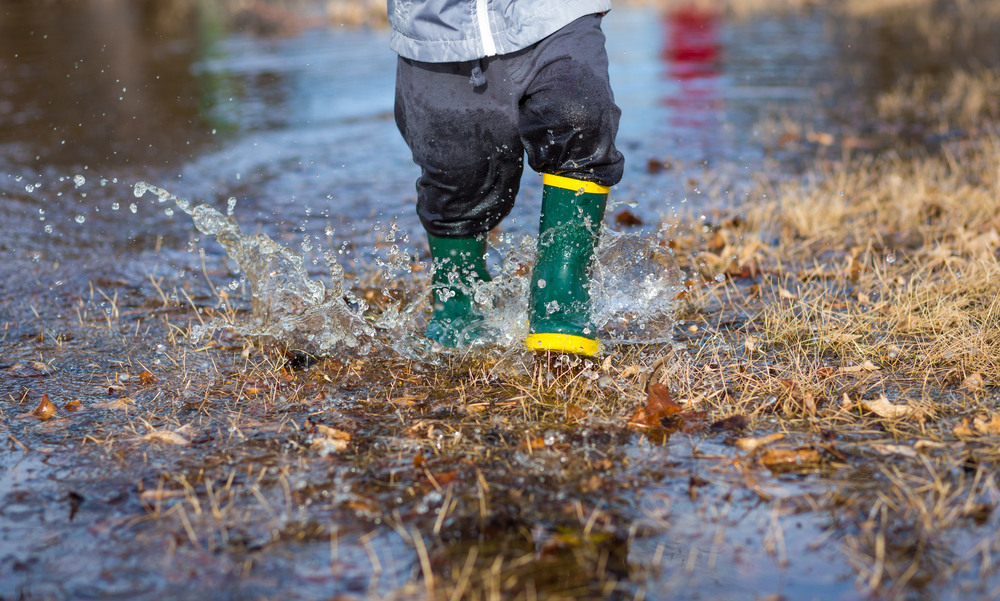 Looking for things to in the Peak District in the rain? Or more specifically Peak District indoor activities? Then read on…
The Peak District is a dream for families who love the outdoors. Whether it's a family walk, cycling along one disused railway lines, or visiting a farm or country estate, there are so many fantastic days out in the Peak District for families.
However, a sunny day is never guaranteed whatever season it may be; in fact you may experience four seasons in one day! The weather can be unpredictable and it's best to pack layers for your days out to be prepared.
Whilst we live by the phrase, 'there's no such thing as bad weather, only bad clothing', and like to be out and about on a family walk or cycle whatever the weather, there are some days when you just want to shelter from the rain. So, what to do in the Peak District in the rains?
Here are our top things to do on a Peak District rainy day. This guide is also handy if you're looking for things to do in Derbyshire on a rainy day as the county overlaps much of the National Park.
1. Visit the underground caves
currently closed
One of the most obvious rainy day Peak District activities is to head underground to one of the many show caverns and caves in the regions, as it really doesn't matter what the weather is doing when you're underground!
The caverns and caves of the Peak District, with their amazing rock formations, rare stones and amazing atmospheres are fascinating to explore and a must do Peak District activity. Do wrap up warm though and wear footwear with a good tread, as it does get rather chilly underground, even in the height of summer.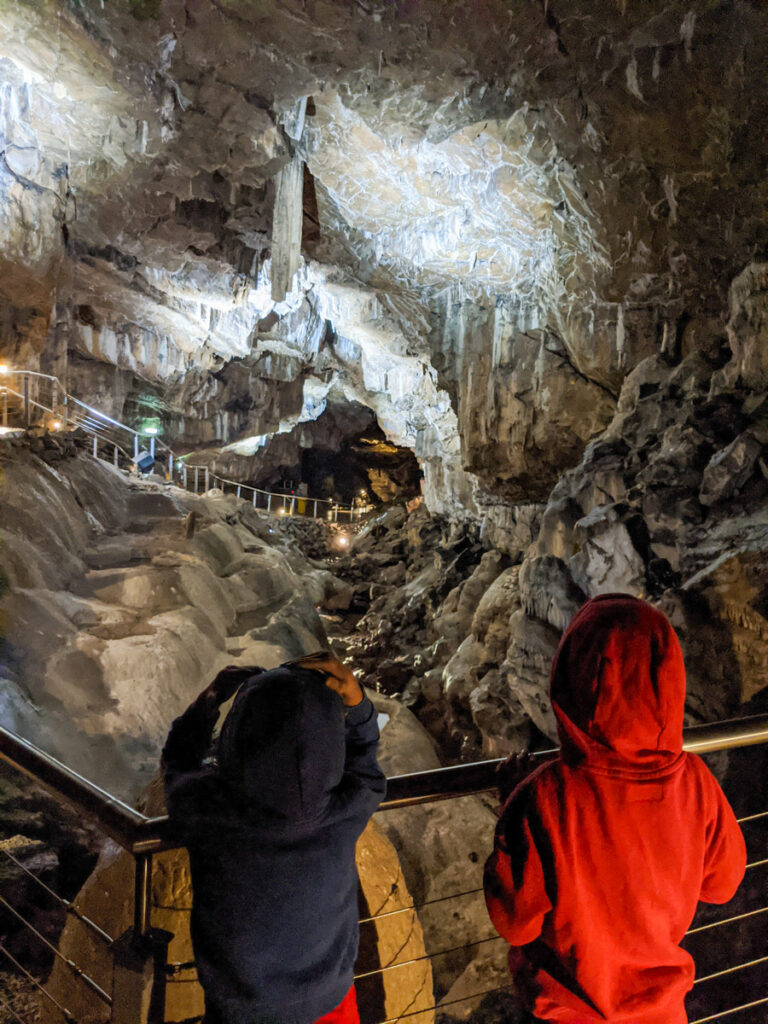 There are a lot of caverns open to the public in the Peak District, and you could easily fill an entire long weekend exploring them.
1. Heights of Abraham: Ride the cable car up to the hill top and then venture underground to either the The Masson Cavern and Rutland Cavern.
2. Poole's Cavern: vast limestone caves in Buxton Country Park that are open all year round. Pushchairs welcome. This is one of the things to do in Buxton when it's raining.
3. Castleton caves: some of the best show caverns in the country, and is home to:
2. Crich Tramway Museum
currently closed
The big exhibition hall showcasing an array of trams across the past centuries is all undercover at Crich Tramway Museum. There is also a small soft play area here (currently closed due to COVID), and during the school holidays there are often craft activities held indoors.
But the best bit about visiting Crich Tramway Museum is getting to ride the trams as many times as you like, up and down the tram line! On a rainy day, the trams on the tracks will all have a roof (open air ones come out on sunny days), so you don't need to worry about getting wet.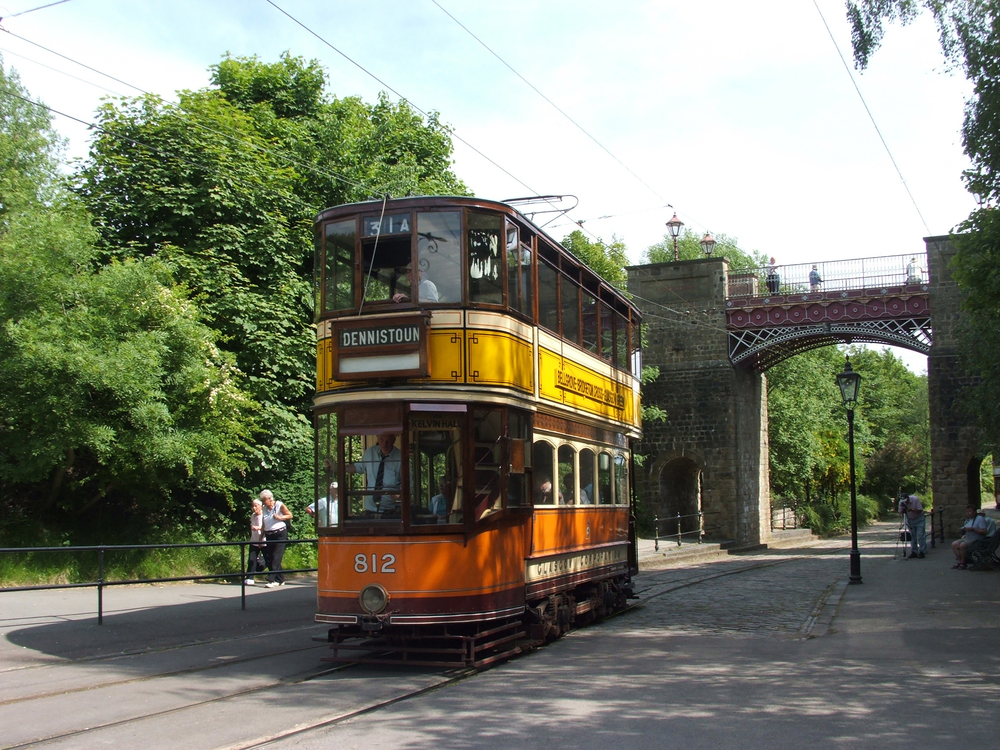 And if the skies do eventually clear on your visit, take a walk around the nature trail to find giant insects, a wizard, and lots of other magical and mystical woodland creatures along your way.
Check out our guide to a family day out at Crich Tramway Museum.
3. Ride the Peak Rail
currently closed
Ride an old steam train on this preserved railway line between Rowsley South Station and Matlock Platform 2. This is one of our favourite things to do in the Peak District when it rains, as you're nice and dry on the train!
There are special events running through the year from dining experiences to Santa Specials and an Easter Treasure Hunt, and they also have Kids Go Free Days throughout the year.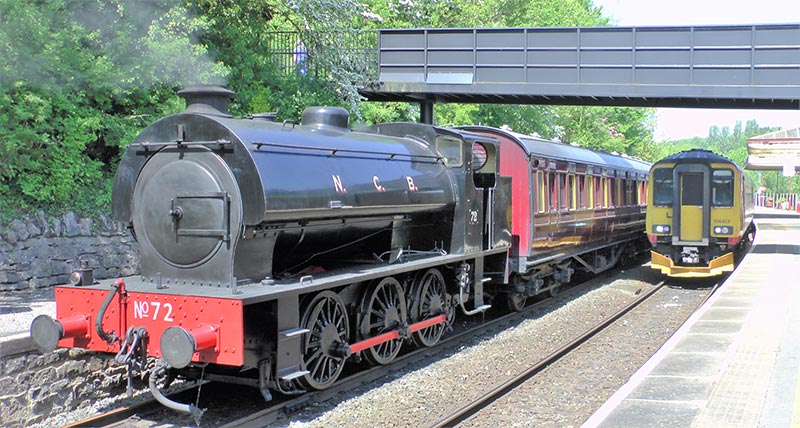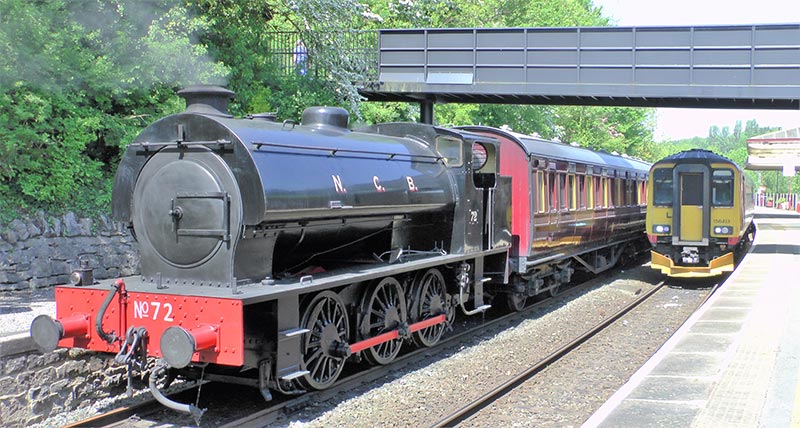 For an all day unlimited ticket price, adults are £9.50, children aged 3-16 are £4.50, and children under 3 are free. Check the website for up to date ticket pricing and timetables. A return trip takes 50 minutes.
4. Matlock Meadows
currently closed
Matlock Meadows is a farm that is partly open to the public and offers both an outdoor and indoor play area, and well as the most delicious Italian gelato! Inside the barn there are small ride on tractors to play on, as well as coin-operated go-carts and, of course, some farm animals. It's one of the best things to do in Matlock in the rain.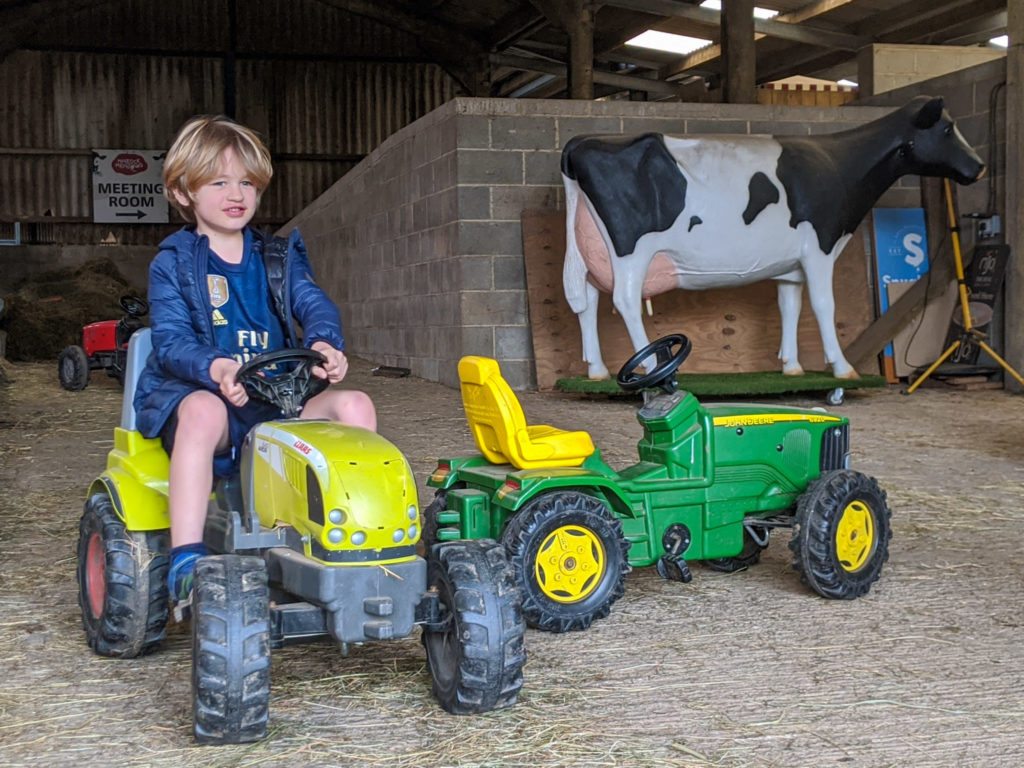 A taste of the homemade Italian gelato is a must (there are 15 flavours to try from!) On a rainy day in the Peak District, this can be enjoyed in the adjacent seating area with a small softplay area for toddlers, and a large wooden train set to play with.
5. Head to the pub or enjoy a hot chocolate
all pubs and cafes are currently closed, but some are open for takeaway
If you have ventured on a family walk or bike ride in the rain, the parents deserve a drink and the day off cooking. The majority of pubs and cafes across the Peak District are extremely kid friendly and have specific kids menus. Muddy boots are always welcome. We often leave ours by the front door and walk in just with socks, although some places offer plastic shoe covers.
Some of our favourite family pubs are listed here, but for a rainy day head to The Bulls Head in Monyash (there's a games room with a pool table) or The Knights Table just outside Buxton. The latter is a knights-themed pub and younger kids will find toys galore to play with! As you walk past the gargoyles out front, and into the foyer, there are shelves of books, toys and games!
If you're after a hot chocolate, check out our guide to the best hot chocolate in the Peak District.
Or pick any pub and go prepared with our Peak District activity sheets for kids printed out.

6. Paint a pot at Blaze Farm
currently closed
A visit to Blaze Farm is usually about doing the short nature walk and playing on the outdoor slide. But there is a small shed that houses some farm animals (perfect for a rainy day) and it's another good place to come for the ice-cream!
However, also on site is The Potty Sheep ceramics studio. Kids (and parents) can get crafty and paint a masterpiece on mugs, plates, bowls, and tiles. Or for parents visiting with babies, perhaps do a handprint or footprint on a plate! The Potty Sheep is open 12 pm to – 5 pm Friday, Saturday & Sunday. There's no website, but it's worth calling ahead to check they're open and book (01260 227266).
Read more about visiting Blaze farm here.
7. Watch a show at Buxton Opera House
All shows at Buxton Opera House have been cancelled for the forseeable future
Enjoy year-round live performances at Buxton Opera House. The annual pantomime is always a highlight on the calendar.
Next door is Buxton Pavillion Arts Centre, which is home to the 360 seat Buxton Cinema, offering daily films and live event cinema. During the school holidays, there is always something on for kids. One of the perfect things to do in Peak District when raining.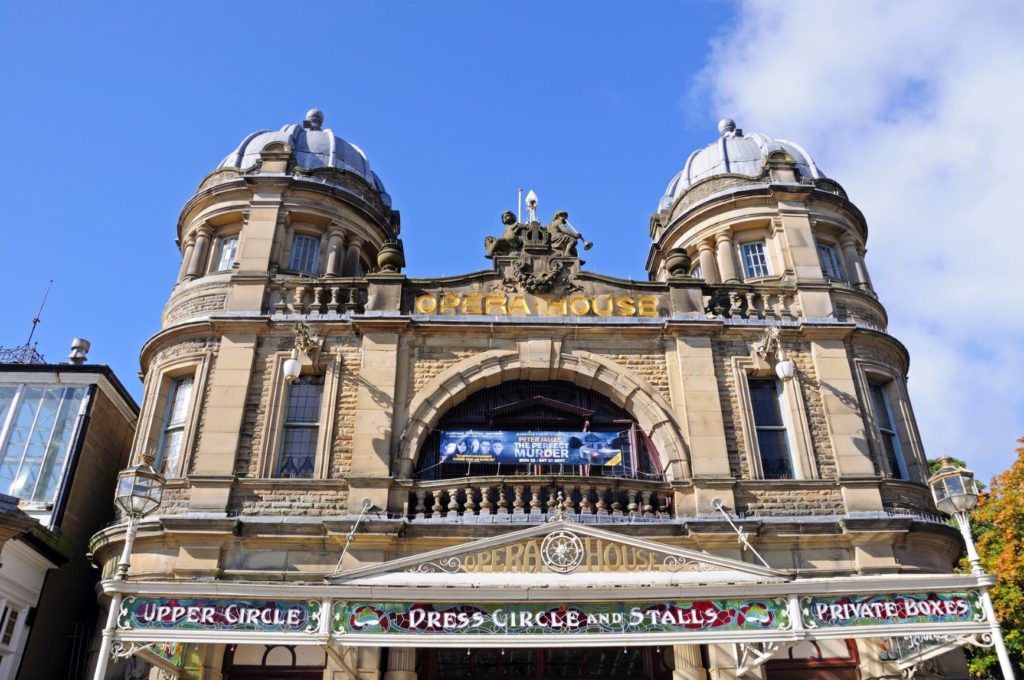 Inside the Pavilions there are two cafes (The Pavillion Cafe has a small soft play area for toddlers), The Retail Arcade with items sourced from local suppliers and craftspersons, and The Conservatory, which houses beautiful plants, several of which are extremely rare to find anywhere else in the UK and feels like a small indoor rainforest.
Check out our guide on things to do in Buxton with kids.
8. Visit a local museum
all museums are currently closed
There aren't any big science or history museums in the Peak District, but there are a handful of small local museums which are good places to duck in to on a rainy day. These include:
1. Eyam Museum (currently closed) – A good place to visit to learn more about the history of the bubonic plague in the village of Eyam. A series of information panels, film shows and displays help bring this amazing story of isolation and survival to life. You can also rent an audio trail and follow the plague story around the village from here. Check out these other things to do in Eyam.
2. Bakewell Old House Museum – Set in a Tudor House, this award winning museum tells the story of the Peak District. From Tudor artefacts found encased in the walls, to Macedonian ceremonial swords to an elephant's foot, there are all sorts hidden away in every nook and cranny. Check out these other things to do in Bakwell.
3. Castleton Museum – Housed at Castleton Visitor Centre, this local museum is a showcase for the history of Castleton and the surrounding area. There are displays featuring the archaeology and geology, the past industries and inhabitants, as well as its significance as a Norman fortified town. Learn about the history of what happened to Castleton during the world wars, see the various tools and clothing used over the centuries, and even see a carved head dating from 1,000 BC which is believed to represent a god worshipped by Iron Age people. Check out these other things to do in Castleton.
4. Buxton Museum and Art Gallery – Discover the archaeology, geology, art and history of the Peak District. Exhibitions are changed regularly, so there's always something new.
5. Cromford Mills – Visit the world's first water-powered cotton spinning mill and learn how this changed the world we live in today. Lots of interactive displays, games and puzzles that kids will love.
9. Visit a stately home
currently closed
The Peak District is home to some of the most spectacular buildings in the UK, including Chatsworth House (pre-book tickets online), and Haddon Hall (currently closed). The stately interiors are perfect to explore on a rainy day.
They may not quite be suitable for younger kids who want to run around the place and touch everything. However, it didn't seem right to not include them on this list of things to do on a Peak District rainy day though!
10. Go swimming at Hathersage Swimming Pool
currently closed
So Hathersage Swimming Pool is actually an open air pool (yes, it's outside!) But our thinking is that, if it's raining and your wet in the swimming pool anyway, then it really doesn't matter that it's raining.
Now you're thinking the pool must be too cold on a rainy day? Well the pool is actually heated to 28°C. Although we do recommend that kids wear a wetsuit. You can read all about our experience here.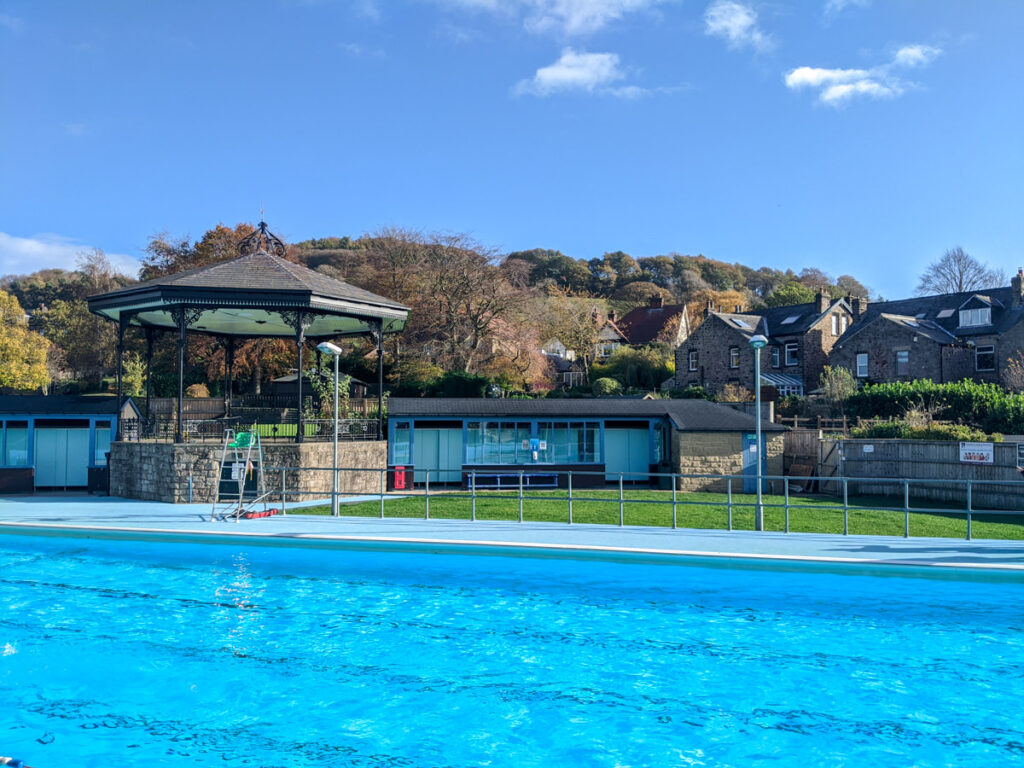 Alternatively, here are the indoor swimming pools that are open to the public in and around the Peak District for a rainy day:
11. Take the train to Manchester or Sheffield
with England currently in lockdown, this is not an option
The TransPennine Express connects the cities of Manchester and Sheffield that lay either side of the Peak District. Whilst these aren't located within the National Park, if you've exhausted this list of rainy day activities in the Peak District, a day trip on the train to a city may be in order!
Hop on the train at Hathersage, Grindleford or Edale and take in the city sights for a day. If it's a rainy day, Manchester probably offers the most indoor activities.
A rainy day in Manchester
Manchester has so much to offer visiting families with a range of free museums, loads of outdoor play space, super fun indoor activity centres, and family friendly restaurants and cafes on every corner.
Our favourite museum in Manchester is the excellent Science and Industry Museum (free entry) which has a strong focus on the history of the UK's first industrial city. It also houses the world's oldest surviving passenger railway station and the world's first railway warehouse from 1830. Dinosaur fans should head to Manchester Museum, which is part of Manchester University, to see the huge T-rex skeleton along with other natural and worldly artefacts.
Kids will love the huge aquarium at Sea Life Manchester and LEGOLAND Discovery Centre, which feels like you've been shrunk and entered a huge LEGO box. But if you want to get active, head to the the massive indoor activity centre of Play Factore (this place redefines everything you have thought about soft play centres) or visit the snow (it's real snow, not fake!) at Chill Factore for skiing, snowboarding and sledging. For outdoor bouncy fun, we absolutely love Treetop Manchester; a series of ropes and huge nets in the trees for your little monkeys to run wild.
But what would a trip to Manchester be without visiting Old Trafford? The Manchester United Museum and Stadium Tour offers a behind the scenes look at the world's most iconic stadium. Get a feel for life in the Premier League and walk through the players' tunnel towards the hallowed turf and find the seat of your favourite player in the dressing room. A must do for all footy fans and families are very welcome.
A rainy day in Sheffield
The Tropical Butterfly House, Wildlife and Falconry centre is Sheffield's best family attraction and open all year round. There are exotic animals, a large butterfly house, playgrounds, water splash zone, animal feeds and shows, a cafe, dinosaur trail and more. However, this is more of an outdoor activity, and doesn't quite meet our needs for a rainy day.
Instead, you could go trampolining at Jump Inc Meadowhall. And there is also Kelham Island Museum which provides hands on exhibitions taking you through the history of Sheffield and its steelworks. There are work benches, machinery, tools, a working steam engine and a soft play area "the melting pot" which kids love.
12. Indoor Play centres in the Peak District
currently closed
Sometimes you need a large indoor play space on a rainy day, so that the little darlings can burn off all that energy.
The below map shows the indoor play areas in the Peak District. Our personal favourites are Peak Adventure in Rowsley, and Little Monkeys Play Centre in Matlock.
13. Peak District woodland walks
walking is still possible if you're local!
But sometimes just layering up in waterproofs and wellies and heading out in the rain will do everyone the world of good. Perhaps take on a woodland walk so that the trees provide a little bit of shelter? Some Peak District woodland walks ideas include:
---
You may also like to read:
Peak District activity sheets for kids
Top things to do in the Peak District with kids
Short and easy Peak District walks with kids