Blaze Farm is a fantastic place for young families to visit with the farm animals to meet, the nature trail, the scrummy homemade ice-cream, as well as the cool tunnel slide to whizz down in the back yard. But did you know that there is also a ceramic studio on site too? A crafty session at The Potty Sheep is the perfect rainy day activity in the Peak District, and is also a nice change of pace to all your outdoor walks and bike rides in the National Park.
How does it work?
You need to pre-book a session. The Potty Sheep is open Wednesday to Sunday from 11am to 4pm. There are two sessions per day: 11am to 1pm, and 2pm to 4pm.
The Potty Sheep website isn't yet live. So instead, to pre-book your slot you need to either message them via Instagram or Facebook. There's a phone number on the image below too.
Please not that The Potty Sheep works as a separate business to Blaze Farm.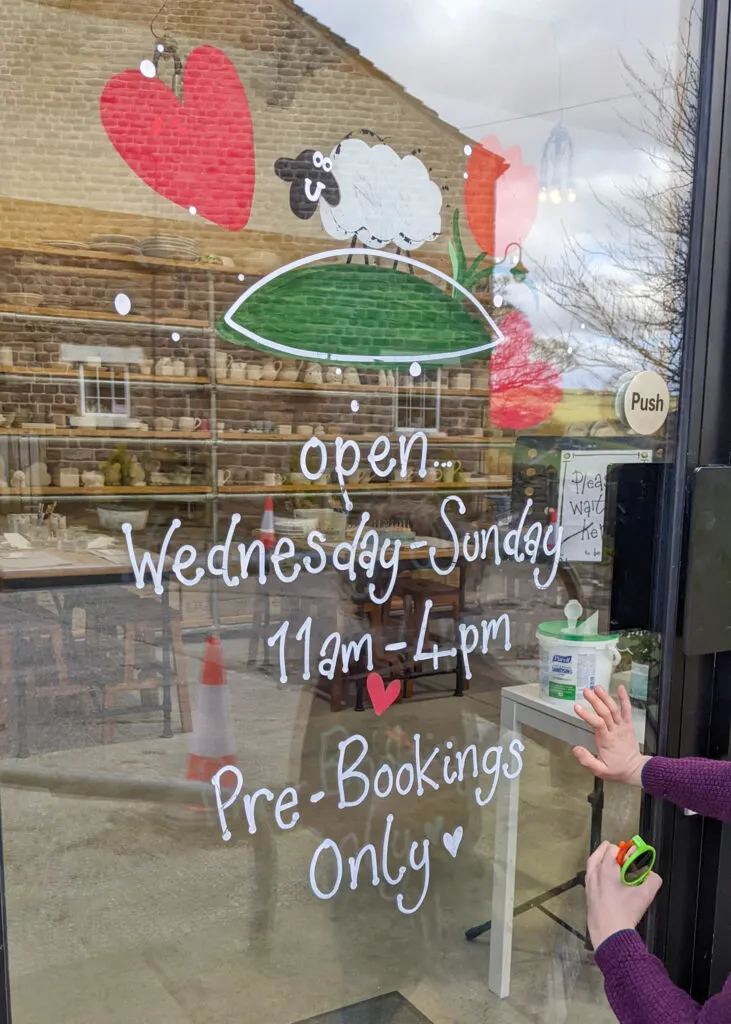 On arrival, you are allocated a table. After a brief chat with the owner, Caroline, you can then choose a ceramic off the shelf to paint. There are so many things to choose from, and they are all useable (rather than ornaments to sit on the shelf). Choose from money boxes, plates, bowls, tea cups, vases. However, do check the price of the item you have chosen before you start painting.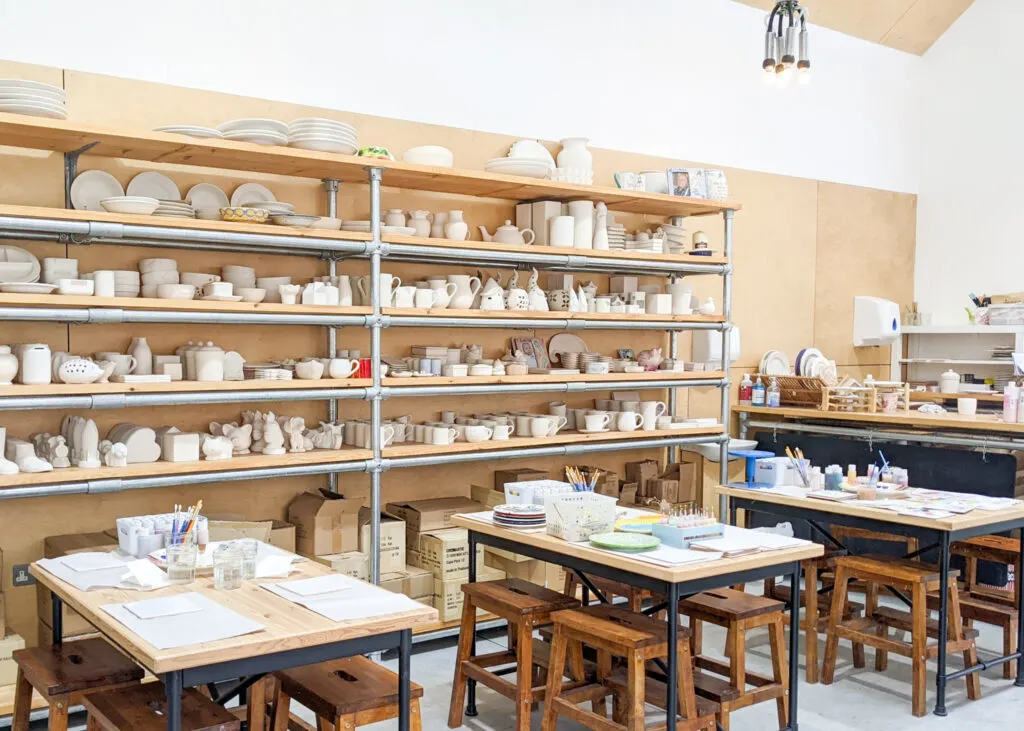 Then take a seat and get crafty! All the paints and kiln use is included in the price of the ceramic item you select. A plate in front of you displays what colour the paints will appear when your item comes out of the kiln. There are an array of brushes to use, as well as sponges, and fine writing paints. And Caroline is on hand for some artistic tips and know how.
Is this just for kids?
No at all! It's for everyone.
It's the quietest and most engaged my energetic 6 year old has been in a long time, and I took the opportunity to do my own bit of ceramic painting too!
During our session, there was a young couple, a group of ladies, and a daughter and her mother. All ages are very welcome! Although I would personally feel rather nervous bringing along a toddler with the shelves of ceramics on display.
How much is it?
There is no fixed price. You only pay for the ceramic item(s) you decide to paint. The use of paints, materials, and the kiln are included.
However, do check how much items are before you paint them.
I attended with my son and his moneybox bear and my spoon holder added up to £42. If a family of five were visiting, that's a very expensive 2 hours.
Can I take my ceramic home the same day?
No. You need to wait for it to be dried in the kiln. This can take five days or more.
So if you are only visiting the Peak District for a weekend, you may need arrange and pay extra for postage. Or if you are visiting for a week, perhaps put this activity to the start of your week so that you have time to collect your work(s) of art.
Final thoughts on The Potty Sheep
This is such a relaxing Peak District activity to do with a crafty kid, and perfect for a rainy day. Plus the ceramic is a beautiful (and useful!) keepsake of your time in the Peak District.
It's quite an expensive for a full family activity though. So bare this in mind before you book. It may be the case that half the family fancies a walk and the other want to get crafty.
And don't forget to pre-book.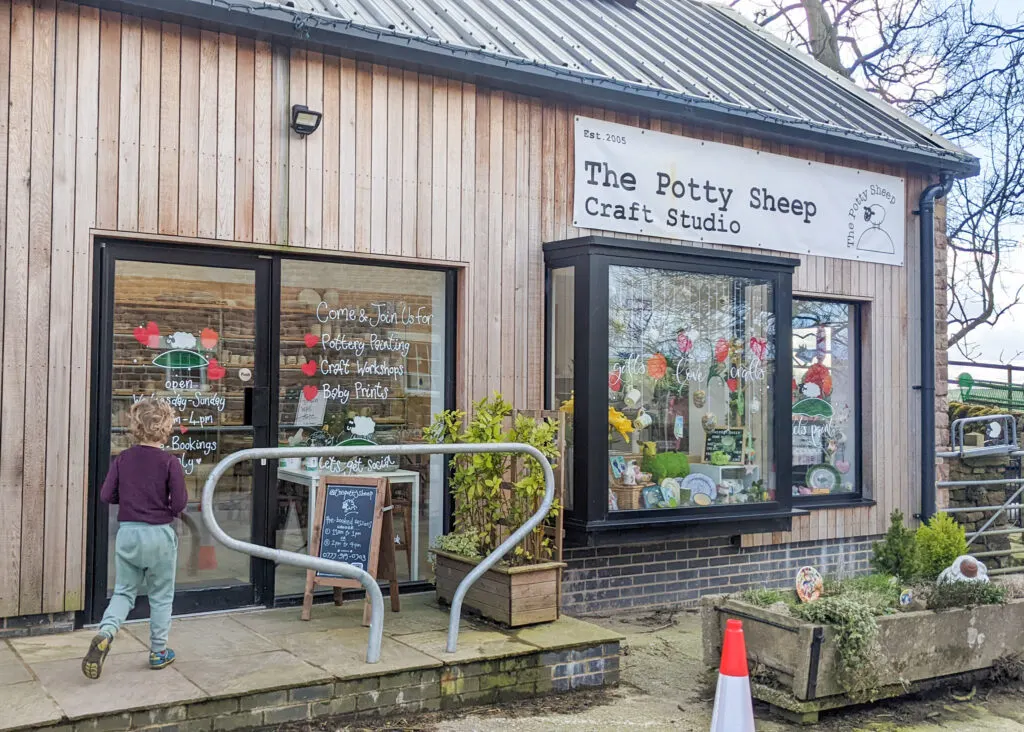 ---
You may also like to read:
Things to do on a rainy day in the Peak District
Shutlingsloe walk (4.6km)
Three Shires Head walk (6.2km)