Want to steer away from those tourist hotspots and wander the National Park barely seeing a soul? Then read on for our best quiet walks in the Peak District. Even on a sunny Sunday, you're unlikely to see many other people, but we can still promise you wonderful open views on these walks.
If you are planning a visit to the National Park, please arrive early or late in the day to avoid crowds. Please also take all litter home with you, don't bring BBQs and park your car in designated parking areas. Also, please use these walks as a guide; access and stiles may change.
Disclaimer: This post contains affiliate links. Should you click to purchase, it is at no additional cost to you, but I receive a small commission.
Do check out our top tips for hiking with young kids, as well as our essential items to take on a family hike in the Peak District.
Map of our quiet walks in the Peak District
Use the map below to see where our Peak District woodland walks are located.
Don't leave home without your Peak District OS Map!
For these Peak District pub walks, you will mostly need the OS White Peak map.
1. Longnor – 3.3 km
This relatively flat, circular Longnor walk is away from the tourist hotspots, across classic White Peak farmland, and takes you right through working farms. It's definitely one of our quieter Peak District walks with kids and we rarely see others on this walk (although you're guaranteed to see lots of sheep and cows!)
As you walk through the farmyards, please stick to the footpaths and pass through quietly; these are working farms, with machinery, farming products, and livestock around. There are obvious safety hazards, but it goes without saying, stick to the path and don't let your kids play on the machinery. Also, the footpaths can get muddy around the farms when it's been raining.
This Longnor walk is very easy-going and takes around 1.5 hours with kids (longer if they want to play at the River Manifold). Reward your efforts with a stop at Ye Olde Cheshire Cheese afterwards (there is a small beer garden, kids and dogs are welcome), or a hot chocolate and one of the cafes around the market square.
You can read the full details of the Longnor circular walk here.
Click here for start point
Distance: 3.3km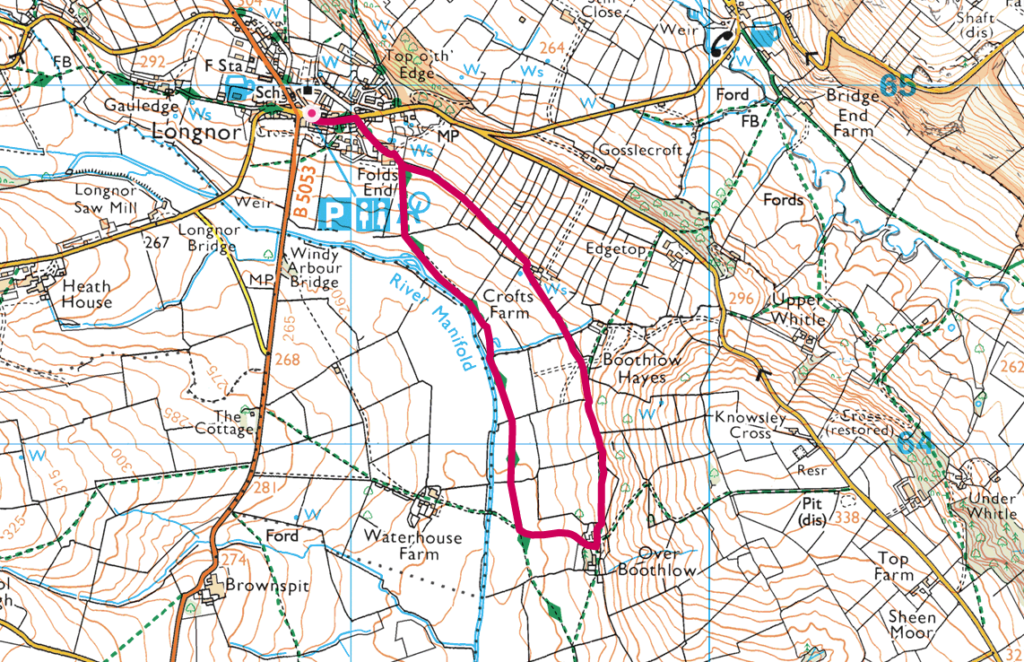 2. Beeley and Hill Bank Plantation – 2.7km
Commonly referred to as Beeley Woods, Beeley and Hill Bank Plantation is a lovely place for a Peak District family walk. Forming part of the Chatsworth Estate, footpaths criss-cross through the woodland and a brook rushes down little waterfalls. We particularly enjoy it on a rainy day as the trees provide some shelter, and the sound of the rain on the tree tops is beautiful.
This is a short 2.7km walk around the Beeley and Hill Bank Plantation, but allow for a good few hours as the kids will love paddling in the stream and playing in the woods. Wellies during the winter months are a good idea, rather than hiking boots, so they can paddle.
You can read the full details of the Beeley and Hill Bank Plantation here.
Click here for start point
Distance: 2.7km
3. Foolow via Great Hucklow – 4.9km
Tucked away from the tourist honeypots of the National Park, our circular Foolow walk via Great Hucklow starts and ends at the Bulls Head in Foolow, one of our favourite Peak District pubs, and leads you across open meadows. Whilst this leisurely Peak District kids walk is relatively flat, be warned that there are A LOT of stiles to cross; from steep stone stiles, to squeeze stiles (which you made need the help of someone pushing you through). For young kids, these stiles break up the walk with climbing fun. But if you have a child in a carrier, this walk may feel like quite a workout, and many dogs will struggle.
There are two pubs along this walk. The Bulls Head in Foolow serves excellent meals (fantastic veggie burgers!) and are very kid friendly, plus it's oozing with character. Then two thirds around the walk, when everyone may need a little refuel, there's the Queen Anne in Great Hucklow, equally as characterful.
You can read the full details of the Foolow walk here.
Click here for start point
Distance: 4.9km
4. Tissington to Parwich – 6.3km
The village of Tissington, where this beautiful Peak District family walk begins and ends, is one of the prettiest in the National Park. Centred around the grand Tissington Hall are a collection of limestone cottages, no less than six ancient wells, a Church that dates back to Saxon times, a tea shop selling vegan treats, and a duck pond. This is also where the Tissington Trail passes through; a popular Peak District cycle route for families.
This circular Tissington walk to Parwich follows along the Tissington Trail for a short while, but then leads out to open farmland as you head to Parwich, another pretty Peak District village. The views along the way are beautiful. It's worth timing your walk to arrive in Parwich in time for lunch at the Sycamore Inn, before continuing your walk back to Tissington. There's also a good playground in Parwich.
It does get busy around Tissington, but once you are away from the village and off the Tissington Trail, this is a perfectly quiet Peak District walk.
You can read the full details of the Tissington walk to Parwich here.
Click here for start point
Distance: 6.3km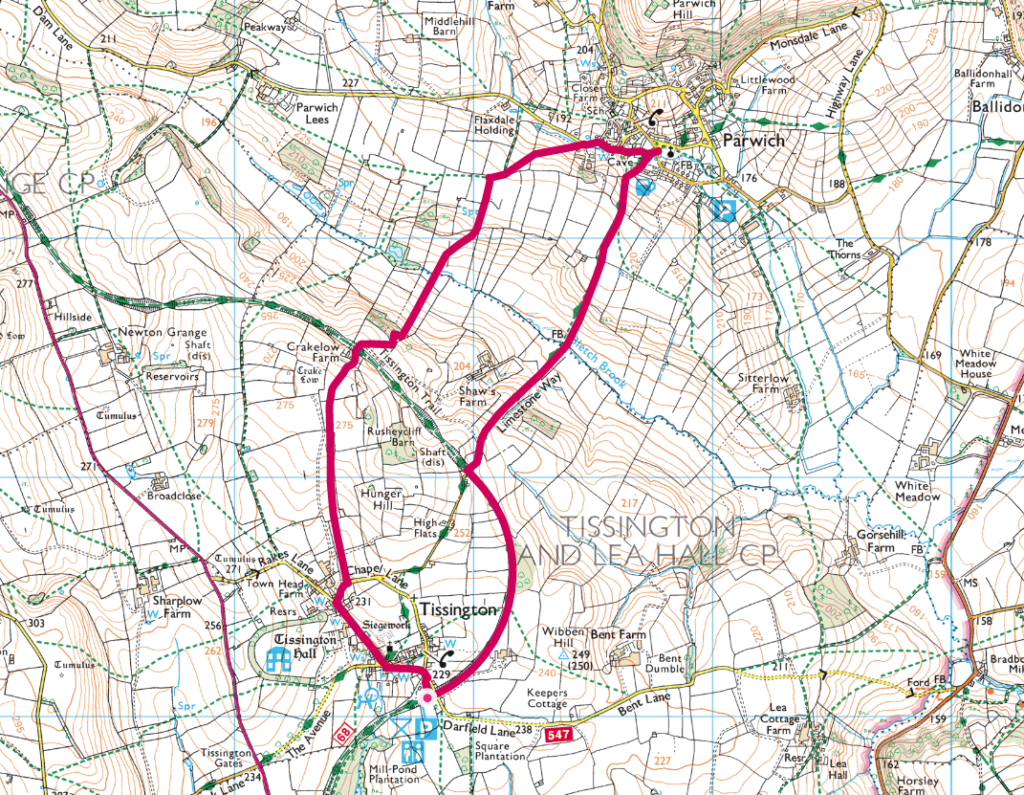 5. Eyam Moor walk – 6.3km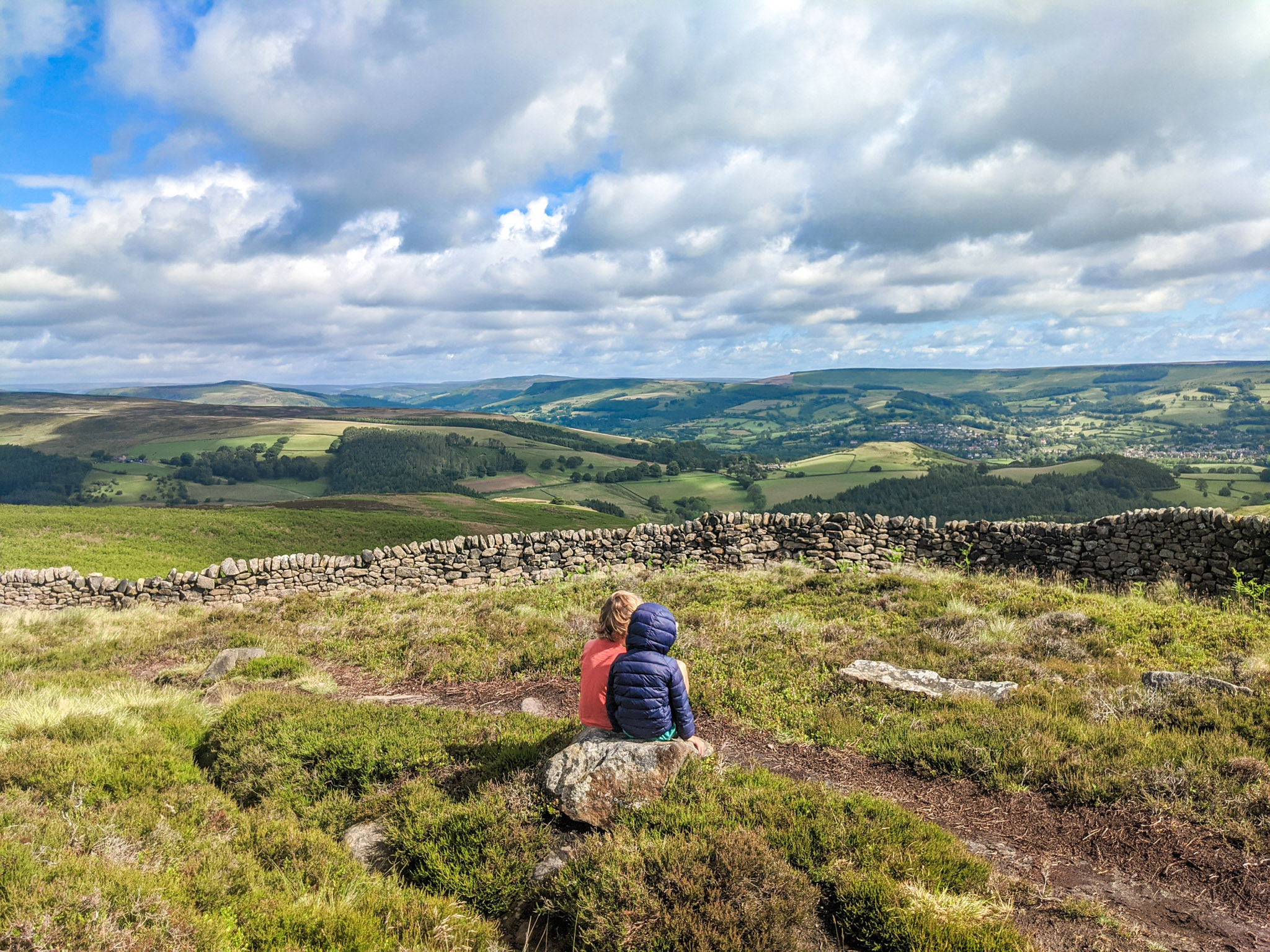 This Eyam Moor walk boasts stunning moorland views, and then descends into woodland along Highlow Brook and climbs up again through open pastures.
It can get rather gusty on the moorland, yet it is sheltered in the valley, so wear layers, and can be muddy underfoot, so ensure everyone is wearing hiking boots with good grip and put kids in waterproof trousers.
You can read the full details of the Eyam Moor walk here.
Click here for start point
Distance: 6.3km
6. Magpie Mine from Sheldon to Monyash – 8km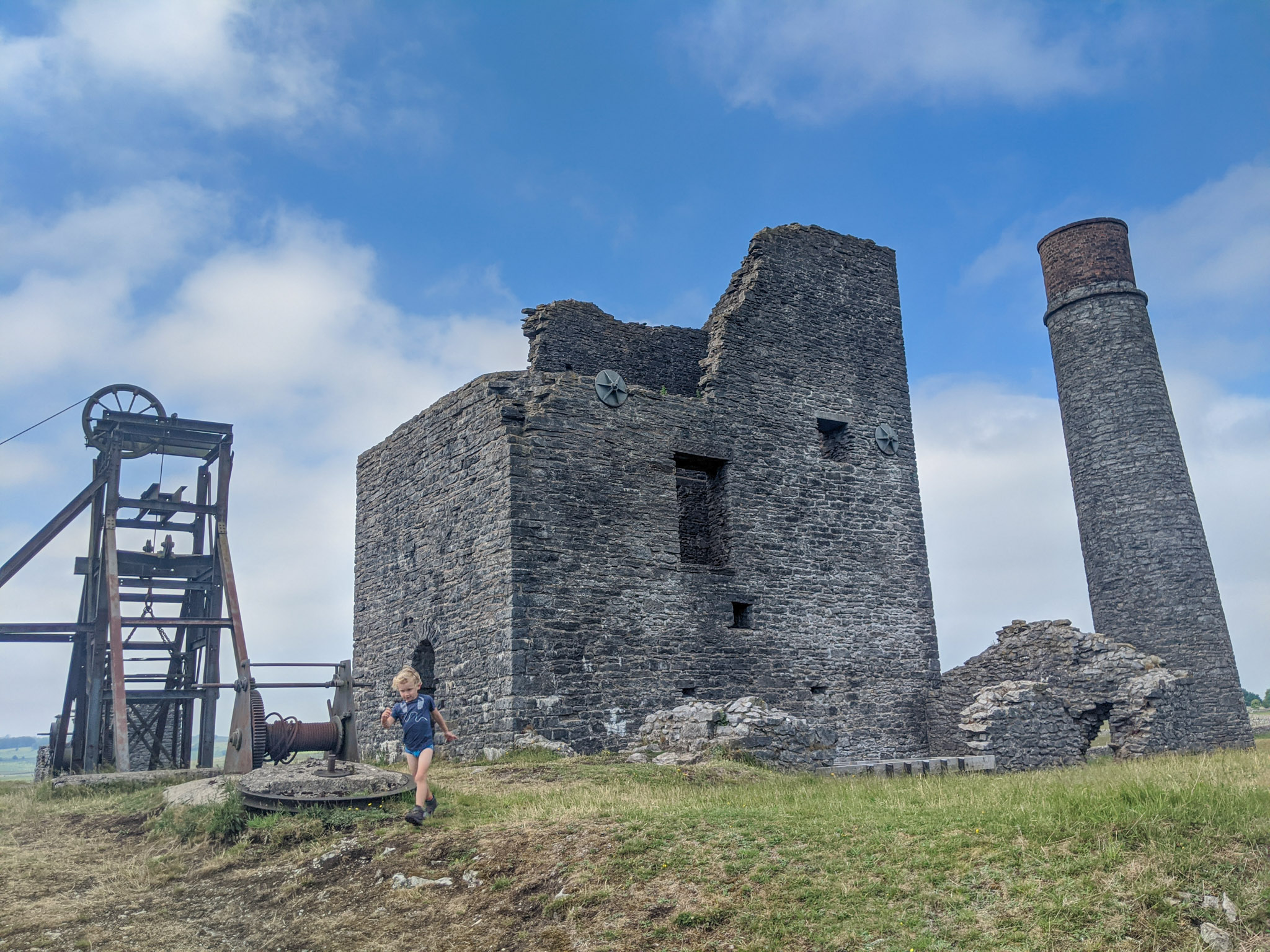 This pretty Magpie Mine walk takes you from the sleepy village of Sheldon, across gently rolling meadows, to the Bulls Head pub in Monyash (where there's a fantastic playground), and back through Magpie Mine (the best preserved 19th century lead mine in the whole of Britain and free to explore). Plus there are lots of fossils to be found in the stiles close to Monyash! But the main reason we love this Peak District Kids walk is that it's always so quiet as it's away from the main hotspots of the National Park.
Do be warned that there are A LOT of stiles on this walk, so this may not be suitable for those with dogs, or parents with a little one in a carrier. Plus, it's very likely that you will have to walk through at least one field of cows; walk carefully and quietly, and give them lots of space.
If you're looking for a Magpie Mine walk, this is a great loop walk. But if you just want to visit Magpie Mine, you can just visit directly from Sheldon, following the footpaths at the end of this walk.
You can read the full details of the Magpie Mine walk here.
Click here for start point
Distance: 8km
---
You may also like to read:
The BEST Peak District pub walks
Peak District river walks
Flat Peak District walks