Tucked away from the tourist honeypots of the National Park, this circular Foolow walk starts and ends at the Bulls Head in Foolow, one of our favourite Peak District pubs, and leads you across open meadows. Whilst this leisurely Peak District family walk is relatively flat, be warned that there are A LOT of stiles to cross; from steep stone stiles, to squeeze stiles (which you made need the help of someone pushing you through). For young kids, these stiles break up the walk with climbing fun. But if you have a child in a carrier, this walk may feel like quite a workout, and many dogs will struggle.
There are two pubs along this walk. The Bulls Head in Foolow serves excellent meals (fantastic veggie burgers!) and are very kid friendly, plus it's oozing with character. Then two thirds around the walk, when everyone may need a little refuel, there's the Queen Anne in Great Hucklow, equally as characterful.
Foolow to Great Hucklow walk map
On all Peak District family walks it's a good idea to have an Ordnance Survey paper map with you, even if you have your phone on you. For this walk you need the OS Explorer Active Map OL24 (White Peak). It's also a good opportunity to show young kids the map features and get them started with map reading.
Need to know
DISTANCE OF WALK: 4.9km
TYPE OF WALK: A leisurely circular walk across open meadows, with two pubs enroute. Lots of stiles.
PARKING: There is no public car park in Foolow. There are spaces around the main square, but please park responsibly and respect local residents. If you are having a meal at The Bulls Head (which we wholeheartedly recommend when it's open) you can park in their car park.
WALK HIGHLIGHTS: Grabbing a bite to eat at either the Bulls Head or Queen Anne, or both! A walk away from the tourist crowds, and open meadow views.
HOW LONG DOES IT TAKE: Without kids this would be a 1 hour walk, but this took us 2 hours (not including a pub stop).
ACCESSIBILTY: There are A LOT of stiles on this Foolow walk. No suitable for prams, and can be tiring if you are walking with a child in a carrier. Many dogs would struggle too.
TOTAL ASCENT: 68 metres
PUBLIC TOILETS: There are no public toilets on this walk, the nearest are in Eyam (a 2 minute drive down the road). However, there are two pubs – the Bulls Head in Foolow, and the Queen Anne in Great Hucklow.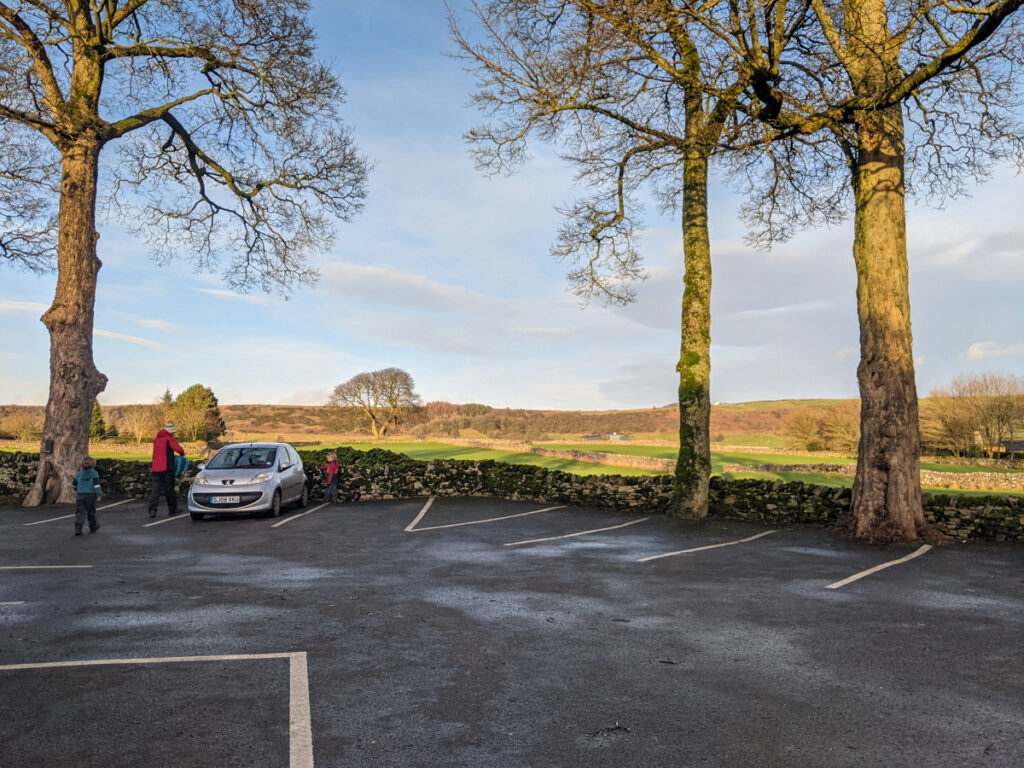 The route
These directions follow the above OS Map in a clockwise direction.
1. Starting from the Bulls Head in Foolow (click here for Google Maps location), with the entrance door on your right, walk across the road towards the ancient cross. Just behind this cross is a duckpond, and a narrow footpath to the left of this.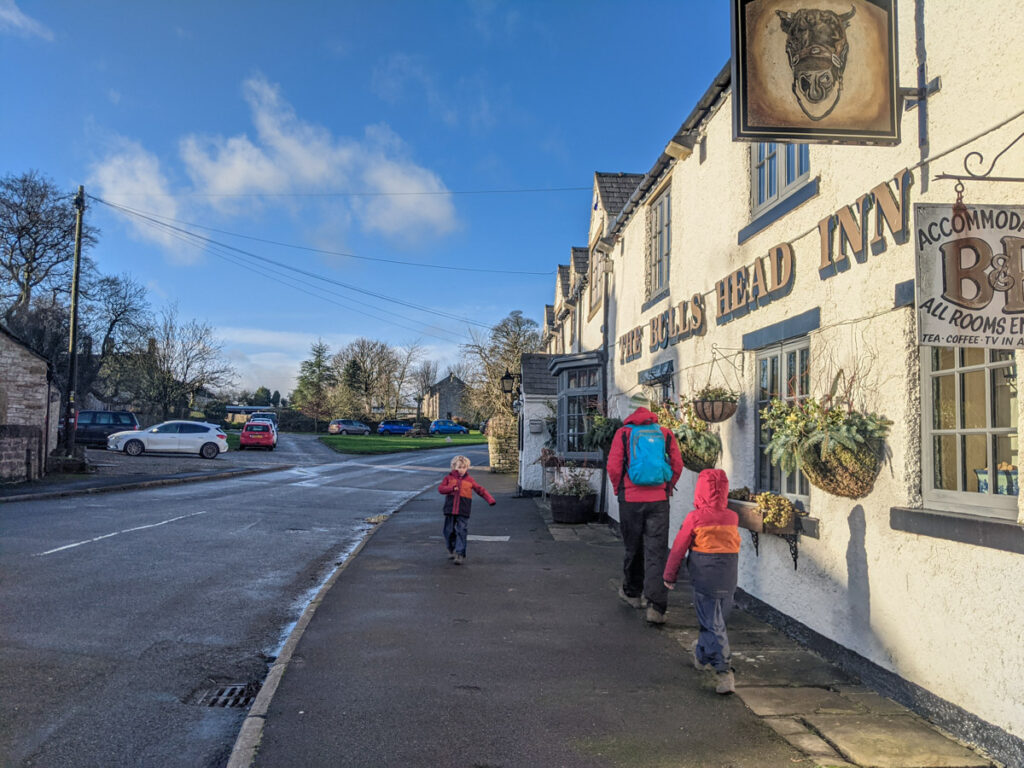 2. Walk along the narrow footpath, which is walled either side, for 40 metres. Then walk through the wooden gate at the end, and cross the field diagonally to the right to the next wooden gate.
4. Once you're through this gate you are out into the open fields. Keep following the footpath in a SW direction, steadily downhill, through a series of gates and stiles until you reach a bridleway.
5. Climb the stone stile to the bridleway, walk straight across to the wooden spring gate, and continue walking across the fields. You will pass through two more wooden gates. This will then lead you to another section of the same bridleway (you've just cut off the corner). Climb the stone stile to get on to the track and take a right.
6. It can get rather muddy along here and the tendency is to walk along the edge of the track. If you do, please be careful of the barbed wire that runs along the top of the wall. Continue straight ahead along this track for 440 metres.
7. With Stanley House on your left, take the turning on the right and continue along the track for 260 metres.
8. Look out for the footpath sign on the right (this will be opposite a large barn). Cross over the stone stile and continue along the footpath with the drystone wall on your left. You will pass through a squeeze stile, and then need to walk towards the old stone barn, where you will see another stone stile. Cross this stone stile, and another, and then a very tight squeeze stile, before you climb another steep stone stile onto a bridleway. This section of stiles does feel a bit like an assault course!
9. Follow along the bridleway to the right for 600 metres. Cross the road and then walk along the pavement straight ahead that leads into Great Hucklow.
10. 320 metres along this road you will reach The Old Unitarian Chapel on your right. Just in front of this is a footpath to the right. If you fancy popping in to the Queen Anne, then continue straight ahead along the road and take a left at the T-junction. The pub is just a 300 metre walk away. Otherwise, take this footpath to the right.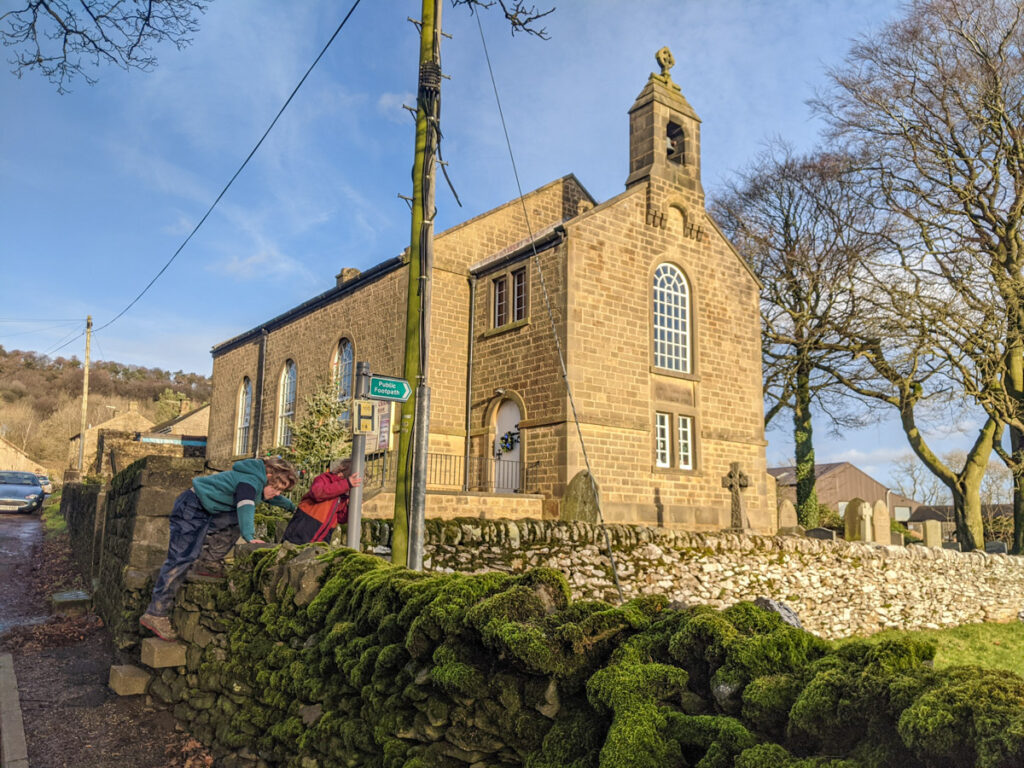 11. This footpath is only 300 metres long, but you have to climb four stiles, and a squeeze stile towards the end. I did say that there were A LOT of stiles on this walk!
12. This brings you out onto a lane. Take a left, and then a right at the T-junction.
13. Just at the lane bends to the right, there is a footpath straight ahead to the left hand side of a building.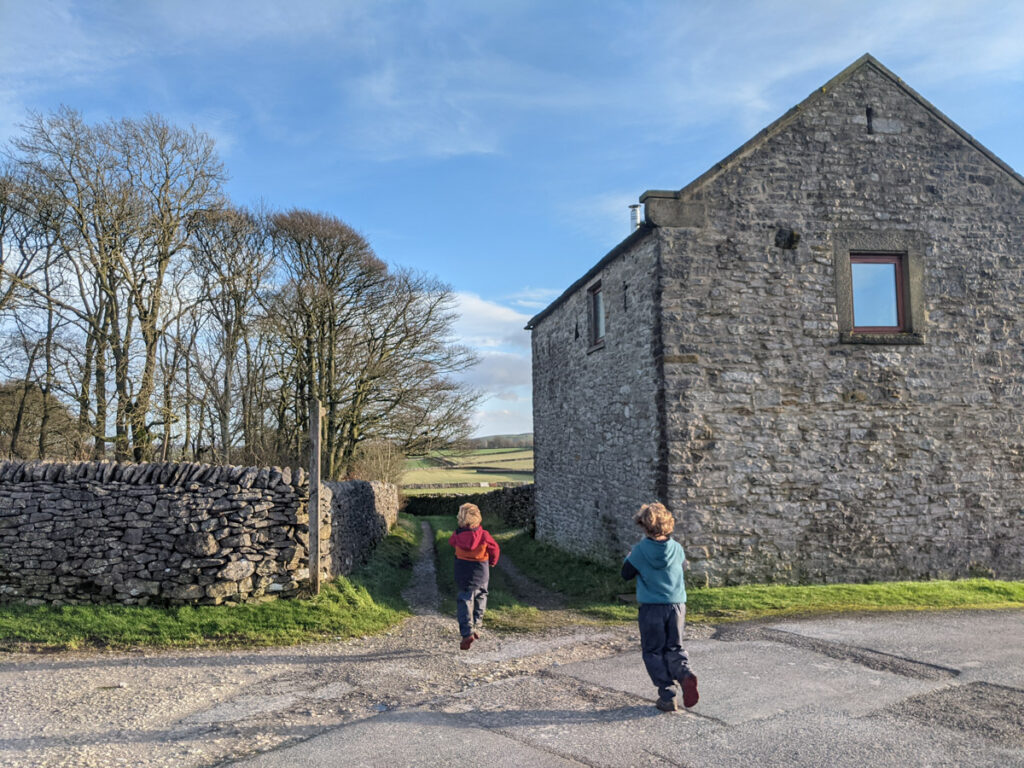 14. Follow this footpath for 900 metres towards Roods Farm. This leads you to a road (with one last stone stile to climb to get on to the road). Take a left and it's just 300 metres back to the Bull Head in Foolow. Although be careful on the first section of this road as there is no pavement and cars do drive down rather quickly. Keep to the right hand side and hold little one's hands.
15. Time for lunch at the pub? Or if this is a post-lunch walk, perhaps it's time for another pint.
---
You may also like to read:
Eyam Moor walk (circular 6.3km)
Hathersage Stepping Stones (circular 4.9km)
Padley Gorge walk including Longshaw Estate (2.7km)