Whilst the thermal spa town of Buxton doesn't actually lie within the Peak District National Park boundary, it's pretty much surrounded by it and worthy of a visit. Most tourists come to visit the ornamental gardens and world-famous Georgian and Victorian architecture, or to dine in one of the restuarants, but if you're visiting with kids, you're probably looking for something else.
Well here are our top things to do in Buxton with kids! Also check out our popular post: Top things to do in the Peak District with kids.
1. Buxton Pavillion Gardens
Set within 23 acres, Buxton Pavillion Gardens is beautifully manicured with ornamental lakes, flowerbeds, mature trees, meandering paths and a wrought iron bandstand. It makes for a wonderful stroll and a perfect picnic spot on a warm day.
But if you are visiting Buxton with kids, they'll probably want to make a beeline to one of the two fantastic playgrounds in the gardens. Not only is there acres of space to run and picnic, but there are two fantastic playgrounds. And on weekends and school holidays, there is a small miniature ride along train that goes around the gardens.
Inside the Pavilions there are two cafes (The Pavillion Cafe has a small soft play area for toddlers), The Retail Arcade with items sourced from local suppliers and craftspersons, and The Conservatory, which houses beautiful plants, several of which are extremely rare to find anywhere else in the UK and feels like a small indoor rainforest.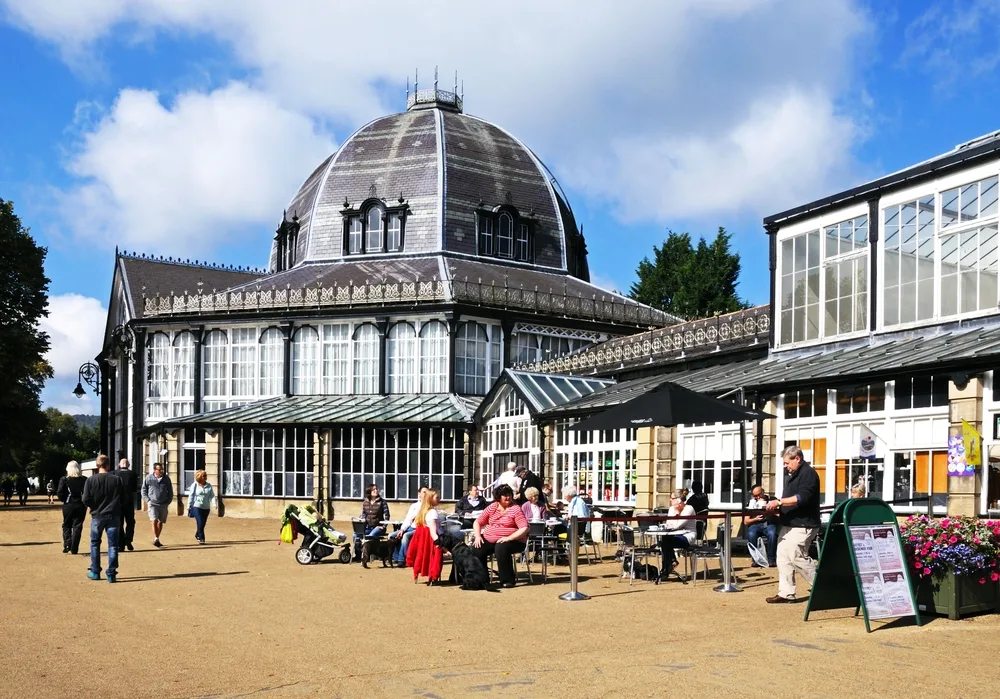 Events are held throughout the year, but it's a very lovely place to visit during Christmas.
2. Watch a show at Buxton Opera House
Proudly standing in the heart of this spa town is Buxton Opera House. Designed by celebrated theatre architect Frank Matcham, it opened amidst great celebration on 1st June 1903.
You can still enjoy year-round live performances here and it's always worth checking online to see what's on. The annual pantomime is always a highlight on the calendar.
Next door is Buxton Pavillion Arts Centre, which is home to the 360 seat Buxton Cinema, offering daily films and live event cinema. During the school holidays, there is always something on for kids.
3. Buxton Museum and Art Gallery
In the old Peak Hydrophathic Hotel (1880) the Buxton Museum and Gallery has exhibitions for archaeology, history and geology, all sourced in the town and the Peak District.
The Wonders of the Peak exhibition is best suited for kids. This presents a timeline from the Big Bang to the Victorian period, including fossils of Pliocene mammals that once prowled the Peak District, like scimitar-toothed cats and cave lions!
There is also the Boyd Dawkins Study to see, a period-style study room of Sir William Boyd Dawkins who uncovered many of the fossils on show in the museum and whose archives and library were donated to the town after his death.
Budding artists should head to the art department which has a variety of paintings, prints and watercolours by the likes of Marc Chagall, Frank Brangwyn and Edgar Chahine.
4. Poole's Cavern
Check out our review of Poole's Cavern.
Poole's Cavern is within Buxton Country Park. This limestone cave within walking distance of the centre of Buxton is two million years old, and was inhabited by people in the Bronze Age and Roman Period. The cave has been on the tourist map for nearly 350 years, and before that is believed to have been visited by Mary Queen of Scots.
Follow a guided tour deep underground to explore vast limestone caverns and see how crystal stalactites have lined the chambers over millions of years. Hear stories of Stone age hunters, Roman soldiers, medieval outlaws and even a Queen as you journey through the Poole's Cavern.
This is a fantastic thing to do in the Peak District when it rains, as down in the caves it really doesn't matter what the weather is doing! Although do take a jacket as it's always a bit chilly, even on a summers day.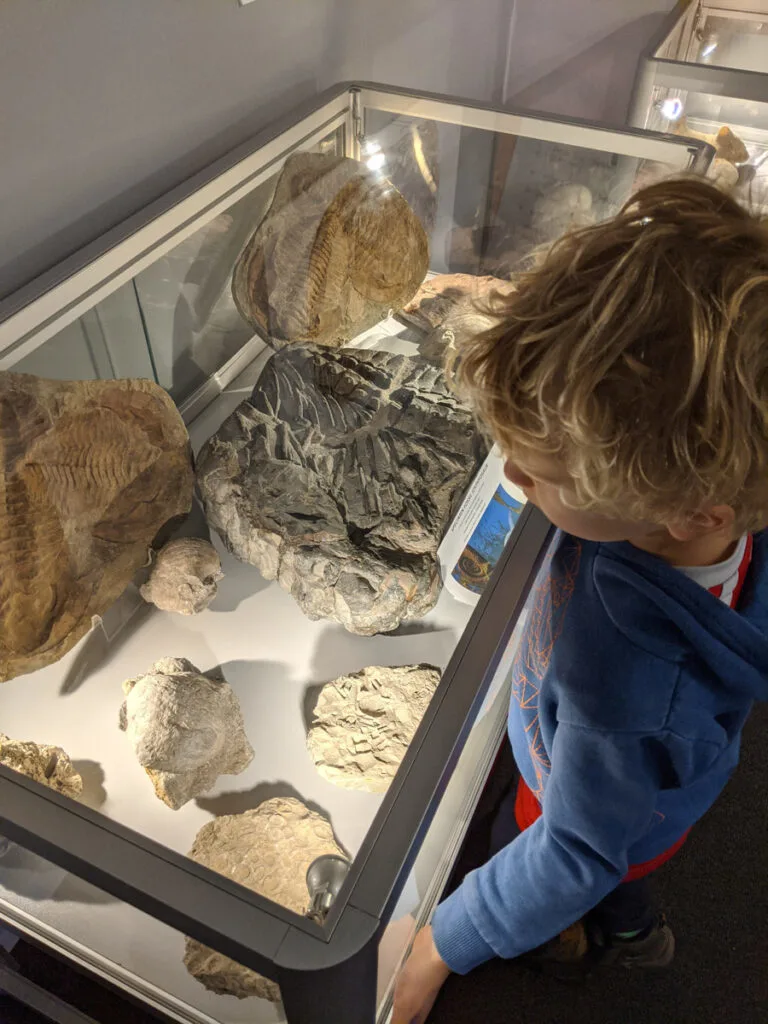 Guided tours run every 20 minutes and are suitable for all ages with paved walkways and handrails throughout. Pushchairs and child buggies are permitted in the cave. There are a total of 28 steps in total and the tour groups are small (between two and ten people).
There is a cafe on site serving local produce, home made cakes and soups and Fairtrade coffee, as well as a picnic area.
Poole's Cavern is open all year round, though there are different opening times for Summer and Winter. Check their website for up to date information. They also turn the cavern into Santa's Grotto at Christmas.
| | | |
| --- | --- | --- |
| Adult | £12.50 | Age 16+ |
| Child | £6.00 | Age 5-16 |
| Child under 5 | FREE | |
| Family | £32.00 | Two adults and up to three children |
Current ticket pricing at Poole's Cavern
5. Solomon's Temple
Check out the map, photos and route for the Solomon's Temple walk here.
Solomon's Temple is a viewpoint tower built in 1896 on the site of a tumulus, which is a Neolithic burial mound. It replaced an earlier structure and probably takes its name from Solomon Mycock, who rented the land in the early 1800s
It's a lovely walk to the summit – follow our easy 1.8km Solomon's Temple walk – and can be combined with your visit to Poole's Cavern as the walk starts from the same car park. You can pick up a map from the information desk or take a photo of the map at the start.
Follow one of the way-marked routes to the top of Grin Low Hill where Solomon's Temple stands. There are three trails that take between 25 and 45 minutes to reach Solomon's Temple. We tend to take the yellow trail up and the green back down. It is steep in places and the footpaths at the top are not suitable for prams.
Enjoy spectacular views across Buxton and see if you can spot the impressive Dome of the former Devonshire Hospital (now the University of Derby). On a clear day you can see further out over the Dark Peak and may be able to even spot Mam Tor and Kinder Scout looking North on the horizon.
6. Go Ape Buxton
Also within Buxton Country Park is Go Ape Buxton. The entrance is just the opposite side of the car park to Poole's Cavern.
Venture up in to one of the highest Go Ape courses in the UK, featuring one of the biggest Tarzan Swings and a whole host of zip wires. There's even an exhilarating extended course with its own tree-to-tree section to fly through!
It is walking distance from the centre of Buxton, but note that as this is one of the bigger and more challenging Go Ape courses, there is a minimum age restriction of 10 years and a minimum height restriction of 1.4 metres. One adult (18+) can supervise up to two children aged between 10-15 while on the course with them. 16 and 17-year-olds can supervise themselves (but not younger children)
Visit the Go Ape website for more information.
7. Fill up your water bottle at St Anne's Well
Buxton is famous for it's drinking water, so why not fill your water bottle straight from a spring deep under ground?
Located in the historic Crescent area here, this geothermal spring marked with a shrine to St Anne runs at a constant 28°C. Unlike many natural springs has a smooth taste with a little aeration.
For a time this was housed in a chapel, which was closed down during the reign of Henry VIII. Mary Queen of Scots is known to have taken the waters when she was a prisoner at Chatsworth House in the 16th century.
8. Brick Corner, Buxton
Read our review of Brick Corner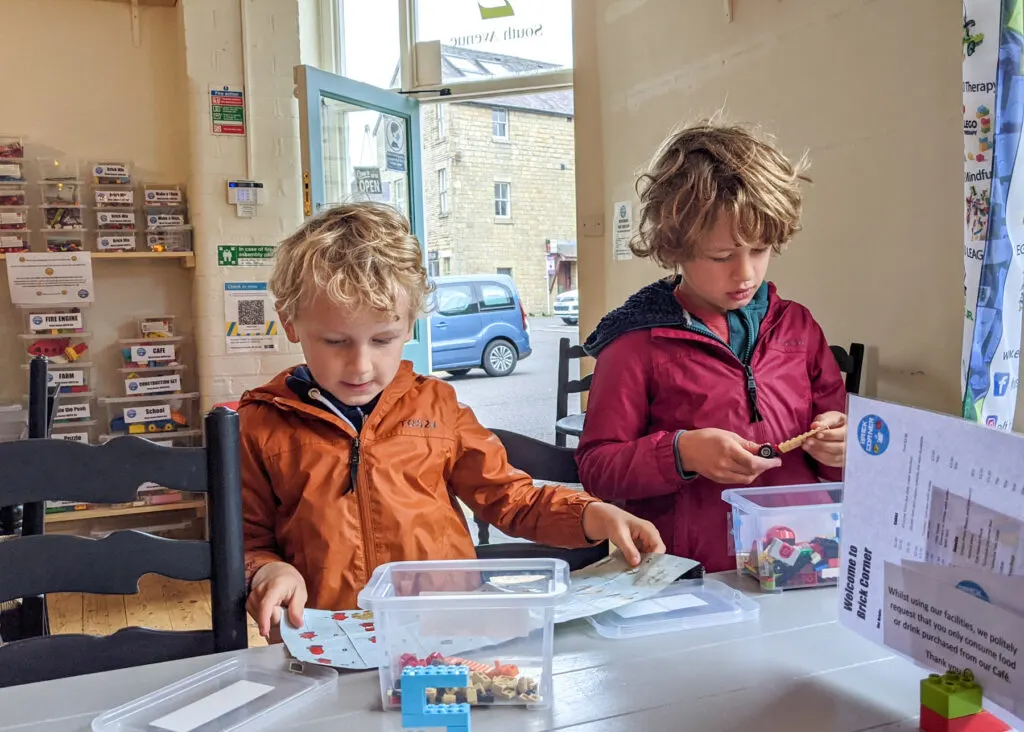 If your kids are Lego fans, then a visit to the family-run Brick Corner café in Buxton is an absolute must. Here there are boxes galore of Lego for your kids to play with and let their imaginations go wild, whilst parents sit back with a coffee and slice of cake in peace (although by all means, there are no age limits if parents want to get involved!)
Plus, there are Lego robotic and coding sessions to get involved in. These are 90 mins (approx.) sessions where kids follow a guided Lego build, and then code their build to move! Sessions need to be pre-booked. Click here for further information.
9. Discover Buxton Family Treasure Hunt Trail
Buxton has been the realm of the goddess Arnemetia since ancient times and she weaves her magic still. Are you ready to find the entrance to her hidden realm? To pass through the portal, you'll need a secret code.
This treasure hunt trail takes you around the town to find each piece of the code and introduces you to some of Buxton's story. A great way to explore the town with the family.
This is a downloadable trail, with a booklet designed to be printed at home containing family friendly challenges completed whilst on the trail. Click here for further information.
10. Swimming at Buxton Swimming and Fitness Centre
There's a 25 metre pool at centrally located Buxton Swimming and Fitness Centre. Do check the website for general swimming times as the pool is often booked out for lessons (including all day Saturday).
For visitors (non leisure card holders) prices are £8 for adults, £2.30 for juniors, and FREE for under 8's.
11. Buxton soft play
If it's a wet day and you need the little darling to run off some energy, head to Little Rascals indoor play. There's a cafe onsite.
Entry is £4.99 per child on weekends and school holidays, open 10am to 4:40pm. It is also open on Thursdays and Fridays over school term, but doesn't open until 3:30pm, closing at 6pm.
---
You may also like to read:
Top things to do in the Peak District with kids
Best cafes and pubs with a play area in the Peak District
What to do on a rainy day in the Peak District