For too long, people have believed that Peak District YHAs are for young hikers needing a cheap bed for the night and geography field trips. So it may not have occurred to you that they are actually are a fantastic budget accommodation option for families, with ensuite family rooms available, lots of outdoor space for kids to play, and even toys and highchairs available for little ones. Plus, unlike Peak District campsites, you don't need to be too concerned about the weather if you're staying in a YHA; indeed they are often they are situated in some of the UK's most impressive heritage buildings.
This article contains affiliate links. Should you click to purchase, it is at no additional cost to you, but I receive a small commission.
Click here to see all Peak District YHAs on the YHA booking site
There are no less than seven YHAs in the Peak District that all cater for families, so you really are spoilt for choice…
Please note that Peak District Kids has only stayed at YHA Eyam so far. However, we are planning stays at more Peak District YHAs to provide a full review to our readers and followers.
For Peak District YHA stays regarding COVID, please click here.
YHA Castleton Losehill Hall
Click here to check availability and rates
Read our review of YHA Castleton Losehill Hall
YHA Castleton Losehill Hall sits in the Dark Peak, in the North of the Peak District, within 27 acres of beautiful parkland to explore with your family and offers stunning views. This property is also situated within easy reach of Castleton, a little village which sits beneath Mam Tor, full of unique shops and welcoming family friendly pubs. Castleton also boasts natural cave wonders including Peak Cavern, Speedwell Cavern (where you venture underground in a boat), Treak Cliff Cavern, and Blue John Cavern.
For those with a car, Kinder Scout and Ladybower Reservoir is not too far away.
YHA Hathersage
Click here to check availability and rates
Read our review of YHA Hathersage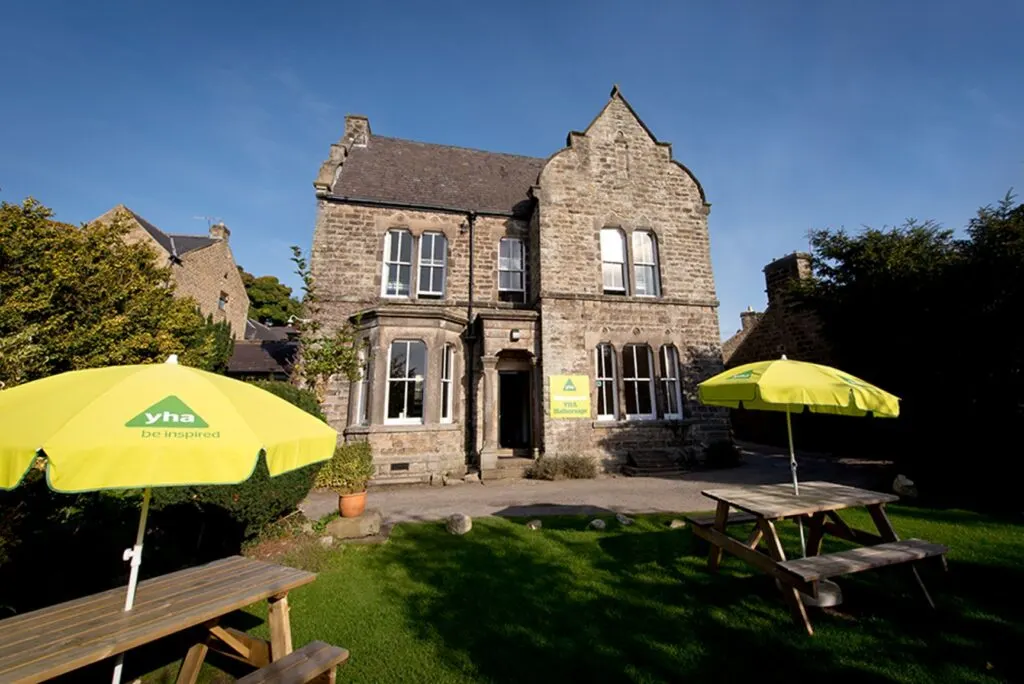 YHA Hathersage is a picturesque and inspiring village famous for its literary links. Its home to the Charlotte Brontë Literature trail, and North Lees Manor which was famously part of one of the great classics Jane Eyre. It's also where you can find Robin Hood Cave and the resting place of Little John. A burly man known for being one of Robin Hoods merry men and immerse yourself in times gone by.
Check out our Hathersage walk for families, which takes you across the picturesque Hathersage Stepping Stones, there is also the Hathersage Outdoor Swimming Pool, which is open all year around. In the village you will also find a handful of outdoor shops, and lots of cafes and restaurants to choose from.
Hathersage is on the Hope Valley train line, connecting Sheffield and Manchester, so a good option for families visiting by public transport.
YHA Hathersage is also well situated for Padley Gorge, Longshaw Estate, and Derwent Reservoir.
YHA Ravenstor
Click here to check availability and rates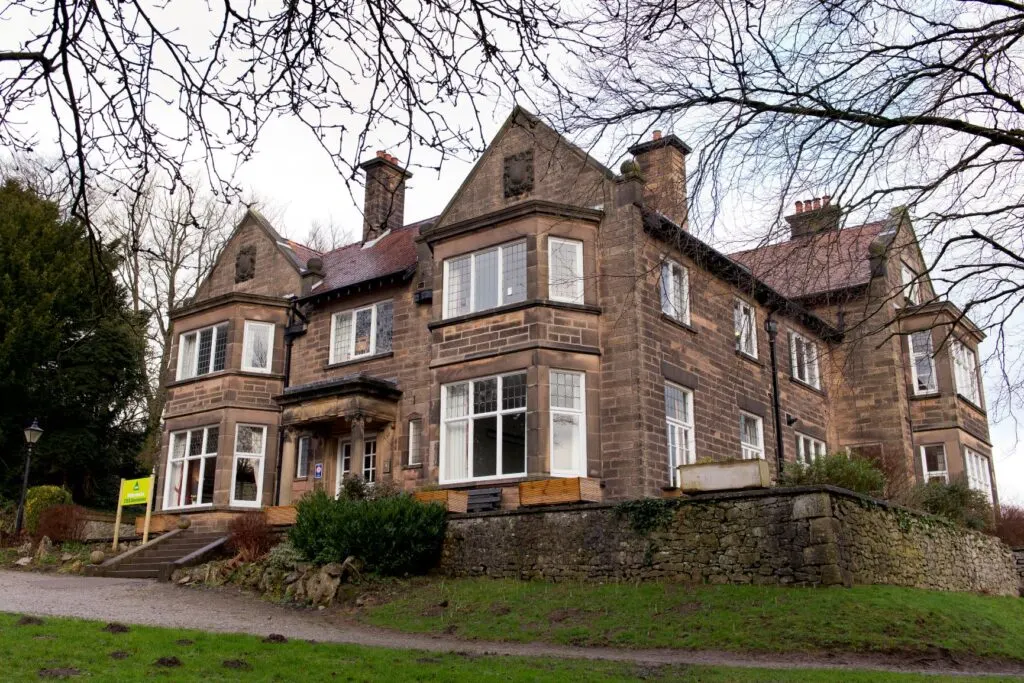 YHA Ravenstor is a beautiful, former National Trust house with en-suite rooms which offers 60 acres of beautiful grounds to explore and within easy reach of both Bakewell and Buxton, and very close to the Monsal Trail, which is perfect for a traffic-free family bike ride.
This grand house comes complete with a welcoming lounge, spacious dining and all the facilities you might need during your stay.
YHA Eyam
Click here to check availability and rates
Read our review of YHA Eyam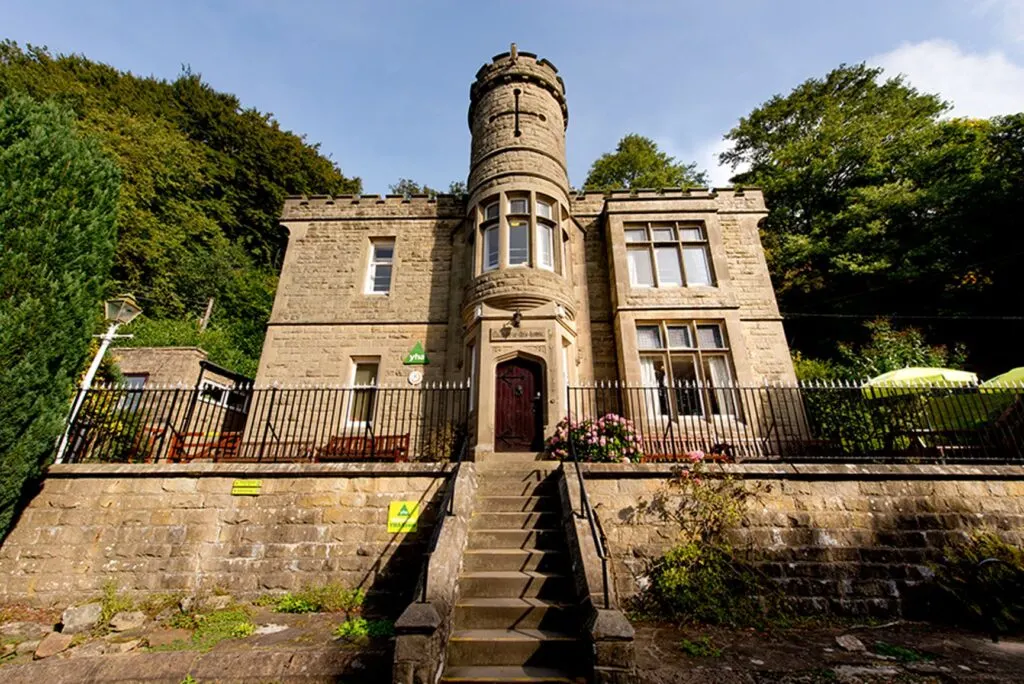 YHA Eyam is a magical place to stay. Starting life as a Victorian Folly, it has a castle like appearance that inspires imagination and adventure, and it sits above the pretty and historic village of Eyam. There are family rooms, and a box of toys provided in the communal room.
The area is packed full of history due to being impacted by the bubonic plague in the 17th century, and Eyam Moor is a stunning place for a family walk. Check out our top things to do in Eyam.
YHA Youlgreave
Click here to check availability and rates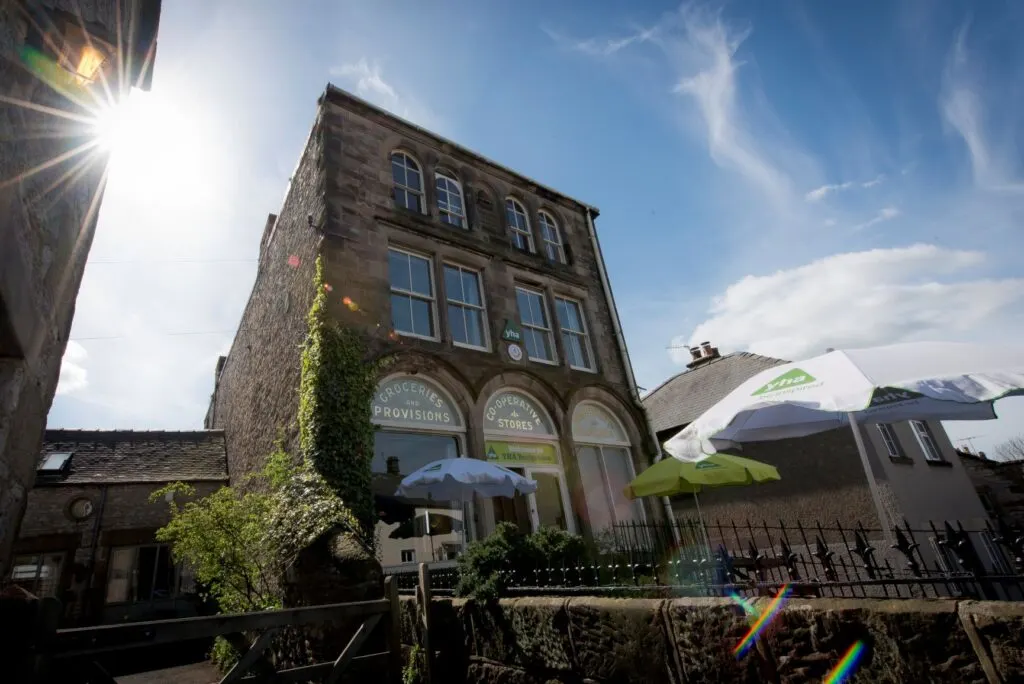 YHA Youlgreave is a peaceful hostel and the ideal escape to experience the Peak District National Park, and all the activities that the park is celebrated for. One of the YHA's unusual hostels, this former Co-op sits in an ideal spot to relax and watch the world go by.
Located in a village, it's at the heart of the White Peak walking territory and sits close to the Limestone Way. Check out our Alport to Youlgreave walk, and there's also a kid-friendly wild swimming spot in Youlgreave. Youlgreave also has one of the best playgrounds in the Peak District.
Families can enjoy local day trips to Chatsworth House where there's a farm and adventure playground, or perhaps just enjoy an easy pram friendly walk. Bakewell is also very close by, as well as the Monsal Trail for a traffic-free family bike ride.
YHA Hartington Hall
Click here to check availability and rates.
YHA Hartington Hall is a stunning 17th century manor house with welcoming open fires, wood panelling and filled with original features which transport your imagination. Perfect for short and longer stays and at the heart of the Peak District, it's an ideal base for walks and cycling as well as relaxing in lovely outdoor space and maybe enjoying a game or two of giant chess.
Check out out Hartington walk for families. It's also well placed for a cycle along the Tissington Trail.
YHA Ilam Hall
Click here to check availability and rates
YHA Ilam Hall is a gothic manor which dates back to the 17th Century, which sits in the heart of 84 acres of National Trust parkland. This property is a popular choice with holidaymakers due to being situated near Dovedale – one of the hidden gems of the Peaks. Check out our Ilam pram friendly walk.
Just a 25-minute walk away, the Dovedale Stepping Stones draw many families and are set between stunning hills. Many visit to paddle in the water and picnic, or to enjoy jaw dropping views from the summit of Thorpe Cloud.
Families can enjoy local day trips to Chatsworth House and The Heights of Abraham in Matlock Bath; plus Alton Towers isn't too far.
Click here to see all Peak District YHAs on the YHA booking site
---
You may also like to read:
Top things to do in the Peak District with kids
Best Peak District walks with kids
Things to do on a Peak Disrtict rainy day