Perched high above the 'plague village' of Eyam is a small turreted castle, which has been an Eyam youth hostel since 1972. For those families looking for budget family accommodation in the National Park, Peak District YHAs are perfect.
This article contains affiliate links. Should you click to purchase, it is at no additional cost to you, but I receive a small commission.
Learn about the harrowing and brave history of this village that quarantined itself during the bubonic plague outbreak, and enjoy walks across Eyam Moor or over to Foolow. Being in the heart of the Peak District, YHA Eyam is well situated for Ladybower Reservoir, Hathersage Outdoor Pool, Chatsworth Estate and Bakewell. Do note that it is a very steep climb up to YHA Eyam from the village.
Click here to check availability and rates for YHA Eyam
The 'plague village' of Eyam
Eyam itself is a fascinating historical village known as the 'plague village'. In 1665 a flea-infested bundle of cloth arrived from London for the local tailor. This led to the spread of the bubonic plague throughout the village. To prevent the spread of the disease, the entire village was quarantined. The plague ran its course over 14 months and at least 260 villagers died, with only 83 surviving out of a population of 350.
In the church there is a book with all the names of those that died from the plague, and there are plaques outside cottages naming the deceased who once lived there. Eyam Museum is worth a visit to learn more about this tragic time, and there's also a small information centre.
It's worth allowing a full afternoon to explore the village of Eyam, steeped in history. Check out our guide for things to do in Eyam.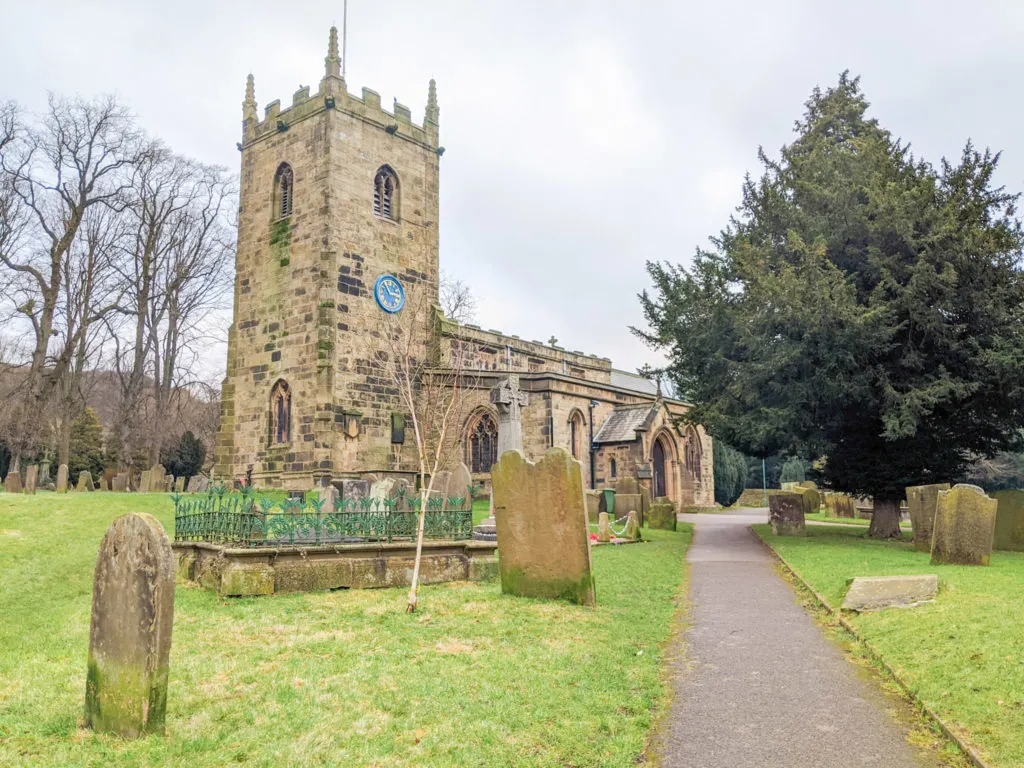 You may also want to enjoy a walk around Eyam Moor, which boasts stunning views over to Hathersage and Stanage Edge on a clear day.
Arriving to YHA Eyam
After our day of hiking to Eyam from Little Hucklow, and then walking around the village learning about the history, we made our way to YHA Eyam. Be warned, that if you're getting to the hostel by foot, like us, it's a steep climb up the hill from the village.
On arrival, just before 4pm, we were all very tired and keen to check in. However, as it's a small hostel the check in doesn't open until 5pm. I had missed an email sent the day before that informed me of the check in time!
Thanks to the lounge at YHA Eyam stocked with comfy armchairs, a TV, and boxes of toys, this was not a problem at all. The boys got started on building a train set, hubby checked the football scores on the TV, and I logged on to the free WiFi to catch up on some messages. Plus, it was cosy warm. The hour until check in passed in no time at all.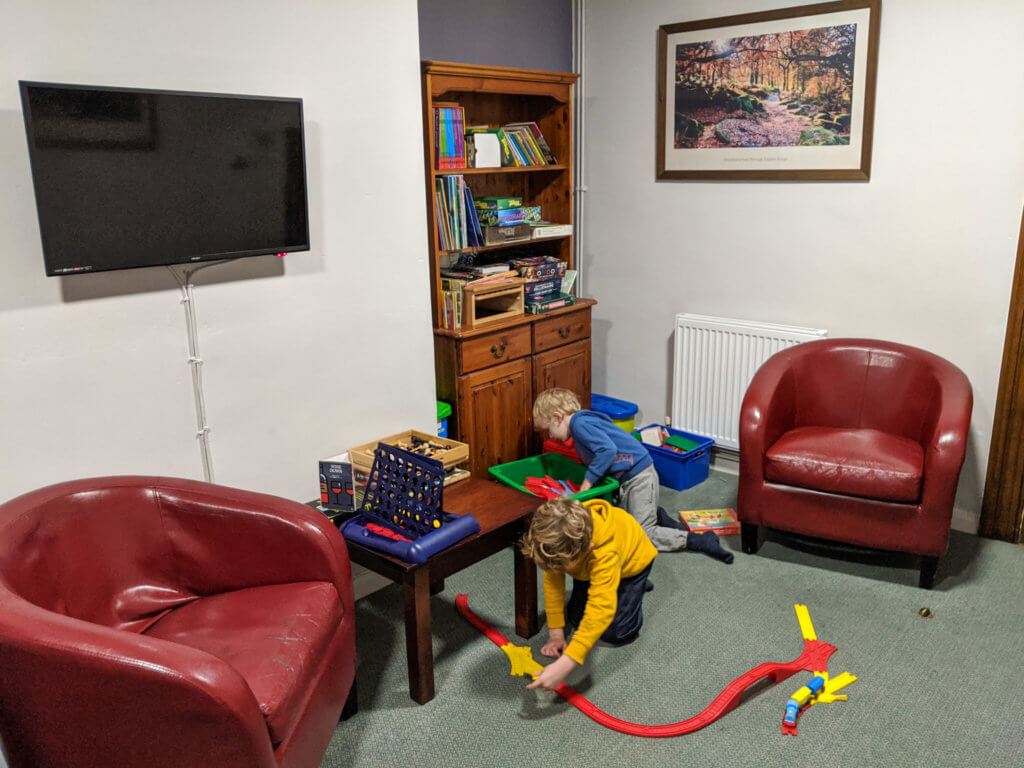 For check in, make sure that all adults have photo ID (we took our driving licenses). A super friendly staff member provided us with a key to our room and our boys bounded up the stairs in excitement as they knew they would be sleeping in bunk beds.
Our stay at YHA Eyam
We had a spacious 6 bunk private room to ourselves, which had a sink (we had actually booked a 4 bed dorm and were pleased with the extra space). The toilet and shower facilities are shared and were just outside our door. It was clean and practical. No frills, but that's what you expect from a hostel. Bed linen is provided, but towels are not, so make sure you bring a travel towel with you. We had also packed some slippers to wear around the hostel.
You can order dinner at the hostel, and the prices seemed very reasonable. However, we had enjoyed a hearty lunch at The Bulls Head in Foolow, and had brought some noodles and tortellini for dinner.
Kitchen facilities are provided at all YHA hostels. At YHA Eyam these are in a separate building, just next to the main building. Everything you need is provided in the kitchen (cutlery, crockery, pots and pans, and even a microwave) and there's a dining area. The kitchen and dining area is rather small though. We were grateful that there was only one other person who needed to cook whilst we were there, otherwise it would have been rather crowded. But for our purposes it was absolutely fine.
We all had a good night's sleep and the beds are comfy. Being over 6ft tall though, Jay couldn't quite stretch out in the bunk beds. You can hear people outside in the corridoors, but it's a quiet hostel in the Peak District and everyone seemed to go to bed early.
As always, our boys were up early and full of beans. We had packed some fruit and cereal bars for breakfast, though in hindsight I wish we had booked into breakfast, which starts at 7:30 am. Next time.
We got dressed back into our hiking gear, dropped our key off at reception, and we were out the door and on our way back down the hill into Eyam and on towards Stoney Middleton. If you do hike this way, make sure you stop at the 'Boundary Stone'. This stone acted as a marker separating the residents of the plague affected Eyam from the non-affected villagers of Stoney Middleton. It is here during the plague that money soaked in vinegar (believed to kill the infection) was placed by the villagers of Eyam in exchange for food and medical supplies.
Final thoughts on YHA Eyam
Click here to check availability and rates for YHA Eyam.
There are seven YHAs dotted around the Peak District. If you're looking for affordable accommodation in the area, whether you are a family, student, retired couple, or anyone in between, YHA is a great choice. You know you're always going to be welcomed by friendly staff, get a good night's sleep in a comfy bed, and have access to self-catering facilities and/or affordable meals.
We loved our stay at YHA Eyam. Not only is it in a beautiful location, surrounded by lots of stunning hiking trails, but we enjoyed learning about the tragic history of the 'plague village'.
Click here to see all Peak District YHAs on the YHA booking site
---
You may also like to read:
12 things to do in Eyam
Peak District YHA options for families
Eyam Moor walk (circular 6.3 km)