This Eyam Moor walk is one of our more challenging family walks as hardly any of the walk is flat. It descends down over Eyam Moor into woodland to Bretton Brook, and then climbs up again alongside open pastures.
Your efforts are rewarded with vast open views across to Hathersage, Stanage Edge and Win Hill. Although the true treat of this walk is that you will see few other hikers. Indeed, this is one of our quiet Peak District walks.
Half way around the walk is the perfect picnic and paddle spot next to a stream, and there's also remains of old barns to play 'hide and seek' in.
Plus, there's a trig point to bag at the end of this walk. Sir William Hill Trig lies just off Sir William Hill Road. Although this 'road' is a byway open to all traffic, it's a very bumpy and uneven track that's only suitable for 4WDs.
Do wear layers as it can get rather gusty on the moorland, yet it is sheltered in the valley, so you can go from feeling hot to cold rather quickly. Waterproof hiking boots are also a necessity as footpaths are uneven, rocky, and in places, extremely muddy.
Disclaimer: This post contains affiliate links. Should you click to purchase, it is at no additional cost to you, but I receive a small commission.
If you are planning a visit to the National Park, please arrive early or late in the day to avoid crowds if visiting over sunny weekends or school holidays. Please also take all litter home with you, don't bring BBQs and park your car in designated parking areas. Also, please use these walks as a guide; access and stiles may change.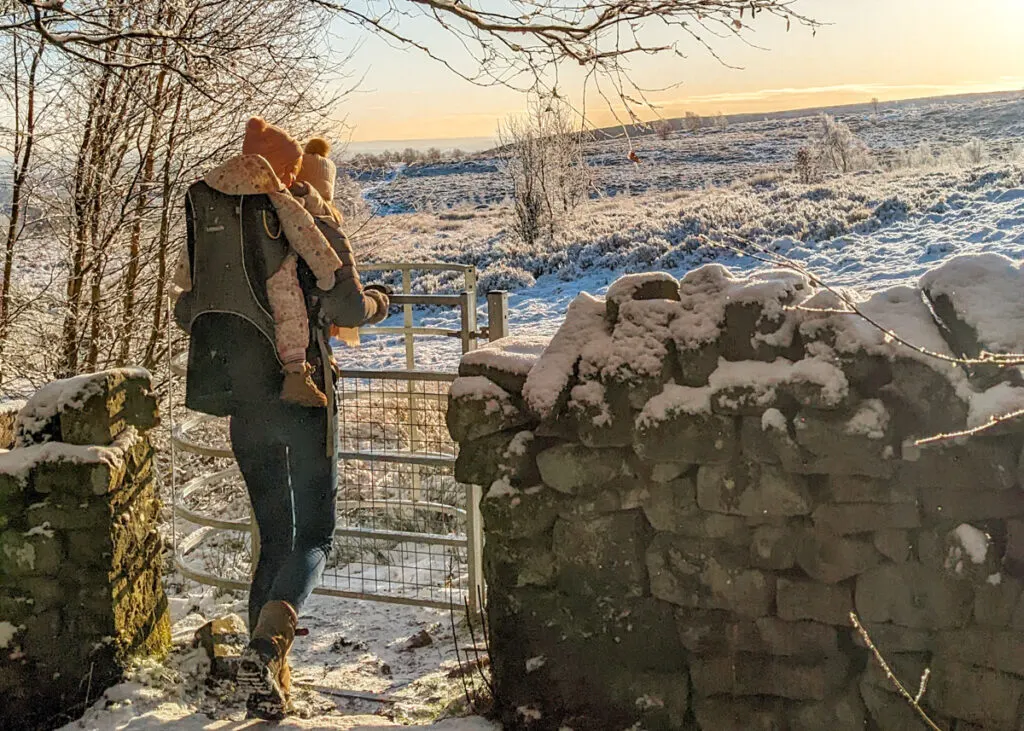 During the winter months, it's important to be extra prepared and safe when out walking and adventuring in the Peak District. The weather can change so quickly, especially on the exposed escarpments, and we don't want you to get caught out.
Read our top tips for safe winter walking with the kids.
FOLLOW US:
PARKING INFORMATION: Please do not rely solely on the postcode for parking directions. In the National Park, a postcode can cover a large area. Postcodes are only provided as guidance. Please either use the Google Maps point provided for every walk, or what3words.
Do check out our top tips for hiking with young kids, as well as our essential items to take on a family hike in the Peak District.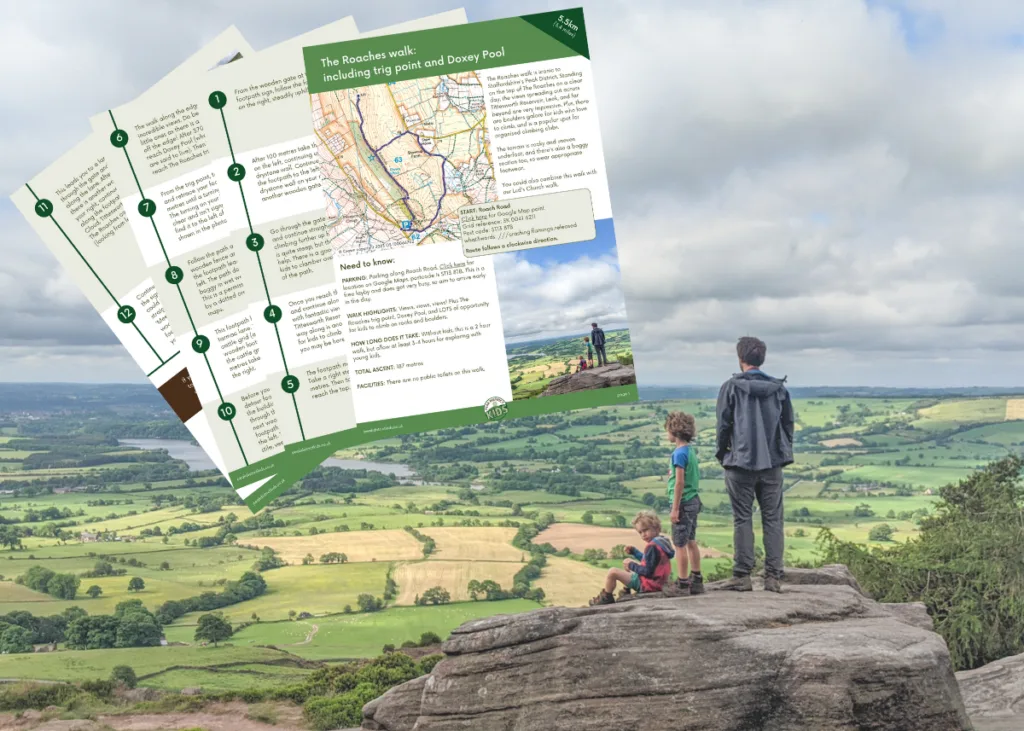 Download and print out our walking guides ready for your family walk. There are over 80 downloadable walk guides available, and these include all the main Peak District family walks, pram-friendly walks, and toddler walks.
Each printable download is just £1.50, whether it's a short 1km stroll or an epic walk up Kinder Scout.
The route
On all Peak District family walks it's a good idea to have an Ordnance Survey paper map with you, even if you have your phone on you. For this walk you need the OS Explorer Active Map OL 24 (White Peak). It's also a good opportunity to show young kids the map features and get them started with map reading.
This Eyam Moor walk follows the below map in an anti-clockwise direction.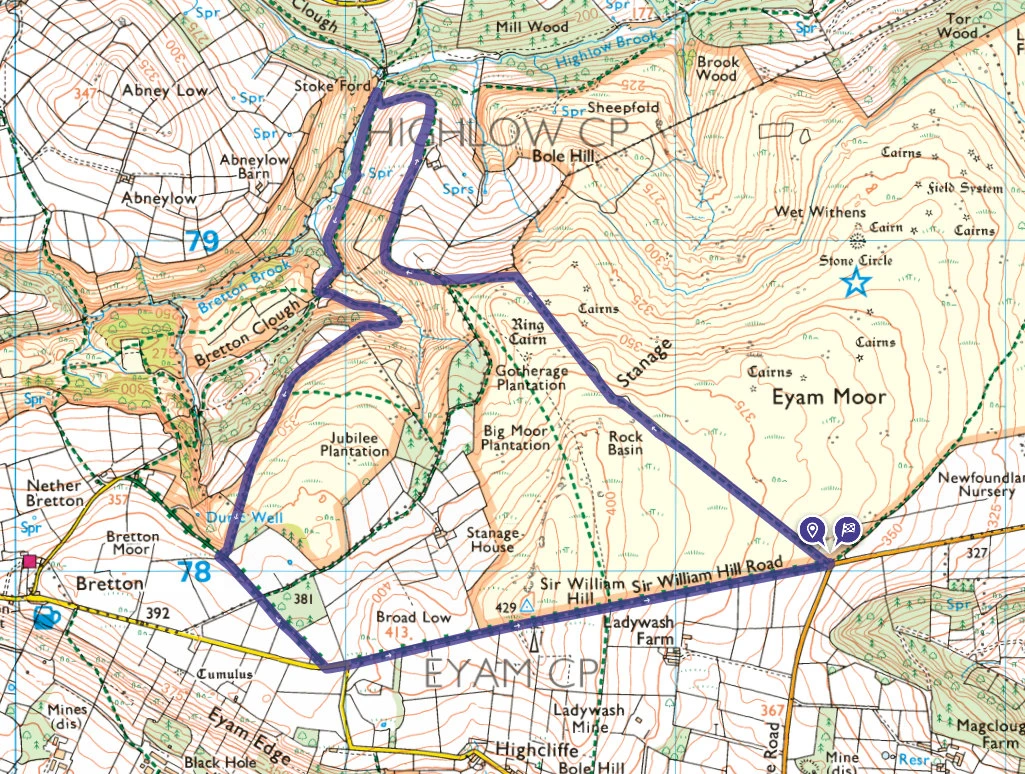 Get a printable download of this walk
Want to print off this walk guide rather than rely on your mobile? Then click here to download the PDF to print out at home. Perhaps print out a copy for the kids to follow the step-by-step directions and/or photos? It's a great way to get them engaged with the walk and gives them a sense of responsibility.
All printable downloads are £1.50 each. Click here for the full list of Peak District Kids printable downloads.
Please note that your download link expires 72 hours from order, so make sure you save your PDF somewhere where you'll remember it. If you are unsure where your download folder is on your mobile device, we recommend you download the PDF on your laptop or desktop.
Need to know
DISTANCE OF WALK: 6.3km / 3.9 miles

TYPE OF WALK: circular moorland walk

PARKING: There is free parking at Sir William Hill Rd Parking, which is essentially a gravel verge off a track. Click here for Google map point, postcode S32 5QT. When parking up, please do not park in front of the main stile across to the Eyam Moor walk, and leave enough room for tractors and emergency vehicles to pass.

WALK HIGHLIGHTS: Expansive moorland views over to Hathersage and Stanage Edge.

HOW LONG DOES IT TAKE: Without kids, this is a 2.5 hour walk. Allow for 3.5 hours with young kids.

TOTAL ASCENT: 259 metres

PUBLIC TOILETS: There are no public toilets on this walk. The nearest toilets are in the village of Eyam.
The route
START: Sir William Hill Rd Parking
Click here for Google Map point
Grid reference: SK 2246 7802
Post code: S32 5QT
what3words: ///stylist.traffic.stooping

Route follows an anticlockwise direction.
1. From Sir William Hill Rd Parking, start the walk by climbing the large stile over to Eyam Moor and follow the footpath with the drystone wall on your right. As you reach the brow of the hill you can see Hathersage to the right.
2. Keep following the footpath downhill, keeping the drystone wall on your immediate right. until you reach this gate below. The footpath veers left just before you reach this gate.
3. Take the stile over the wall to the left of the gate and follow the footpath round to the right. You will climb over another stile, before the footpath descends into woodland. The footpath can be extremely muddy through here.
4. Take the path to the left at the T-junction. From this point, the remainder of the walk gradually ascends, so make sure you have snacks at the ready!
5. Follow the footpath with the brook on your right. This leads you through a wooden kissing gate. Unfortunately the brook isn't accessible here, but a bit further on (spot the waterfall on your right) another kissing gate leads you to the perfect picnic and paddling spot.
6. Continue along the footpath with drystone wall remains on your left. After about 20 metres there is a gap in the drystone wall. Follow this footpath with the dilapidated stone barn on your right. This shortly leads to another footpath. Take a left.
7. Follow this footpath uphill and round to the right, passing through two kissing gates. At the second kissing gate, follow the footpath straight ahead. This is also a good spot to stop, catch your breath, and take in the view. Across the valley behind you, you will be able to spot the footpath you walked along at the beginning of this walk.
8. Continue along the footpath with the drystone wall on your right. As you approach the woodlands at the top of the hill, ensure you follow the yellow arrow straight ahead. This leads you to a wooden kissing gate next to a metal gate.
9. Walk through the kissing gate and continue ahead. Finally a flat section! After 150 metres you meet a track. Turn left here and continue along the track. Ignore the steep wooden stile further along on your left and continue to the road.
10. Take a left at the road and then continue straight ahead along the track that leads off the bend in the road. This is a byway open to all traffic.
11. There's still some uphill walking to do, but let's bag a trig point! Opposite the mast is a wooden stile leading up to Sir William Hill trig point. It's just a short 1 minute detour from the track.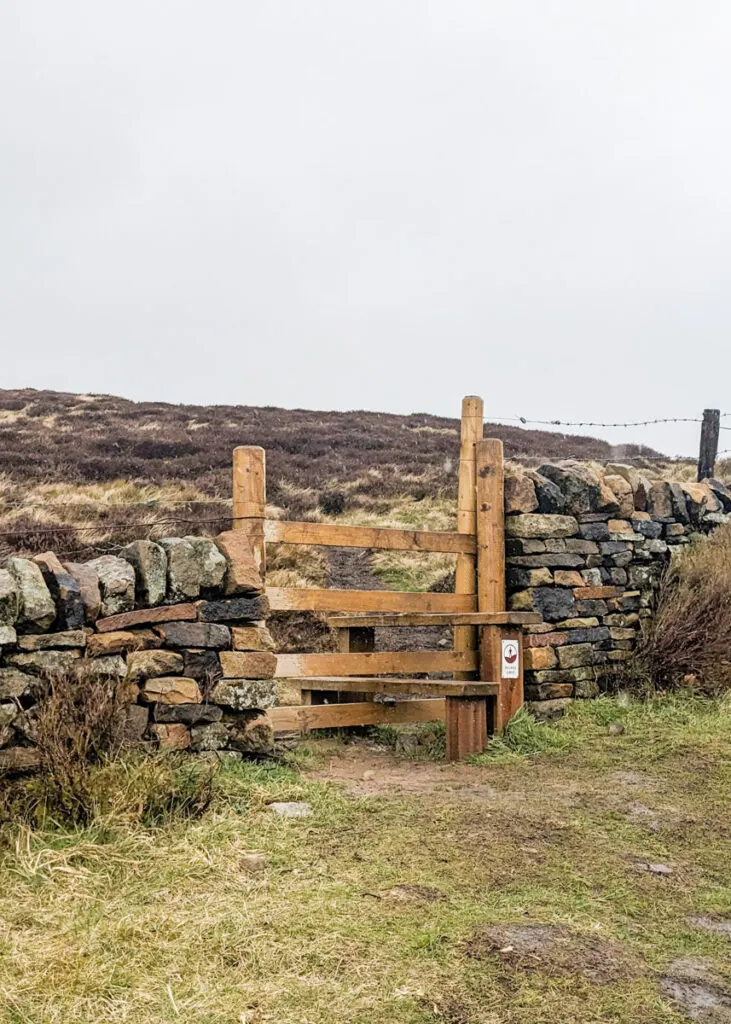 12. After bagging the trig point, retrace your steps back to the track and follow it gradually downhill, back to your car.
After your walk
If the kids aren't too tired after the walk and you fancy a bite to eat, head in to the village of Eyam to visit either the Tea Rooms or the Miner's Arms.
With it's dark history centred around the bubonic plague in the seventeenth century, Eyam is a fascinating place to explore. Although be warned that the subject matter of death may be rather sensitive for some children.
Check out these things to do in Eyam. But in summary, Eyam Museum is a good place to start your visit and learn about the history of the village. Small plaques also stand outside cottages detailing the names, ages, and date of death of those individuals who died in that specific home during the plague, and there are grave sites to visit.
There is also a lovely children's playground in Eyam, opposite Eyam Museum.
For affordable family accommodation in Eyam, check out the YHA Eyam.
---
You may also like to read:
Monsal Head walk (circular, 2.4km)
Higger Tor walk (circular, 4.5km)
Things to do in Eyam