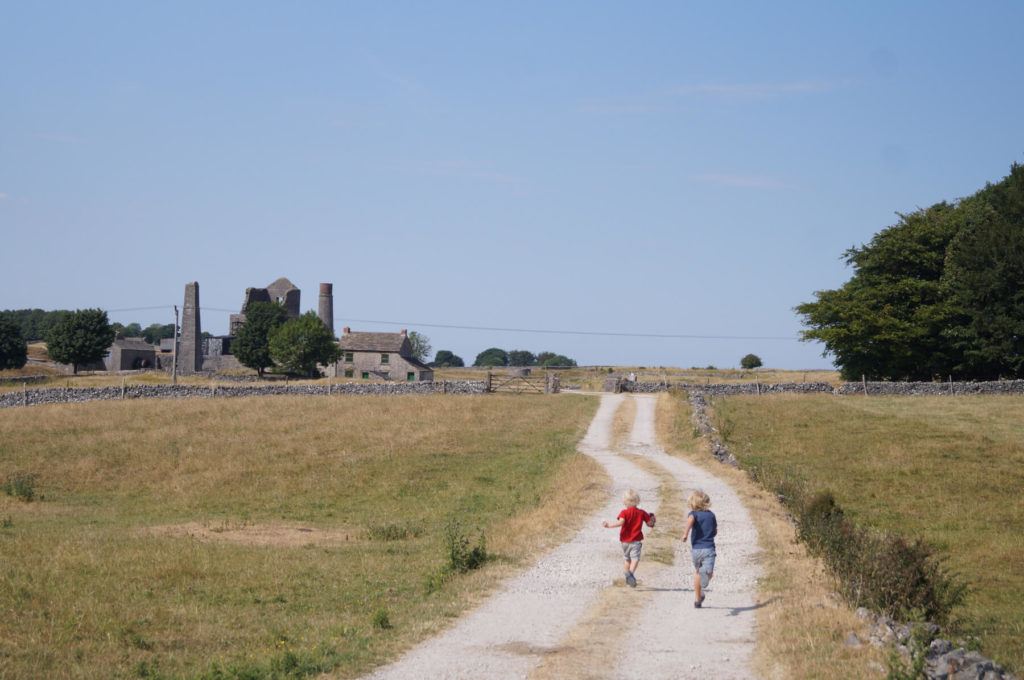 Are you looking for short or easy Peak District walks with kids, or some lovely family walks in the Peak District?
Sandwiched between Manchester and Sheffield in the north of England, the Peaks is our home and we are regularly out on a family hike with our boys of a weekend. With those green rolling hills dotted with old farm houses and country pubs, it's our happy place.
Check out our top things to do in the Peak District with kids and these top tips for hiking with kids to keep the whinging at bay.
Or if you want to combine your walk with a pub lunch, check out our favourite pubs with a playground in the Peak District.
Come and join our Facebook group!
There's nothing better than a long walk across the dales, over drystone walls, towards a good old English pub for lunch. Pre-kids we used to grab an Ordnance Survey map and hike for a good few hours before drying off and warming up in front of a cosy log fire with a pint. When the boys came along it was fine doing these walks with them in the back carrier, but since the age of two we have wanted to encourage them to do a walk all on their own. Plus, we found our boys to be a bit too heavy for the carriers!
So here is a selection of our favourite short family walks in the Peak District. Make sure you pack LOTS of snacks and an OS Map, dress them in layers with a puddle suit and wellies (unless it's a fine summer's day) and start your walk early when they're at their most energetic.
A big thank you to Ordnance Survey for supplying the mapping for this post as part of the #GetOutside program. This post contains affiliate links. Should you click to purchase, it is at no extra cost to you, but I receive a small commission.
Don't leave home without your Peak District OS Map!
The Cork Walk (aka Nine Ladies Circle)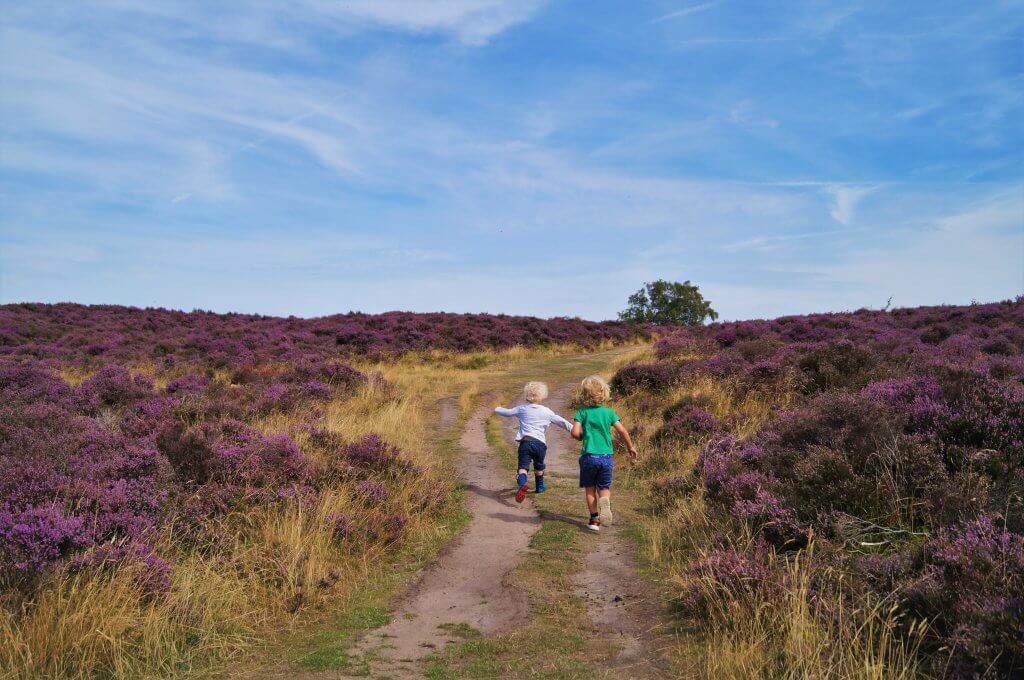 This circular walk on Stanton Moor has it all – unusual stones to explore, rocks to climb, woodland, open views and muddy puddles! It's easily one of our favourite peak district family walks. At the start of the walk is a large rock that looks like a corkscrew – it's begging to be climbed by the grownups if you're up for the challenge. The walk continues round to the left, however, we often like to take a detour down the old quarry to play amongst all the boulders. A snack at the Nine Ladies Circle is standard; a Bronze Age circle used by the Druids. Enjoy the views over to Bakewell as you loop back round to the beginning.
Click here for start point
Distance: 2km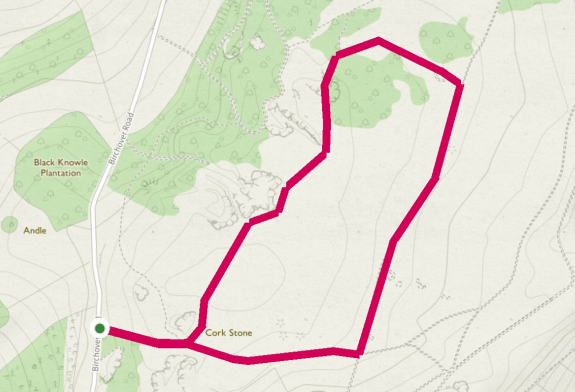 Make sure your kids have the right footwear. Check out this guide: The BEST children's walking boots.
Youlgreave
Park down Bradford Road just a bit further on from Youlgreave Church. This circular walk takes you either side of the River Bradford. The kids will love playing with sticks and paddling in the shallow section at the end of Holywell Lane. There's even a designated swimming area further down the river for the warmer summer months.
Post-walk enjoy a good lunch in the family-friendly George Hotel (then have a kids' menu). If the kids still have energy to burn, there's a good playground just past the church along Alport Lane.
Click here for start point
Distance: 1.6km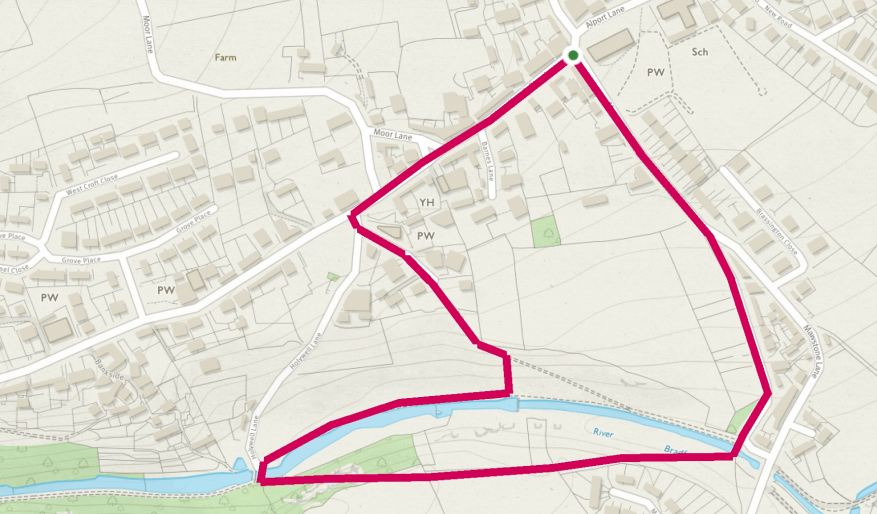 Birchen Edge
Just up from the Robin Hood Inn Pub, follow the footpath sign along the base of Birchen Edge for about 1km. You may see some climbers making their way up the rock-face. However, you don't need to rig up the ropes yourselves as the footpath follows around to the top after about 1km and you'll be rewarded with stunning views. It can get crazy windy up here though, so shelter behind some rocks to enjoy your mid-walk snack. Post-walk, stop in the pub for a bite to eat. Well, would be rude not to!
Click here for start point
Distance: 2km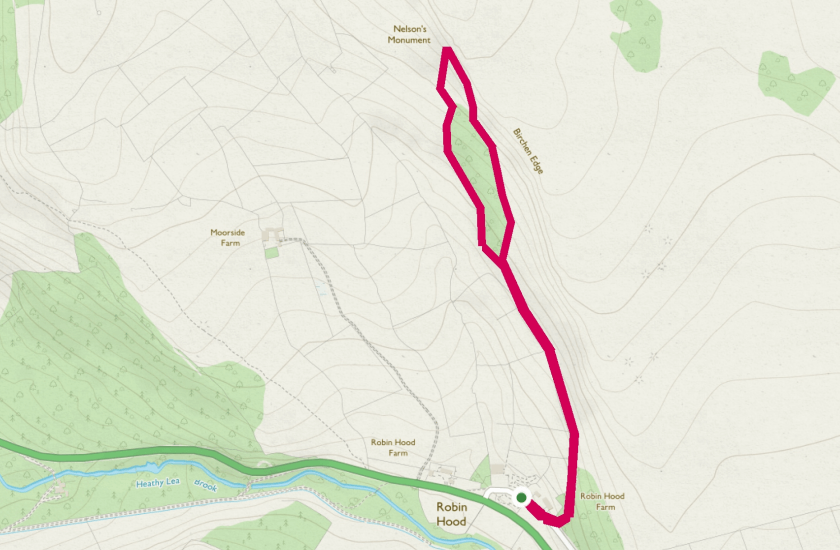 Blaze Farm Nature Trail
A visit to Blaze Farm is one of our top things to do in the Peak District with kids. Entry is FREE and there are lots of farm animals to meet (cows, peacocks, donkeys, geese, ducks, sheep). If you're visiting during the lambing season you may even be lucky enough to see a lamb being born in the lambing shed (arrive early). There is a short and long nature walk. We take the short walk that crosses the meadows, through the woodland (where you'll come across carved animals in the wood and a den) and back up to the farm. Just follow the signs.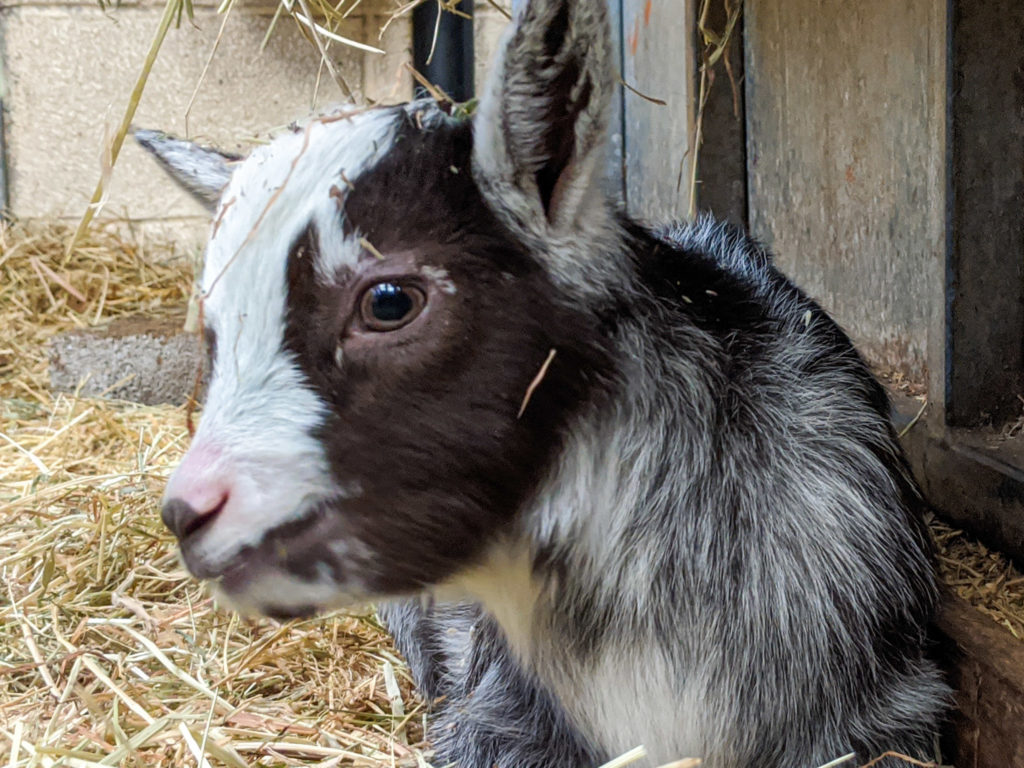 On return to the farm, head to the cosy tea room and treat yourselves to some ice-cream made on the farm from A2 milk. Behind the tearoom you'll find a slide and a tractor to play on. This is one of our top places to eat with kids in the Peak District.
Blaze Farm is open 10am to 5:30pm Tuesday-Sunday all year round and Bank Holiday Mondays. Click here to see photos and our full review of Blaze Farm.
Click here for start point
Distance: 1km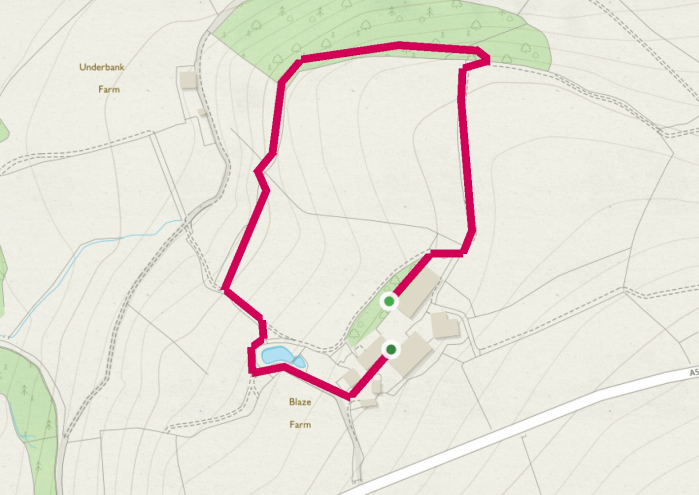 Dovedale stepping stones and Thorpe Cloud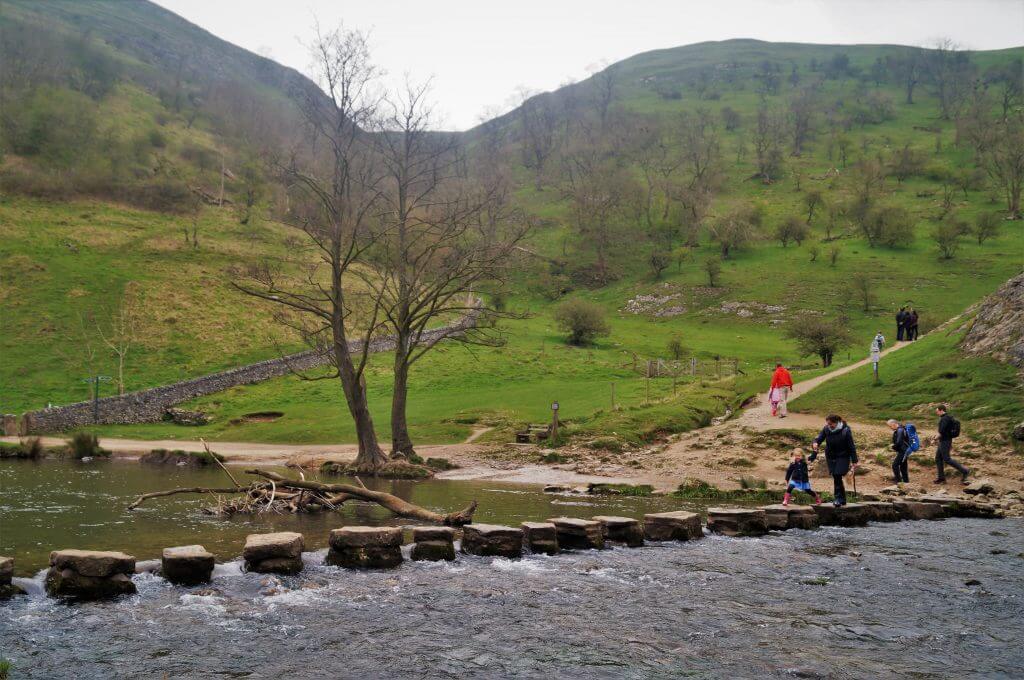 This is a classic Peak District walk which can get rather busy at weekends and public holidays. Ensure you arrive early beat the crowds, unless you're visiting during the week when it's likely you'll have the valley to yourselves. A flat gravel path follows alongside the river and is suitable for prams, until you reach a series of stepping stones that take you to the other side. Walk along as far as you wish, but just remember you have to turn around and follow the same route back. We generally go just a little bit further than the stepping stones (about 1km each way).
This is also the starting point for Thorpe Cloud. It's short steep climb to the top, just follow the signs the other side of the stepping stones. The climb is worth the effort as the views are stunning.
Your may also like to read this review about walking to Dovedale stepping stones from our travel blogger friends over at Mini Travellers.
Click here for start point
Distance: As long as you wish as the walk follows the same path out and back.
Longnor
This circular walk can get very muddy, so make sure everyone is wearing wellies. Park up by Ye Olde Cheshire Cheese and walk down through Gould Farm to say 'hello' to the cows (you'll smell them before you see them!) Head down to the river and enjoy those open views across the dales as you walk between drystone stiles. Then treat yourself to a hearty lunch at the pub on your return.
Click here for start point
Distance: 2km
Mam Tor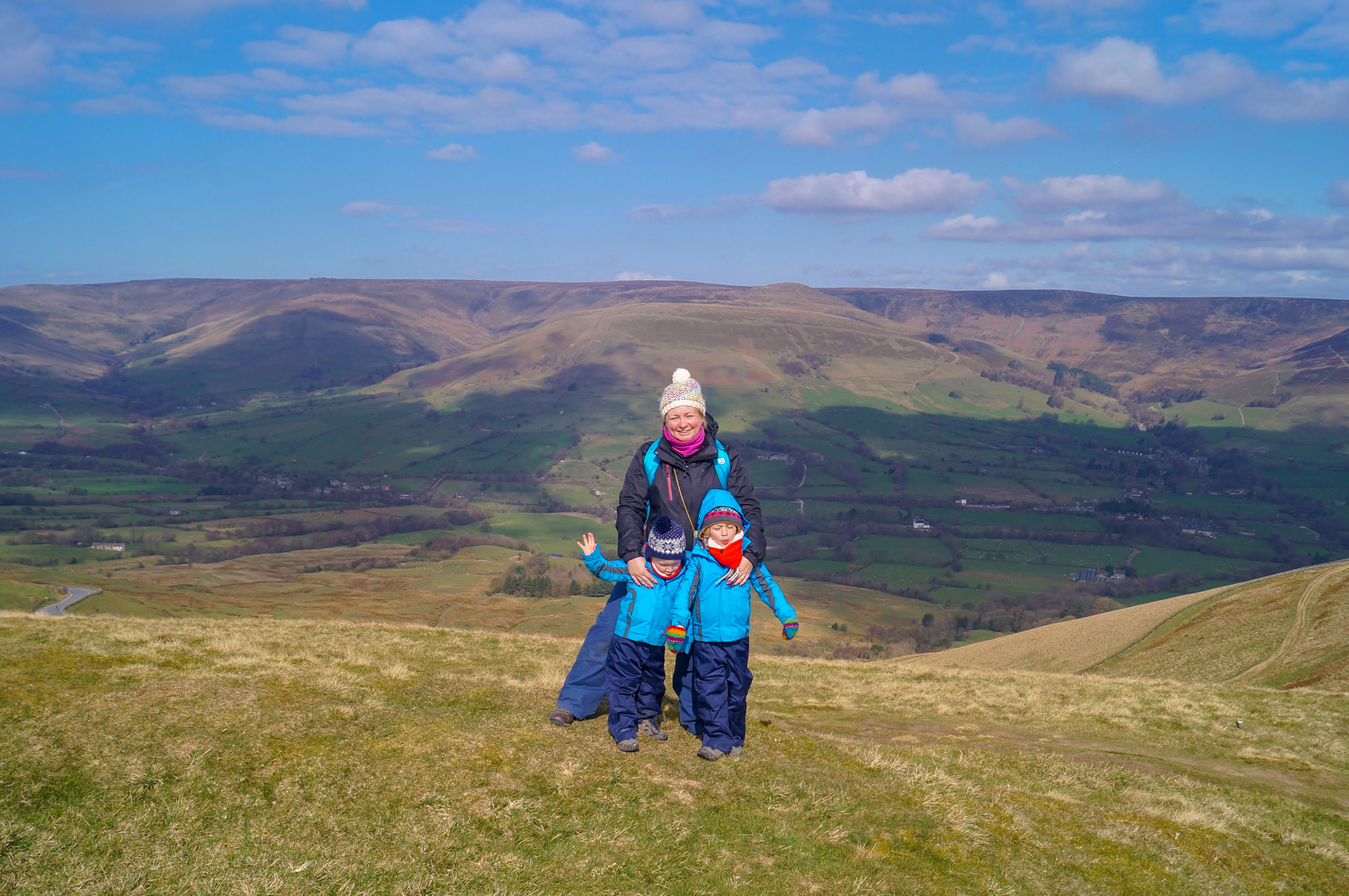 Mam Tor, meaning 'Mother Hill', is a 517 metre high hill overlooking Castleton and is one of the most popular family walks in the Peak District. The views from the top are spectacular, although arrive early during school holidays and weekends to avoid the crowds.
You don't actually have to endure a long hike to get there. If you park at this car park it is just a short (but steep) 500 metre walk uphill. Once you're at the top, there's a stunning walk along the top to Lose Hill.
Click here for start point
Distance: 1km from the car park to the summit and back again.
Buggy and pram friendly walks in the Peak District
If you've got very little ones, you may be looking for a walk where they can nap in the buggy or pram whilst you and your partner have a chat. You therefore need to find somewhere relatively flat, and with no stiles to hoist the buggy over.
Monsal Trail and Tissington Trails
For the best pram friendly walks Derbyshire head to the disused railway tracks intersecting the Peak District that have been converted into long gravel pathways. Our favourites are the Monsal Trail and Tissington Trail, but they are all detailed in this post (which is geared more to traffic free cycle paths, but your needs are the same).
Chatsworth Estate
However, my absolute favourite buggy friendly walk in the Peak District has to be the walk from Baslow to Edensor through the Chatsworth Estate. Start at this pay and display car park in Baslow, and take the footpath on the right right over the bridge on Church Lane. Follow the pathway towards Chatsworth House and turn right over Paine's Bridge. Follow on up the hill to Edensor. It's just a 1 km walk to Edensor, and worth popping in to the tea rooms.
---
Do you have any favourite family walks in the Peak District to add?
Don't leave home without your Peak District OS Map!
You may also want to read:
Top things to do in the Peak District with kids
Best Peak District cycling routes for families
Best pubs and cafes with a play area in the Peak District