Original Langsett Reservoir walk researched by Helen from Little Puddle People, and recently updated by Jenny, editor of Peak District Kids.
This circular Langsett Reservoir walk takes you right around the entire reservoir. It's such special place, bursting full of rare wildlife, and is a lovely Peak District pub walk (stop at the Wagon and Horses towards the end of the walk).
Boasting stunning views across the moorlands and down to the glistening water of the reservoir, there is something really soul-filling about this place. Interesting history of the area weaves its way through the land as it was once used to prepare for the Normandy invasion, with old tracks and bullet scars to show for it, offering interesting and imaginary conversations with kids along the route.
The changing terrain and environments on this Langsett Reservoir walk keeps everyone interested; from pretty ancient woodland with twisting tree roots and muddy paths, to open moorland between the heather and bilberry, to tall towering pine forest with cones to fill your pockets. Do note that there are a couple of hills on this walk, it is not flat.
This Langsett Reservoir walk really is a magical Peak District walk for families. We encourage you to take your time and notice the surroundings, tune into the bird song and really see what it is home too. We heard a cuckoo calling, which is now becoming increasingly rare to hear. We saw a family of oyster catchers, usually a wading coastal bird enjoying the shoreline, and saw grebes diving in the deeper water. I wonder what you will see?
Disclaimer: This post contains affiliate links. Should you click to purchase, it is at no additional cost to you, but I receive a small commission.
If you are planning a visit to the National Park, please arrive early or late in the day to avoid crowds if visiting over sunny weekends or school holidays. Please also take all litter home with you, don't bring BBQs and park your car in designated parking areas. Also, please use these walks as a guide; access and stiles may change.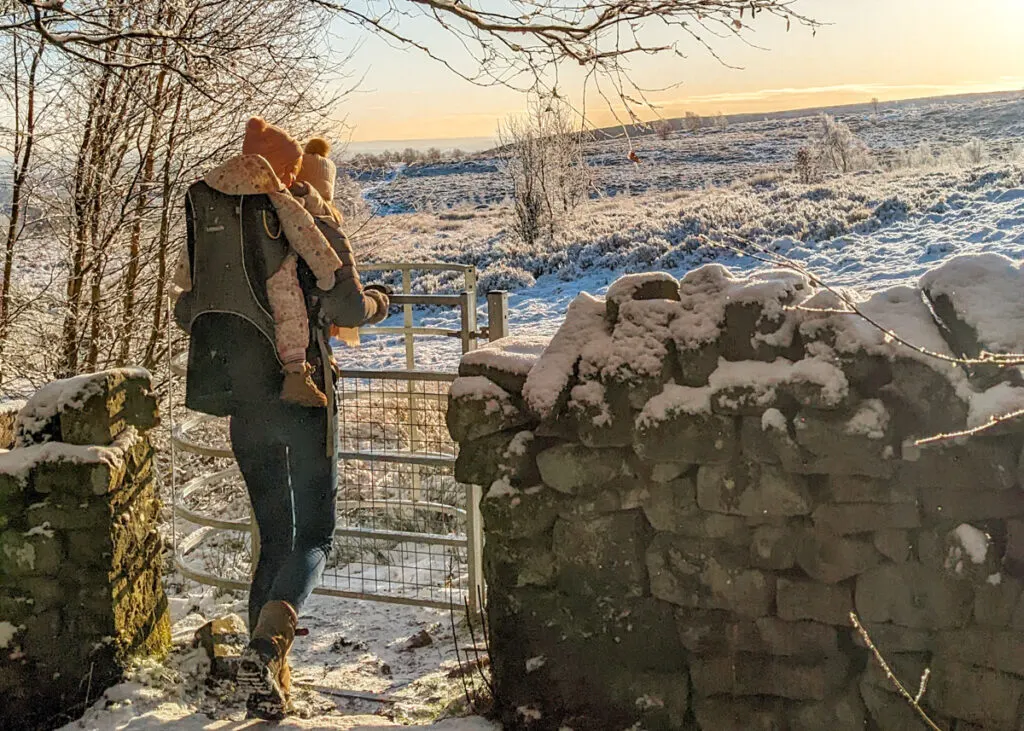 During the winter months, it's important to be extra prepared and safe when out walking and adventuring in the Peak District. The weather can change so quickly, especially on the exposed escarpments, and we don't want you to get caught out.
Read our top tips for safe winter walking with the kids.
FOLLOW US:
PARKING INFORMATION: Please do not rely solely on the postcode for parking directions. In the National Park, a postcode can cover a large area. Postcodes are only provided as guidance. Please either use the Google Maps point provided for every walk, or what3words.
Do check out our top tips for hiking with young kids, as well as our essential items to take on a family hike in the Peak District.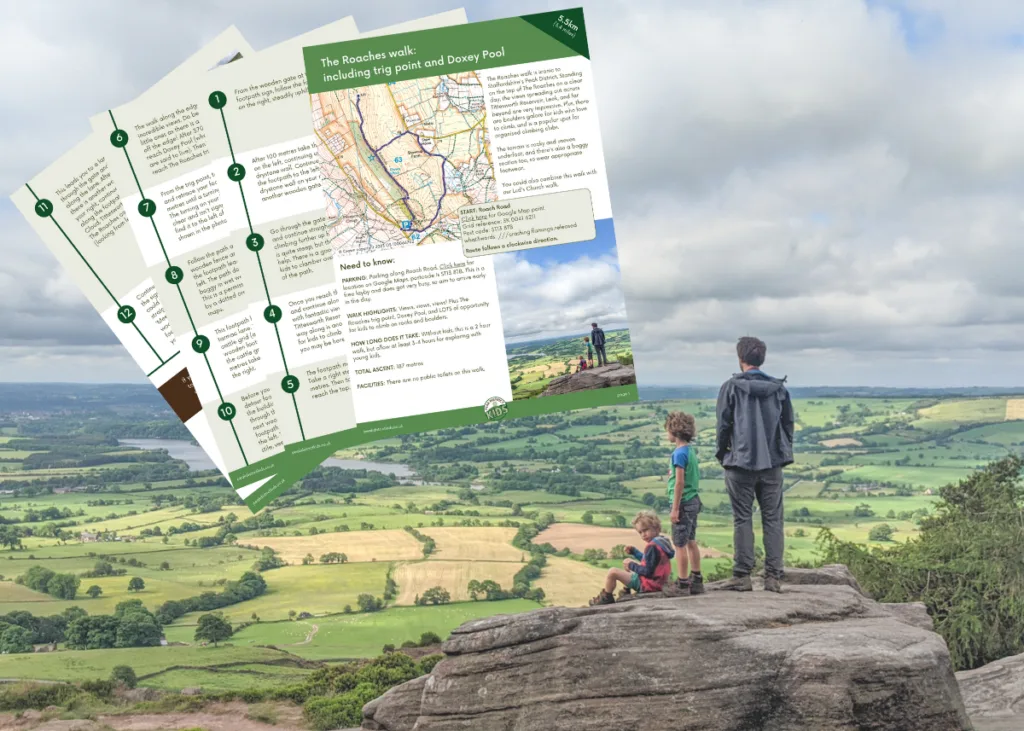 Download and print out our walking guides ready for your family walk. There are over 80 downloadable walk guides available, and these include all the main Peak District family walks, pram-friendly walks, and toddler walks.
Each printable download is just £1.50, whether it's a short 1km stroll or an epic walk up Kinder Scout.
Map of Langsett Reservoir walk
On all Peak District family walks it's a good idea to have an Ordnance Survey paper map with you, even if you have your phone on you. For this walk you need the OS Explorer Map OL 01 (Dark Peak). It's also a good opportunity to show young kids the map features and get them started with map reading.
This Langsett Reservoir walk follows the below OS Map in an anticlockwise direction.
Get a printable download of this walk
Want to print off this walk guide rather than rely on your mobile? Then click here to download the PDF to print out at home. Perhaps print out a copy for the kids to follow the step-by-step directions and/or photos? It's a great way to get them engaged with the walk and gives them a sense of responsibility.
All printable downloads are £1.50 each. Click here for the full list of Peak District Kids printable downloads.
Please note that your download link expires 72 hours from order, so make sure you save your PDF somewhere where you'll remember it. If you are unsure where your download folder is on your mobile device, we recommend you download the PDF on your laptop or desktop.
Need to know
DISTANCE OF WALK: 5.8km / 3.6 miles

TYPE OF WALK: circular reservoir walk

PARKING: Langsett Barn Yorkshire Water Car Park. Click here for Google Map point. Postcode is S36 9FD. Please note that parking is currently free, but a notice says they are introducing charges soon, so check the website for updates before travelling.

WALK HIGHLIGHTS: The beautiful flora and fauna, stunning views, interesting history.

HOW LONG DOES IT TAKE: Without kids, this is a 2 hour walk. Allow at least 3 hours with young kids.

ACCESSIBILITY: This walk is not pram friendly as the paths are often rocky, and uneven with exposed tree roots. There are no stiles, but there are steps and gates.

TOTAL ASCENT: 147m

FACILITIES: There are toilets at the car park. Nearby is the Waggon & Horses pub and Bank View Café.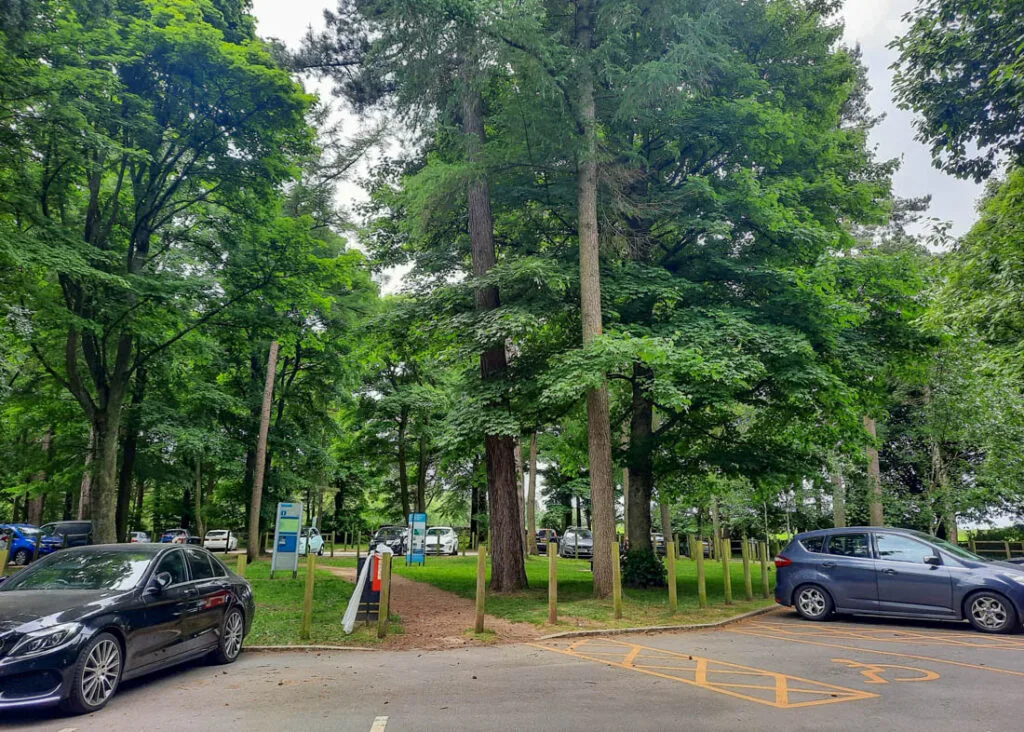 The route
START: Langsett Barn Yorkshire Water Car Park
Click here for Google Map point
Grid reference: SE 2105 0038
Post code: S36 9FD
what3words: ///workshop.router.clashing

Route follows an anticlockwise direction.
1. Take the footpath that leads out of the back left of the car park, opposite the entrance. Follow it immediately around to the right and continue downhill. The reservoir is on your left.
2. Continue following the main path through the woodland (which is actually pram-friendly) for 1.5km, until the path splits in two. There's a slight uphill section before you reach this junction. Keep left and walk down a steeper path that turns to cobblestones and leads down to a bridge.
3. Cross over the bridge. On the right behind the weir is a shallow area where the Little Don River feeds into Langsett Reservoir. You can access this area through a gate on the right (it's a lovely picnic spot). Otherwise walk through the gate on the left after crossing the bridge.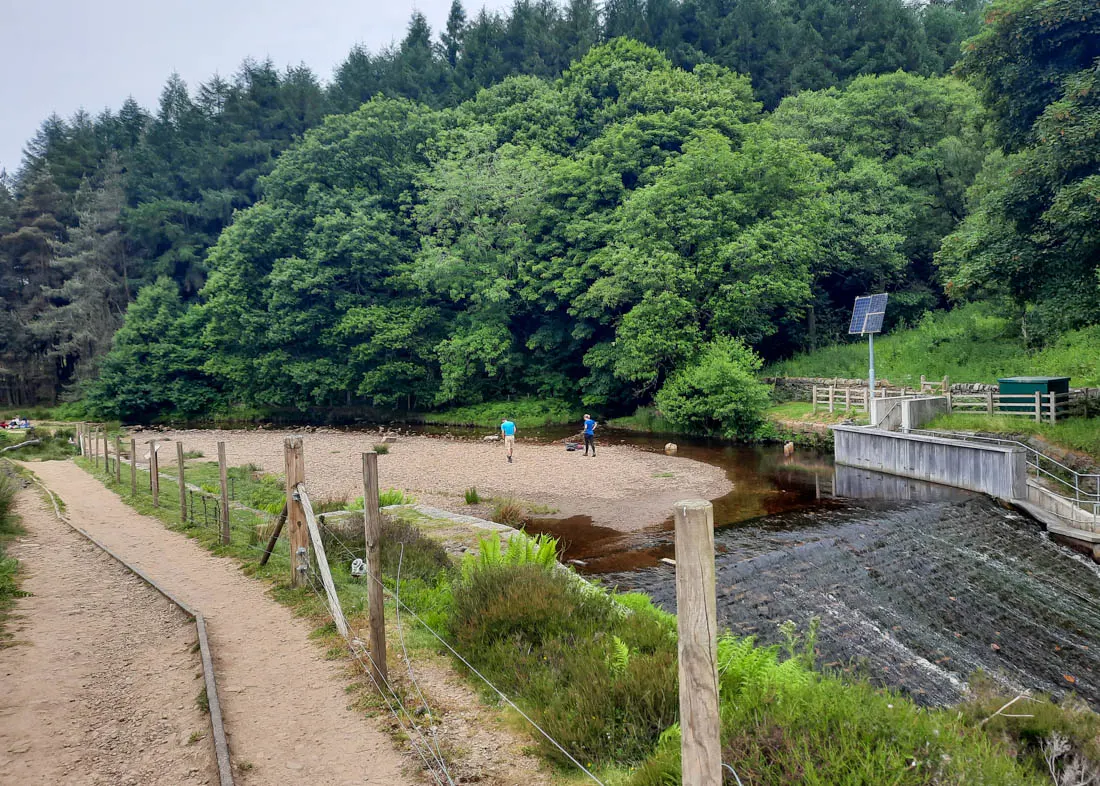 4. The footpath begins to head uphill through the bracken. As you reach the top of the hill and look back, there are incredible views towards Langsett Reservoir.
5. At the brow of the hill marked by two stone pillars on your right, take a left. This path leads downhill with Langsett Reservoir on your left in the far distance. The views are really something up here!
6. At the bottom of the hill, you enter an area known as 'North America'. There are ruins from an old farm building that kids will love exploring. See if you can spot bullet marks in the rocks from when this area was used as a training ground in World War 2. Head through the gate in the other side of the ruins and continue following the footpath down and back into woodland.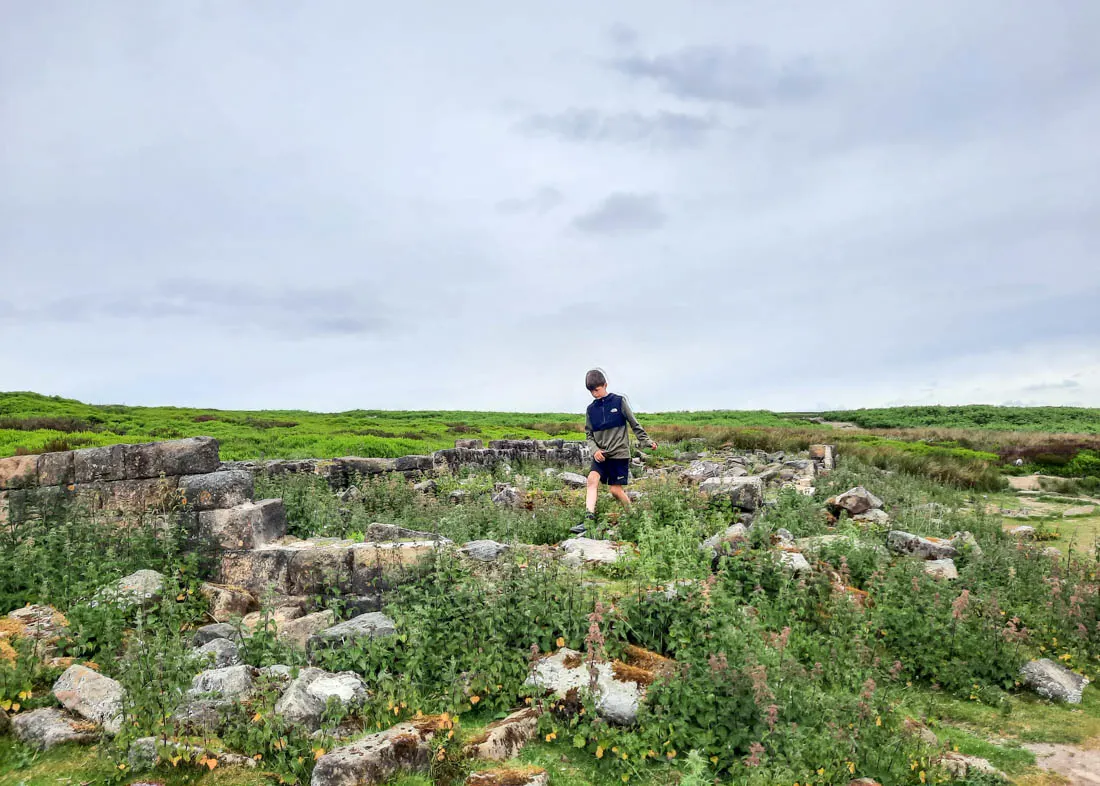 7. 700 metres downhill from 'North America' you will reach a footbridge over a stream (Thickwoods Brook), which feeds into Langsett Reservoir. Cross over and continue the footpath around to the left.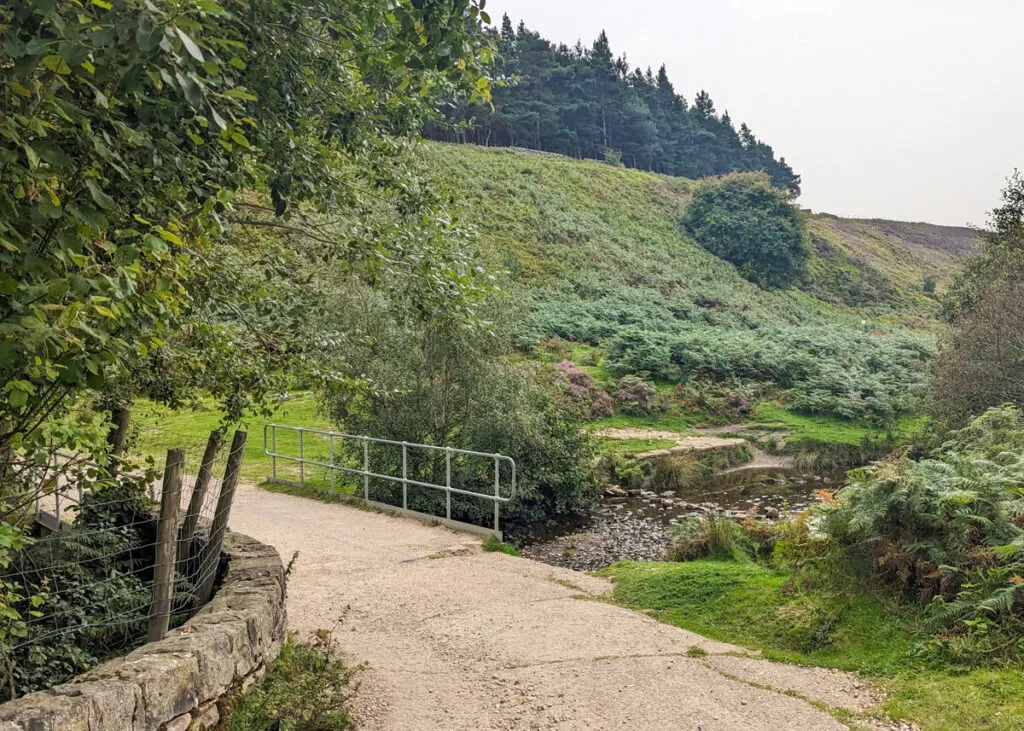 8. Just after the footbridge (120 metres), there is a metal gate. Walk through and follow the track uphill to the right and continue straight ahead through another metal gate.
OPTIONAL DETOUR: If you wanted to play by the water's edge, from the first metal gate continue straight on and follow the footpath along the edge of the reservoir for 350 metres. There is a concessionary footpath that then leads you up to the bridleway in step 10. However, this footpath through the woods is not at all obvious and it's easy to get lost. So we suggest backtracking to the metal gate if you are unsure.
9. At the road, take the bridleway on the left and follow this for 110 metres, which leads out to a hamlet. Then take a short left, and almost immediately on your right the bridleway continues. Follow this slightly downhill.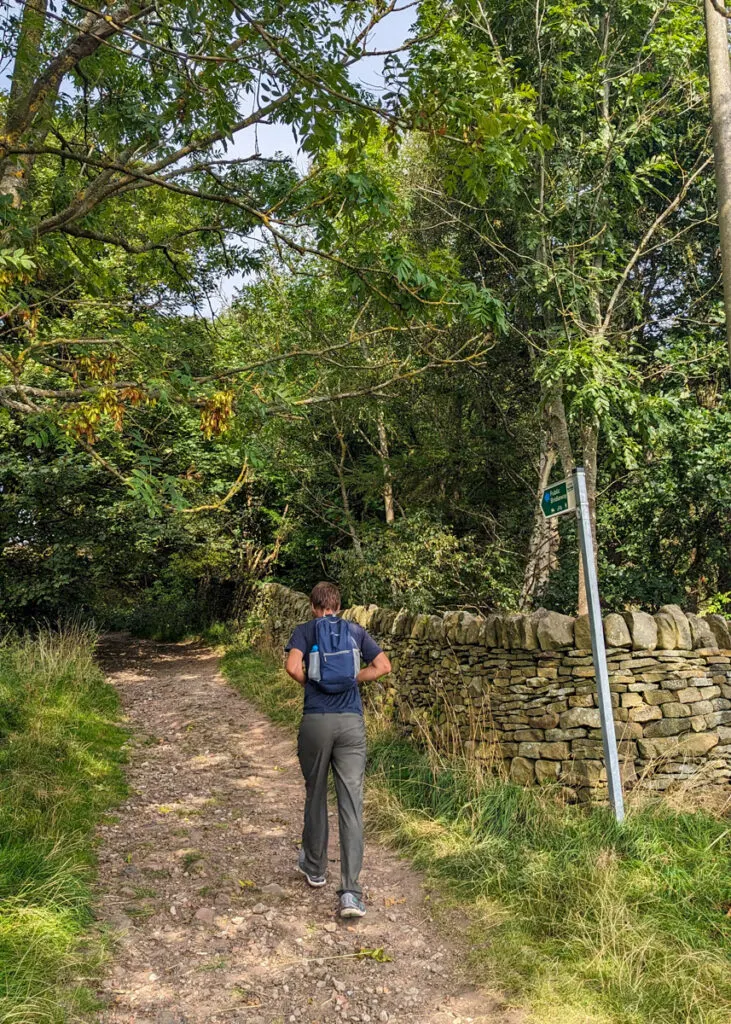 10. At the end of the bridleway, turn left. This is a road, so please take care. Soon you'll be walking across the dam wall on a pavement. If you want to stop to refuel, continue along the road at the end of the dam towards either The Waggon and Horses pub or Bank View Café (you can't miss the red polka dots of this place).
11. If you are not heading to the pub and want to return to the car park, take the path on your left as you cross the dam wall, through a gate, just before a stunning house that looks like a castle.
12. At the end of the path turn right. You will see the car park just ahead of you, the end of this circular Langsett Reservoir walk.
After your Langsett Reservoir walk
Just next to the car park is the Waggon & Horses pub, serving fresh cooked meals, snacks and drinks. They have a large beer garden with great views over Langsett Reservoir. Across the road is Bank View Café serving ice cream, cakes, full breakfasts and more.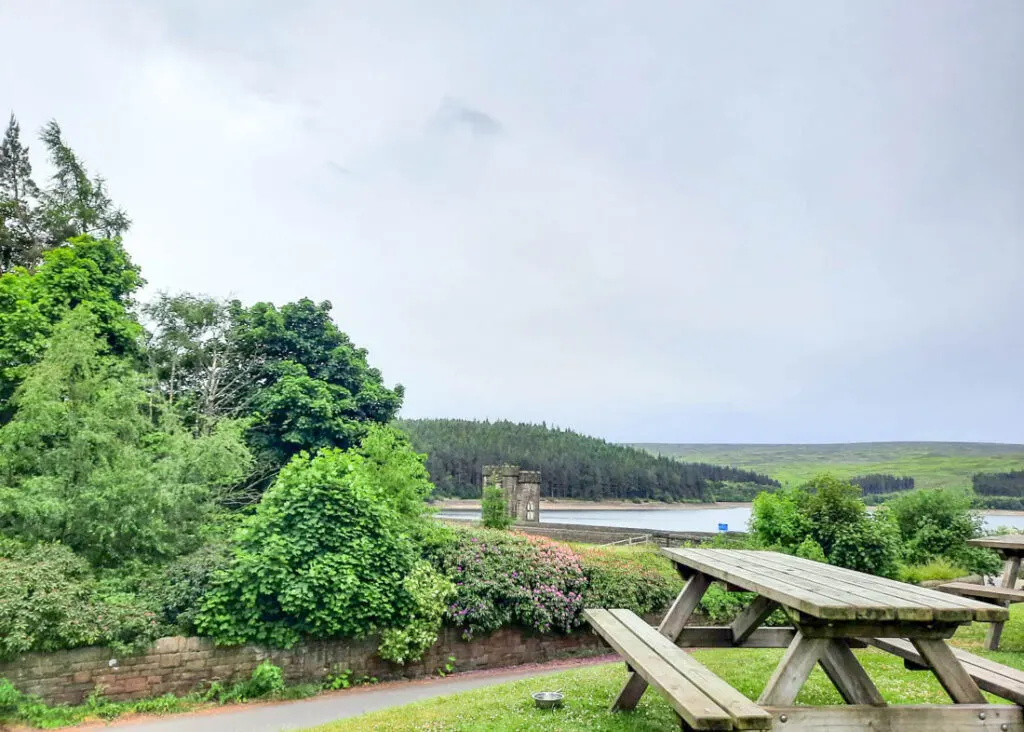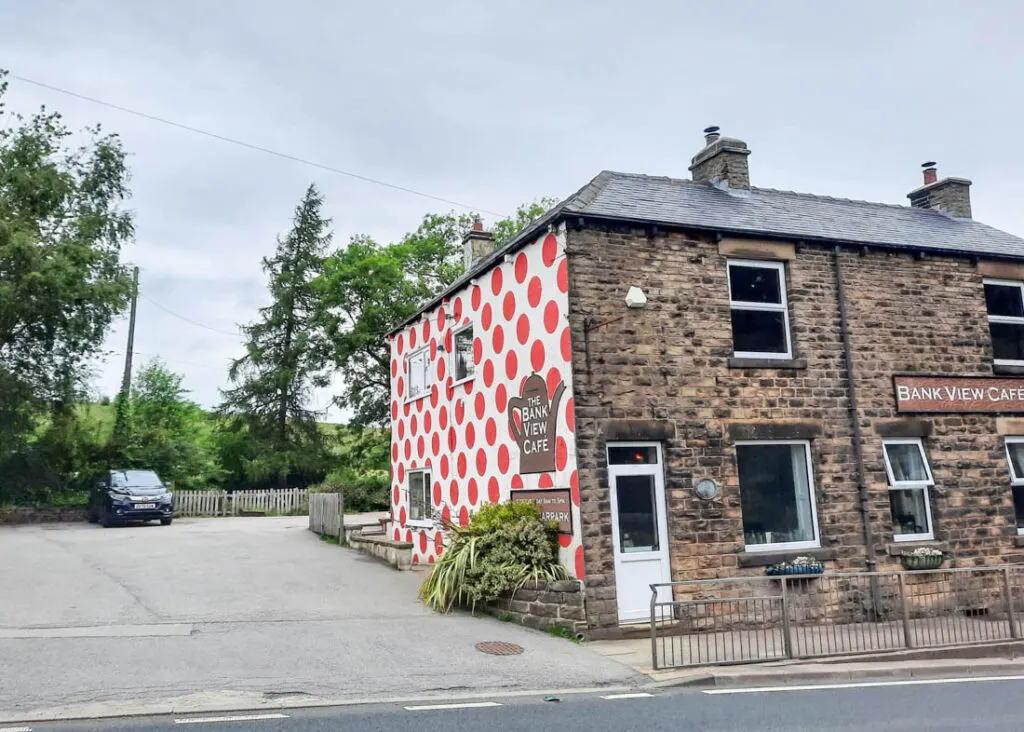 ---
You may also like to read:
Peak District reservoir walks
Broomhead Reservoir walk
Dale Dike Reservoir walk