The main reason a family ventures to the Peak District is to enjoy the great outdoors. With an extensive network of footpaths and trails that cover the National Park, there are some fantastic family walks, with boulders to climb, farm animals to meet, and epic views to take in from the dramatic escarpments.
This article contains affiliate links. Should you click to purchase, it is at no additional cost to you, but I receive a small commission.
We have been hiking with our boys in the Peak District since they were born and feel that during this time, we have nicely honed our packing technique for a days hike in the hills.
So if you're wondering what to take for a family hike in the Peak District, then read on. We suggest getting everything sorted the night before, as well as planning your route, so you can all get an early start.
Also check out our top tips for hiking with kids to keep the whinging at bay and get some miles out of those little legs.
Check out our Amazon shop recommendations.
1. Hiking boots
If you want to get some miles out of those little legs, wellies just won't do. And unless the ground is dry (a rarity in the Peak District) trainers just get wet.
Hiking boots for all the family ensure that everyone's feet are comfortable and dry.
Over the years we've put many a hiking boot to the test, and for us, KEENs last the distance and offer the best grip and comfort.
Sale
KEEN Unisex Kids Redwood Mid Wp-c Hiking Boot, Coffee Bean…
WATERPROOF: KEEN.DRY waterproof, breathable membrane to keep your kids' feet dry and comfortable…
TRACTION and COMFORT: Crafted with a higher-traction TPU outsole offers lightweight durability and…
WARMTH: KEEN.WARM 200G insulation helps keep your kids' feet warm in temperatures down to -25° F…
NO-FUSS FIT: Easy-on for them made with a wide, adjustable hook-and-loop strap and a lace-lock…
CARE TIPS: Stains can be treated by lightly rubbing a gum eraser in a circular motion over the…
2. Shoe coverings
If you plan on doing one of our Peak District pub walks, don't worry about changing out of your boots. Most places in the Peak District welcome muddy boots (and paws!)
Shoe coverings are sometimes available in the entrance. But if not (and to reduce waste) we take our own.
I like these ones as they're washable and reusable. These are only in adult sizes. But for the boys I tend to leave their muddy hiking boots at the door of the pub, and let them go in with just their socks.
TSHAOUN 4 Pairs Reusable Overshoes with Non-slip Sole,…
Fit Most Shoe Sizes: The slip-resistant shoe covers contains elastic band that can stretch freely…
Premium Material: The waterproof shoe covers are made of oxford cloth to protect your shoes from…
Anti-skid Design: The rubber bumps design on the soles of boot overshoes to increase friction for a…
Reusable And Easy To Clean: Our foot covers supports machine washing or hand washing, just use a wet…
Practical: It can be used in households, dust-free workshops. Ideal reusable shoe covers for your…
3. Clothing
Layers are key for hiking in the Peak District. You can sometimes experience four seasons in one day! The weather on a hill top or an escarpment can be very different from down in the valley. Even on a warms summer's day, we pack the waterproof jackets. If we don't use them, they're something to sit on when we fancy a rest.
I dress the boys in tracksuit bottoms, T-shirt and hoody. Shorts if it's warm. I DON'T bother with a change of clothes (see why below). Hubby and I wear hiking trousers and a T-shirt. In the cooler months, our layers consist of:
Mountain Warehouse Lightning 3 in 1 Kids Waterproof Jacket -…
Waterproof – Tested to 2,000mm
Taped Seams – All seams are taped to make this item fully waterproof
Rip Stop Fabric – Stop rips with this heavy duty fabric, longlasting and durable
Microfleece – Very lightweight fleece, provides warmth without weight. Ideal layer in cold weather
Adjustable cuffs – Easily adjustable with Hook and Loop fastening, for a perfect fit
Mountain Warehouse Pakka Kids Waterproof Over Trousers -…
IsoDry – Waterproof & breathable material allows moisture out & prevents rain getting in
Waterproof – Tested 1,500mm
Taped Seams – All seams are taped to make this item fully waterproof
Lightweight – Great for travelling, comfortable to wear and easy to pack
Packaway Bag – This item comes with its own 'stuff' bag, perfect for light travel
Kids Thermal Winter Warm Underwear Set Long John Bottom and…
KEEP YOUR LITTLE ONES WARM: This kids thermal underwear base layer gives protection against the cold…
FULL SET: Long sleeve top and long john legging trousers included. These can be used for boys…
Thermal trouser and thermal top. Great for those cold winter days, school, ski/snow holidays,…
SOFT AND COMFORTABLE: Our thermal underwear is has some natural stretch for the perfect fit.
BUY WITH CONFIDENCE: This set is covered by our Britwear 101 day guarantee.
We love the Mountain Warehouse 3-in-1 jackets, consisting of a rain jacket and fleece that can be worn together or individually. They also make them for adults too.
Mountain Warehouse Fell Womens 3 in 1 Jacket -Water…
Water-resistant – Treated with durable water repellent (DWR), droplets will bead and roll off the…
Detachable Inner Jacket – This clothing can be worn on its own or with the outer
Microfleece – Very lightweight fleece, provides warmth without weight. Ideal layer in cold weather
Packaway Hood – Simply roll up the hood and pack away into the collar pocket
Lots of Pockets – Plenty of storage space to keep your belongings safe
Mountain Warehouse Fell Mens 3 in 1 Water Resistant Jacket -…
3-In-1 Jacket – Wear three ways, outer waterproof shell, inner lightweight jacket and both together…
Water resistant – Treated with Durable Water Repellent, droplets will bead and roll off the fabric
Detachable Inner Jacket – This clothing can be worn on its own or with the outer
Lots of Pockets – Plenty of storage space to keep your belongings safe
Adjustable Fit – Easily adjustable for a comfortable fit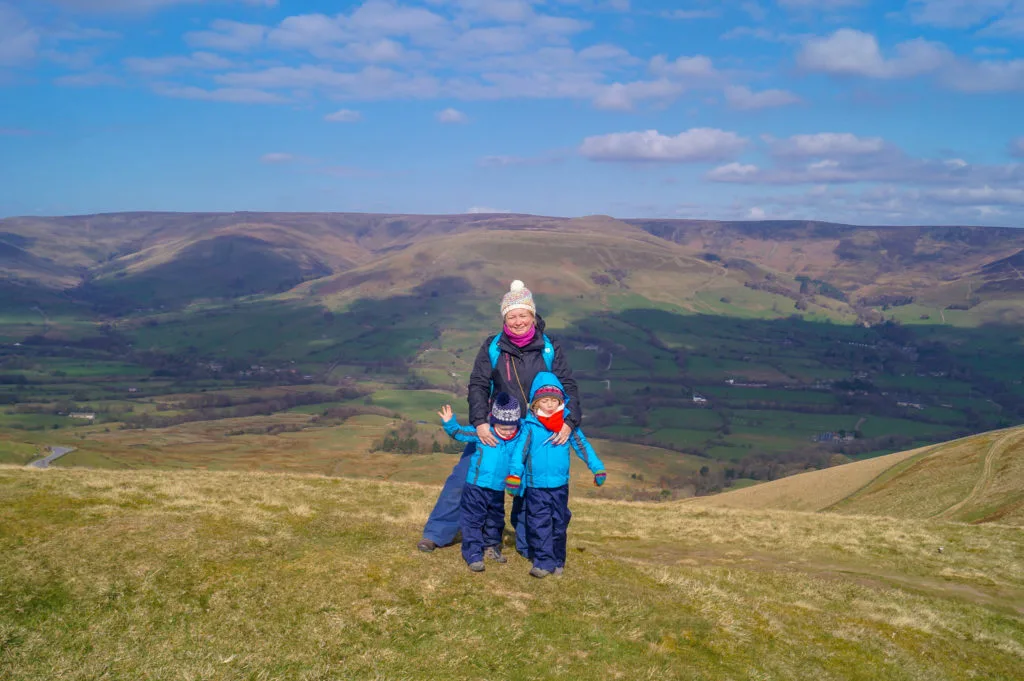 For those cold, wet days, I also pack these waterproof trousers for the boys, which go over their tracksuit bottoms. These are so handy as they keep the boys dry when rolling down hills, and double as a spare pair of trousers if there's ever an accident.
In the cold winter months, woolly hats, a Peak District Kids snood, gloves and thermals are a must! Just make sure you have the space in your bag to carry these items when they start stripping off.
4. Snacks and water
THE MOST IMPORTANT item to pack in your day sack. A bit of bribery always helps in getting your little ones to walk further! Embrace the tupperware to avoid food items getting squished. Fruits and sandwiches are always in our snack tub, but Haribo and marshmallows are always handy when nearing the end of a hike.
Also make sure you have enough water. There is generally nowhere along walks to top up water bottles, unless you pop into a pub.
We also take a flask of hot chocolate.
Sale
Bestseller No. 1
Thermos Flask, Cranberry Red, 1.2 l
Thermos vacuum insulation technology for maximum temperature retention, keeps hot for 24 hours and…
Durable stainless steel interior and exterior with insulated stainless steel serving cup
Cool to the touch with hot liquids and sweat-proof with cold
Twist and pour stopper allows you to pour without removing the stopper
5 year guarantee
Bestseller No. 2
Sale
Bestseller No. 3
Thermos 184807 Stainless King Food Flask, Cranberry Red,…
Thermos vacuum insulation keeps food hot for 9 hours or cold for 14
Durable stainless steel interior and exterior
Insulated lid doubles up as a bowl
Includes full size folding spoon
Exterior remains cool with hot liquids and condensation free with cold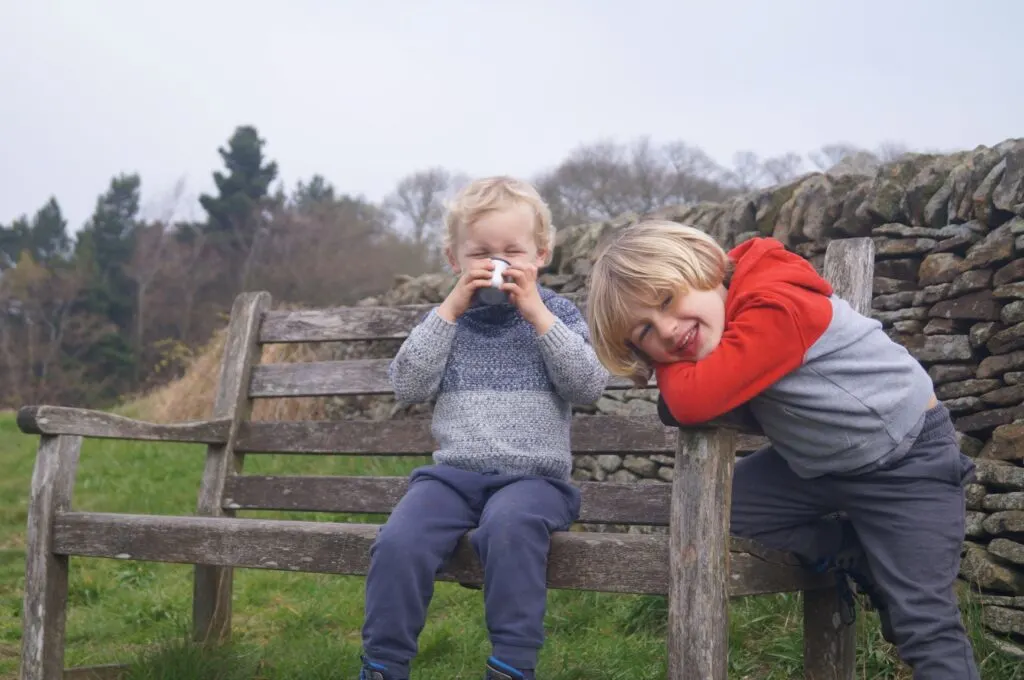 5. Waterproof map case
If you've printed out one of our downloadable walking guide, make sure you have a waterproof map case, to keep your instructions dry!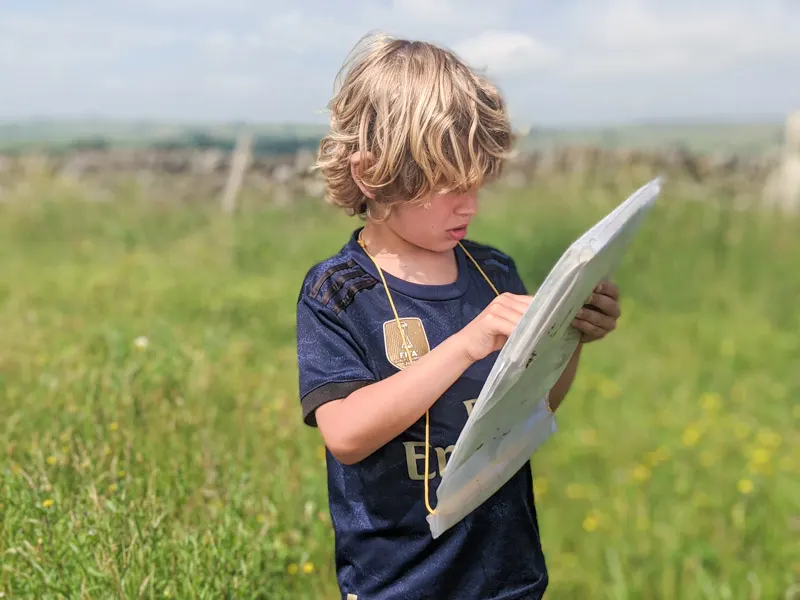 6. Ordnance Survey map
Google Maps doesn't show all the footpaths in the UK. An Ordnance Survey map is an absolute essential to knowing exactly where you are. Plus all the Peak District Kids walks detailed on this site use OS Maps.
Whilst you can view OS Maps on your phone and there are other apps to use for hiking on your phone, I'm old fashioned and prefer a good old paper map. It's also a good back up should your phone battery die, or if it's too wet to have your phone out. Plus, if I had to check my route on my phone I know I'd be tempted to check my emails. So instead, I completely switch it off, and wander the hills with my paper map and my boys.
You need the OS Active Maps for the Peak District. There are two that cover the National Park.
Sale
7. Waterproof phone pouch
Phone batteries don't cope very well in the cold and wet. A waterproof phone pouch is a good idea.
But if you plan to follow the a Peak District Kids walk guide on your phone, a waterproof phone pouch is a necessity.
KKM Waterproof Phone Pouch, IPX8 Waterproof Phone Case Cell…
[IPX8 Waterproof Certification] With excellent waterproof seal performance (IPX8 rating), this 100%…
[Highly Sensitive Touch] Featured high-quality soft TPU material, the waterproof phone case is…
[Wide Compatibility] KKM dry bag is suitable for almost all cell phones up to 6.9 inches, such as…
[Transparent and Portable Design] Clear Window on both front and back sides, this waterproof case is…
[Applicable sites] KKM water proof phone pouch is specially designed for outdoor activities such as…
8. Picnic mat
Our family walks always involve a lot of stopping for play and snacks, so a waterproof and compact picnic mat is essential. We love the PACMAT from Rubberstuff as it's lightweight, waterproof, big enough for all four of us to sit on, AND… it comes in a very awesome design with the OS Map of the Peak District!
Click here to check prices and purchase your Peak District PACMAT.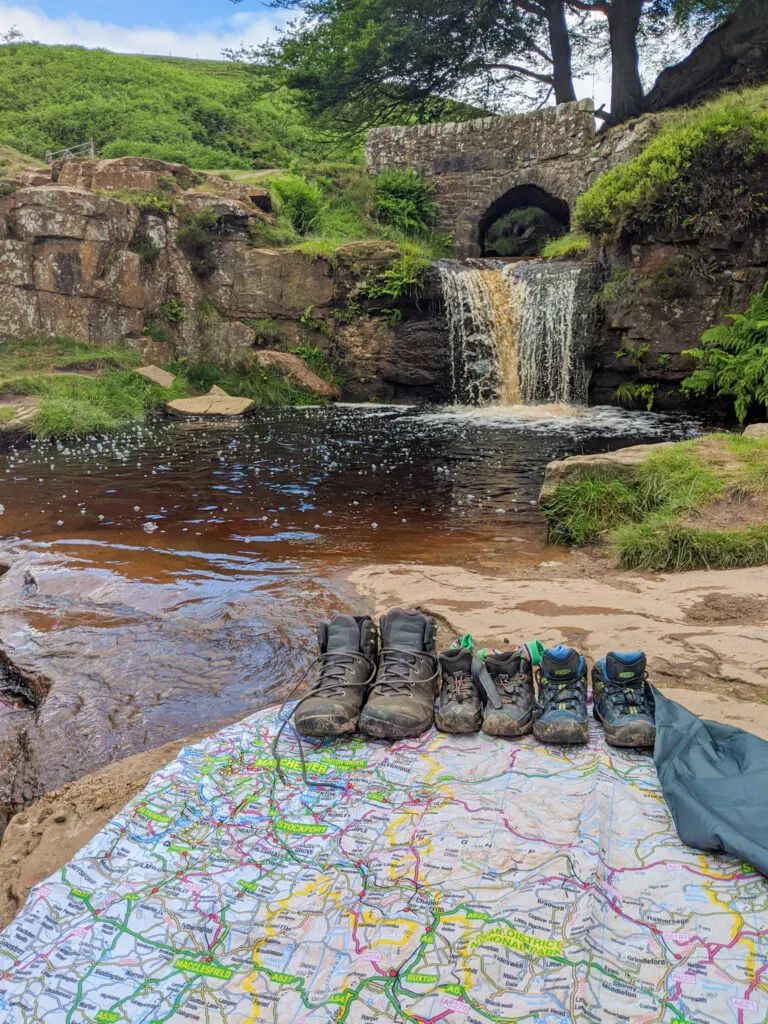 9. First aid kit
It's amazing the power of a plaster after a knee scrape! With all the jumping and climbing that takes place on our walks, there's always someone that manages to scrape a limb.
In this little pouch I keep: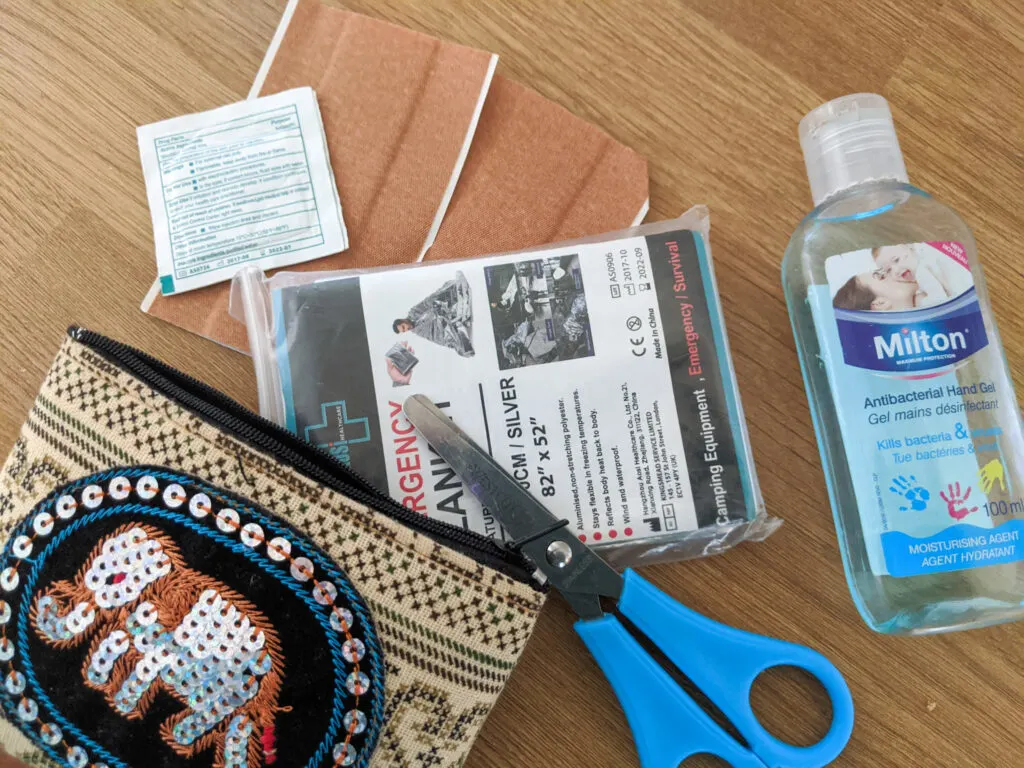 Sale
Fabric Wound Dressing Strips 6m | Cut to Size Large Wound…
Large Plaster Strips to Cut – Our large wound dressing strips fabric can be cut to desired size and…
All Around Protection – Our fabric plasters are skin-friendly plasters that protect against…
First Aid Must Have – Our breathable and flexible padded plasters has a strong adhesive that will…
Flexible Fabric – Our healing plasters were designed to be used on joints and areas with high…
Good Value – You will receive a 3 pack of 2m large strips, 6 meters in total.
Sale
Silverline 226306 Emergency Blanket 2pk 1m x 2m
Highly visible
Provides protection in all weather conditions
Ideal for survival, first aid and car emergency kits
Virtually weightless
Useful for walkers, runners, cyclists, swimmers, climbers and skiers
Sale
Citrox Protect Antibacterial Hand Gel 50ml – Antibac Hand…
ADVANCED GENTLE PROTECTION – Citrox Protect natural Antibacterial Hand Gel offers a dynamic blend of…
POWER OF NATURE – Harnessing the potency of nature, Citrox Protect is fortified with the patented…
RELIABLE DEFENCE – Designed for personal cleanliness for healthcare and non-healthcare use and…
ETHICAL & SUSTAINABLE – Citrox Protect is more than just an antibacterial hand wash gel – it's a…
TRUSTED UK BRAND – Citrox is committed to safeguarding the well-being of humans, animals, and…
10. Cash
It honestly still amazes me the amount of places that don't take cards, or the WiFi is down to use the card machine. More often then not the card machine fails to work at car parking metres. So always have change (coins) with you.
Also, many pubs have a minimum spend for using cards. Rather annoying when you just wanted to get a drink and ice-cream.
11. Bag to pick up litter
It's sad to say, but litter can be a problem in the National Park, especially on hot sunny days. People really should take all little home with them, but not everyone does. Not only is this unsightly, but it's harmful to the native animals and birds.
We always pack a bag with us to collect any litter we see along our walks. We all need to share the responsibility in caring for our National Park.
12. Phone and battery pack
Whilst I like to switch my phone off completely for our family hikes, I still use it as a camera. Plus, it's handy if there's an emergency. I always take a small battery pack with me too, in case my phone battery has drained.
Anker Powerbank 10,000 mAh, 323 Power Bank with USB-C Port…
Always enough energy: Thanks to a capacity of 10,000 mAh, the power bank can charge your iPhone 14…
Double-sided charging: The USB-C port supports fast charging in both directions to make it easy for…
Especially safe to use: With a fireproof casing, high-density polymer cells, an intelligent circuit…
Simultaneous charging: Thanks to the ability to charge two devices simultaneously with a maximum…
Box contents: Anker 323 Powerbank (PowerCore PIQ), quick start guide (English language not…
13. Nice to haves for the kids
For younger kids especially, it's nice for them to have some little items to engage them on a walk. These may include a camera, binoculars, scissors, strings, paper, or a book.
Often, however, kids' favourite toys on a hike are sticks and stones!
Although don't forget their Peak District Kids walks log book so they can keep a record of all their amazing hiking efforts. This is often best filled in at the pub after the walk.
14. Day rucksack
You need a bag comfortable and big enough to keep all these items in, with accessible pockets for snacks and drinks. Plus along the route we find that layers come off and on, so make sure you have a little extra space in your bag before you head off.
SKYSPER Rucksack 30L Hiking Backpack, Lightweight Travel…
Highly Water-Resistant: Our hiking backpack is made of 600D polyester and 210D nylon liner with…
Large Capacity: This travel backpack can carry 30 liters worth of gear for day hikes or 3 – 4 days…
Multi Pockets and Compartments: Apart from the hydration compatible main compartment, it has one…
Lightweight and Comfortable: LANTC30 daypack is a lightweight backpack for travel that can become…
Safe and Multifunctional: We have thoughtful designed an outdoor emergency guide inside the bag,…
---
You may also like to read:
Short family walks in the Peak District
Peak District cycle routes for families
Top tips for hiking with kids under the age of 5