The expansive moorland plateau of Kinder Scout is the highest point in the Peak District, and on a clear day you can see across to Manchester, making it one of the best Peak District views you can get. This is where 500 walkers trespassed en masse and walked from Hayfield to Kinder Scout to secure access right to open country for all to enjoy forever in 1932. It is an iconic hike, which is remote and technical in places.
There are two main options to climb Kinder Scout. You can either walk up to Kinder Scout from Hayfield (continue reading for this route) or from Edale (click here for our Kinder Scout from Edale walk). For either route, be prepared for a bit of a climb; your efforts will be rewarded with incredible views on a clear day!
This walk will take a full day with kids, so get an early start so you've got time up your sleeve, and avoid doing this walk in the winter months when there are short daylight hours. This is quite an epic Peak District hike with kids.
Disclaimer: This post contains affiliate links. Should you click to purchase, it is at no additional cost to you, but I receive a small commission.
If you are planning a visit to the National Park, please arrive early or late in the day to avoid crowds if visiting over sunny weekends or school holidays. Please also take all litter home with you, don't bring BBQs and park your car in designated parking areas. Also, please use these walks as a guide; access and stiles may change.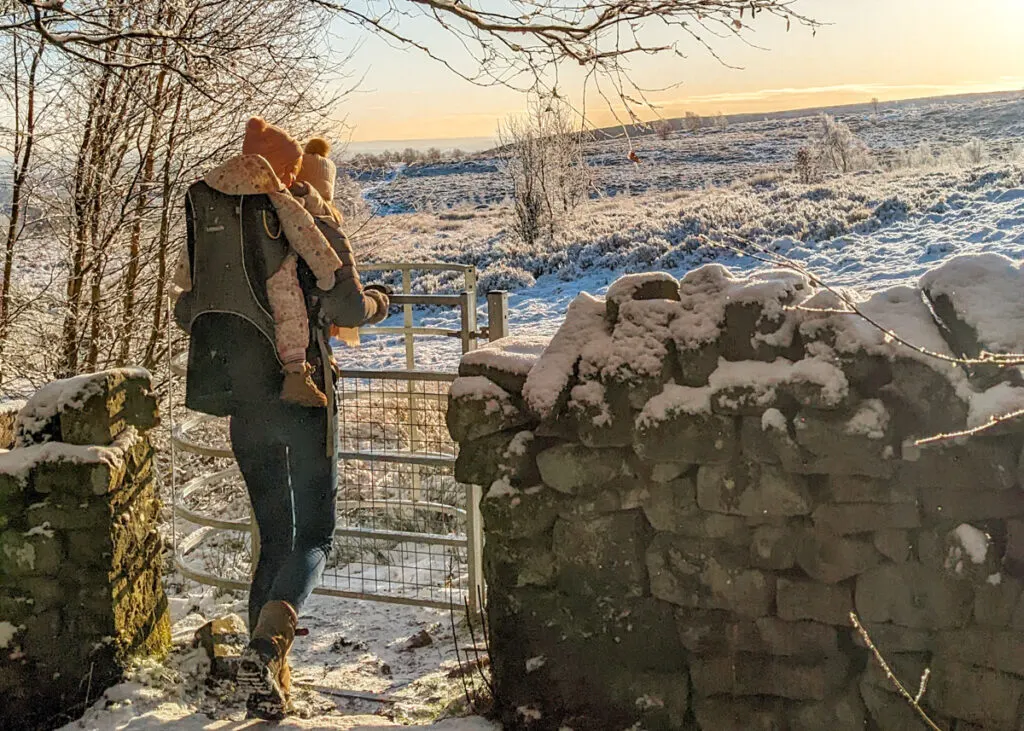 During the winter months, it's important to be extra prepared and safe when out walking and adventuring in the Peak District. The weather can change so quickly, especially on the exposed escarpments, and we don't want you to get caught out.
Read our top tips for safe winter walking with the kids.
FOLLOW US:
PARKING INFORMATION: Please do not rely solely on the postcode for parking directions. In the National Park, a postcode can cover a large area. Postcodes are only provided as guidance. Please either use the Google Maps point provided for every walk, or what3words.
Do check out our top tips for hiking with young kids, as well as our essential items to take on a family hike in the Peak District.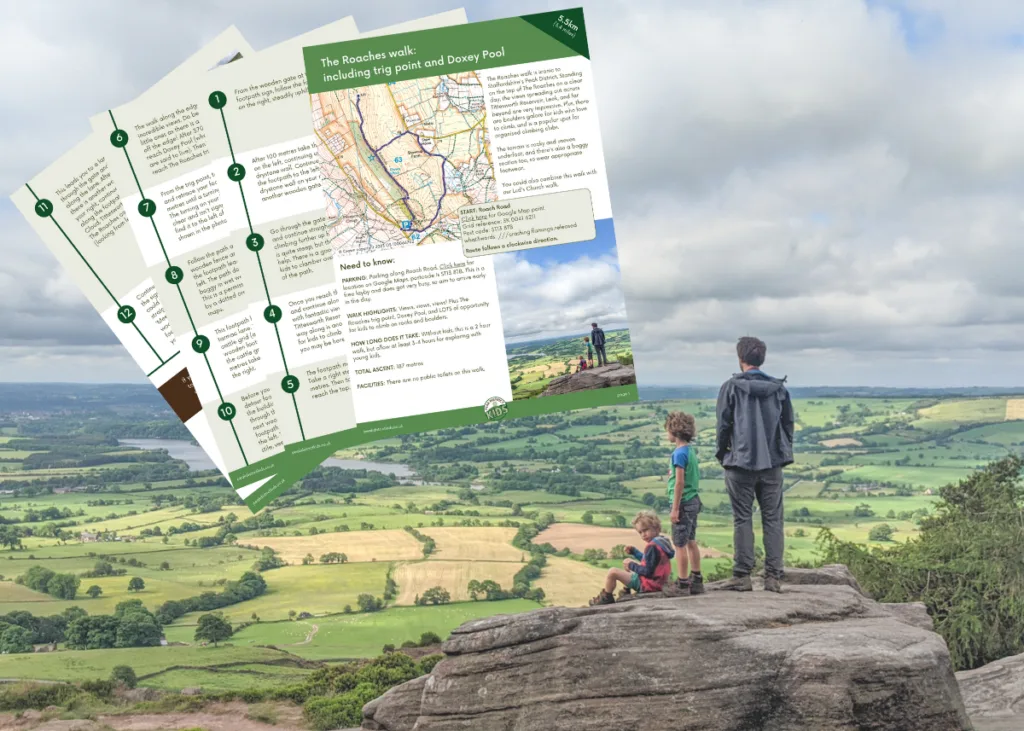 Download and print out our walking guides ready for your family walk. There are over 80 downloadable walk guides available, and these include all the main Peak District family walks, pram-friendly walks, and toddler walks.
Each printable download is just £1.50, whether it's a short 1km stroll or an epic walk up Kinder Scout.
Top tips for hiking Kinder Scout with kids
Pack lots of snacks to keep the kids going.
Have lots of little breaks along the way, rather than aiming for big long breaks.
The weather can change very quickly up there, pack an extra layer than what you're hiking in.
Only do this walk in good hiking boots. This walk is technical in places (by this I mean you need to get on your bum at times).
Consider taking water purification tablets so you can fill up your water bottles from streams safely enroute.
Take a compass and OS Map in case visibility is low.
Start your walk early in the day and during the summer months, so as to maximise daylight hours and allow yourselves lots of time.
Consider camping the night before and after at Hayfield Campsite. This means you don't have to drive the same day, and you're sorted for parking. We left a bolognese cooking in a slow cooker in our Mazda Bongo for our return and those cold beers in the fridge were very much appreciated.
Hiking poles are a good idea for the parents.
Kinder Scout from Hayfield route map
On all Peak District family walks it's a good idea to have an Ordnance Survey paper map with you, even if you have your phone on you. For this walk you need the OS Explorer Map OL 01 (Dark Peak). It's also a good opportunity to show young kids the map features and get them started with map reading.
This Kinder Scout walk follow the below OS map in an anticlockwise direction.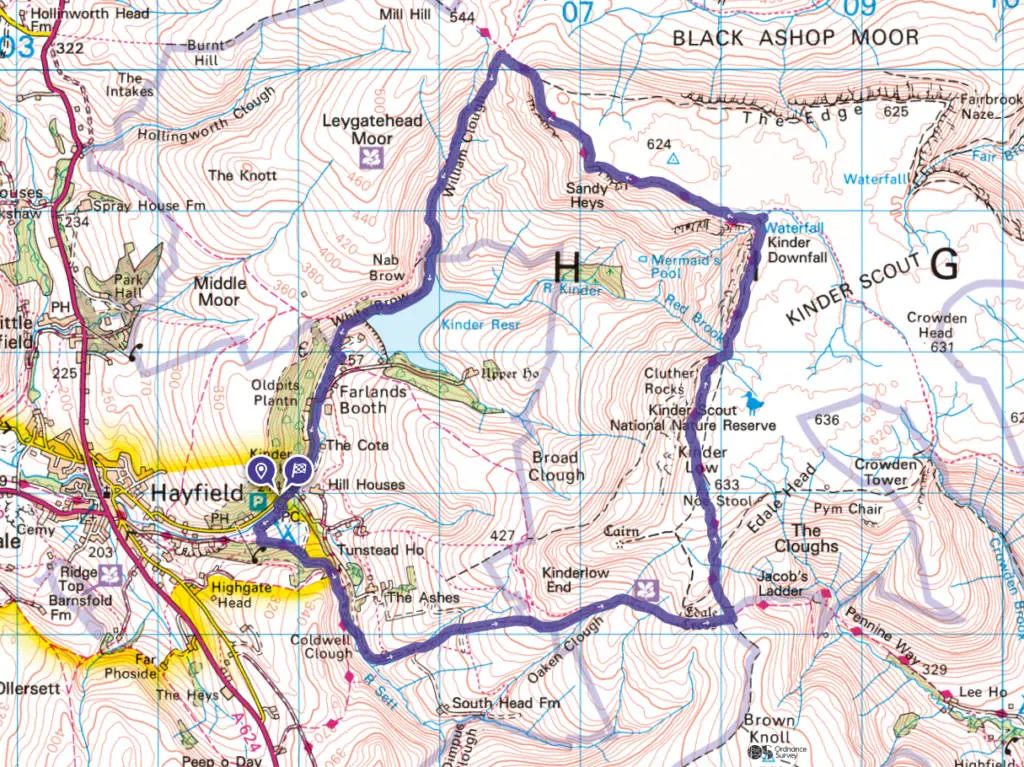 Get a printable download of this walk
Want to print off this walk guide rather than rely on your mobile? Then click here to download the PDF to print out at home. Perhaps print out a copy for the kids to follow the step-by-step directions and/or photos? It's a great way to get them engaged with the walk and gives them a sense of responsibility.
All printable downloads are £1.50 each. Click here for the full list of Peak District Kids printable downloads.
Please note that your download link expires 72 hours from order, so make sure you save your PDF somewhere where you'll remember it. If you are unsure where your download folder is on your mobile device, we recommend you download the PDF on your laptop or desktop.
Need to know
DISTANCE OF WALK: 14km (8.7 miles)

TYPE OF WALK: circular and challenging. There are almost no flat sections, and coming down William Clough is very steep.

PARKING: Bowden Bridge Car Park. Click here for location on Google Maps, postcode SK22 2LJ. There are only 27 spaces here, so arrive early to find a parking spot. The pay machine is coins only. All day parking is £4.75. Alternatively, Or camp the night before at Hayfield Campsite run by The Camping and Caravanning Club.

WALK HIGHLIGHTS: An iconic walk with epic views. Edale Rocks, Kinder Low Trig Point, Kinder Downfall.

HOW LONG DOES IT TAKE: Allow 8 hours (a full day) to do this walk with young kids.

TOTAL ASCENT: 599 metres

PUBLIC TOILETS: There are no public toilets on this walk, though there are council toilets across the bridge from Bowden Bridge car park.
The route
Many people do this route in reverse, starting with the iconic William Clough route up. However, William Clough is a steep ascent and following this route anticlockwise allows for a more gradual ascent with little legs.
START: Bowden Bridge Car Park
Click here for Google Map point
Grid reference: SK 0487 8692
Post code: SK22 2LJ
what3words: ///land.cools.trio

Route follows an anticlockwise direction.
1. Cross the road from the car park into Hayfield Camping and Caravanning Club site and walk to the main entrance. Pick up the footpath that crosses through the campsite and continue through the woods for 50 metres. This leads you through a gate to then follow the path up to the left. This is a steady climb on a rocky path, and soon you will spot the campsite below to the left.
2. Keep following the path steadily up hill for about 700 metres until you reach the gate in the photo below.
3. Go through the gate and follow the footpath down to meet a paved footpath. The views here up to Kinder are beautiful. Enjoy the steady pace downhill until you reach a stream. Go through the gate and start your steady climb uphill towards Kinder Plateau.
4. It's a steady 3km hike uphill on a rocky path. Take your time and allow yourself some rest stops to take in the views. Though it is a steady incline and not too steep. Be wary of mountain bikers descending at speed.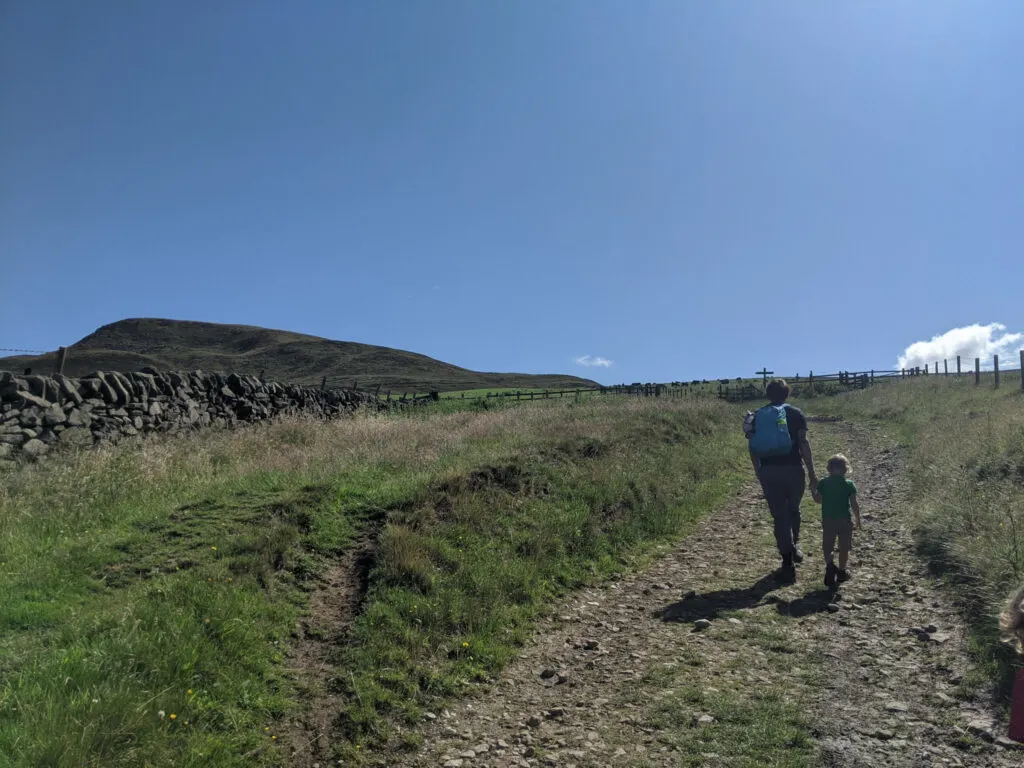 5. You then meet the signpost on the left for the Pennine way. This is the final uphill push of 250 metres onto Kinder Plateau. You may notice that it gets busier here as you converge with hikers coming up from Edale to Kinder Scout.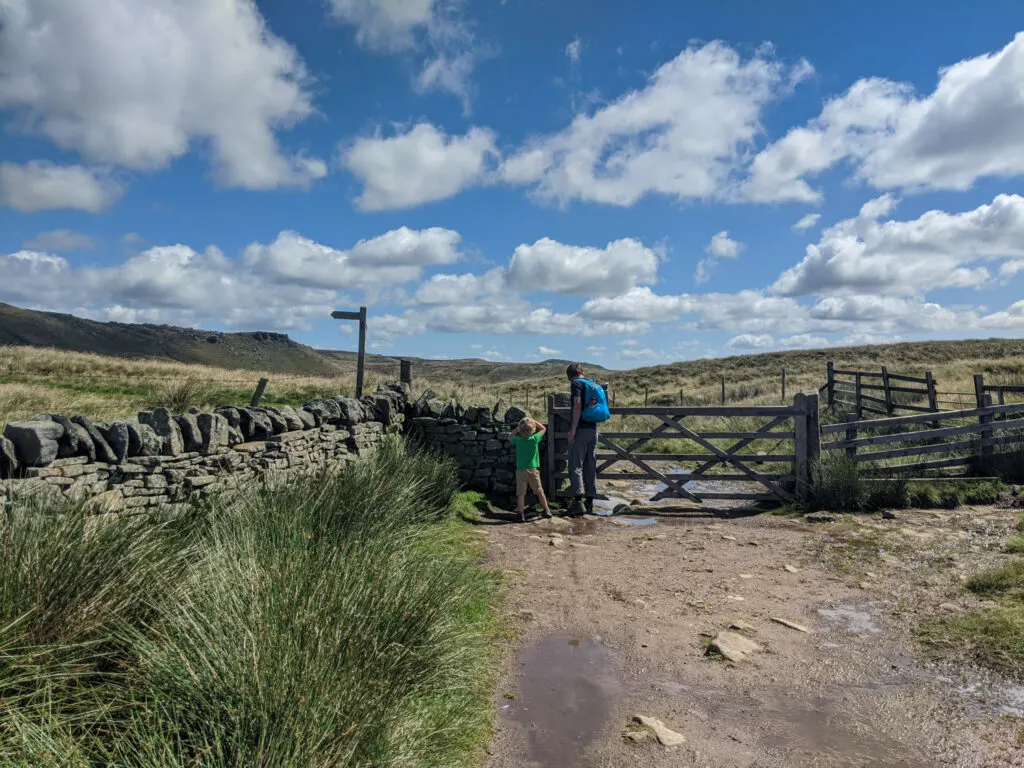 6. Take a breather at Edale Rocks and let the kids enjoy clambering over them.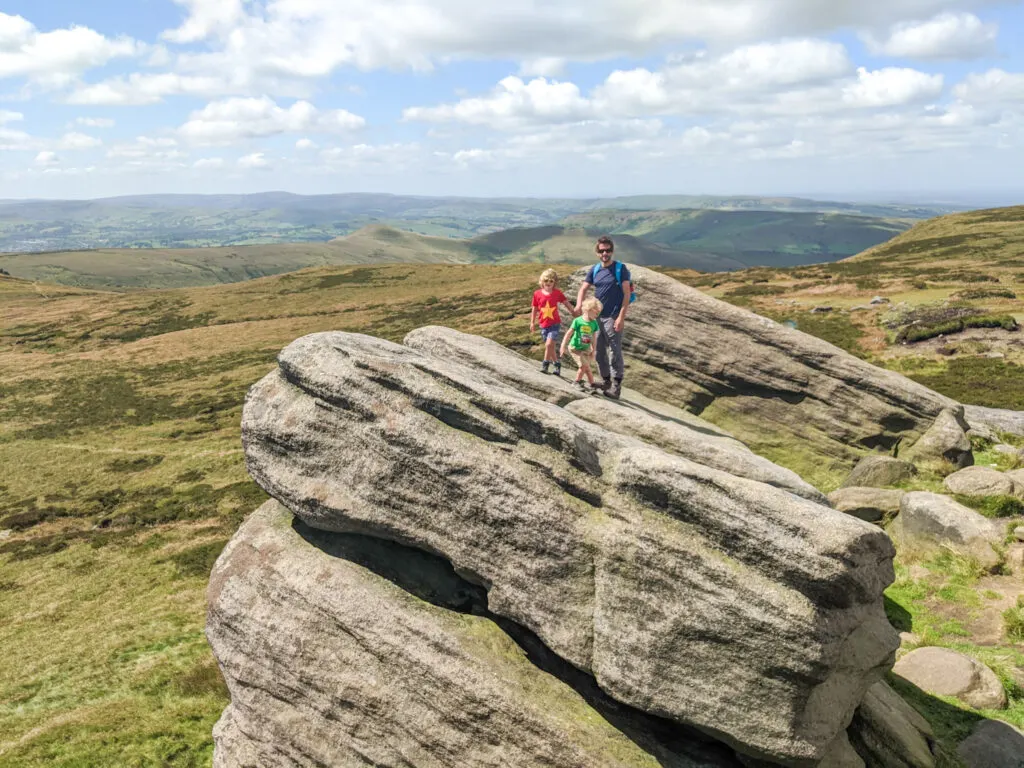 7. From Edale Rocks, follow the path further along (and to the left) towards the Kinder Low Trig Point, which is just off the main path. At 633 metres, it's the highest point on Kinder Scout and the highest point in the Peak District. It's also the end of the climbing, and you will mostly be heading downhill from this point onwards, although along the edge of the Kinder Plateau is relatively flat.
8. Do be warned that Kinder Low Trig Point is not the half way point; it's actually closer to Kinder Downfall. Follow the footpath that leads along the edge of Kinder Plateau towards Kinder Downfall for about 2.3km. On a clear day you can see across to Manchester. The path along here is rocky with lots of boulders to jump off. It's a good section to play, 'The Floor is Lava'.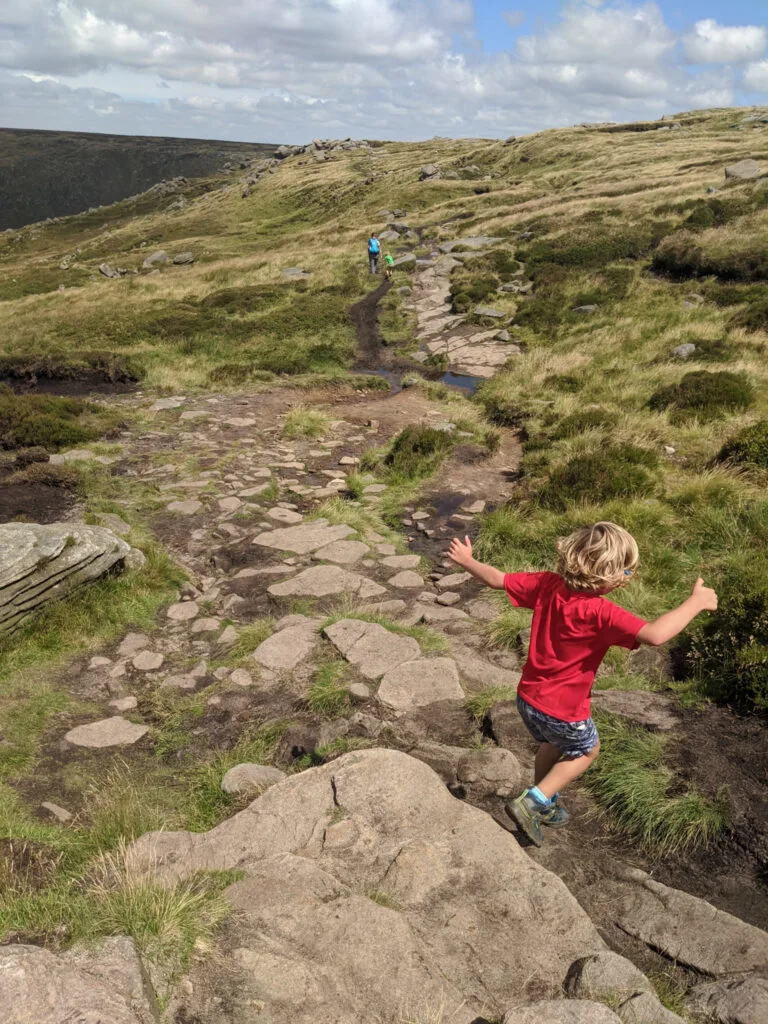 9. Kinder Downfall is a good stopping point. The waterfall is very impressive (although you can't actually see it from where you cross) and there are lots of boulders to perch and take in the view, or perhaps take your hiking boots off and sooth your weary feet in the stream.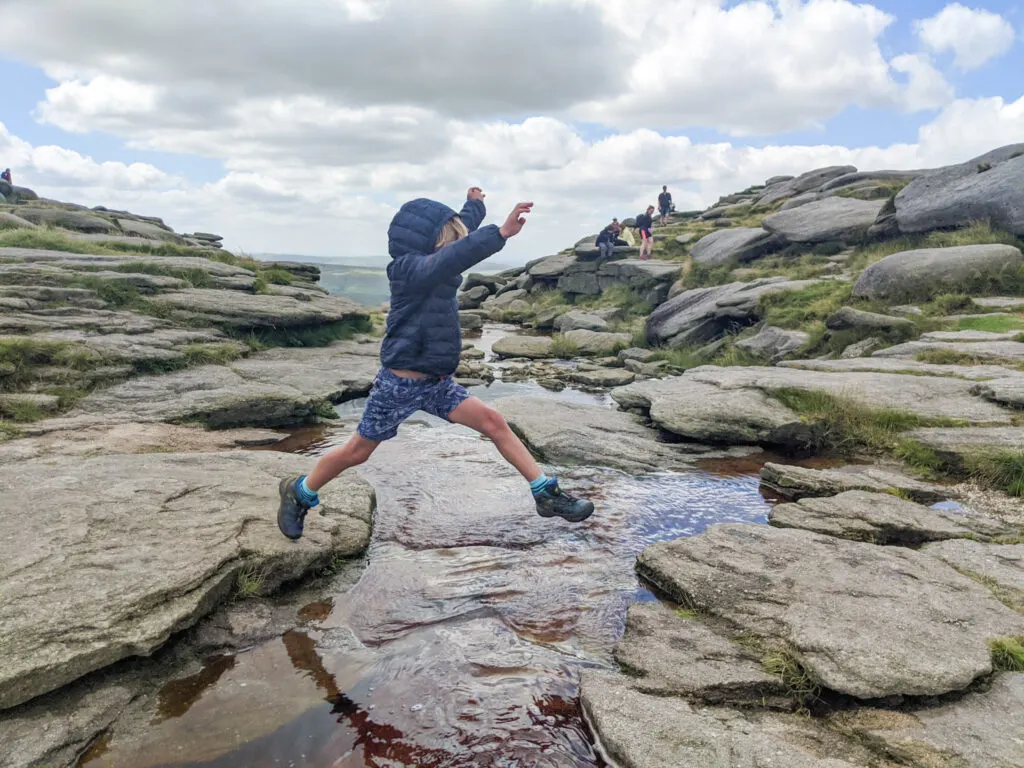 10. From Kinder Downfall, the footpath continues along the plateau edge for a further 2km, before descending steeply to the start of William Clough. The footpath leads you to an intersection (shown in the second photo below, to left). Make sure you look back behind you to appreciate the distance you have walked with your kids along the edge of Kinder Plateau.
11. It's a tricky descent down William Clough towards Kinder Resevoir. Expect to get on your bum at times to climb down sections. The footpath frequently criss-crosses the stream flowing downwards.
12. Once you reach Kinder Reservoir, follow the footpath along it's north-eastern shore, to finally exit on to the top of Kinder Road. Finally a flat section!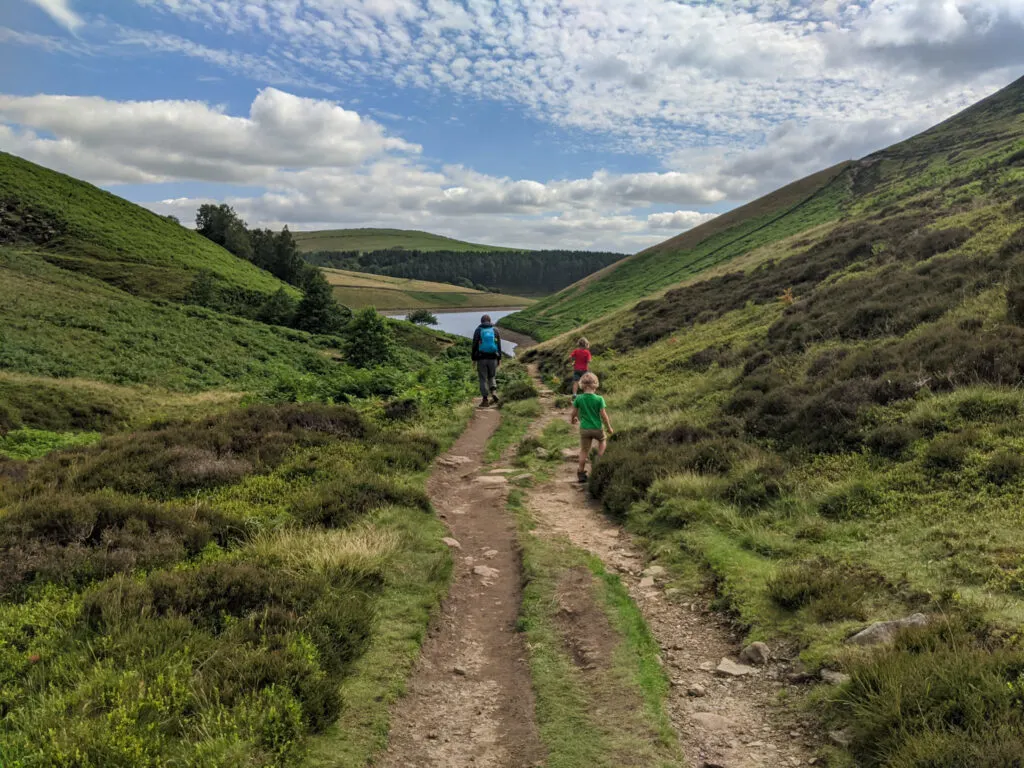 13. Follow Kinder Road back to Bowden Bridge Car Park.
Final thoughts on hiking Kinder Scout from Hayfield with kids
I'll be honest, I was nervous about this walk and how the boys would cope (they were 5 and 7 years old at the time). But they absolutely amazed me and I'm beyond proud of them! This walk is so fun for them with all the boulders to climb and uneven paths, they were in their element. I just wish I had their stamina, as I was knackered by the time we started descending William Clough (I should have brought the hiking poles).
We totally lucked out on the weather and it certainly made all the difference having those epic views to reward our efforts. Not sure we would have found it as easy on a windy, rainy day with low visibility.
If you're thinking about hiking Kinder Scout with kids, do it! Our advice is to get an early start, take your time, keep a steady pace, and pack lots of snacks!
---
You may also want to read:
Short and easy Peak District walks with kids
Hayfield campsite: Camping and Caravanning Club REVIEW
Kinder Scout from Edale walk (12.7km, circular)