On this Peak District Kids website we share over 60 free walking guides for parents planning adventures in the Peak District with their kids. Every single walk has been tested out by kids for kids, so you can be assured that it's a walk that will kids will enjoy. Each walking guide comes with parking details, information about distance / difficulty / timing, and a map. But if you're not confident reading a map, we also provide in the walking guide, step by step route instructions with photos.
On this website you can find:
We're all about encouraging and supporting families in getting out and about responsibly in the Peak District, and our walks have enabled so many parents to do just that!
Looking for moral support on your Peak District walks?
But sometimes you need some moral support on your walk, we get that.
Perhaps you're not confident reading directions whilst the kids are in tow after a sleepless night (those little monkeys can been distracting and demanding!), or maybe you just want to make your walk more fun and connect with likeminded parents.
We often receive messages from parents (especially of babies and toddlers) who would like to join a guided group walk with their little ones. Peak District Kids doesn't actually offer this service, but we know of two exceptional organisations who do – Blaze Trails (which mostly covers the Dark Peak) and Hikes with Tikes (which mostly covers the White Peak). Plus these groups often use the Peak District family walks from this website, so you can check out the photos and route easily before you join a group guided walk.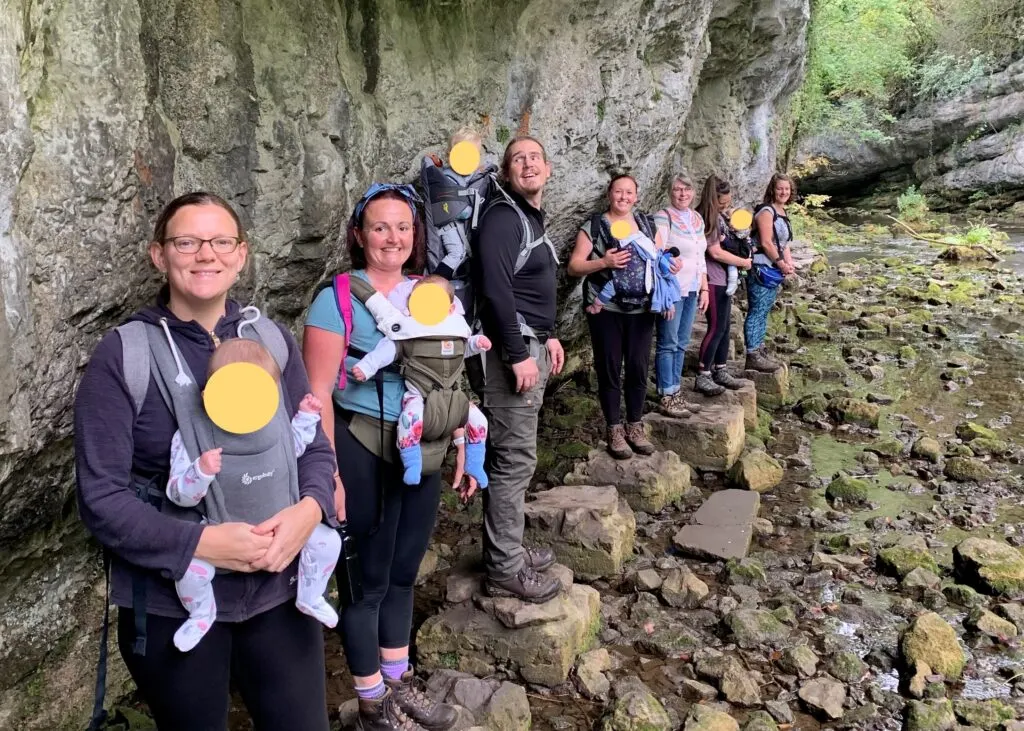 So we got in touch with Laura form Blaze Trails and Katy from Hikes with Tikes to tell us a little bit more about what they do and how you can get involved.
Please note that these two groups are in no way affiliated with Peak District Kids, and Peak District Kids holds no responsibility.
Blaze Trails
Blaze Trails is a UK-wide parent and baby walking community, with groups in the High Peak, Sheffield and Manchester, who all cover the Peak District.
We're parents and carers who support each other to get outdoors and go walking with our babies. We welcome all families, whatever their composition.
Walking is brilliant for our mental and physical health, but getting outdoors with a baby can feel daunting. We're here to provide you with the walking buddies, support and inspiration you need to make that step out into nature fun and totally achievable. We help people connect with nature, with their babies, and with other families.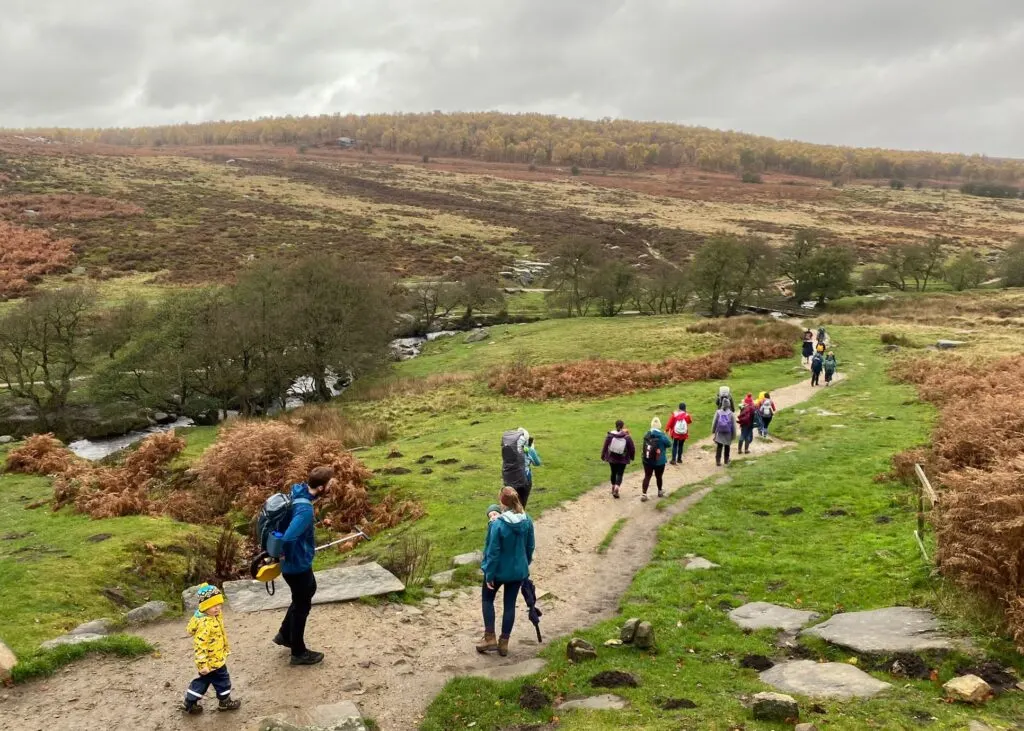 Do you have to pay?
All walks are completely free to attend. There is sometimes a charge for parking depending where the walk starts.
Do you need a car?
Most of our walks in the Peak District rely on a car due to the nature of the Peak District. Some of the Sheffield walks are public transport accessible.
What can be expected on a walk
We organise a real range of walks with an aim to be accessible to as many people as possible. Our walks range from buggy friendly walks in parks to sling-only walks up hills. A typical walk might be about 2 hours, and we often have an optional picnic, cake or lunch stop at the end. We always walk at the pace of the slowest baby, and stop for feeds and changes as needed. Details for individual walks are given on the events page so you can decide if it's for you.
People can be daunted about joining us for a number of reasons:
What if my baby cries? Babies cry! It's a lot less stressful in the great outdoors than in a little village hall. We'll always stop if they need feeding or changing. And babies in the fresh air being gently rocked don't actually cry that much.
Will I be too slow? Most of our walkers are recently post natal Mums… carrying their babies! We are not out to set records, there is plenty of stopping.
I don't know anyone! Most people come along on their own for the first time. And most people love it so much they come back. It's such an easy way to chat, there's normally never a quiet moment! Equally, if you want some quiet that's fine too!
What to take on a walk
A sling/carrier you are comfortable walking the distance in (or a buggy if it's a buggy-friendly walk).
Appropriate footwear (depends on the walk but usually walking shoes or boots).
Appropriate clothing for the weather, for you and your baby. Plenty of advice on how to dress your baby in various weather on the Blaze Trails website.
Food and drink for you and your baby.
Normal baby stuff like nappies.
If you forget something, there will often be someone who can help out.
How long are the walks?
Our shortest little legs walks are under 1km, and our longest walks are over 10km. Details of individual walks are given in the event descriptions and we encourage people to ask if there's anything they're not sure about.
When are the walks?
Most of our walks are on weekdays, sometimes at the weekend too. Details of all walks are in the individual groups.
Recommended age for walks
Most of our walks are for children who can be carried or pushed, but we have some toddles / little legs walks and get occasional school-aged siblings coming along. Our goal really is to encourage and support as many families as possible outdoors, so whatever your set-up, you will be welcome.
How to join a Blaze Trails walk
Join the relevant FB group:
Hikes with Tikes
Hikes with Tikes is a walking and hiking group for families and parents that enjoy the outdoors, hiking and connecting with like minded people. Hikes are organised for parents carrying babies in slings or backpacks and separate "hikes" for toddlers, preschoolers and primary school children.
Do you have to pay?
The walks are free to join and are organised by dedicated volunteers that love to share some of their favourite spots. You will sometimes need money for parking and in most cases they will include a stop at a pub or café (although there is no pressure to buy anything).
Do you need a car?
The walks take place all over the Derbyshire Dales and Peak District. Often the locations are more remote, but we also run walks that start from the middle of Matlock or Bakewell. Having a car certainly helps, but there are good bus services that will link you up to walks as well.
What can be expected on a walks
The walks that are for parents carrying babies are more strenuous and can cover distances of up to 7 miles over good Peak District terrain, which includes stiles, crags and uneven terrain. For Peak District walks with preschoolers and older, we make sure the walks are exciting and challenging to engage the kids. They can be up to 3 miles or more.
What to take on a walk
Appropriate clothing and supplies are essential. It can be a great idea to track the route or measure your steps, but you do not need a map. Whoever is organising the walk will inform you whether we will be stopping for a picnic or whether we will be going to a pub or café. The baby and toddler walks are mainly for baby slings, carriers or backpacks, but there is the occasional Peak District pram walk.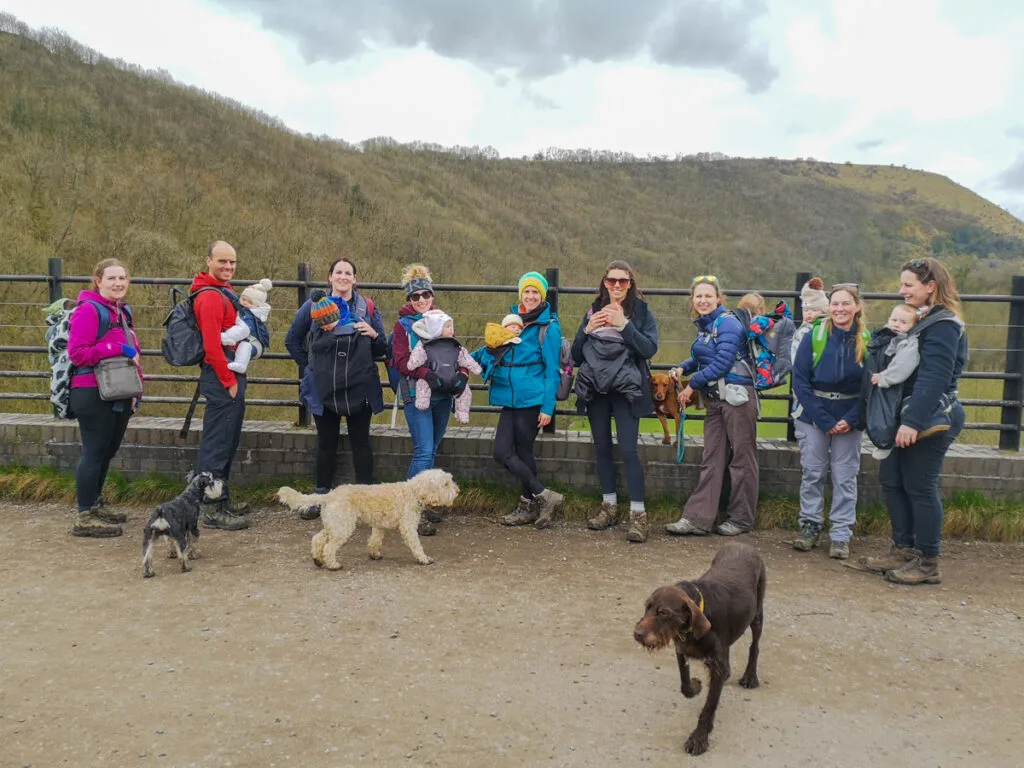 When are the walks?
The regularity of the walks very much depends on our volunteers. At times the hikes with babies have been weekly, but often this will come and go as parents return to work.
We are always looking for enthusiastic hikers to lead sessions, so if this is you, please contact us through the Facebook page. The group is also a place for people to meet up informally or find out if anyone would like to meet to walk.
Recommended age for walks
Children of any age can take part in the walks, as they can be adapted to meet their needs.
How do people join a Hikes with Tikes walk?
We have a Facebook group, @hikeswithtikes, which you can join to find out more and to volunteer
---
You may also like to read:
Family walks in the Peak District
Pram friendly walks in the Peak District
Toddler and pre-schooler walks in the Peak District