This post is regularly updated for things to do in the Peak District with kids, Peak District days out, and Peak District family attractions.
The Peak District, the UK's oldest National Park, makes for an idyllic weekend away or a week long holiday, and is perfect for outdoor loving families. With our hiking boots on and a picnic in our rucksack, we love nothing better than a long family walk in the Peaks. But there are also so many other things to do in the Peak District for kids, including exploring underground caverns, wild swimming, canoeing, riding old trams, meeting farm animals, and some super fun theme parks!
So here are our top family days out in the Peak District with kids (including ideas for things to do in the Peak District with toddlers). Whilst not all of these are within the National Park boundary, some are just outside and very easy to get to if staying in the National Park and include ideas for things to do with kids in Derbyshire. In fact, a handful of these activities in the Peak District are around the Matlock area, and if you are holidaying in or near to Matlock, have a read of our top things to do in Matlock.
Please check the attraction websites for up to date information if you plan on visiting. With regards the hiking and cycling, please arrive early in the day to avoid crowds if visiting at weekends and school holidays, and only park in designated car parks and spaces. Also, take all litter home with you, and keep dogs on a lead around livestock.
Click here to join our Facebook group! We have over 24k members sharing ideas and tips for exploring the Peak District with kids.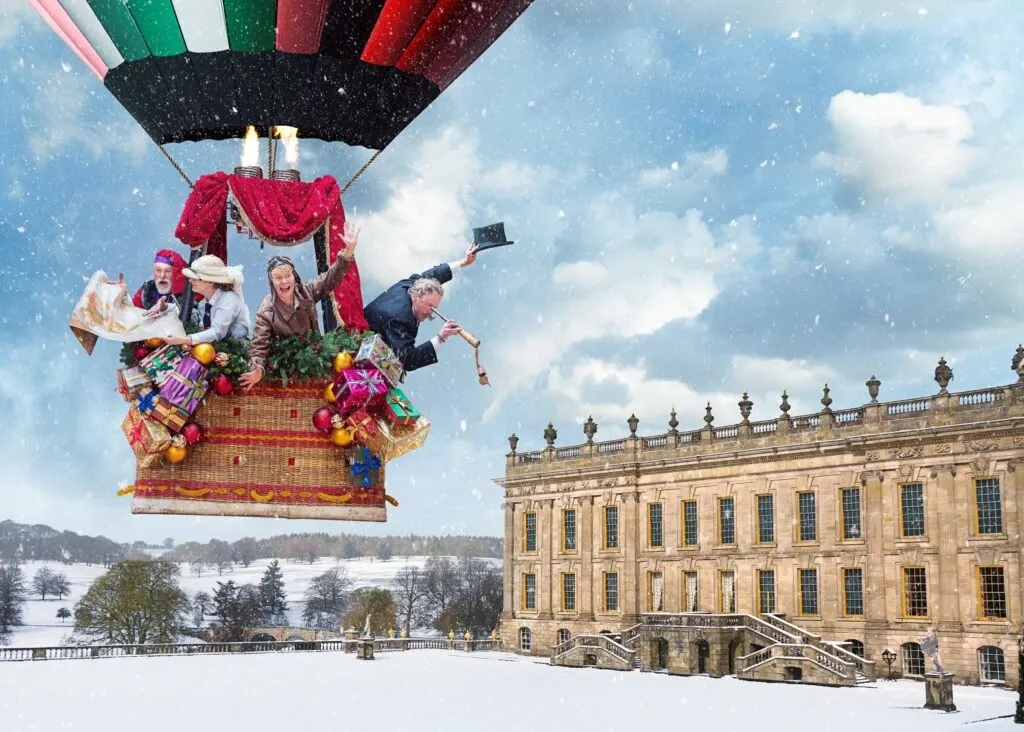 1. Go for a family hike
The number one thing to do with kids in the Peak District is hiking. With hundreds of public footpaths criss-crossing the National Park and gentle rolling hills that aren't too taxing on little legs, it's the perfect free activity.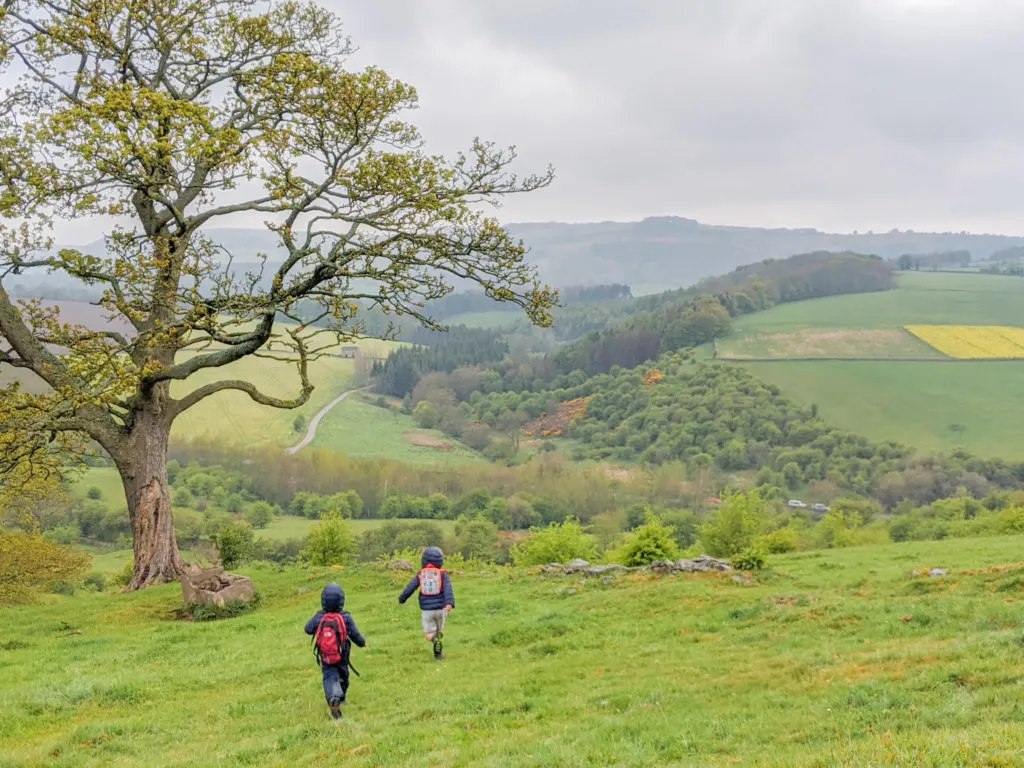 Check out our tried and tested family walks:
Our favourites for little ones are The Roaches or Padley Gorge. Or perhaps take them on our 5.4km Lud's Church Walk which leads you into a deep chasm, believed to be where Robin Hood and Friar Tuck would hide from the authorities!
Or if you're after something a little more strenuous, head to one of the prettiest Dales in the Peak District on our Lathkill Dale walk from Monyash, or perhaps take on the iconic 14km hike from Hayfield to Kinder Scout. This is where 500 walkers trespassed en masse to secure access right to open country for all to enjoy forever in 1932.
Also check these tips for hiking with kids to keep the whinging at bay, and ensure the kids are wearing good kids hiking boots; wellies just won't do.
2. Get on your bike
READ: The best Peak District cycle routes for families
There are lots of old railway tracks that have been transformed into traffic free routes for walkers, cyclists, horse riders and wheelchair users through some of the Peak District's most spectacular limestone dales. As these are traffic free and relatively flat, they're a great place to go for a family bike ride.
Plus, there are also some lovely routes around the reservoirs (including Ladybower cycle route and Carsington cycle route), although kids will need bikes with gears for these ones. The easiest one for young kids is the Matlock to Rowsley cycle path or Monsal Trail.
3. Heights of Abraham
READ OUR GUIDE: Heights of Abraham
Heights of Abraham is perhaps one of the best days out in the Peak District for kids, although technicaly it's just outside the National Park boundary in Matlock Bath. A cable car takes you up to Heights of Abraham for some stunning views, and your ticket also gives you entry to two caverns where you venture deep under ground and learn about the history of lead mining in the area. You can also hunt for fossils and there are two adventure playgrounds. Plan to spend a full day if visiting with kids.
Check the website for opening times and ticket prices. Heights of Abraham closes for winter. You can buy tickets in advance online, but you still have to queue in the same queue on entry, so you don't really save any time. Also, note that the only parking is at Matlock Bath Station. You have to pay extra to park here and it does get busy at peak season, so get there early.
4. Crich Tramway Museum
READ OUR GUIDE: Crich Tramway Museum
Crich Tramway Museum is a favourite Peak District attraction for families. Enjoy unlimited rides on the electric vintage trams, woodland walks with kid-friendly activities, and an indoor and outdoor playground.
There is also a large exhibition hall of old trams, although you're only allowed inside a couple of these, and a stroll along the recreated period street is a must. Many of the buildings along the street have been rescued from towns and cities across the UK, such as the Derby Assembly Rooms façade which came to Crich after a tragic fire, and the Red Lion Pub and Restaurant came all the way from Stoke and was re-built brick by brick.
Check the Crich tramway village website for opening times and ticket prices. Your ticket includes FREE return admission for 12 months and there are regular period events that are worth checking out. Do note that Crich Tramway Museum is also closed over the winter months.
5. Peak Rail
Ride an old steam train on this preserved railway line between Rowsley South Station and Matlock Platform 2.
There are special events running through the year from dining experiences to Santa Specials and an Easter Treasure Hunt, and they also have Kids Go Free Days throughout the year.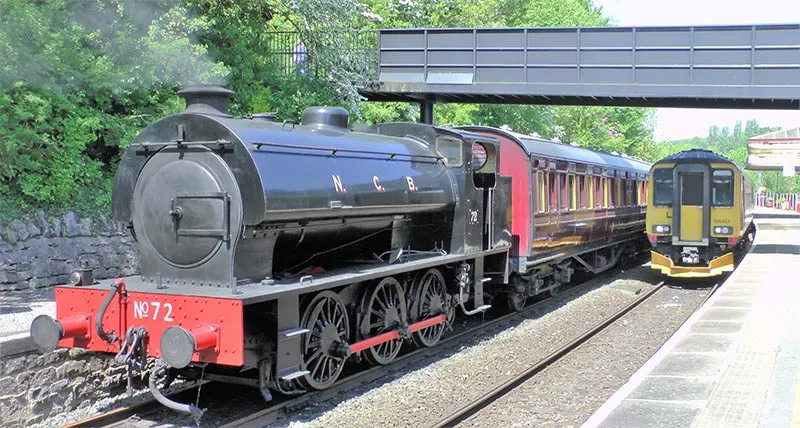 Check the website for up to date ticket pricing and timetables. A return trip takes 50 minutes.
6. Explore underground caverns
The caverns and caves of the Peak District are fascinating and unique places to visit, with their amazing rock formations, rare stones and amazing atmospheres. They are perhaps one of the best things to do in the Peak District when it rains as you are underground and the weather doesn't matter! Although do wrap up warm for the caves and wear footwear with a good tread, as it does get rather chilly down there even in the height of summer.
Castleton Caverns
In addition to those at The Heights of Abraham detailed above, The Castleton caves are some of the best show caverns in the country, and is home to:
Peak Cavern
With the largest cave entrance in the UK and the only natural cave in Castleton as it is almost entirely natural, carved out by melting glacier waters. This is the only Castleton cave that wasn't actually a mine. Instead, Peak Cavern was home to the rope makers who supplied the mines. And fun fact for the kids – Peak Cavern is also known as The Devil's Arse, so called because of the flatulent-sounding noises from inside the cave when flood water is draining away.
Click here for more information.
Speedwell Cavern
Visitors descend 106 steps, down to an underground canal to board a boat that transports you deeper into the cave system. It's brilliant fun, but not for the claustrophobic.
Click here for more information.

Blue John Cavern
With 245 steps in (and out!) of the cavern, there is a reasonable amount of fitness required, but the series of caverns you get to explore makes it absolutely worth it. It is home to eight of the fourteen known varieties of Blue John stone, a beautiful and ornamental fluor-spar. The mineral has been mined here for centuries and continues to be in the winter months. Do note that online bookings are not possible as there is no internet connection at the cavern. You just have to turn up on the day.

Treak Cliff Cavern
This Castleton cave is unique as you need to download an app to your phone to follow a self-guided tour around the cavern. So this one isn't really ideal for very young kids. The famous Blue John stone is also found here. Make sure you pre-book online before your visit.
Castleton makes for a lovely family day out in the Peak District. Check out our post about things to do in Castleton.
Buxton Caverns
There are also the vast limestone caves of Poole's Cavern, outside Buxton, to explore. Above ground here you'll find some lovely walks along marked footpaths to Solomon's Temple viewpoint, as well as GoApe (although this GoApe is for kids aged 10+).
Poole's Cavern is open all year round. Check out our full review of Poole's Cavern here.
7. Canoeing
READ: Canoeing in the Peak District with Peaks and Paddles
The River Derwent offers some fantastic canoeing opportunities for absolute beginners through to advanced rapids! For families and beginners, try out the ​Flat Water Canoe Adventure with Peaks and Paddles on the Cromford Canal though. Here the water is shallow (kids can stand up in it) and it's very flat with barely any current.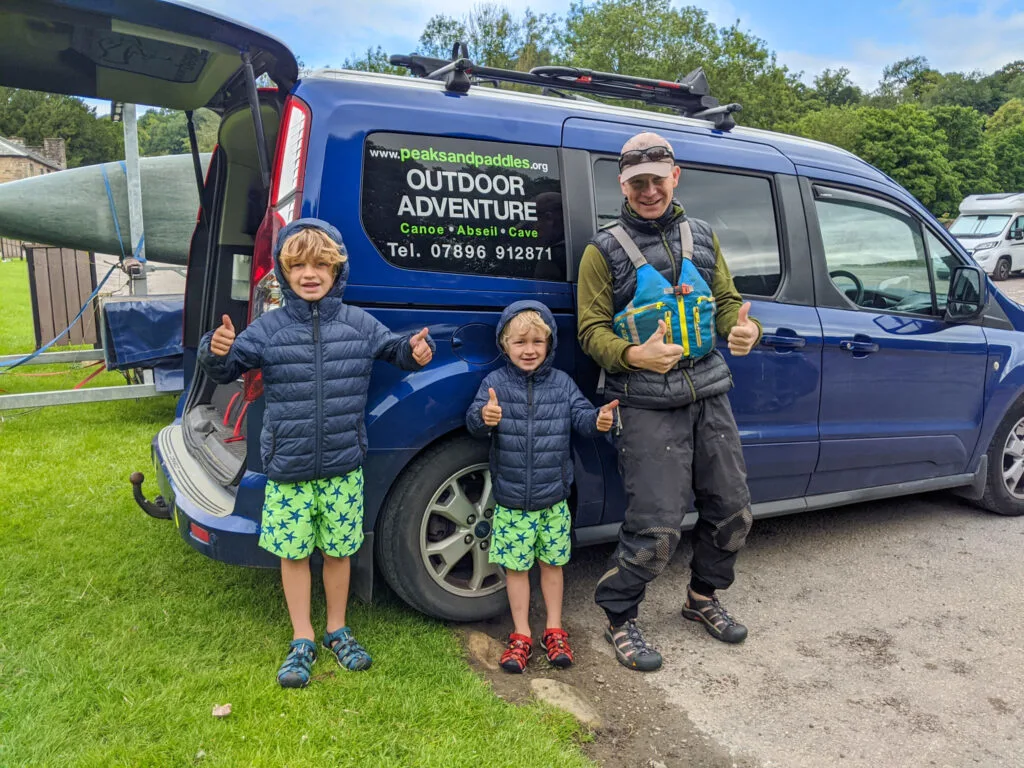 All equipment is provided, including expert tuition and games. Learning proper paddle technique is fascinating and makes for much easier work, and the games introduced along the way keep the kids engaged.
Alternatively, if you have your own kayak, canoe, or SUP, head over to Whaley Bridge Wharf just outside the National Park boundary, near to Buxton.
8. Wild swimming and paddling
The Peak District may be landlocked, but when it comes to wild swimming and paddling spots, there's plenty to offer. Unless it's a scorching hot day, pack the wetsuits as this is cold water therapy! The huge advantage of this activity is that it's one of the free things to do in the Peak District for families!
Some of the best Peak District wild swimming spots for a paddle or dip are:
Youlgreave – there's a man made designated swim area in the river
Our favourite for young kids has to be Youlgreave swimming on the River Bamford where a designated section of the water that has been carved out for swimming, with fresh water running through. There are even large stone slabs that acts as levels for very small kids. To the side is a grassy bank inviting you for a picnic. If you follow the river upwards, just 30 metres, the water is much shallower and perfect for a paddle.
If you're needing some warmer waters though, head to the heated outdoor pool in Hathersage (which is open all year round). There are also indoor swimming pools in Matlock, Buxton and Bakewell.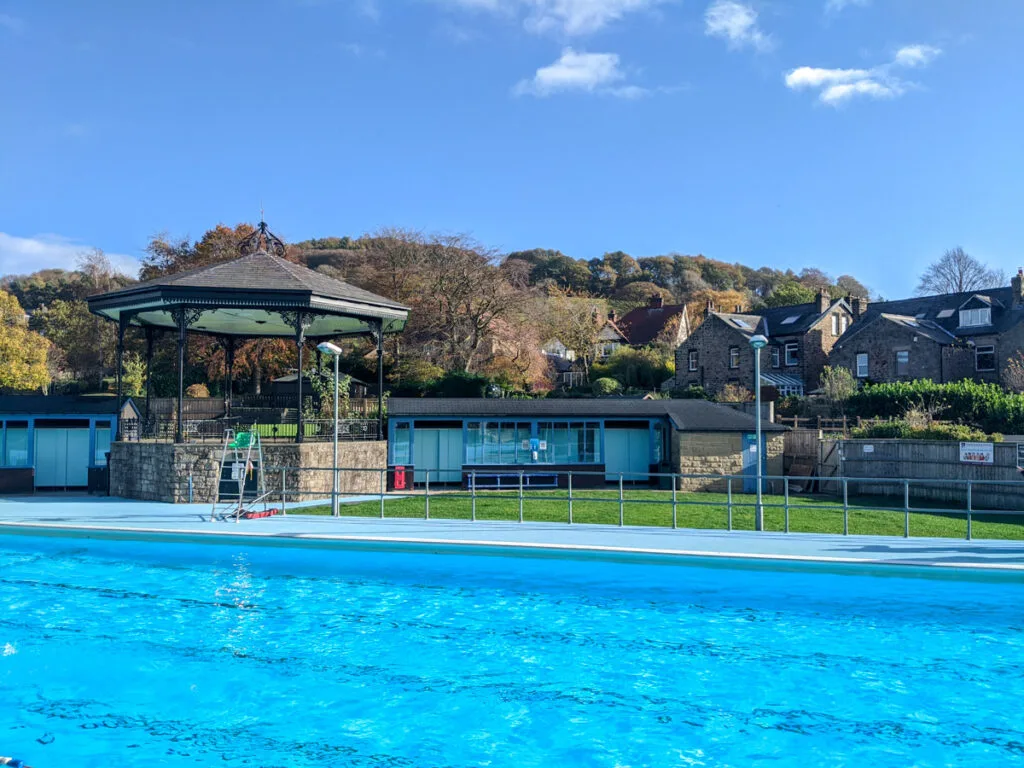 9. Abseiling
READ: Peak District abseiling with kids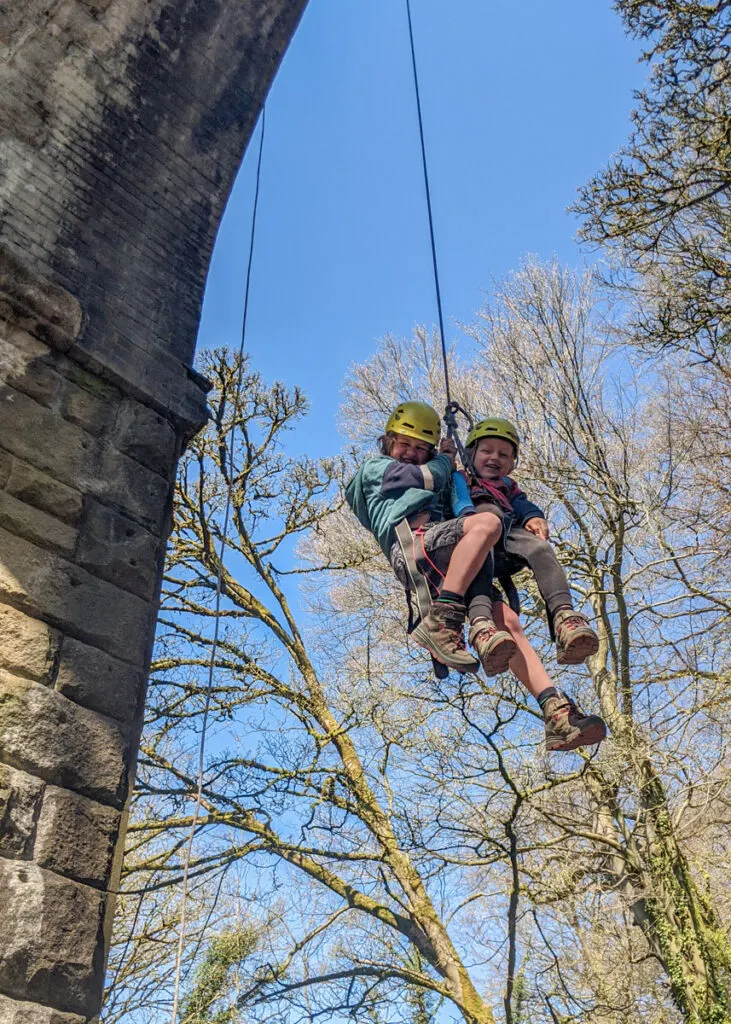 Have you got little adrenaline junkies? Well kids as young as 5 can abseil the 90 feet drop from Millers Dale Viaduct in the Peak District under the extremely professional instruction of Chris at Peaks and Paddles.
10. Matlock Farm Park
READ OUR GUIDE: Matlock Farm Park
With so many farms dotted around the Peak District, you'd be surprised to learn that the only place where you can actually feed farm animals is Matlock Farm Park. Technically, it is situated just outside the National Park boundary, but it's a fantastic day out if you're visiting the Peak District or staying near Matlock, especially for younger kids.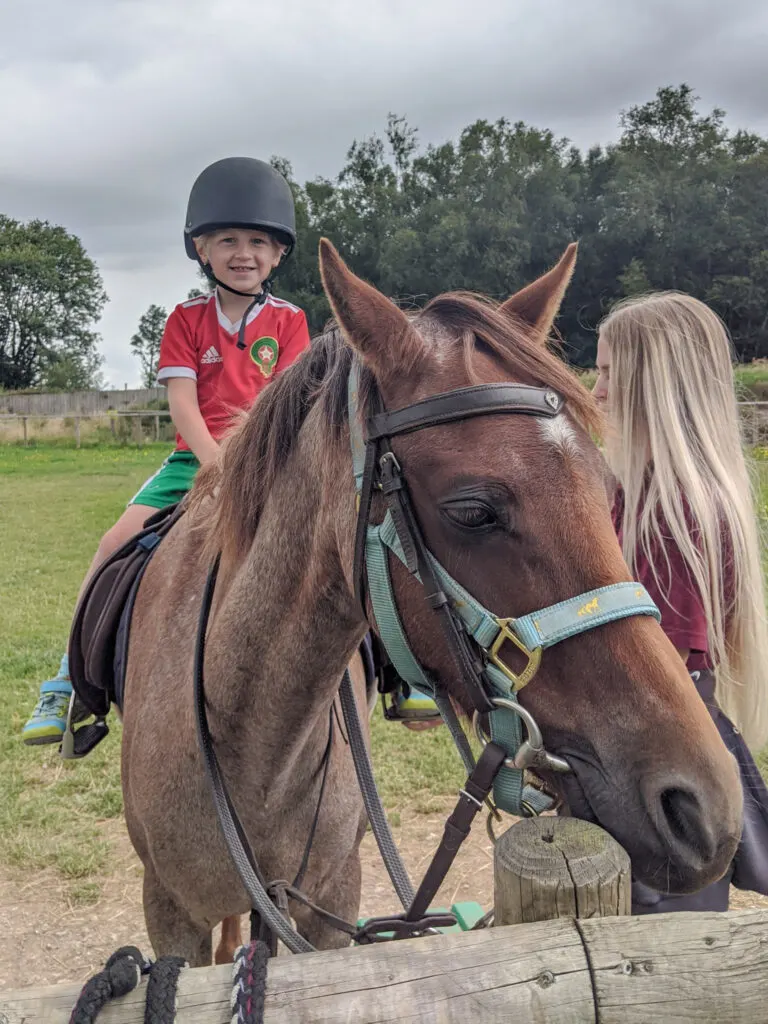 But there's more to Matlock Farm Park than just feeding the farm animals. There are no less than three outdoor play areas, pony rides and horse riding lessons, go karts, an indoor play area, as well as meerkats and wallabies to meet!
Check out their website for opening times and ticket prices, and also the Facebook page to see what events are on.
11. Thornbridge Gardens and Café
READ OUR GUIDE: Thornbridge Gardens and Café
Sat just off the Monsal Trail between Ashford-in-the-Water and Great Longstone, Thornbridge Gardens has become the must visit place for those visiting the Peak District with kids. 12 acres of quirky and quintessentially English gardens surround the grand Thornbridge Hall, dotted with statues and temples, and bursting with colour.
But why is it so special for kids? Well first and foremost is the splashingly fantastic fun paddling in the fountain and catching ducks with a net (rubber ones, not real ones!) Honestly, this keeps the kids entertained for hours. As parents, it's fascinating watching kids of all ages meticulously line rubber ducks along the sides and search for 'special ones'. Please note that the ducks go into hibernation over the winter months.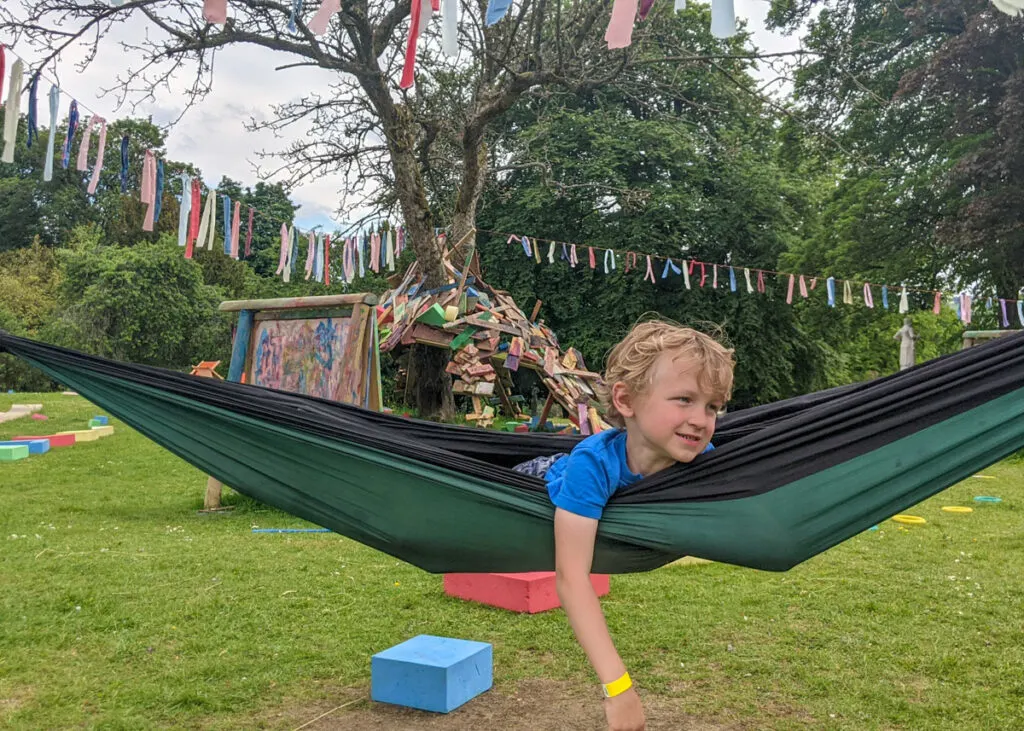 Encircling the fountain, marked with coloured festival bunting, is the outdoor kids play area; including a den, hammocks and swings, blocks to play with, chimes, and painting easels. Lots to spark imaginations! There are even pop up badminton nets (complete with rackets and shuttle cocks) and a basketball hoop for older kids nearby. Please note that the play material laid out depends on the season.
Plus there's the extensive gardens to explore (with a few more games along the way including croquet) and also Quackers Café serving lots of scrummy food!
12. Brick Corner, Buxton
READ OUR GUIDE: Brick Corner
If your kids are Lego fans, then a visit to the family-run Brick Corner café in Buxton is an absolute must. Here there are boxes galore of Lego for your kids to play with and let their imaginations go wild, whilst parents sit back with a coffee and slice of cake in peace (although by all means, there are no age limits if parents want to get involved!)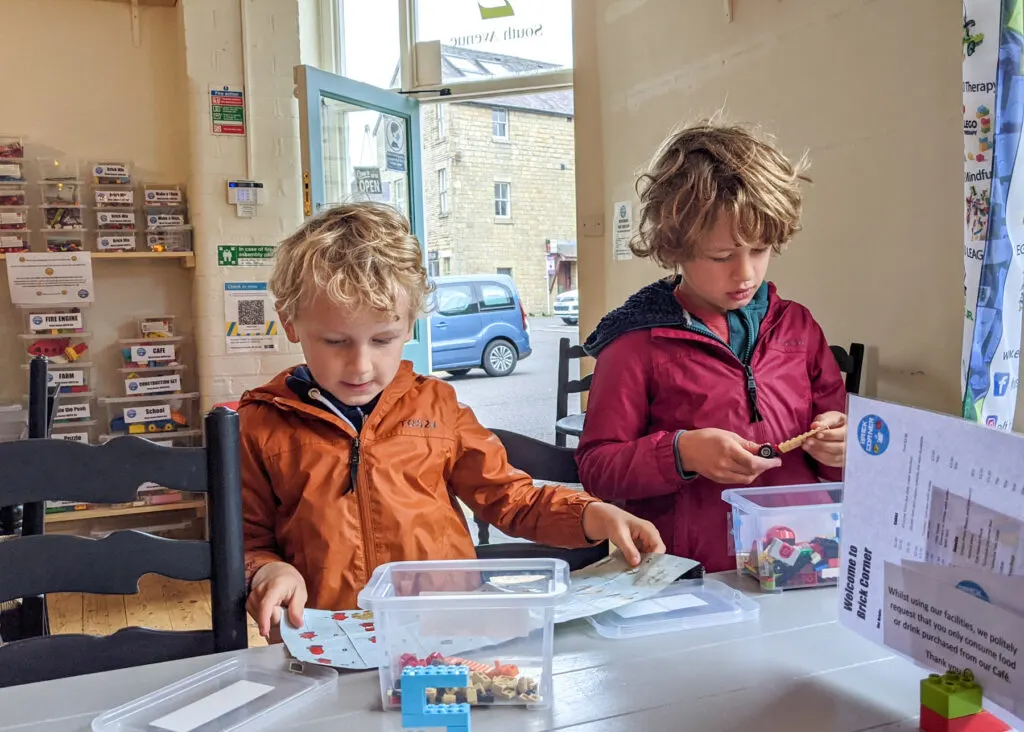 Plus, there are Lego robotic and coding sessions to get involved in. These are 90 mins (approx.) sessions where kids follow a guided Lego build, and then code their build to move! Sessions need to be pre-booked. Click here for further information.
This is one of our top things to do in Buxton with kids and a great option for a Peak District rainy day.
13. The Play Village, Ashbourne
READ OUR GUIDE: The Play Village Ashbourne
If you're looking for a unique indoor experience where kids can let their imaginations run free, then you'll love The Play Village in Ashbourne, just outside of the South Peak District border.
Completely different to soft play, this experience is centred around the magical art of role play. There are eight play pods set up as life-like settings designed to ignite the imagination.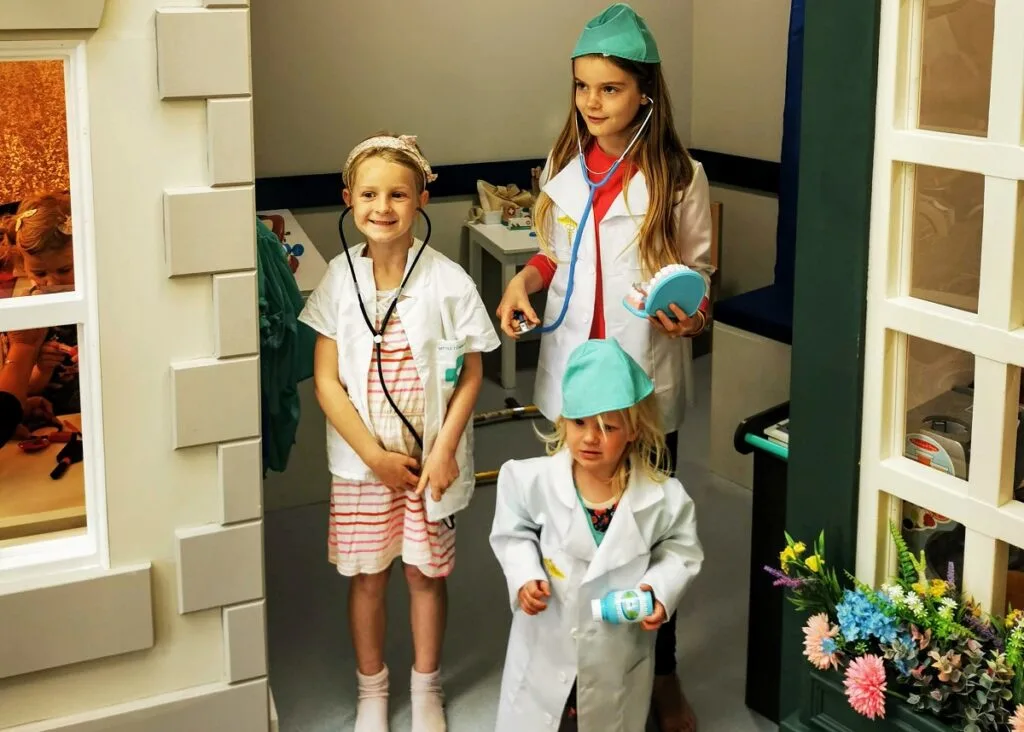 Whilst the kids play, parents can relax in the tastefully designed cafe and enjoy the amazing food and drink. The menu is really refreshing for a kids' play centre with everything prepared freshly from locally sourced produce where possible and the coffee is good too!
The sessions are at set times and last for two hours and 15 minutes. Booking is essential to ensure that the maximum number of children per session isn't exceeded. This is a great Peak District rainy day activity or if you just want some time to relax and enjoy good food and drink whilst keeping the kids entertained.
14. Blaze Farm
READ OUR GUIDE: Blaze Farm
Blaze Farm is another favourite place to visit in the Peak District with kids. Entry is FREE and there are lots of farm animals to meet (cows, peacocks, donkeys, geese, ducks, sheep). If you're visiting during the lambing season you may even be lucky enough to see a lamb being born in the lambing shed (arrive early).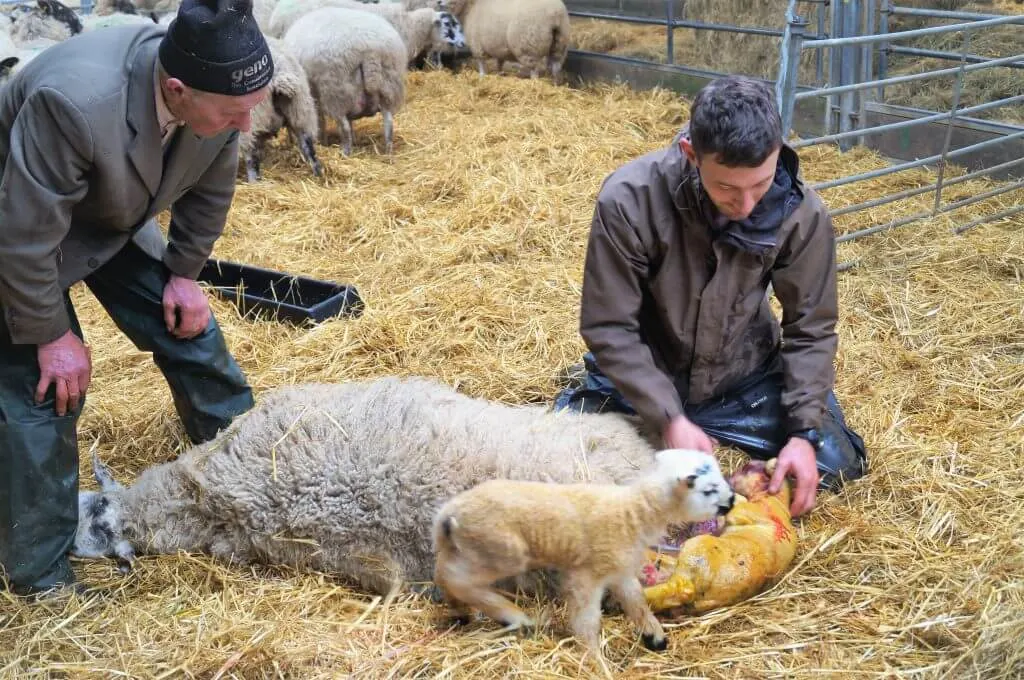 There is a short nature walk following the way-marked footpath around Blaze Farm. The short walk is only 1km, and crosses the meadows, through the woodland (where you'll come across carved animals in the wood and a den) and back up to the farm. Just follow the signs. Click here for full details of this walk.
On return to the farm, head to the cosy tea room and treat yourselves to some Peak District ice-cream made from the farm – it's amazing! Behind the tearoom you'll find a slide and a tractor to play on.
If you've got crafty kids, or are looking for a rainy day activity, there is also a ceramics studio at Blaze Farm – The Potty Sheep. Kids (and parents) can get crafty and paint a masterpiece on mugs, plates, bowls, and tiles. Or for parents visiting with babies, perhaps do a handprint or footprint on a plate!
The Potty Sheep is open Wednesdays to Sundays. You need to pre-book your slot (either 11am-1pm and 2pm-4pm). Their website isn't yet live. So instead, to pre-book your slot you need to either message them via Instagram or Facebook.
Click here for more information on visiting The Potty Sheep. Please not that The Potty Sheep works as a separate business to Blaze Farm.
15. Matlock Meadows
READ OUR GUIDE: Matlock Meadows
Matlock Meadows is similar to Blaze farm in that it is a farm open to visitors with a play area and cafe. As they are both similar, your decision as to which one you visit may be down to where you are staying in the Peak District. Indeed the homemade ice-cream is equally delicious at both.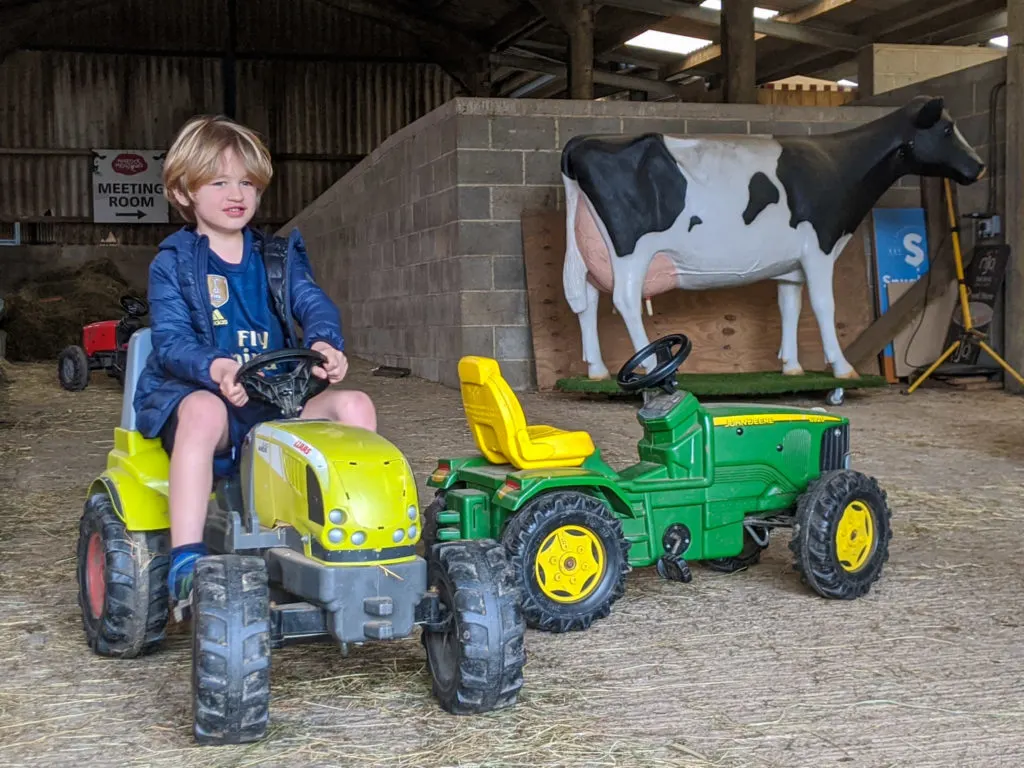 However, whilst Blaze Farm offers a lovely nature trail and the lambing shed in season, Matlock Meadows has a bigger outdoor and indoor play area. The indoor play area includes a small soft play for toddlers, a large wooden train track set up in the café, and small pedal tractors. So if it's a wet day, perhaps head over to Matlock Meadows.
16. Peak Wildlife Park
READ OUR GUIDE: Peak Wildlife Park
Come face to face with exotic and endangered animals from across the world at this small and manageable wildlife park just to the south of the Peak District in Staffordshire. There are penguins, lemurs, meercats, zebras, deer and lots of farm animals, many of which you are able to feed. Plus there are walk through areas meaning you get walk amongst the animals without being separated by a fence.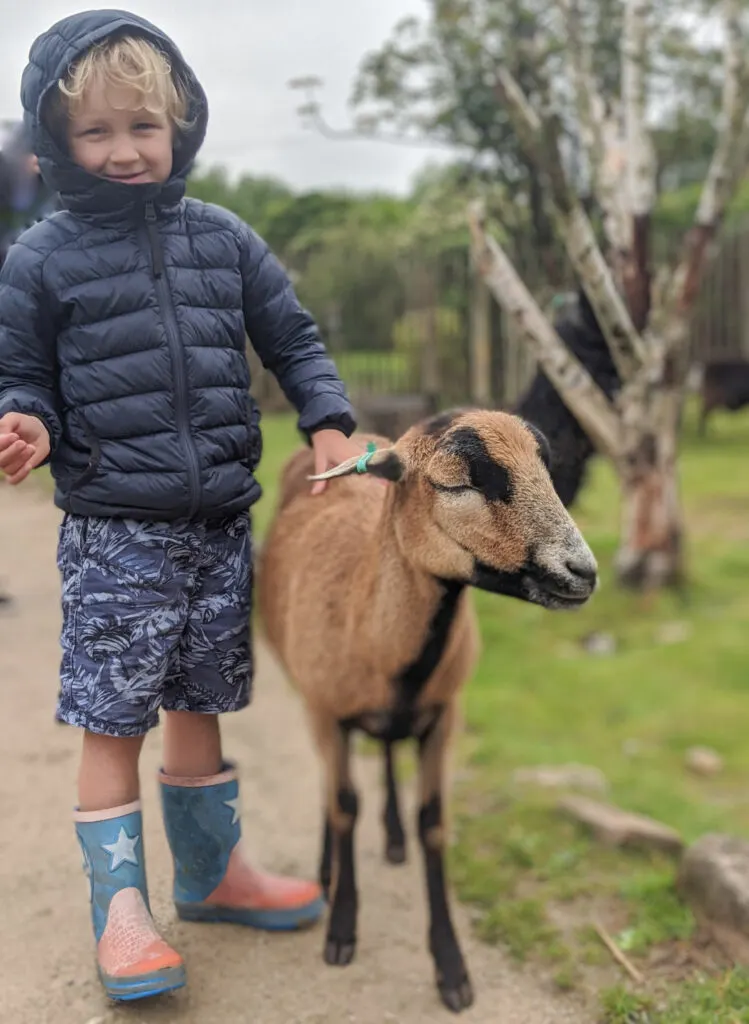 You can also book in, at extra cost, for 'Be a Keeper' Experience. Work alongside animal keepers at the park, behind the scenes feeding and caring for the animals.
The play areas are fantastic. The outdoor play area includes a large bouncy castle and giant sandpit, and there's also a brand new indoor soft play area.
Check the website for opening times.
17. Mayfield Animal Park
READ OUR GUIDE: Mayfield Animal Park
Right on the Sheffield border of the National Park, Mayfield Animal Park is one of the best value Peak District attractions, although it's more commonly known as a Sheffield animal park. Whilst many visitors come to see and feed the llamas and alpacas, there are actually lots more animals to see (from sheep and ponies, to meercats and chipmunks, and there's even a python!)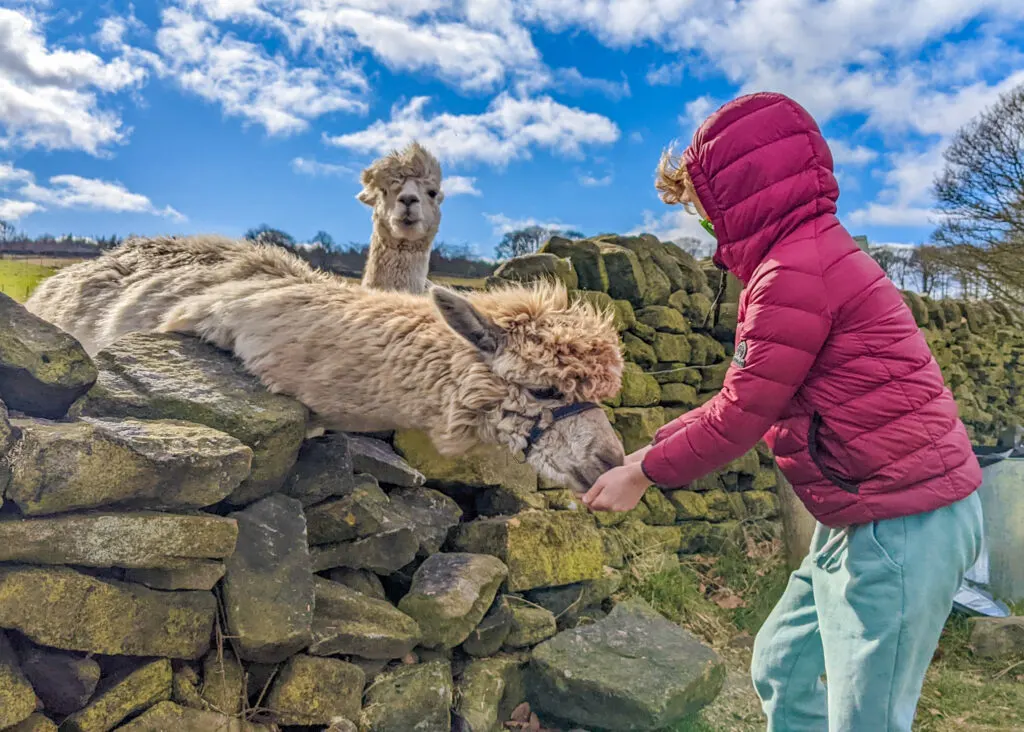 Head to the café to pay your entry fee, and then walk through the café to explore the indoor enclosure of exotic animals. Here you will find the python, a bearded dragon, meercats, chipmunks, a black tailed prairie dog, and a red fox. Although do bear in mind that some of these animals are nocturnal and will be difficult to see.
Once you exit the indoor enclosure, cross over the car park and walk through the large wooden gate to the outdoor fields. There is a circular path that leads you around the animals, including information boards, to see the the alpacas and llamas, as well as sheep, goats, horses, and a pony. This outdoor loop can get muddy, so wear wellies. We suggest walking the loop in an anticlockwise direction so that the small play area is at the end of the walk.
18. Amerron Acres
At Amerron Acres, visitors embark on a therapeutic journey through equine facilitated learning. Located within the picturesque Edale Valley with views of Mam Tor and Kinder Scout, these majestic horses become a catalyst for growth and connection.
Families engage in activities that promote teamwork, communication, and emotional intelligence, fostering a deeper understanding of themselves and each other.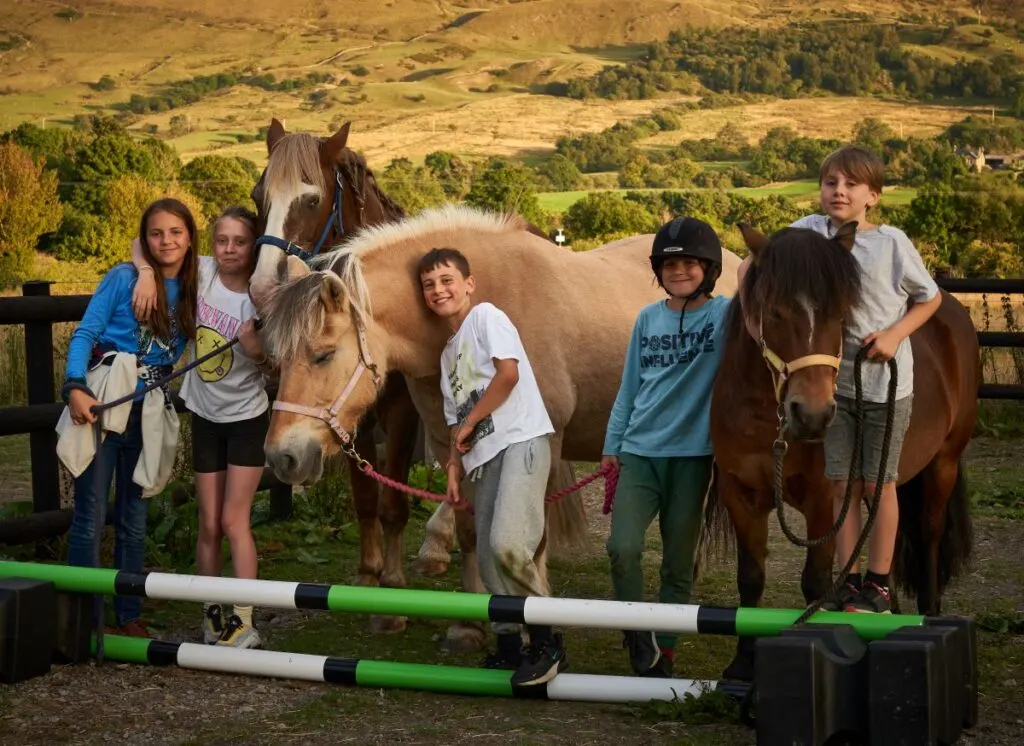 Guided by a skilled facilitator, Amerron Acres creates a safe and nurturing space for families to explore, learn and thrive together, forging lasting memories. There is no riding involved and no previous experience of horses is required.
Personal sessions (appropriate for ages 6 and above) and Family sessions (open to all ages) are offered. Weekday & Weekend sessions available. Booking essential. Email: info@amerronacres.co.uk
19. Chatsworth Farmyard and Adventure Playground
READ OUR GUIDE: Visiting Chatsworth with kids
Chatsworth House is a grand estate in the heart of the Peak District. Set in expansive parkland where wild deer roam and backed by wooded hills, it's been chosen as Britain's favourite country house several times.
Whilst the interior of the house is boasts impressive galleries and stately rooms, it's likely to be the farmyard and adventure playground that your little ones will appreciate more. The outdoor adventure playground is a fantastic play space with water and sand play area and climbing area. Kids will also love feeding and petting the farm animals.
There are children's activities and trails set throughout the year, as well as beautiful gardens to explore, and lots of eateries.
Check the website for ticket pricing.
But note that walking through most of the grounds is totally free and one of the best pram friendly Peak District walks is the Baslow to Chatsworth walk. Or you may want to try our Chatsworth Hunting Tower and Aqueduct walk – a truly magical walk for all ages, and this section of the estate is also free to explore.
20. Nature Machine at LEVEL Centre in Rowsley
Open Monday to Friday 9am to 5pm (not weekends)
Tickets are free, but please book in advance – click here to book
Level Centre is a lovely accessible building and is home to visual art exhibitions and immersive digital installations that change regularly throughout the year. They also have open days and creative workshops.
21. Haddon Hall
Just 2 km outside of Bakewell, Haddon Hall is a 900 year old stately home which retains many original features and is open to visitors. Explore the medieval kitchens, chapel and chambers before wandering around the exquisite Elizabethan walled gardens. Family events are often held in the school holidays, including archery and treasure hunts. Traditional English Tea is served in the café and there's also a restaurant on site.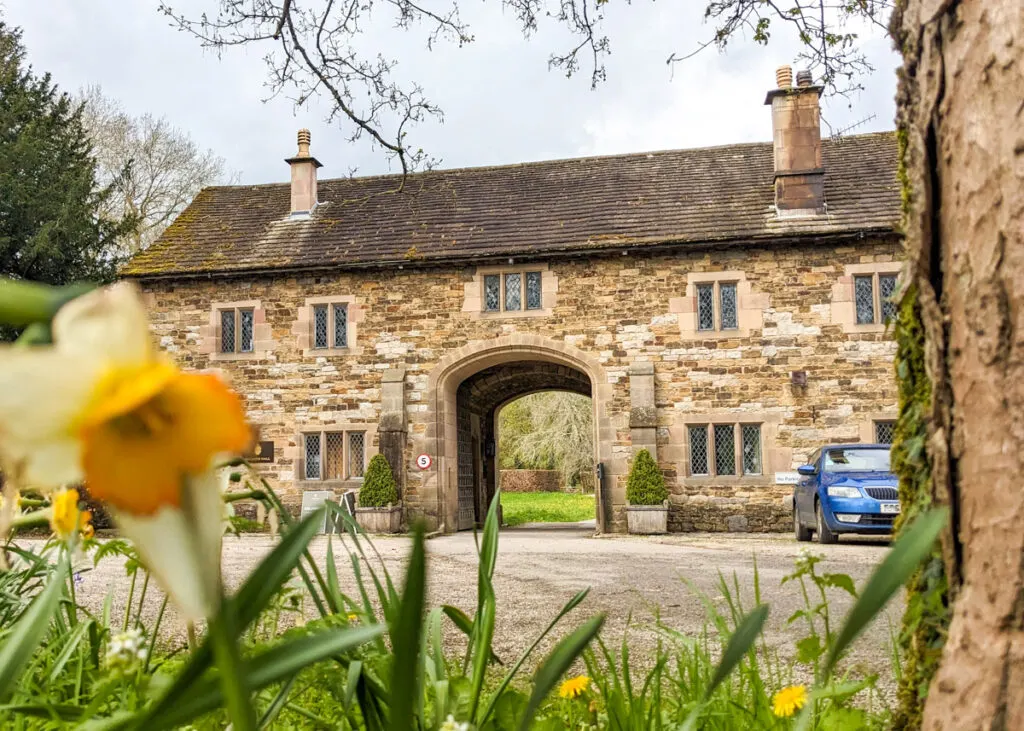 On this website we have a lovely circular walk from Bakewell to Haddon Hall.
Check the website for further details, including opening times.
22. Gulliver's Kingdom
READ OUR GUIDE: Gulliver's Kingdom Matlock
Gulliver's Kingdom Matlock is a theme park aimed at children aged 3 to 13 just outside Matlock. There are 17 rides across 6 themed areas, including a log flume, a Drop Tower, Dino Explorer Cars, and a Cycle Mono Rail. Climb high above the Crows Nest Quest or take a ride on the log flume, 300ft above Derwent Valley.
There is also themed accommodation available within Gulliver's Kingdom Resort at The Explorers Retreat and Fairytale Retreat, which include pirate, princess and wizard themes. Family cabins can sleep up to five people and packages include access to the main theme park.
Opening times are seasonal, so check the website for up to date information.
23. National Stone Museum
READ OUR GUIDE: The National Stone Centre
Pan for gems, build a drystone wall, and hunt for fossils at The National Stone Centre, just a five minutes drive from the National Park boundary, close to Cromford and Matlock.
The National Stone Centre is free to enter, although it's £3 to do the panning for gems, and £1 for geo-trail map. There's also a café on site (with a rock shop and small exhibition), as well as a playground.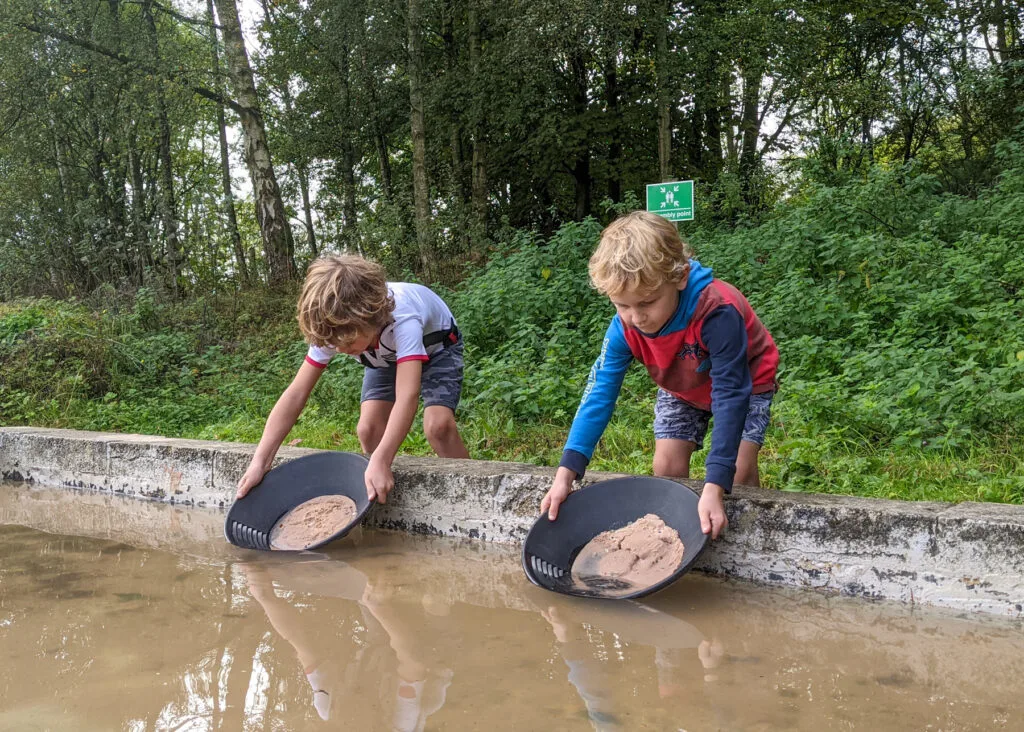 Combine your visit with a walk along the High Peak Trail to Black Rocks, or even further to Cromford Canal. Although, do allow 2-3 hours for wandering about The National Stone Centre, which includes a bite to eat at the Blue Lagoon Café.
24. Alton Towers
READ OUR GUIDE: Alton Towers for kids aged 6-10: in-between CBeebies and Nemesis
Just 4 km south of the Peak District boundary is the UK's biggest, and arguably the best, theme park, Alton Towers. Open from mid-March to early November, there are thrills galore, as well as more sedate rides for smaller visitors at the superb CBeebies Land.
There is also a water park open year round, themed accommodation available (the CBeebies Land Hotel is very popular with little ones), and a spa for parents to retreat to if it all becomes a bit too much.
There are events on throughout the year especially over October half term and the Christmas holidays, so it's worth checking out the Alton Towers website in advance of your visit to the Peak District. The website also details ticket pricing and opening times, although there are often offers on UK cereal packets and online, so it's worth looking around.
An Alton Towers visit fits nicely into a family holiday to the National Park, and is certainly an enticing end-of-the-holiday reward after all those family walks. However, if your kids are between the ages of 6-9 (where they've outgrown CBeebies and are too small for Nemesis), we recommend reading our guide to visiting Alton Towers with kids as their height will depend on how much they get out of it; 140cm is the magic height for all rides at Alton Towers.
25. Buxton Pavilion and Gardens
READ: Visiting Buxton with kids
Demonstrating the Victorian splendour of Buxton, The Pavilion Gardens is a beautiful historic venue dating back to 1871. Set within 23 acres of beautifully landscaped gardens you will find play areas, a boating lake, and on weekend and school holidays, a miniature railway.
Inside the Pavilions there are two cafes (The Pavillion Café has a small soft play area for toddlers), The Retail Arcade with items sourced from local suppliers and craftspersons, and The Conservatory, which houses beautiful plants, several of which are extremely rare to find anywhere else in the UK and feels like a small indoor rainforest.
Next door is the Buxton Opera House, which operates as a cinemas and showcases both old and new films.
26. Treasure Trails
Treasure Trails are a series of self-guided quiz trails around villages and towns across the UK. Crack the clues along the route to unlock incredible stories from the past and solve the mystery at the end.
Whilst these are designed for kids, they are great for getting all the family involved. Indeed, parents may need to help little ones find the clues, and vice versa! They are a fun way to explore a new town or village, and will take you you little secret spots that you wouldn't have found otherwise.
Trails are generally about 2 miles (3 km) long and take at least a couple of hours. They cost £9.99 and you can download them straight from the website. Don't forget your clipboard and pencil!
The Treasure Trails in the Peak District include:
*Buxton isn't actually in the Peak District National Park, but we've included it in this list.
27. Visit the Plague Village
READ: Things to do in Eyam
In 1665 a flea-infested bundle of cloth arrived from London for the local tailor of Eyam. This single flea led to the spread of the bubonic plague throughout the village. To prevent the spread of the disease, the entire village was quarantined (a rather apt topic considering the events of 2020).
The plague ran its course over 14 months and at least 260 villagers died, with only 83 surviving out of a population of 350. However, the plan worked and the plague was contained.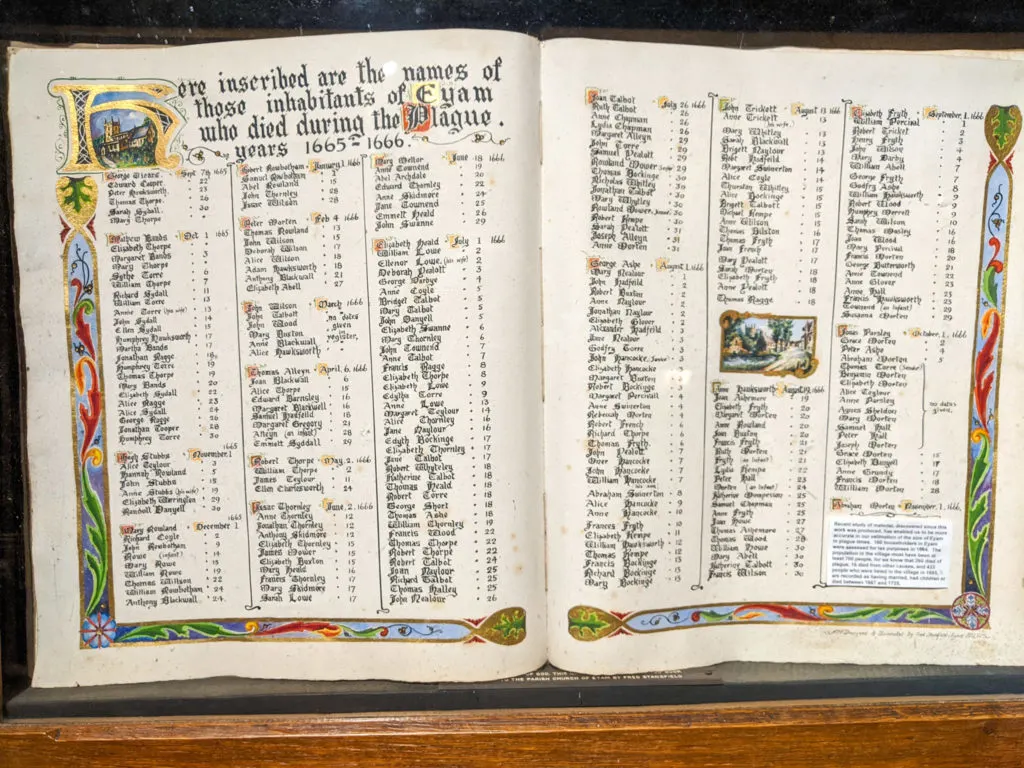 The tragic history of this village has not been forgotten. However, as the topic here is rather bleak, parents will need to decide if it is a suitable topic for their children. Plaques by houses and grave sites dotted around the village are a stark reminder of those who lost their lives, and inside Eyam Parish Church of St Lawrence, which dates back to Saxon times with an eighth-century Celtic Cross, there is a book with all the names of those deceased from the plague. Eyam Museum is a good place to visit to learn more about this tragic time, and there's also a small free information centre next to the village stocks.
It's also worth taking the 1km walk out to the Boundary Stone, which affords stunning Peak District views. This acted as a marker by separating the residents of the plague affected village of Eyam from the non-affected villagers of nearby Stoney Middleton. Here, money soaked in vinegar (believed to kill the infection) was placed by the villagers of Eyam in exchange for food and medical supplies.
28. Eat Bakewell Pudding
READ: Things to do in Bakewell for kids
Idyllically situated on the banks of the river Wye, Bakewell is a lovely market town for an afternoon stroll, and is the place where Bakewell Puddings originated! There are a handful of bakeries selling the pud. Grab one to enjoy along the river, or perhaps head to Bakewell Recreation Ground where there's space for the kids to go wild, kick a ball, or play in the playground or splash park.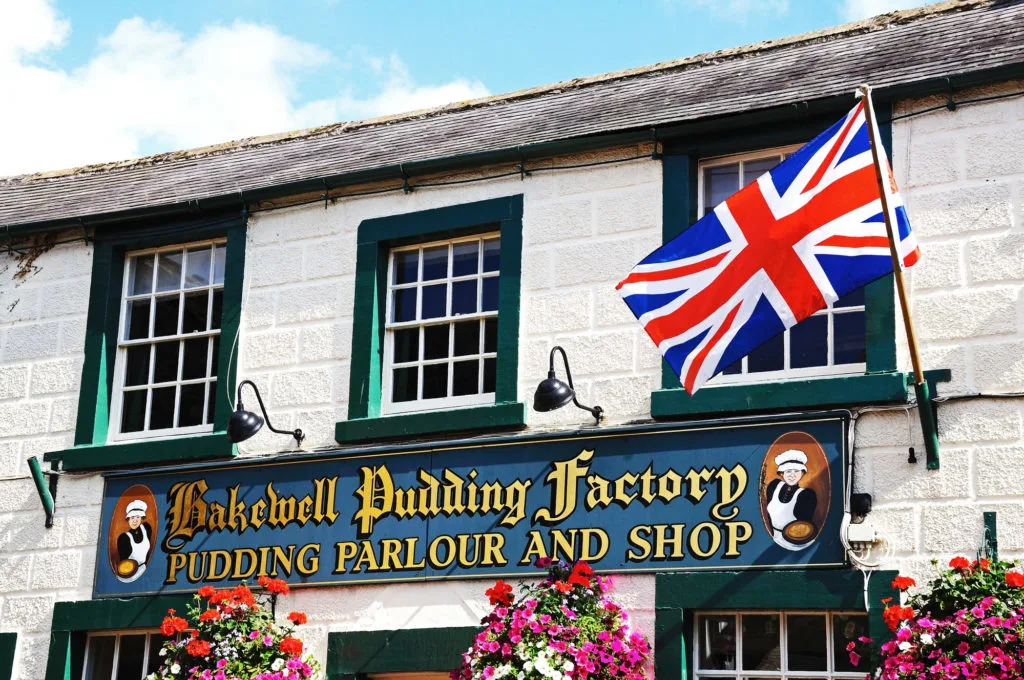 A visit to the Farmers Market on the last Saturday of each month is also worthwhile. There are over 70 stalls selling foods and artisans, but the best bit is watching the livestock being auctioned.
29. Head to the pub
Now this isn't the most obvious things to do in the Peak District with kids. There are some charming pubs in the areas, but it's unlikely little ones will sit long enough for you to finish your pint of Peak Ale. So check out these pubs with a playground in the Peak District and keep all the family happy.
If it's a rainy day though, you may want to go armed and ready with our Peak District activity sheets for kids, or head to one of the cafes serving the best hot chocolates in the Peak District.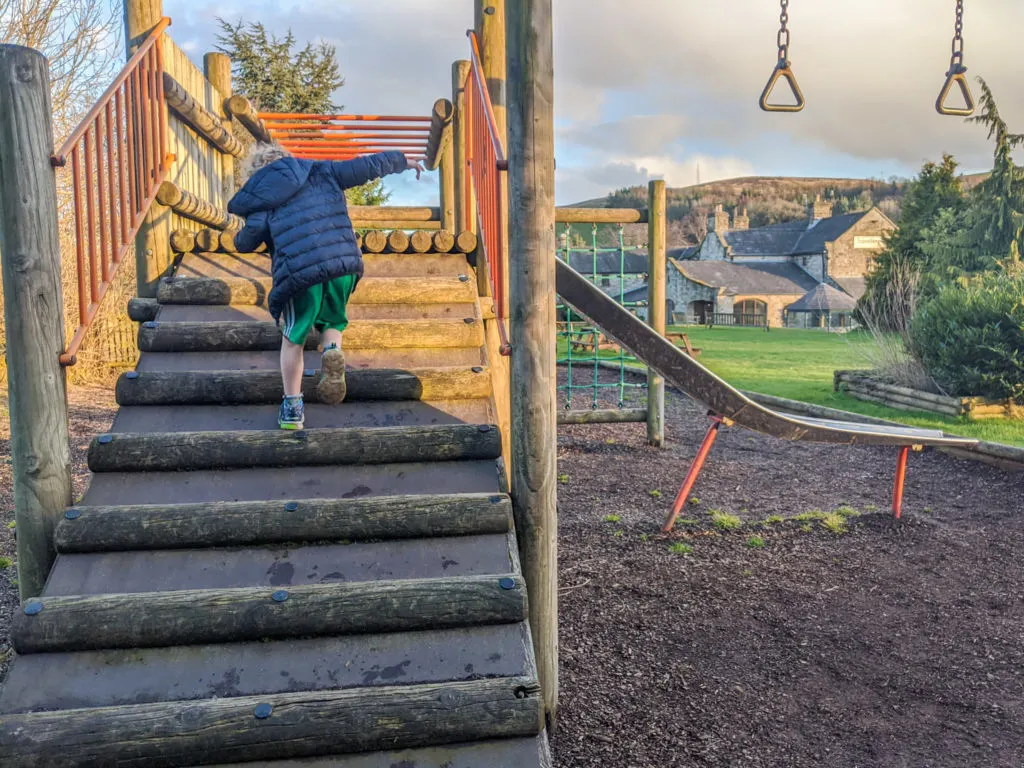 30. Eat home-made ice cream
With all the diary farms in the Peak District, you probably won't be surprised to hear that many farms sell their own homemade ice-cream! A scoop of the freezing, yummy stuff is a fantastic reward after a Peak District walk or an extra treat after a day out with the kids. And Peak District ice-cream is not just a treat for the warmer months; kids (and adults!) enjoy ice-cream in all weathers!
So where are the best places to go for a taste of real Peak District ice-cream? Click here to find out.
31. Go camping!
Visiting the Peak District with kids is all abut exploring the great outdoors, and what better way to do that than by camping!
Check out these favourite family campsites in the Peak District and suggested by members in our Peak District Kids Facebook Group. There's a range of campsites, from basic ones by a river where you just rock up and pitch your tent in a field without pre-booking, to more managed site that have shops, playgrounds and WiFi on site. The higher end sites do get booked up quickly in the summer and bank holiday weekends, so booking ahead is advised.
Camping not your thing? Fancy a bit more luxury and comfort? How about Mongolian yurt with a log burner and hot tub? Check out these Peak District glamping sites for families.
32. Head to a playground
Whilst we believe that nature is the best playground, and that there is no end of fun to be had dipping toes into streams, bounding off boulders, or running down hills on a Peak District family walk, sometimes a good playground just makes parenting life easier.
The best playgrounds in the Peak District are found at Heights of Abraham and Chatsworth House. However, you have to pay to enter these. If you're looking for a free Peak District playground, then check out our guide to the best playgrounds in the Peak District.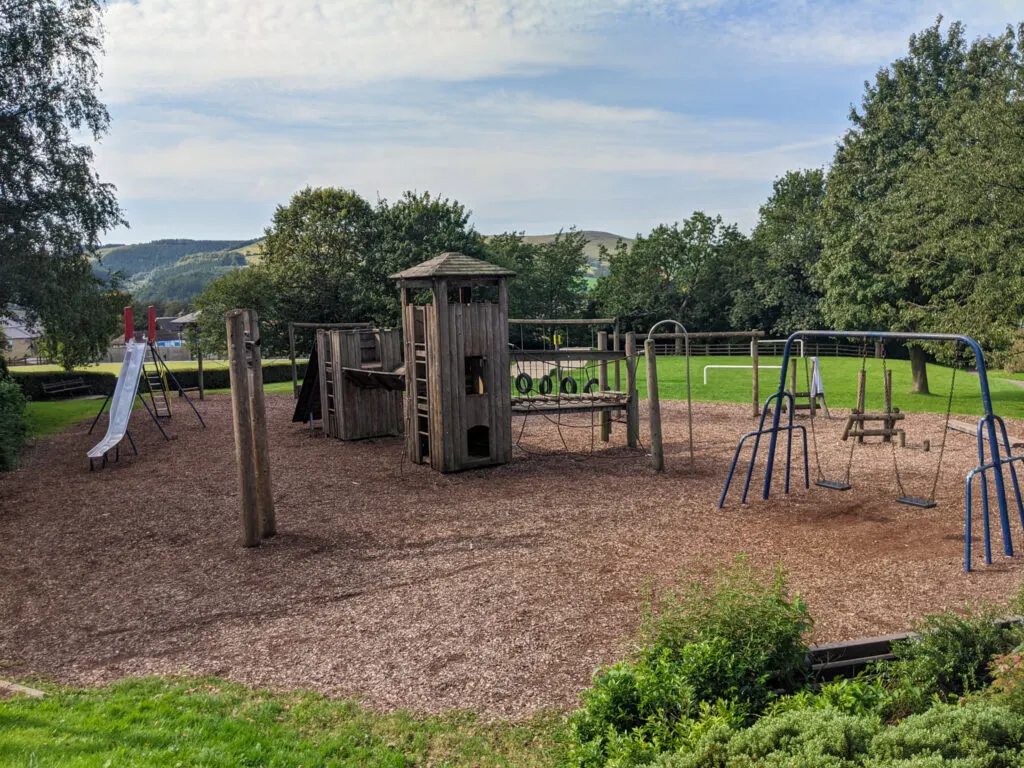 33. Indoor play for a rainy day
The Peak District is stunning, but it is also prone to unpredictable weather. You can expect four seasons in one day, and often there are very grey and wet days. Whilst the caverns and Buxton Pavillion and Matlock Meadows are good options for wet weather days, sometimes you just need to let the kids go wild at an indoor softplay.
The below map shows the indoor play areas in the Peak District. Our personal favourites are Peak Adventure in Rowsley (also known as Peak Village soft play), and Little Monkeys Play Centre in Matlock. Although don't forget, there's The Play Village Ashbourne, mentioned above.
Also check out our top things to do in the Peak District when it rains.
---
We hope you've enjoyed these suggestions for days out in the Peak District with kids, and it's given you some ideas for days out with kids in Derbyshire.
You may also like to read:
Best family walks in the Peak District
Best Peak District cycling routes for families
Best cafes and pubs with a playground in the Peak District